Smart Products
5 Desk Accessories for Women That Are Fancy & Gorgeous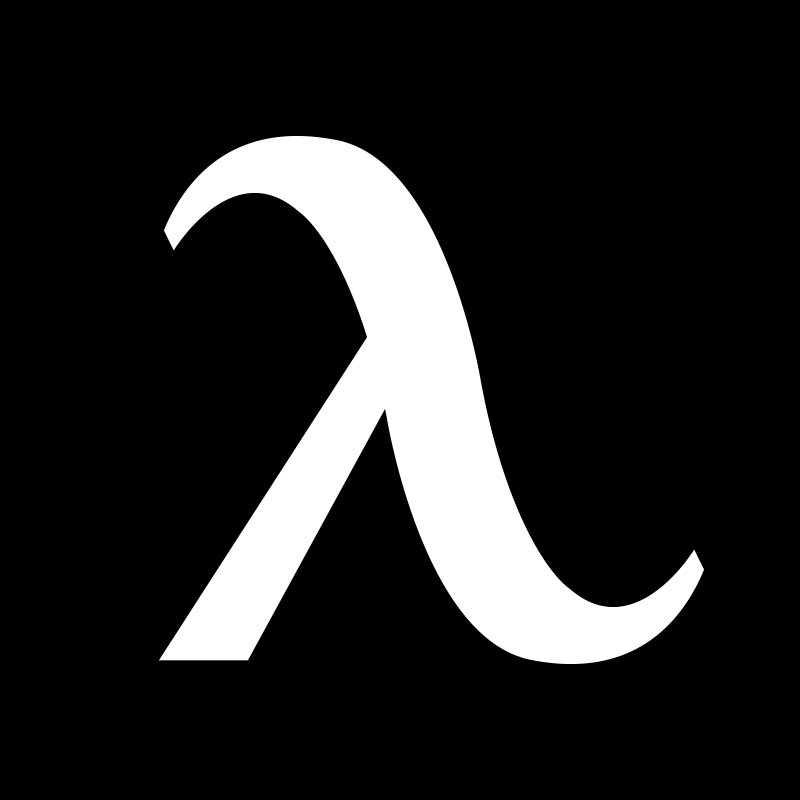 Autonomous
 | 
Oct 27, 2021
Most ergonomic products and office items are either gender-neutral or male-oriented products. That leaves no space for women's products, which creates an unfair situation for female office workers. Everyone should be able to have stylish and fancy office equipment without needing to research for hours.
We are here to help those women! Read this page to know five desk accessories for women! These items can make their offices look fancier than ever,
Top 5 Desk Accessories for Women You Should Have
1. Autonomous Desk Organizer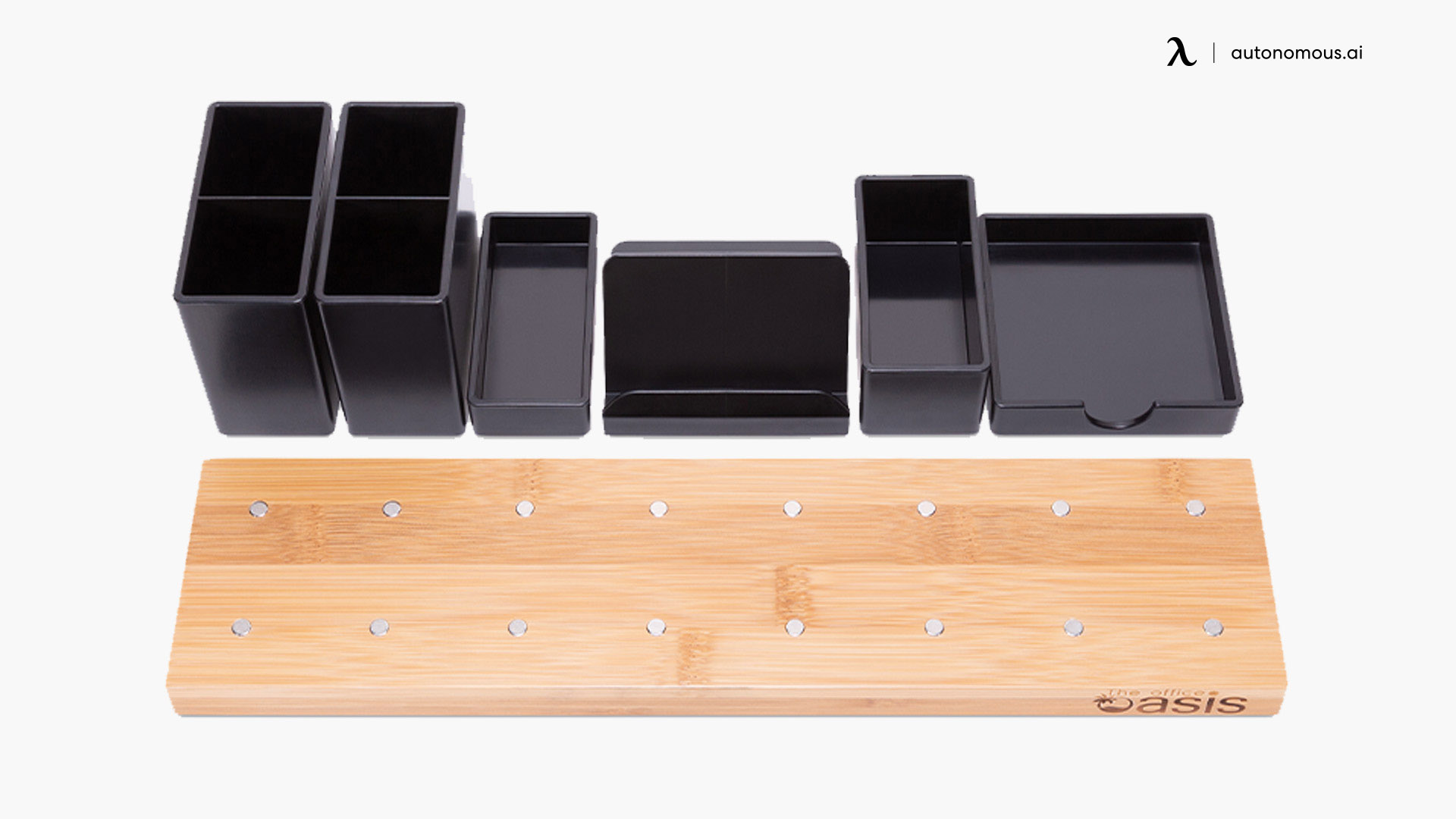 The first item on this desk accessories for women list is the Autonomous Magnetic Desk Organizer. Autonomous is a company that has developed tons of ergonomic items, each one of them having unique features that can address many of the problems that office workers go through every day.
One of the main issues a woman can go through while working is having a disorganized desk. Some say that your desk represents how your mental health is at the moment. If you have a disorganized desk, you may be suffering from a lot of anxiety, stress, and mental exhaustion.
The problem with that is that most office workers decide to ignore that problem and just let all kinds of clutter accumulate on their desks. You don't have to let that happen to you, so the best you can do is buy a desk organizer.
However, there are many types of desk organizers, so it's important to take all the time you need to choose the one that best fits your office. Autonomous is used to giving us innovative designs, so its developers and designers couldn't offer us an average desk organizer. Instead, they went for a sophisticated magnetic one.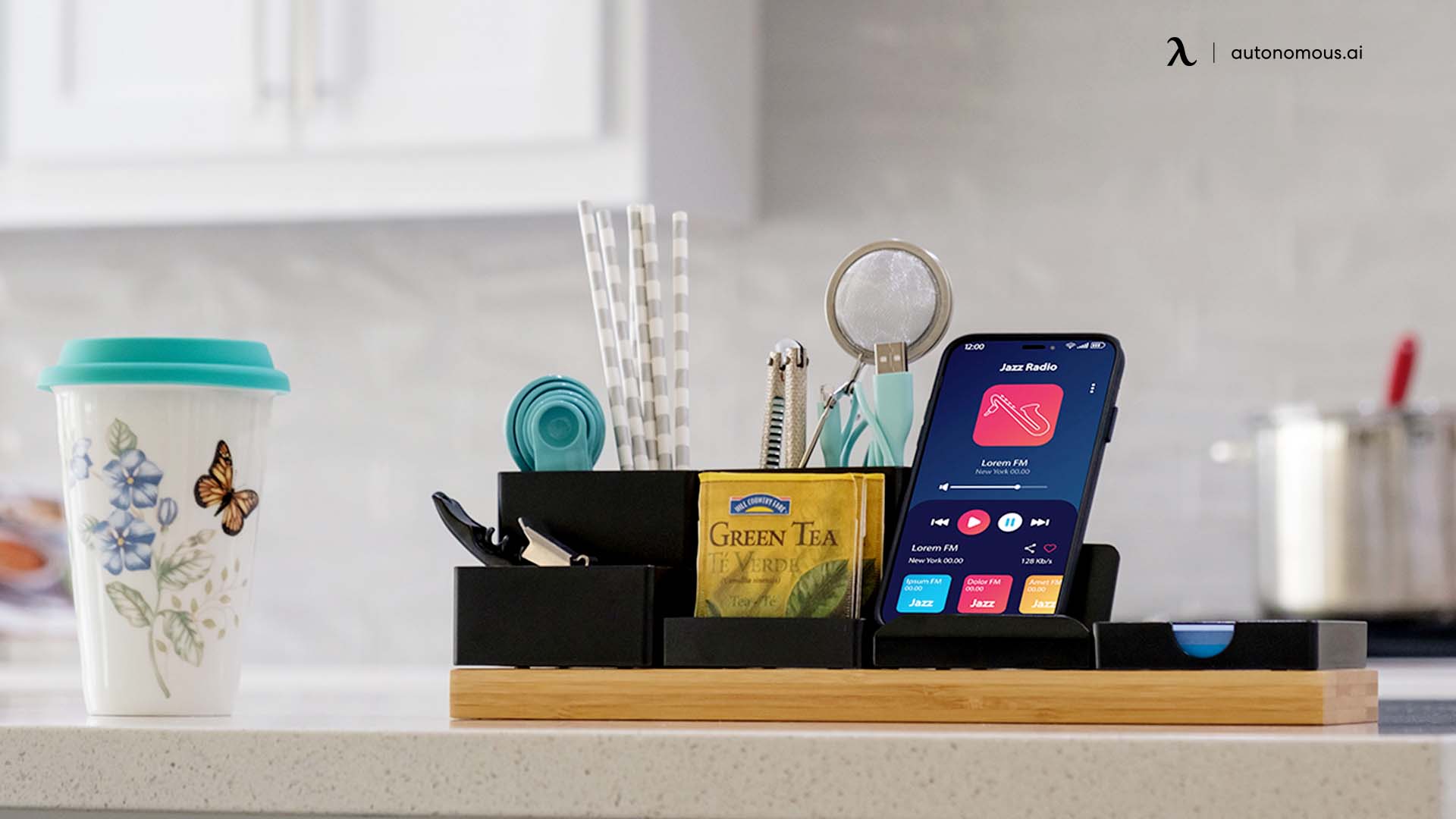 This magnetic desk organizer can take care of all your clutter while making your desk look stylish and elegant. You can get it in brown or black, however, those colors are easy to fit with most office styles, so don't worry about that.
When we say it's a magnetic product, we don't do it to make it sound cooler; this item has a magnetic attachment you can customize at all times. Its solid bamboo base is perfect for professional buildings, and apart from that, it's made of high-grade plastic that makes it durable and resistant.
Whether you want a desk organizer as the women's desk accessories for your office or you want to give one to your co-workers, remember that Autonomous is always open and available to address all your needs. Don't hesitate to call!
2. Autonomous Desk Pad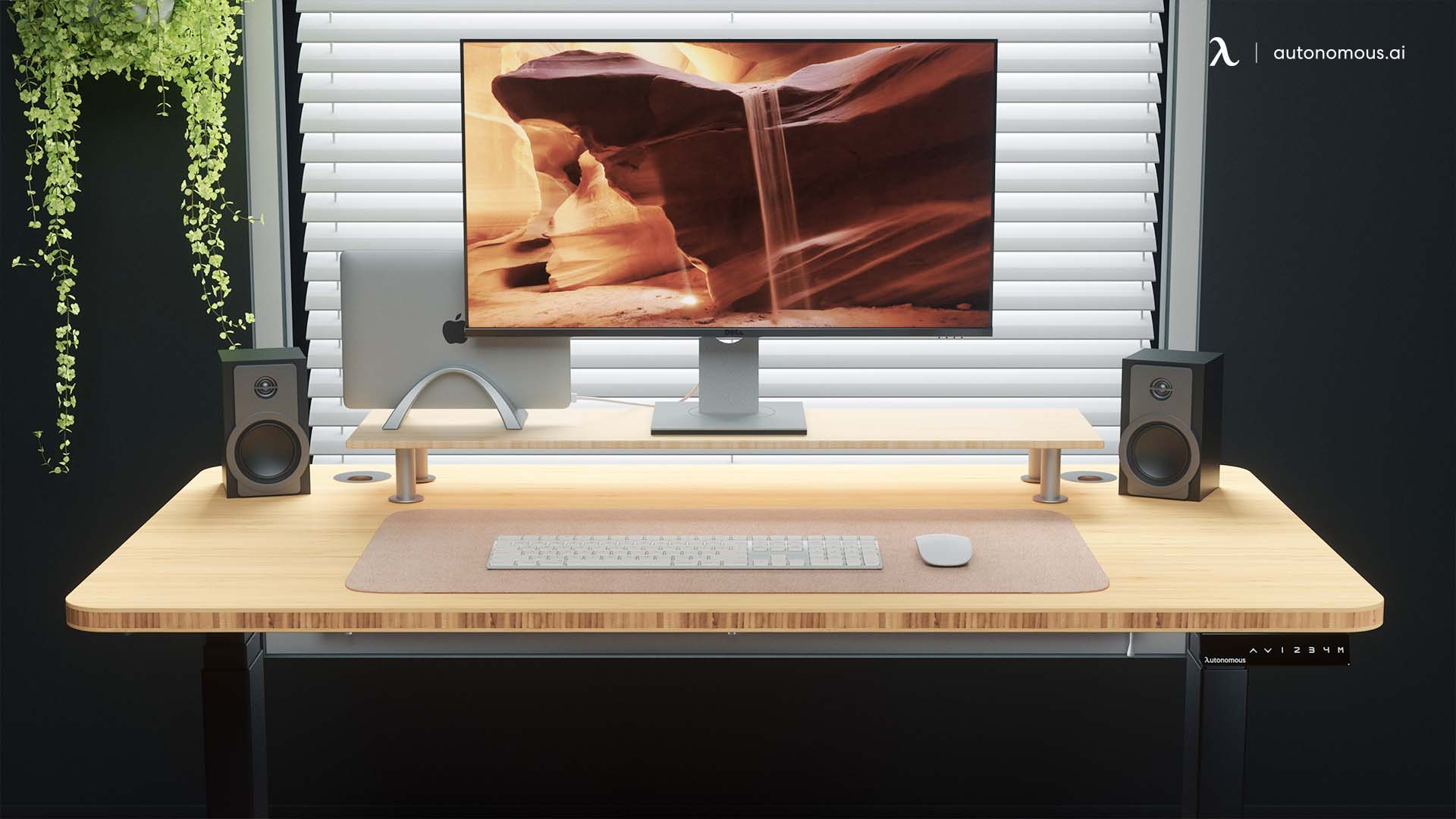 Most office workers need to work from their personal computers or laptop all day, so getting some computer products for their offices is never a bad idea. However, not everyone knows which items are best for them, so they just purchase random products they find on the internet.
We are not saying you can't do that, but you should study what you need to work better and get the items that are most important for you. Speakers, for example, are crucial if you like to listen to music while working, yet, if you don't have a keyboard, it's best to get it before anything else.
The problem with that is that you need to be able to recognize what your priorities should be when buying items for your office and computer. Not everyone has desk pads at the top of their lists despite how much they can help you.
Working on a desk without a computer desk cover means losing the benefits this item offers you, which consequently means losing comfort. This is one of the most underrated desk accessories for women, so finding one is not as easy as finding a chair or a desk.
Fortunately, Autonomous was prepared for this and developed some desk pads to help you boost your worker's productivity and creativity. The Autonomous Micro Vegan Desk Pad, as its name suggests, offers you a 100% animal-friendly microfiber leather that is perfect for eco-friendly enthusiasts.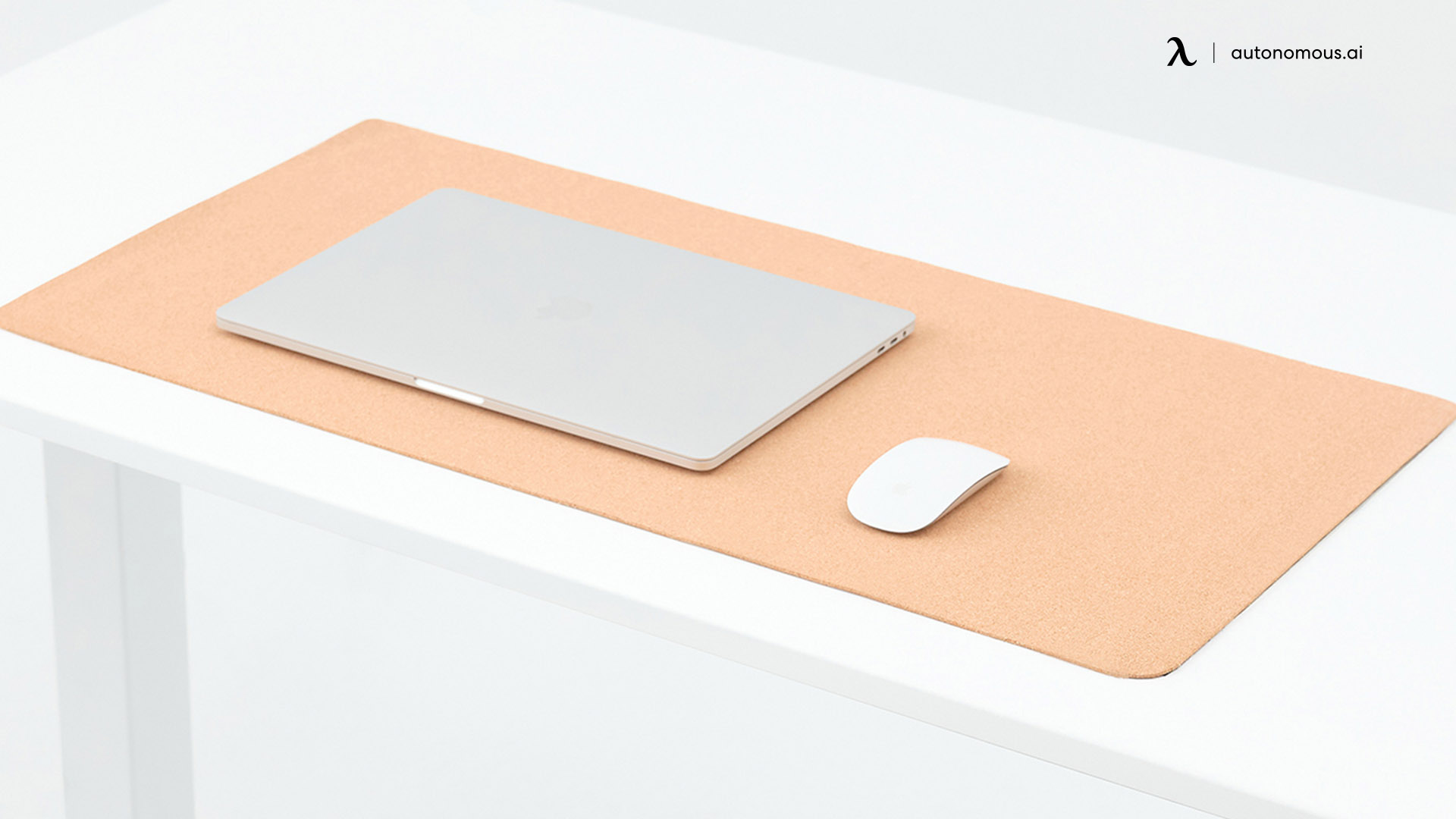 Aesthetics are not an issue with this desk pad in your women's desk set, either, since its minimalist yet elegant design makes your office look more sophisticated when workers have it on their desks. That's not the only Autonomous desk pad on the market, though.
If you don't feel like buying the vegan alternative, or if you simply didn't like it, you can always rely on the Autonomous Cork Desk Pad. The oak cork used for this desk is also environmentally friendly. Additionally, it offers you an extra-smooth product you can get for a limited time.
Even if this is the best desk pad from Autonomous, it's not made to stand out from other things on your desk, so if that's what you want, it's better to get the previous desk pad on this list. If instead, you want a desk pad that looks lighter, softer, and it's overall more subtle, then this is the one for you.
Desk pads are perfect options as the women's desk accessories in case you need space to put your keyword, mouse, monitor, or speakers. You can even use them to cover your desk while you sign documents or take care of paperwork in general.
3. Autonomous LED Desk Lamp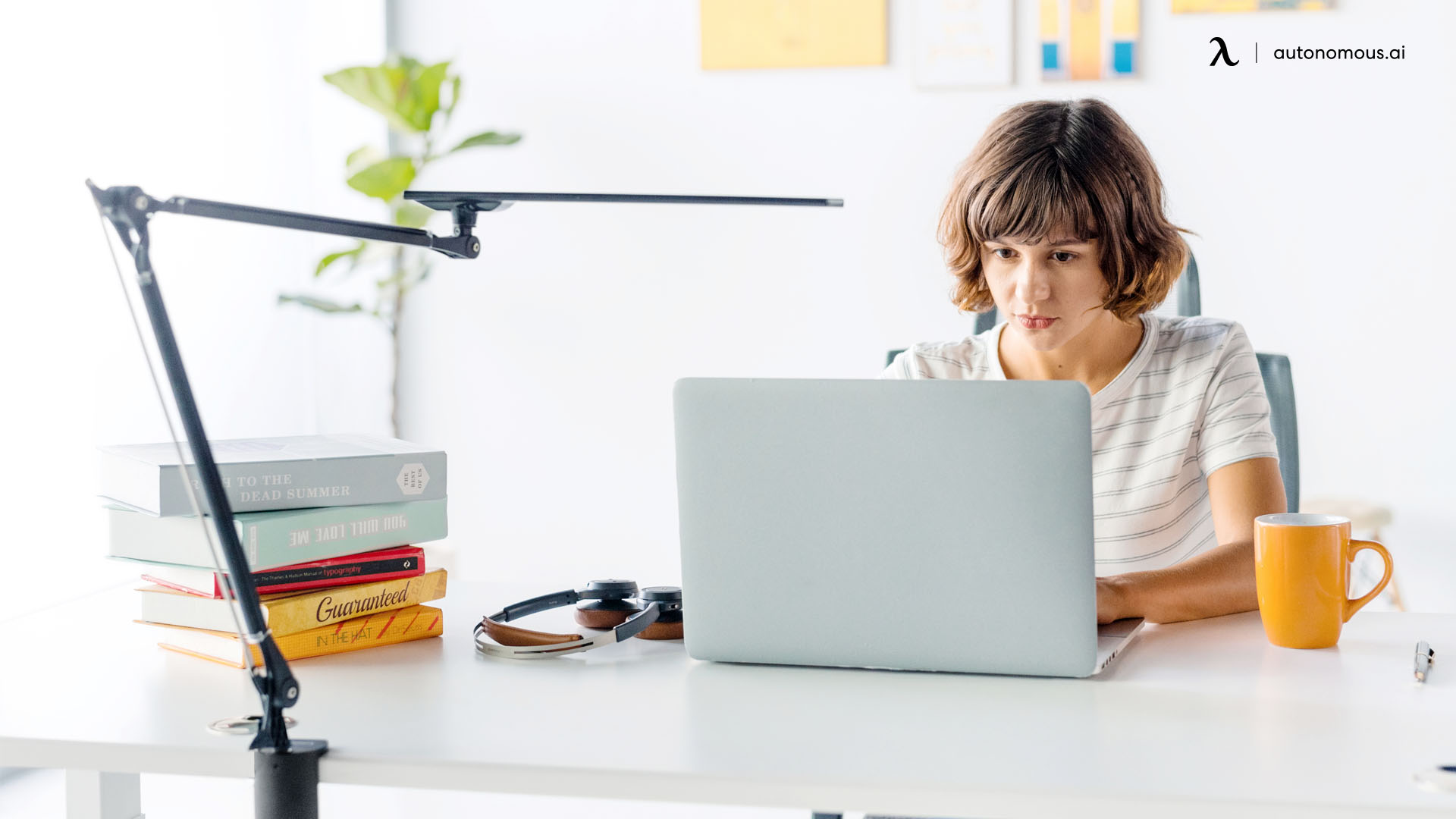 Another recommendation of desk accessories for women for you. As you could see, Autonomous offers a nice deal of ergonomic products to help office workers and all kinds of employees to feel better while working. One of the things that disturb workers the most while working is doing it without being able to see what they are doing.
Even if computer screens give some light to the office, it's not the same as having a lamp for your desk. Lamps can be used to light up your workspace for a reasonable price since these lamps are not as expensive as other products on this list.
The Autonomous LED desk lamp is one of the most sold products of Autonomous. That's because of how helpful it can be at times. However, what this item shines for are its features.; it has tons of them!
Starting with customization, this allows you to choose from different color modes, so you can get a lamp for your office and then make it look different from the others because of its lighting. Brightness levels are also adjustable, so don't worry about that.
This lamp is made for adjustable desks, so you can customize its angle any time you want to fit your needs while working. Autonomous states that its designers made this lamp to have a flexible design that everyone can feel comfortable using.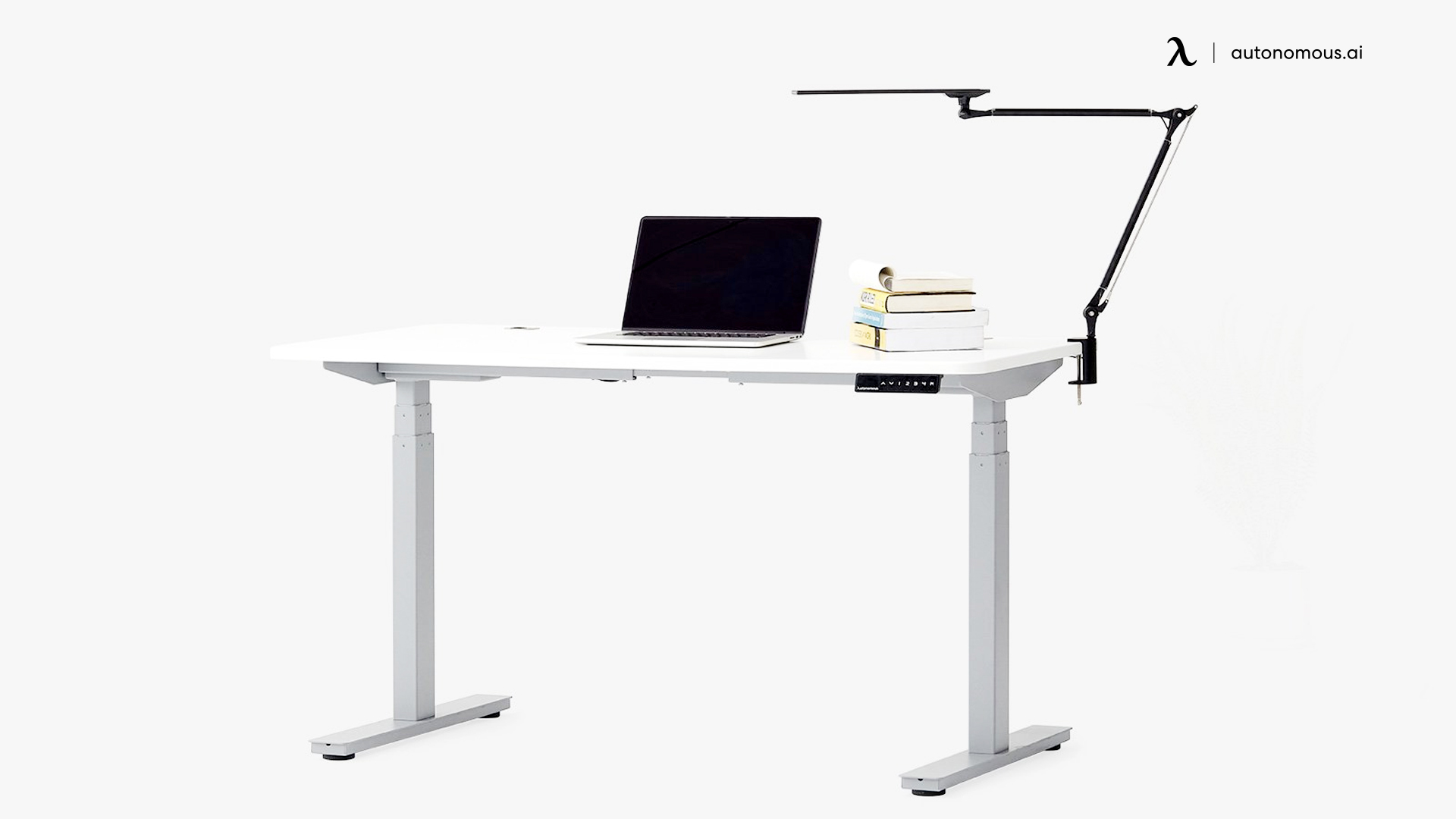 As for aesthetics, the Autonomous LED lamp has a minimalist design that doesn't mean to highlight anything in your office. Instead, it focuses on giving you more than 50,000 hours of light.
However, if for some reason you need to return the lamp, or you just had an accident, you can always get a one-year warranty for the product. Almost every Autonomous product has the same warranty deals or even better ones, so keep that in mind when buying products from them.
You should also know that this lamp is one of the most energy-efficient lamps on the market for office desk decor for her due to its eco-friendly lightbulb that can offer thousands of hours of light for years.
4. Autonomous SmartDesk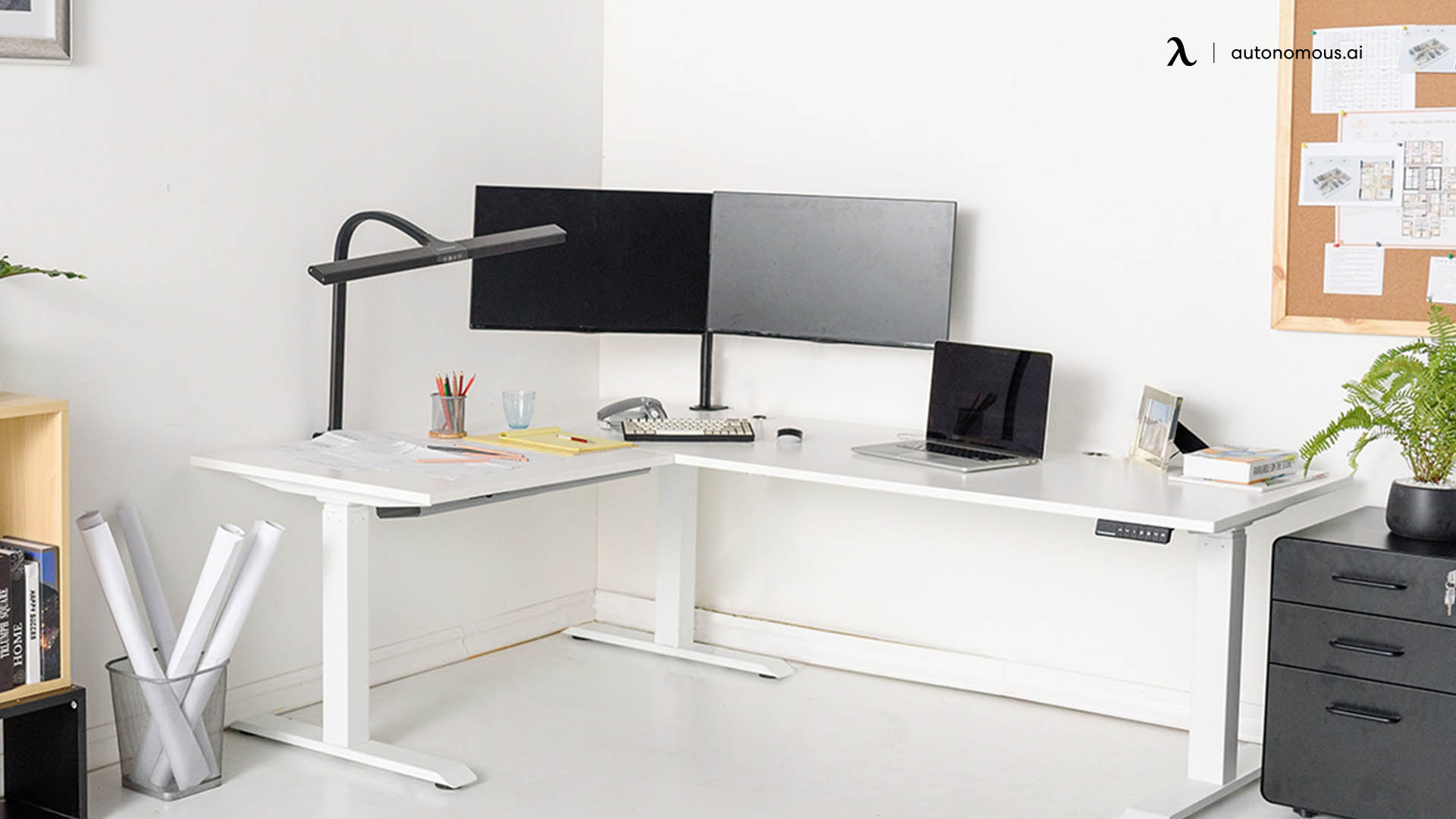 When talking about desk accessories for women, not many people think of getting a whole new desk itself. That's because they can't find one that meets their criteria or that is inexpensive enough to fit their budget. However, once again, Autonomous has everything you need.
Desks and chairs are this company's strong points, and you can notice the difference with other products when you sit on an Autonomous chair and use one of its women's desk sets. This company released the SmartDesk lineup a while ago, and it's been a complete success.
That's because it offers many desks for you to choose the one you like better, so there's no need to worry about not having enough alternatives to pick your items from. Autonomous is well-known for having a wide catalog, and that's the reason many people consider them the best ergonomic products developer worldwide.
The SmartDesk lineup in the desk accessories for women collection consists of the SmartDesk Core, the SmartDesk Corner, the SmartDesk Core Duo, the SmartDesk Pro, and the SmartDesk Hybrid.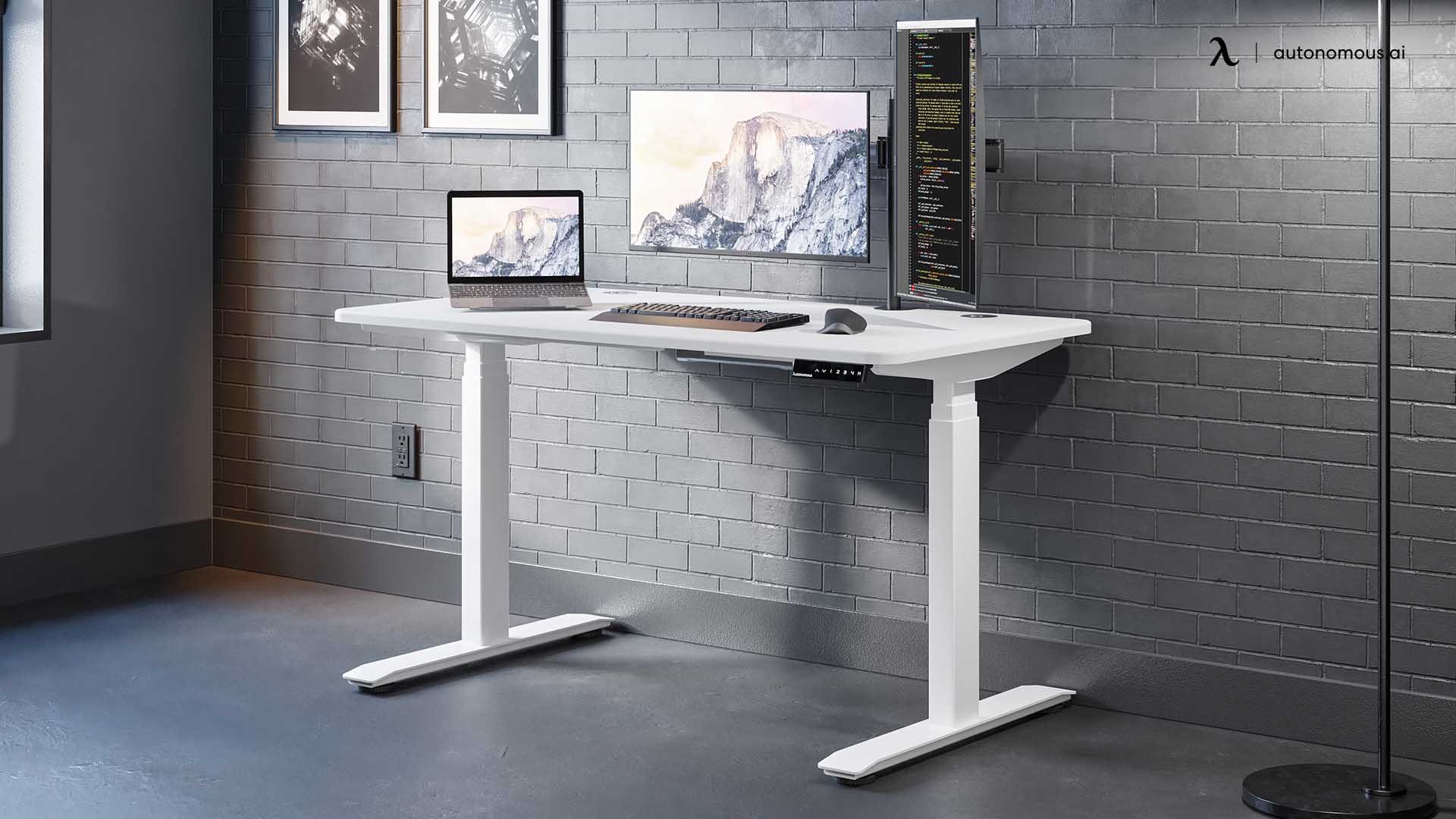 Following up with a quick rundown of what each desk has to offer you, the SmartDesk Core is a standing desk that supports productivity and allows you to stand all day without feeling any kind of pain.
One of the best things about this product is its table variety; you can have custom tabletops of all styles! When talking about colors, you can get whichever you want, however, most people prefer to go for custom table tops that make their office look different from the others.
Height adjustability is not an issue with this desk set for her, and it lets you set four programmable settings for the next time you sit on it. The desk's electric dual motor gives it enough power to make any adjustment you want in a matter of seconds and without making any significant noise.
Getting to the SmartDesk Corner, you can see why many gamers love this product. The lights on the desk make it look way better than how it looks without them., so they are an excellent addition to your office's aesthetics.
The only issue about this women's desk set is its price since it has the most expensive cost among all SmartDesk products. Despite that, this desk is only available in black or white. This desk set for her is a little larger and bigger than the SmartDesk Core, which makes it better for people who need L-shaped desks.
It's quiet triple motor makes any adjustment you can think of in no moment at all, and don't worry about the chair making any noise while working. Some people get mad when the desk they bought can't lift all their belongings, so you should check the desk specs before buying it.
That's not an issue with the SmartDesk Corner, though. Plus, this product can effortlessly lift 400lbs.
Dual desks are not something too common to see, however, they can be useful if you know how to use them. If you need a desk to work with your work partner, then the SmartDesk Core Duo is the one for you. Getting this desk gives you two spacious desks with dual motors and independent controls.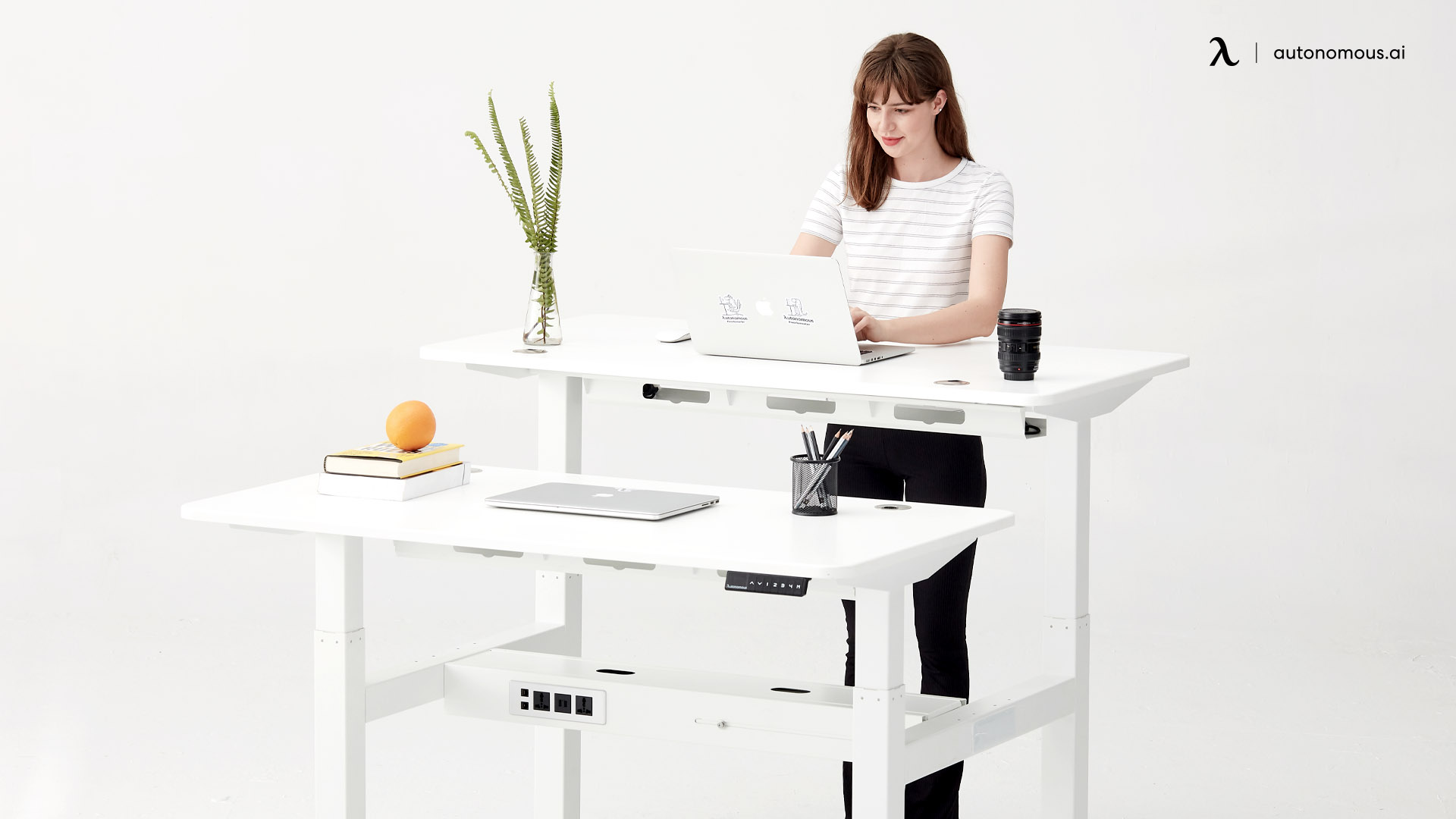 The SmartDesk Pro has the primary functions every ergonomic desk should have. On the other hand, the SmartDesk Hybrid includes only a frame for you to get the tabletop you want for it.
Buying an anti-fatigue mat for your office accessories for her is also a beneficial investment for comfort in the office desk decor for her, so don't hesitate to do it.
5. Autonomous ErgoChair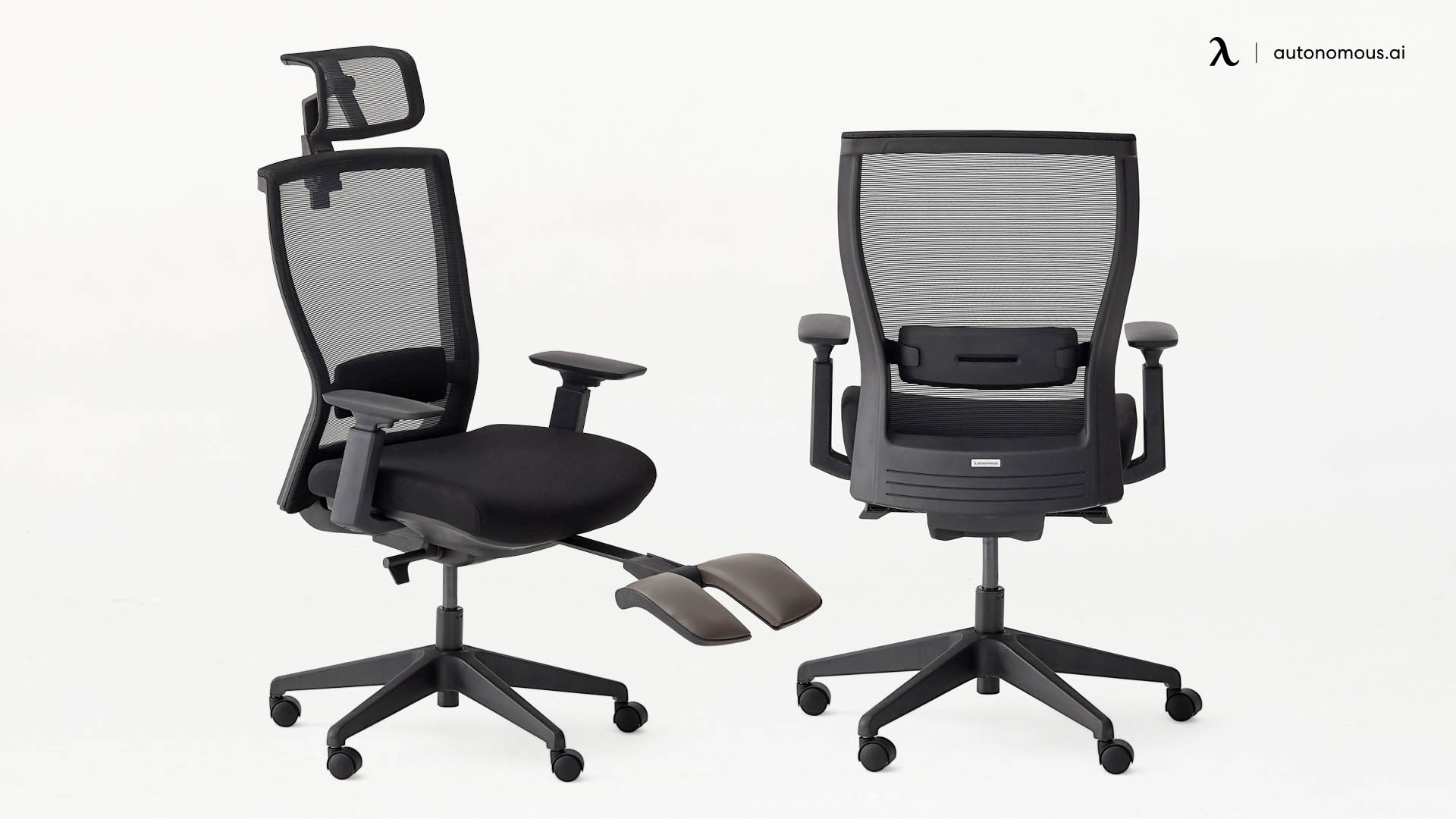 Here is the last recommendation on the desk accessories for women list. Ergonomic chairs, as we mentioned before, are an Autonomous' strong point. This company has designed tons of chairs, and each one of them is excellent for office workers. Its latest release is the ErgoChair lineup, which consists of the ErgoChair Recline, the ErgoChair Pro+, and the ErgoChair Pro.
The Autonomous ErgoChair Recline is overall the best office chair for women on the market. This product has optimal lumbar support, full adjustability, and is made of sturdy and resistant materials for a comfortable office desk decor for her.
When talking about the other chairs in this lineup, they give you similar features to the ErgoChair Recline but focus on different things. For example, the ErgoChair Recline focuses on lumbar support, while the ErgoChair Pro+ is better for comfort and posture correction.
Finally, the ErgoChair Pro was one of the first products in this lineup to be designed, however, that doesn't make it a bad chair. This ergonomic office chair aims to reduce back and neck pain while addressing any discomfort issues you may have.
Bottom Line
Women deserve to be treated as equals and have the same opportunity to find high-quality office furniture and fancy desk accessories for women. We understand it's not easy to find the best items for your office by yourself, however, you can trust that all the items on this page can make your office look more gorgeous and fancier than ever.
Don't hesitate to get them! Autonomous is always there for you.
Get exclusive rewards
for your first Autonomous blog subscription.
WRITTEN BYAutonomous
We build office products to help you work smarter.
Coming at You Live from Autonomous' Social Media!