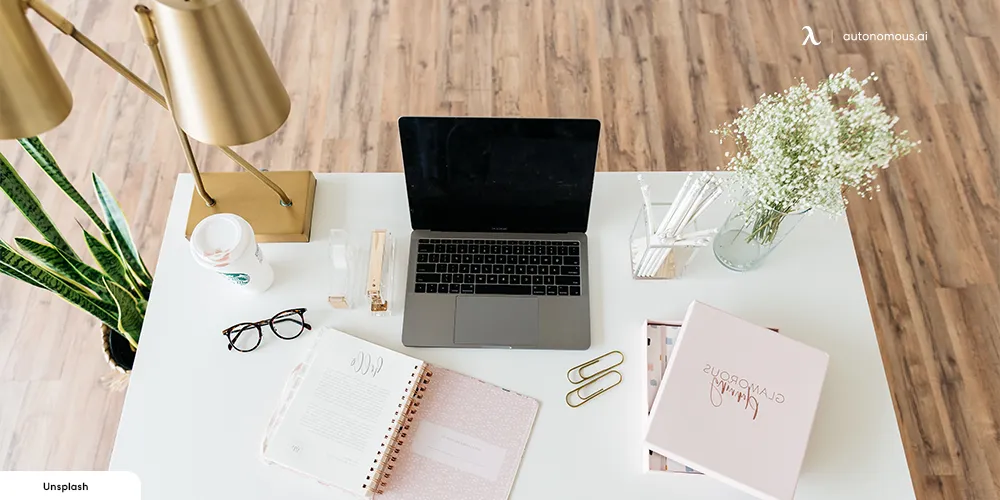 Workplace Inspiration
30 Fun and Feminine Ideas for Office Décor for Women

Autonomous
|
Jul 9, 2022
3,871 Views
Who ever said that an office needs to be dull, drab, and boring? We are firm believers that injecting a little personality into a workspace helps with motivation, productivity, and your general state of mind. As women, expressing femininity in a stylish way through our office décor can be an excellent way to feel more confident and comfortable as we excel in our professional lives. 
Here are 30 great workspace and home office ideas for her to turn your professional zone into a girl power paradise. 
30 Feminine Office Décor Ideas to Woman-Up Your Workspace
1. Add Soft Furnishings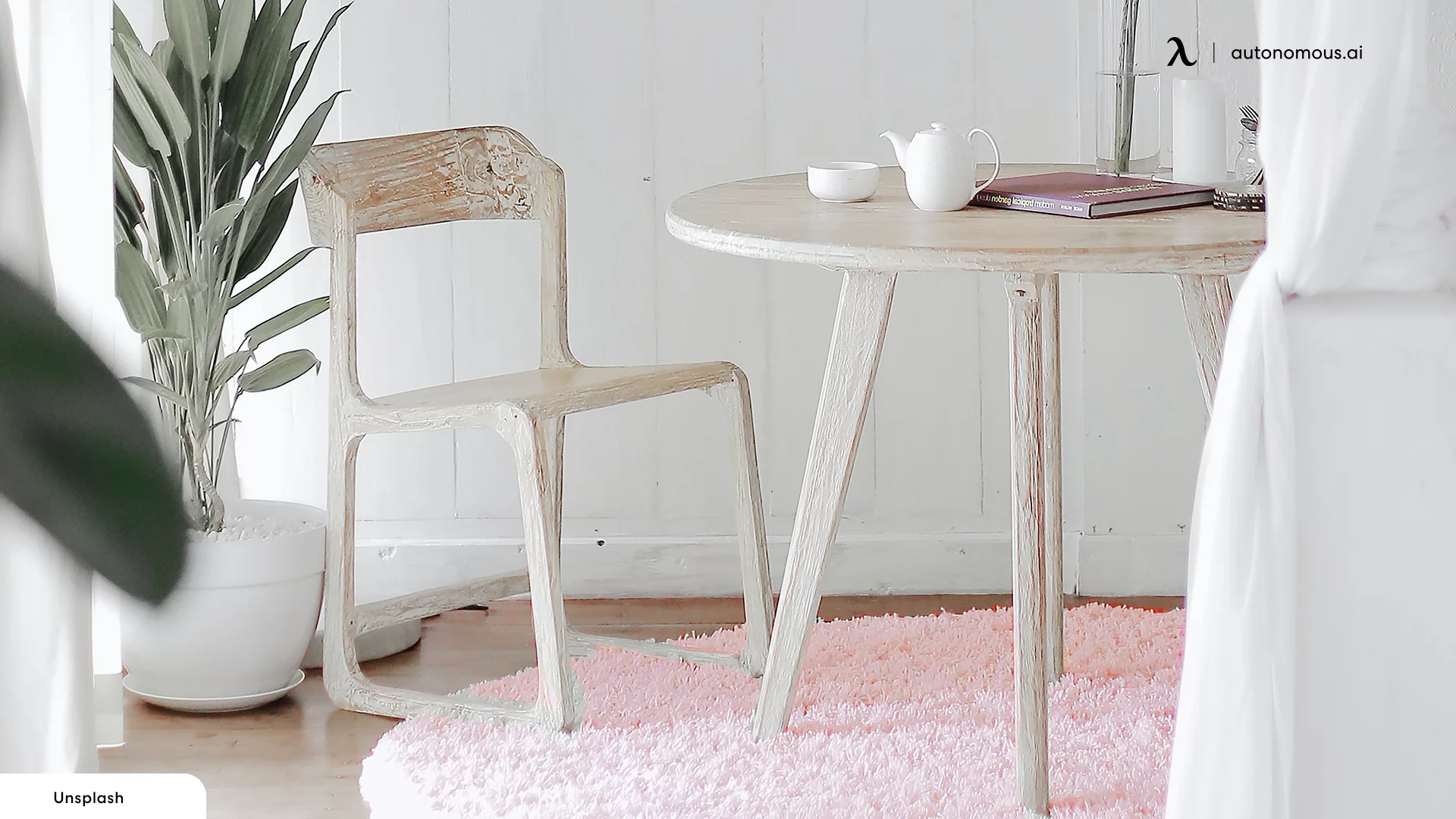 Bringing in some soft touches is a subtle but effective way to make a space feel instantly more feminine. A fluffy rug, plush chair cushion, or even some curtains take the cold edge off of a workspace and make it more welcoming. 
2. Bring in Mother Nature
What could be more feminine and fabulous than Mother Nature herself? Are you a fan of house plants? Why not make them office plants? Here are a few suggestions to make this women home office décor idea work for you: 
Hang a plant basket from a wall hook near your desk as a sort of wall art.

Place a large floor plant in the corner of the room to bring life into wasted spaces.

Keep a couple of small potted plants on your desk but well clear of your active workspace. 
3. Hang Your Favorite Artwork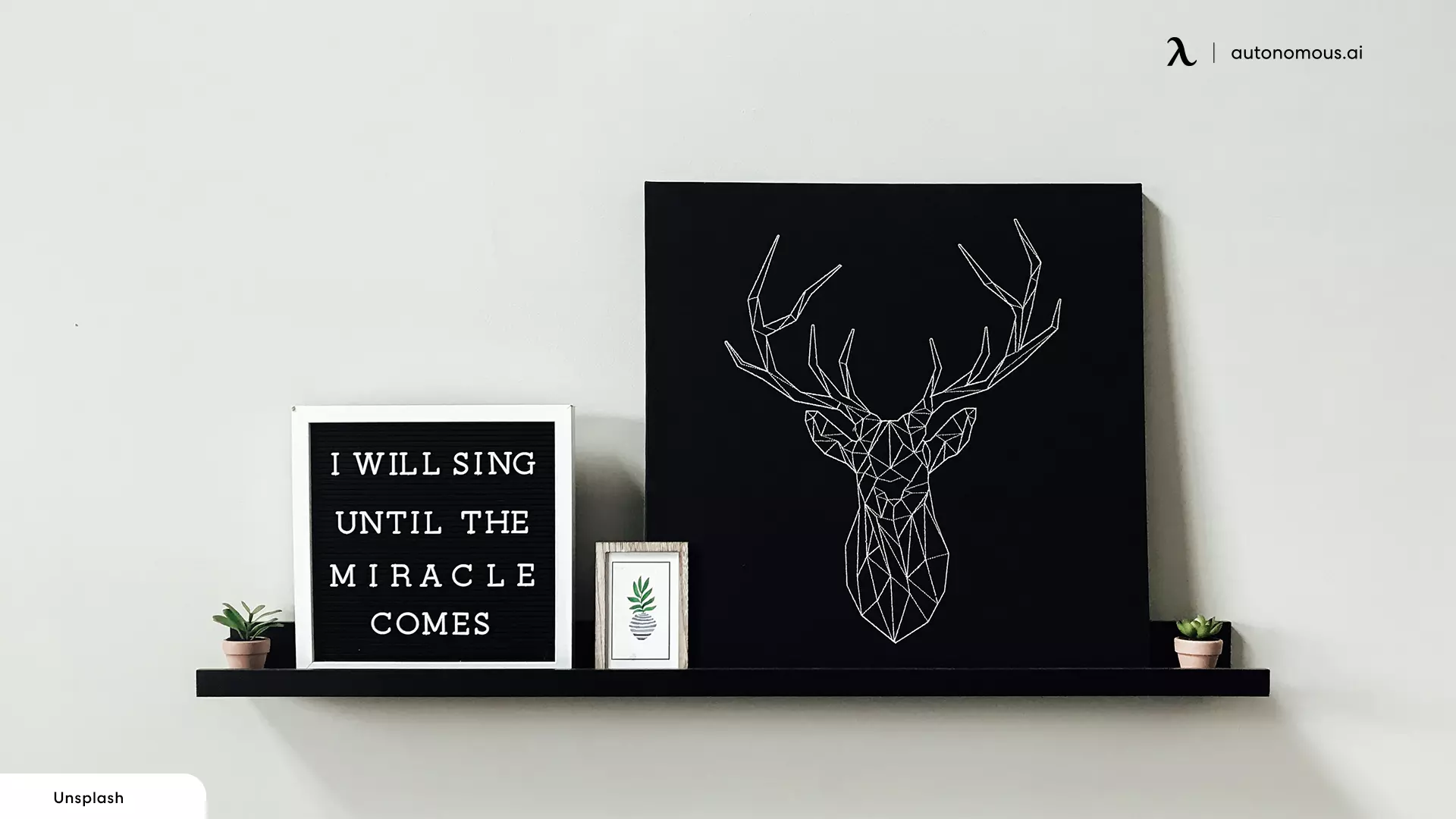 Speaking of wall art, don't be afraid to decorate your office with paintings, photographs, and posters. Of course, try to keep it aesthetically professional and non-distracting, but feel free to express yourself. Framed artwork staggered in an almost Tetris-like display on the wall is a popular trend for modern office design. Alternatively, choose one statement piece and use it as the focal point of the room. 
4. A Statement Chair
Another creative office decor for women to make a statement is with a bold and beautiful office chair. Every queen needs a throne, so treat yourself to something special. Picking the best working women desk chair is a personal thing, and everyone has a different set of priorities. Our tips would be: 
Don't lose the balance between style and substance: You want it to look good and support your posture.
Pick the right size: If your office is compact, a huge statement high-back chair could be overbearing. On the other hand, a simple desk chair could get lost in a large office, so go bold if you have the space.
Think about durability: There are some gorgeous chairs out there, but how well are they going to hold up over time? Remember, this is where you work every day, and the chair you pick has to stand the test of time. 
5. Get Personal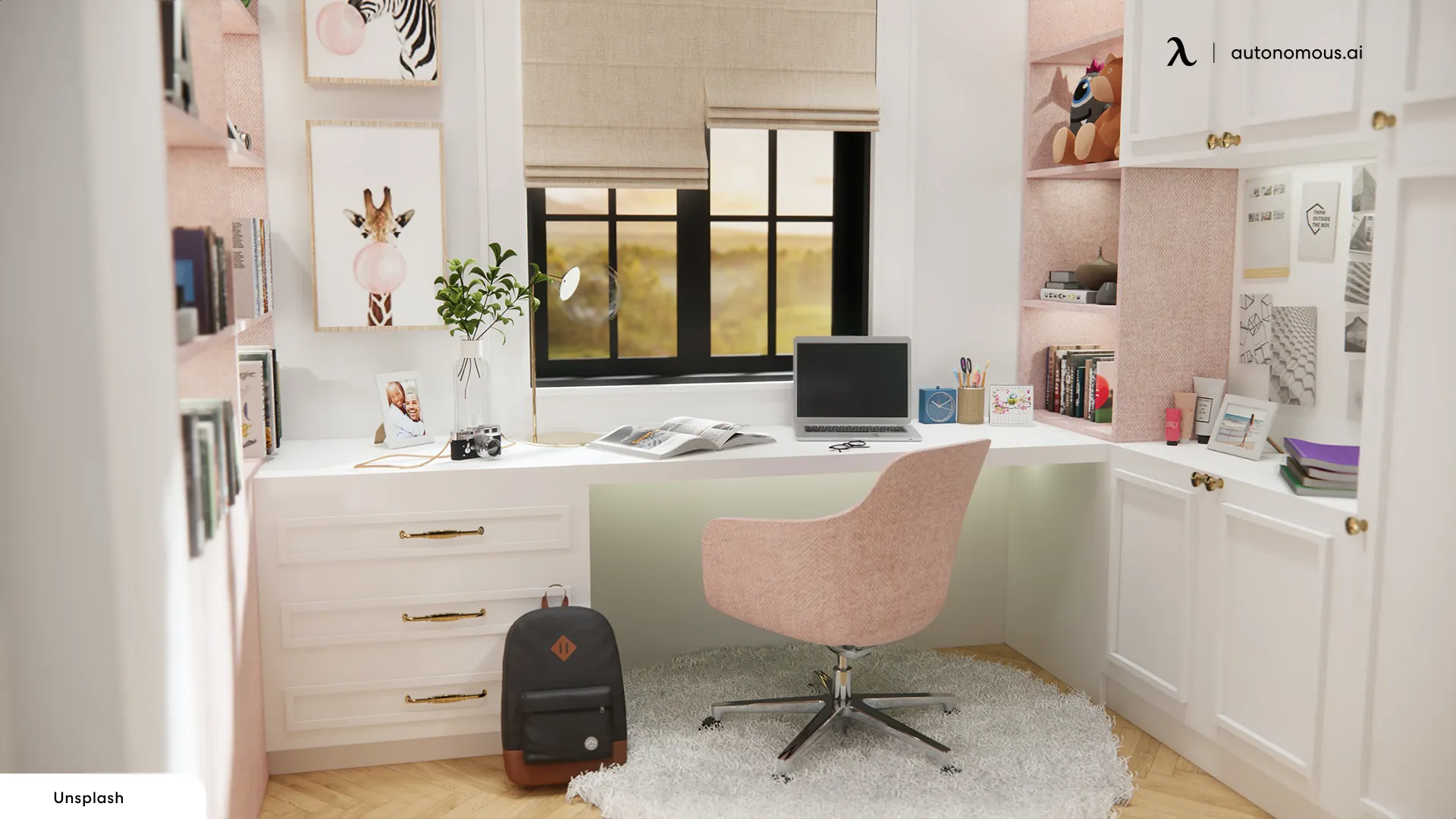 Being a professional doesn't mean pretending you don't have a personal life. Women can do it all, so why not bring the two together? Place pictures of family, friends, or pets on or around your desk to remind you what motivates you to do your thing and strive for success.
6. Go Glam with White and Gold
Feel boujee? Let it show! Gold and white is a classic feminine color combination that screams elegant luxury in a modern world. Stick to white furniture with gold accessories or accents to optimize the effect for your office decor for women. Consider adding a little gray, natural wood, or plant life to break it up. 
7. Pretty in Pink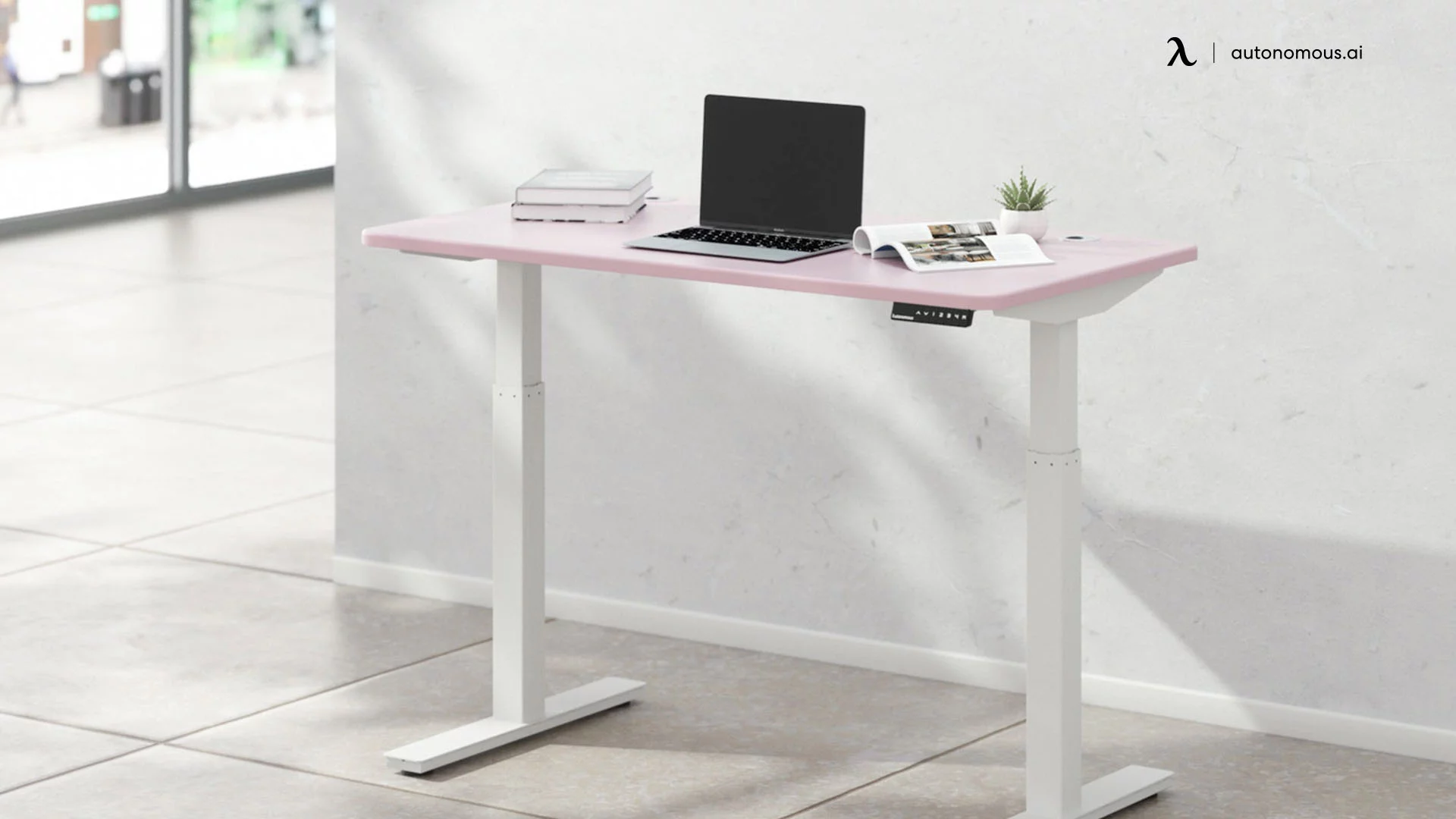 Sometimes, pink is the only answer for the office decor for women. If pink is your power color, don't be scared to incorporate it into your feminine home office. You can go full out or keep it subtle- the choice is yours. Keeping it on the classy woman side of the line rather than a little girl's bedroom comes down to color placement and smart accessorizing. That said, only you can decide how much pink is right for you! 
Our favorite office item for this feminine style idea is the SmartDesk Core with Pink Surface. Fun and functional, it enhances your work environment while supporting your pretty in pink décor dreams.
8. Feathers and Flowers
Fresh flowers look great everywhere, and they can brighten the mood of a room instantly. Feathers are ultra-feminine and very on trend- so why not combine the two? Mix long-line feathers (fake ones work fine) and fresh-cut flowers in a vase together for a chic look. 
9. Bring in a Bold Desk
It is time for the classic executive desk to get a feminine makeover in office decor for women. Think the same level of drama and statement but a bit less stuffy and old-fashioned. Be bold! 
10. Accessorize in Style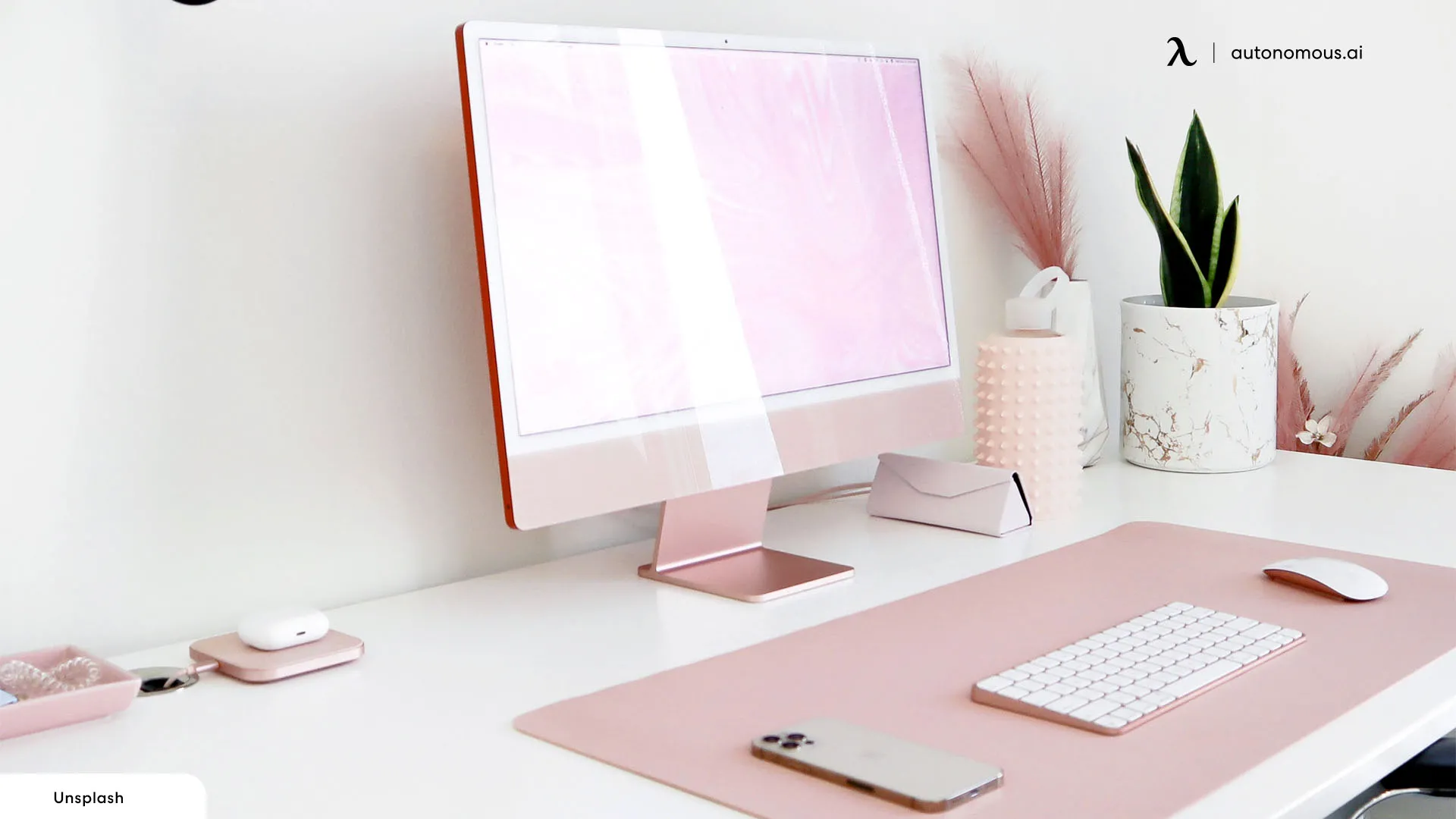 If we are living in cliches, we girls love an accessory. Smart office accessories are not just about making a space look good- they also add purpose and are genuinely useful. Check out our list of must-have desk accessories for women that you are sure to love. 
11. Add a Splash of Color
Monochrome and minimalism are very much the in thing, but that doesn't mean color is completely out! In fact, a pop of color has always been and will always be one of our favorite ways to add interest to an office space. Paint a wall, pick a wacky-colored chair, or get creative with your accessories. Whatever you do, get a bit of brightness back into your zone. 
12. Wonderful Wallpaper
Wallpaper can feel dated if not properly utilized, but it can also completely change the entire look and feel of a room. Some well-picked, carefully placed paper is a brilliant décor idea for a woman with great taste who isn't afraid to be different. 
13. Back to Basics with Black and White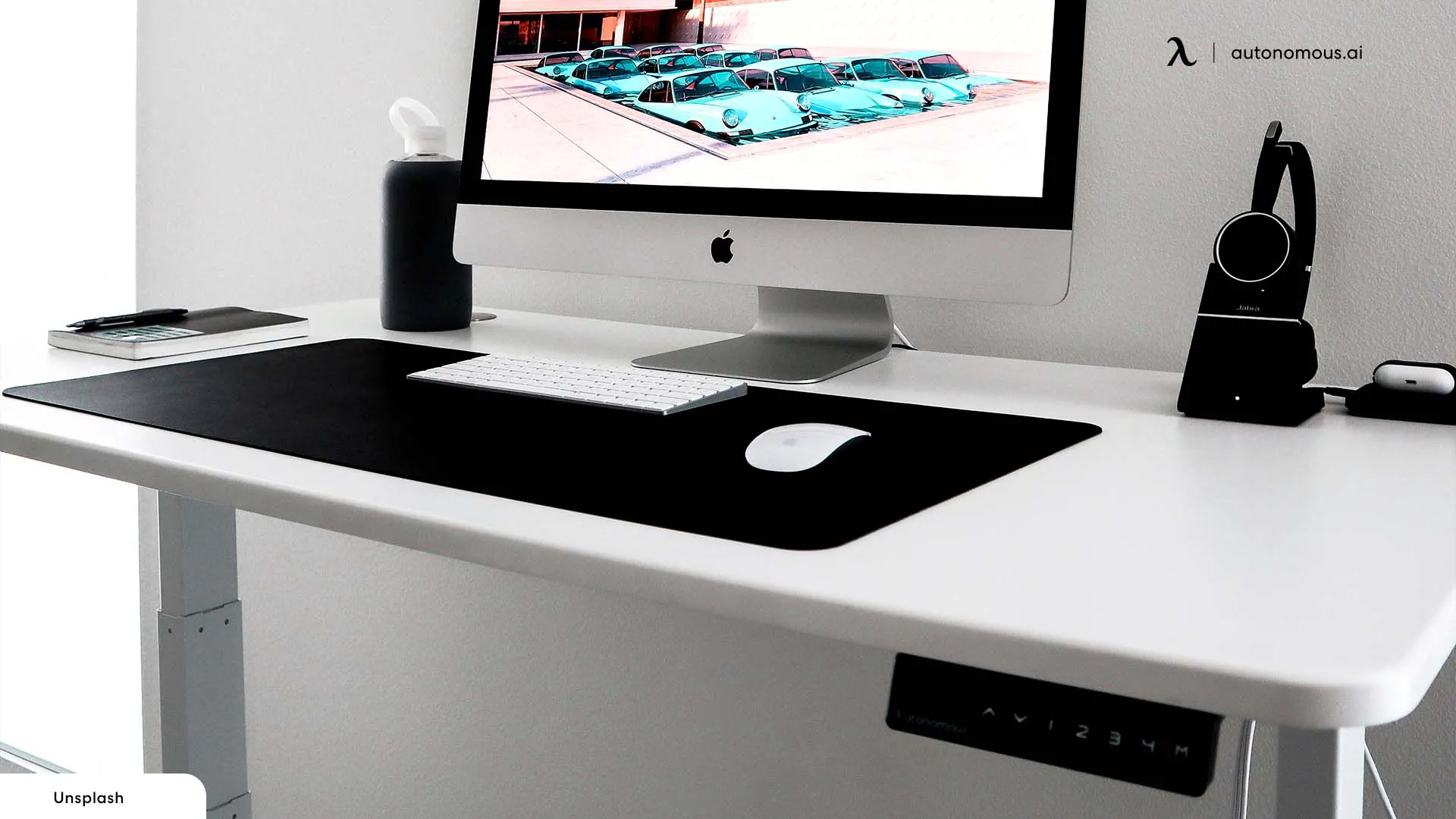 A feminine home office doesn't need to be bright, bubbly, and girls: elegant and understated is every bit as womanly, and we are all for it! Opting for a monochromatic black and white theme is a subtle but super-stylish way to make a statement. Our top tip is to go for white office furniture and walls and use black highlights and accents to create drama. 
14. Let in the Natural Light
Décor isn't just about stuff: it is also about how a room feels. Natural light is good for the eyes and the soul, so let plenty of it in if you can. Set up your desk near a window and use reflective surfaces to spread the light around if your area is quite dark.
15. Understated Chic
This is one of the interesting home office ideas for her. An elegant women's home office can be subtle. Strip away all the extras and go for simple, neutral colors with a few special notes around the room for a sophisticated and professional look. 
16. Add a Wall Mural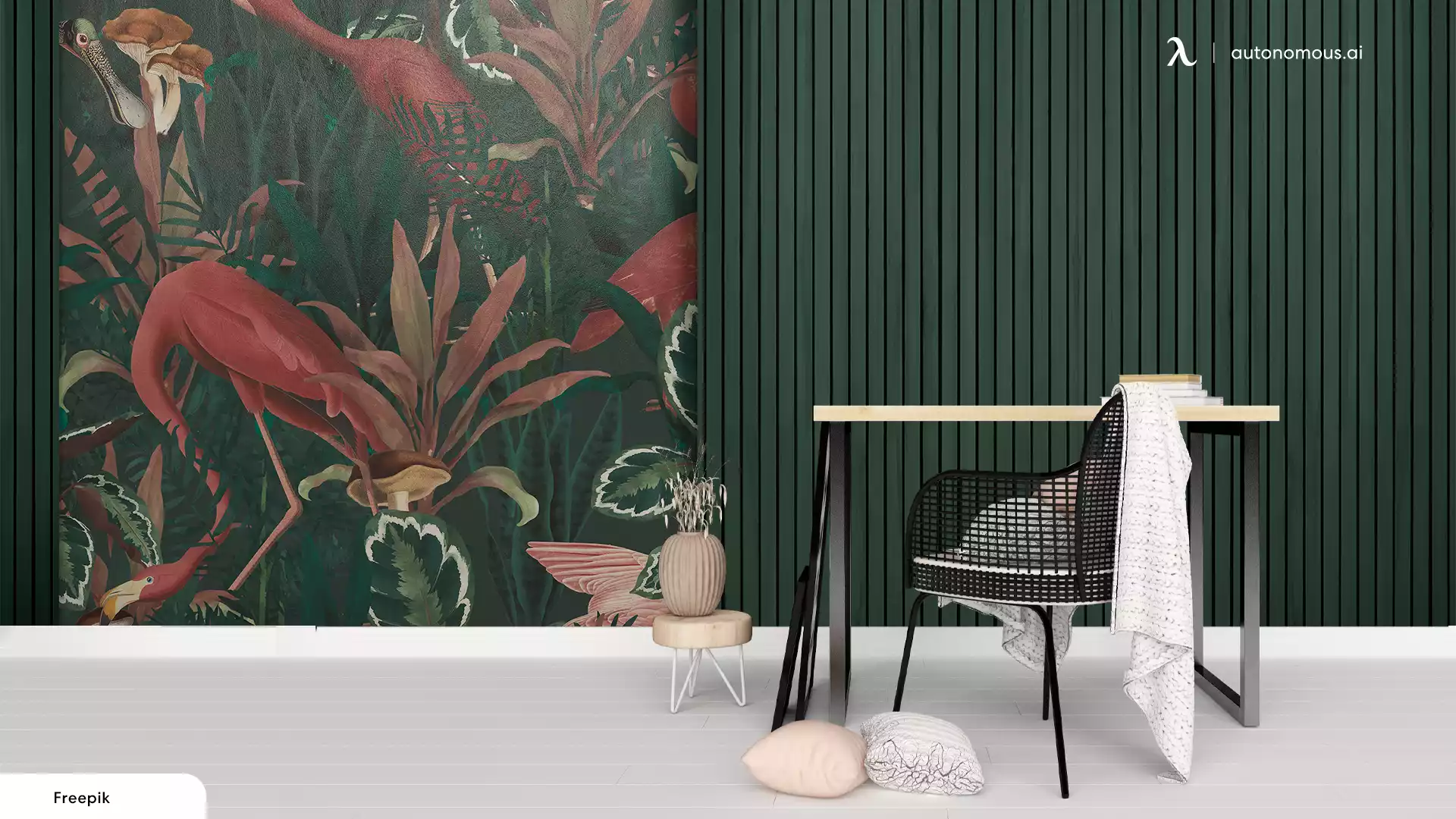 Feeling creative? Your walls can be a canvas. You can either try your hand at a bit of DIY or call in a pro- either way you can bring instant interest and a girly twist to the workspace by creating art directly on the wall. 
17. Hanging Shelves
We love hanging shelves and believe there is always a place for them in a fun women's home office setup. Choose from box shelves, single plank, or mounted multi-level storage, depending on what you plan to keep there. Style them with books, photographs, or plants, or use them to keep your desk clutter-free. 
18. Go Girly with String Lights
Fairy lights make everything better. If used properly, they add a cute vibe to your desk without feeling like year-round Christmas (though what's wrong with that!?). Incorporate them into a hanging plant or use them on a hanging shelf- whatever makes you happy! 
19. Perfect Pastels
Another color scheme for a flirty, feminine home office is pastels. Band on trend and understated enough not to be distracting, pretty pastels are an excellent choice. Why not paint a statement wall or choose soft furnishing in these colors? 
20. Keep Things Natural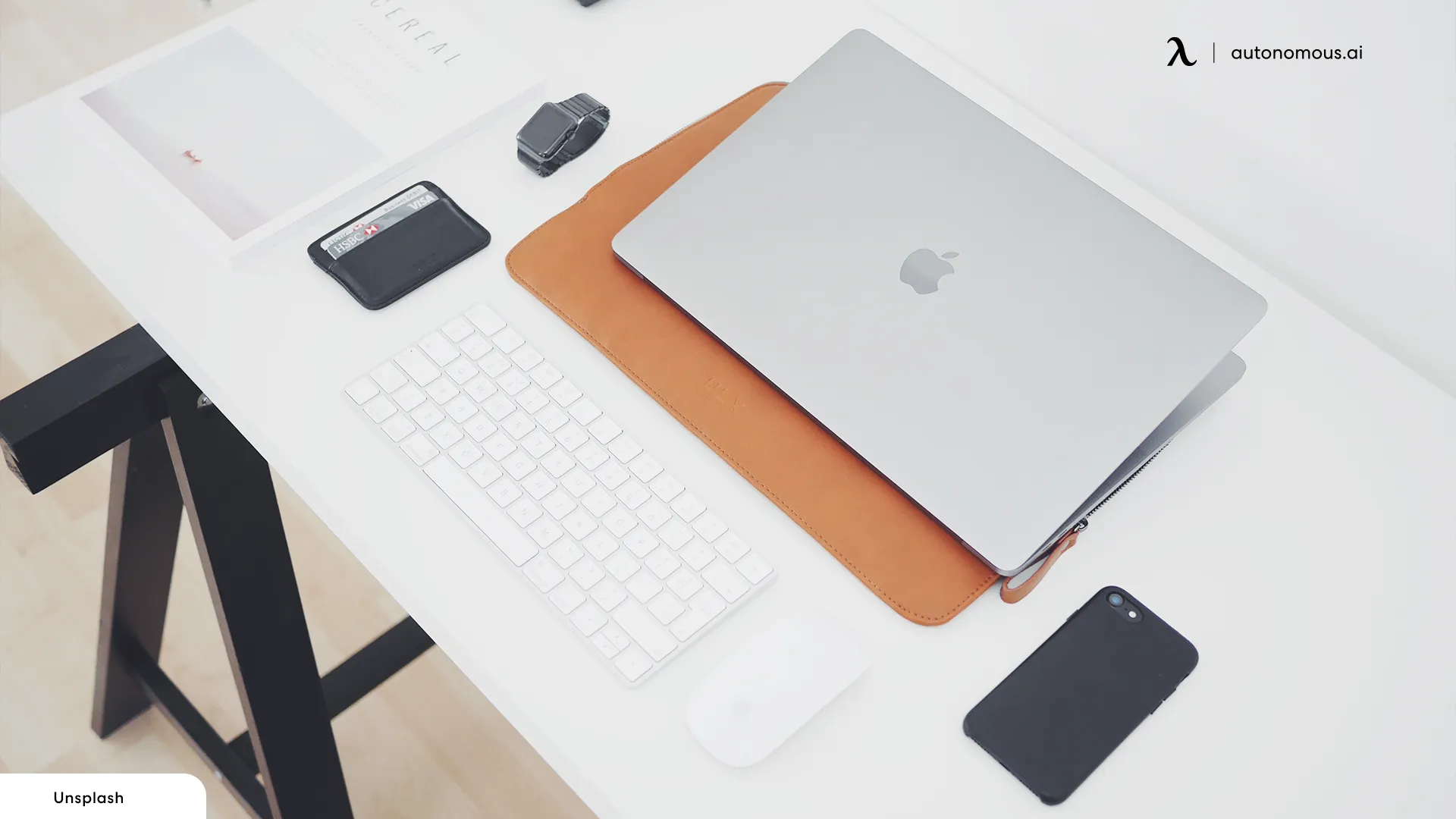 Natural elements are modern, stylish, and beautiful- just like powerful working women. Adding a hint of wood either as a piece of staple furniture or to accessorize can soften the feminine home office overall. Try to think eco-friendly with this design idea and use ethically sourced materials. We love the Sustainable cork desk pad as a smart and sophisticated desk accessory for women.
21. Minimalist Magic
Minimalism is professional, functional, and powerful, making it perfect for a modern working woman who likes to keep things under control. A plain color scheme with a clutter-free desk and limited distractions is the way to go. 
Smart storage is a must in a minimalist feminine home office. The 3-drawer filing cabinet by Autonomous is the perfect way to subtly store supplies without ruining the trend.
22. Bohemian Goddess Vibes
Boho is going nowhere, especially not in feminine office décor trends. Think neutral colors with natural elements and quirky soft furnishings. Bring in plants and art to compliment your color palette, and don't forget the boho rug! 
23. Mix in Metallics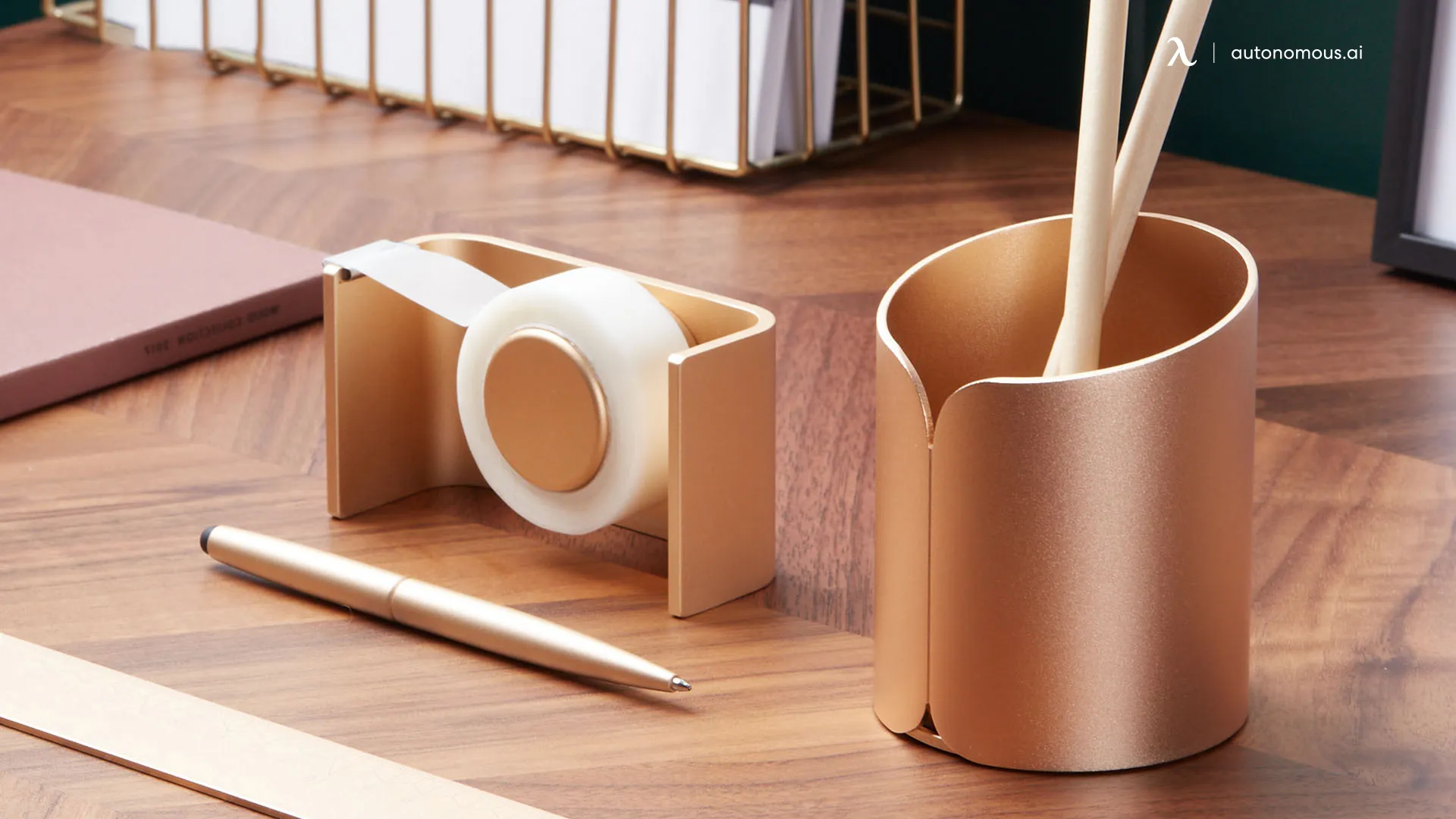 The way you accessorize changes the whole feel of an office. If you want a sleek, chic, modern woman look, consider bringing in some metallic elements as a point of difference. It can be subtle, like this City pen cup by Lexon we love so much, or you can make it into more of a statement with your choice of chair or wall art. 
24. Switch Things Up with a Standing Desk
Part of being a woman is being able to multitask, and for a lot of people working from home- they don't have an option! Channel that on-the-move feminine energy with a sit/stand desk to keep things flowing and still looking great. 
25. Use Creative Lighting
Lighting can do so much more than just help you see properly. When done well, it can be the main statement in a room. Here are some ways you can use lighting to make your feminine office décor feel more feminine: 
Buy a fancy desk lamp

Install a tasteful chandelier

Use strip lighting around the desk

Sidelight your desk for drama
26. Mirror Mirror On the Wall
A small space doesn't have to feel dark and cramped- add a well-placed mirror to spread around the light and open up the area. If you have limited natural lighting, this is a great tip for brightening the room. 
27. Feeling Peachy
Back to potential color schemes for feminine office chic: peach is a twist on the classic pink theme that brings year-round summer vibes. You can mix it with cream and yellow accents to really achieve the look and accent it with black to break up the sweetness.

28. Create Your Own Cozy Corner
Your home office setup can be many things, including a place to escape and relax- especially if you work from home in a house with kids! Repurpose unused corner space with a comfy chair or reading nook with a soft throw and cushions for some well-earned R&R after a hard day of work. 
29. Think about Scent
Consider your other senses, specifically smell. Introducing fragrance is a great way to change the atmosphere and enhance your working environment. Consider reed diffusers, and wall plug-in, or a room spray. Whatever you choose, keep it subtle rather than overpowering- headaches won't help you reach maximum productivity. 
30. Add a Touch of You
Whatever you do, make sure your personality shows! This may be your workspace, but you are not a robot! 
Final Thoughts
Being feminine can mean so many different things to so many different people. The key to excellent office décor for women is letting personal style and professional requirements blend seamlessly into one space. 
Whether you feel most productive in a paired-back minimalist environment or surrounded by cushions, photographs, and plants: let it guide you. Remember, only you decide what feminine means to you, and it is up to you how your power women home office should look. 
These 30 ideas can help inspire you to create your perfect space, so get creative and unleash the ultimate feminine office décor on your personal workspace.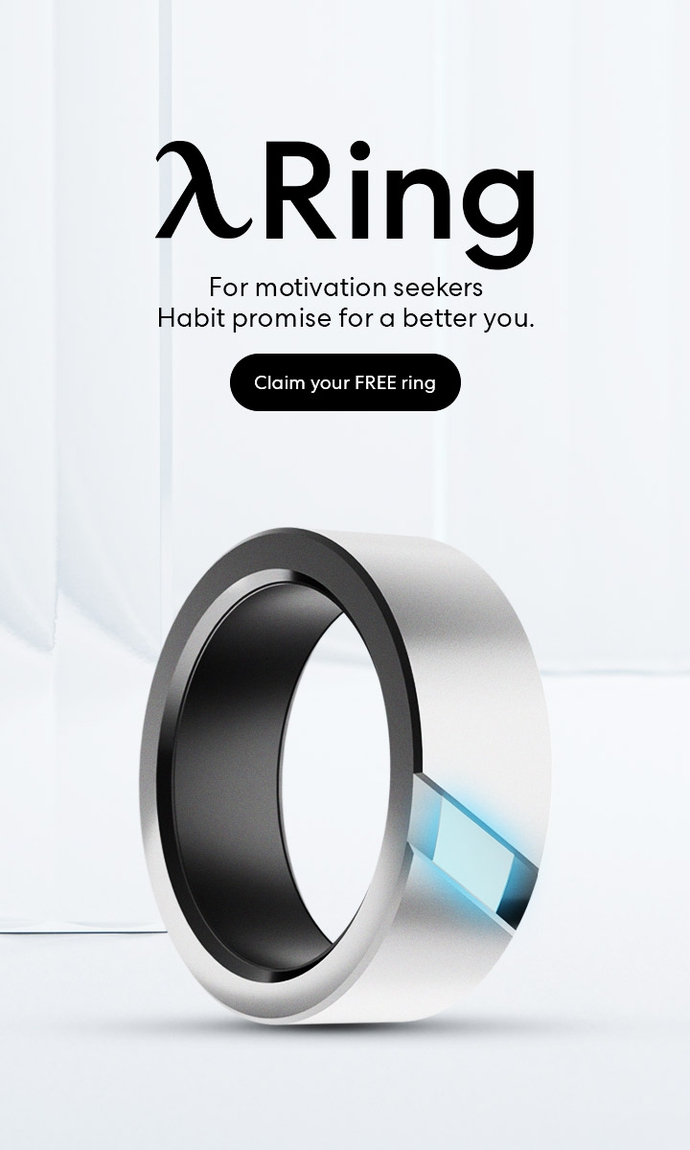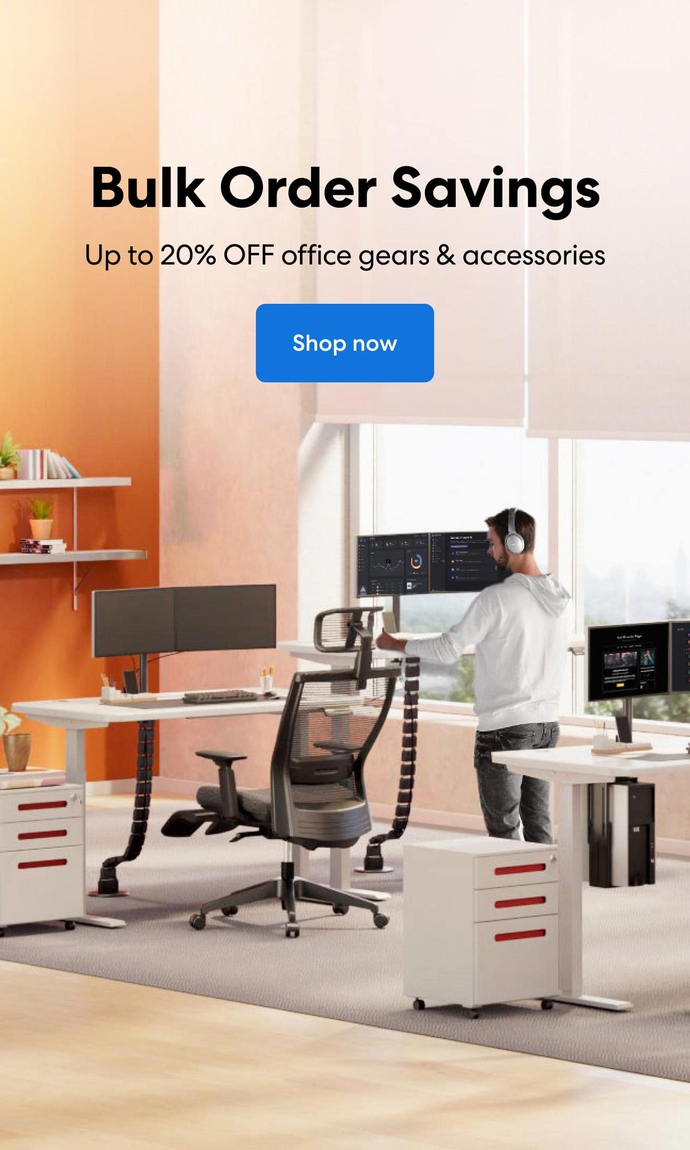 Subcribe newsletter and get $100 OFF.
Receive product updates, special offers, ergo tips, and inspiration form our team.