Is the home office setup compromising the aesthetics of your home? Not only your desk doesn't go well with the theme, but it is also cramping up the space to create a sense of suffocation and gives an overall daunting look. This is especially true for people with small homes with big families who had difficulty managing the space to find work from a home corner. Guess this transition to remote work hasn't been easier for all of us. Other than looking for various government purchase programs to get discounts on office furniture to find the perfect work from home space, the challenges are too many.
Limited space and lack of a private corner have been frustrating challenges employees face when working from home. It ruins the outlook of your tiny space and impacts productivity, and especially when you have more than one person who needs a home office setup, there begins the challenge of dividing and ruling the space.
While you might have thought about taking turns at the desk or working from our respective beds, not having a sole work corner doesn't work in the long run. Hence it would help if you had a proper home office setup. And in the case of multiple people, such as a tiny office or two persons working at home, the room divider for home office is a wise choice.
Yes, home office partition ideas work great for limited space and create an office-like environment where each person has their own secluded yet included workstation. It also prevents cramping up your space because the home office room setup through this method considers all the needs of an office set up for all the parties. This article will cover some DIY office room dividers that you will love.
DIY Home Office Room Divider Ideas
Rolling Doors
This room divider for home office works well to divide your living room space into two and works ideally for homes with a substantially large living room. The rolling doors can be a perfect two to break a room into two entirely separate rooms without building a wall or doing any permanent infrastructure changes. You can purchase rolling doors in any material, whether wood, metal, or glass (if you need a peek from the other side) and install them to make the division possible. One advantage of such a division is that you can easily open the rolling doors and open up the room into one large room anytime you like.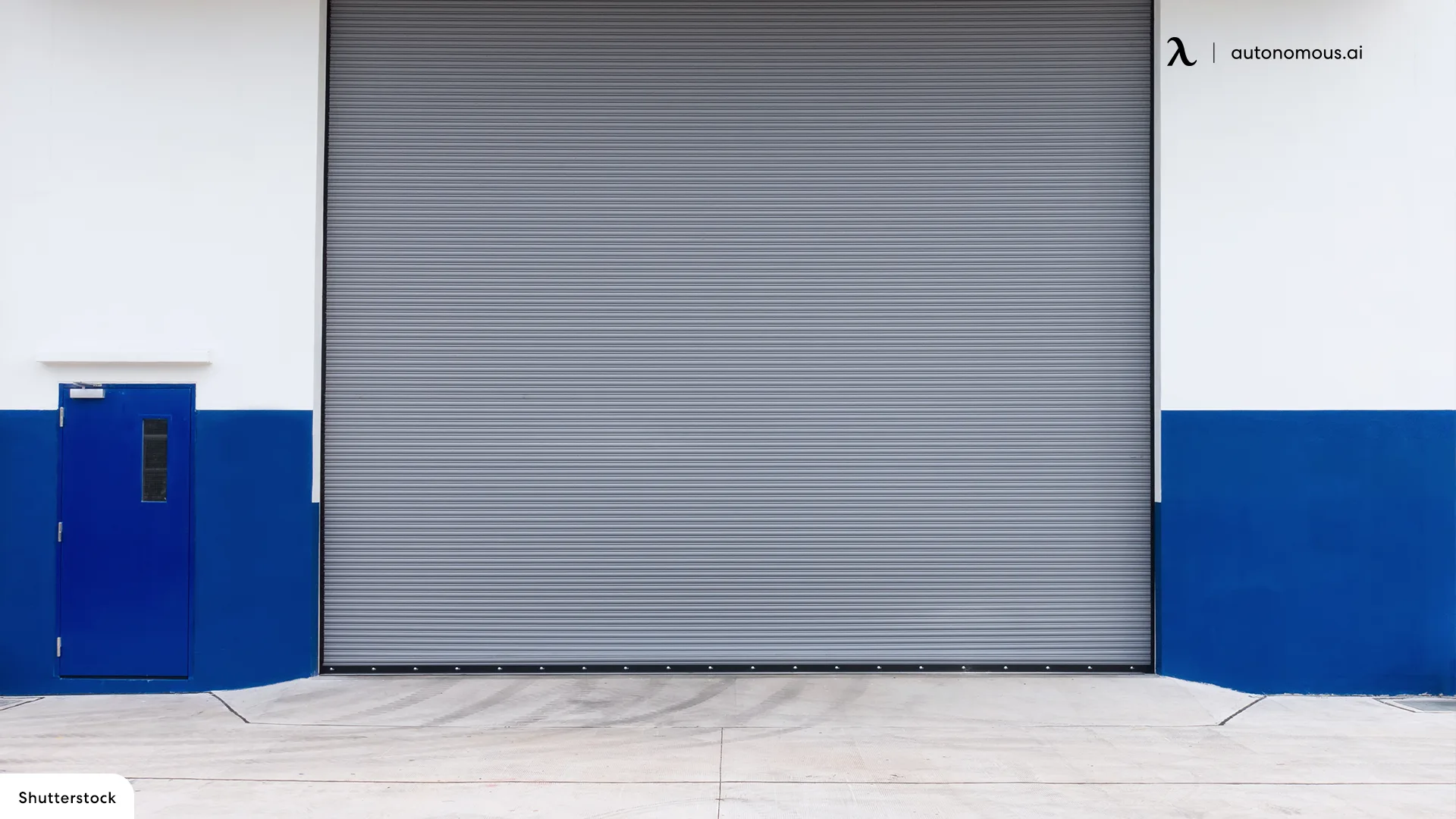 Rope Wall
If you are into some aesthetics and traditional bohemian style, this rope wall will be the right fit. It just physically separates the space and adds color, texture, and style to your home office. The idea isn't only ideal for home office division but is also suitable to add aesthetics and boundaries in a professional office. It does not completely block visibility and light, so if you share a central light, this won't dim the entire look. However, this one doesn't block noise, so you might not want to share this method with a chatty colleague.
Geometric Room Divider
This striking design suits a gamer room to be separated from office workers or even two office workers who love a little pop and splash of colors. You can DIY room divider for home office or purchase a geometry room divider from any store made mainly in plywood and lumber to add texture. It adds looks and functionality and is easy to fold up in a few seconds.
Frosted Glass Divider
If you are going all classy and glassy with your expensive glass desk, then a frosted glass room divider suits the theme. It is a great idea for a bedroom office room divider where you can separate the work desk from the bed. Though glass might be a heavy investment, use the employee purchase program or programmer purchase program to make this purchase count.
Shelving Unit Room Divider
For a teacher to work on one side and a student on the other, people who work with lots of documents and papers require many storage options. This storage unit room divider from Ikea is a suitable hack. You can purchase this humongous divider through the student purchase program or teacher discount to get enough savings because a large wooden piece of furniture isn't light on the pocket.
Vinyl Record Room Divider
One of our favorite aesthetic and pleasing ideas, the vinyl home office space divider, is a great way to elevate looks and functionality for a gamer. With the high-tech gaming equipment you want to separate from the other rooms in the home, the vinyl divider will create a look of its own. It will effortlessly divide your space and also bring a funky artistic style. You can also use the gamer purchase program to make this purchase.
Room Partition with Drapes
Hide your workplace or bedroom behind a stunning drapery wall. This clever design allows you to vanish behind the wall for complete seclusion. The process is fairly similar to that of installing a curtain rod. Make sure the curtains you choose are long enough to reach the floor. You can nearly completely block out the light this way. Drapes with built-in grommets lend a touch of class, but hangers could also be used. Don't forget the central support to protect your curtain rod from sagging.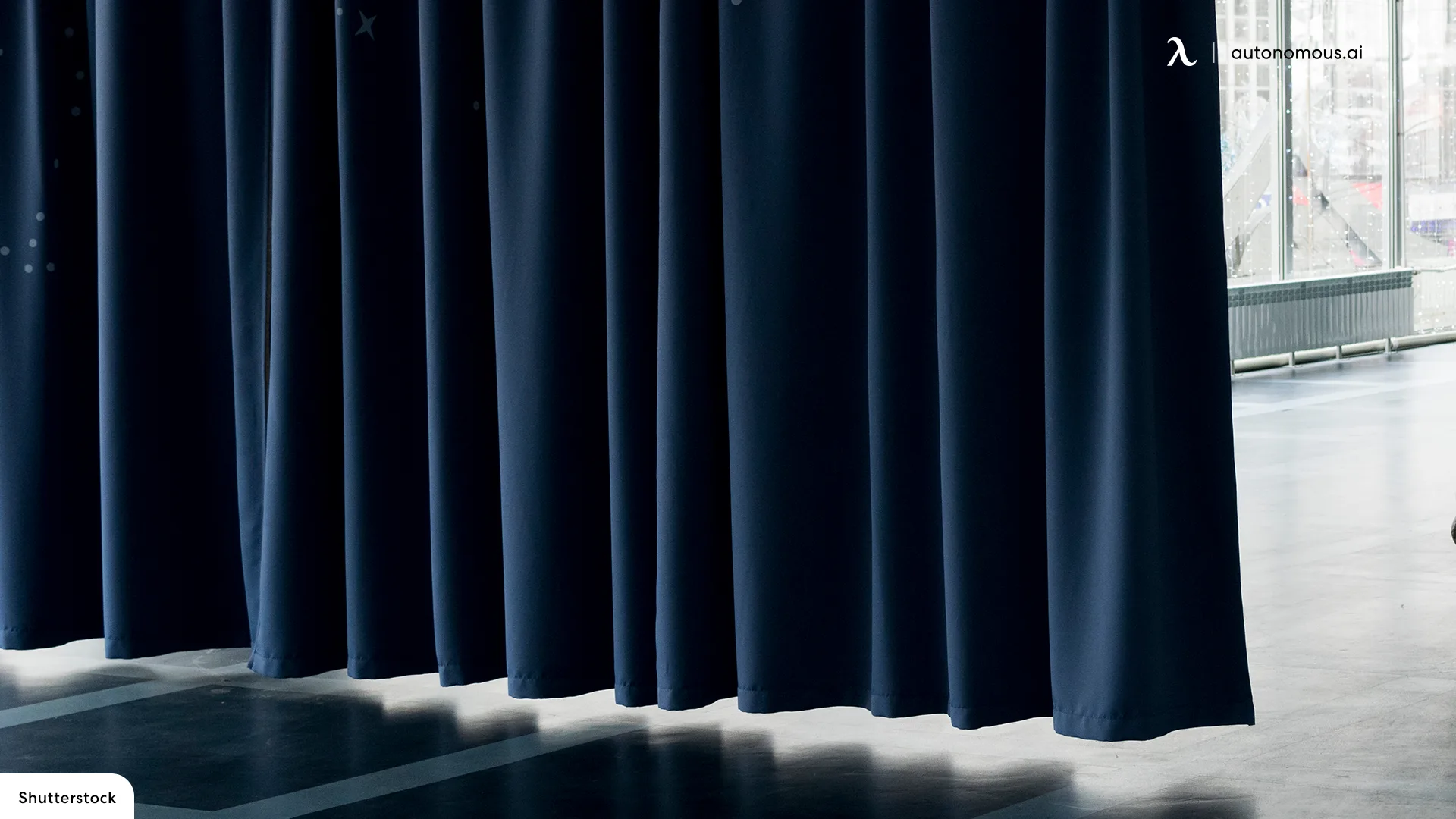 Industrial Shelf Divider
With its wood and iron frame combination, an industrial shelf unit is ideal for introducing the industrial trend into your house. It can be used in any room as a storage solution and a room divider to create a dedicated home office space.
Depending on where you choose to put the freestanding unit, get creative with how you adorn it with books, little ceramic pieces, or other decorative objects to complement your new home office atmosphere.
Vertical Room Dividers
Horizontal room dividers like shelves, rolling dividers, and drapes are great, but they might consume up a lot of square footage for a room that isn't wide enough. This means the problem remains at level one, where one has to live in a cramped-up space. A vertical sound absorption panel might help you zone out background sounds in crowded and noisy open-plan areas. However, it can also be utilized as a room divider to assist you in establishing a concentrated setting.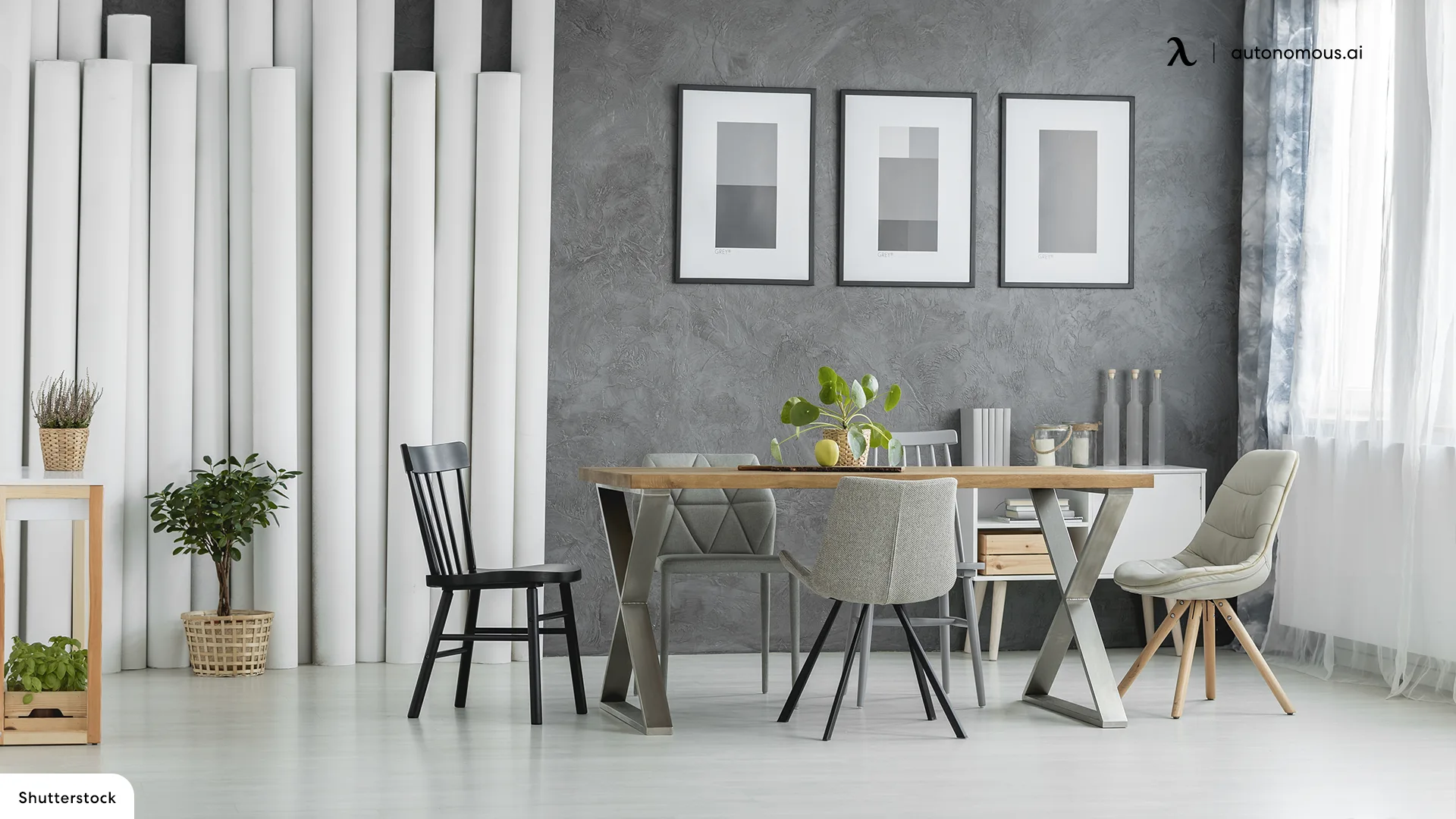 Some Room Dividers for Your Home Office
Having a private corner for work is something that everyone desires, but such accommodations become difficult when you have a small space. You must be aware that only having a desk privacy screen won't be enough. You may even consider a privacy booth as a possible solution. However, a room divider for the home office works best for anyone.
You must plan your home office layout in a way that accommodates your office space divider. The question which arises here is which home office divider will be better for you.
There are multiple home office partition options available in the market. These partitions let you have a private corner for your work and multiple other advantages, such as hiding clutter, increasing functionality, etc. We have shared some of the best office room divider options from the market below. You may choose any of these to execute your private office layout ideas.
1. Tension Rod Room Divider Kit
The first one on our list is RoomDividersNow Tension Rod Room Divider Kit. This kit is available in eighteen different colors and prints, so you have a wide variety of curtain dividers to select from. It is a multipurpose divider kit that you can also use as an office room divider. The good thing is that this divider is very portable, so you can easily carry it wherever you like and keep your home office essentials safe.
The divider features a spring-loaded tension rod that you can easily adjust as per the width of the space along which you wish to put a divider. Ideally, this divider kit works best for 6ft to 12ft wide spaces. Since it is available in a wide size range, you can easily choose the one that fits the best in your office space. All you are required to do is adjust the tension rod as per the width and slide in the curtains.
2. VEVOR Room Divider Kit with Rolling Wheels
The second one on our list is the VEVOR Room Divider Kit, which comes with rolling wheels. The good thing about this kit is that it is even more portable than the previous one that we mentioned. Once you have set up the divider kit, you can easily move it to any other room where you need a divider. There are four rolling wheels, two at each end, which help you move the divider kit from one place to another.
Since the self-standing room divider frame has a durable aluminum alloy, the frame won't catch rust over time. Because it has rolling casters, the assembly is very simple. You won't be required to do any drilling to fix this divider. Overall, it is a lightweight and portable room divider that can be of great use. 
3. ChadMade Hanging Rod Room Divider Kit
ChadMade Hanging Rod Room Divider Kit is one of the best options available in the market. This room divider kit is available in various sizes so that you can easily pick the one that fits your home office. Moreover, its availability of fourteen different options makes it a desirable choice for many users. You have a wide variety of colors to pick from, so selecting the one that suits your room will be easier.
The room divider kit comes with both ceiling mounts and wall mounts, so it is up to your discretion as to whichever you like to pick. Overall, these curtains will be great at increasing home office storage, hiding clutter, reducing sunlight exposure, sharing space, and working in peace. 
4. Ceiling-Mounted Room Divider Track by Royal Room Dividers
Royal Room Dividers make some of the premium home office partitions. Their ceiling-mounted room divider track is one such option. One thing to note here is that the divider track and curtains are sold separately, so you must pick the suitable curtain if you are selecting this room divider for your home office.
The good thing about this divider is that it is corner-friendly. That means you can easily turn this divider around the corners. The track comes with pre-drilled mounting holes, so the assembling takes less time. Overall, this ceiling-mounted room divider can be a great choice for people who love having premium-quality options. 
5. AK TRADING CO. Curtain Panels & Rod Pocket
AK TRADING CO. has designed some amazing pieces of office space dividers, and their Curtain Panels with Rod Pockets are one of the best ones on the market. In fact, they are one of the most budget-friendly options that you may find online. The most interesting thing is that this curtain divider is available in thirty-three different colors. So, the pool of choice is even bigger here.
The company has used polyester to design the curtains, which makes them washable. Although people often use them for decorating wedding venues and parties, their curtain stand makes them suitable for partitioning a small home office as well. All you are required to do is pick a decent colored curtain that matches your home office and fits the floor stand of this curtain. Once done, you are all set to divide your home office. 
6. End2End Room Divider Kit
If you are looking for a premium room divider solution, it is better to go for RoomDividersNow End2End Room Divider Kit. It is a ceiling curtain that can help you add partitions in wider spaces. You must drill its holders to the ceiling and hang its rod onto the holder. The rod will then serve as the hanger for your room dividing curtains.
The good thing about this room divider for the home office is that it comes in various sizes and features high-end materials. The assembly is also very simple so that you can create a private corner for your office work in minutes. Since this curtain is available in six different colors, you can easily pick the one which works for your home office and have a peaceful work experience.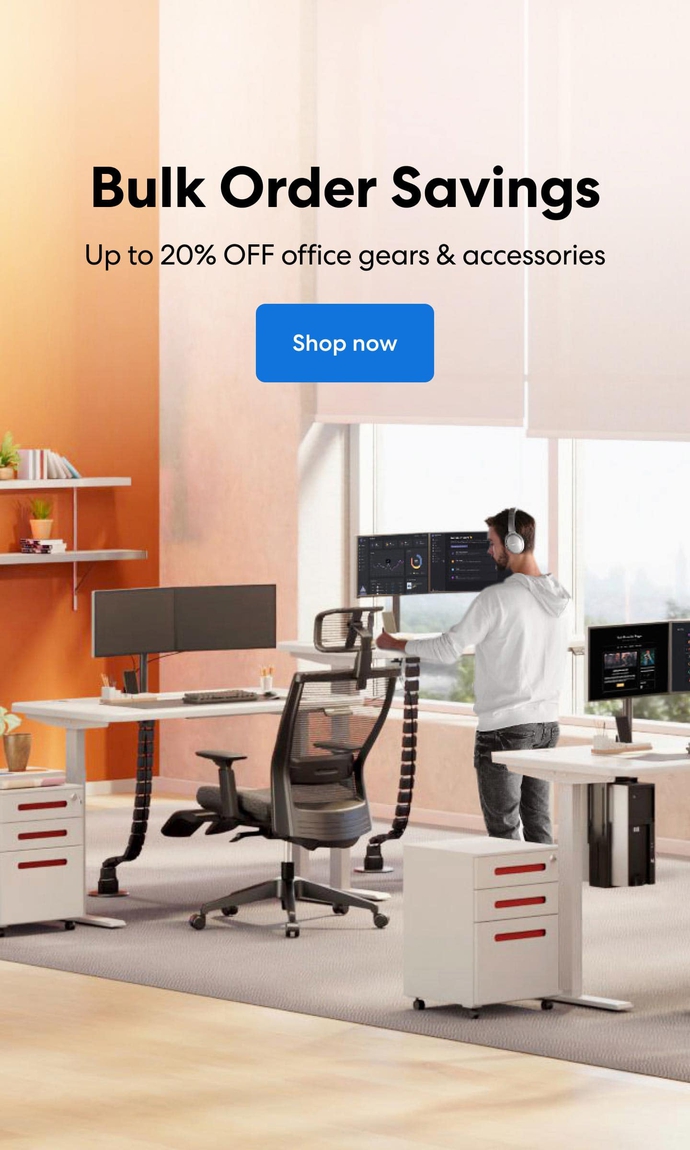 Subcribe newsletter and get $100 OFF.
Receive product updates, special offers, ergo tips, and inspiration form our team.