Today's businesses mostly gravitate toward flexible office layouts. These can help create customizable workspaces, which can foster interpersonal relationships and encourage collaboration between employees. However, the best part is you can enjoy these benefits without compromising your privacy needs. 
For example, furniture such as office desk dividers can help you have a tangible and flexible office module that delineates your personal workspace, creating a private area where you can focus on work.
Desk dividers are excellent items you can use to preserve your privacy at the workplace or at your home office if you share your room with someone else. Although they're not as common as other items, you'll see how better you'll feel after implementing one of these items in your home office desk layout.
The following sections will explain to you what to evaluate in good table dividers for privacy. You can find many options in the market, but please note that not all of them are suitable for everyone. There are designs and options for all individuals and budgets. This article describes various desk dividers and office desks with partitions you can use in your workstation to maximize your productivity and add some privacy. 
Types of Office Desk Dividers
The best table dividers for privacy allow employees to interact with their coworkers while creating a productive workspace where they can work comfortably in private. If the workplace has little personal space and large table areas, these dividers may help nurture a friendly work environment without resorting to unpleasant seating arrangements to accommodate people. 
There are several types of office desk privacy screens, and while some draw a desk's boundaries, others have a smaller design that only covers the workstation's essentials. Here are some explained: 
Short Desk Dividers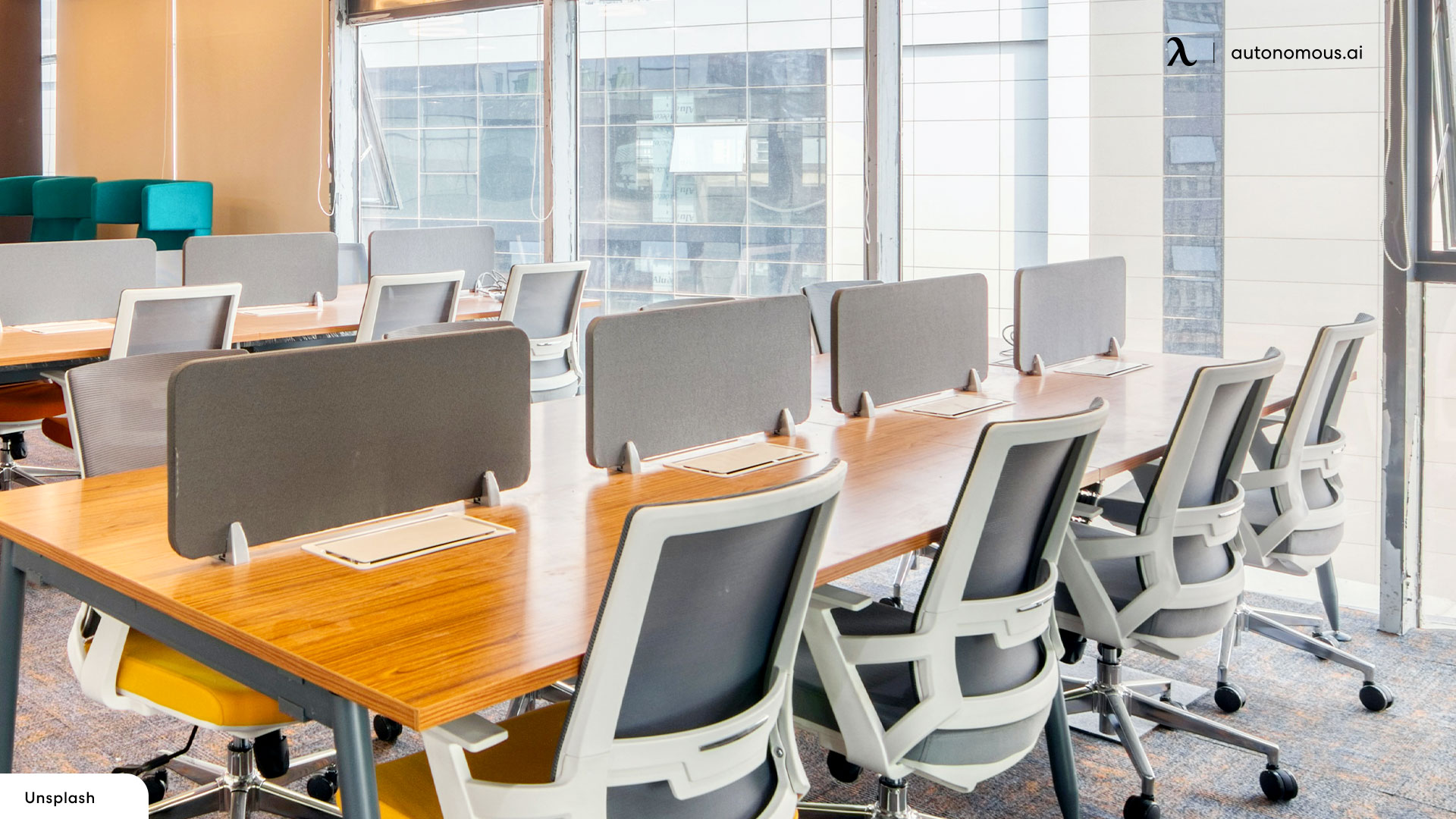 Short table dividers for privacy tend to have a minimalistic design. They're ideal for workplace meetings and other collaborative areas. As these are a bit shorter, they only cover what you're working on and let you chat with nearby colleagues. 
These dividers make it a bit easier to keep things organized. Furthermore, they're easy to assemble as they're already cut. You can quickly set them up before a meeting with the help of your coworkers. 
Short table dividers usually have plain colors and are budget-friendly, so finding one that suits your office is easy. Also, they're lightweight and easy to store, letting you move them from one place to the other quickly. 
Adjustable Dividers
These work similarly to the short table dividers. However, they do take a bit longer to set up. Most of them have clamps, allowing you to set them to your ideal height. These are ideal for many situations and workplaces, but they're somewhat fixed in place once you set them up. Taking them apart to move them to another desk might be tedious. 
Although they're more expensive than your usual privacy desk dividers, they're an efficient solution to minimize visual distractions, and you can set them up to the exact height you want. Some adjustable dividers can also double as modesty panels by flipping them upside down. 
Preassembled Three-sided Panels
These are a common type that mostly sees use in classroom settings as they're easy to stow away and use whenever needed. They come preassembled and fold open to form a three-sided wall for privacy. 
Fortunately, some variants are suitable for computer desks. They usually use hand-tightening clamps but aren't adjustable. However, even with a fixed height, many have noise-dampening qualities, allowing them to reduce visual and auditory distractions. 
Dual-purpose Desk Dividers
Several office desk dividers use materials that give them some functionality. For example, some office desks with partitions use a steel inner core surrounded by ceramic or porcelain layers. This structure creates a privacy panel with magnetic properties where you can fasten office equipment and notes. 
Additionally, you may use the surface as a dry-erase board, writing notices, messages, or reminders. Other dual-purpose desk dividers use tack boards. These usually have laminated vinyl on top of a wood fiberboard, letting you pin objects onto it. 
Choosing the Ideal Office Desk Divider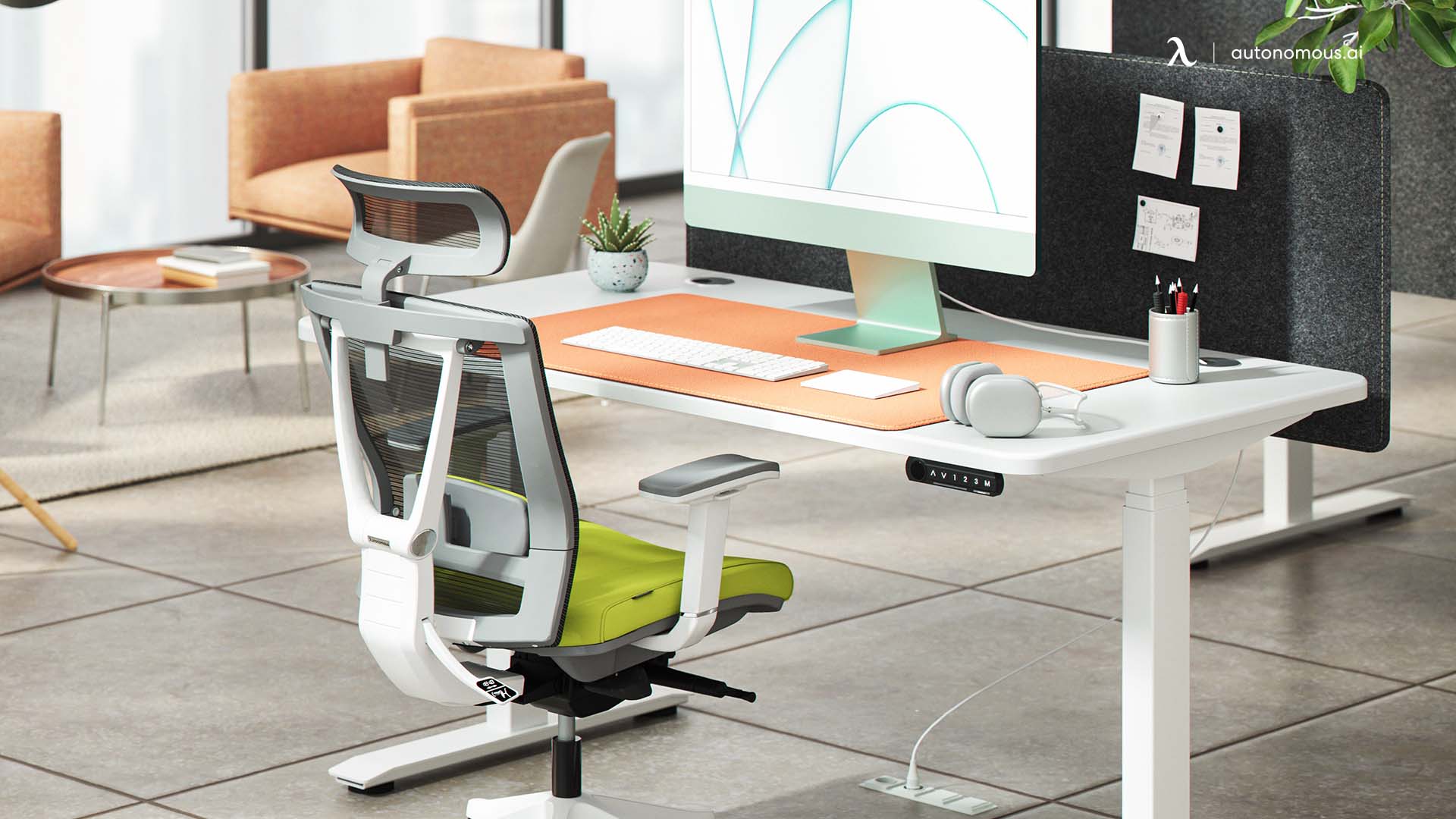 Whenever you shop around for a desk divider, you must consider where you're using it. After all, you need to determine the ideal partition size. Additionally, it may be good to think about the purpose of the dividers to see whether they suit your workspace. 
As mentioned, some office desks with partitions double as office furniture, allowing you to tack on supplies and note them. On the other hand, you can opt for a simple screen to reduce distractions and get some privacy. 
The design is entirely up to you. Many brands offer table dividers for privacy with an astounding number of colors, while others provide the essential contemporary ones, such as black, white, and gray. As a side note, you can use dividers to spruce up some desk decor ideas and make your office look stylish. There are even some cases where people use them as standing desk accessories. 
There are a few elements you should take into account while trying to buy privacy panels for desks. It may seem trivial at first, but the truth is that the aspects we'll explore next are quite important for your purchase.
Usage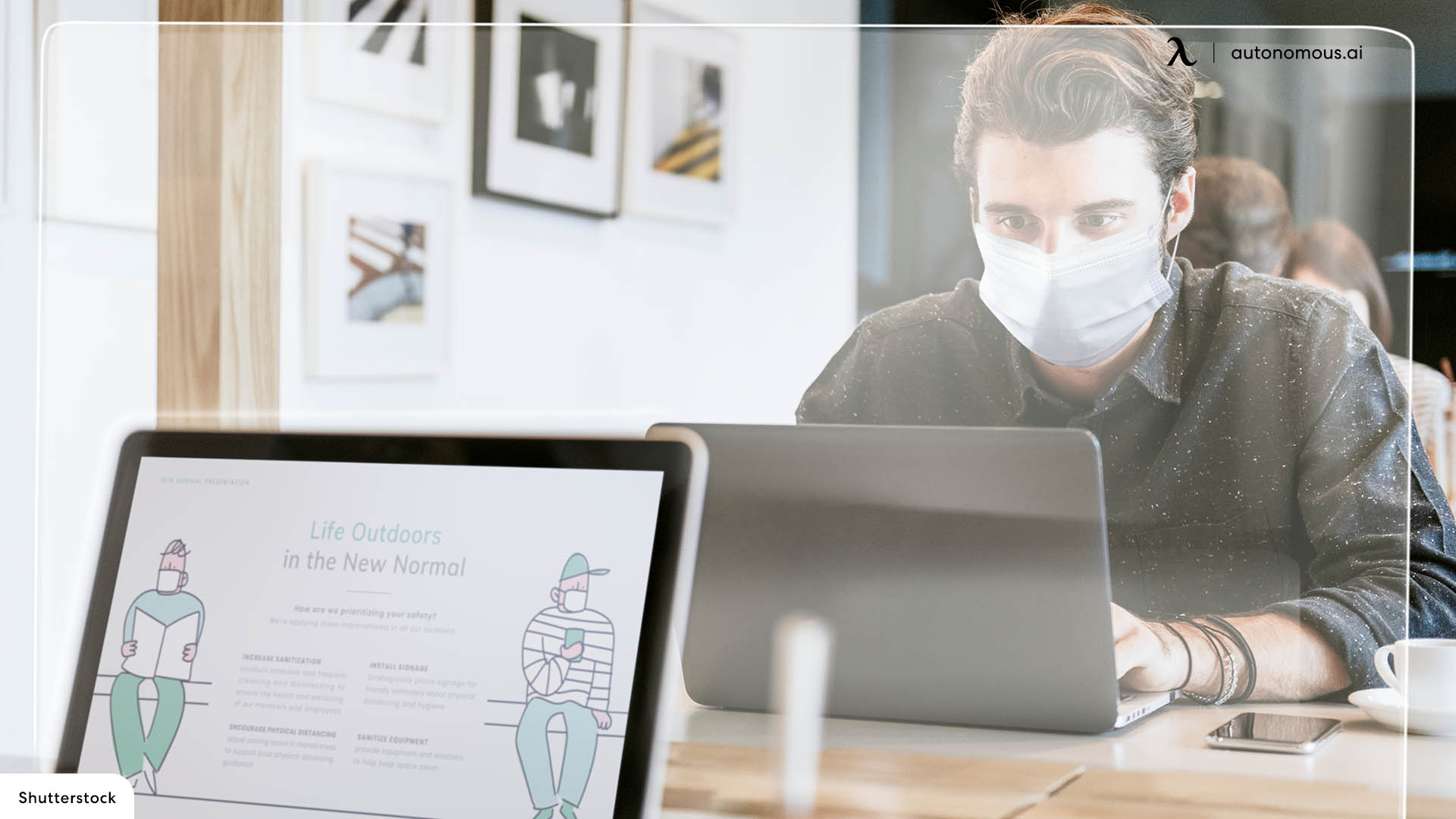 It's necessary for you to determine whether you'll utilize the privacy desk dividers all the time or just for short periods. For instance, you can use them to separate your workstation from a storage area where you keep documents or any other supplies you may need. Other uses include noise and movement control, especially in smaller spaces.
Color
Most desk divider panels come in neutral colors (i.e., black and white). However, there are plenty of choices in the market that you can choose based on your preferences. In addition, you can treat them as another decorative item in your workspace, so it's a good idea to make them be in harmony with the room's overall style.
Price
As mentioned, there are office desk privacy screens for everyone. It's important to determine how much you are willing to spend on these items. Then, once you've created a budget, you will be one step closer to finding the best option for your case.
Durability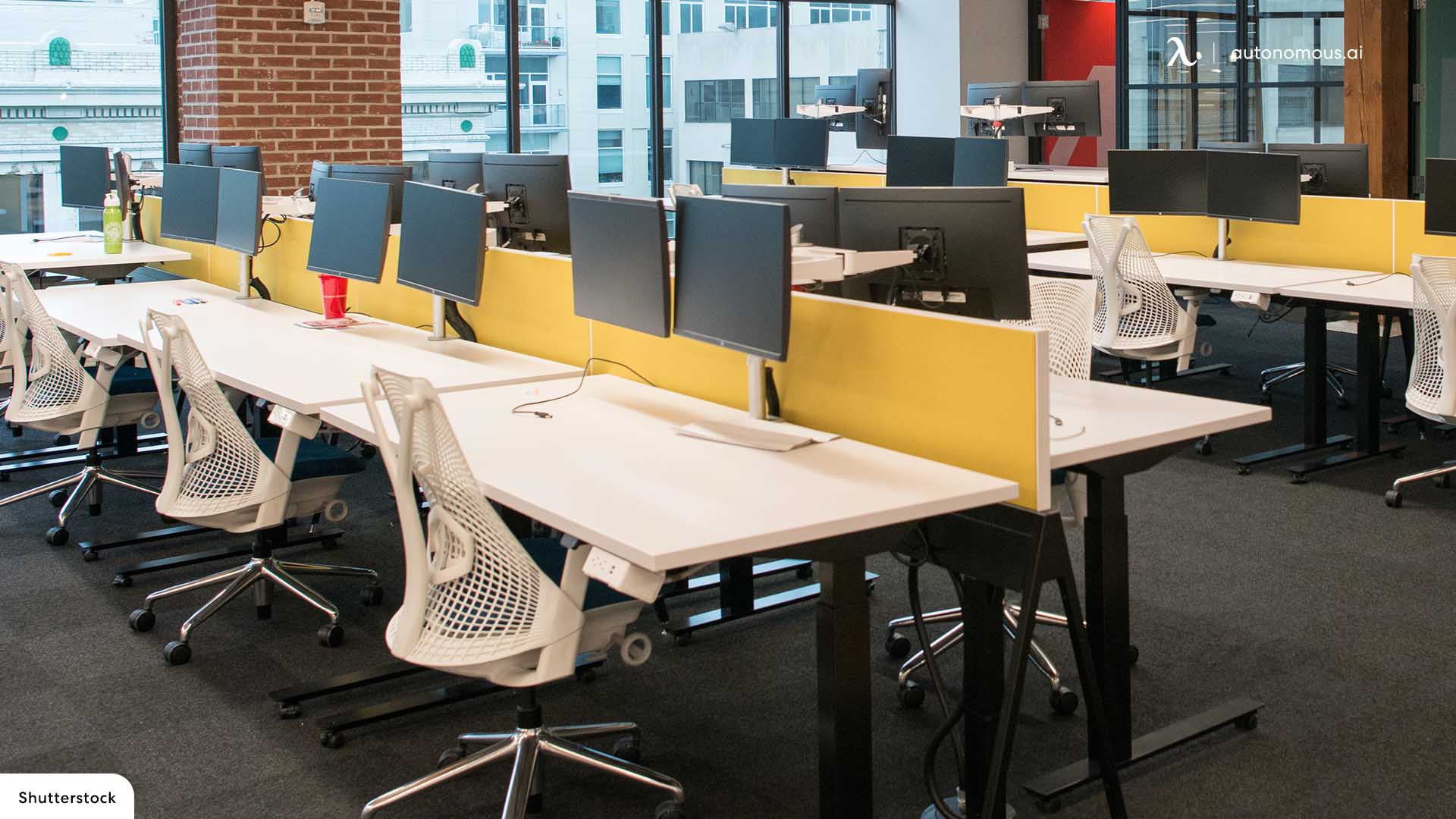 Most desk dividers are quite durable, but it's a factor that depends on the material they're made of. Hence, please try to take a look at the product information and make sure they're not made of plastic or some other fragile material. This way, you can be sure that you'll be making a safe investment that will last for several years.
Size
You can find desk dividers of all sizes and shapes. Here you can get picky, although we recommend choosing them based on the space you have available. Bigger table dividers for privacy will probably be more expensive, so it's important to take into account how much you're willing to spend on these items before deciding on a specific model.
Design
It's possible to find a variety of designs for desk dividers. You can pick anything that suits your tastes, but it's not recommendable to compromise quality for aesthetics. It's essential to select an item that you like and complies with its functions exceptionally. It's possible to find desk dividers for tech office design.
Advantages of Utilizing Desk Dividers at the Office
There are diverse uses you can give to an office divider. You can use them for safety or functionality, for instance, but the truth is that there are more advantages and benefits to enjoy with these home office gadgets.
They're excellent for social distancing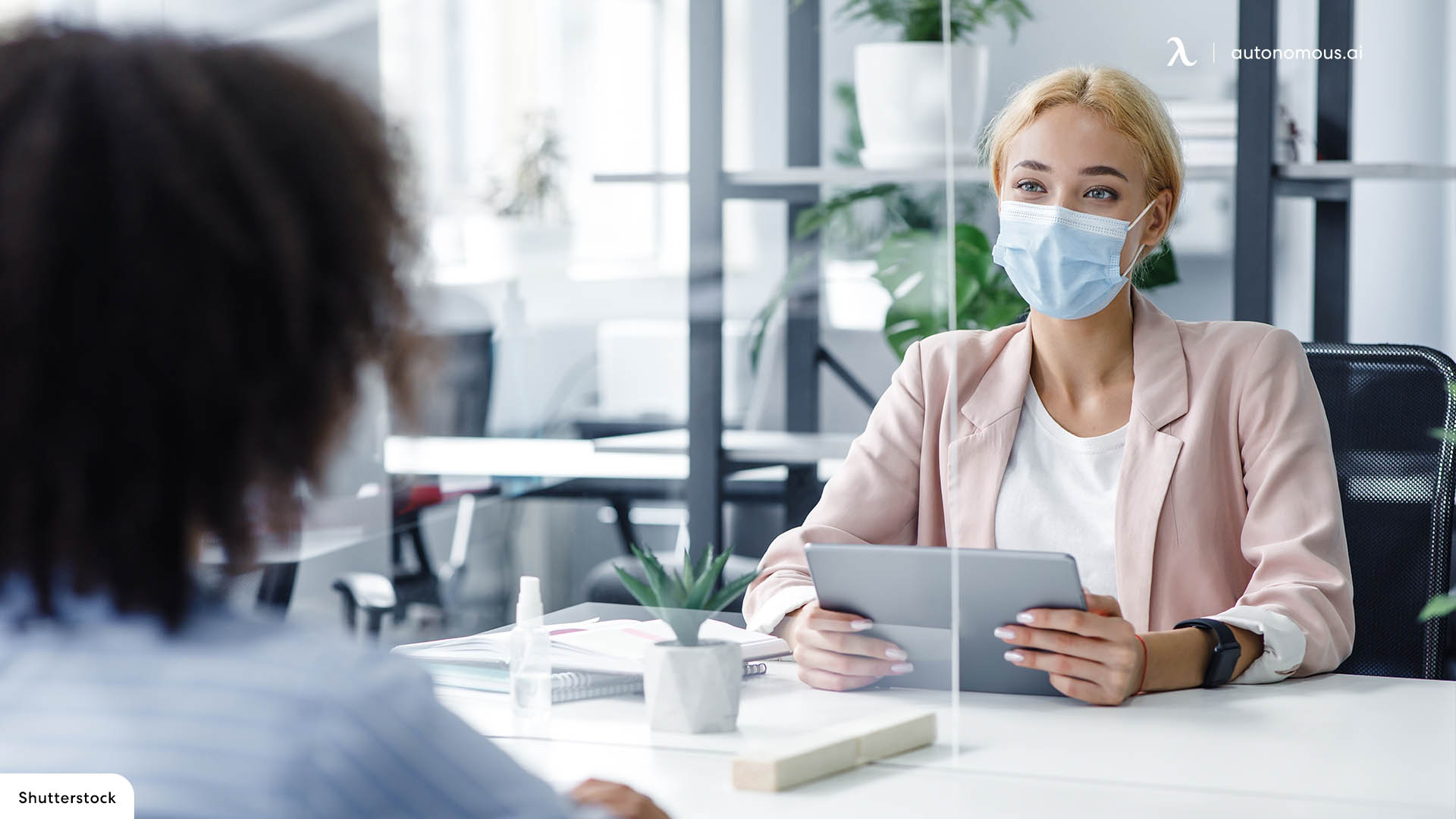 After the COVID-19 pandemic, social distancing has become one of the most prevalent norms in today's world. Hence, if you have multiple workers in the office at the same time, it is a good idea to include privacy desk dividers that allow you to be as comfortable as possible in your desk, not worrying about what the person next to you is doing. Thus, everyone will be at a safe distance but will still enjoy each other's company.
They promote health and safety
As mentioned above, we're living in a context where prioritizing our health is necessary. As tons of workplaces have already reopened their doors and others have already started planning it, desk dividers are an excellent way to make sure that everyone feels safe and valued.
They provide privacy and improve your focus
As they'll create a sense of isolation at the workstation, the worker is more likely to focus on their activities instead of being distracted by what's happening next to them, especially in open offices. But, on the other hand, they provide you with the necessary privacy you need to complete your daily obligations.
They make your workspace more functional
Desk dividers can comply with tons of functions if you have a bit of creativity. For instance, you can set post-it notes for reminders or pin a calendar to make sure you don't keep on missing important dates.
How to Set Up a Productive Office with Desk Dividers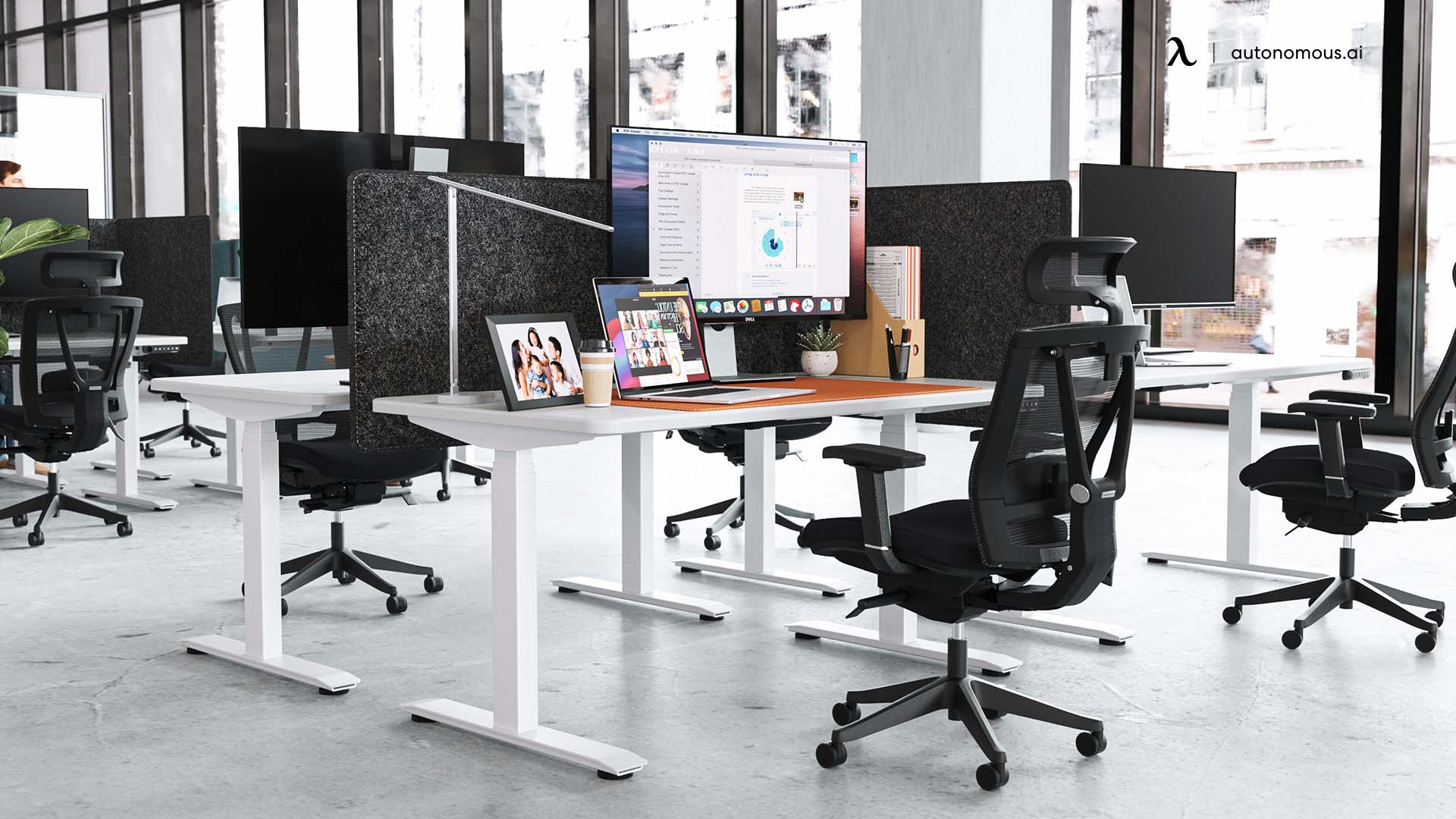 It all depends on the space you have available and what you want for your office. Still, regardless of what you have in mind, here we have some ideas you can utilize to get started if you don't know where to begin building your office. Once you finish, you can continue by taking a look at some decorating desk ideas.
Define the work area you'll utilize. For instance, try placing them on each side if you have a couple of desk dividers and you'd like to place your desk in the middle of the room. This way, you'll define where your workstation is located while also enhancing the room's aesthetics. On the other hand, if you decide to place your workstation in a corner, you can also opt for an L-shaped workstation, with one desk divider in front of the desk and the remaining one by the other side.
Use them as space definers. If you have a private space, you can use them to separate one area from the other. For instance, you can choose to place a bookshelf with important documents and other items as you consider necessary, then separate them from your main workstation with desk dividers.
12 Office Desk Dividers You Can Use for Privacy
Now that you know what to consider, here are several office desk privacy screens you can get. Get whichever option you can afford that fits your office the best! 
1. Autonomous Privacy Panel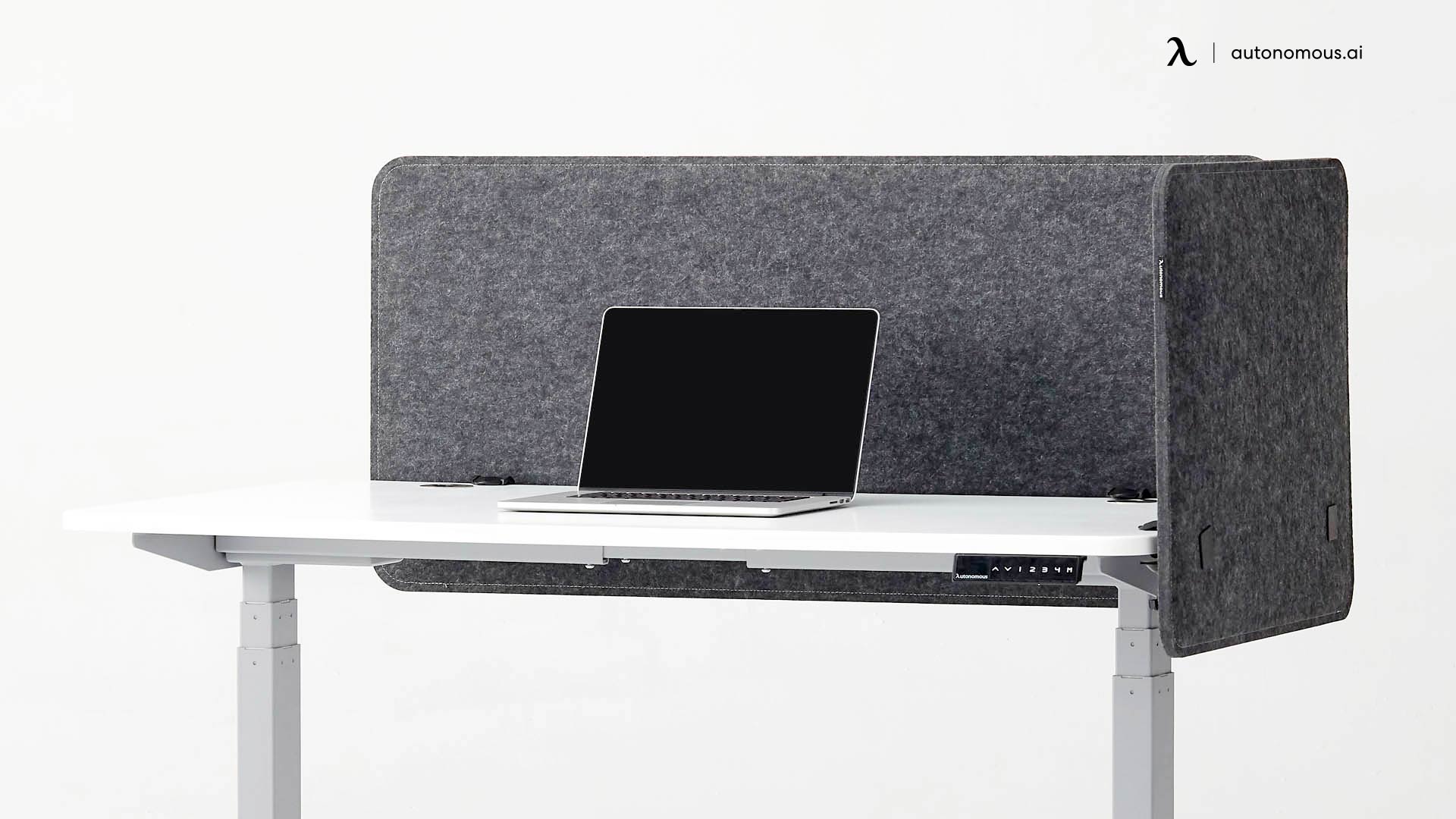 This fast-to-install desk privacy panel can get you a separate, silent working space at a moment's notice. You can use a complete set to maximize productivity or use a couple to strike a nice balance between openness and privacy. 
The panels use 100% recycled PET, an odorless, non-toxic material that is flame-retardant. Additionally, they have a 0.85 noise reduction coefficient (NRC) that makes them pretty sound-absorbent. 
With the Autonomous office desk dividers, you can create a 21" barrier around your desk. The front privacy panel is 47" long and weighs eight pounds. Meanwhile, the 27.5" side dividers only weigh five pounds. You can install them onto any desk with a 1.37" thick tabletop at most, and they remain firmly in place once attached. 
Each privacy desk divider uses three separate boards that are stitched together, resulting in a robust, durable design. Also, you can pin documents, notes, and pictures on them without leaving marks, and it looks exceptional on every desk setup. The front privacy panel costs $149.00 and the side panels $129.00. 
2. Stand Steady Desk-Mounted Privacy Panels
These clamp-on desk dividers use an environmentally friendly PET fabric that absorbs 85% of ambient noise. They feature pre-drilled mounting holes that make them easy to install and adjust their height. The Stand Steady privacy panels are 60" long and 24" tall. They weigh 11 pounds and need three clamps per panel, each weighing 1.5 pounds. 
Additionally, you can use these office desk privacy screens to keep your cords hidden as they can double as a modesty panel. All you have to do is flip them upside down. The fabric also provides you with a tackable surface where you can pin posters, pictures, documents, or reminders. 
These panels are pretty expensive at $844.99. However, they come in a package of four. Five colors are available, including charcoal gray, light gray, navy blue, light blue, and tan. 
3. Pacon Privacy Boards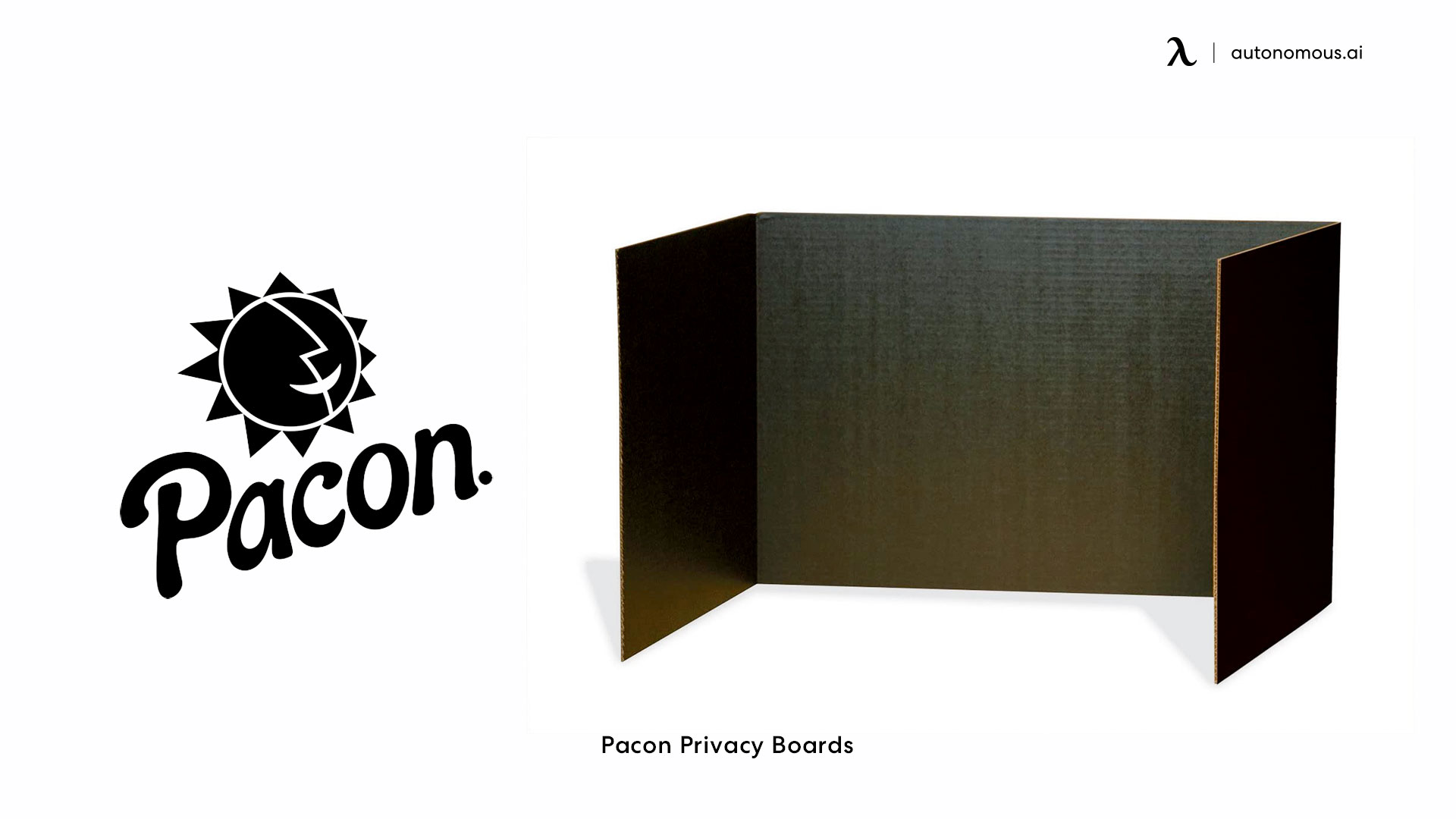 These table dividers for privacy are ideal for those who want a budget-friendly option. Their design is significantly simple. They're made from corrugated boards, making them a great fit for any desk or table. 
The Pacon boards have two colors available, black and white, and are recyclable. They're 48" long and 16" high. When folded, each side measures 12" while the back piece measures 24". They cost $17.20 and include four boards. 
4. Monoprice Desk Privacy Panel
This minimalistic, short desk divider uses a thick, tackable polyester fabric that lets you add posting notes and decor onto it. Its gray design goes well with office standing desks, but it's also suitable for any regular office desk, as long as they match its 46.5" width. The clamps are its limiting factor, as it doesn't work on one-inch-thick desks. It costs $44.67, and it's pretty lightweight at 2.27 pounds. 
5. VIVO Gray Clamp-on Privacy Panels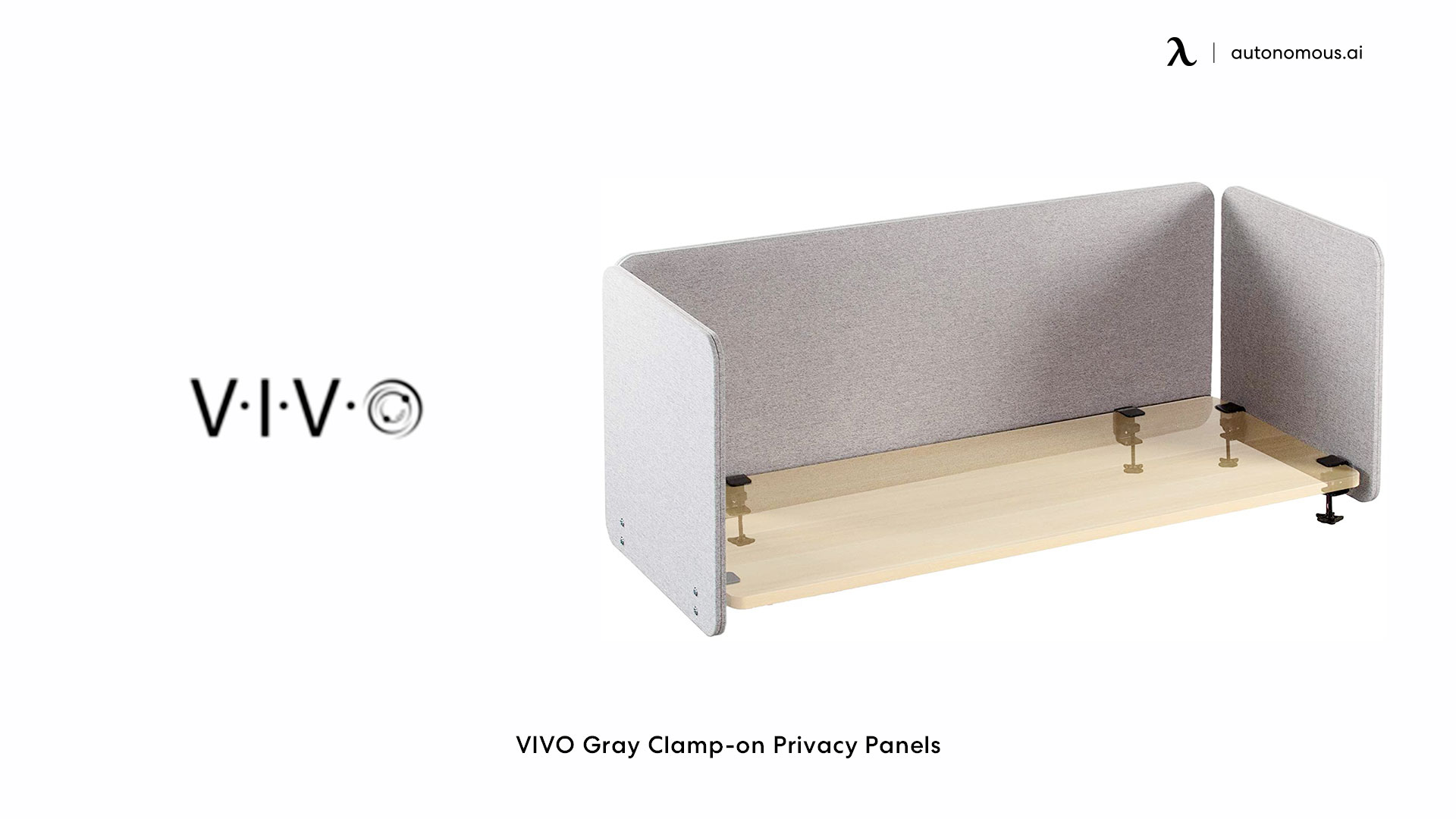 These office desks with partition screens include three panels. The main piece is 60" long, while the side screens are 24". While you can order the side pieces separately, getting the entire set is ideal if you have an L-shaped desk setup. Although the panels themselves aren't adjustable, you can mount them below the desk if you want them to serve as modesty panels. 
They work on 0.4" to 1.4" thick desktops and use a sound-reducing material that makes it easier to concentrate. Additionally, you can tack objects onto them, allowing you to personalize your workspace or add reminders. 
The neutral color of these office desk dividers makes them an excellent fit for any contemporary workspace. Its three-piece set costs $179.99 and weighs 27.7 pounds total, while the singular 24" panels cost $69.99 and weigh seven pounds. 
6. VaRoom Acoustic Desk Privacy Partition
This premium quality acoustical desk divider has a high NRC rating of 0.80, making it excellent for people who want to focus and be more productive. The back panel is 48" wide and 18" tall once installed, and the side ones are 24" wide. 
The clamps of this table divider for privacy are pretty useful. They fit every desk that's between 0.75" and 2" thick without leaving a dent, and they make removing and relocating the panel easy. This desk privacy partition uses a sustainable polyester fiber made from recycled plastic water bottles. The 48" and 24" screens cost $139.00 and $73.66, respectively, and they have six colors available. 
7. Practical Products Desk Privacy Panel
This desk privacy partition is a good fit for home offices, but they work just as well in any workplace. It uses an entirely recycled PET fiber that diffuses any sound that passes through it and lets you tack objects onto it. You can install this preassembled three-piece divider in seconds with no effort whatsoever as it doesn't require any tool. 
This privacy panel is relatively small, but it's wide enough to accommodate most laptops, making it a good fit for any workspace. It's nearly weightless at 2.4 pounds, and it's 25" wide and 16" long. This panel has five colors available, and each costs $42.99. 
8. Owfeel Frosted Office Desk Dividers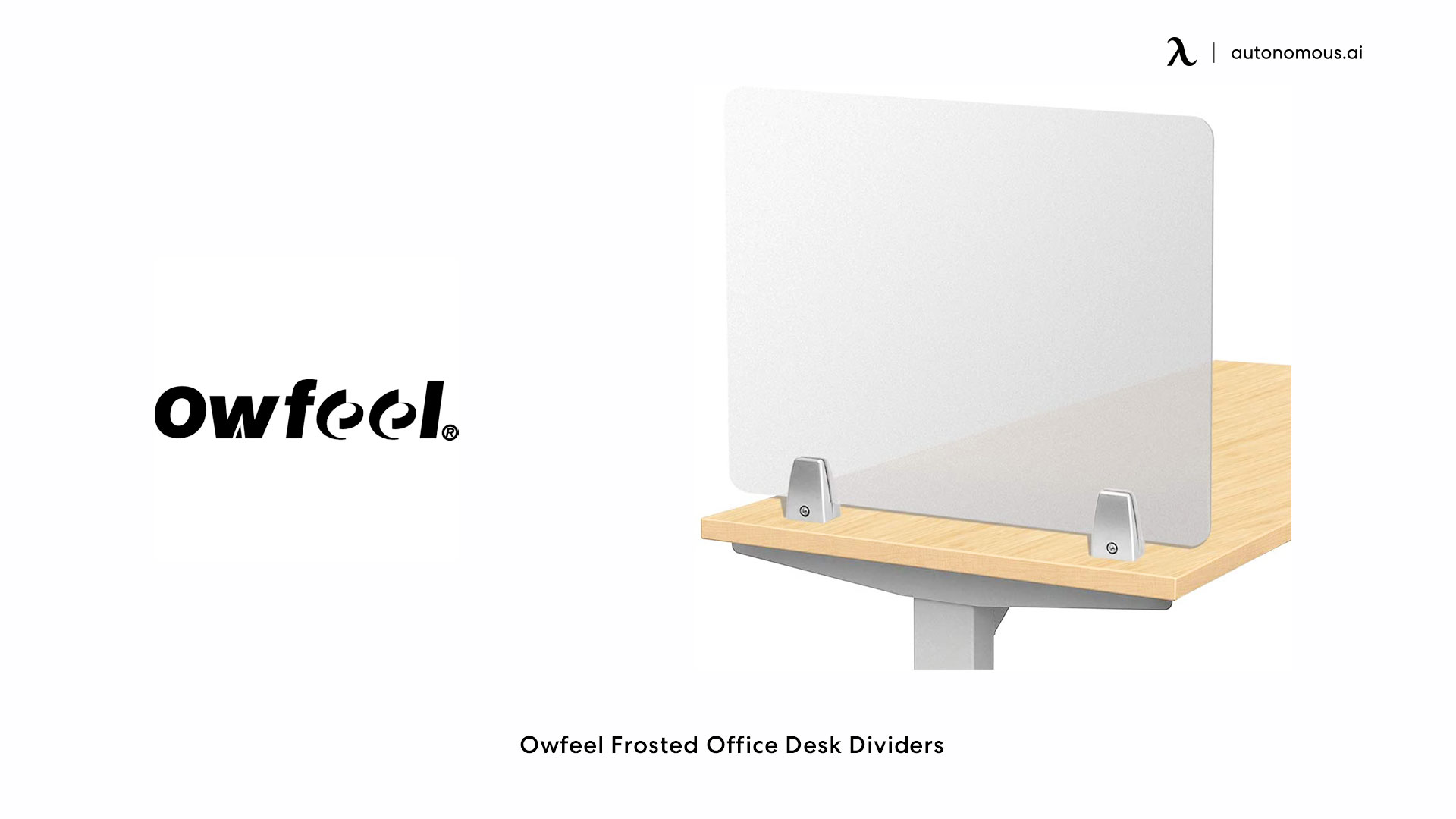 These rugged, durable acrylic desk dividers have four sizes available: 16", 20", 24", and 31". The latter two are four inches shorter than the former two, which are 16" tall. They're easy to install and attach to your desk, and they have a good NRC. These table dividers for privacy are suitable for most office styles. The 31" panel costs $62.99, while the 16" one costs $36.99. 
9. Uyoyous Desk Privacy Partition Screen
This simple desk divider from Uyoyous is 40" long and uses a sound-absorbing PET material with a 0.85 NRC. The screen has various installation methods, but the easiest one would be using the included pair of plastic clips. However, it also contains screws should you want to use a drill during the installation. 
It only has one color available, gray, but it goes well with most contemporary standing desks. This table divider for privacy costs $53.99 and weighs two pounds. 
10. Stand Up Desk Store Acoustic Desk Divider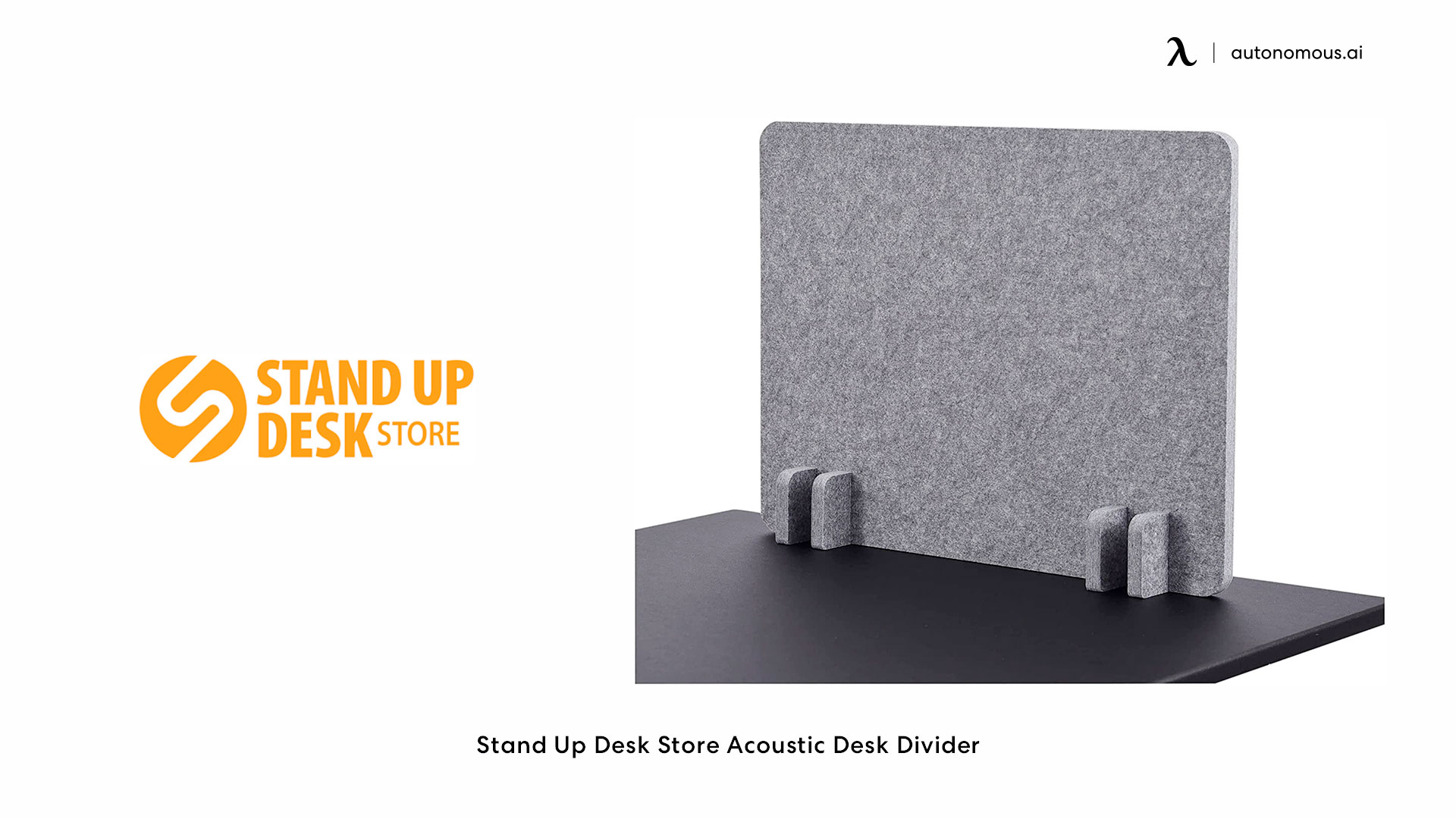 This desk privacy panel absorbs 85% of the sound that passes through it, quieting your workspace and improving your focus. It's easy to install, but the clamps only work on one-inch-thick desktops. Additionally, the divider's PET panel material is made from 60% post-consumer material. 
This privacy panel for desk has several options available. You can purchase a three-piece set that includes a 60" screen and two 24" side ones or buy each piece separately. The set costs $129.00, while the individual 60" and 24" dividers cost $84.00 and $49.00, respectively. Furthermore, the 60" screen weighs seven pounds, and each 24" one weighs three pounds. It only has two colors available, which are shades of gray. 
11. J JACKCUBE DESIGN Acrylic Desk Divider
This short 23" office partition board has a basic yet modern appearance that can give your office a clean, professional look that encourages focus and productivity. Compared to other ones, this office desk divider uses a solid stand and comes entirely assembled. All you have to do is place it wherever you want. It costs $23.90. 
12. OBEX Acoustical Desk-Mounted Privacy Panels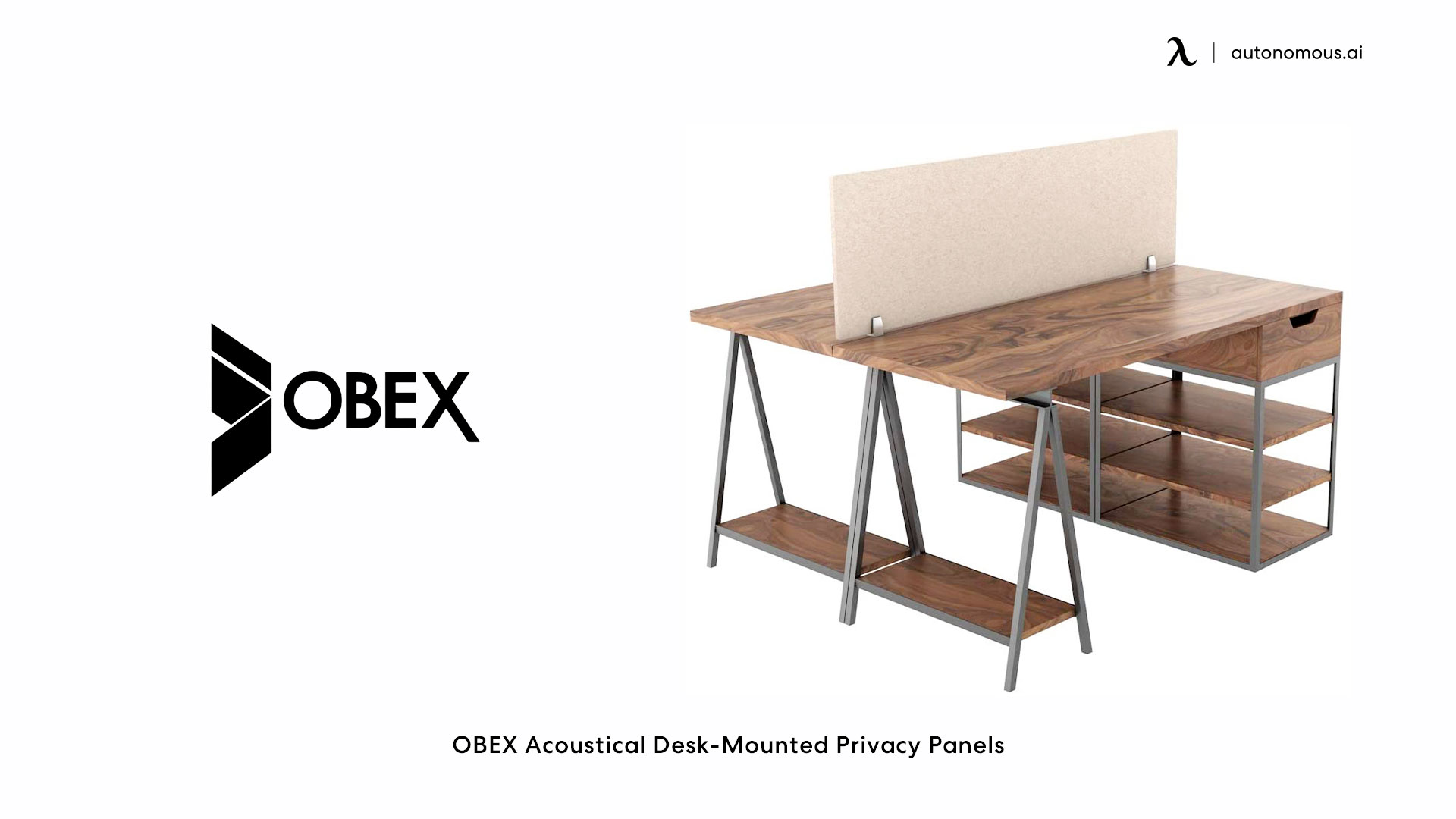 OBEX offers an astounding number of colors and sizes available for each of their desk-mounted privacy panels. Additionally, if you order from its website, it can even fulfill custom orders. Unfortunately, even a small 24" screen is pretty expensive at $145.15. 
If other brands don't have appropriately-sized office desk privacy screen, you might find what you're looking for here. All panels come with clamps and are easy to install. Furthermore, they work on 0.75" to 2.5" thick desks. 
The Bottom Line
There are tons of ways of utilizing desk dividers to improve your focus and enhance your privacy. Although the ideas listed here are a good place to start, please note that you're free to choose the best layout based on your personality and preferences.
Many office desk dividers might look similar at a glance, but they tend to have slightly different features that make one option better than the other. Fortunately, each privacy panel listed here is of excellent quality. It's up to you to choose which option would be a better fit for your workspace.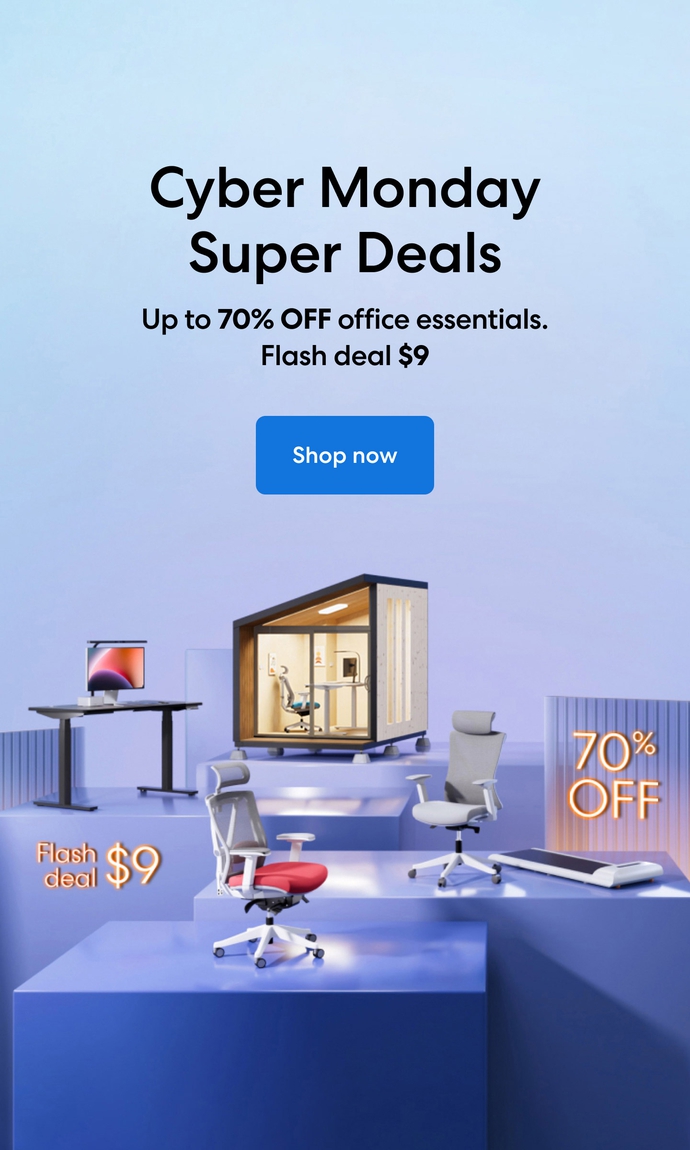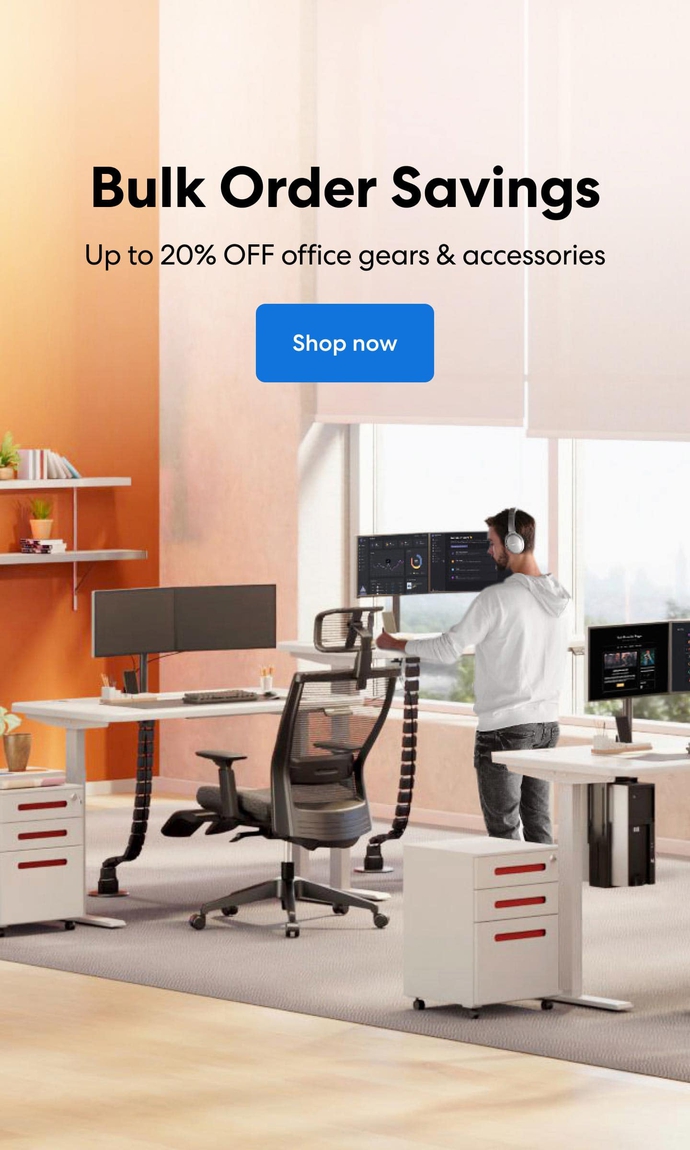 Subcribe newsletter and get $100 OFF.
Receive product updates, special offers, ergo tips, and inspiration form our team.