Latest Updates
Hunting Deals on Electronics - Best Labor Day Electronics Sale

Autonomous
|
Aug 26, 2022
1,173 Views
Labor Day is around the corner, and with less than three weeks remaining to this day, the Labor Day Sales are slowly popping up. Customers get this opportunity to shop for their favorite items and raid all the famous stores to load their carts with what they need. Since it is the last big sale holiday before Black Friday, it is going to be a good chance to buy all you need on an urgent basis. And as the concept of Labor Day revolves around the workforce of the USA, the sales will be huge in this regard.
From Labor Day Electronics sales to Labor Day Discounts on office supplies, all these sales will make your work setup more flexible and convenient for you. Especially if you are a remote worker with little to no support from your organization for the perfect home office setup, then these upcoming Labor Day electronics deals are the best you can get. This article will list down the best Labor Day sales electronics to help you upgrade your home office to a perfect work-from-home setup.
Set Up Your Home Office with Labor Day Electronics Sales
More people than ever before are working these days remotely. A home office has quickly evolved into a necessary component of every living space as finding a means to be productive at home has become imperative. There are simple ways to improve the efficiency of your home office, whether you have a dedicated space or a few folding tables. One of the crucial factors for a functional home office setup is selecting the right type of office accessories.
Office accessories and gadgets improve your work quality and performance and save you time. With proper home office equipment, you can achieve your goals more effectively and prevent frustration or work burnout, a common complaint in remote workers who lack proper remote office setup. Your workstation will be as comfortable as possible thanks to specific equipment and various organizational strategies. But what are the things one must-have for an efficient home office? Here is all you need to buy from Labor Day electronic sales.
Coding Computers
Programmers and developers are in dire need of the latest technology because of the tough demands set by their work. For a programmer to be efficient with their work, they must have a top-notch, technologically equipped work-from-home setup. This includes having the right type of monitor, an Efficient CPU, and many other accessories, all of which improve the experience.
And since coding monitors are expensive and essential, you can find a good bargain with Labor Day Sales. You can purchase two for a multi-monitor setup or a large one to complete your work setup.
Keyboards
A high-quality ergonomic keyboard is a must-have to pair with a modern monitor and make it work to maximum capability. People with typing or other keyboard-related jobs often suffer at the hands of a poor-quality keyboard. Keyboards that are not ergonomic may give rise to injuries like carpal tunnel syndrome or repetitive strain injury, which occurs over time but can lead to serious issues if left unattended. Moreover, basic keyboards also compromise work efficiency in several ways.

A split mechanical keyboard or a best budget mechanical keyboard is a must-have for workers who have their work linked to typing and pressing keys all day. Split keyboards are ergonomic because they ensure proper arm and shoulder placement, and they are also easy to use due to their light-to-touch and quick-to-respond keypads.
Ergonomic Accessories
As much as computing and electronics are important for a seamless work experience, the need for comfort should not take a back seat. Ergonomic accessories are just as or maybe more important in making the overall experience more efficient. During the Labor Day office sales, you can buy many ergonomic accessories to make your work setup flexible and completely healthy for you.
For desktop or laptop users, an ergonomic wrist rest marks the top of the list because it eliminates the strain from your wrists and relieves the prolonged stress on the upper body and arms. You can choose the DeltaHub Carpio G2.0 ergonomic wrist rest from Autonomous with all the modern features. Other ergonomic accessories include an ergonomic chair, seat cushion, ergonomic foam, and a monitor arm for healthy screen placement. Check out the Autonomous Labor Day Sales to get all these ergonomic accessories at a discount.
Office Environment
If your work environment isn't hospitable or comfortable, you will likely feel flustered before you start working. There are many Labor Day lighting sales and Labor Day ceiling fan sales, so you can purchase the right lighting and cooling system to make your office environment comfortable.
Opt for central lighting if you have a proper work-from-home setup in a room. For just a desk setup, a wide LED Desk lamp would suffice. And for cooling purposes, you can opt for a ceiling fan that provides the right ventilation and airflow so you aren't sweating on your office chair when working.
Things to Consider When Buying Electronics
Having technology makes life more enjoyable and one's tasks easier. Therefore, you must avoid making any inexperienced blunders when making your purchase. The following are crucial elements to take into account while purchasing gadgets online.
Budget
You must purchase the appropriate electronic devices with a budget without experiencing financial hardships or even going into debt.
Search for deals
Be cautious before testing out the first technological device you see. You should instead take your time and look for product deals and discounts. You can also take advantage of this opportunity to look through things on flash sales and score a great deal, like the Labor Day Sales.
Features
Once you've decided on whatever electrical devices you want to buy, compare the product specifications. Examine the features of the devices in your account, then choose the one that will provide you with the most value.
Reviews
It will help if you read the reviews while purchasing on several websites for technological devices. Reading through these reviews and comparing the ratings is beneficial because it will help you make an informed purchasing decision. You should also ask about the products' warranties since this is another reliable indicator that you are making your purchases from the right vendors.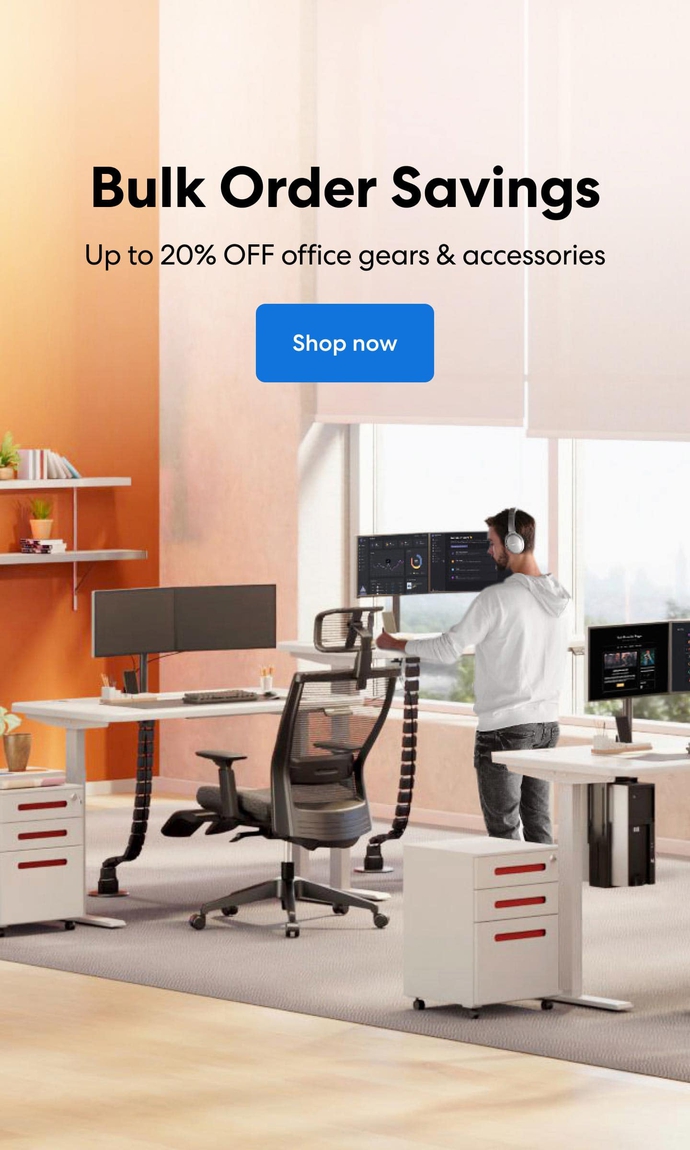 Subcribe newsletter and get $100 OFF.
Receive product updates, special offers, ergo tips, and inspiration form our team.