Smart Products
Modern & Contemporary Office Furniture in 2023 (Desks, Chairs, & More)

Autonomous
|
Apr 1, 2022
2,850 Views
Contemporary office furniture has changed the game when it comes to assembling workspaces. However, you might not understand why this is so, and you may not know where to get started if you want to buy some items for your work surroundings. This guide offers all the information you should keep in mind and some useful tips! 
What Is Modern and Contemporary Office Furniture?
The first thing you might want to know is what modern furniture is. In many cases, workers have no idea about style and the different options you can go for when you're decorating your surroundings. 
Imagine an 1800s office space. It used to have a lot of wooden furniture pieces, dark surroundings, and rugs. Now, picture a modern office – what does it look like? 
In many cases, modern workers will think about a gaming setup, and it's not too far from what contemporary offices can look like. LED lights, clean surroundings, fun accessories, and room for your technological devices is what you might want when you're setting up your workspace.
One of the best aspects of contemporary style is that you can customize it to fit your needs and taste. In other words, you're able to combine different furniture pieces without worrying about all of them having the same design. 
Some people, for example, want white furniture pieces to make sure that their offices look clean and beautiful. However, if you want to make things more interesting, you can add some touches of color by incorporating office accessories and decorative items. 
How Can Contemporary Office Furniture Change Your Life?
When you're looking through different modern office furniture ideas, you might feel inspired to have a beautiful workspace that motivates you to sit down and complete your to-do list. Nonetheless, something stops you from getting started – what is it? 
In some cases, it might be your budget. Even so, you should remember that there are some affordable options out there. 
In other cases, you might not understand how having a beautiful office space can change your life, and this is one of the most common reasons why people don't get started and get new furniture for their workspace. 
Overall, you should keep in mind that modern home office furniture is aesthetically pleasing, and in most cases, it's immensely durable. Therefore, it can combine the best of having beautiful surroundings with getting furniture pieces that last a long time by your side. 
Buying modern home office furniture is also a fantastic idea if you want to guarantee that your surroundings are eye-catching. In other words, if you want to work in a space that relaxes you but also motivates you to work, getting the perfect furniture pieces is ideal. 
Overall, your office design is much more important than you might think at first. Even though some people don't think that their furniture is essential, it can actually impact your productivity and motivation. 
What Materials Are Used in Contemporary Office Furniture?
The materials that modern home office furniture uses are as essential as the furniture's design. In some cases, you might want to guarantee that you're getting environmentally friendly items, and this can't happen unless you check the models' characteristics. 
Fortunately, many furniture pieces are made of environmentally friendly wood, MDF, or metal, which does not usually harm the environment. Steel and chrome dominate most designs, and this guarantees that what you buy is sturdy, well-balanced, and durable. 
As was mentioned before, vintage furniture used to have wood as its primary material. Therefore, metal makes contemporary pieces stand out, even though they can have some wood finishes or parts.  
How Can You Decorate Your Office with a Contemporary Design?
Decorating your workspace with modern home office furniture is easier than you think if you pay attention to each step of the process. The first thing you should keep in mind is that you can't tackle everything at once – instead, you must divide the items into different categories and find the best options depending on the category you're focusing on. 
Think about the essentials of a modern office – what furniture pieces do you need? You probably have to buy a desk and a chair, but you should also get some accessories, and even a file cabinet.  
Now that you understand what you should get for your modern home office furniture, it's time for you to start examining all the options and choosing the ones you want.
Desk
Your contemporary office desk is probably one of the most crucial items in your surroundings. Aside from your chair, your table is essential because it allows you to place all your items and you never need to worry about having enough space to store everything. 
A standing desk is essential because it lets you store your office supplies, then, but that's not the only reason why you should get one. Buying a high-quality table such as the SmartDesk Connect is a fantastic alternative because it guarantees that you have a sturdy piece of furniture to rely upon for years. 
In other words, a fantastic desk can enhance your contemporary office furniture, especially if it has a beautiful design and sturdy materials to help you fulfill your workspace expectations.  
Chair
Many people believe that their office chair is the most important item they have in their surroundings. In some ways, this is true because if you don't have a sitting spot, you probably can't get your work done. 
However, having a simple chair is very different from getting the perfect one for your office. You should prioritize this process, especially if you want to avoid health issues, such as back, leg, and neck pain, headaches, and much more. 
To make sure that you're always healthy and in good shape to get your work tasks done, an ergonomic chair is an item you should buy. Instead of buying a straightforward sitting spot, try to guarantee that the one you purchase supports your back and has several ergonomic features that help you be comfortable while you're working. 
If you've never used an ergonomic chair before, you might notice the immense difference as soon as you sit down. This is definitely one of the essentials of your office, so put it on top of your list if you want to have the perfect workspace. 
File Cabinet
Most office workers need storage space to put their documents away. Although you are in the digital era, you probably have a lot of paper lying around. If you don't have a specific spot to store it, your surroundings might look cluttered. 
A file cabinet might be the item you need to solve this problem. It's a convenient addition to your surroundings, even if you don't usually work with a lot of paper. Eventually, documents might pile up on your desk, and you probably don't want that. 
With a three-drawer filing cabinet, you can quickly guarantee that your contemporary office furniture still looks fantastic and clutter-free.  
Instead of letting paper pile up on your contemporary office desk, use your cabinet and make sure that everything in your surroundings is neat and tidy. It looks like a task that can take a long time, but if you put aside a few minutes at the end of the week, it'll be much easier. 
When you're setting up a contemporary office desk, you probably want to make sure that it fits your needs and that it's always tidy. Having a clutter-free table guarantees that you're more productive, which, in turn, can help you be better at your job.  
It's impossible to manage the clutter around your contemporary office furniture unless you make sure that you have enough storage space to handle your work documents. Therefore, add a filing cabinet to the list of items you should buy! 
Office Accessories
Last but not least, you should consider getting some office accessories. Additions such as a Lexon wireless power bank, a Pixio dual monitor, and even some extra lamps can change the look and functionality of your office. 
When workers consider the items they should add to their contemporary office desk, they often focus on the essentials, and this is not inherently wrong. You need to buy the crucial pieces of furniture first, such as the ideal chair (such as the ErgoChair Pro!) and the perfect table.
However, once you take care of this, you need to make sure that your office space also has some ergonomic desk accessories. These items guarantee that your productivity increases even more, although it might not be obvious at first. 
When you add some convenient accessories to your workspace, you can feel much better while you're working. Your contemporary office furniture can shine because it's both beautiful and functional. 
With a power bank, for example, you can make sure that all your items always have a battery, even if you accidentally leave your charger at home. If you're already at home, you don't need to stand up to get it and waste precious time during your work hours. 
Why Should You Choose Contemporary Office Furniture Instead of Other Options?
By now, you understand some of the most important parts of your home office, and you know the crucial items you should buy to guarantee that you're comfortable and productive. 
However, you might still not understand why getting contemporary office furniture is the best way to go. Overall, you should keep several aspects in mind. 
Firstly, contemporary furniture is functional, durable, and long-lasting. Therefore, you can always find the items that fit your needs and check their characteristics to ensure that they can last years with you. 
At the same time, contemporary furniture is environmentally friendly and sturdy. If you get vintage desks and chairs, they might look good, but they can harm your surroundings and suffer damage with time. 
Therefore, you should always choose contemporary pieces. If you look at it in a different way, it helps you save money as well because you don't need to replace your items every few years. Instead, you can completely rely on the furniture you bought! 
What Options Should You Choose?
There are a myriad of options when it comes to choosing your office furniture. In many cases, workers go for the cheapest alternative or the most beautiful one without taking a close look at what they're buying. On a long-term basis, you might regret your decision, and this is not something you probably want. 
Instead, you should aim to buy something that combines the best features that the market can offer. In other words, try to get furniture pieces that are beautiful, sturdy, and long-lasting. 
Clearly, you must also consider price when you're buying. However, remember that this is not the 1800s anymore – you have many options! Thus, you can spend some time going through all your alternatives before choosing your favorite one. 
If you've never set up an office or home workspace before, you might think this process is daunting. This reaction is normal, and even experienced office workers go through it because they fear that they might get the wrong furniture pieces. 
Nonetheless, remember that you should enjoy every part of the process – from the moment you choose your contemporary office desk to the minute you place the last of your accessories. 
When you're focused on enjoying the moment, you forget about the specifics of finding the perfect furniture pieces. Of course, you must consider different characteristics, but that doesn't mean you should be obsessed with them. Instead, try to be relaxed during the process and focus on having fun while you're choosing your favorite contemporary office furniture. 
Keynote Takeaways
Buying contemporary furniture is one of the best options you can go for. Instead of purchasing vintage items, you can go for modern ones that fit your needs and the aesthetics you want to get. 
Although the purchasing process might be daunting at first, focus on enjoying it and make sure that you get the most crucial items you need. In time, you might see that you made the best choices!
Video ads for product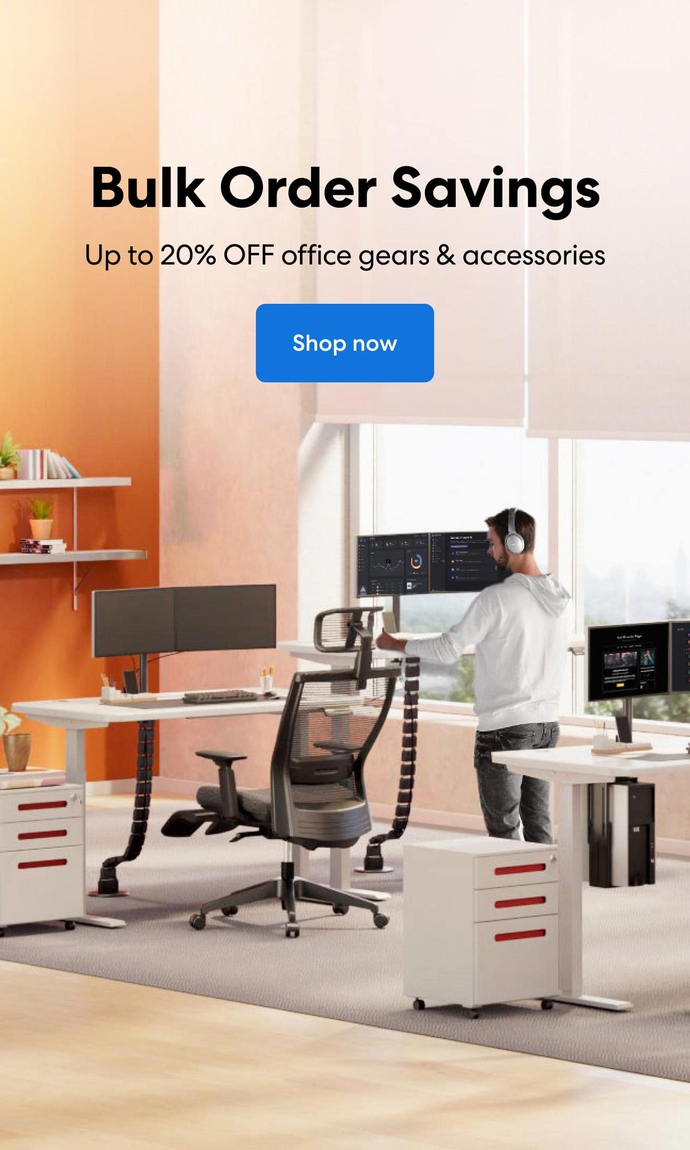 Subcribe newsletter and get $100 OFF.
Receive product updates, special offers, ergo tips, and inspiration form our team.