Workplace Inspiration
Discover Classic Home Office Design Tips for a Timeless Look

Autonomous
|
May 23, 2023
1,421 Views
If you spend a lot of time working from home, you know how crucial it is to have a pleasant and practical location to do your job. There are numerous options to consider when decorating your home office, but a classic layout will always be in vogue.
By emphasizing high-quality furniture, classical design features, and fashionable accessories, classic home office design ideas may lead to a functional and beautiful workstation (with an equally appealing office desk and office chair).
We'll help you construct a timeless home office that works for you with these ideas and suggestions. We have everything you need, whether you want to set up a classic office at home or a modern one with all the bells and whistles.
What Is a Classic Home Office Design?
The goal of a traditional home office design is to create a room that will stand the test of time with high-quality furnishings and tasteful accents. Pieces of furniture are constructed from durable materials like wood or leather, and they exhibit timeless designs.
Wood paneling, crown molding, and vintage light fixtures are just a few examples of the classic touches that can be found in this office, which is also characterized by its neutral color scheme. A desk light with a brass finish and an antique clock are two examples of classy office accessories that won't get in the way. The timeless elegance and efficiency of a home office built in the traditional style will last for decades.
Tips for Classic Home Office Design
Developing a timeless layout for a home office is an involved process that calls for close attention to detail. You want your office to serve its purpose while still looking nice. Here are five cutting-edge and memorable suggestions for designing a classic home office that will motivate you to work:
Invest in good furniture
Good furniture is the foundation of a classic home office design. Classic luxury home office design features high-quality furniture made from wood or leather that has a timeless design. In a modern home office design, sleek furniture with minimalist designs adds a contemporary touch.
Stick to traditional design elements
Wood paneling, crown molding, and antique light fixtures are some examples of traditional design components that may give your office a sense of warmth and history. A classic home office often uses a neutral color palette, which is relaxing and professional.
Use elegant accessories
Elegant office accessories, such as an antique clock or desk lamp, may elevate the look of your work area. Both the classic style with its button tufting, leather upholstery, and wood embellishments, and the contemporary style with its clean lines and little ornamentation would work well for an office chair.
Keep it organized
A clean and organized workspace is essential for productivity. Add storage solutions such as bookshelves or cabinets with clean lines and a simple design to keep your workspace organized. Small boxes can add style to your shelves while keeping your workspace tidy.
Opt for a comfortable office chair
Because you'll be spending so much time in it, it's important to get a chair for your workplace that looks good and feels good to sit in. Choose a chair that can be adjusted to your height and gives appropriate back support for the workplace. Invest in a high-end office chair with a timeless design and premium materials for a fitting focal point in a traditional home office and reap the benefits forever.
Maximizing Your Classic Home Office Design
Following are the tips that you can follow to personalize your modern home office to the maximum efficiency:
Optimize lighting and acoustics
Natural, task and ambient lighting can create a warm and inviting atmosphere. Acoustic panels or noise-canceling headphones can help minimize distractions and improve focus.
Add personal touches
This is another great traditional home office idea. Add artwork, family photos, or plants to your office space to make it feel more like home. Customizing your workspace with personal items can help inspire creativity and motivation.
Personalizing your classic home office design can help boost your creativity and productivity. By optimizing lighting and acoustics, incorporating an ergonomic design, customizing storage solutions, and adding personal touches, you can create a functional and beautiful workspace. Remember to create a workspace that balances style and functionality to maximize productivity and creativity.
Customize storage solutions
Add built-in bookshelves or cabinets matching your furniture. You can use cute baskets and boxes to store items like pens, papers, or office supplies. Your home office storage should feel like its yours just by its appearance.
Frequently Asked Questions
What is the best material for classic home office furniture?
Wood or leather are ideal materials for traditional home office furniture. Accessorize with classic office accessories like a brass desk lamp or an antique clock.
Can a classic home office design be personalized?
Yes, personalize your classic home office design with family photos, artwork, or plants. Use classic office accessories like a leather desk pad or a wooden pen holder.
How can I make my classic home office design more ergonomic?
Invest in an ergonomic office chair that provides good back support and is adjustable. Add office accessories like a footrest or a monitor stand.
How can I keep my classic home office design organized?
Put things away in cabinets or on bookcases. Try using beautiful boxes or baskets to keep smaller objects organized in the workplace. Put in a traditional clock or light on the desk.
Can I incorporate modern elements into a classic home office design?
Yes, incorporate modern elements like sleek furniture designs or minimalist office accessories while maintaining a balance between classic and modern elements. Accessorize with classic office accessories like a leather desk blotter or a wooden letter tray.
Conclusion
In conclusion, creating a classic home office design is a fantastic way to ensure a timeless look and feel for your workspace. Investing in high-quality furniture, using traditional design elements, and incorporating elegant office accessories allows you to achieve a functional and beautiful workstation that stands the test of time.
Personalizing your space with personal touches, optimizing lighting and acoustics, and organizing your workspace are ways to maximize productivity and creativity. Remember to balance form and function when designing your classic home office to ensure it meets your individual needs.
With these tips and suggestions, you can create a classic home office design that will provide a stylish and productive workspace for years to come.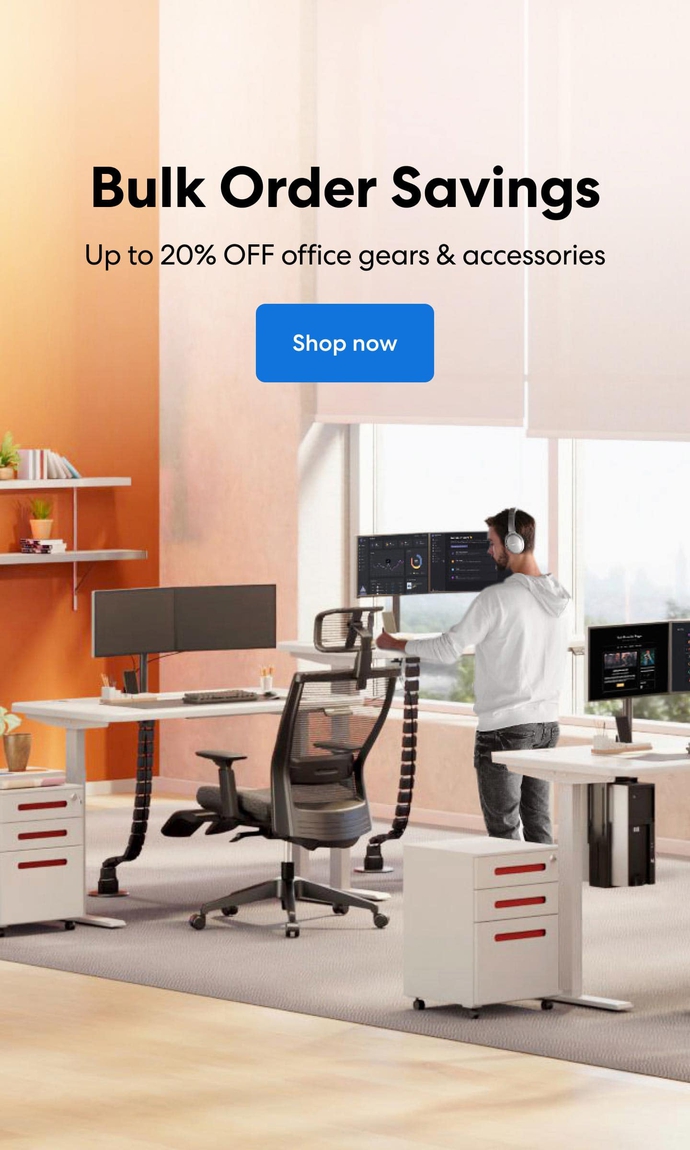 Subcribe newsletter and get $100 OFF.
Receive product updates, special offers, ergo tips, and inspiration form our team.