Smart Products
Multi-Purpose L-Shaped Wooden Desks: From Home Office to Gaming Hub

Autonomous
|
Jul 16, 2023
356 Views
Many companies say their desks have a multipurpose design, but most only do it for marketing services and don't actually offer that. However, you can see the difference when you get an actual L-shaped wooden desk for your home office or gaming hub.  
Buying one of these desks can help you save a lot of money, as you won't need to get another one for an office or home entertainment system. If you need a desk for any other thing, the only thing you will need to do is to move the desk and change the things you have on it.  
There are more benefits to buying an L-shaped wood desk, and we are here to show you more about them. Dive into this page to learn more about what these products offer. This is also a guide to picking the right one for your home or work office.  
If you want to read more blog posts about office furniture or desks, you should visit the Autonomous website. Clients will find all the products they need for their house or modern home office there. 
The Versatility of L-Shaped Wooden Desks
The first thing you should know when learning more about L-shaped wooden desks is their versatility and how their design lets you do many things with them. Some people find it difficult to believe they could use the same desk for their gaming hub and office building, but they can.  
Firstly, we have to talk about the design of these desks. When you get a wooden L-shaped desk, you get a product you can fit anywhere you want. These desks often have a professional and sophisticated design but are not too elegant to make them look weird in an entertainment room.  
The standard design of an L-shaped wooden office desk allows you to use it for a wide variety of things without it looking off. It may even not stand out from other furniture pieces in the same room, which could be a benefit if you don't want it to.  
Regardless of that, its material allows you to customize it to look how you want. You can do almost anything you want with wood. Things such as calling someone to carve something on it or paint are on the table, and they will make you adapt the desk to what you want it for.  
If you don't want to do something as extreme as painting it, you can put stickers on it and take them out later. You can make your L-shaped wooden office desk look different from others, even if it's the same model.
Apart from the desk's design, another reason people can use this type of product for many purposes is its features. Gamers and office workers, for example, often look for the same functions in the furniture they buy for their room, as they have similar needs.  
Both have to spend hours sitting on a chair or watching things on a monitor, which makes them face the same problems. Therefore, they look for ergonomic products that help them avoid back and neck pain. Anything that lets them do what they want without having a negative effect on their health is welcome, and that's what happens with these desks.  
Naturally, the space an L-shaped wooden computer desk offers is an essential factor that makes it fit for several purposes. If you need an office desk and pick an option that gives you just the space you need, it will help you when you need to work, but you won't be able to use it for anything that requires more space.  
L-shaped desks give you twice the space you get with any other product on the market, so you will never need more space for your gadgets or desk accessories. Thanks to that, the only thing you will need to do to start using it for other purposes is to change the accessories you put on it. 
You could even use half the desk for a gaming setup and the other for a creative workstation. Your imagination is the only limit to how you can use this desk. 
How Can L-Shaped Designs Support Several Setups?
As you could see, you can use these cool desks for almost anything you want, but you need to know how to adapt them to what you need them for. You can't expect an L-shaped gaming desk to work in an office if you still set it up as a gaming product.  
We are here to help you with these. Although you can use these desks for a hundred things, we listed the most popular ones today. That being said, here are a few ways to make your L-shaped wooden desk support modern setups: 
Gaming Setups
Gaming is more popular than ever, and if you want to have a decent gaming experience, you need to get the right furniture and accessories for it. That includes a decent large L-shaped desk where you can put all your decorations, gaming consoles, and desktop devices.  
If you want to turn your current desk into a gaming one, you should start by planning where you will put your gaming consoles. The idea is to put them in a place where you can easily reach them if you want to play. 
However, you need to consider that you will need to handle many cables when you organize a gaming setup. You have the cables of each console, computer, speaker, monitor, and alternative lighting solutions such as smart lamps. Everything will be a mess if you don't organize it correctly.  
You can do that with the help of a cable tray. Some desks come with it, but not all of them, so you may need to buy one if you don't have it yet. Try to do this before using the desk to have enough time to set it up. 
Have you handled everything related to gaming gadgets and things you want on the chair? You only have one thing left: the decorations. Unless you don't want the desk to stand out from other things, you need desk décor ideas that make it worthy of a gaming station. We recommend that you use LED or RGB lights for it.
Creative Workstations
You can use an L-shaped wood desk for other things apart from just gaming purposes, and one of the most common uses of this product is creative workstations. Whether you work with other people at an office or in a home workspace, you need to make sure the place is appealing enough to encourage you to keep working.  
Going to an office you don't like will make your job look boring to you, which will reduce your productivity and overall creativity. Those are features you can't lose, and a decent standing desk or wooden L-shaped desk can help you with that.  
The first thing you need to do is find the right office accessories for the desk. Look for desk trays, filing cabinets, portable chargers, and anything that makes working easier. You need to take advantage of all the space the desk offers. 
It's not that common for office workers to use LED lights for their desks, as they make it look less professional, but you can keep them if you want. If you work with other people, you could even let them work at the same desk as long as they don't distract you. 
Work desks are an excellent fit for other furniture pieces, such as ergonomic desks. We recommend that you save part of your budget for one, as they allow you to sit on them all the time you want without developing back pain.
Home Entertainment Systems
Home entertainment systems are similar to gaming hubs, as you can often use the same decorations or desk accessories for both of them. What changes between the two is that you may need to put the desk in a living room or place where others will be able to use it.  
You may also need to get custom speakers and a monitor. People will most likely use the desk to watch movies and TV shows, but it doesn't often go beyond that. Hence, you won't need to get many office accessories for it. 
Regardless of that, decorations will play an essential part in how you use these desks. You don't need additional desk accessories for it, but if you are going to put the desk in your living room, for example, you will need to get things to keep it from looking off due to how big it is.  
We recommend that you include family photos or artwork on the desk, as it will make it blend with the other furniture pieces there. However, that's up to your taste and the specific things you may use the desk for in the future.
Tips for Cable Management
Cable management is one of the most difficult parts of using an L-shaped standing desk. The reason for that is that it's easy to make a mess with all the cables you have to organize and get stressed out throughout the process. You can't escape this, though, as you need it to integrate your gaming accessories and office gadgets into the desk.  
The first thing you should do to get rid of this problem is to buy a cable tray. These products are made to address this issue, so they will make everything much easier when you match them with your other products.  
If you already have a cable tray but are still suffering from the same trouble, you can do other things, such as creating a dual-purpose workspace. Doing that, specifically, will help you organize your cables depending on what you will use them for and the gadget they are connected to.  
Some people even hire another person to build an inner cable management system on the desk. The main benefit of doing that is that you will be able to use that system regardless of what you use the desk for. Nonetheless, you won't be able to remove it once it's there. This is something common for people who buy a DIY L-shaped desk.
About the Autonomous SmartDesk Corner Walnut
You will only see the benefits of an L-shaped wooden desk when you get the right one for your house or office building. If you are looking for a decent option online, you should consider using the Autonomous SmartDesk Corner Walnut.  
This is a small corner computer desk, but it still gives you more space than the average office desk. The desk has all the features we mentioned. An L-shaped product should have to be versatile, so you can use it for almost anything you want.  
The desk is available in three different colors but has a minimalist design. It works with a whisper-quiet triple motor, which means it won't make any noise when you adjust it. Adjust it? Yes, you can set up this product in many different ways. It has four programmable settings, and you can customize its height whenever you feel like it.  
Its solid steel frame makes it resistant and durable, so you won't need to replace it in the short term. Besides that, every SmartDesk Corner comes with a free Autonomous Cable Tray, so you won't need to ever worry about cable management.  
The desk's modular segments make it the perfect fit for any kind of room, but it has a five-year warranty in case anything happens with it or if it has any manufacturing problems. Its weight capacity is 400lbs, so you can put all the office equipment you need there with no problem.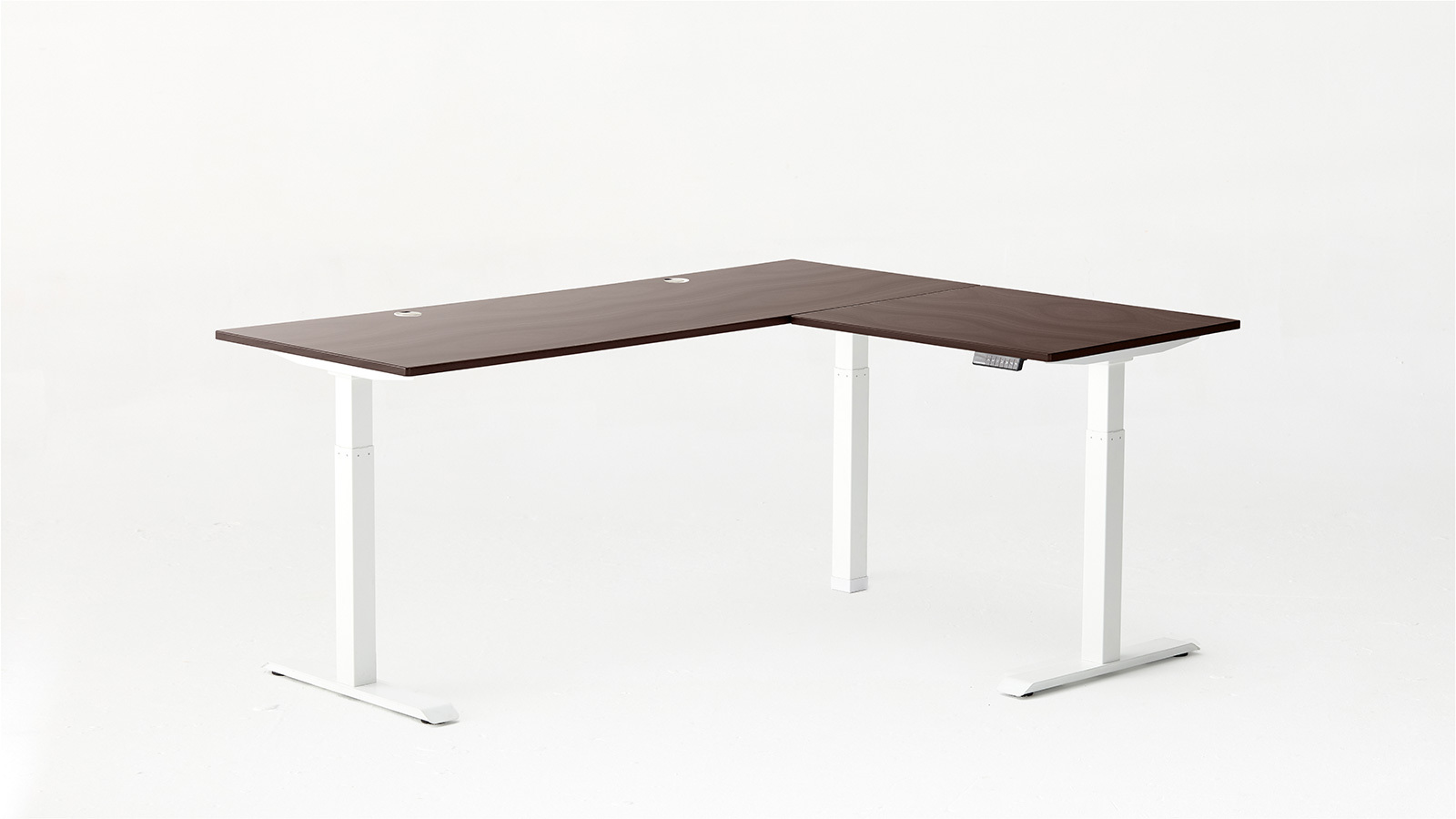 Top dimension
Full: 77"L x 64"W x 1"H
Large Top: 77"L x 29"W x 1"H
Small Top: 29"L x 35"W x 1"H
Frame dimension
27.5"W x 42" - 71"L
Height range
With top: 29.4" - 48"
Without top: 28.4" - 47"
Materials
Top: Warp-proof MDF wood
Frame: SPCC steel
Colors
Top: White, Black
Frame: White, Black
Weight capacity
400 lbs
Warranty
5 years for frame
1 year for top
Bottom Line
You can use L-shaped wooden desks for many things, which will save you a lot of money in the long run. If you get the right choice, you may not even have to replace it for years. However, you need to spend enough time on maintenance and pick a durable option.  
The expensive part of getting an L-shaped desk for many purposes is to get the money for the equipment each activity requires. If you want to know where to buy the best desk accessories on the market, we recommend that you visit the Autonomous website.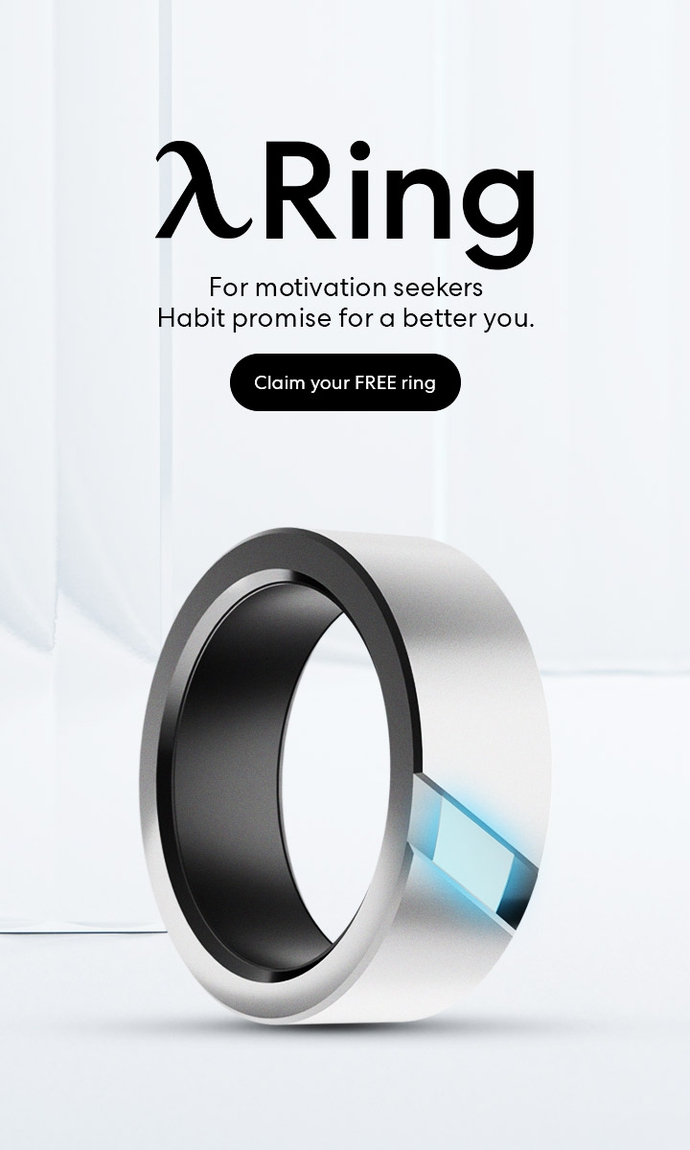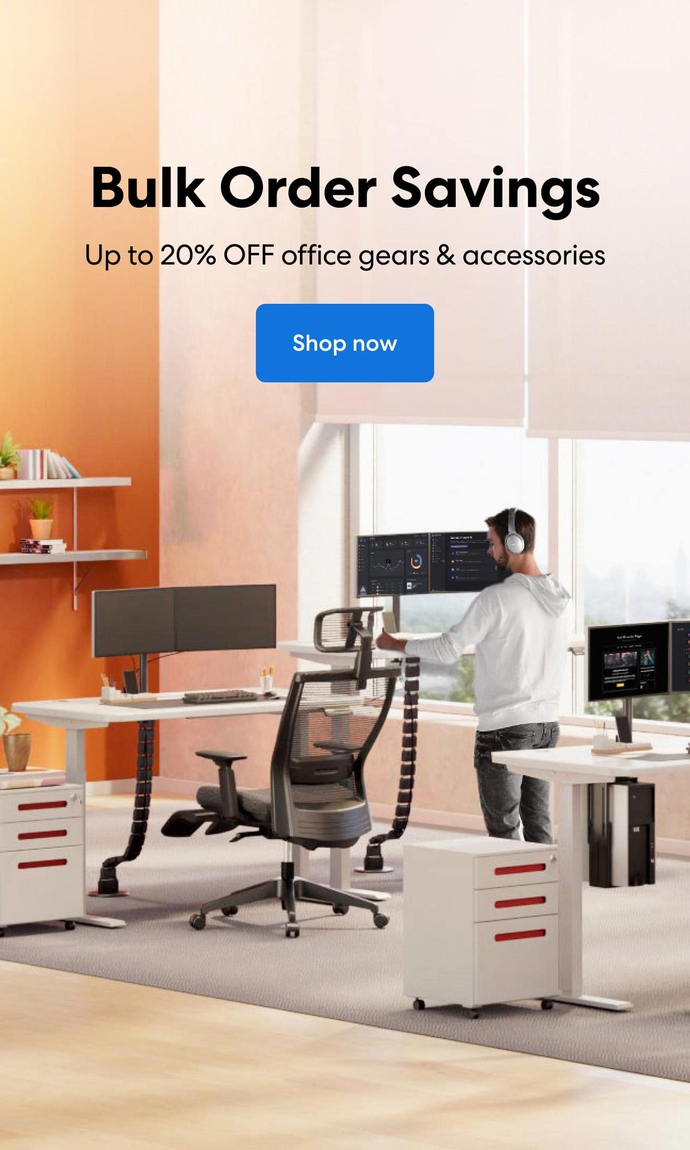 Subcribe newsletter and get $100 OFF.
Receive product updates, special offers, ergo tips, and inspiration form our team.