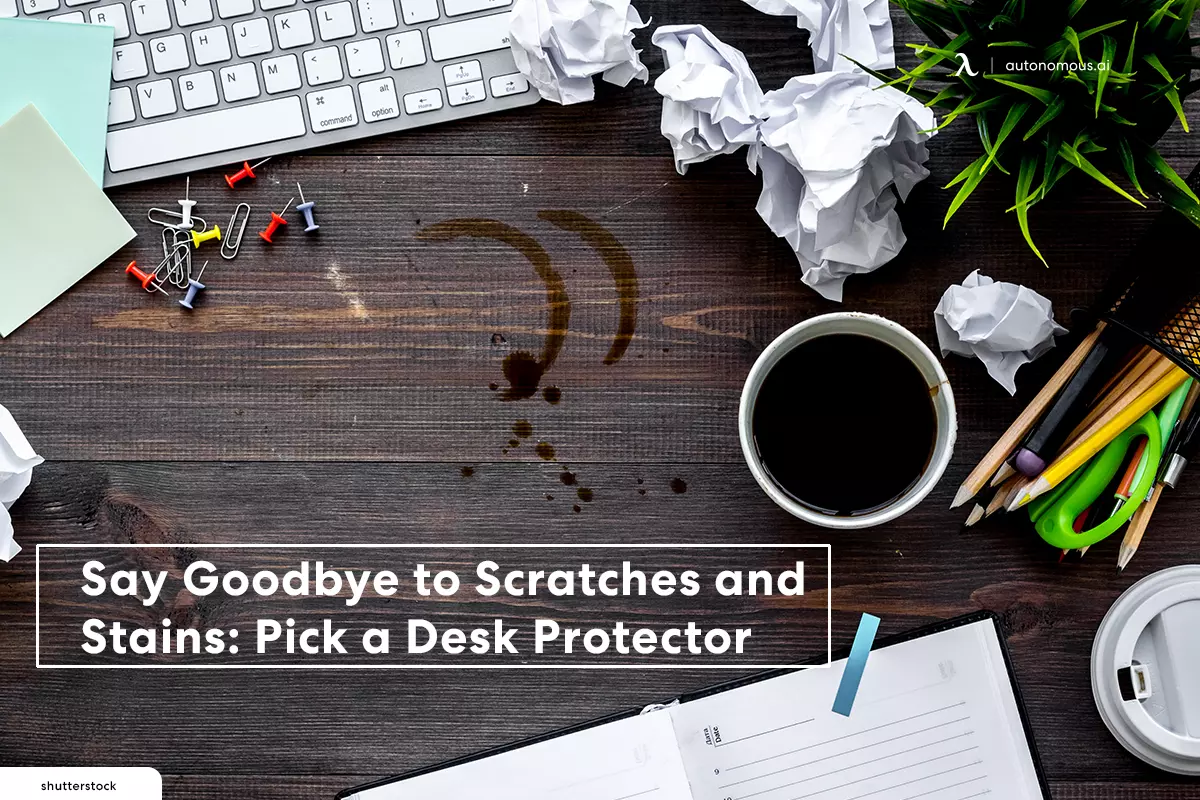 Smart Products
Say Goodbye to Scratches and Stains: Pick a Desk Protector!

Autonomous
|
Feb 16, 2023
1,217 Views
A desk is one of the essential pieces of furniture in a workspace, but it is also one of the most susceptible to scratches, stains, and other types of damage. It's essential to choose a high-quality desk protector to protect your desk and maintain its appearance. 
In this article, we'll show you how to pick the perfect desk protector to say goodbye to scratches and stains and keep your workspace looking new. We'll cover the essential factors to consider, including material, size, and durability, so you can make an informed decision and get the most out of your investment. 
Smart Tips for Choosing the Perfect Desk Protector
A desk protector is a vital addition to any workspace, as it helps to protect your desk against scratches, stains, and other types of damage. Here are some key tips to consider when selecting a high-quality desk protector to ensure you choose the right one: 
Material: Look for a desk protector made of materials that are durable, scratch resistant, and easy to clean, such as tempered glass, PVC, or high-density polyethylene.
Size: Make sure the desk pads you choose fit your table properly and cover enough surface area to protect against scratches and stains.
Durability: Choose a desk protector made with high-quality materials and a sturdy, durable design to ensure it lasts for a long time.
Non-slip design: Look for a desk protector that has a non-slip design to keep it in place and prevent it from sliding around while you work.
Transparency: If you want to keep the natural look of your desk, choose a clear or transparent desk protector that won't obstruct the view of your desk's surface.
Easy to clean: Consider a desk protector that is easy to clean and maintain, so you can keep it looking new even with regular use.
Customizable: If you have a unique or irregularly shaped desk, look for a customizable desk protector to fit your specific needs.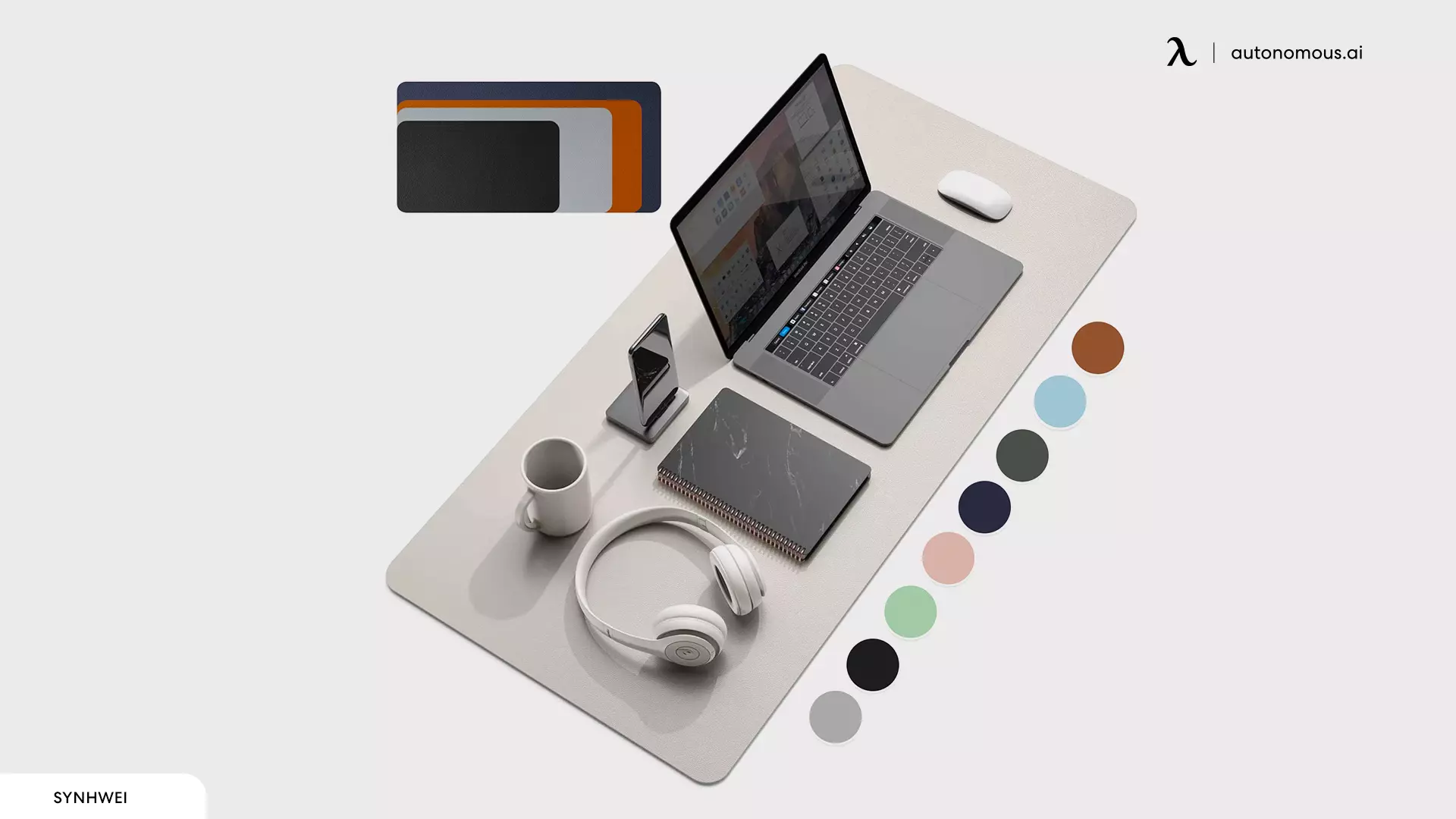 The 20 Best Desk Protectors for a Scratch-free and Sturdy Workspace
Creating a scratch-free and sturdy workspace is essential for a productive and comfortable work environment. Here are the 20 best desk protectors to help you achieve that: 
1. Autonomous Sustainable Desk Cork Pad
This cork desk mat pad is stylish and environmentally conscious, made from 100% recycled oak cork tree shavings that are harvested responsibly without harming the trees. In fact, the harvest process can even enhance the tree's longevity. 
The Autonomous desk pad not only protects your desk surface from scratches and spills but also improves the performance of your mouse. Its flexible cork construction is durable yet pliable, making it the perfect choice for daily use. 
| | |
| --- | --- |
| Dimensions | 31.5"L x 15.7"W x 0.1"H |
| Materials | Natural cork - 100% recycled materials |
| Warranty | 6 months |
2. DeltaHub Deskpad: Anti-slip & Minimalistic
Are you tired of desk pads that slip and slide all over the place? Look no further than the Deltahub desk pad. This desk top protector is designed to stay put, offering a secure and stable surface for all of your work essentials. 
The Deltahub Desk Pad boasts a minimalist design with a soft touch felt finish that adds a touch of comfort and style to your workspace. Its anti-fray sewn edges add extra durability, ensuring that your desk pad stays looking great for years to come. 
Dimensions
Large: 31.5" L x 17.7" W
Medium: 35.4" L x 11.8" W
Small: 24.8" L x 11" W
Materials
Anti-slip, anti-fray edges
Colors
Black
3. Autonomous Vegan Microfiber Leather Desk Pad
Protect your workspace and enjoy a superior mouse performance with the Autonomous leather desk mat. This desk protector pad is crafted from ultrafine nylon yarns, arranged to replicate the fibrous collagen structure of real leather, using innovative non-woven technology. 
The result is a soft, smooth, and strong surface that is both liquid-repellent and 100% vegan. Also, it boasts remarkable durability and resilience, with a tensile strength that outperforms natural cow leather and a peel strength that is 2.5 times stronger. 
| | |
| --- | --- |
| Dimensions | 31.5"L x 15.7"W x 0.08"H |
| Materials | Microfiber vegan leather |
| Colors | Black, Brown |
| Warranty | 1 year |
4. Burotic Leather Desk Mat Pad: Handmade in Canada
Are you looking for a desk protector pad that's both stylish and functional? Look no further than the Burotic Custom leather desk protector! Handmade in Canada, this desk pad is crafted from the finest quality leather, ensuring it's not only beautiful but also incredibly durable. 
With its large size, this Burotic custom leather desk pad is designed to cover the main part of your desk, providing a plush, soft surface for all your work essentials. Whether you're using it in your home office or workplace, this leather desk pad is built to last and provide you with years of comfort and style. 
| | |
| --- | --- |
| Dimensions | 35.4"L x 11.8"W |
| Materials | Authentic leather |
| Colors | Black |
| Warranty | 1 year |
5. Deskr Topographic Deskpad
The Deskr mouse pad is the perfect addition to elevate your desk setup. Inspired by the grandeur of the Grand Canyon, this desk pad features a topographic design with the iconic Colorado River running through it. 
Made from polyester and eco-friendly rubber, it's both durable and environmentally friendly. Moreover, this plush desk mat is 0.15 inches thick and offers a comfortable surface for extended gaming and work sessions.
Dimensions
35.43'' L x 15.75'' W x 0.15'' H
Colors
Black, White
Materials
Polyester top
Eco-friendly rubber bottom
Warranty
No
6. Graphic Image Leather Desk Blotter: Two-Sided
This Graphic Image Leather Desk Blotter is the epitome of executive style for your home office. Elevate the look of your workspace with this beautiful, handmade desk blotter crafted from smooth Italian leather in New York. 
Its two-sided design allows you to choose a color that best fits your decor. If you're looking for a stylish and functional way to protect your desk, look no further than this Graphic Image Italian leather desk blotter. 
| | |
| --- | --- |
| Dimensions | 26"W x 18"H |
| Colors | Navy/Tan, Black/Peacock, Taupe/Nude |
| Material | Italian Leather |
7. Function 101 Desk Mat
The Function 101 desk protector pad has been expertly crafted using high-quality PU Pebble Leather, with a faux suede bottom that adds an extra layer of protection to your workspace. 
Additionally, it comes with a collection of silicone cable accessories that magnetically attach to the metal-infused layer, providing a clean and productive workspace for the home or office use. 
| | |
| --- | --- |
| Dimensions | 31"L x 16"W |
| Colors | Black, Light Gray, Navy, Purple |
| Materials | Eco leather |
| Warranty | 1 year |
8. Graphic Image Two-Sided Leather Laptop Desk Mat
A Graphic Image, a leather desk protector, is the epitome of executive style for your home office. Handmade in New York from smooth Italian leather, this desk mat adds warmth and sophistication to your workspace. It features two sides in different colors to complement your decor and comes with a colorfully painted edge that adds a touch of personality.
| | |
| --- | --- |
| Dimensions | 16"W x 14"H |
| Colors | Navy/Tan, Black/Peacock, Taupe/Nude |
| Materials | Italian Leather |
9. Rain Design mRest Wrist Rest & Mouse Pad
The Rain Design mRest mouse pad is the perfect addition to your desk setup. It provides an unparalleled level of comfort and support with its gel-filled wrist rest and soft cushion mouse pad. Moreover, the desk mat for gaming, made from premium Lycra material, reduces fatigue and offers therapeutic support, potentially helping to prevent carpal tunnel syndrome. 
| | |
| --- | --- |
| Dimensions | 18.5"L x 2.5"W x 0.75"H |
| Materials | Gel-filled wrist rest with lycra, Soft cushion mouse pad |
| Colors | White, Silver |
| Warranty | 1 years |
10. Toasti Heated Mouse Pad with Hottest Hand Warmer
Say goodbye to cold hands and hello to warmth with the Toasti Premium Mouse Heated Pad. Its spacious 10.6 x 12.6-inch size provides ample room to move, while the soft anti-fray stitching around the edges offers comfortable use. 
The smooth, premium microfiber surface allows for smooth and precise tracking, and its textured, non-slip natural rubber bottom keeps the pad in place during hard use. This heated mouse pad features three heat levels and an LED indicator to customize your comfort, while its low voltage and two-hour automatic shutoff make it safe and efficient to use. 
11. CORSAIR MM350 - Gaming Mouse Pad
Introducing the CORSAIR MM350, a premium gaming mouse pad designed for maximum control and comfort. With an extended XL size of 930mm x 400mm (36.6" x 15.7"), this desk mat protector provides ample space for your mouse, keyboard, and more. 
Furthermore, the 5mm plush rubber construction not only offers comfort during extended gaming sessions but also helps to smooth out any uneven desktop surfaces.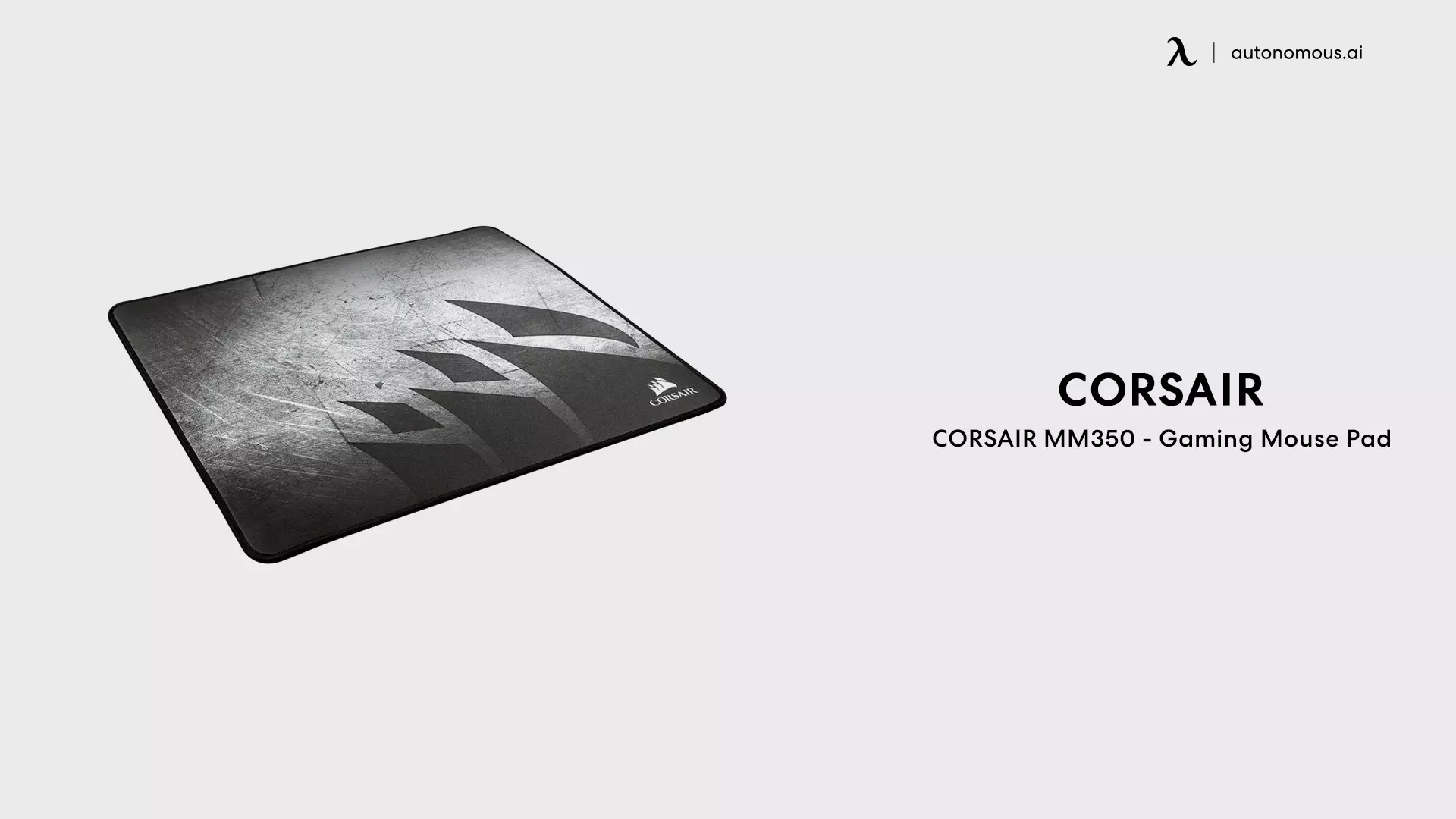 12. KINGFOM Desk Mat Pad Protector Blotter
The KINGFOM Desk Mat Pad is a professional, high-quality solution for your desk protection needs. This desk cover material is made of durable PU leather and boasts a waterproof surface that easily wipes clean and can be rolled flat or folded for versatile use. With a comfortable writing surface, it offers a premier writing experience and protects your desktop from scratches, stains, and spills. 
13. Logitech Desk Mat Pad - Studio Series
Upgrade your workspace with the Logitech Studio Series Mat Pad. This large, multifunctional desk pad is the perfect addition to your office, offering both style and protection. Moreover, this desk mat protector is made with recycled polyester and natural rubber, and its 11.8 x 27.5-inch size is ideal for accommodating your keyboard, mouse, and other Logitech devices. 
14. Large Leather Dual Sided Desk Pad
Transform your workspace with this stunning Large Leather Desk Pad. Measuring 24 x 12 inches, it provides ample room for your mouse, keyboard, and other office essentials. 
Dual-sided, this desk top protector offers both light pink and light blue options to match your personal style. Made of waterproof and durable leather, it provides a comfortable writing surface and protects your desk from scratches, spills, and other daily wear and tear.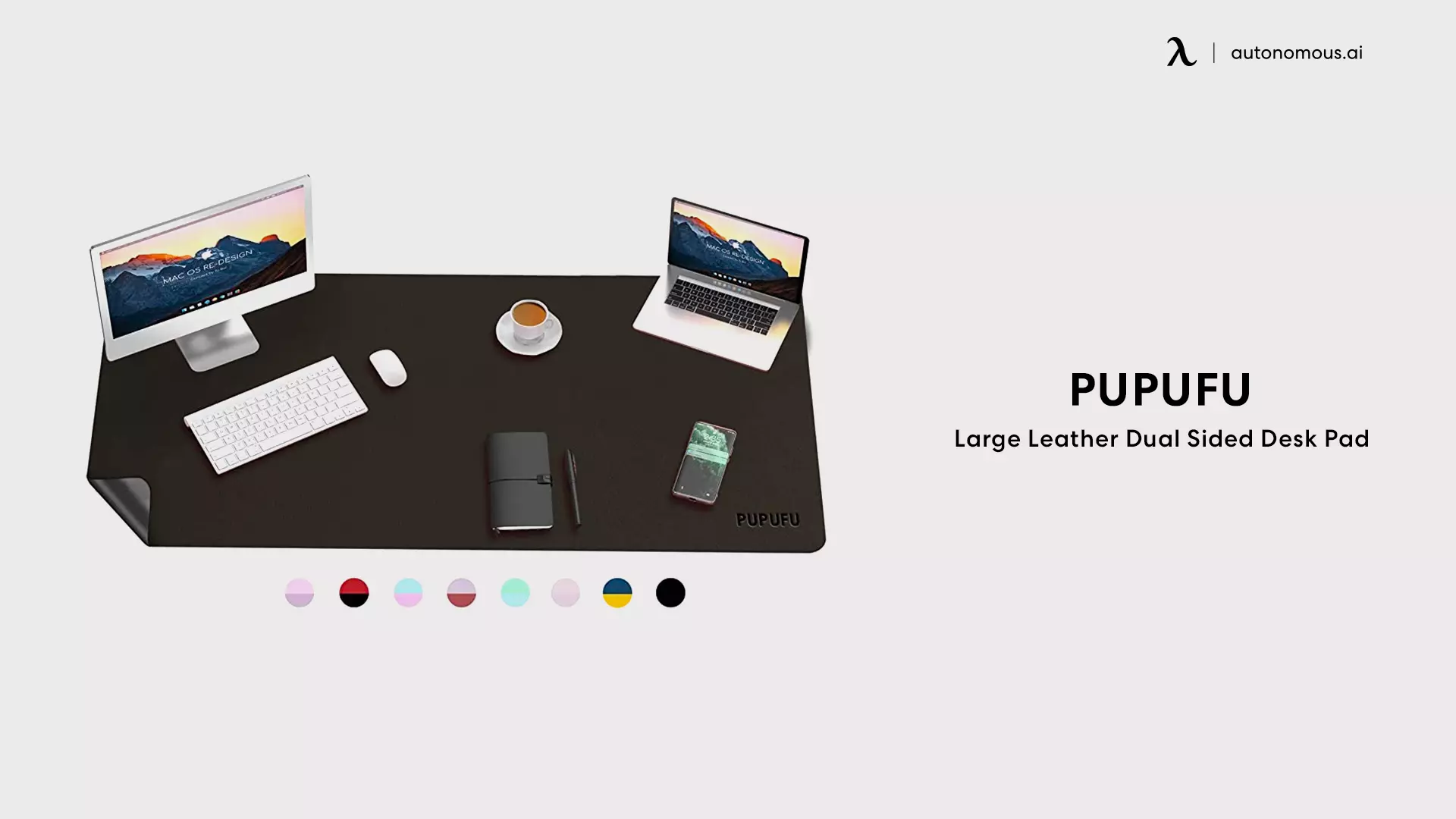 15. SteelSeries QcK Gaming Surface
The SteelSeries QcK gaming surface offers superior performance for all your gaming needs. Its legendary micro-woven cloth provides pinpoint control, and the non-slip base ensures a solid gaming platform, free from unwanted movement. Also, its XXL size covers your entire desk, making it the perfect desk top protector for all your gaming gear. 
16. Dardashti RGB Gaming Pad
A Dardashti RGB Gaming Mouse Pad is the ultimate addition to any gaming setup. This large mouse pad measures 31.5 inches by 12 inches and features a thin, lighted design with 14 different RGB lighting modes, including seven fixed colors and seven flashing sequences. 
Furthermore, the surface of the mousepad is made of a super soft, smooth, and breathable micro-texture optimized for effortless precision and speed, ensuring a comfortable and enjoyable gaming experience.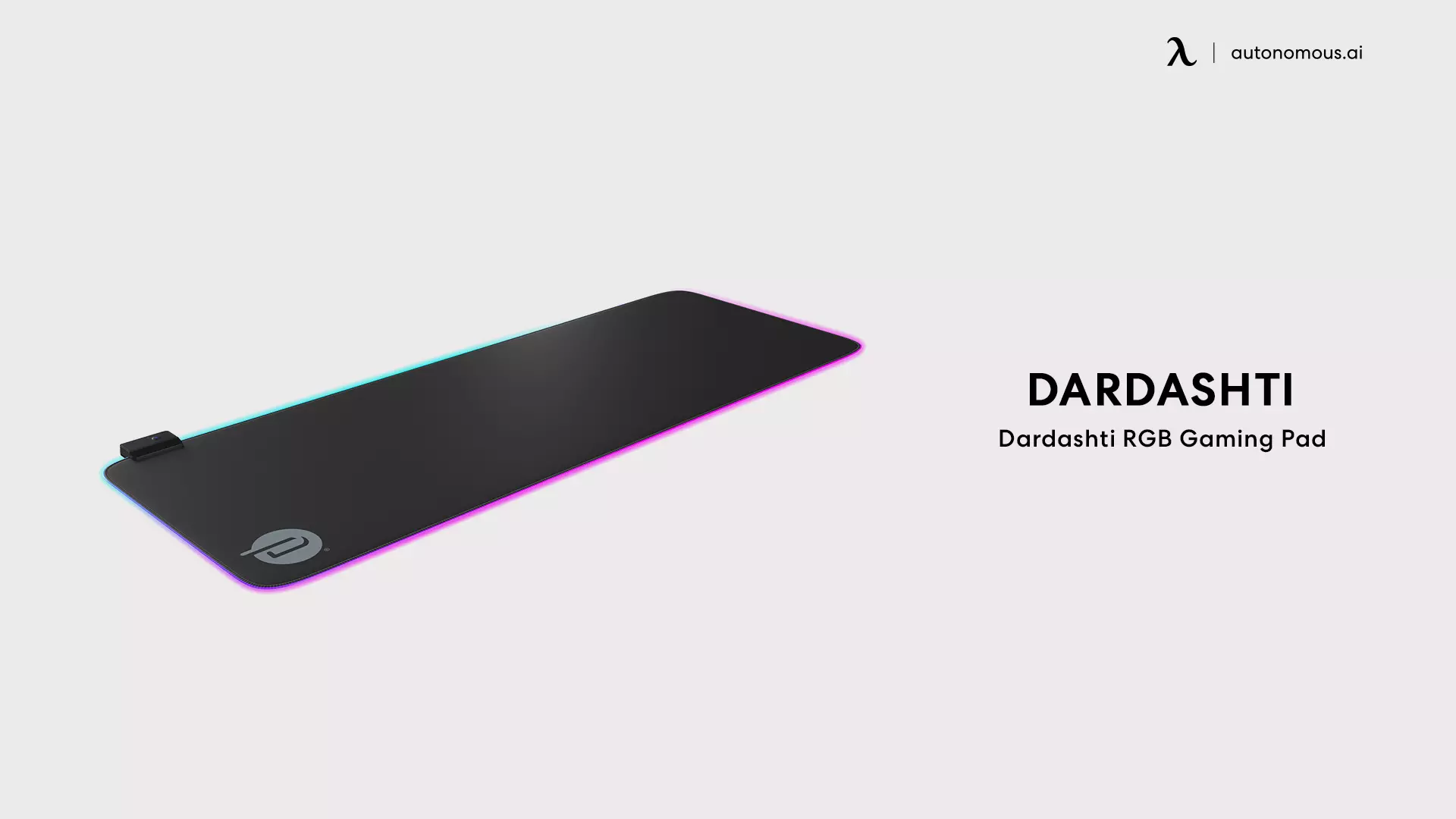 17. Londo Extended Leather Mouse Pad
The Londo Extended mouse pad is a masterpiece of leather craftsmanship, crafted with high-quality PU leather and finished with fine, durable stitching for a sleek and slim look.
Its silky-smooth surface provides an efficient and uninterrupted experience for your mice, while the non-slip backing ensures stability on your desk. Measuring 74 x 33.5 cm, this desk mat protector reduces clutter and provides ample space for mouse movement. 
18. Qisebin 23.613.8in Protector Leather Desk Pad
This Qisebin Leather desk pad protector is a must-have accessory for your office or home workspace. With its large size of 23.6" x 13.8", it provides ample room for your mouse, keyboard, and other desk items. 
Moreover, its PU leather surface is also waterproof, making it easy to clean, and a faint fragrance accompanies the pad, replacing any strange odor that could be present.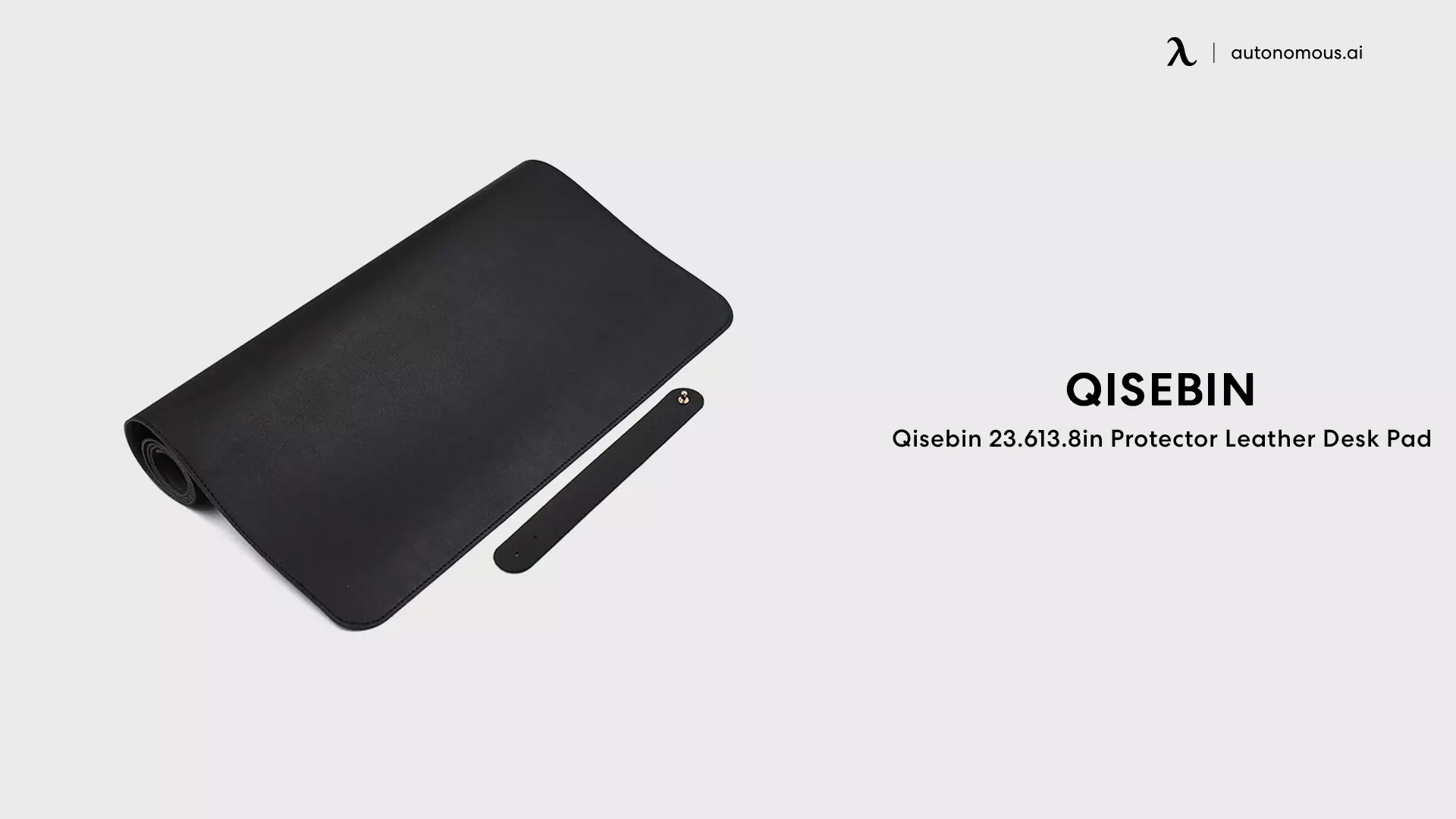 19. Cmhoo XXL Gaming Extra Large Mouse Pad
The Cmhoo XXL Gaming Mouse Mat is a desk top protector that provides an exceptional gaming experience with its large surface area of 31.5 x 15.7 inches. This mouse pad features durable anti-fray rugged stitching that increases its lifespan and a smooth surface for improved mouse movement. 
Additionally, the non-slip rubber material base also provides a solid grip, preventing any sliding or movement during use. 
20. CClz Multifunction Felt Desk Gaming Mouse Pad
A CClz Multifunction Felt Desk Mat is an excellent solution for all your desktop protection needs. Made of high-quality felt, it is soft, comfortable, and perfect for both office and home use. 
Furthermore, its spacious design (47x24 inches) can easily accommodate your mouse, keyboard, or even your laptop. This desk mat will protect your desktop from stains, scratches, and heat while also providing comfort to your elbows.
Summary
Choosing the perfect desk protector is crucial to ensuring that your desk stays protected from scratches and stains. By considering factors such as material, size, and non-slip features, you can select a desk protector that looks great and performs well.
Whether you need a desk top protector, leather desk protector, or just some desk accessories, the market offers a range of options to meet your specific needs and preferences. Thus, say goodbye to scratches and stains and invest in a high-quality desk protector today.
Video ads for product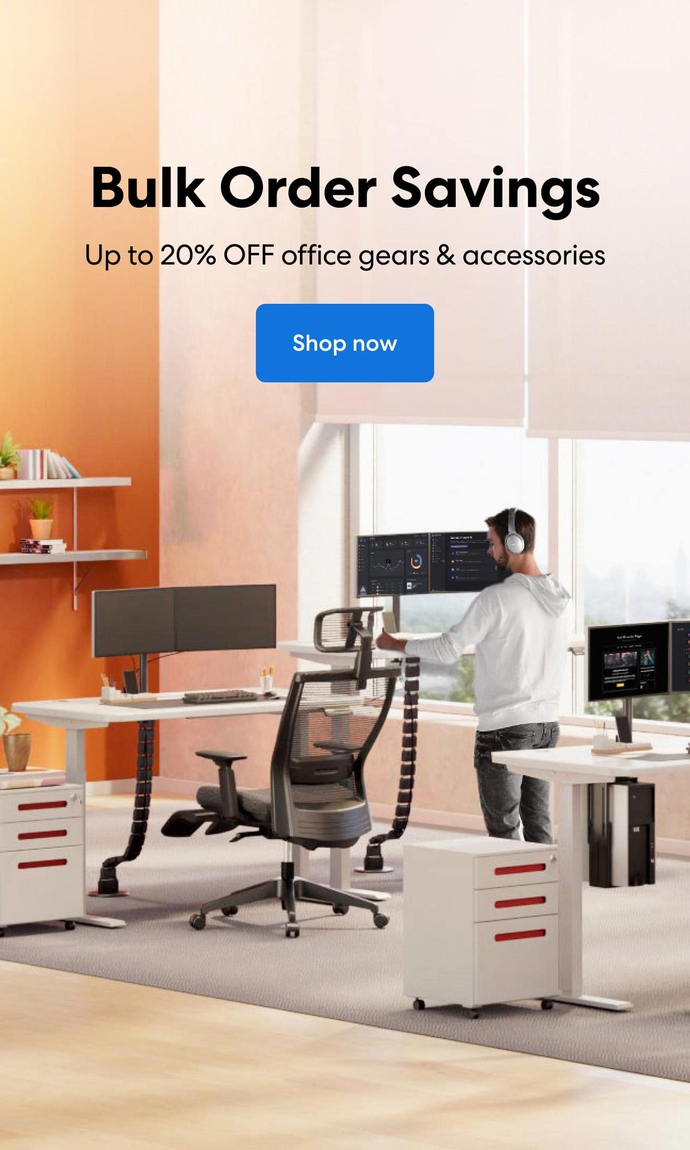 Subcribe newsletter and get $100 OFF.
Receive product updates, special offers, ergo tips, and inspiration form our team.