Workplace Inspiration
How to Set Up a Floor Desk Workstation?
1,712 Views
The coronavirus outbreak and the work-from-home option have boosted the demand for people to manage a decent work environment at home to maximize their efficiency. People have experimented with innovative working methods, such as the Japanese-inspired work-from-the-floor setting with floor workstations.
If you operate from the ground, you may well have a movable floor desk setup which is also cost-effective. A suitable floor workstation layout for a work from home desk setup includes a properly sized workstation, floor chair, dedicated storage places, decorative items, and lighting systems. Yoga mats, cushions, and throw pillows make working on the ground much more comfortable.
Things Required to Prepare a Floor Desk Setup
While a sofa is usually a good place to unwind or rest, the floor is where you'll find the most comfort. Not only that but sitting on the floor at a minimal desk setup has other advantages, including improved posture and awareness. As soon as you begin working on the floor, you'll have trouble with your posture at first, and sitting on the floor will be tough. The following items from our floor desk ideas might help you work more comfortably to ease that.
Yoga Mat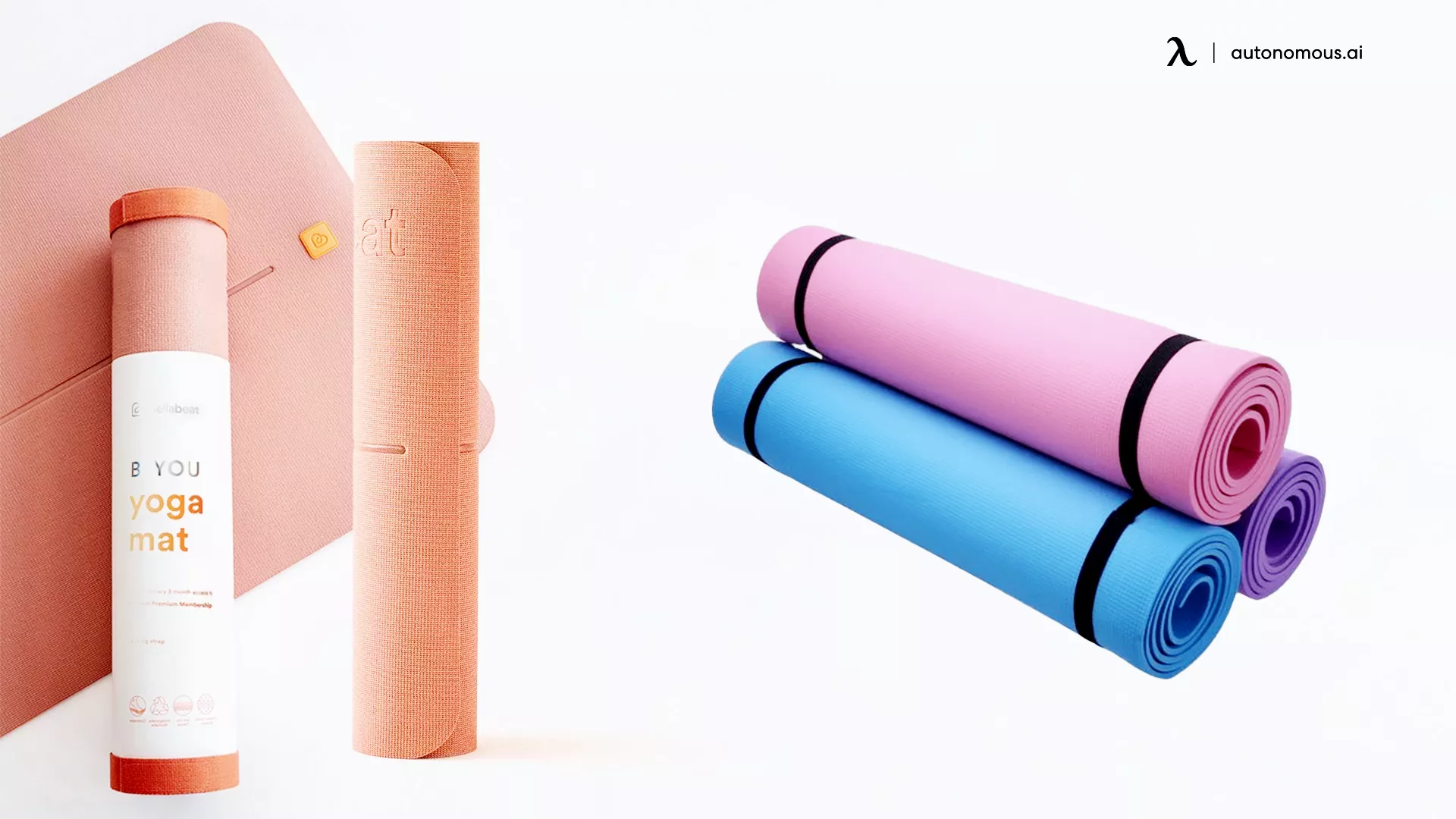 While utilizing the floor workstation, a yoga mat is terrific for staying warm and comfy. You can extend your legs freely as yoga mats are wide enough to accommodate your entire body. Bellabeat's Thick Yoga Mat is ideal for an office desk floor mat with its dense foam.
Supportive Pillow
You can add a hard pillow next to your back when utilizing floor seats for the floor workstation. As you work, it will cushion your spine and improve your posture. The ErgoActive Lumbar Support Pillow for Chair offers superb back support while reducing lower back discomfort.
Step-stool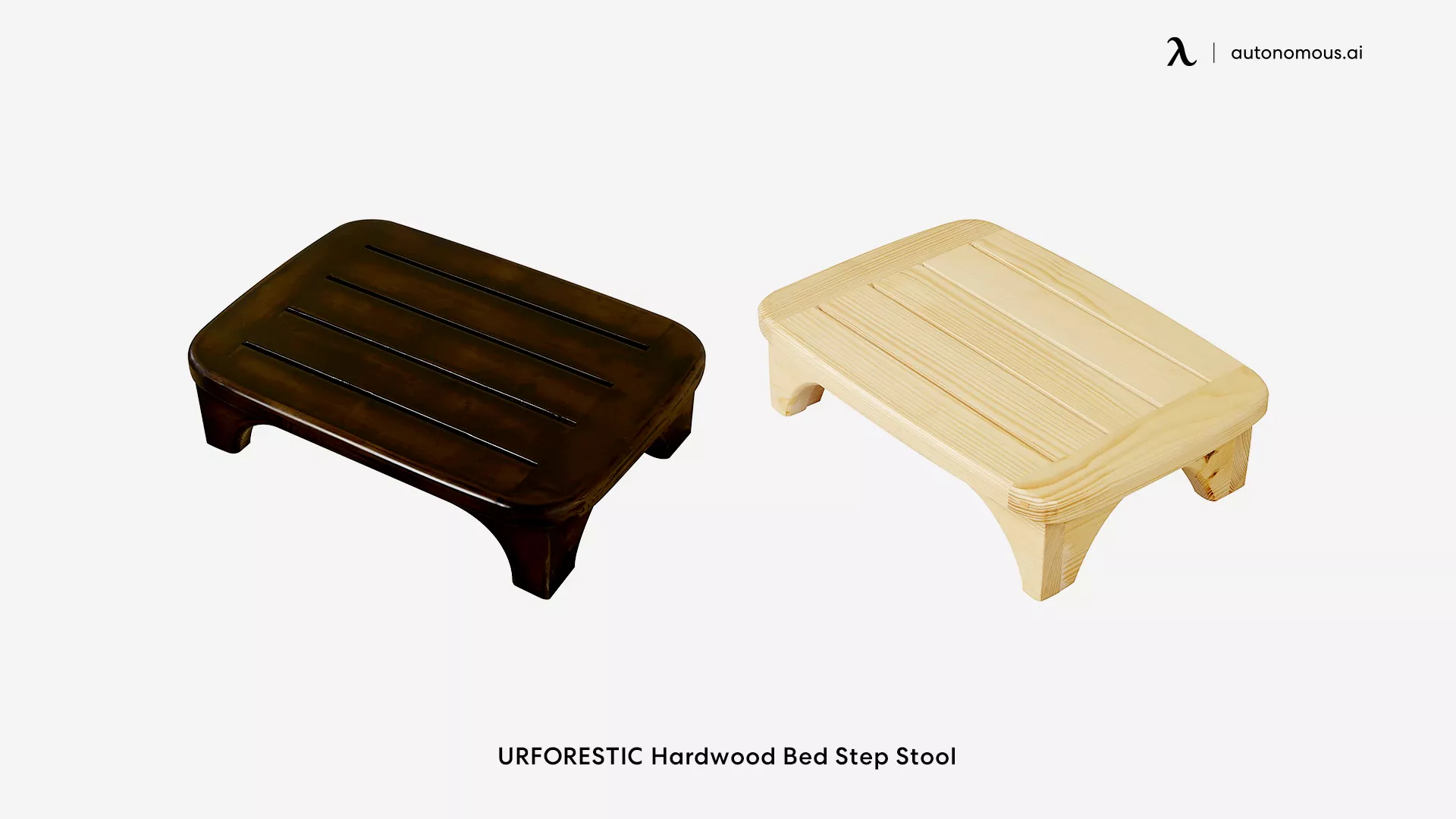 A step stool can always use an armchair at a floor desk. The URFORESTIC Hardwood Bed Step Stool has a woody appearance that nicely complements hardwood floor desks. They are lightweight and portable.
Floor Desk of Appropriate Size
The size of a floor desk setup is usually smaller and lower. For convenience, you should pick a floor desk higher than 16 inches. Getting a floor desk at least 36 inches in length and 16 inches in height is always a good idea. Meanwhile, the Japanese Accent Floor Table will work well as a floor office desk.
Purchase a Cozy Floor Desk Chair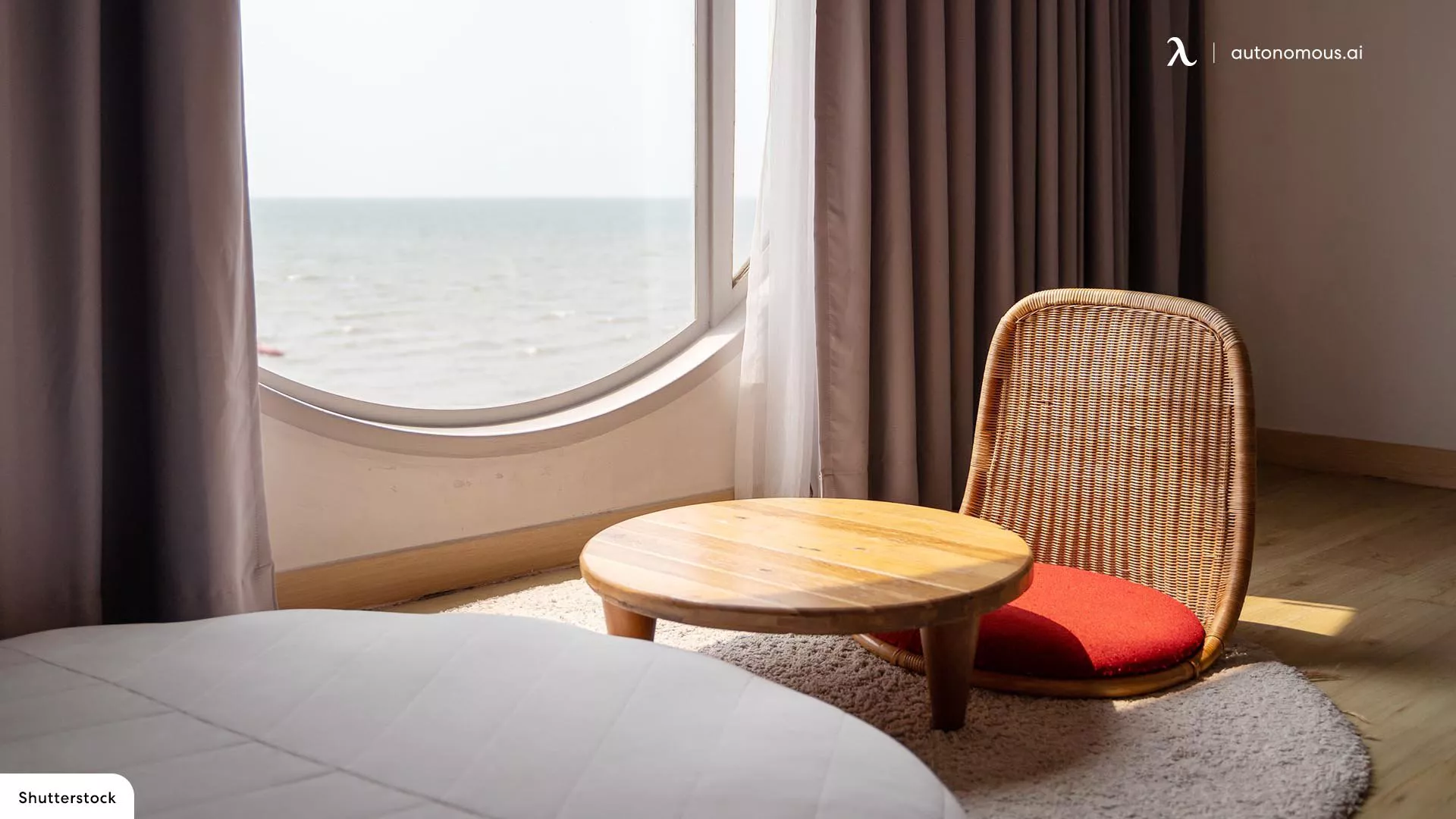 If you wonder if sitting on the floor is good for you? You are at the right place because sitting on the floor can be made comfortable with the right floor chairs. Some floor chairs for adults do not have legs and therefore are intended to be used with floor workstations. These circular or flat-bottomed seats may be put on the rug or straight on the ground. Here are some helpful hints for selecting the ideal floor seat for you.
Ensure the ground chair you're using is the right height for your floor workstation.

Pick a good floor chair with a solid steel frame foundation that will last for ages.

Bean bag floor seats and the Ottoman floor seats are the greatest sorts of seats for working more hours.

Working armchair upholstery should be relatively soft to avoid overstretching your spine and lumbar region.

To strengthen your back, choose seats with the proper back curvature.

Working from the ground is simpler with amenities like grips and built-in microphones. You may pick and choose which ones offer the characteristics you need.

As per your requirements, look for flexibility characteristics. Backrest inclination angle or attitude modification features.
Set up for a PC or laptop
Laptops can fit comfortably on a floor table. If the table height is insufficient, you can use flexible laptop support to lift the laptop. If you organize your floor computer setup appropriately, you can set it up on the ground. For example, you could use a display raiser or pile some books to adjust your display height. You could also use a monitor arm to lift your display to have more room on your desktop for your input devices.
Floor desk illumination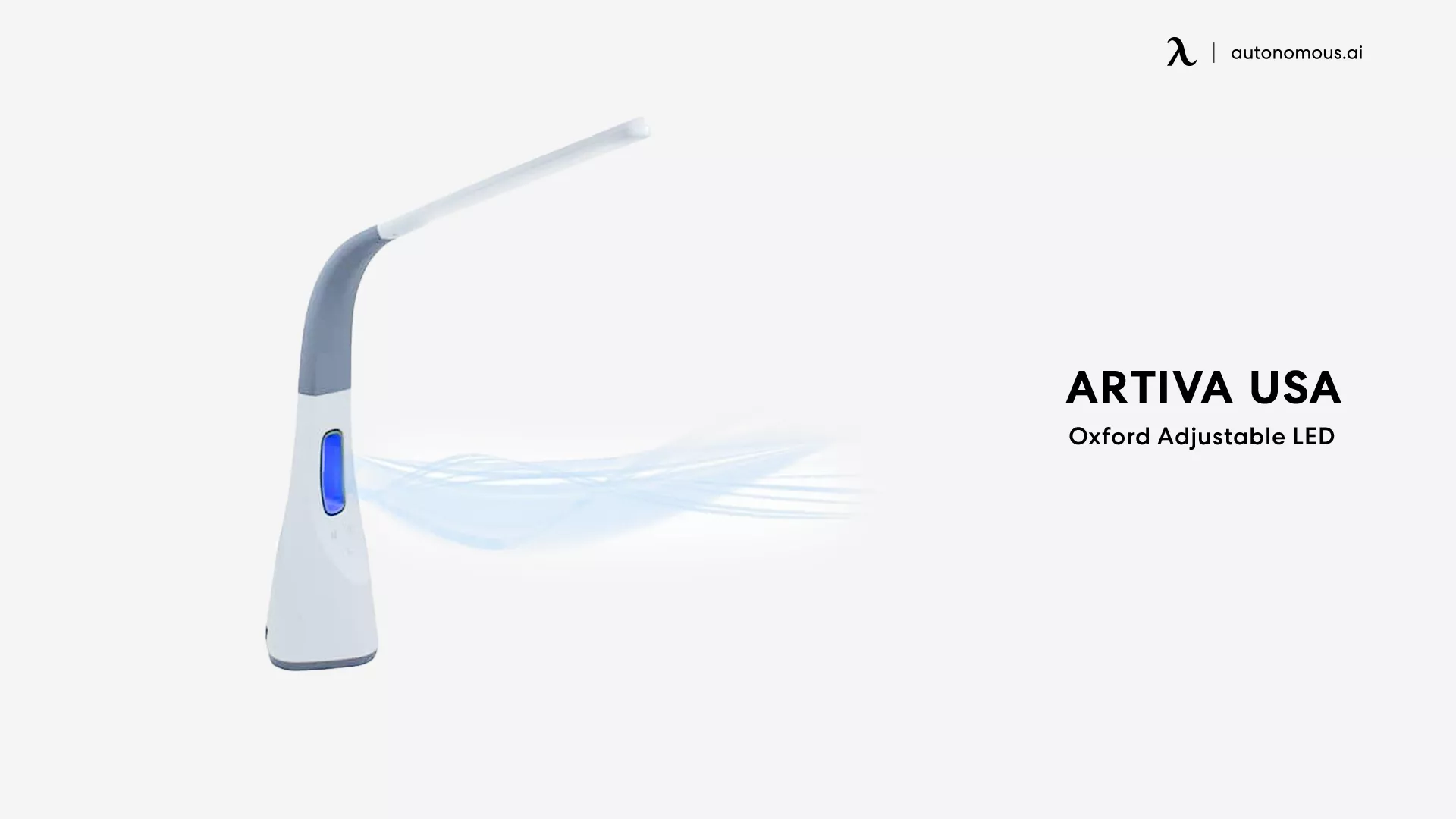 You may have illumination issues if you intend to move your floor desk setup away from the power outlet. Furthermore, you do not have enough room on your floor workstation to accommodate a desk light. For your floor table, the ideal lighting alternative is an Oxford Adjustable LED 26" White Desk Lamp, which comes with a clamp and a fan that will keep you cool throughout your workday.
How to Sit at a Floor Desk?
Check out the following seating positions if you want to sit on the ground at your cool desk setup. It may take a while to figure out what makes you feel most at ease:
Kneeling is a typical floor posture that comes in a variety of forms you should practice in your floor desk setup. Kneel on the ground:
Begin by standing. Step back with one leg. Place your body weight onto your front leg.

Descend your back knee to the floor slowly, maintaining your feet on the floor, and your ankles flexed.

Overlap your shoulders and hips. Bring your hind knee to the floor.

Knees should be shoulder-width wide. Your hips should be resting on your heels.
Cross-legged seating is another classic floor posture. To do it:
Take a seat on the floor. Knees should be bent and extended outwards. Put one foot beneath the knee of the opposing leg.

Place your pressure on your hips rather than your feet. Put your stomach over your buttocks.

Sit at the top of a folded comforter to relieve strain on your hips. You can also fix pillows beneath your knees for comfort.
Squatting, also known as the squat rest, helps you seamlessly transition from standing to lying down. To sit in this position, first:
Your feet should be hip-width away. Place your feet firmly on the ground.

Descend your hips slowly until they are barely above the ground.

Maintain an erect posture with your chest area.

Precautions While Using a Floor Desk
You may feel stiff at first since your muscles are hardly even used to resting in a healthy posture on their own.

As a result, when utilizing the ground workstation, you need to get up and walk about occasionally.

It would help if you leaned back when working at a floor table because your physique determines your posture.

While utilizing the

Mac mini desk setup, the cords for your laptops or equipment dangle low on the ground, posing slips and falls hazards. Therefore, you'll need to utilize cable bands or adhesives to get them from the outlet to your workstation via the wall.

If your ground desk has jagged corners, you should use corner guards to keep them covered. Once the desk has been on the ground, you are more likely to run into the corners.

To preserve your furniture or floor, place a rug underneath the desk.
Keep in mind that Autonomous now offers exclusive discounts under their Employee Purchase Program, which was designed specifically for people who have always wished to be able to purchase luxury furniture items at a valuable price.
Keep up with Autonomous news
Stay informed, stay inspired with our new blogs.
WRITTEN BYAutonomous
We build office products to help you work smarter.