Smart Products
The Ultimate Guide to Heat Chairs: Enhancing Comfort and Relaxation

Alex Rivera
|
Sep 6, 2023
798 Views
When it comes to improving comfort and relaxation while seated, there is nothing better than heat chairs. They not only offer features that you may find in traditional seating solutions but also provide temperature adjustability options to ensure a great experience.
In this guide, we will go over what heat chairs are, their benefits, and how they differ from traditional seating solutions. Read until the end, as we will explore the top five heated chairs to help you make an informed decision. 
Let's get started! 
What Are Heat Chairs?
Heat chairs can be a great addition to your furniture collection if you spend most of your time in the wilderness. They're versatile enough to keep in your office, on your patio, or even take them out for the ultimate camping experience. 
With built-in heating mechanisms, heat chairs radiate constant heat to keep you toasty, making them an excellent investment.
What Are the Benefits of Using Heat Chairs?
There are several benefits of using heat chairs, some of which include the following: 
They Provide Warmth
Heat chairs are the perfect companion for cold weather or outdoor expeditions, as they keep you warm.
Whether you're working at your desk, gaming for hours, or simply relaxing in your living room, the warmth of a heated chair will envelop you, creating a comfortable experience. 
They Help Relax the Muscles
Most traditional massages use heat compression techniques to loosen the muscles and alleviate stress. It helps stimulate the parasympathetic nervous system to aid relaxation. 
Whether you're looking to buy a heated massaging office chair or a heated chair for the outdoors, the radiating heat can help reduce stiffness or soreness, allowing you to unwind and rejuvenate your body after a long day. 
They Come with Customizable Comfort
Some of the heat chairs on the market have adjustable settings that allow you to control the level of warmth according to your needs. 
Whether you're spending time outdoors or helping your muscles relax at the office, you can customize the temperature on your heated chair and stay comfortable in any environment.
Differences Between a Heat Chair and a Traditional Chair
The difference between heat chairs and traditional chairs goes beyond their appearance. Below are some of the key distinctions between the two: 
Heat Chairs Have a Heating Function
A major difference between the two chairs is that the heat chairs come with a heating function, while a traditional seating option relies on their design and materials to ensure comfort. 
Some heat chairs come with a Li-ion battery that you can charge overnight and use for eight hours when required. It's much safer than using a gas or electric heater. 
Heat Chairs Are More Versatile
An ergonomic chair is excellent for office or home use, but you can't really keep it outside, as it's not built for the outdoors. Heat chairs are specifically made for the wilderness, but you can use them indoors as well. They are crafted with durable materials and sturdy frames, which makes them a versatile seating solution. 
Heat Chairs Offer More Comfort
There are many different options when it comes to choosing traditional chairs. Some provide reclining features, while others focus on lumbar support. 
On the other hand, you can find a heated reclining chair, a heated gaming chair, and other options that not only provide the functionality of traditional chairs but also added comfort because of the built-in heating mechanisms.
What Are the Different Types of Heat Chairs?
There are many different types of heat chairs, each offering unique features and benefits. Some of these include the following: 
Heated reclining chairs
Heated office chairs
 Heated gaming chairs
Heated massage chairs
Heated chairs for the outdoors 
Tips for Selecting the Right Heat Chair
Before investing in heat chairs, it is crucial to consider several key factors, some of which include the following: 
Consider the Purpose
The first thing you need to do is to determine the primary purpose of your heat chair. There are many options available on the market, and each of them caters to the unique preferences of an individual. 
Heated gaming chairs, for example, are great for gamers, while you may want to consider a heated reclining chair if you're looking to relax after a long day at work.
Check the Heating Options
Not all heat chairs are created equally. They have varying levels of temperature control, while some have features that allow for targeted heat in different areas. 
You should review the features before investing in a heated reclining chair or a heated chair for the outdoors. 
Inspect the Quality of the Heat Chair
Before investing in a heated gaming chair or a heated desk chair, you should inspect its quality. 
Some heat chairs that are available online are made from flimsy material, while others offer sturdy construction that can withstand regular use. 
Check the Comfort and Ergonomics
You can't expect the comfort of a standing desk chair or the ergonomics offered by the most expensive office chairs. It's essential that you keep that in mind when choosing heat chairs. 
That said, some of the heated reclining chairs come with lumbar support and adjustable features that ensure you're comfortable during long hours of sitting.
Ask About the Size and Weight Capacity
If you're looking for office chairs for heavy people or a compact seating solution that could easily fit under the desk, you must ask the retailer or manufacturer for the size and weight capacity. This will help you choose a seating solution that accommodates your needs while ensuring the best experience.
Inquire About the Additional Features
Some heat chairs have extra features like massage functions, built-in storage, USB ports, and cup holders. These can be great but may come at a greater price tag. 
Check Out the Reviews and Ratings
Before investing in heat chairs, it's crucial that you read the customer reviews and check the chair's rating. This will provide valuable insights into any features that stand out or any drawbacks that could adversely impact the seating experience. 
Top Five Heat Chairs for Gaming, Office, Outdoors, and More
Whether you're looking for the best floor chair or a big and tall office chair with heating capabilities, our list of the top five heat chairs has got you covered! 
1. MacSports Heated Chair
Are you looking to elevate your outdoor adventures this winter season? Look no further than the MacSports Heated Cushion Outdoor Club Chair! 
This heated chair for the outdoors comes with a versatile heating system that has three different heat modes. It can reach temperatures of up to 131℉/55℃, making it the perfect seating solution for camping. 
The MacSports heated chair has a USB-powered heating system that is compatible with any standard portable battery. This ensures that you receive long-lasting warmth wherever you go. 
Constructed with a sturdy powder-coated steel frame, this heated chair for the outdoors is exceptionally well-built and can support up to 375 lbs. The padded seat and larger seating area offer an unmatched level of comfort while you relax and enjoy the great wilderness.
It's easy to fold and pack without any need for assembly. The chair comes with a convenient carry bag, allowing you to take it with you to various outdoor activities. It is an excellent investment and an ideal companion for any wilderness enthusiast.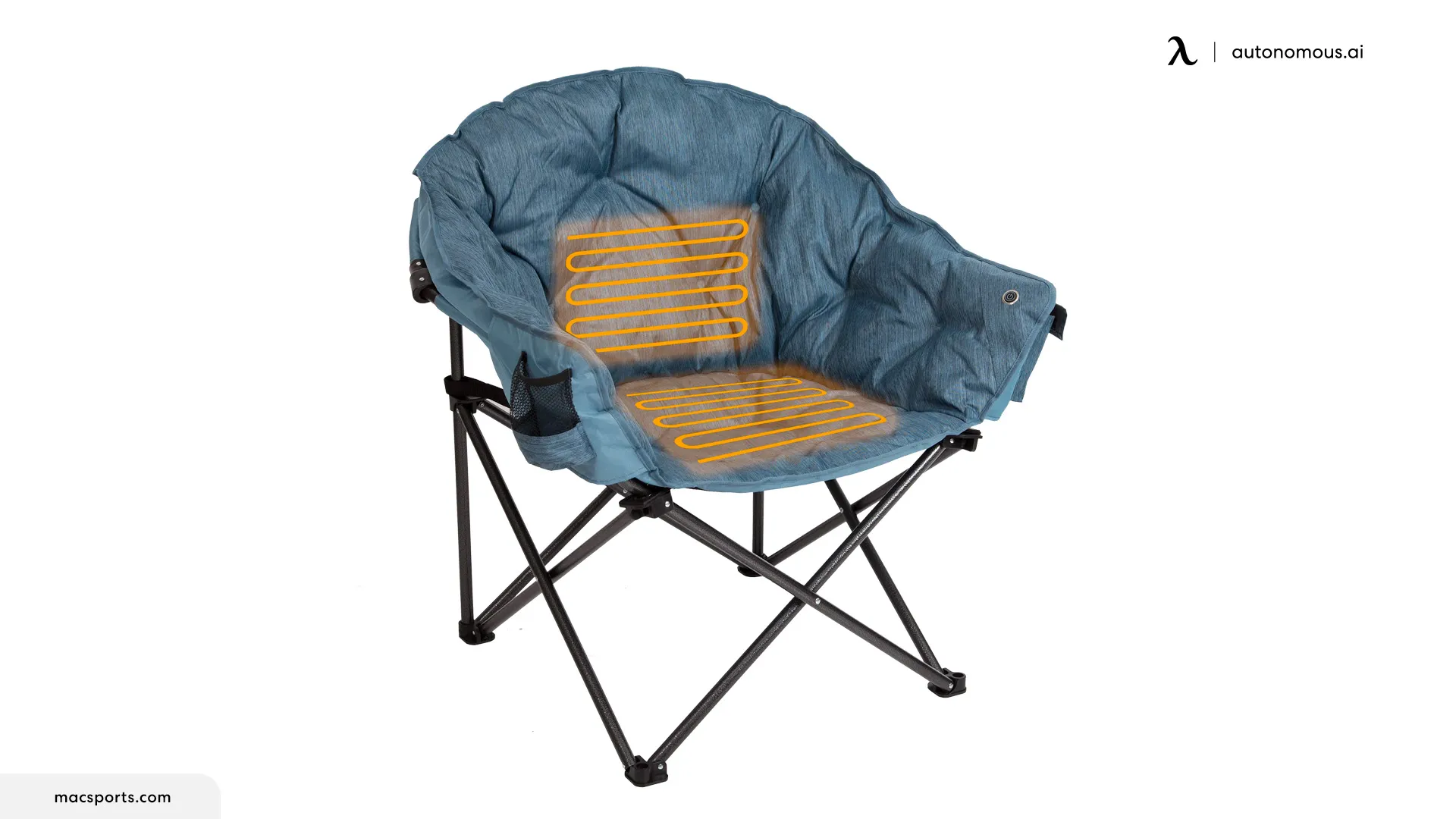 Pros

Cons

Sturdy construction
No cup holders
Three heat modes
No storage space
USB-powered system
Easily foldable
2. Best Choice Products Electric Power Lift Recliner Massage Chair
If you're looking for a heated reclining chair that's perfect for your office or your home, you may want to consider the Best Choice Products Electric Power Lift Recliner Massage Chair. 
With a power lift design, you can make the necessary reclining adjustments with just a push of a button. It can recline and tilt forward, giving you the perfect seating position. There are built-in cup holders that add an extra layer of convenience, making sure you enjoy your favorite beverages while lounging in luxury. 
Equipped with a remote control, you can select from the three massage modes that target your back, lumbar, thighs, and lower legs. It comes with varying degrees of intensity that can help alleviate pain from muscle stiffness and soreness. 
This heated reclining chair is designed with your safety and convenience in mind. Its heavy-duty base ensures stability and features an anti-tipping design, allowing you to lounge without worrying about falling over. You can also access the side pockets and USB ports, which is a great plus. 
Whether you need a heated office chair to stay cozy during long work hours or a luxurious heated reclining chair to unwind after a tiring day, the Best Choice Products Electric Power Lift Recliner Massage Chair is a fantastic investment to consider.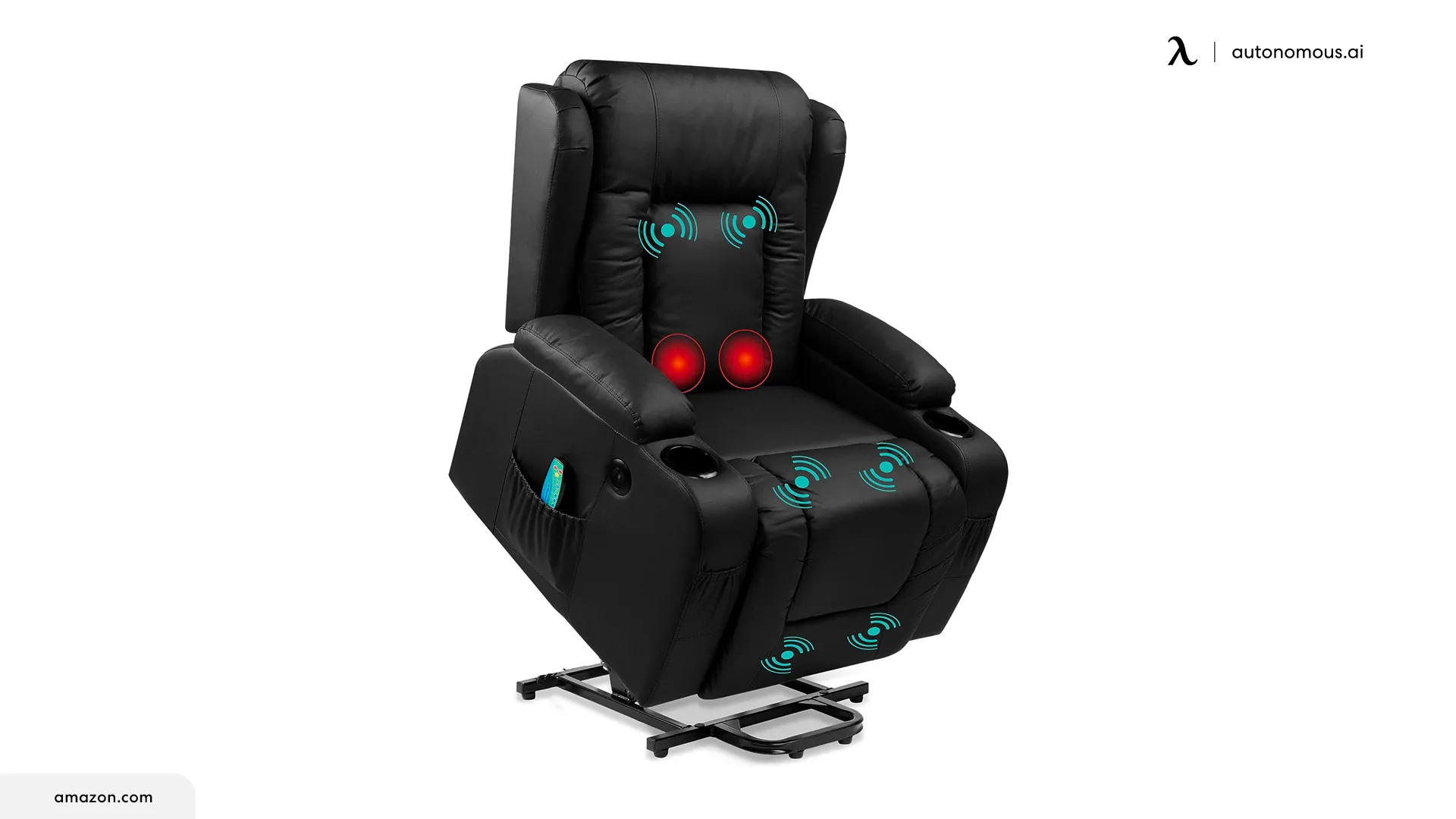 Best Choice Products Massage Chair
Pros

Cons

Massage and recline options
Not suitable for outdoor use
Built-in cup holders
Expensive
Anti-tipping design
3. KingCamp Heated Chair
Here is another heated chair for the outdoors: the KingCamp Heated Chair. It has an innovative design that provides ultimate support and warmth during chilly days. 
What makes the KingCamp heat chairs great is its self-protection mechanism. You can choose between three adjustable temperature levels, and the chair will turn off once it achieves the level of warmth you're looking for. 
With adjustable lumbar support and padded armrests, this heated chair for the outdoors provides comfort for your back and butt. The lumbar support can alleviate pain and stiffness, allowing you to enjoy your camping experience fully. 
It is made with durability in mind. The chair has thickened anti-rust steel pipes, making it ideal for larger individuals. Its non-slip foot cover adapts to various ground surfaces, ensuring stability wherever you decide to sit. You can easily fold it like a lawn chair and retract it within seconds. 
The KingCamp heated chair for the outdoors offers sufficient storage options, including a large side storage bag for your phone and magazines, a mesh cup holder, and cooler bags capable of holding three cans of your favorite drink. It's a game-changer for any outdoor enthusiast!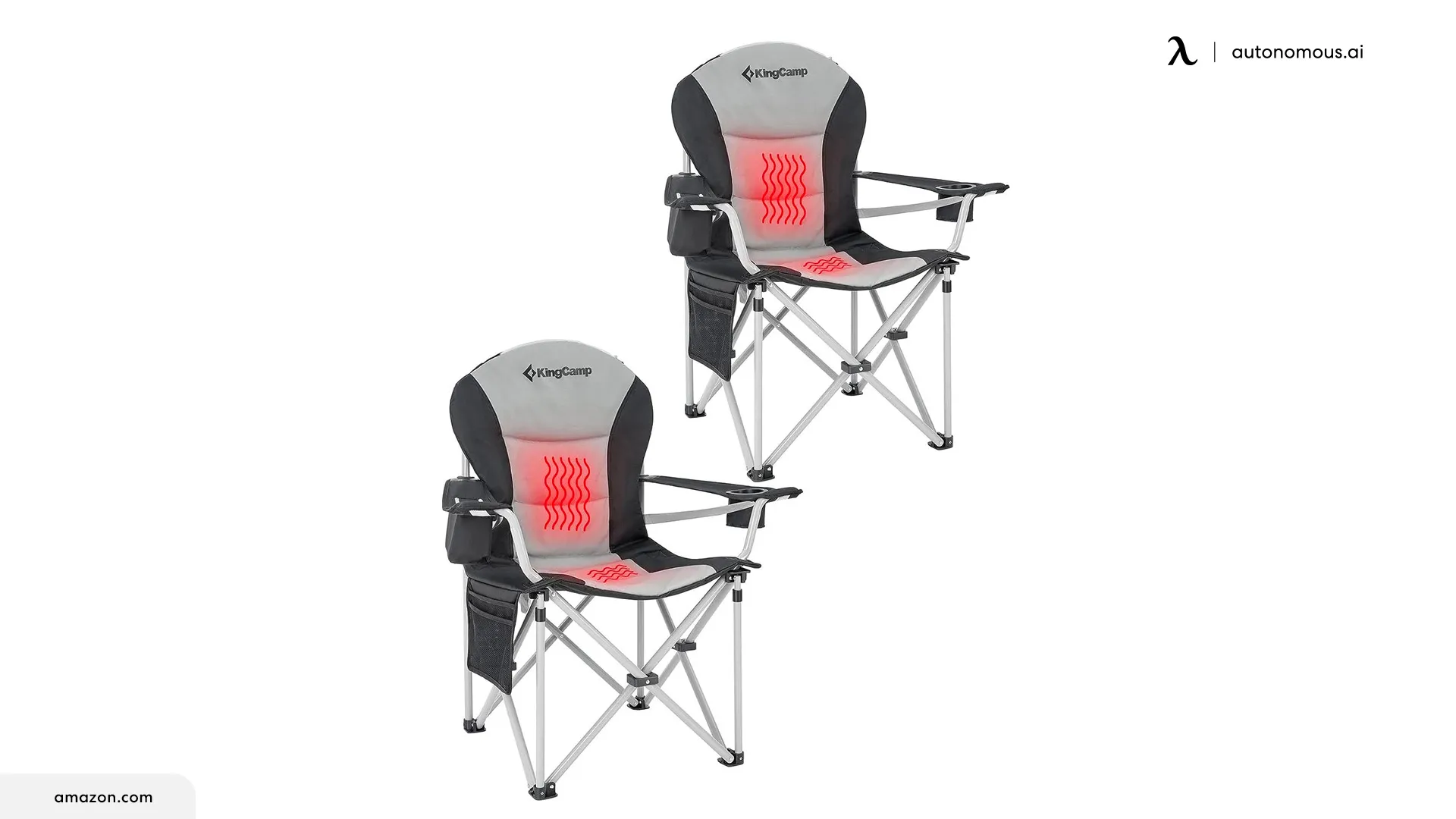 KingCamp Heated Camping Chair
Pros

Cons

Three adjustable temperature levels
Limited color options
Great lumbar support
Expensive
Incredibly durable
Not suitable for indoors
Easily foldable
4. Conair Heated Massaging Seat Cushion
The Conair Heated Massaging Seat Cushion is not your typical heat chair. It is the best seat cushion for an office chair. 
With its four powerful massage motors, you can experience soothing relief in your upper back, lumbar area, and thighs. The targeted massage helps to ease tension and promote better circulation. A single sitting session will leave you feeling refreshed and rejuvenated. 
Besides the massage motors, it has a robust heating mechanism that provides warmth to your upper and lower back, helping melt away the stress and stiffness from your muscles. It also ensures a healthy posture. 
You can control the heat and massage settings using the remote control. It allows you to adjust the intensity and temperature levels according to your needs. 
The Conair Heated Massaging Seat Cushion can turn your regular gaming recliner into a heated gaming chair or transform your ergonomic office chair into a heated seating solution for the workspace. With a great strapping system in place, you can even use it as a heated desk chair!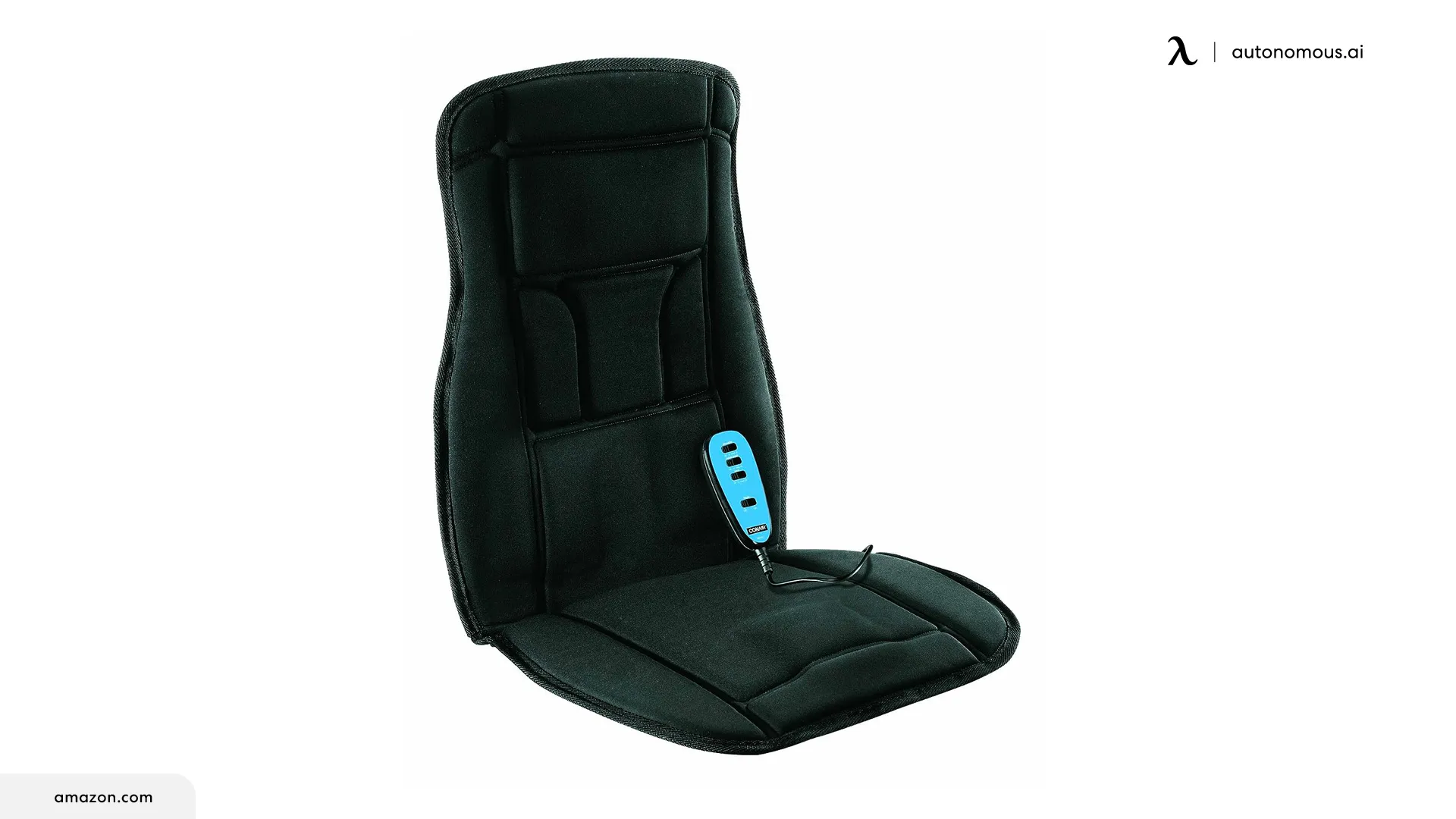 Conair Heat Massaging Seat Cushion
Pros

Cons

Inexpensive
It's an add-on, not a heat chair
Massage and heating options
Remote control included
5. KINGS TREK Heated Camping Chair
Are you looking for heat chairs to stay warm during your camping adventures? The KINGS TREK Heated Camping Chair offers plenty of features to elevate your outdoor experience. 
It has a smart temperature control and a dual-control button, which is excellent for ensuring targeted warmth. The chair has an automatic shut-off feature that turns the heating off when the temperature exceeds 131 ℉. 
Designed for all seasons, this camping chair ensures comfort and warmth throughout the year. You can charge this heated chair in three to four hours, and the battery is enough to provide heating for up to 10 hours. 
The removable seat cushion adds to its versatility, allowing you to adjust the chair to your preference. It can support up to 350 lbs and is made from high-quality 600D polyester and reinforced breathable mesh. This means that this chair can withstand the rigors of outdoor activities, making it a fantastic investment in your wilderness comfort!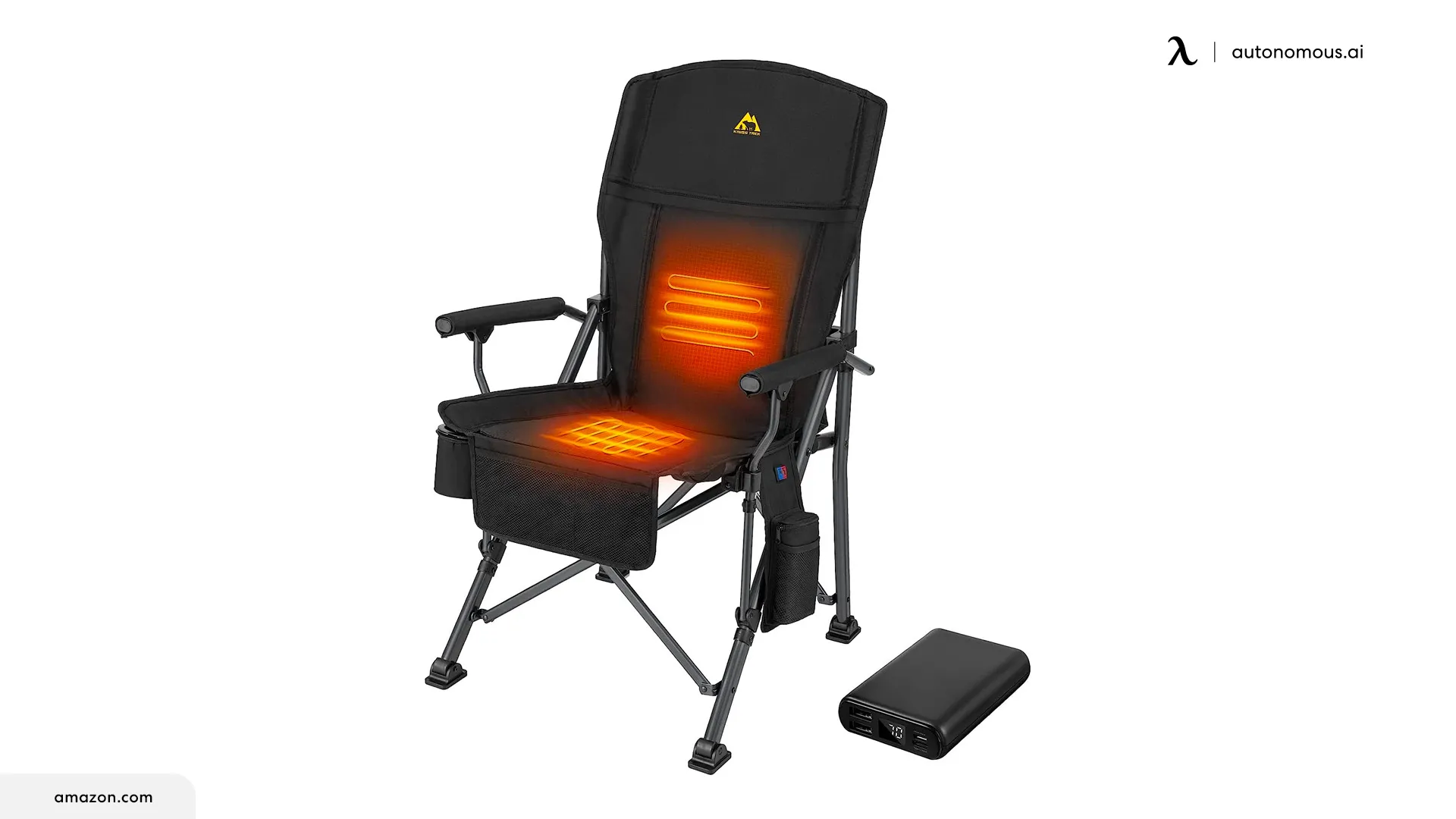 KINGS TREK Heated Camping Chair
Pros

Cons

Portable design
No storage options
Automatic shut-off feature
Expensive
Supports up to 350 lbs
Sturdy construction
Final Thoughts
Heat chairs are great for any environment all year round due to the many benefits it offers. We hope that this article gives you enough information and tips to help you make an informed buying decision.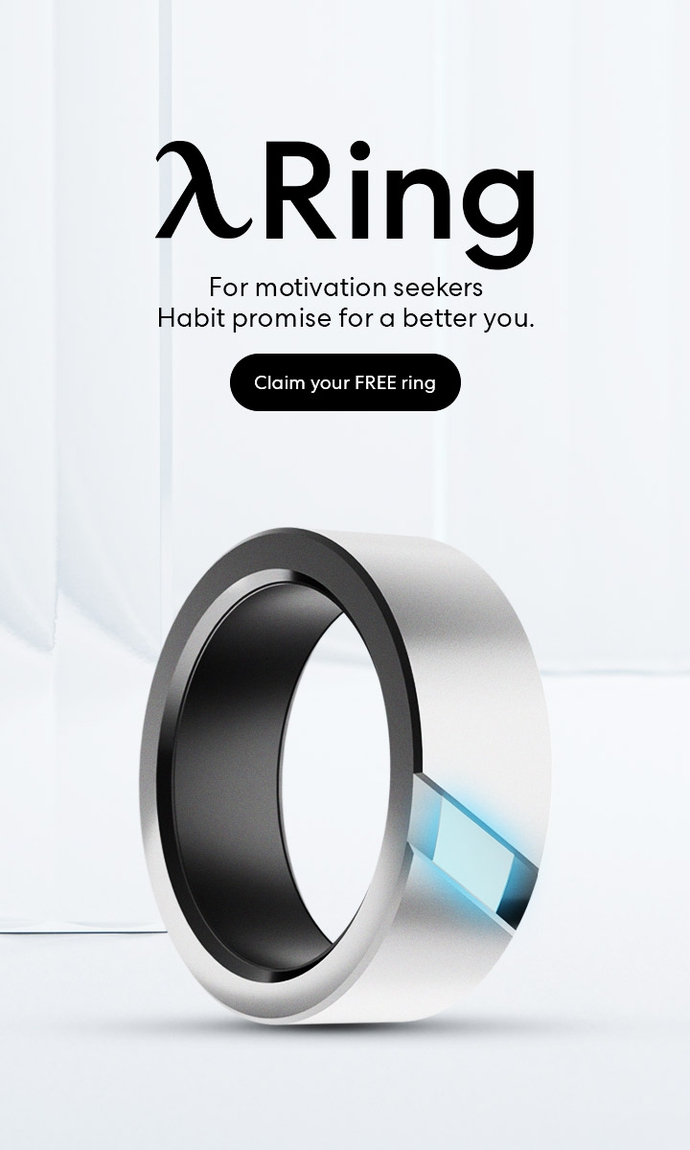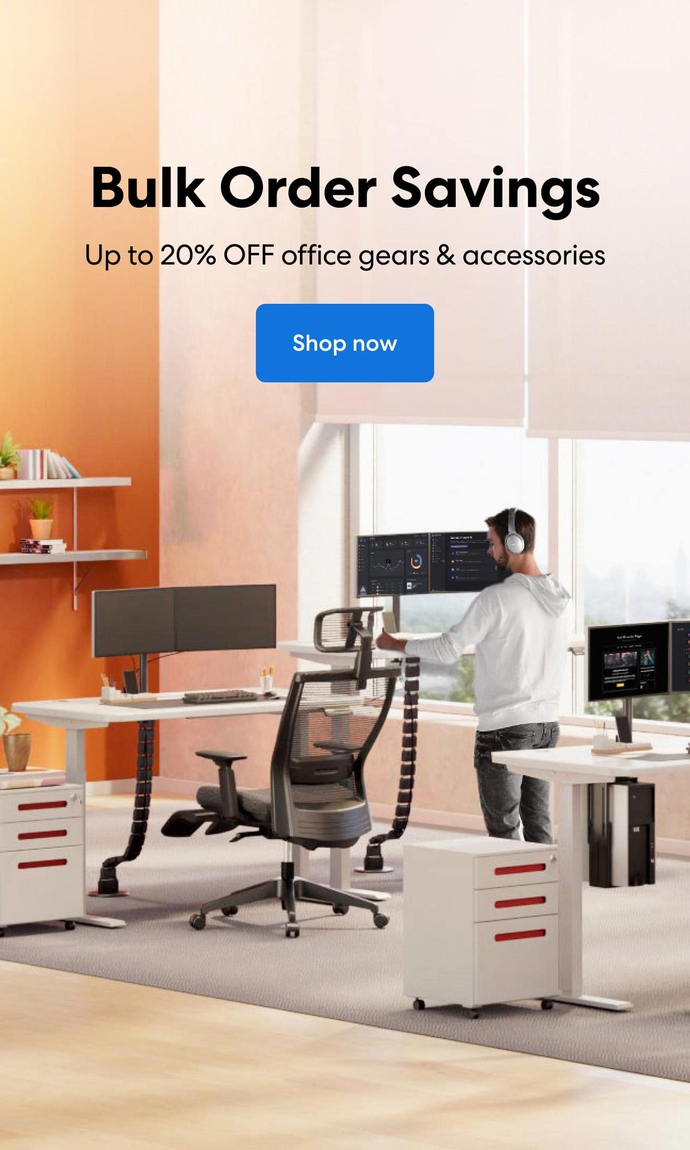 Subcribe newsletter and get $100 OFF.
Receive product updates, special offers, ergo tips, and inspiration form our team.