Are you looking for ways to keep up with the office trends of the hour? Do you want to redesign your office while catering to the needs of your employees? In this article, you will get x top modern office furniture trends in 2022 to remodel your workspace the efficient way!
Why Keep Up With Office Furniture Trends?
Catering to employee interest must be as frequent as expecting quality work from their side. Office furniture trends exist for a reason. They can help you design an office that encourages growth on professional as well as personal terms.
Incorporating these little trends may not be a big deal for you or your designer, but it is for your team. These designs have developed over time, considering the need of the hour. Most current trendy office furniture pieces are here to ease up work-life and boost productivity simultaneously.
If you provide a good working environment to your employees, you are actually benefiting yourself. An interactive office will make your team members want to contribute voluntarily. They will work with more enthusiasm and provide better results!
9 Modern Office Design Trends to Look Out For
Do you think keeping up with trends is challenging? Not anymore! Here are the top 9 modern office design trends that you can incorporate with minimum planning!
1. Private Cubicles Redefined
Private cubicles have been a thing for offices for decades. They can help individuals concentrate on meaningful projects and work in peace. However, the need for privacy and social distancing has increased more than ever.
While open offices are quintessential, you can also install some 'privacy pods' for employees to work without distraction. These can include a few single-person pods with some group pods for essential discussions, while the open spaces remain the same.
2. Interactive Lounges All the Way
If staying home has taught you one thing, it is the need for social interaction. Be it work-related interaction or on a personal level, your team requires it from time to time. Plus, these lounges can also make up for some recreational activities and boost employee engagement.
Setting up lounges that are filled with light, spread out enough for safety, and still engaging is what you need. Add some modern office accessories, put in a gaming table like pool, table-tennis, foosball, etc.
3. Plants and Natural Light Have Become Necessary
Interaction with nature is essential to keep your senses alert and working. Though you may not want to bring the entire garden insides (some offices do), place a few indoor plants at every corner. Alternatively, you can choose to get living green walls—an excellent way of reflecting style and well-being.
Apart from incorporating greens, designing your office with plenty of glass doors and windows are brilliant modern office design trends. Bright light ensures a fresh mind and spirit, boosting overall work productivity.
4. Sustainability is Trendy
Getting trendy office furniture is not only about looks anymore as sustainability is the new trend. Opting for materials like wood, stone, wool, etc., is aesthetic as well as good for health. These furniture pieces do not include the use of chemicals or emit any harmful odors.
Apart from furniture, you can incorporate these into your walls as well as floors. For example, bamboo floors are durable and easy to maintain. Plus, they include both essential factors—sustainability and accent.
5. Functional Spaces Are In
Who said you could only place a modern office executive chair in one position? Functional spaces that include lightweight, maneuverable, and ergonomic furniture are what's in trend these days. These are multi-functional areas that you can transform in minutes.
With movable walls and lightweight furniture, you can convert a conference room into a social lounge and semi-private space in a jiffy!
6. Monochromatic Color Schemes Add Aesthetics
The current trend is all about color combination, and monochromatic color schemes are redefined for the same. Though it means using one color, it extends to using varying shades and tones of the paint.
Whether it is a home office or a regular one, choose one color and play with its shades. Additionally, you can also combine it with neutrals!
7. Incorporating Cozy Vibes
Domesticated workstations are the new cool. Toss some mild-colored couches with bright pillows, woven rugs, and flower pots—your cozy office ambiance is ready! Incorporating these designs along with trendy office furniture will encourage the remote workers to choose a regular office.
Apart from that, it will also instill a sense of frankness and comfort in your employees. Overall, your office will see a significant positive change in interaction and productivity.
8. Modular Furniture
With technology at its apex, you can also incorporate it into your office furniture. Opting for modern office accessories such as a standing desk is a productivity booster as well as trendy. Offices with flexible and ergonomic furniture such as office desks and office chairs are now in trend, which is only increasing by the hour. 
9. Comfort with Style
While adapting to all the modern office furniture trends, do not forget to keep in mind the comfort factor. Whether you plan to redesign your home office or the regular one, uncomfortable spaces can ruin your work.
Make sure you choose ergonomic desks and chairs along with keeping sufficient resting options. Leather gaming chairs that recline up to 180 degrees is one such example of comfort with style.
Key Takeaways for Modern Office Design Trends
Here is a summary of how you can remodel your office to keep up with the trend and employee welfare!
Opt for sustainable furniture materials and add more greens to your workspace.

Plan the employee lounges to be spread-out, relaxed, cozy as well as engaging, and recreational.

Incorporate semi-private space ideas like privacy pods for individuals and groups.

Go for dynamic, functional, and modular modern office accessories.

Ensure work-life balance by creating gaming rooms, modern kitchen spaces, etc.
In Conclusion
Every individual has a unique way of working, and being forced to work with a specific approach may curb their creativity. Your office should have a space for every employee—be it the private, introvert type, or the social enthusiast.
Keeping up with modern office furniture trends is an easy task with the right planning and ideation!
Video ads for product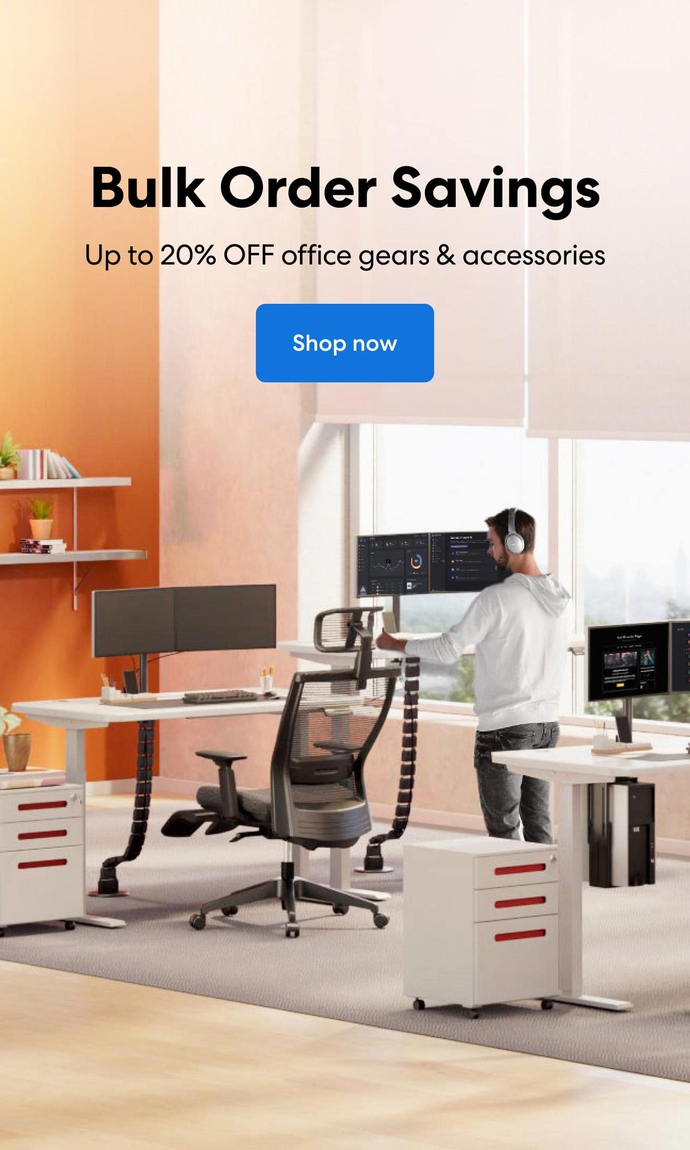 Subcribe newsletter and get $100 OFF.
Receive product updates, special offers, ergo tips, and inspiration form our team.