When the era of work from home began, we searched for different home corners to set up our workstations. Some found the bed for their home office, while some set up a home office on their kitchen counter. Either way, the need for a proper and comfortable office setup remains constant. Work from bed setup sounds most tempting since you find yourself lazy even to get up and attend a meeting on some days.
While there are many benefits of a distraction-free work from home office setup, a proper work from home in bed setup can ensure you are free from discomfort and improper posture. This article will cover some easy and creative work from home bed desks and work from home equipment, which makes working in bed easier and health-friendly.
Have a Firm Base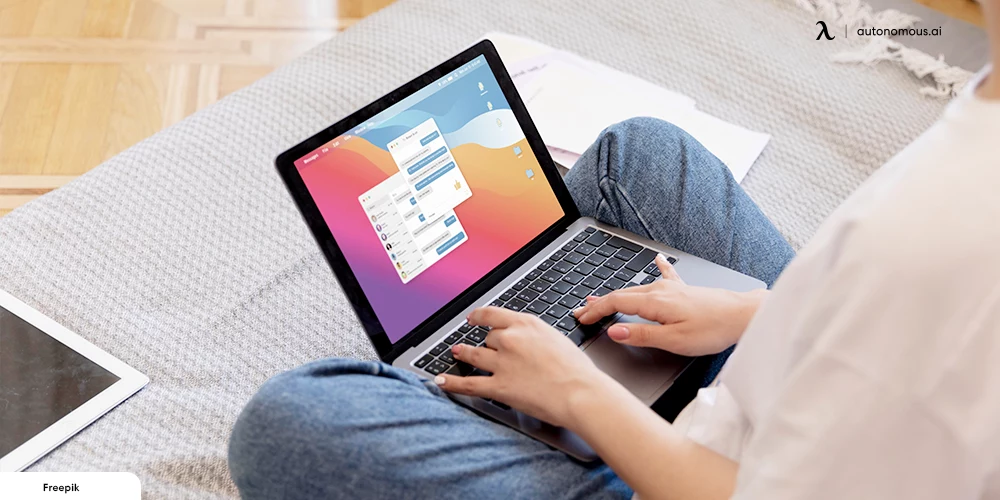 The usual guideline for working from a mattress is "the firmer, the better" because softer surfaces provide less support. If you don't want to replace your pillow top with something sturdier, a piece of plywood can be placed on the top (which is uncomfortable but effective). If you can make a flatter, harder surface, you'll provide your body with greater feedback and support.
Invest in A back Support
Almost 80% of office employees suffer from issues like back pain due to a bad chair or improper seating posture. Hence, you must buy the right back support, so your spine or back muscles aren't subjected to long-term issues. Support like ErgoFoam lumbar support pillow or ErgoActive Lumbar support pillow is the best solution for people who work in bed. It is one of the best work from bed accessories because it prevents back pain, relieves the pressure from the spine, and improves the sitting posture.
Sturdy Surface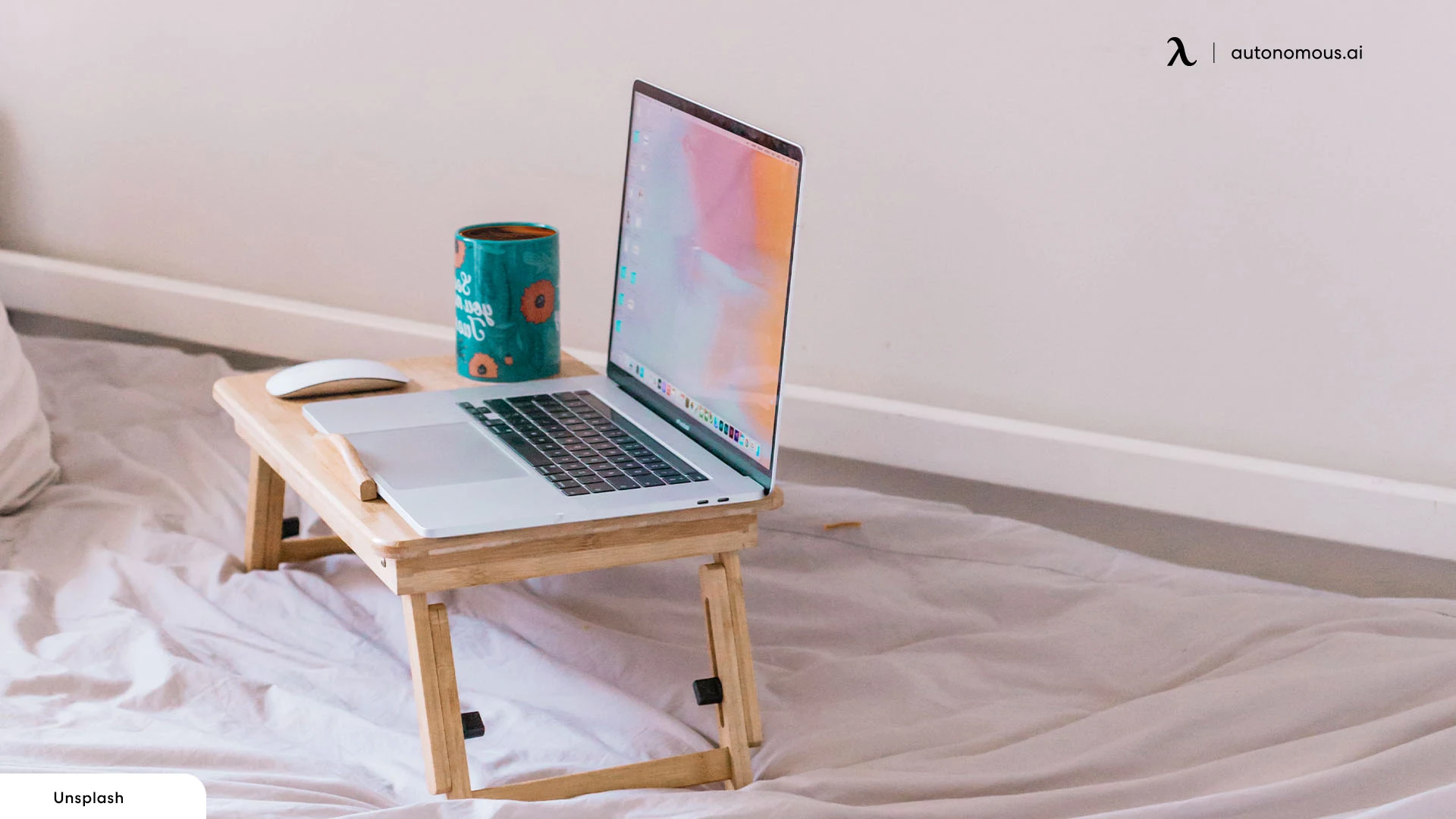 Now that you're properly propped up, you'll need a work surface that isn't your thighs. A bed tray or a work from bed table will keep your computer and other gadgets stable, but it will also slightly elevate your vision, keeping you from hunching over your screen for hours on end. It will also help define the bedroom workspace and prevent your work desk from becoming cluttered and messy in your work from bed setup.
Get Up Occasionally
Whether it is an ergonomic chair, a mattress, floor, or any other surface, being seated for hours at a time is not recommended in your work from bed setup. But the need to get up occasionally increases by various folds when you are working in bed. After working for an hour or two, get up from your bed, take a little walk and do some stretches. You can also lie flat on the floor for around 10 minutes per day to rectify and optimize the spine's alignment and relax all the back muscles at once. Sitting on a stool or chair without any back support is also a great way to improve your core strength.
Set Up a Workstation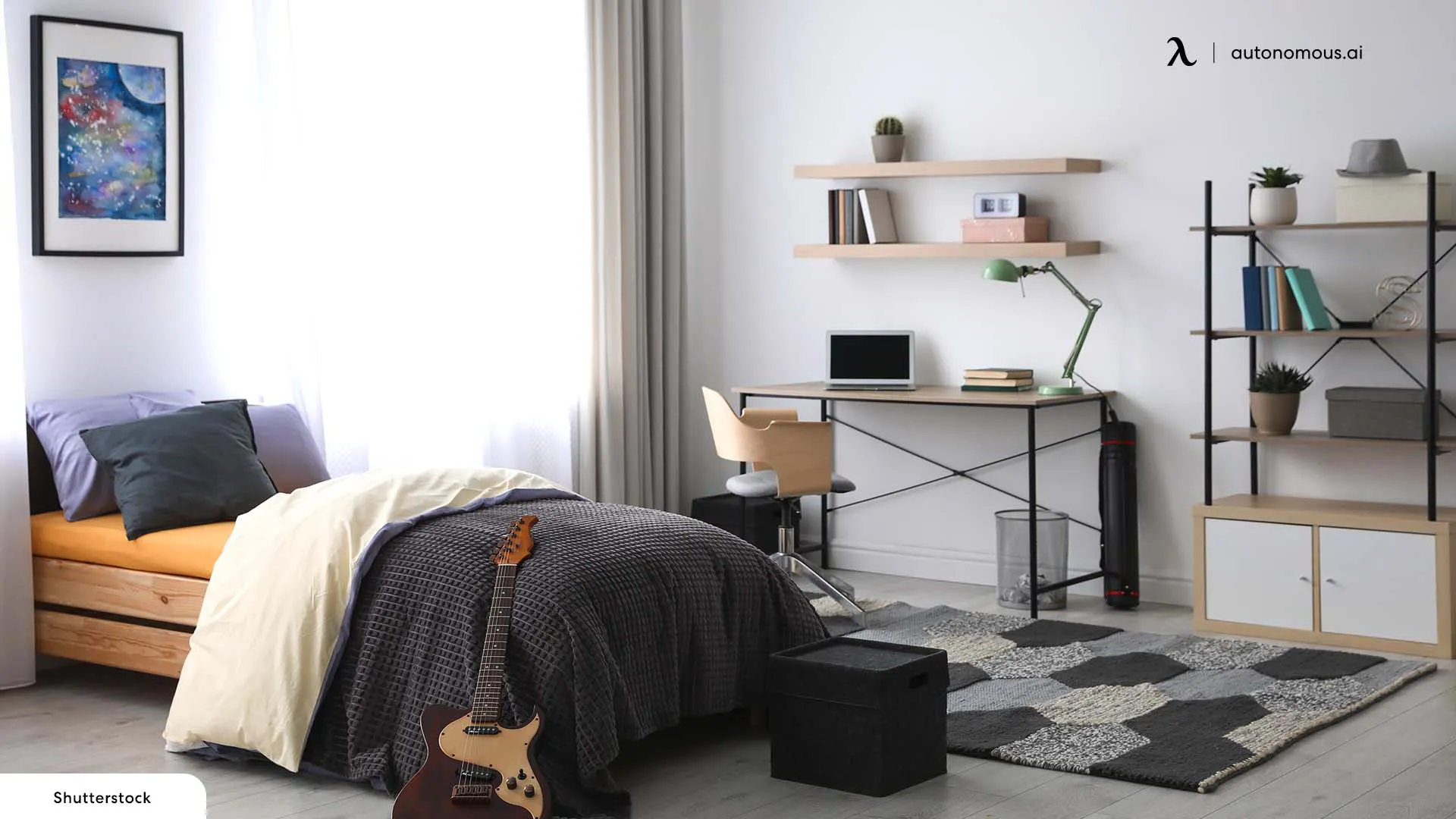 If you aren't comfortable or don't feel energetic working in bed but still don't have any other option beyond your room, use the corner space to set up your work desk. You can easily build an office in the master bedroom or work through the multiple bedroom layout ideas with desk. If you need a distraction-free zone, opt for a corner desk and build your office in-room setup. You can also use the employee purchase program to purchase all the office accessories and build a home office setup.
Have a Storage Space
There is nothing worse and unproductive than a work from bed setup full of clutter. Storage space right beside your work desk also ensures minimum downtime and improves the worker's efficiency. Imagine being late to attend a call; you're all settled in and ready to get to work—except you left your headphones in the living room.
Getting in and out of your bed desk every minute or so is the worst, which is why the pro move is to gather writing utensils, notebooks, and other resources within arm's reach ahead of time. If you don't have much space on your nightstands, slip one of these simple caddies into your bed frame.
A Spill-proof Solution
You are working, so you have a nice warm mug of coffee and your laptop and other accessories. While the caffeine within is to make you active and alert your consciousness while working, a little spillage accident can cause frustration and time loss. And imagine spilling on your bed too? Hence you need a safe, leak-proof, insulated mug or vessel for your coffee or drink.
Create A Proper Environment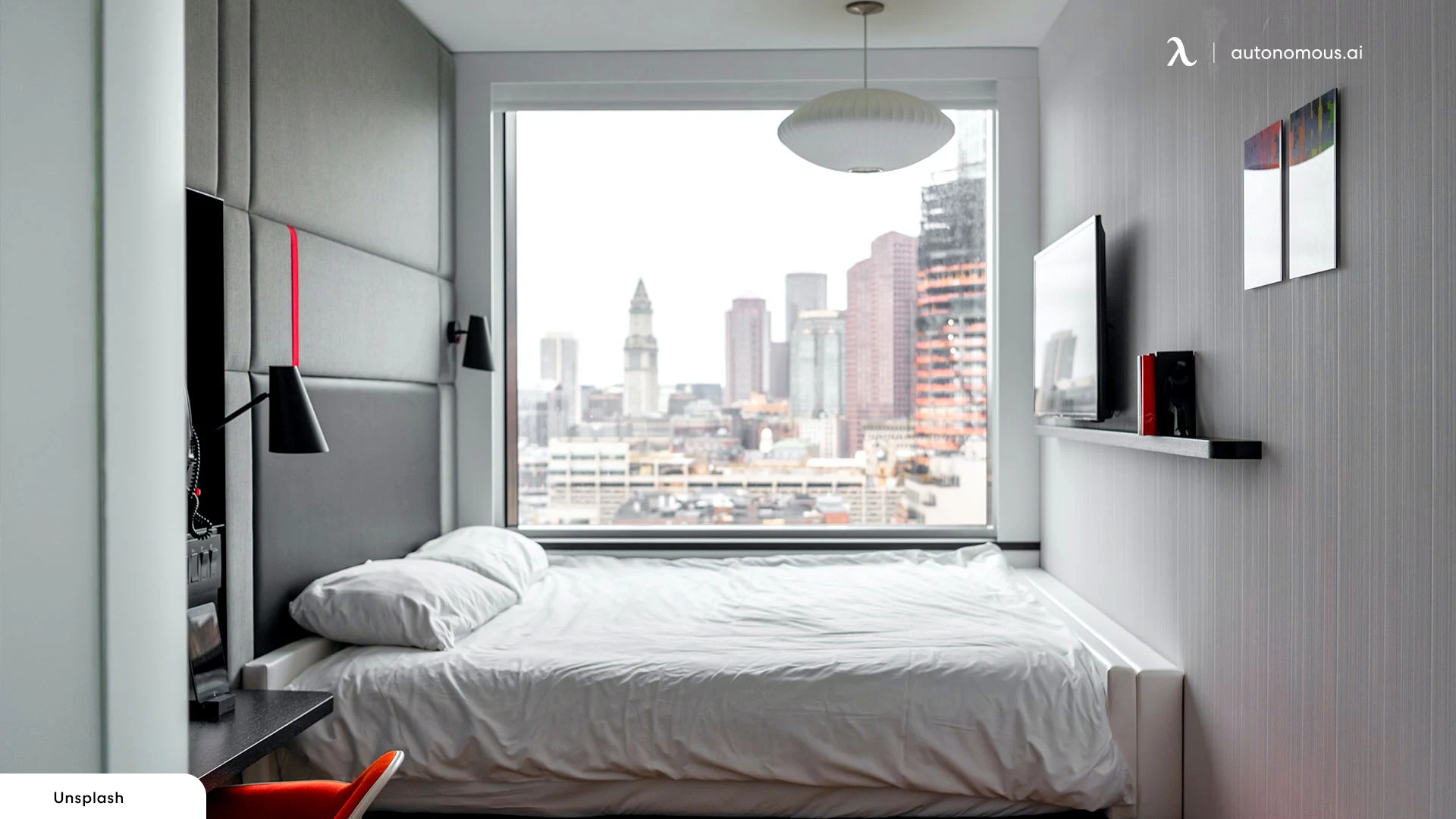 Apart from the risk of long-term back pain and falling asleep while working from bed, there's also the risk of becoming too relaxed and festering problems. Before you sit in bed to work, have breakfast and a nice mug of coffee. Morning yoga or a cold shower can also freshen up your day.
Before you sit to work, make sure your bedroom in your work from bed setup is clean. A chair with a towering stack of unread books and sedimentary layers of clean-enough clothes is not likely to be a pleasant place to work. Open the windows if you spend more than 16 hours a day in your bedroom.
Make A Good Show for Online Meetings
Everyone doesn't need to know you're working from your bed. Background screens are fantastic for video calls and online meetings. They can represent that you are working against a solid wall rather than in the bed, so they won't count you as too lazy to work. Moreover, even if you are working more efficiently than ever from bed, having the right background can foster a serious impression on the clients who might count you taking the office work seriously.

Frequently Asked Questions
How to Work From Your Bed?
If you choose to work from bed, building a proper setup with a bed table and the right office accessories is important. Make sure your back is well supported, and the base is firm enough to keep your lower back strain-free.
How to Work From Bed Comfortably?
Good back support, pillows for your lower back, and firm support against your bottom are all ideal ways to work from bed comfortably.
How to Work In Bed with a Laptop?
Choosing an ergonomic bed table that allows you to adjust the height and has enough space for your laptop, keyboard, and other essentials is the right way to work in bed.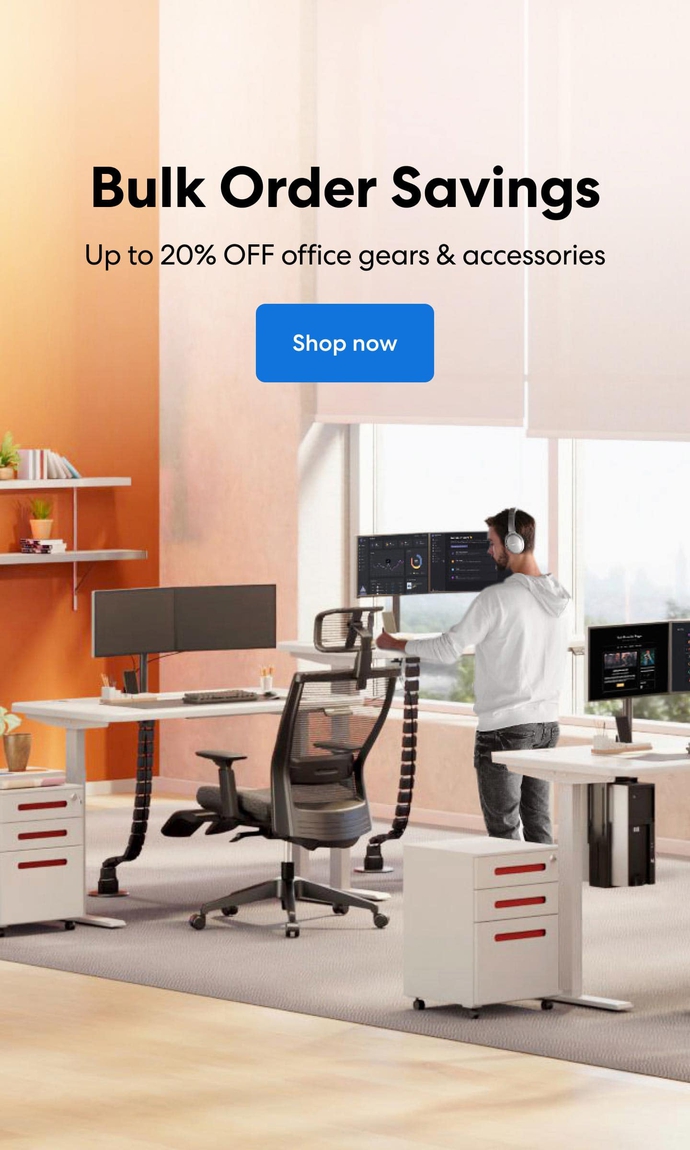 Subcribe newsletter and get $100 OFF.
Receive product updates, special offers, ergo tips, and inspiration form our team.