There's no argument that standing desks have become all the rave. There are so many standing desk shapes available on the market. However, sit and stand corner desk options have been few and far between until recently. L-shaped standing desks are growing in popularity, and we couldn't be happier. Nonetheless, this growth has posed a new challenge – finding the best corner standing desk for your corner office. That's where we come in. We have designed this article with ten of the best corner adjustable desk options to help you choose the best one for your corner office.
Using electronics, standing desks that can adjust height are typically powered by linear motors that can increase or decrease height with a button push. These desks offer substantially better performance, convenience, and speed than most manuaL desks. Standing corner desks have one more plus point on top of all that - they can easily be fitted into a room.
The 25+ Best Computer Corner Desks
There is a good amount of corner desk options available on the market, which makes choosing the right one quite challenging. It's for this very reason that we have provided you with the best corner standing desk options to make your decision easier. Here is what we found:
1. The Autonomous SmartDesk Corner
The Autonomous SmartDesk Corner (L-Shaped Desk) is a fantastic option if you're looking for a corner desk for your workspace. This L-Shaped standing desk is built to be entirely customizable and versatile. It's also equipped to easily fit into any corner of an office or workspace.
Its robust system is one truly admirable feature. This system combines an industrial steel frame structure (that has anti-rust features) with an incredibly high-performance triple motor system. Thus, you're provided with efficiency when switching from a sitting to a standing position.
The space provided by the corner adjustable desk is what truly sets it apart from the rest. It's designed with double the workspace than the majority of standing desks. This best L-shaped adjustable desk allows you to get to do more work, as well as have more space for your monitors and other equipment while reaping the ergonomic benefits of a standing desk. 
2. EUREKA ERGONOMIC 60-inch L-Shaped Glass Gaming Desk: Music Sync RGB
If you're looking for a sleek and modern gaming desk, this standing corner desk is a great choice. The desk is made of tempered glass, which is not only durable and scratch-resistant but also gives the desk a sleek (and modern) look. With its L-shaped design, the desk provides ample space for your gaming setup, peripherals, and other work-related items.
The desk has a music sync RGB lighting system that can be synchronized with your music to create a cool and colorful ambiance. The lighting system adds an immersive gaming experience, and its brightness and color can be adjusted using the control button on the desk's underside.
3. EUREKA ERGONOMIC L60 Computer Desk: Left Side, Pink
Anyone in need of a space-saving but fully-functionaL desk would appreciate this corner standing desk. The MDF wood desktop and robust metal frame of this desk can handle up to 150 pounds of weight.
This desk's ergonomic layout is a major selling point. It can be adjusted from a low of 29.5 inches to a high of 43.5 inches, thereby making it usable by people of varying heights. The L-shaped design also allows you to use your space efficiently, providing a comfortable and spacious working area.
Additionally, this desk has two cable management grommets that help keep your cords organized and out of sight. The desk also has adjustable leveling feet to stay stable on any surface.
4. EUREKA ERGONOMIC L60 L-shaped Standing Desk: Keyboard tray
The L60 L-shaped standing desk is a great versatile and functional workspace choice. Its sturdy construction and adjustable features make it comfortable for extended periods, while the ample surface area allows efficient multitasking.
5. EUREKA ERGONOMIC 60-inch L-shaped Standing Desk: Programmable Keypad
This is an excellent choice for anyone looking to improve their workspace. We've been using this desk for a while now, and it has been a game-changer for our productivity and overall well-being. The programmable keypad makes it easy to switch between standing and sitting positions throughout the day, reducing the strain on our bodies caused by sitting for extended periods.
The desk's L-shaped design provides ample space for our equipment without taking up too much room. The desk is sturdy and well-built, which is essential when you're working with expensive equipment. The desk also features a beautiful finish that adds a touch of elegance to any workspace.
6. EUREKA ERGONOMIC EUREKA L60 L-shaped Standing Desk: Programmable Keypad
We can easily transition between standing and sitting during the day thanks to the desk's programmable keypad, which enables us to alter the height of the surface at the touch of a button.
The L-shaped layout makes efficient use of the available room by providing enough desk space for our laptops, monitors, and other machinery. When dealing with pricey machinery, it's crucial to have a workstation that is as solid as the equipment you're using. To top it all off, the desk has a gorgeous finish that makes offices seem more refined.
7. EUREKA L-shaped TechDesk: Monitor Stand and Dual Headphone Hook
This standing L desk is an excellent option for a spacious and functional workspace. With a monitor stand and dual headphone hook, this desk helps you stay organized while saving valuable space. The desk's powder-coated steel frame provides excellent stability and can support up to 150 pounds, while the tempered glass top ensures durability and an attractive appearance.
8. EUREKA ERGONOMIC 60-inch W L-shaped carbon fiber texture Top Desk
The majority of Chinese-based standing desks available online have the reputation of being low quality and lack performance standings when compared to the top-rated standing corner desks manufactured in the US. However, this isn't the case for Eureka Ergonomic products, even though these are made in China.
The Eureka Ergonomic L-Shaped Standing Desk is an excellent option for those who are looking for a high-quality design that can be used in a corner configuration. It's designed and manufactured under more than 30 engineers and a robotic production line that's state-of-the-art. However, the corner adjustable desk only comes in white and one size (60 inches by 42 inches).
9. iMovR Lander L-Desk
The iMovR Lander L-shaped standing computer desk is known as one of the most advanced market options and the best L-shaped adjustable desks. Convenience is a priority when it comes to manufacturing as the desk comes 98 percent pre-assembled. Thus, the corner standing desk can be fully-assembled by one person in under eight minutes.
This is highly impressive if you consider that most standing desks, especially L-shaped configurations, can take up to 90 minutes to assemble using two people. Not to mention, all of the features incorporated into the design make it a premium standing L desk.
10. Techni Mobili L-Shaped Glass Computer Desk
For individuals who want a large work space, this standing L desk is a beautiful and functional option. This desk's powder-coated steel structure ensures that it will last for quite some time and is also quite strong. The desk's L-shaped form allows for plenty of workspace and adaptability to various room layouts.
11. Techni Mobili Computer Desk
If you are looking for a space-efficient and practical workstation, the Techni Mobili Computer Desk is a great choice. This desk has a large keyboard tray (and a substantial amount of usable space) and is suitable for all tasks. The desk has MDF wood panels, which are both elegant and long-lasting. And it also has a powder-coated steel frame which guarantees the desk's solidity.
12. Techni Mobili L-Shaped Glass Top Computer Desk
It is a stunning piece of furniture designed to provide a modern and functional workspace for your home or office. With its sleek glass top and powder-coated steel frame, this desk is built to last and will add a touch of elegance to any room.
Measuring 61" x 55" x 30", this desk offers plenty of space for all your work essentials. The glass top provides a durable, scratch-resistant surface that is easy to clean, while the slide-out keyboard tray frees up additional workspace.
13. Skyline Decor L-Shaped Desk Computer Corner Desk
This standing L desk is an excellent option for a spacious and functional workspace. With an L-shape design and ample work area, this desk provides plenty of room to spread out and work.
14. Techni Mobili Warrior L-Shaped Gaming Desk
The Techni Mobili Warrior L-Shaped Gaming Desk is an excellent option for gamers seeking a spacious and functional workspace. With a large L-shape design and ample work area, this desk provides plenty of room for gaming setups.
15. EUREKA ERGONOMIC AED 72 inch Standing Desk with Keyboard Tray, Walnut
This versatile and sleek workstation can help improve your productivity and comfort. With its sturdy steel frame and spacious work surface, you can easily set up multiple monitors and accessories. Its electric motor allows you to adjust the height from sitting to standing, helping you maintain a healthier daily posture.
16. EUREKA ERGONOMIC AED 72 inch Large Standing with Desk Keyboard Tray
For optimum convenience (and efficiency), choose this Extra-Large Standing Desk with Keyboard Tray. The desk can be easily adjusted to your preferred working height with the help of an electric lift mechanism. The sturdy particle board used to construct this desk has a sleek finish and can support up to 220 pounds. A roomy keyboard tray is provided for you to place your computer keyboard, mouse and other small office supplies.
17. EUREKA ERGONOMIC L60 L-shaped Standing Desk: Keyboard tray
This standing L desk is a versatile and functional workspace solution with a sturdy steel frame and spacious desktop. The desk also features a retractable keyboard tray, providing ergonomic comfort and convenience.
18. Uplift L-Shaped Custom Sit and Stand Corner Desk
This L-shaped custom standing computer desk is equipped with a triple electric motor and can make adjustments at a speed of 1.5 inches per second. It also has a weight capacity of 530 lbs and reaches a maximum height of 50 inches and a minimum height of 24.4 inches.
Something unique about this standing L desk is that it provides three different lines of L-desks for a variety of different budgets and spaces. The corner sit-stand desk is also built on a Jiecang base for improved ergonomics.
19. Fully Jarvis L-Shaped Computer Standing Corner Desk
The Fully Jarvis L-shaped standing desk configurations offers a maximum height adjustment of 48 inches and a minimum height adjustment of 23 inches, as well as being able to hold up to 530 lbs. It's also designed as a three-legged corner stand-up desk.
However, there are limited size and color options to choose from when compared to its competitors. The stability is also lacking in the lifting columns with the use of low crossbars.
20. MultiTable L-Shaped Best Standing Corner Desk Configurations
The MultiTable L-shaped standing desk configurations is an excellent choice for those who are looking for a minimal design. This L-Shaped sit-stand desk is equipped with only one base color and limited desktop colors. The design is possibly one of the cheapest and simplest ones you're going to find.
However, the incredibly low price means that there are some sacrifices that need to be made. The first is that the base isn't made of high-quality products, which decreases the durability offered on the entire product. Not to mention, it can only hold up to 330 lbs.
21. Uplift Curved L-Shaped Stand-up Desk
This Uplift curved standing desk is designed as a single-piece desktop that runs 47 inches across one wall and 72 inches across another. The major drawback of this corner desk is that it only comes in one size and four different colors to choose from.
However, the unique 'pork chop' design sets it apart from the rest and makes it one that many people include in their corner office spaces. This curved corner computer desk is built on a three-legged Jiecang base, which adds to the product's durability.
22. UpDesk Pro SquaredUp Adjustable Corner Desk
This UpDesk standing desk with corner configurations is designed with a single-piece desktop that comes in one size, which runs 24 inches deep and 60 inches wide. In addition to this, it's available in two different colors. These are either black or maple and are designed on a three-legged Linak base.
The corner stand-up desk doesn't come with a motorized system. Thus, all adjustments need to be done manually. However, the three-legged design provides great stability to the desk and offers great ergonomic benefits.
23. EUREKA ERGONOMIC Gaming Desk with Hutch: Keyboard Tray
24. iMovR Cascade L-Shaped Standing Desk
iMovR Cascade L-Shaped Best Corner Standing Desk Configurations is one of the most popular on the market. It's available in eight different desktop sizes, which range from 47 inches by 47 inches all the way to 65 inches by 65 inches. Not to mention, it also has two varied thicknesses and 16 advanced 3D laminated desktops.
The corner adjustable desk design is incredibly high-quality and comes in three different height ranges. The reason behind this is to accommodate a variety of different budgets. However, the process of acquiring one of these L-shaped sit-stand desks may be time-consuming and costly as these are made to order.
25. XDesk Custom L Series Corner Computer Desk
The XDesk L-shaped series provides users with an incredibly spacious desktop area that provides up to 250 percent more working space than ordinary standing desks. The L-shaped standing desk design is made to offer a modern aesthetic while not compromising on the quality.
The motorized system of this best L-shaped sit-stand desk is fast and robust while still being very quiet. Not to mention, it's equipped with maximized stability and a digital memory controller to make the adjusting from a sitting to standing position effortless and straightforward.
26. Autonomous SmartDesk Commercial
The ultimate standing desk - Autonomous SmartDesk Commercial designed for healthier workplace is offered at bulk deals now. Experience the perfect blend of functionality and convenience with this exceptional standing desk. Enjoy its whisper-quiet operation, making it ideal for any office environment.
With its effortless usability and straightforward assembly process, you can set up your workspace in no time. Stay worry-free with the built-in anti-collision technology, ensuring a safe and smooth transition between sitting and standing. Plus, you'll have peace of mind with the impressive 10-year warranty.
Other Options
Jarvis Bamboo
The Jarvis Bamboo corner desks have been our top pick because they outperformed considerably more expensive desks in many criteria. Choose from 0.75-inch bamboo wood or 1-inch dark bamboo wood desktops.
There are seven different sizes of rectangles or curves, grommets (holes that allow the wires to poke through) to even serve as a triple monitor setup with up to four different frame colors. Upgrade options include new surge protectors with clamp-mounted grommets and stronger grommets, as well as 3- to 6-position height settings and 350 lb. weight capacity.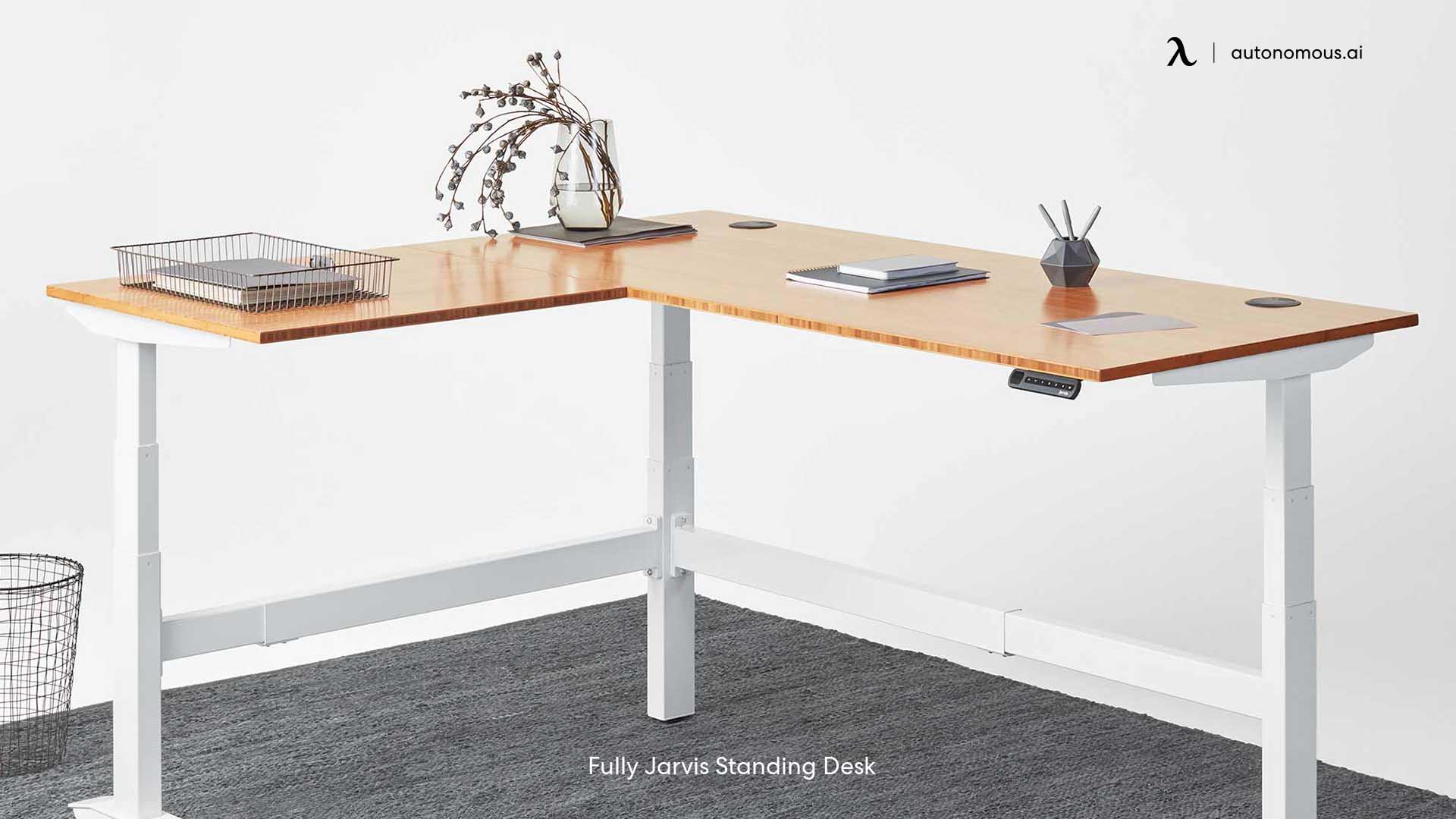 Vari Prodesk
This corner stand-up desk stands out for its gorgeous desktop! The Jarvis Bamboo edged it out for our top choice with its great warranty and higher weight capacity. This desk is an amazing piece since it is available in five finishes: reclaimed wood, butcher block, dark wood, white, and black.
A durable laminate finish makes this standing corner desk easy to clean, with double-chamfered edges. One standing corner computer desk company offers several optional upgrades, such as four programmable height settings.
ApexDesk Elite
Featuring an array of table top color options, ApexDesk Elite is an excellent corner adjustable desk. This tabletop is made from MDF wood and has a matte finish, bevelled edges, and a contoured front edge to provide a better ergonomic feel.
Fully Remi
The Fully Remi doesn't look or feel like a budget desk, featuring a 1" thick particle board desktop made from 84% recycled wood. There are options for powered grommets with 1, 2, or no surge protection, over-the-counter surge protectors, and casters. There are also three L-shaped gaming desk surface sizes to choose from, 38" by 27", 46" by 27", and 59" by 27", four pre-set controls to choose from, and laminate tops with 90-degree corners.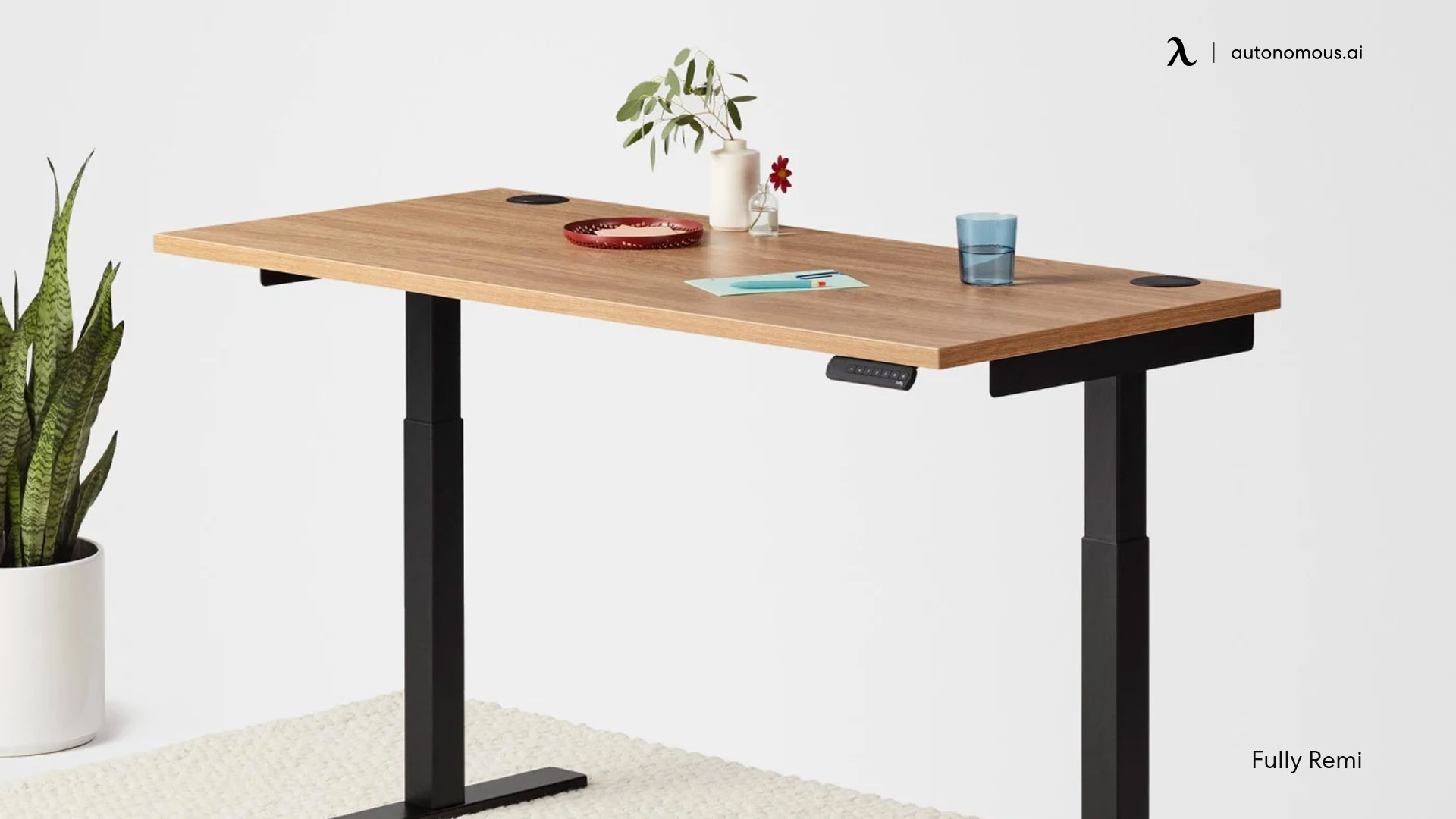 SHW Electric
With a height range of 28" - 46", the 30" standing desk is an excellent budget option for anyone on a tight budget. It comes in oak, light cherry, walnut, and black and isn't one continuous piece of wood. In addition to grommet holes and cable management baskets, it also has four height presets that can be programmed.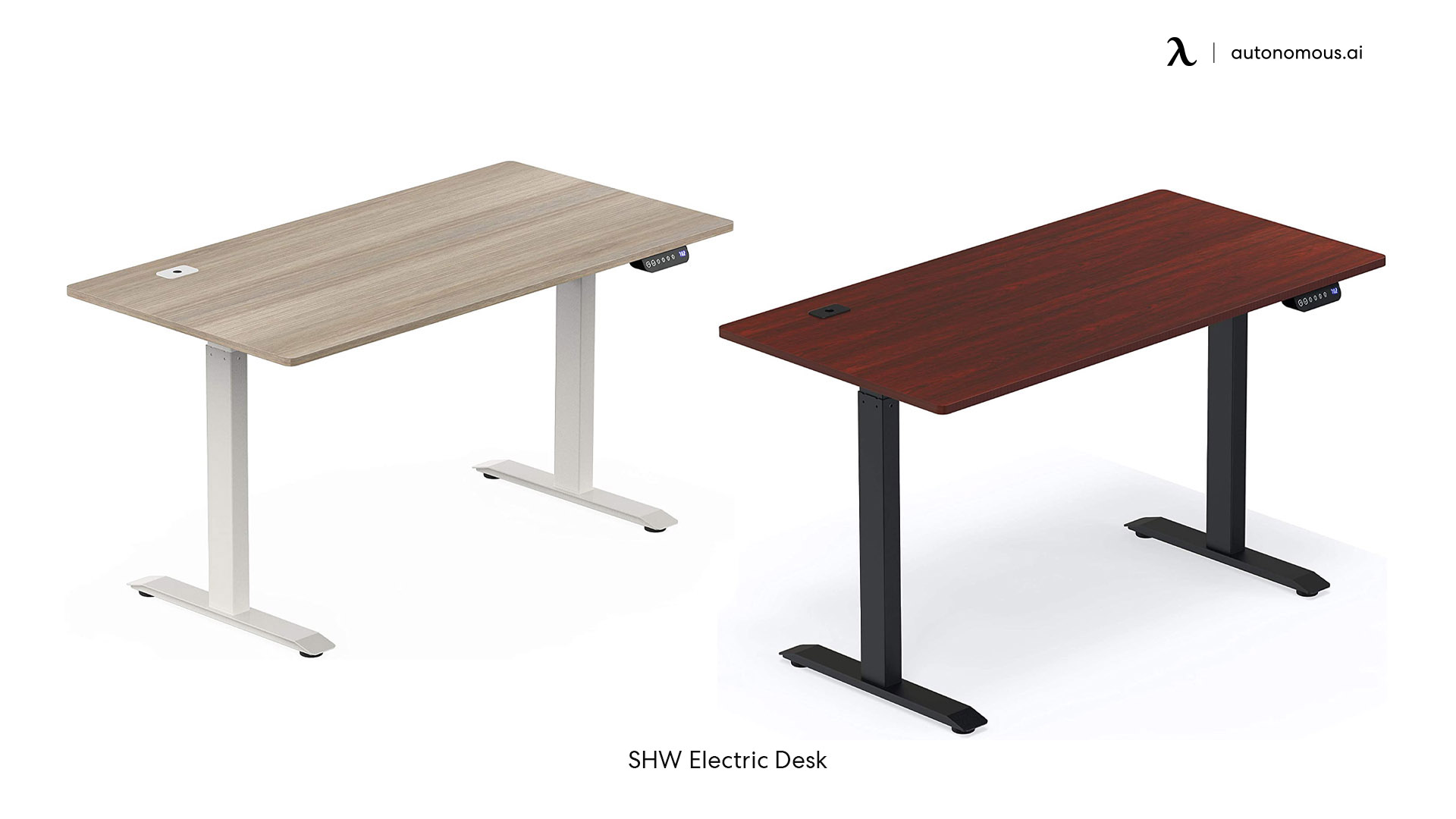 Howzone Corner Desk
This is a motorized corner gaming desk with an inbuilt motor. The motor allows adjusting the desk to become a tall standing desk for taller people. You can comfortably use the desk when sitting or standing. The ergonomic implications of using this corner adjustable desk when standing is enormous.
Humanscale Float table
Modern simplicity and elegance apply to Humanscale's Float Table. Its sleek, streamlined design makes it a statement piece. Features a counterbalance system that allows you to lift and lower the top with ease.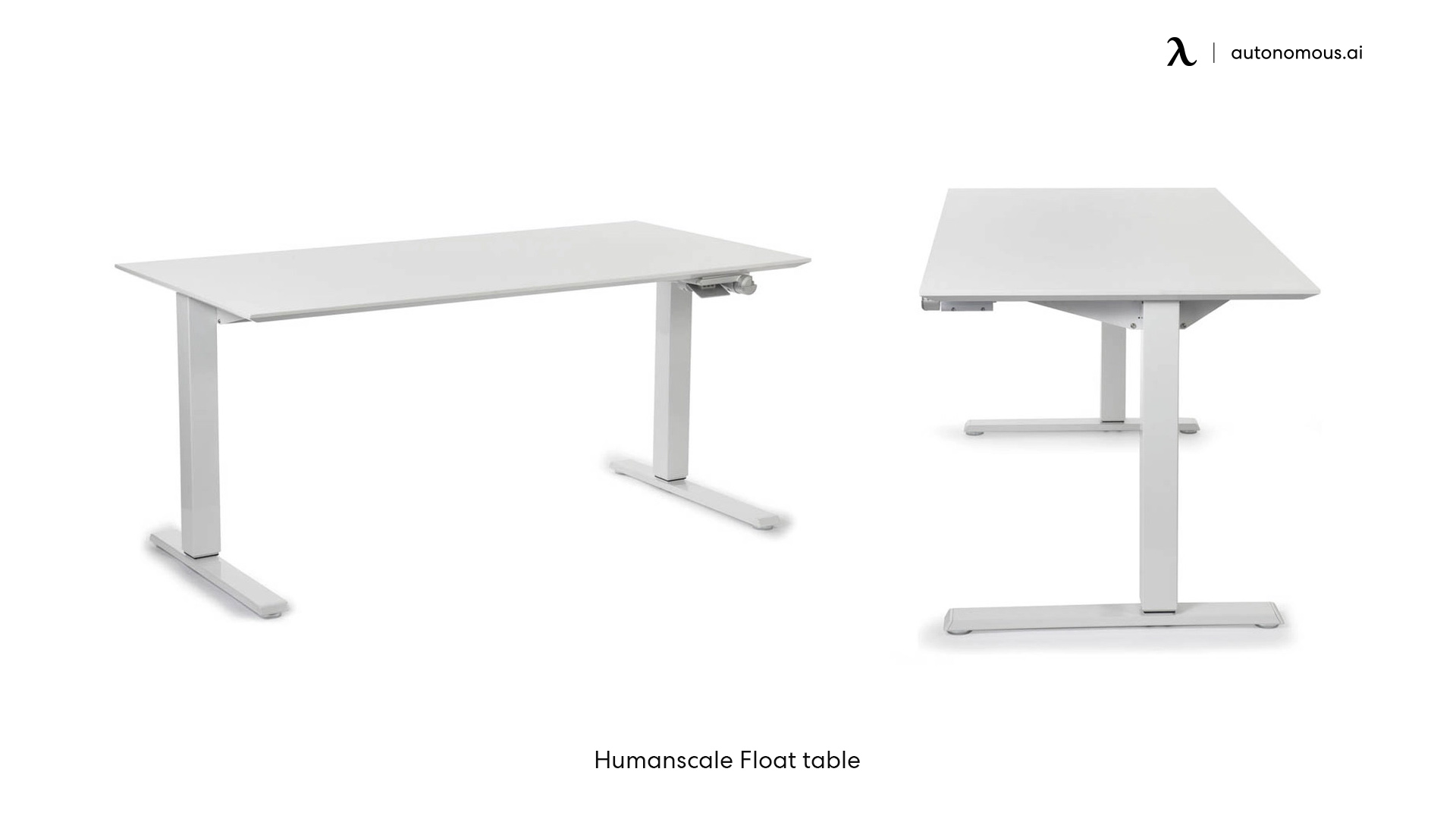 Seville Classics Airlift Tempered Glass desk
Just under $400, the desk has a stylish, durable design and is highly functional, but it lacks the customization options available on more expensive competing products. The height can be adjusted from 29 to 47 inches using dual electric motors and a touchscreen controller. It also has dual USB charging ports with 2.4 amps to charge your devices quickly.  
Jaswig My First StandUp Desk
FSC-certified birch plywood is used for Ashland's Nordic-inspired stand-up desk. Kids can easily adjust the desk's height with its convenient lift-and-lock mechanism, ensuring a safe and secure adjustment. A key vintage feature of this desk is the compartment for storing valuables.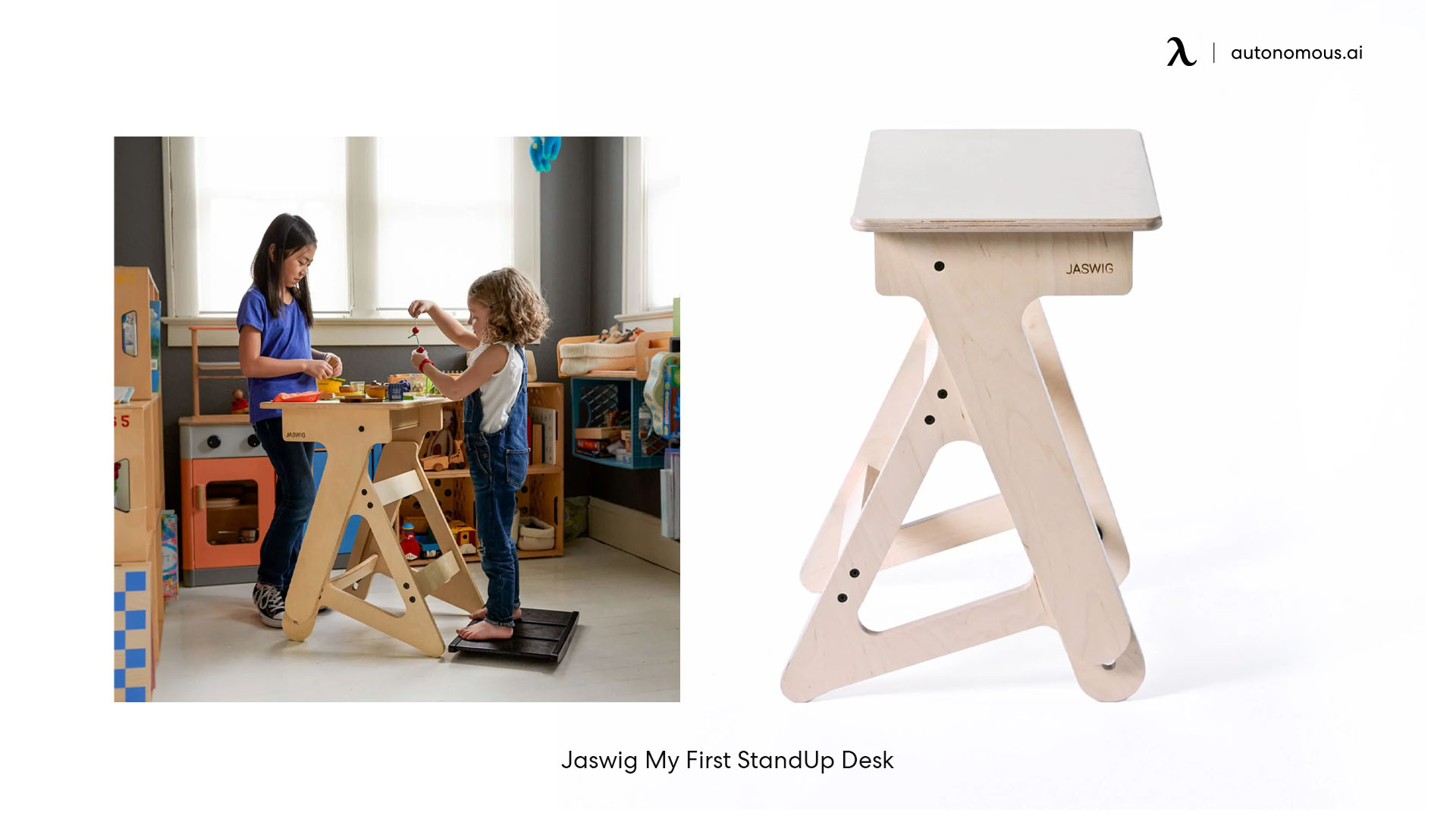 Flexispot Kana Bamboo Desk
Featuring a powerful, quiet motor, the Kana is a powerful and affordable standing corner desk. Getting up from your seat is kept simple with a built-in reminder. Cable management is provided under the desk. This corner computer desk can support more than 225 pounds. EC5 frames and alternative desktops are slightly less expensive than bamboo desktops, which look elegant and natural.
Corner Standing Desk Dimensions for Office
The right dimensions for a corner stand-up desk can vary depending on the user and available space. Still, regardless of the measurements, the desk will typically have a "meeting point," which will form a 90-degree angle, allowing the desk to fit into any corner.
Some corner standing desks have the same measurements on both sides, while others have one larger side. Still, the price varies depending on the brand, the desk's quality, and the extra features it contains (drawers, sit-stand features, etc.).
L-Shaped Standing Desk Configurations
While buying an L-shaped adjustable desk, it is important to take into account the configuration. Typically, a standing L desk will have three legs that will lift the work surface and will provide it with more stability. Hence, the work surface Is divided into two perpendicular parts. One of the sides is commonly larger than the other.
However, please note that there are other options that go outside the traditional three-leg corner computer desk that can vary in price and size and can also be a better option for specific users.
Two-leg corner desk
If you are a bit tight on budget and would still like to have a comfortable workstation, perhaps you can use a two-legged corner standing desk. These desks typically have dimensions of 65" per side.
These desks are equipped with everything you need, from sturdy standing desk legs to an appropriate desk depth. It's very usual for these desks to have measurements of 65 inches on each side. You will be able to acquire them for a lower price. Plus, the assembly process is easier and more convenient.
This option is recommendable for people that are looking for L-shape desk ideas on a budget or perhaps those that have limited space at home.
Three-leg standing L desk
Three-leg L-shaped sit-stand desks are some of the most common types available. They are commonly referred to as "pork chop" standing desks, but they are also found in a two-leg presentation. A great example of these desks is the Autonomous SmartDesk Corner.
These desks provide you with more surface space. One of the sides usually is larger than the other, allowing you to build two different workstations on the same desk or perhaps a multi-monitor desk setup. You will be able to place all your peripherals and accessories comfortably on your desk.
Four-leg sit-stand desk
These desks are also known as "U-shaped standing desks." These desks are already outside the L-shape but provide the user with plenty of surface space. They're typically used in large corporations, but they can easily fit any workstation if you have enough space to fit one.
At the moment, U-shaped desks are a bit complicated to find and are typically more expensive. Many manufacturers have started to see the potential these desks have and are slowly adding this "new" option to their catalogs.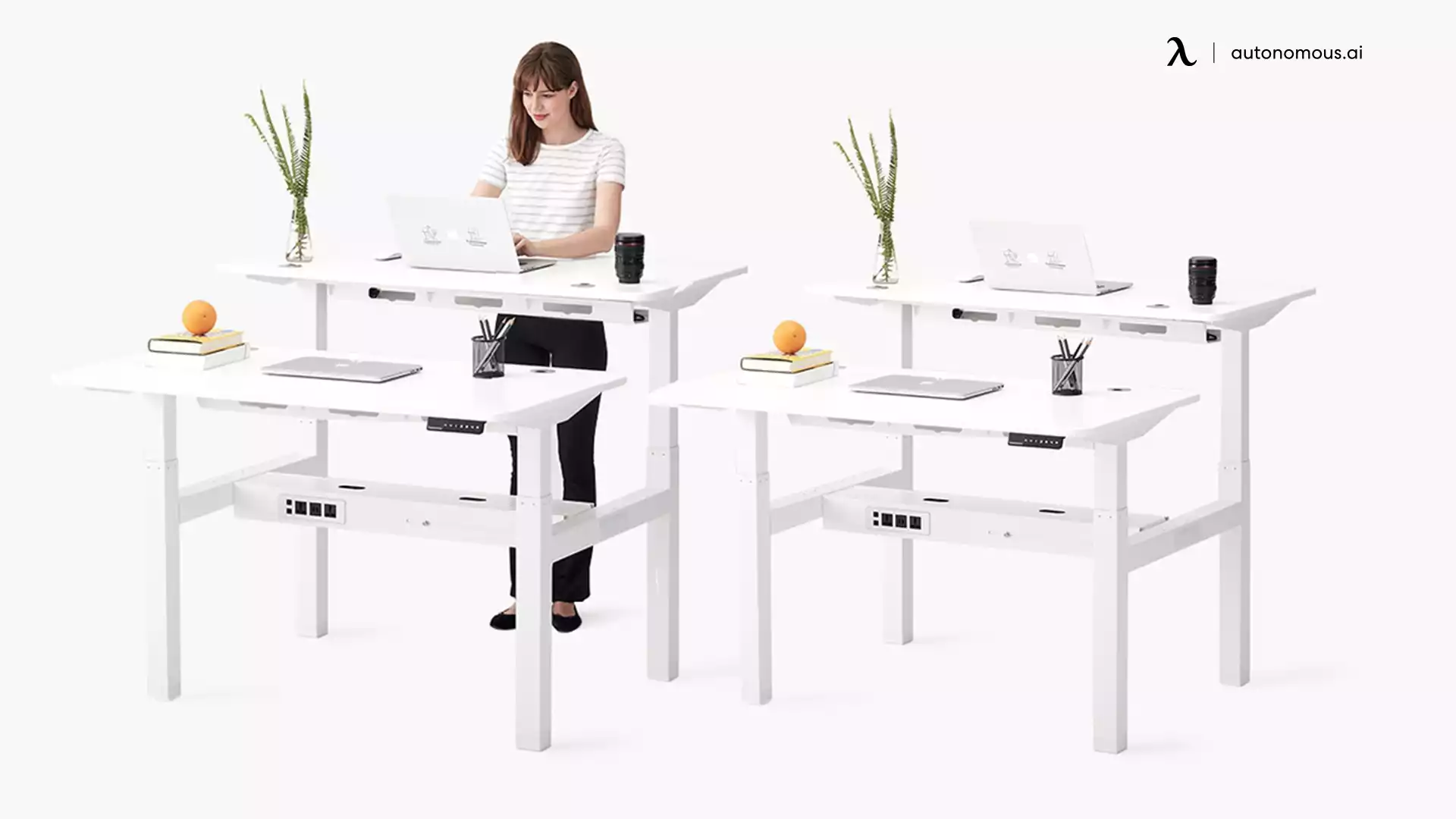 Which one to choose?
With so many options available, it can be a bit complicated to choose the right option for your case. However, it all comes down to evaluating your surroundings and the tasks you complete every day so you can find the best option for you.
If you have limited space and would like to place your desk in the corner of your living room, the kitchen, or perhaps in your bedroom, perhaps a regular two-leg corner desk can be the best option for you.

On the other hand, if you have a bit more space available and need more surface space to be able to complete your work, perhaps a three-leg standing L-desk can be a better option for you. These desks can also work in enclosed spaces if you thoroughly plan the layout.

Last but not least, if you have a dedicated room for your home office and need a ton of space to complete your daily responsibilities, perhaps a U-shaped desk can be good for you. Still, please note that there's not that much variety at the moment, which can make it a bit challenging to find a desk that actually resonates with you.
Guide on Assembling Autonomous SmartDesk Corner
While most people would tell you that installing one of these desks is a bit complicated, the truth is that Autonomous has simplified the process for you to get your desk working as soon as possible.
The Autonomous SmartDesk Corner is one of the most popular options by Autonomous due to the diverse features and plenty of surface space it has available. If you think this L-shaped standing desk is the right option for you, here we have some tips you can take into account during the installation.
The L-base is perhaps the largest item. Hence, it is necessary for you to find a room where you can fit all the parts for the assembly. When you're done setting up the legs, you may need the help of two other people to be able to place the base on the desk frame. Once done, you'll need to screw the top into the base to make sure it doesn't fall while you're using it. This is everything you need to do to start using your desk as soon as possible.
Once you've finished setting up the screw, the next step would be to power up your desk and start to use it. It is as easy as that!
Why Does Your Office Need the Best Standing Corner Desk? - 5 Benefits
There are a variety of reasons why having the best corner standing desk is an advantageous addition to your workspace. Some of the benefits of having an adjustable corner desk include: 
Corner desk maximizes the workspace
You're going to uncover extra workspace on each side of your workstation when you incorporate a corner desk setup into your office.
Corner executive desk provides easy adjustment
Improving the ergonomics of a workspace is more than just a keyboard and screen placement. When looking to make your office space more ergonomically beneficial, corner workstations should be top of the list. This is because corner stand-up desk placements provide easy adjustability between standing and sitting to negate the negative effects of sitting for too long.
It offers a significant working surface
When choosing the right corner stand-up desk, you're provided with enough space to support single, dual and multiple monitors setup without hitting the cabinets and walls when being adjusted.
Corner executive desk saves overall space
A corner stand-up desk that works perfectly in the best L-shaped adjustable desk configuration is going to fit neatly into an office corner or cube.
It makes the most of unused space
Deep corner desks are generally known to only house the occasionally lost pen, cords, and tons of dust. However, L-shaped standing desks are able to fill these previously unoccupied spaces.
Why Should You Purchase a Standing Desk?
Standing desks are becoming more and more popular. However, not many people understand the amazing benefits gained from using a standing desk. There are endless amounts of advantages that you can gain. However, one of the most well-thought-after benefits is that it eases back pain.
People that are sat at a desk all day mainly complain about back pain. This is incredibly common as sitting for long periods increases your chances of suffering from pain in your back, especially the lower back regions. However, using a standing desk helps alleviate this pain. After all, you don't sit for as long during the day because you're constantly transitioning from a sitting to a standing position.
In addition to negating the negative effects of sitting for too long, you're also able to increase productivity. Standing for longer periods each day positively affects your blood flow to your brain and other parts of your body. As a result of this, you're able to receive more energy that is sustained for longer periods. Thus, increasing your productivity.
Not to mention, your mood levels are also enhanced by this increased blood flow. In addition to this increased blood flow, many believe that these enhanced mood levels are also the result of being in less pain, as back pain is alleviated from the use of a standing desk.
However, with all that being said, it's vital that you choose a standing desk that's going to give you optimal adjustments, as standing at the incorrect height can also cause back, neck, and shoulder pain.
FAQs
1. What is an L-shaped standing desk?
L-shaped standing desks will always have three lifting legs, and always be constructed with two desktops mounted perpendicular to each other. L-desks are generally larger than corner desks, and allow for much more flexibility in terms of having the exact length you need against one wall versus the other.
2. Can I use a standing corner desk with two monitors?
Standing corner desks can significantly support two monitors, depending on the maximum load capacity of the converter. You can use two monitors providing that the weight of the two monitors is under the limit.
3. Is a corner desk and an L-shaped desk the same thing?
The size and shape of L-desks, corner desks, and triangular desks differ drastically. In general, corner desks are less expensive than streamer desk types. The reason is that most electric lifts include only two lift columns instead of three and only one desktop.
In an open workspace, corner desks can be arranged in creative ways. Chamfered corners are also available on some corner desks. However, their lifting capacity and maximum size are limited. The lift capacity of a three-legged L-desk is 50% higher, and it can be made to a larger size. Large cubicles are much more likely to use L-desks instead of fixed-height counters.
4. Is it reasonable to use standing desks all day?
As an alternative to sitting in a chair, you can work at these desks while standing. Custom-built standing desks can be expensive, but you can elevate your computer and convert a regular desk into a standing desk for free.
Standing desks have many possible benefits, the study suggests, other than weight loss. Researchers have shown that their blood sugar levels return to normal faster when people spend longer standing after eating. As for back and shoulder pain, standing instead of sitting may reduce the risk.
5. What is the recommended time for using a standing desk each day?
If you suddenly switch from sitting to standing all day, you might develop back, leg, or foot pain. Tackle it one minute at a time over 30 to 60 minutes, then consider gradually increasing your time.
6. Will I save space using a corner desk?
The desk aesthetics can be strategically positioned in the corner of a room, increasing the available space. By doing this, more furniture can be positioned in the room without feeling cramped. Additionally, an empty corner will no longer exist. Creating a homier environment in a dwelling can be done by filling up a corner.
7. What is the best way to sit at a corner desk?
It is recommended that under the desk, there are knee spaces, foot spaces, and thighs. If the desk is too low, you can raise it by placing strong boards or blocks under its legs. You ought to raise your chair if you cannot adjust the desk. Make sure your feet are supported as necessary by a footrest.
Conclusion
Using an L-shaped standing desk can be a good option if you'd like to have more surface space available for your accessories and peripherals. It can also help you be more comfortable while you're working as it won't make you feel like your desk is bloated.
Additionally, you can also take into account some DIY corner desks or DIY L-shaped desks and make your own project. You can purchase the frame separately or build it yourself, too. These L-shape desk ideas can help you find the best desk for your case and preferences if you need some inspiration.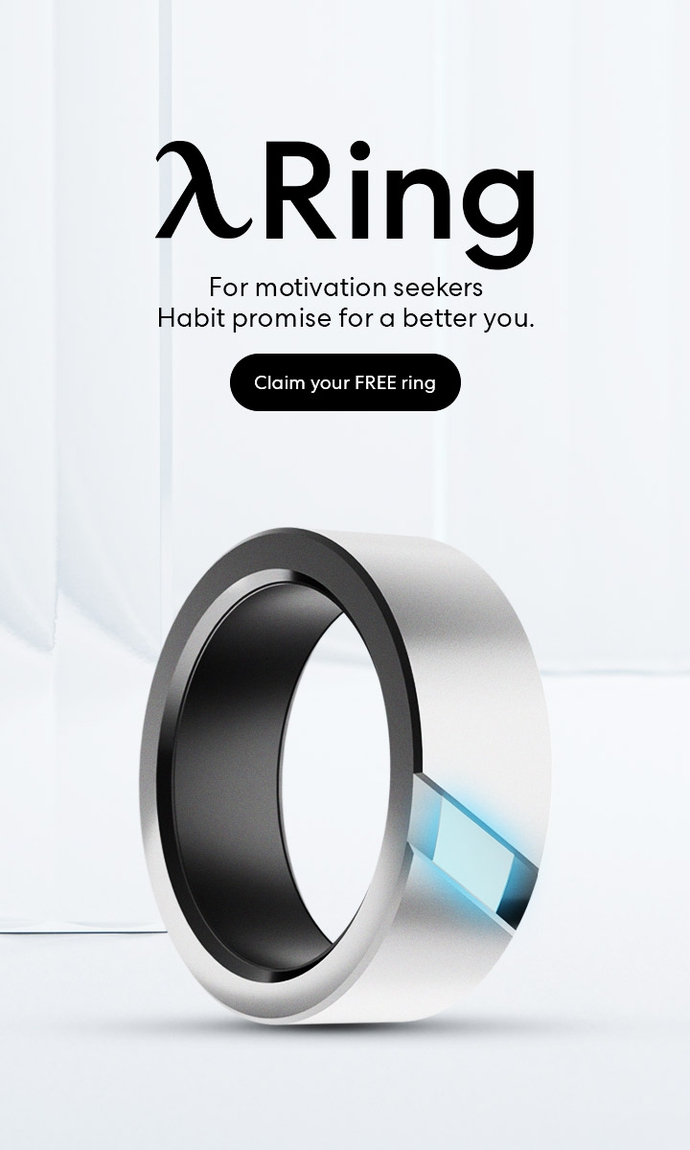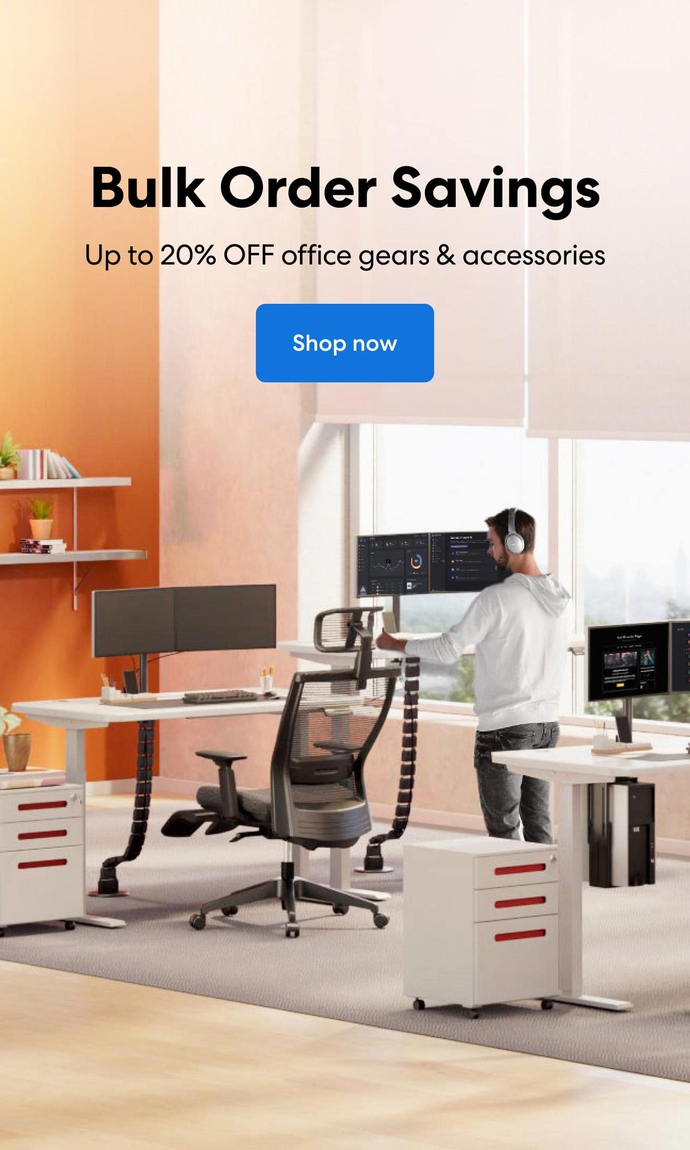 Subcribe newsletter and get $100 OFF.
Receive product updates, special offers, ergo tips, and inspiration form our team.