Workplace Inspiration
Top 10 Desk in Living Room Ideas 2023: Tips & Inspiration

Autonomous
|
Mar 31, 2022
5,494 Views
Are you working from home quite a lot lately? Have you noticed that a lack of a proper home office space has led you to take your stressors of the day to your family? Do you feel the need for an appropriate home office setup but are confused? If so, you are not alone, as there are many like you looking up for the right desk in living room ideas.
It is not possible for every home office worker to have a study room dedicated to their office work. This is because every office worker has a different house layout and different space availability. Keeping that in mind, most of remote workers like getting a desk for the living room that they can use for their office work.
Best Desk in Living Room Ideas to Fit Any Layout
1. Living Room Office Behind the Couch
If you are planning to get a desk in the apartment living room, you should think of placing your desk behind your couch. This tweak is specifically good for those people with a small apartment or home where they get limited space for placing their home office desk.
Adopting this idea, you will have a dedicated workspace in your living room that will be barred by your couch. So, you will be able to draw that imaginary line between work and home. 
2. Closet Office
Often there are houses where you have a spare closet in your living room. If you are a remote worker who is prone to get distracted pretty easily, we would suggest you go for the closet office idea. The idea behind this layout is that you place your desk in the closet. If you don't have a desk, you can even mount a shelf and use it as a desk. 
3. Living Room in a Storage-Friendly Nook
Do you have a shelving corner in your living room? If so, you can think of using it as your living room office nook. The benefit of using this idea is that you can use the storage shelves to place some collectibles and your important office documents.
In addition, you will not even have to cut out your living room's floor space. So, this idea is for those workers who want to get creative in a short space. 
4. Corner Office
If you have a medium-sized living room or a standard living room, you may think of taking up a corner for your office. All you will need to do will be to place an electric mobile standing desk in the selected corner. You may even think of differently coloring this office space's walls so that you can give it a unique look. In this way, you will have more privacy in your home office and stay productive. 
5. Artistic Office Space
Does art inspire you? If so, you can think of creating a creative office space in your living room. This is one of the best desks in the living room ideas. You may use a height-adjustable rolling standing desk in this corner inspired by art to make this a unique space. Such a desk will provide you with an ergonomic option to meet your requirement and let you store several accessories on the go. 
6. Light-Filled Living Room Office
If you have an airy apartment with a nice window view, think of placing your desk next to the window. You may use an electric office desk in this regard as that will help you adjust the height of your desk as per your requirement. Placing your desk next to a window will get you plenty of light and ensure you stay active and productive throughout the day. 
7. Bohemian Style Living Room Office
As you are aware that the Boho or Bohemian style living room office is the one that has a tropical touch. You usually use a wooden desk and chair in such an office. So, you may adopt that office style too. However, if you wish to have some height adjustments for your desk to meet the ergonomic standards, you should add a standing desk converter to this office. 
8. Modern Living Room Office
A modern or contemporary living room office is one of the most common desk in living room ideas that you can think of going for. Since you are trying to meet the modern standards in this living room office, you can go for any office desk.
You can also think of investing in an ergonomic office chair to design a comfortable office space. Such an office can be aligned in all types of living room layouts. Thus, you can use it wherever you like and give a boost to your productivity.
Factors to Keep In Mind When Placing a Desk in a Living Room
Space: Make sure you have enough space to comfortably fit a desk in the living room without overcrowding the area. Consider the size of the desk and any additional furniture or equipment you may need to add.
Noise: Living rooms can be noisy area, so consider if this will affect your ability to work or concentrate at your desk. If noise is a concern, you can invest in noise-canceling headphones or add soundproofing materials to the living room.
Lighting: Lighting is important when setting up a desk in a living room. Ensure that there is sufficient natural light or invest in good-quality artificial lighting to avoid eye strain.
Privacy: Consider if you will have enough privacy to work effectively, especially if the living room is a high-traffic area. You may want to add a partition or curtain to separate the desk area from the rest of the living room.
Storage: Make sure you have adequate storage options nearby to keep your workspace organized and tidy. This can include shelves, cabinets, or desk organizers.
Aesthetics: Finally, consider the overall look and feel of the living room when adding a desk. Choose a desk and accessories that complement the existing decor and do not clash with the overall aesthetic of the room.
Why Should You Design A Living Office Layout?
The challenge of working from home is that you have to ensure that you draw a fine line between work and home while staying in your living room. You need to stay focused and productive while staying in a casual living room environment.
Attaining that is only possible if you know how to plan a desk in the living room layout to ensure you have a separate space for work irrespective of your living room's size. You might have a small living room or maybe a studio apartment. You may even have a large spacious living room or a crowded one. All sorts of layouts are possible.
The task that's on your end is to plan the small home office layout as effectively as possible to elevate your productivity and focus. We know that this planning part can be difficult for you.
That's why we are here with our set of ideas and tweaks to help you out with your living room office setup. In this article, we have shared multiple desk setup ideas that will help you attain your desired productivity on a minimal budget. So, let's begin! 
Video ads for product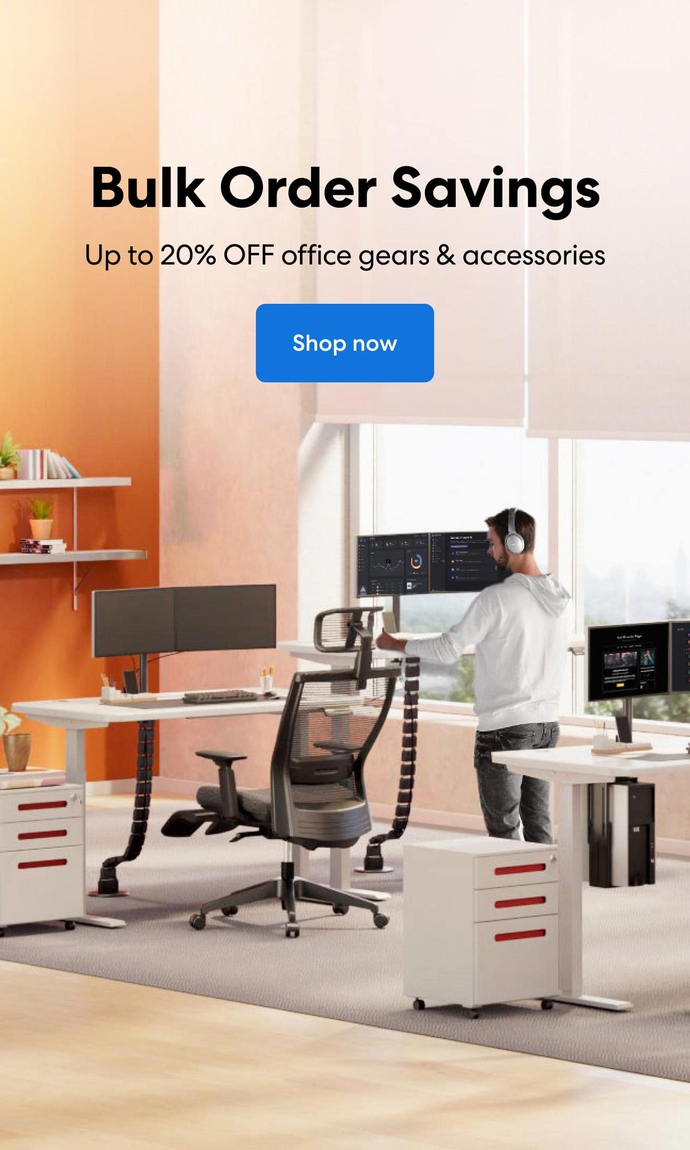 Subcribe newsletter and get $100 OFF.
Receive product updates, special offers, ergo tips, and inspiration form our team.