Smart Products
Best Office Chair for Upper Back Pain Relief: Top 15 Picks 2023
3,523 Views
Picking the best chair for upper back pain is essential for people who spend long hours at a desk and are prone to aches and pains. There are a few basic things to look out for when browsing through options. Let's look at what causes this type of discomfort, how to avoid it, and what it takes to qualify as a suitable upper back pain office chair. 
Causes of Upper Back Pain
The upper back is anything between your neck and the bottom of your rib cage. Pain in and around this area is usually caused by muscle fatigue, bad posture, strained ligaments, or overuse of the surrounding muscles. It can also be due to spinal disc issues or as the result of an old injury, which is a little trickier to manage. Pressure on the spine can contribute to any of these factors and lead to long-term chronic pain. 
Lower Back Pain
Pain in the lower back is more common for office workers and brings a whole new set of complications. Reasons include pressure around the hips or base of the spine, complications from a spinal injury, or strain on the muscles. It is also important to seek advice on how to pick an office chair for back pain in the lower spine or lumbar region if this is the issue you more often face. 
How To Avoid Upper Back Pain
Upper back pain can be lessened through a few simple steps, relating to both the equipment you use day-to-day and the way you treat your body: 
Move around regularly
Arguably the most important advice you can take is to make sure you don't stay seated for too long. Our muscles are not meant to stay holding one position for hours on end, so take regular breaks from the desk. They don't have to be for very long: even standing up to stretch every half an hour or taking five minutes each hour to walk around is enough to make a difference.
Consider a sit/stand desk
One of the fastest-growing modern office trends is the standing desk. Designed for the very purpose of encouraging movement and being kinder to our bodies when we are at work, standing desks can have a huge impact on back pain. They shift between the sitting and standing position, often at the touch of a button, so whenever you need to stretch you can do so without interrupting your work.
Find out more about the benefits of standing desks in this Autonomous blog post. 
Use a chair with armrests
Adjustable armrests are essential for helping to relieve strain on upper back muscles. Without them, you are using your spine to support all your body weight, which is sure to lead to fatigue after a short time. You should adjust the height of your armrest so that your arms sit at a 90-degree angle when your elbows are parallel with your spine. Ideally, you also want your shoulders to be slightly lifted to take some of the pressure off of this area.
Choose the correct type of chair back
The debate over mid-back vs high-back chair designs and which one is best is a hard one to settle. Just because the backrest doesn't go all the way up to the neck doesn't mean it can't provide upper back support. Chair support methods vary but are primarily focused on the lumbar area of your spine. Deciding what style works best for you is a matter of researching and depends on where you feel the most discomfort. If you carry pain around your shoulders, a high-back chair is possibly preferable, but pain around the ribcage can be better served by a low-back style. 
Work on your posture
A huge proportion of upper back pain problems are down to poor posture. Sitting hunched at a desk is not unfamiliar to a significant percentage of the population, so it is essential to know how to correct it. Some ergonomic chairs can actually help improve posture while you sit by supporting your back in the correct position, but you can do a lot more on your own. 
What Are the Benefits of Ergonomic Chairs?
Having ergonomic chair back support is essential for anyone suffering from upper back pain, or back pain of any kind.
Key Features
If you regularly feel discomfort sitting at your desk and feel pain in your upper back, you should seriously consider buying an ergonomic office chair. The things that make a chair ergonomic include:
Adjustable height setting on the seat, armrests, and depth

Removable or adjustable headrest for neck support

Breathable fabric to keep you cool and comfortable throughout the day

Reclinable backrest for pain relief

Enhances maneuverability to let you move around easily

Lightweight but sturdy frame
A desk chair with upper back support should have most, if not all, of the above-mentioned qualities. 
Pros and Cons of Ergonomic Chairs
Pros and Cons of Ergonomic Chairs
They provide superior back support during long hours of sitting.
Adjustable features let you adapt the chair to your body.
Posture habits can be changed and improved after using an Ergonomic chair for a while.
Ergonomic chairs tend to be well-made and durable.
Movement is far less restricted when using this type of chair as opposed to a bulky executive chair.
The best ergonomic designs are often more expensive than the average desk chair.
Some are quite big so are not all practical for a small workspace.
Relying too much on the support of an ergonomic chair can hurt your back in the long run, so it is important to stay active.
While these chairs can be customized for comfort and to free up movement a little when you are sitting, it is still essential that you get up and move around regularly. If you suffer from chronic upper back pain, this is even more important. Because ergonomic chairs are so comfortable, you can end up sinking back into them and damaging your muscle strength and posture further. Try to get up and stretch or walk around for at least ten minutes every hour. 
Top 15 Best Office Chairs for Upper Back Pain
1. ErgoChair Plus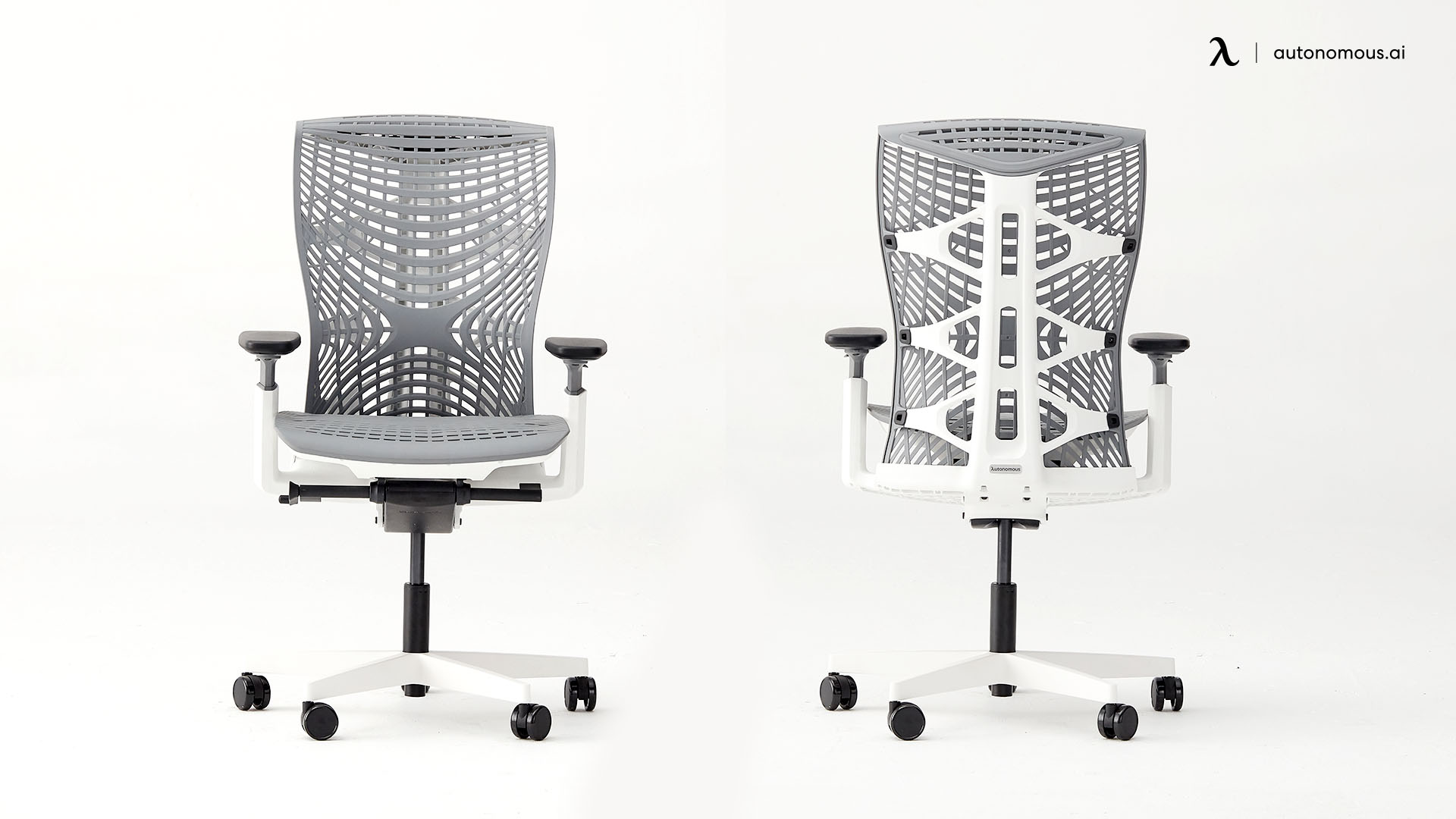 The Autonomous ErgoChair Plus is a thing of beauty. One of the leading ergonomic chairs for upper back pain in the industry, every element works together to provide seamless support and movements. The flexible backrest of this chair for upper back pain moves with you to avoid strains and keep upper back pain at bay. 
2. ErgoChair Pro
If you are looking to buy an ergonomic chair that has just as much style as substance, the ErgoChair Pro is the one for you. The sleek design of this upper back support chair looks professional and expensive, despite falling into the mid-range price bracket. The adjustable headrest provides relief from shoulder and neck strain and keeps your entire upper back aligned. 
3. ErgoChair Recline
This sturdy computer ergonomic chair has supreme reclining features, complete with a headrest and leg rest for top-to-toe comfort and support. Stretch out your back and relieve discomfort or pain without having to move from the desk. Breathable material keeps you cool throughout the long busy workday. 
4. AvoChair
Fitting perfectly into a modern office or home workspace, the AvoChair is a quirky yet functional design. This eco-friendly chair is made almost entirely from recyclable materials and was inspired by nature. The curvy edges and color choices give the AvoChair a refreshing new aesthetic for the ever-evolving workplace. This is such an affordable upper back support chair you must have now.
5. Steelcase Leap v2 Ergonomic Chair
Also listed as one of our overall top five best office chairs for upper back pain is the Steelcase Leap v2. Available in more than 17 colors, this chair fits in with any office design. It also uses "Live Back" technology to move with and adapt to your spine. Back pain is a non-starter when using this desk chair with upper back support. 
6. Duramont Ergonomic Adjustable Office Chair
Everything about the Duramont Ergonomic chair is geared toward ultimate comfort all day long. Tension control, soft foam, padded concave armrests, and a tiltable angled headrest are just some of the elements that earned this chair a space on our upper back pain office chair list. Suitable for heights up to six foot three and can support up to 330 lbs, it is a versatile upper back support chair to have on hand. 
7. Clatina Ergonomic Executive Chair
This chair for upper back pain is a powerhouse of design and functionality. When upright, it can hold up to 500 lbs and boasts some of the best adjustable seat functions to accommodate all body shapes. It can tilt to 135 degrees with three different lockable positions. It is sturdy, well-built, and comes with a 90-day money-back guarantee. 
8. Steelcase Gesture with Headrest
The best chair for upper back pain for big and tall, the Steelcase Gesture is a masterpiece. Unwavering back support for up to 400 lbs, anyone can feel comfortable in this chair. The 4D armrests are some of the best in the industry and allow for excellent movement, no matter what size you are.
9. SmugDesk Leather Executive High-Back Office Chair
If you are all about leather upper back pain office chairs, SmugDesk has one for you. It has all the class and style of classic leather plus the recline flexibility and adjustable settings of a modern ergonomic style. Comfort, support, and style all rolled up into one, SmugDesk has nailed it with this stunning desk chair with upper back support. 
10.   Hbada Office Task Chair
Not only is this chair for upper back pain packed full of excellent features and superior back support, but it is also an absolute bargain. If you have a tight budget but don't want to compromise on comfort, the Hbada is a tried and tested favorite. 
11.   Serta Leighton Home Office Memory Foam Chair
They don't come much more stylish or chic than the Serta Leighton Home Office Memory Foam chair. The sleek finish and classic shape make any space look professional and fashionable, but it's not all about looks. The memory foam cushioning adapts to your body, and low-rise back support promotes good posture at work. Available in multiple colors and fabrics, this is one beautiful chair. 
12.   Nouhaus Ergo 3D
If you carry a lot of pain around your shoulders and neck, the Nouhaus Ergo 3D is a perfect choice. The high-tension mesh backrest and fully adjustable head support provide a firm, pressure-sensitive comfort. Although the back might be a bit hard for standard use, sciatica or chronic upper back pain sufferers are sure to be thankful for it in the long run. 
13.   Secretlab Titan Chair
Even if you are not a gamer, this remains an incredibly relieving chair for upper back pain. Designed for someone spending long hours in front of a screen, the Titan chair is ultra-durable and made with supportive but comfortable material. The Secretlab Titan is certainly a contender for the title of best chair for upper back pain for gamers. 
14.   Ergohuman LEM4ERG High-Back Executive Chair
Once named the best overall chair for back pain, the Ergohuman LEM4ERG means business. The sturdy design is built to last for years, ensuring you get your money's worth, and the 135 degrees recline angle is one of the best out there. It also comes with a lifetime warranty to back up the excellent quality.
15.  Livinia Ergonomic Office Chair
The Livinia uses a unique kind of upper back support. This upper back pain office chair designs usually include a solid backrest made, but this chair for upper back pain has a split design. The reason for this is to relieve any pressure on the spinal cord that could be the root cause of your pain. If you know this is a problem you face, this is the perfect solution. 
Final Thoughts
Choosing a suitable desk chair with upper back support can make a huge difference in your working life. The day-to-day routine of working in an office involves a lot of sitting down, which is not healthy for the human body. Although it does not replace the need for regular seated stretching exercises and movement, a good quality chair with reliable back support can reduce upper back pain in the short term and perhaps aid with posture in the long run.
Keep up with Autonomous news
Stay informed, stay inspired with our new blogs.
WRITTEN BYAutonomous
We build office products to help you work smarter.