Smart Products
Top 15 Office Chairs with Spine Support to Fix Your Posture
8,818 Views
One of the simplest ways to improve your overall health is to work on your posture. Posture has a larger impact on your health than you might realize. Bad posture not only hurts your back, but it can also influence your energy levels, emotional state, and your ability to concentrate. 
Seated posture is just as important as a standing posture. It is therefore imperative that all office workers choose a chair with spine support to maintain the optimum posture while seated. 
Why Is Correct Posture Important?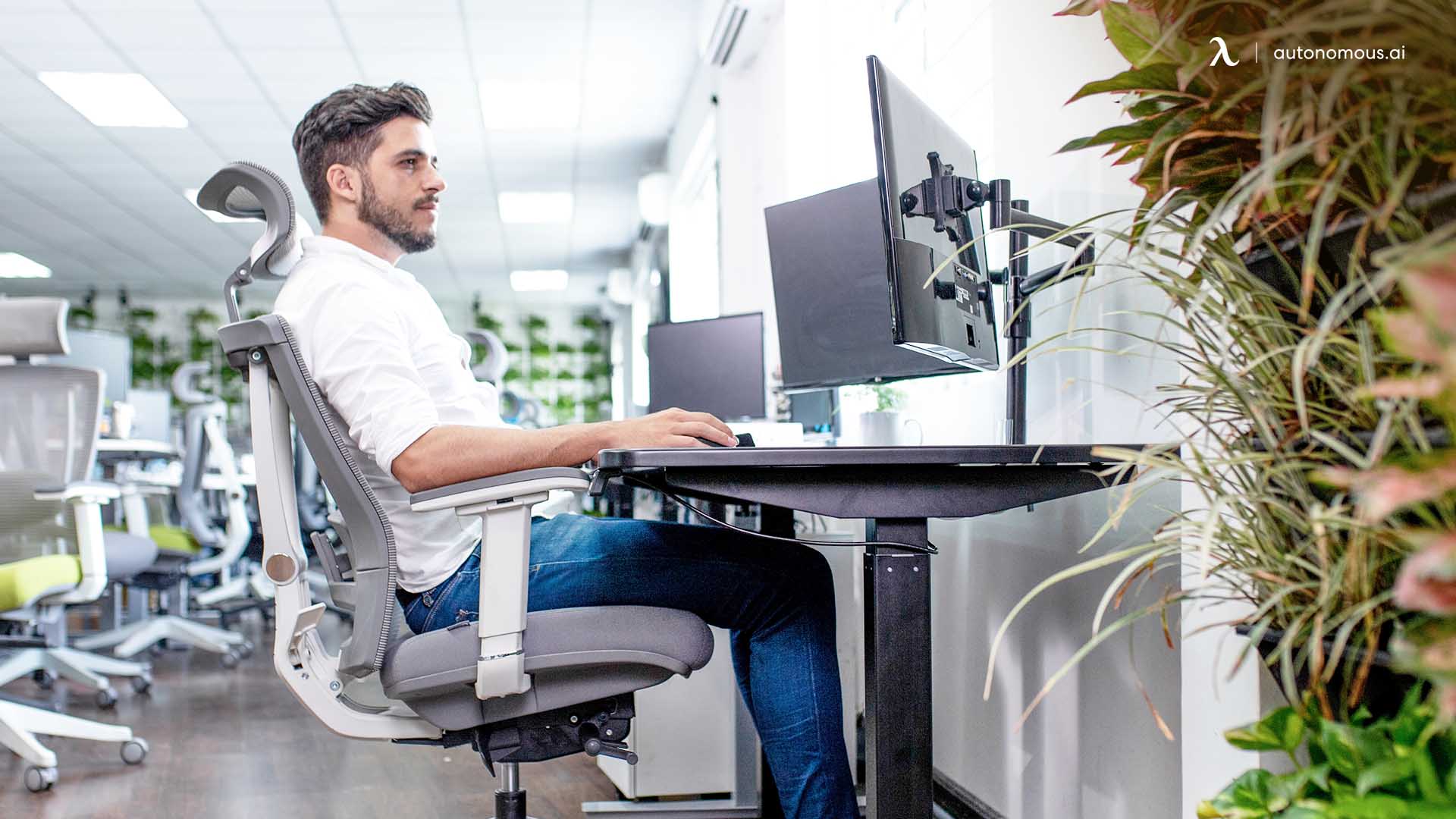 Your musculoskeletal system is naturally less stressed when you sit with proper posture. You, therefore, prevent strain to your shoulders, hips, torso, neck, or back by standing, or sitting in a neutral position rather than slouching. 
Good posture also makes it much easier to breathe properly, allowing you to get more oxygen into your system, which helps you remain focused, and stay motivated. Sitting in a neutral position also enables your body to digest food more efficiently. 
How to Ensure You Maintain the Correct Posture While Seated
Investing in lumbar support

in the form of a posture corrector for office chairs, or a chair with built-in lumbar support could be game changing to help to support the curvature of the spine.

Adjust the height of your chair

and workstation at work, so that you can sit up close to your work and move it upwards toward you. Relax your shoulders by resting your arms and elbows on your chair's armrests.

Avoid twisting your body at the waist

while sitting on a chair that moves. Instead, rotate your entire body.

Do not sit in the same position

for more than 30 minutes. 
How do Ergonomic Chairs with Lumbar Support Work?
The bottom section of the spine, called the lumbar region, slopes inward toward the belly button. 
A spine corrector chair that includes lumbar support functions by supporting the natural inward bend of the lower back, essentially filling in the gap between the lumbar spine, and the back of the chair. This relieves any pressure on this region and prevents hunching. 
It is harder to maintain proper posture without lumbar support, and the lumbar spine and muscles of the lower back must work harder to support the ideal curvature and alignment. 
As the body ages, the muscles that support the spine in this position deteriorate, causing the upper back, and head to tilt forward to accommodate for the lumbar muscles' weakness, so it is advisable to buy an ergonomic chair before this happens. 
Looking for the best ergonomic chair with spine support? Look no further. 
15 of the Best Office Chairs with Lumbar Support
1. ErgoChair Plus by Autonomous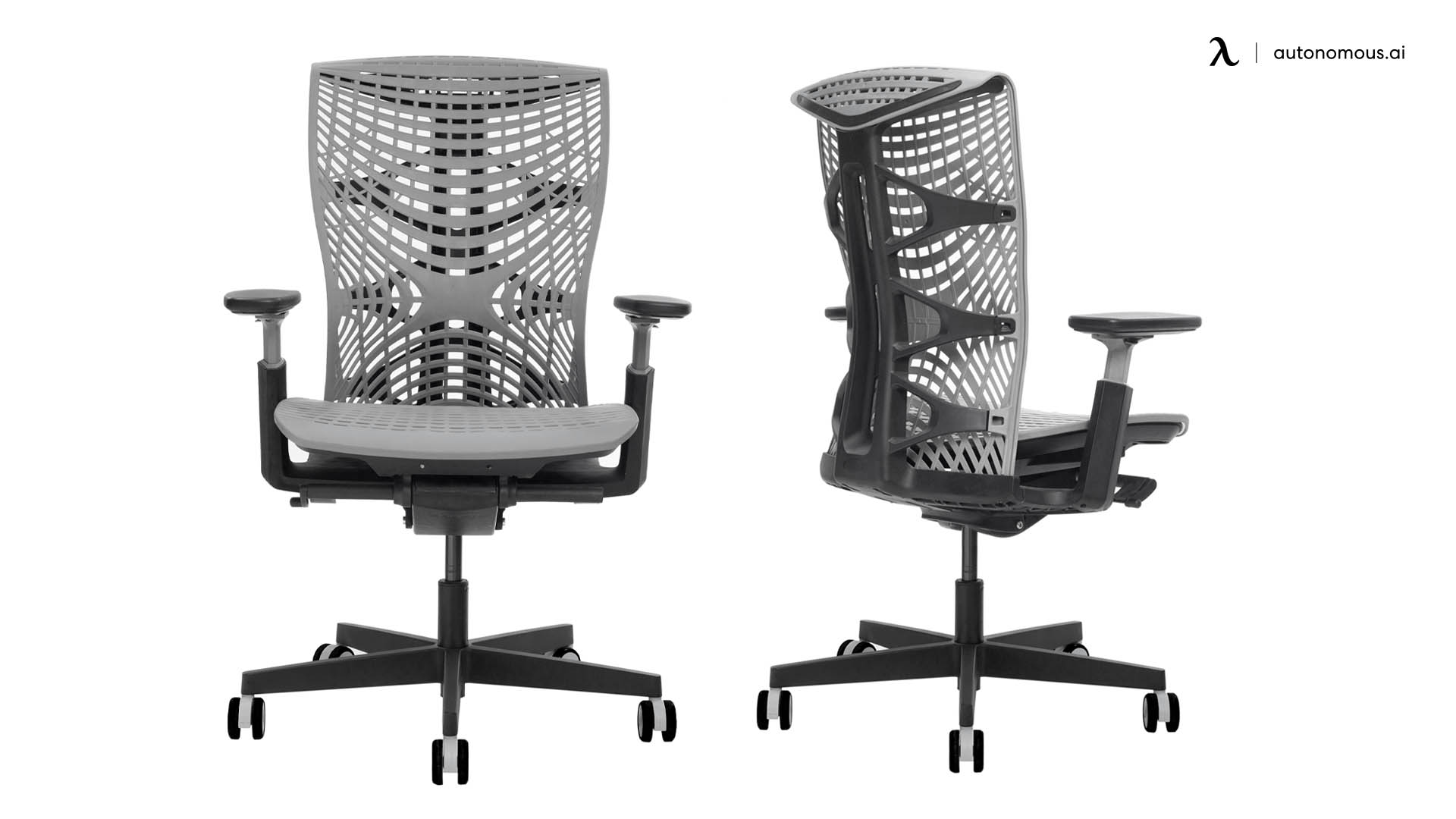 The ErgoChair Plus is an adjustable lumbar support ergonomic chair that helps to fix your posture. It is one of the best chairs with spine support you should have. Its backrest boasts an unusual fishbone structure that can support up to 300 pounds. It has 11 lockable positions, and can recline 25 degrees, giving it even more versatility. 
The chair's backrest is specially designed to bend with your spine to provide maximum, adaptable support for those with back pain. The ErgoChair Plus is the ideal office spine corrector chair for you if you want a breathable chair, has excellent lumbar support, and allows you to move around more effortlessly.
The one-of-a-kind backrest aids in the correction of posture as well as the improvement of the user's spinal health. Back pain issues are reduced because of its distinctive design, giving this posture alignment chair the right to the number one position on this list as the best office chair for lower back pain. 
2. Autonomous ErgoChair Pro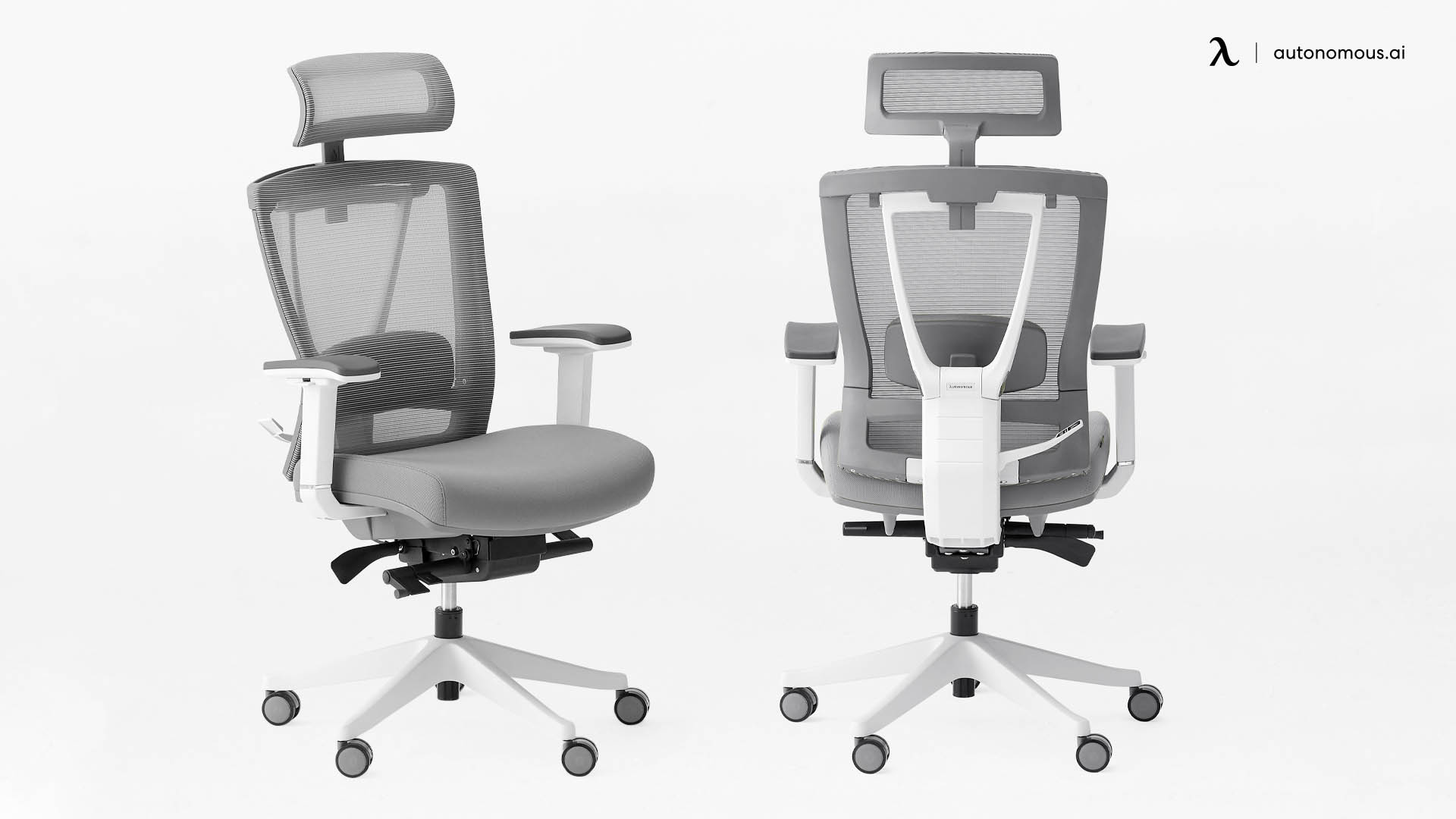 Coming in second place in the list of office chair posture correctors is the ErgoChair Pro by Autonomous. Being one of the leaders in the ergonomic furniture industry, it is no surprise to see another of its products appearing on this list. 
If you are looking for a best ergonomic chair, the ErgoChair Pro is a terrific option because it provides lumbar support, has a backrest that reclines to a 22-degree angle, and has five lockable positions. 
The reason why Autonomous' office chairs are so popular is that they have great adjustability and are rated as one of the best spine corrector chairs. The ErgoChair Pro, and the ErgoChair Plus both have adjustable armrests, backrests, headrests, and seat tilts, to provide the best tailor-made support to correct posture, and ease the pain.
Adjustable armrests are crucial to providing relief from upper back pain. The ErgoChair Pro and Pro+ have armrests that can be moved up or down, or from left to right to provide some of the best upper back pain office chairs. 
3. Ergo3D Office Chair by Nouhaus
If you have sciatica or back pain, you should understand how painful sitting down on an office chair all day may be. The Nouhaus Ergo3D Office Chair features a waterfall seat with a good recline, self-adjustable backrest, and strong neck support. 
From neck to hips, the curved backrest supports your entire spine. The adjustable tilt of this chair with spine support allows you to customize the chair to your own needs, ranging from 90 degrees to the expert-recommended 135 degrees, which puts the least level of strain on your spine, and anything in between. 
4. Steelcase Gesture Ergonomic Office Chair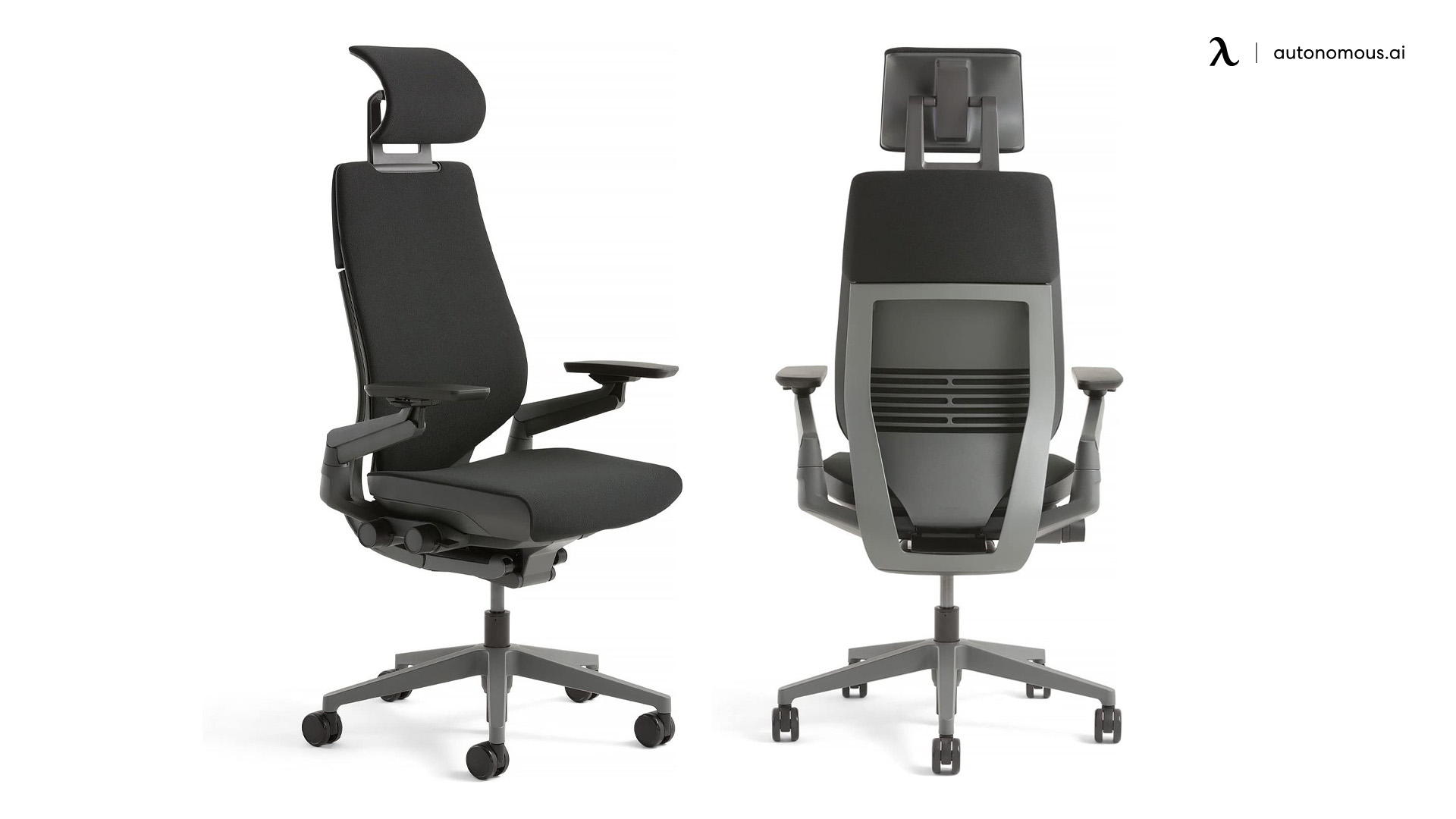 This ergonomic chair with back support requires very few changes to feel comfortable. It bends and shapes as you move your back, which is especially beneficial for individuals with back problems. 
The Steelcase Gesture has flexible seating that bends to relieve any pressure in your thigh muscles while you sit, making it a great choice for those with sciatica pain that radiates to the thigh and leg muscles. Because of the improved blood circulation, this can significantly reduce discomfort in these areas of the body. So, it is rated as one of the best office chair posture correctors.
When it comes to alleviating neck discomfort and tension, the Gesture's headrest is just as important. The design is particularly sturdy, and it adjusts five inches up or down, and four inches forward and backward, to support your head in any position. 
5. Aloria Executive Office Chair by Oak Hollow Furniture
Because of the supple cowhide leather upholstery, the Aloria's seat makes it a comfortable choice. Real leather, unlike PU leather, is breathable, comfortable, and long-lasting, offering you the best of both worlds. 
The waterfall seat edge and seat depth are adjustable, which makes the seat on this chair with spine support stand out for those with back problems. These features help to improve circulation in the area between the thighs, which can provide relief for those with sciatica. 
6. Aeron Ergonomic Graphite Chair by Herman Miller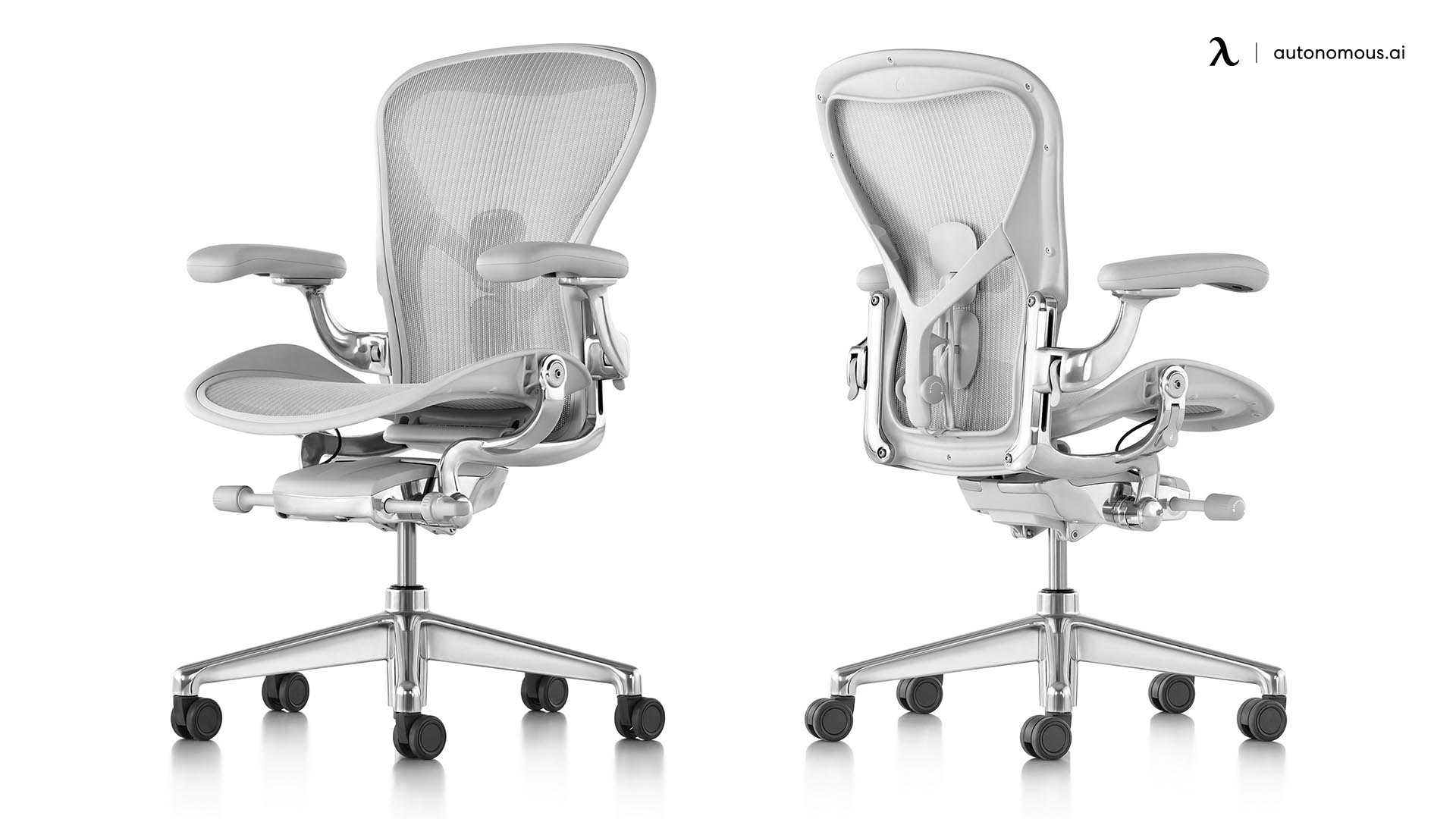 This chair with posture support offers a PostureFit sacral or lumbar support that can be adjusted. Two separate pads flex individually and may be adjusted to accommodate your spine's curvature. It comes in three sizes to accommodate people of various heights and weights. 
The absence of a headrest is the sole drawback of this office chair with spine support. Aside from that, it is great to use to correct posture, and comes with a 12-year warranty from Herman Miller. 
7. Secretlab Titan Office Ergonomic Chair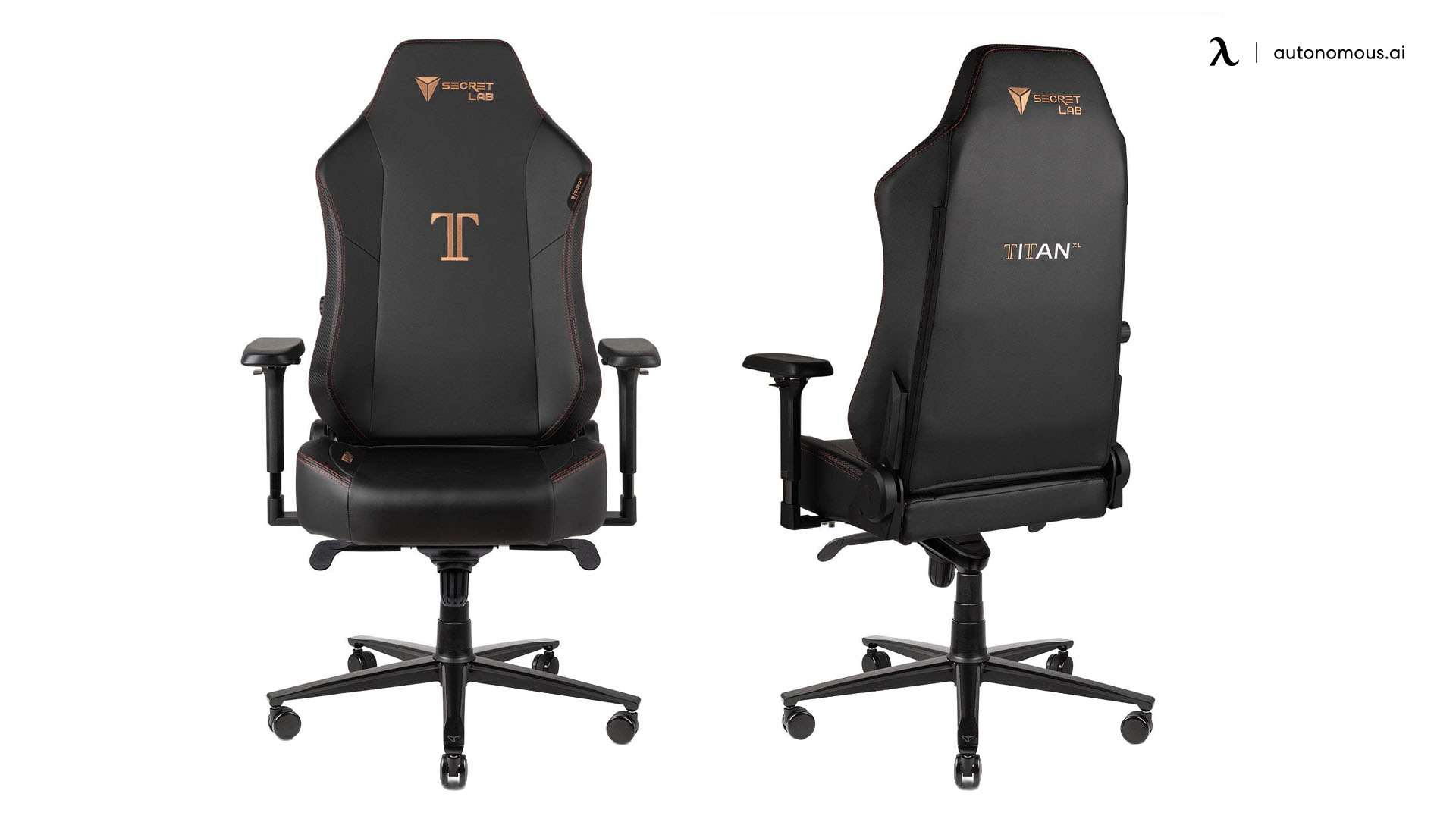 Gaming chairs are worth considering if you have back discomfort because of a few unique ergonomic qualities many of them have. 
To begin with, most gaming seats outperform normal office chairs in terms of their backrest tilt; for example, the Secretlab Titan can be rotated to an impressive 165 degrees. A fully reclinable backrest can relieve pressure on the spine for a longer period, and it can also help to relax the entire body. 
The angle at which the seat of this spine corrector chair faces upwards can also be locked in place. By putting your entire body upwards, like a zero-gravity chair, you can work in a heavily reclined position for added comfort and support for your back.
8. Duramont's Ergonomic Office Chair Posture Corrector with Lumbar Support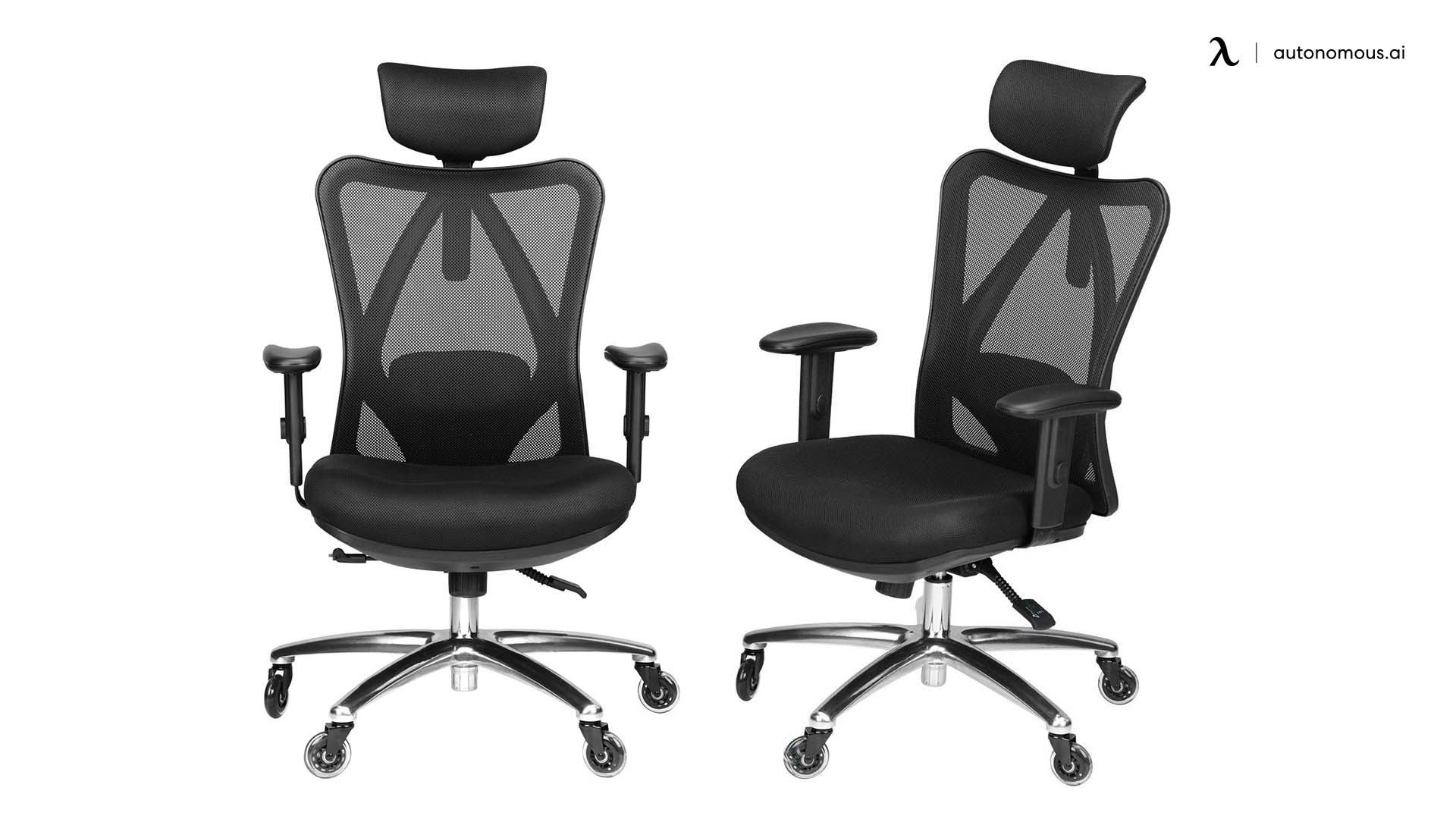 Another great office chair posture corrector is from Duramont. The lumbar support on the Duramount Chair may be adjusted for firmness, which sets it apart from most chairs in the same price range.
When you add in the fact that it's height-adjustable and features a 120-degree recline, and a headrest that can be adjusted, this posture alignment chair becomes a great option for those looking for a chair with spine support. The best part is that this spine corrector chair is very budget-friendly. 
9. High Back Swivel Chair by Ergohuman
The Ergohuman High Back Swivel Chair has a commanding presence thanks to its black, chrome style. However, the chair's form is what makes it beneficial to your spine and posture. Most components may be adjusted, including the backrest, headrest, lumbar support, and arms. 
It also has a long-life warranty and can support up to 250 pounds for a maximum of 40 hours per week, making it a great choice posture alignment chair. 
10.  Oline ErgoPro Ergonomic Desk Chair
The Oline ErgoPro is intended to provide appropriate support for your back and body as you sit. Adjust the height, headrest, Knee tilt, and armrests, to alleviate pain. 
You can recline while maintaining good posture, and the chair tilts up to 135 degrees. Tilt tension and height adjusted reclining lock let you alter the incline for comfort and safety, and its black color and modern form give it a sleek and professional appearance. 
11.  Office Chair by SmugDesk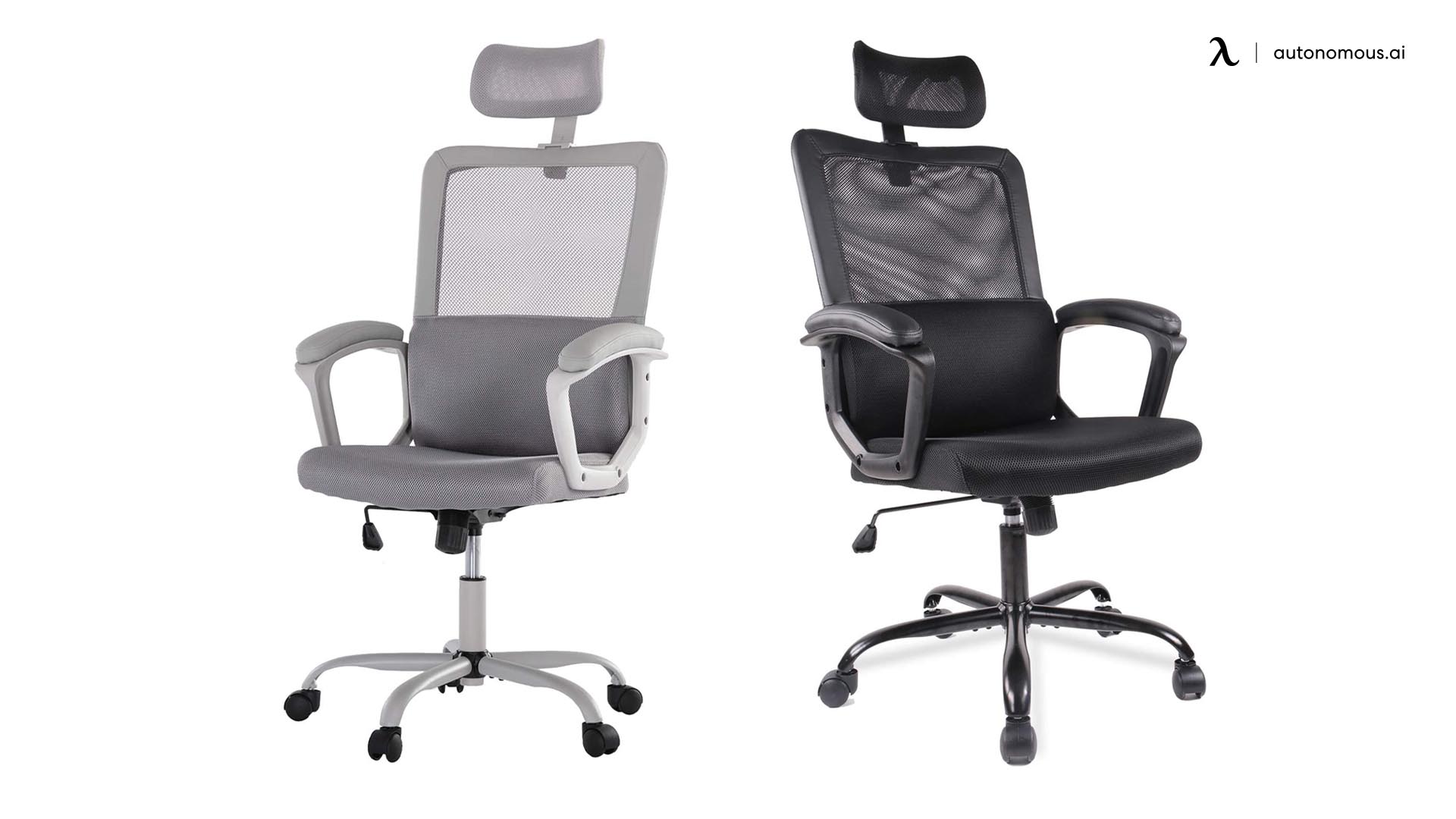 While there is no denying that spending more money on a chair for posture support gets you greater quality and ergonomics, not everyone has that kind of money. The Smugdesk Office Chair is a lot less expensive than most chairs, but it covers all the essentials. 
It has padded armrests, a high backrest, lumbar support, and an adjustable headrest. Although the design is practical, it is strong, and can handle up to 300 pounds. 
12.  Ergonomic Kneeling Chair by Dragonn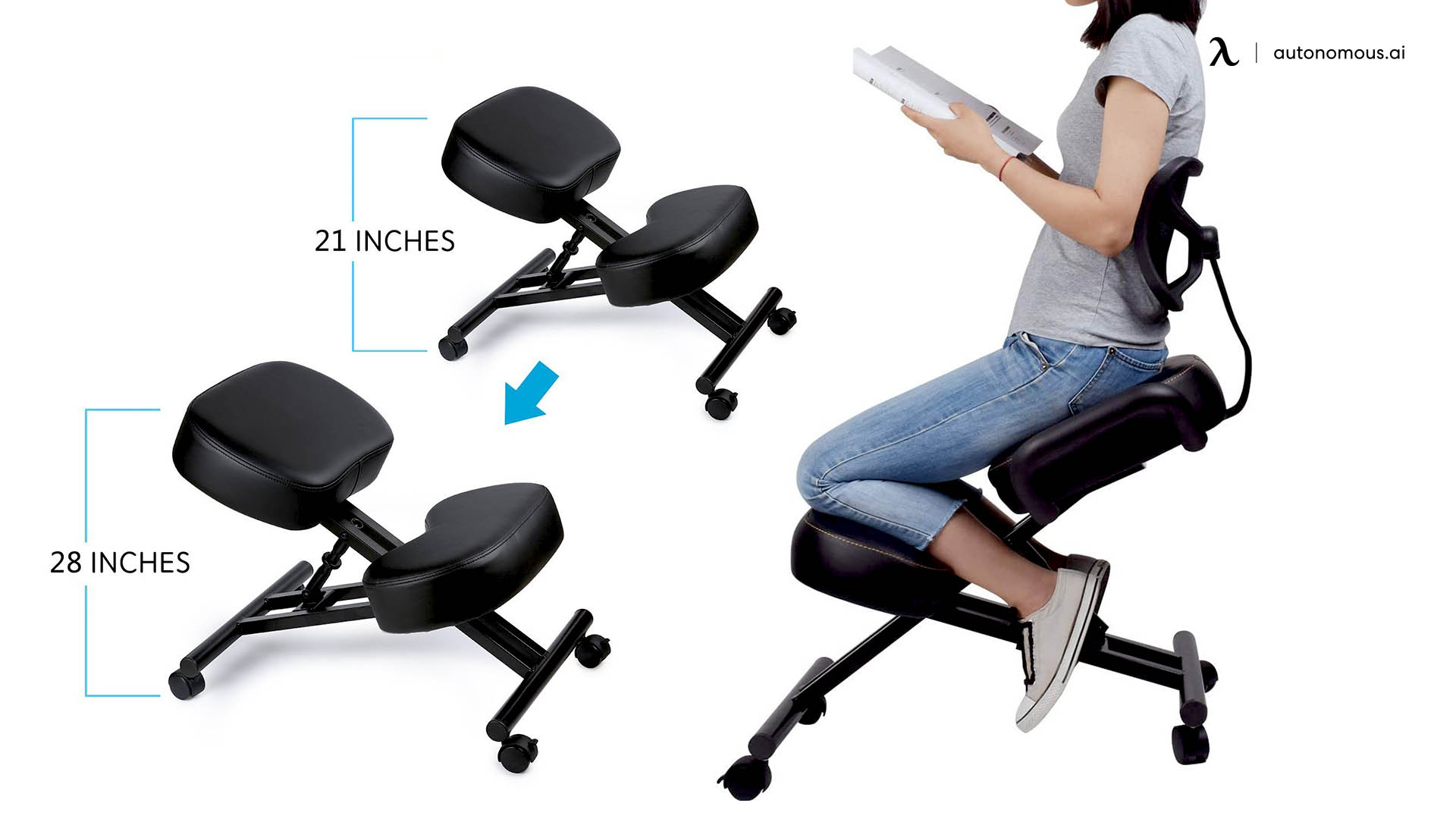 A kneeling chair promotes active sitting, in which your body is driven into the proper posture. It makes use of your core muscles, and helps to strengthen them, which can help to reduce back pain. 
There is no hunching on this posture alignment chair because it has no backrest. Of course, this is a positive thing, but it does take some getting accustomed to, and prolonged use can be exhausting. 
Kneeling chairs are available in a wide range of price points. This Dragonn chair with spine support is inexpensive enough for anyone willing to try something new. 
 13.  Zenith High Back Office Chair
This chair with posture support provides a lot of comfort for a reasonable price. The mesh back and cushion provide long-lasting breathability, so you can stay comfortable at your desk for lengthy periods. 
A headrest, and built-in lumbar support are included, as well as adjustable armrests and seat height.  
This chair with spine support is a better choice for big and tall people than some of the other chairs mentioned before, since it provides more stability, and can generally carry more weight. 
14.  AmazonBasics Desk Chair
The AmazonBasics Mid-Back Office Chair is an affordable chair with spine support option. It is almost identical in build to the brand's mesh chair with posture support, but instead of mesh material, it includes back upholstery in black bonded leather. 
Additionally, the straightforward controls let you recline or remain in a fixed upright posture. It also includes a pneumatic height adjustment. It is a wonderful budget ergonomic chair with formal workplace appeal, thanks to its good lumbar support, and back adjustments. 
15.  Executive Chair by Inbox Zero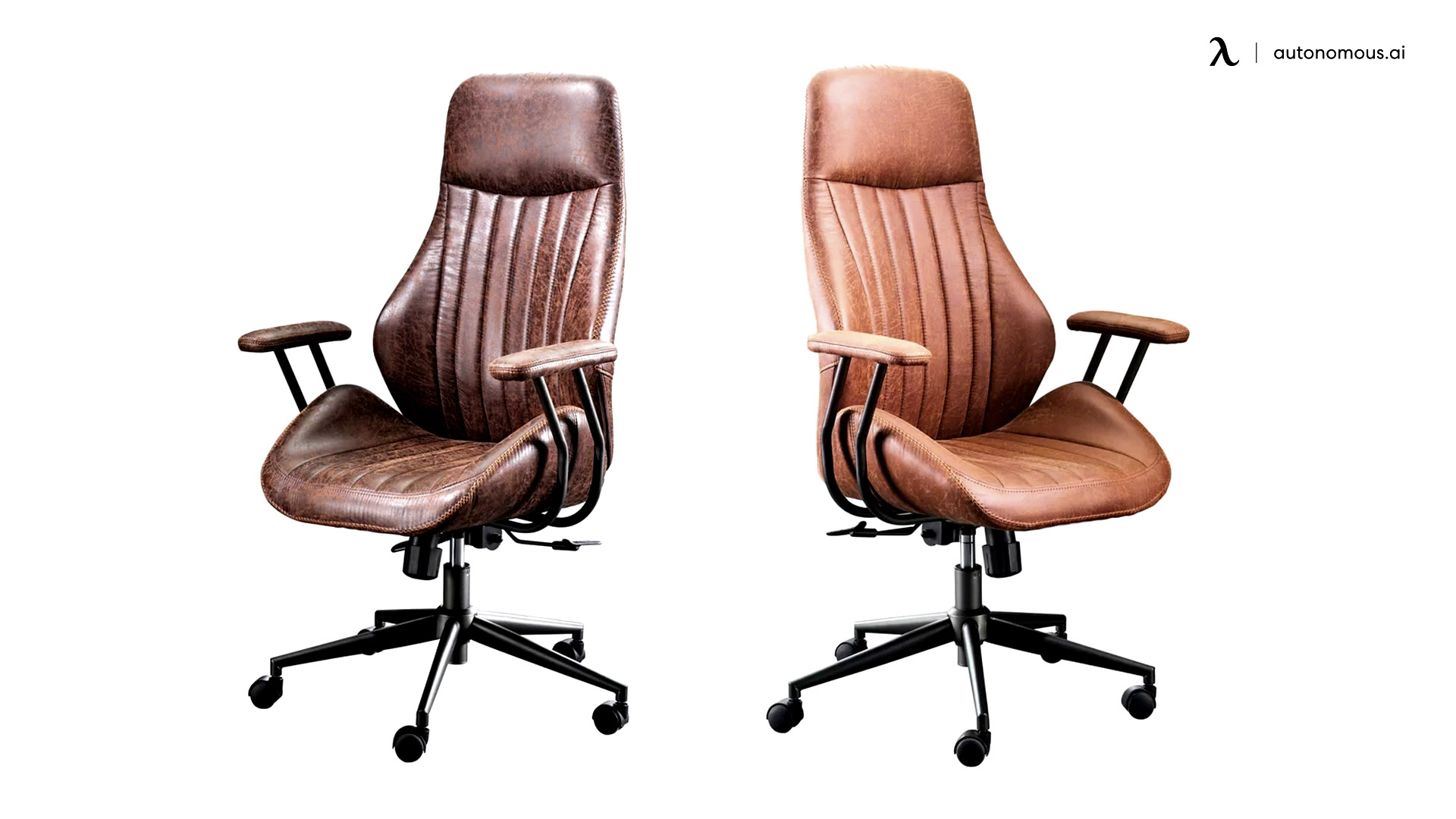 Most executive office chairs are not supportive enough for folks who suffer from back problems, but this Inbox Zero choice is different. The chair supports the entire body, and is made of a breathable, antibacterial mesh. 
To adjust the chair's position from 15.7 to 19.7 inches, simply pull the handle. You can adjust the seat, armrests, and center-tilt even while sitting. The seat spins 360 degrees, and features casters to assist your movement around the office comfortably. This posture alignment chair's casters are also removable, and the chair can hold up to 250 pounds. 
Final Thoughts
An ergonomic chair with posture support is the best way to maintain the correct seated posture. Incorrect posture can have grave consequences on your health, so investing in a good chair with spine support is paramount to maintaining good health.
Keep up with Autonomous news
Stay informed, stay inspired with our new blogs.
WRITTEN BYAutonomous
We build office products to help you work smarter.