Smart Products
21 Top High-Tech Desk Accessories for Modern Office

Autonomous
|
May 14, 2021
12,851 Views
Tech manufacturers introduce cutting-edge gadgets and accessories to your wish list every day. Ever since the modern office setup became the new normal, both small and large firms are adding tech desk accessories and other alterations in their offices to ensure they are providing an ergonomic work environment that will possibly boost their productivity.
Several firms have entered the race to provide the best work environment by adding the relevant smart office devices in their workplace. Even as an individual office worker, you can add further high-tech accessories to revolutionize your tech desk setup. The modern desk setup accessories will not only help you become more productive but also let you save power and work efficiently.
We know that every office worker is not tech-savvy, so you must need a detailed guide regarding the best desk accessories that will help you use technology in an efficient way. You must be happy as we have shared the details regarding those finicky standing desk accessories that will help you make your workspace more versatile and clutter-free. So, without any further due, let us have a look at them.
1. Autonomous SmartDesk Pro
The Autonomous SmartDesk Pro can be the most basic yet high-tech addition and desk setup accessories to your modern office. You would have heard how an electric standing desk increases your workplace flexibility and allows you to work in your favorite position. Research cannot overemphasize the importance of intermittent standing during your work hours as that helps you stay healthy, fit, and eventually more productive.
Autonomous has designed this standing desk to have a wide working area where you can install various tech office desk accessories in the sleekest manner. Above all, the automated table is quite affordable, being available with a monthly installment plan, with a load capacity of up to 310 pounds.
2. Multidevice Keyboard
Multi device Keyboards have gained quite a good reputation in modern offices. Since there are multiple options available at your disposal, you can select the one that best suits your interest. Being a Bluetooth-friendly accessory, this keyboard allows you to work on multiple devices such as your tablet, laptop, monitor, etc., hence typing longer documents can become way easier by adding a Bluetooth Keyboard to your tech desk accessories collection.
3. Autonomous Ultrawide LED Desk Lamp
A tech desk setup is incomplete if you do not add an energy-efficient desk lamp that offers you flexibility in operation. The Autonomous Ultrawide LED Desk Lamp is one such lamp. With a wide LED strip and five temperature and light adjustment options, this LED desk lamp allows you to shift the light intensity round the clock just so it suits your demand. Adding such tech desk accessories can help you avoid any optical damage and stay more focused on your tasks.
4. Wireless Charging Tray
A Wireless Charging Tray is one of the best tech desk accessories that you can add to your desk setup. You always think of making your workspace as clutter-free as possible, right? So, getting a wireless charging tray can help you with that. A wireless charging tray like that designed by Courant allows you to charge multiple electronic devices like your mobile phone, tablet, apple watch, etc., in the sleekest manner without overcrowding your desk with multiple wires.
5. PowerCore Power Bank by Anker
Getting a power bank is a great idea of tech desk accessories for both remote workers and office workers. Often you find that you are short on battery and have to look up a power supply where you can connect your device until it charges and resume your work after a couple of hours.
This not just creates a lot of hassle but also affects your productivity. Getting a sleek power bank like PowerCore by Anker is a great choice in this regard, as the device offers you 10000mAh, which is satisfactory for a Samsung Galaxy or an iPhone.
6. Headphone Stand
Having headphones for your desk setup accessories collection lingering on your work desk makes your workspace look more cluttered, and no one will like that. A dedicated headphone stand like the Satechi Aluminum headphone stand can be a suitable choice in this regard, as this headphone stand allows you to keep any headphones.
7. Hardware Encrypted HDDs and SSDs
Your data can be of great importance when you are working in an office. There are certain files that are to be encrypted to maintain confidentiality and ensure your data is safe. In such cases, getting an encrypted HDDs and SSDs can ensure your data is safe.
If you compare HDDs with SSDs, SSDs would be preferable for keeping your data. Both these drives come with a pin-authentication, so you can rest assured that your data stays safe in this sleek device.
8. SanDisk Wireless Stick
SanDisk Wireless Stick is a unique addition of desk setup accessories to the flash drives' market. This stick is not an ordinary USB that is supposed to be connected to your laptop or PC to transfer data. You can safely share photos, videos, large files, stream HD videos and music using this wireless stick. When you are at home, it is of the home office tech essentials that you must have.
The best part is, you can use this stick both ways, as a traditional analog flash drive and the modern wireless setup. Being available with a capacity of 16, 32, 64, 128, 200, and 250GB variants, the device offers you significant space capacities to choose the suitable one for you.
9. Laptop Stand
A laptop stand is among those essential tech desk accessories that are vital for avoiding clutter. If you have several files and folders to manage, you need more space on your desk. A minimalist tech desk setup is all that an office worker needs to have a hassle-free workspace to boost productivity.
Getting a laptop stand not just makes your workspace less crowded but also improves your workplace ergonomics by ensuring that your laptop is at your eye level and there is a lesser strain on your neck.
10. Monitor Mount
Getting a monitor mount is always the best idea of tech desk accessories if you are interested in improving your workplace ergonomics. The monitor mount is an adjustable arm that can help you adjust your monitor's screen as per your height so that it aligns with your eye level. In this way, working with your monitor becomes more convenient and less tiring.
11. Cell Phone Holder
Modern office high-tech desk accessories promote a minimalist desk setup. A cell phone holder is just the addition in the pipeline for improving workplace ergonomics and avoiding clutter.
Getting a cellphone holder can make it easier for you to place your cellphone in a particular place on your desk and helps you have your phone in your sight; imagine missing a call just because you forgot your phone under the pile of files and documents.
12. Logitech MX Vertical Ergonomic Mouse
It is better to add an ergonomic mouse to your tech desk setup as it makes it easier for you to run your tasks smoothly. The Logitech MX Vertical Ergonomic Mouse is a unique tech desk accessory that you can think of adding to your ultimate desk setup. This mouse does not look like any traditional mouse, as it makes you keep your hand in a natural handshake position that is more comforting.
13. Dyson Pure Cool Fans
Working longer hours strenuously while sitting in a less ventilated room can be too hectic for you as a worker. These tech desk accessories can even make you feel fatigued and eventually less productive during your work hours. Getting a source of cool breeze in your workplace can be a good choice.
Dyson Pure Cool Fans are unobtrusive calming fans that you can add to your tech desk setup to have a great experience. These bladeless fans are not noisy at all, so you have a peaceful work experience.
14. Apple MacBook Pro
Adding an Apple MacBook Pro can be a great addition to your tech desk setup. Apple MacBook Pro is the ideal option for the tech-savvies among you who are looking for a sleek processing unit to run their tasks smoothly. With its 2.6GHz 6-core 8th generation intel core processor and a turbo boost up to 4.3GHz, this laptop can help you achieve more at your workplace.
15. Multiple Monitors
Having more screens is always a unique addition to your tech office desk accessories, as shifting windows and monitoring tasks get easier in this way. So, to achieve that, you can think of adding multiple monitors and run your tasks smoothly and efficiently.
16. Desk Clamp Power Outlet
A desk clamp power outlet can help you get a more accessible power outlet to connect your monitor or laptop charger. Thus, helps you save time and have everything within your arm's reach. Desk clamp power outlets have multiple ports, so you can connect multiple devices at a time.
17. Cable Tray
Having several cables lingering on your desk only adds clutter in your workspace. No one likes that, as that affects the way you think and makes you more frustrated. A cable tray is one of the best tech desk accessories that you can get to avoid this.
The cable tray allows you to keep all cables aligned in a particular compartment that you may attach under your desk to remove clutter. This desk accessory is ideal for those office workers who like having a minimalist tech desk setup. Well, then that means it is ideal for every office worker.
18.  3D Printer
In modern offices, making models has become way easier than you think. All you will need is a 3D printer installed on your desk to get your latest designed prototypes printed for your next presentation.
19. Air Purifier
It is one of the most crucial tech desk accessories in your workstation. Ensuring an office worker's health is important. There might be some toxic gases in your work environment, so getting an air purifier for your tech desk setup is a great idea. This desk accessory filters air that you breathe, hence helps you have a clean breathing and overall better working experience. It makes a safe work space for your office.
20. Solar Window Charger
If your desk is next to a window, getting a solar window charger for your mobile phone can be a great idea. In this way, you will not only cut down your power use but also have more space to work on your desk.
21. Norton Core Router
Getting a suitable internet connection is the need of the hour when you are working in an office, as you have to manage various tasks online. It is one of the best high tech desk accessories. For managing such tasks, a dedicated Wi-Fi router is all that you need.
The Norton Core router is possibly the best one in this regard, as it offers you a secure Wi-Fi connection. This router is resistant to common malware like VPNFilter, so your entire team will be able to have a smooth work experience. Overall, Norton Core is continually working to block any threats and has blocked more than 70 million malware threats to date.
Wrapping It Up
By now, you have an idea of the tech desk accessories that can help you have a better work experience at a modern office. We shared some of the most high-tech desk accessories, but their list is expanding every day.
Since everyone is not tech-savvy, some workers will need some training at the beginning to learn how to use certain smart office accessories, such as the 3D printer that we shared. So, you must keep a keen check on that. Once you add such tech office desk accessories, working becomes more interactive and fun. As a result, you can significantly feel a boost in your productivity at your modern office.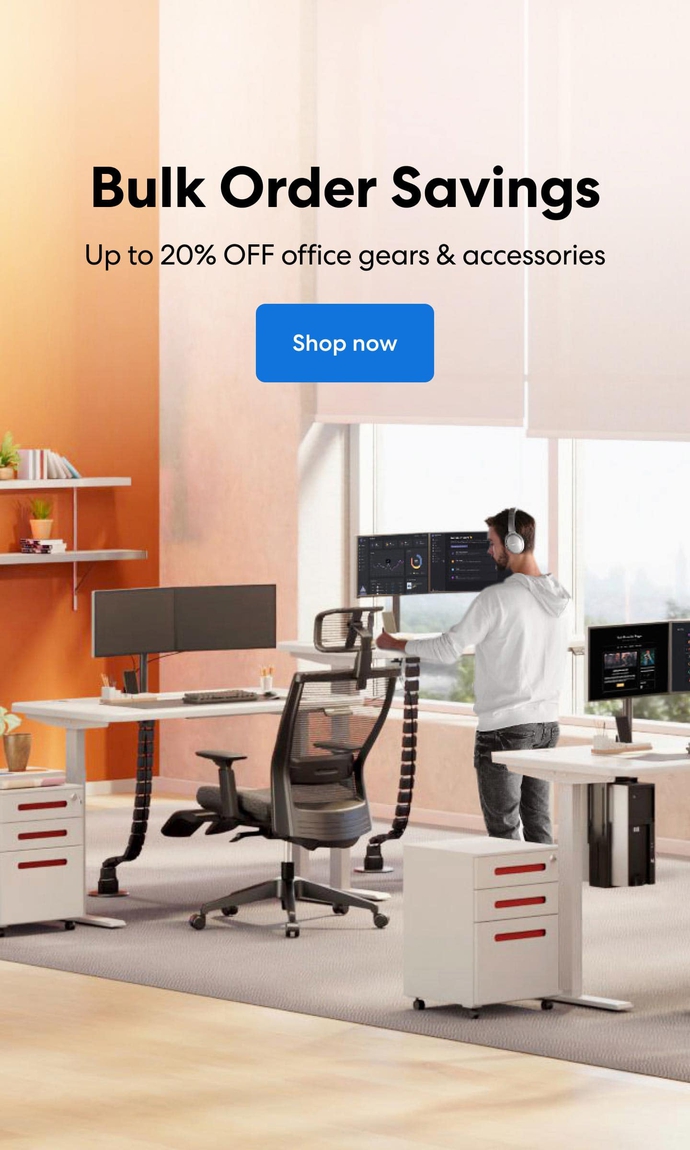 Subcribe newsletter and get $100 OFF.
Receive product updates, special offers, ergo tips, and inspiration form our team.