There are many items and office tools that help office workers improve their work quality by creating a comfortable work environment for them to work in. One of the best alternatives you can choose when purchasing that kind of item is a three monitor standing desk since it lets you have all the information you need to work at hand.
Ergonomic desks are a must when talking about ergonomic products since they allow you to work in different positions, which helps you be more creative and prevents back pain. The reason why standing desks helps you avoid back pain is that using standard office items for long periods.  is detrimental to your posture and back health, so having a desk that allows you to work while standing is optimal for office workers.
You can also boost these desks' perks by purchasing an ergonomic chair along with them since they fit perfectly with standing chairs and give you all the back support you need to keep working all day with no worries. Regardless of that, it's essential to know which desk is best for you and your workstation, so keep reading this article to know the three best standing desks for multiple monitors.
Why Choose a Three Monitors Setup
Organizing a multi monitors desk setup is not so common among office and remote workers, but doing so provides workers with numerous benefits. Some people think that you need an outrageous amount of money to purchase all those three monitor standing desks, but it's an excellent investment in the long run because of the productivity boost it gives you and how it improves your overall work quality.
You must consider some things before you decide to go for this kind of setup with three monitor sit-stand desks, though. It's essential to adapt your office items to your workspace and personal needs, not to forget your budget at the moment. We want you to think this thoroughly, so here are the pros and cons of choosing a triple monitors desk setup:
Pros and Cons of Three Monitors Setup
Pros of Three Monitors Setup
It increases your productivity by allowing you to use many applications simultaneously.
It works well with laptops.
It's great for remote working since you can video-chat with one monitor while working with the others.
It makes sharing information between different devices easier.
It allows you to check social media in one monitor and work in the other if your job requires you to.
You can multitask.
Cons of Three Monitors Setup
You need more space.
It's easier to get distracted.
What Are the Benefits of Using Standing Desks?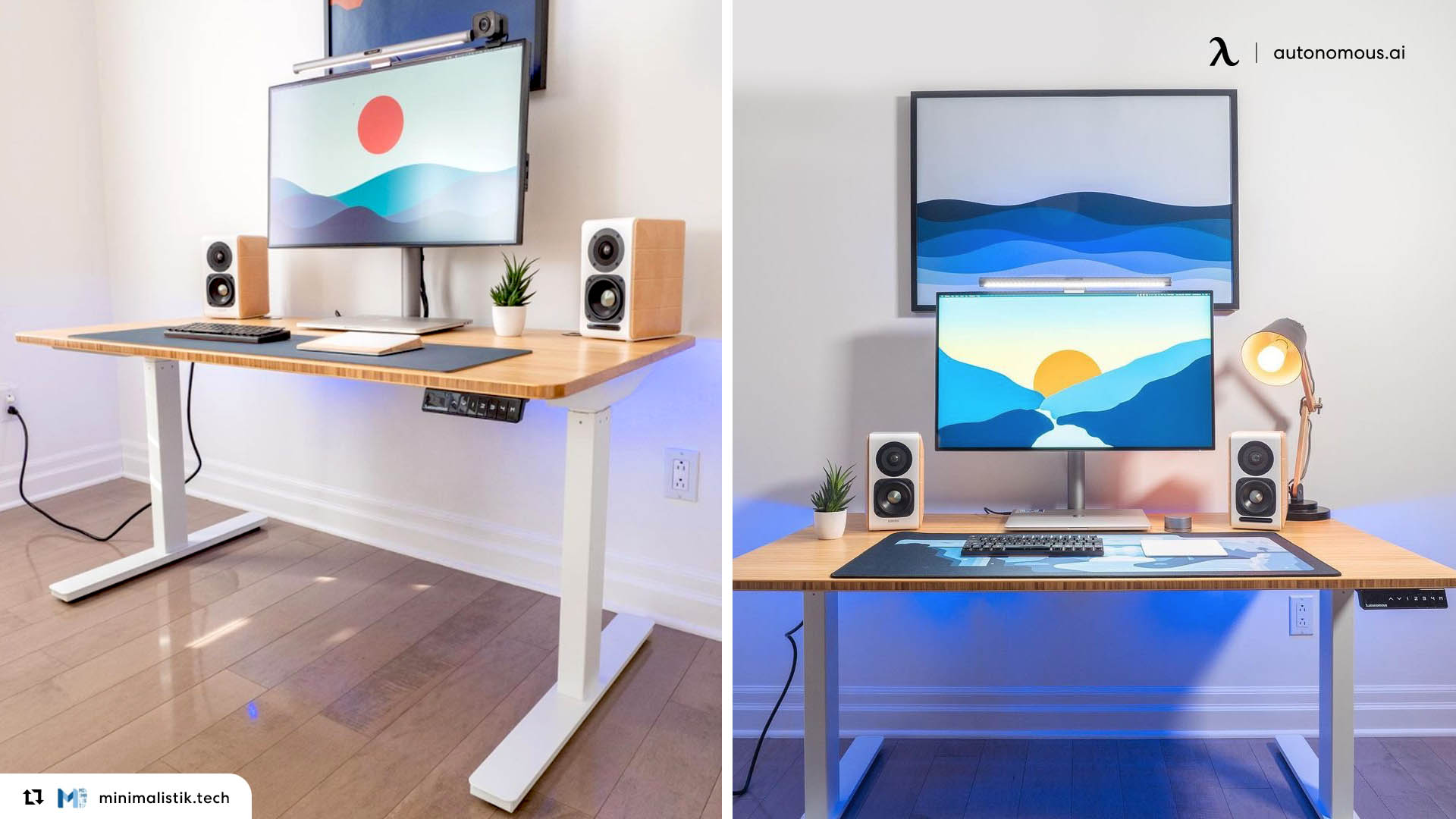 Now that you know the perks of using three monitors, you must acknowledge the benefits of standing desks before purchasing it for your office. As we mentioned before, these desks are excellent if you want to improve your productivity and work performance, but there's more to it since their features are what makes them so desirable for office workers.
Standing desks for multi monitors are more expensive than standard desks, but that's because using traditional desks progressively harms your back health and lowers your productivity, so it's only natural that a desk that addresses those issues costs more than them. However, to help you understand this matter, here are the main advantages of using standing desks:
They Promote Mental Health
Sitting for long periods jeopardizes both your physical and mental health, lowering your productivity levels and work performance. That happens because being in an uncomfortable position makes your brain feel uncomfortable while working, causing mental exhaustion and worsening your mood. However, standing desks can solve that problem.
While sitting in an uncomfortable position causes significant damage to your physical and mental health, being comfortable makes your brain more active while working and boosts your creativity. That's because, by doing that, you are letting your brain know that working represents a pleasant and comfortable sensation, improving your daily mood and making you less stressed when issues and setbacks occur.
They Reduce Back Pain
Many office workers have a bad posture because they tend to lean forward, and some of them don't have ergonomic chairs and desks that support their back. You should do something to correct your posture since that issue produces other health problems such as back pain, neck pain, and others.
Back pain is a common problem among people who work for many hours, so the best they can do is invest in a standing desk that reduces back pain and corrects their posture. Standing desks do that by letting you work while standing, which makes your back stay in an ideal position that avoids any issue that could cause you any pain.  
You Can Adjust Them to Meet your Needs
Ergonomic products are known for having a decent range of adjustments, so you don't have to worry about looking for a desk that fits your body characteristics since you can customize them to address all your needs. When it comes to standing desks, the primary adjustment you can make is its height, so you can set the desk higher or lower whenever you want.
These chairs are practical for office workers since they don't take as much space from your office as traditional desks while having a minimalist office design that tends to fit with most aesthetics. Modern standing desks even let you adjust their height with just pressing one button, so it can go up or down without damaging anything or the risk of your computer or other items falling.
What to Look for In Standing Desks?
You need to know what you need to look for in a three monitor standing desk before you buy one, avoiding picking a desk that doesn't meet all your needs. All standing desks on the market are different from each other, each one of them offering specific features that make them more desirable depending on your personal choice. However, there are some functions that every standing desk should have to be considered a proper one.
The primary feature of standing desks is, as their name suggests, letting you adjust it to work while standing with no problem. Working in a standing position is ideal for your back since it prevents your body from leaning too forward or back, so you don't have to worry about back pain and neck pain anymore.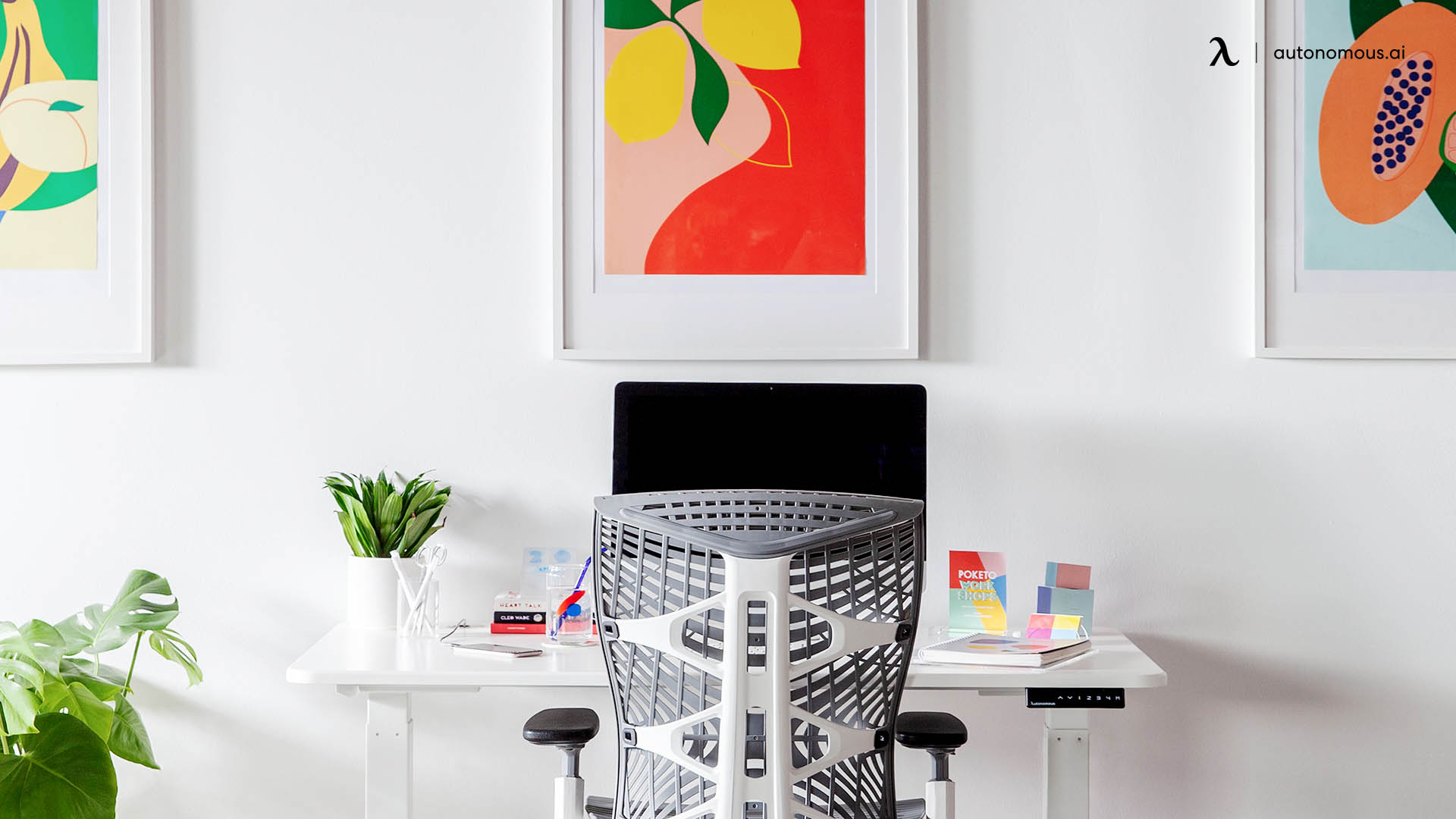 Apart from that, you should choose a three monitor sit-stand desks that you know it's resistant and durable to prevent replacing them after a short time. Most standing chairs are made with heavy-duty materials that make them optimal for working for extended periods, so you shouldn't go for a chair that doesn't have that.
Aesthetics are also important, so try choosing a standing desk for a multi monitor that fits perfectly with your office's aesthetic without looking off. It's essential that you like your workplace, so don't ignore that matter and take time to analyze the color options available for each desk.
3 Best Standing Desks for Three Monitors Usage
There are many ergonomic desks on the market, but if you want to be as comfortable as you can while working, you need to look for the best standing desk for a triple monitor you can find. However, each desk is different from the others, so you also have to consider which aspects you like the most about each desk and pick the one that best suits your office.
That being said, we want you to have the best experience you can have while working, so here is a list of the best standing desks for triple monitors. All desks in this list are high-quality desks, so don't hesitate to pick the one you like best.
1. Autonomous SmartDesk 2 Premium
If you are looking for a stable standing desk that has all the primary features every ergonomic desk should have and even more functional perks, the Autonomous SmartDesk 2 Premium is what you're looking for. This desk by Autonomous has a practical design with a motorized height adjustment feature that allows you to quietly adjust your desk's height in just seconds, saving time and boosting productivity.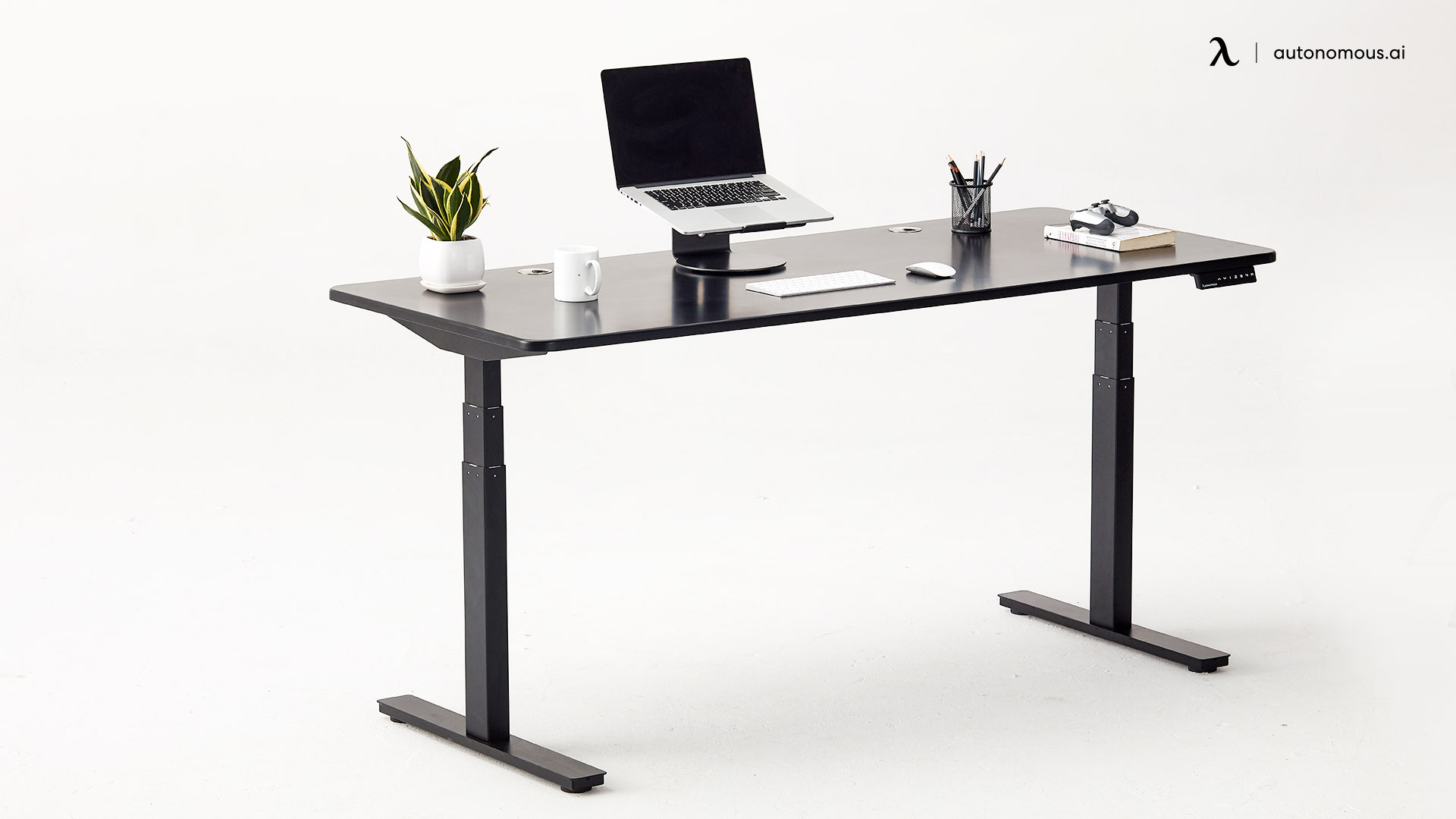 This three monitor sit-stand desks is made with sturdy materials that make it durable, so you don't have to worry about the desk's quality decreasing or deteriorating after a time. Since this desk is a three-monitor standing desk, it has enough space for you to put anything you want on it with no problem. The Premium desk also has a dual-motor steel frame that allows you to lift up to 300lbs, so don't worry about the desk being unable to carry your items.
Aesthetics are also an important matter when deciding which chair to choose for your workstation, but fortunately, this Autonomous desk shines for that too! The Premium desk offers a minimalist design with calm color choices that help you focus and stay relaxed while working and don't look off to your office aesthetic.
2. Autonomous SmartDesk 2 - Home Office
This three monitor standing desk is one of the most resistant on the list due to the heavy-duty materials used to make it, allowing its user to work for extended periods with no harm to your back or mental health. The Autonomous SmartDesk 2 Home Office is optimal for remote workers since it provides the comfort and energy every worker needs to work for hours regardless of the place they are working at.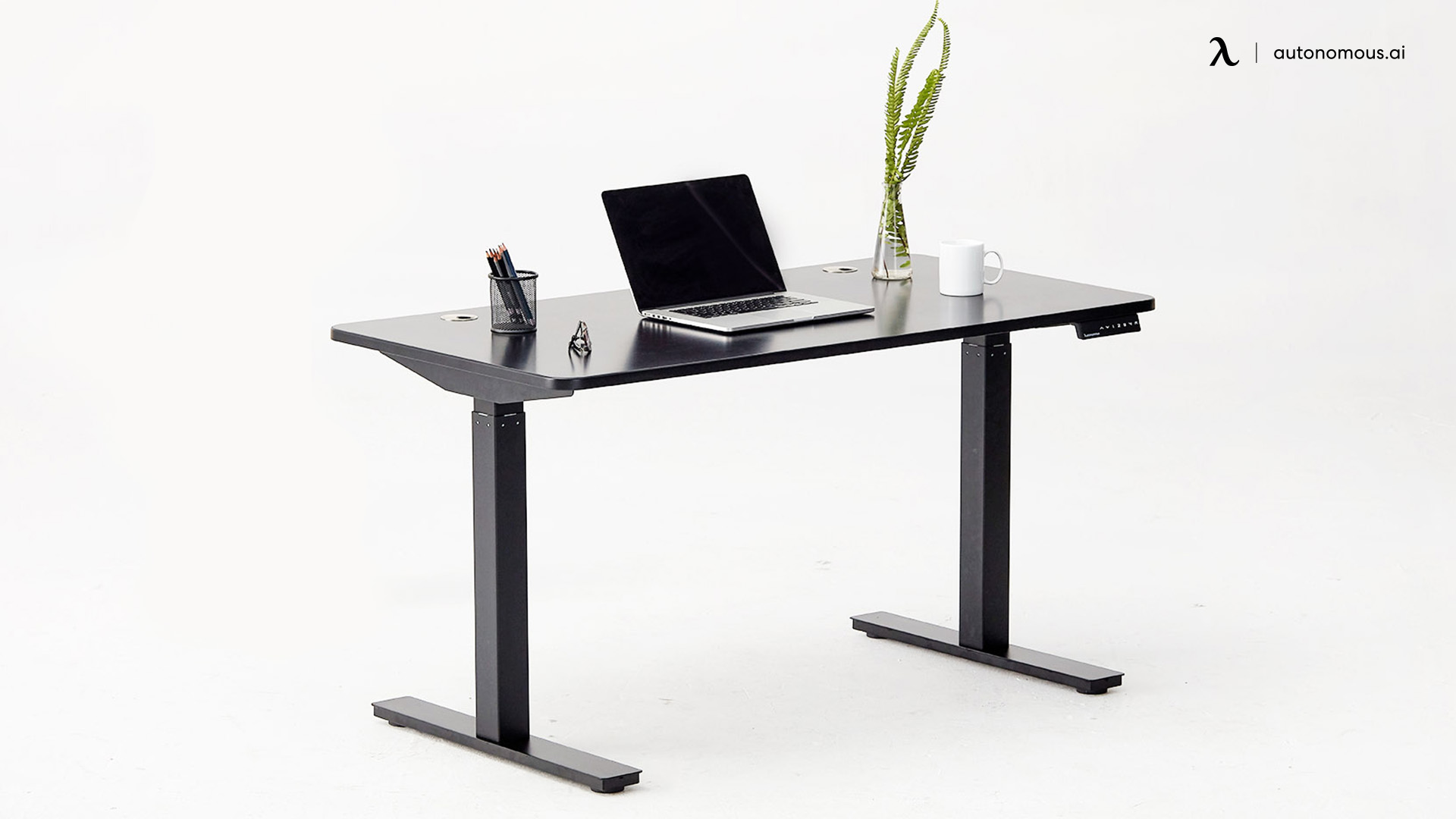 This desk is also aesthetically friendly since it's crafted with the finest materials and available for you to choose the color that best fits your office. The SmartDesk 2 offers a stylish design with outstanding utility that makes you want to go to work every day just to work with it and the smart office accessories you combined it with.
We recommend you to go for this Autonomous desk if you need a standing desk that you can easily set up in any place you need it to with no trouble. You can consider the SmartDesk2 one of the best standing desks for multi monitors on the market due to the comfort they provide to the user regarding working with that many monitors in one place, so don't worry about your setup looking off.
3. Autonomous L-Shaped Smart Desk
Getting to the end of this three monitor sit-stand desks list, we have the Autonomous L-shaped Smart Desk, a three-monitor standing desk that offers an innovative design meant to boost productivity and make multitasking way easier than it was before. As its name suggests, this desk is L-shaped, which means you have two different places to organize your working gear, allowing you to optimize your working space.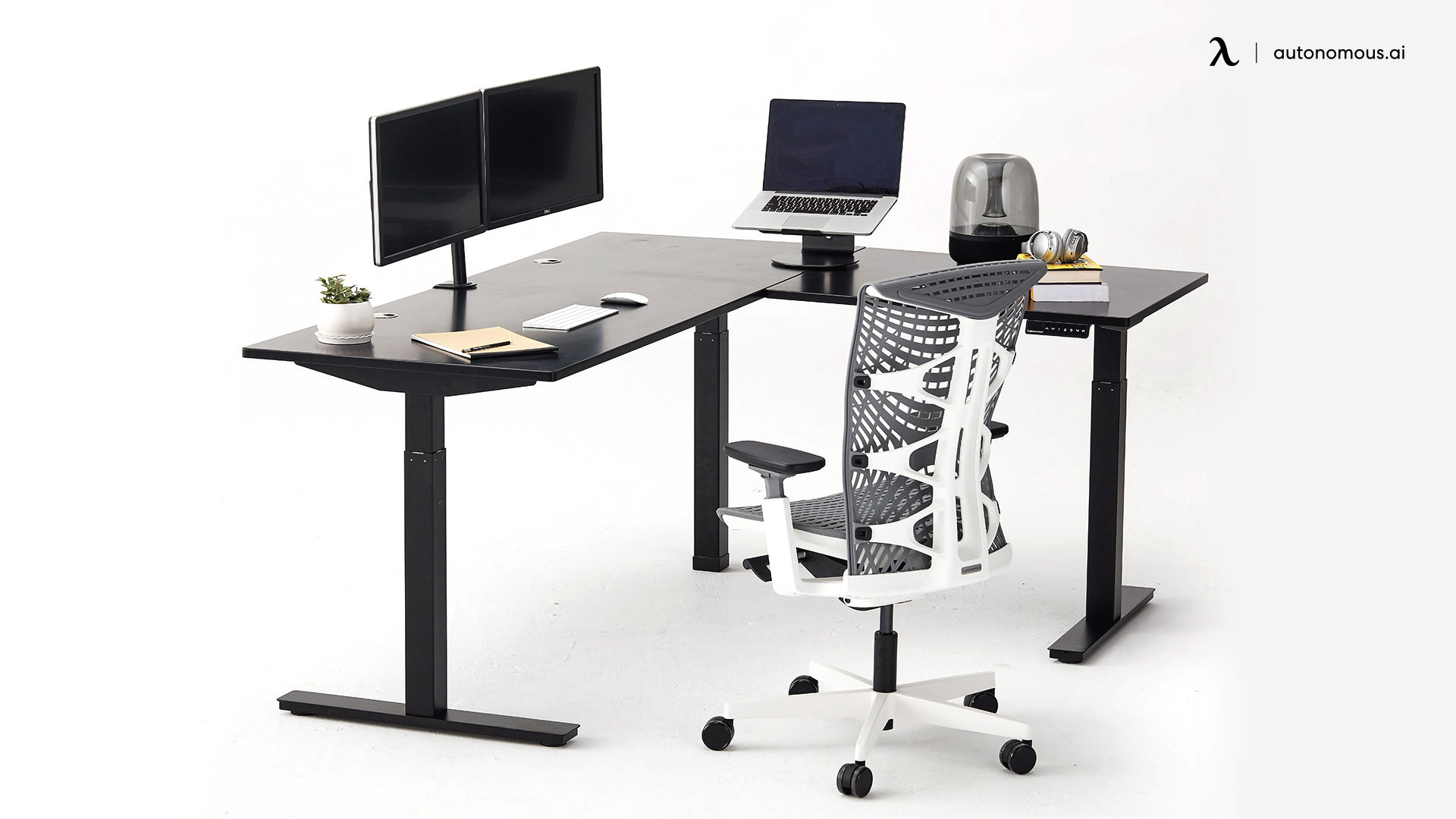 The stunning design of the L-shaped SmartDesk makes working an exciting activity that you look forward to doing every day due to the comfort it provides you. This desk is a top choice if you need to work from home and have children since it has rounded corners that make your children completely safe while playing or doing other activities around your ergonomic workstation.
Lifting weight is not a problem with this three monitor standing desk because of the robust triple motor system that allows you to carry up to 330lbs while being able to glide up or down without making any noise. You can organize your l-shaped desk in many ways, the most recommendable one is organizing all your working gear on one side of the desk and items to take notes and do other activities on the other. There are endless possibilities, so don't hesitate to give it a try!
Bottom Line
Purchasing a three monitor standing desk is a must for office workers if they want to do the best job they can while taking care of their physical and mental health. The benefits these desks offer to their users are groundbreaking, so every office worker should have one of those at their offices.
With the current pandemic, remote working is getting more popular among many companies, so it's crucial to be ready for anything and buy the items we need to work from home. Doing that is an excellent investment since you can use those items even if you don't work from home, and that's because they are not difficult to move around.
Even if you don't need to work from home or already have a functional desk in your office, you can use three monitor standing desks to address numerous situations because of the flexibility the desks provide when you use them. That allows you to choose between working while standing or just adjusting your desk to reach your chair's height.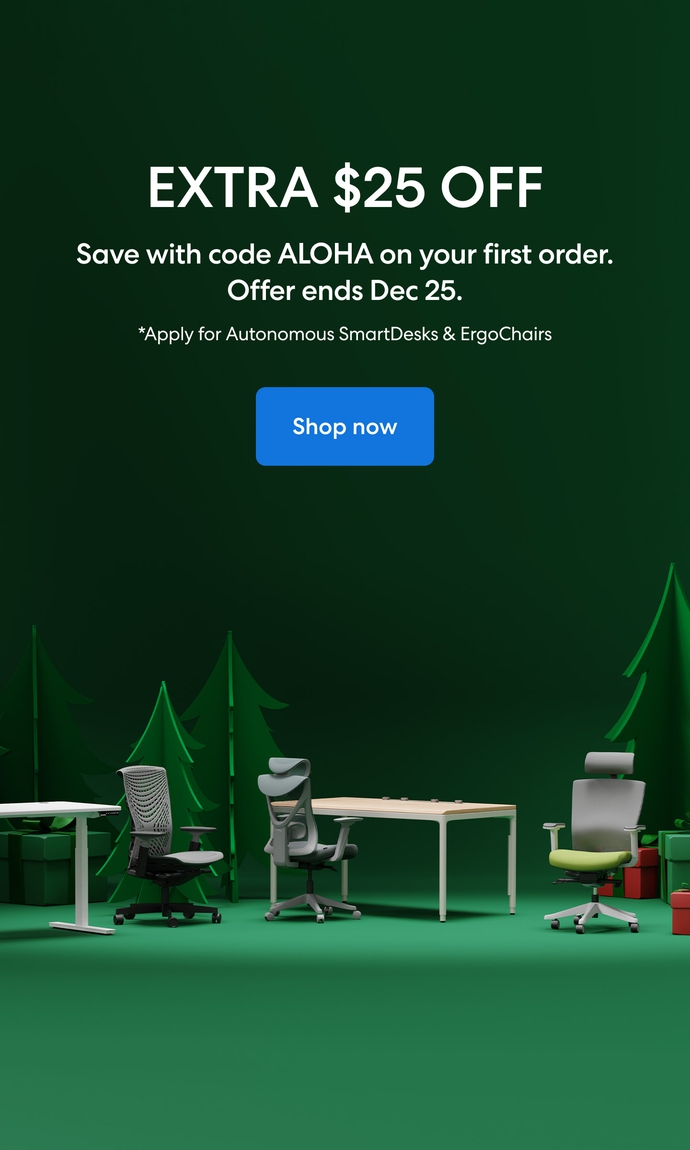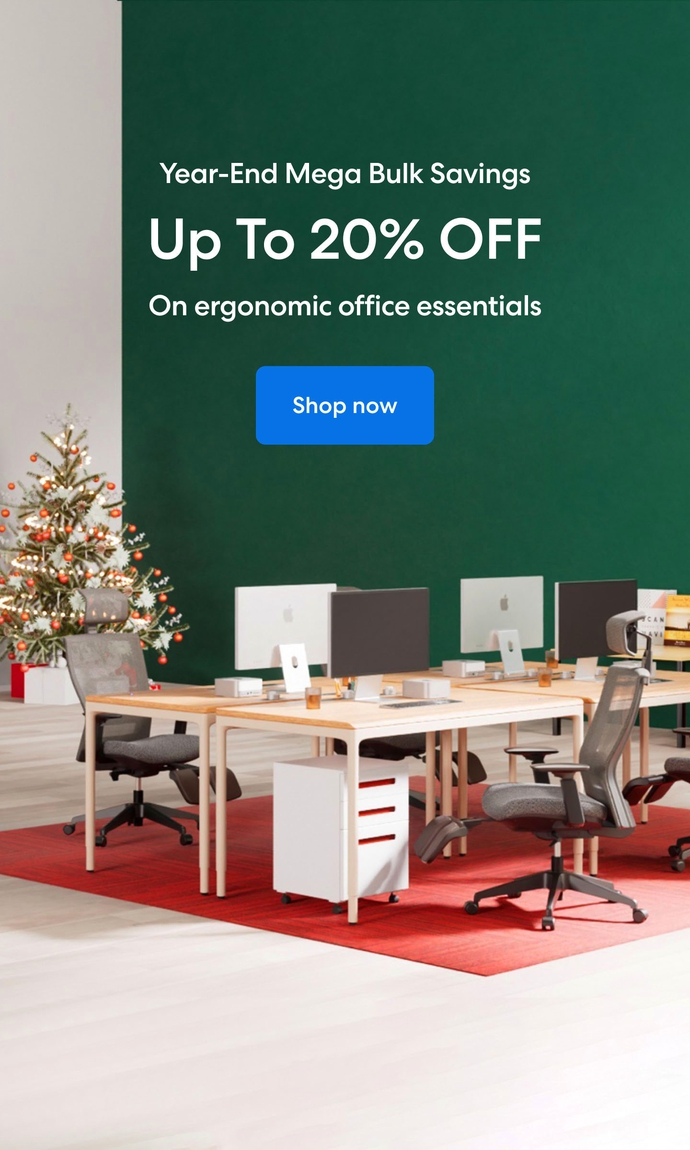 Subcribe newsletter and get $100 OFF.
Receive product updates, special offers, ergo tips, and inspiration form our team.