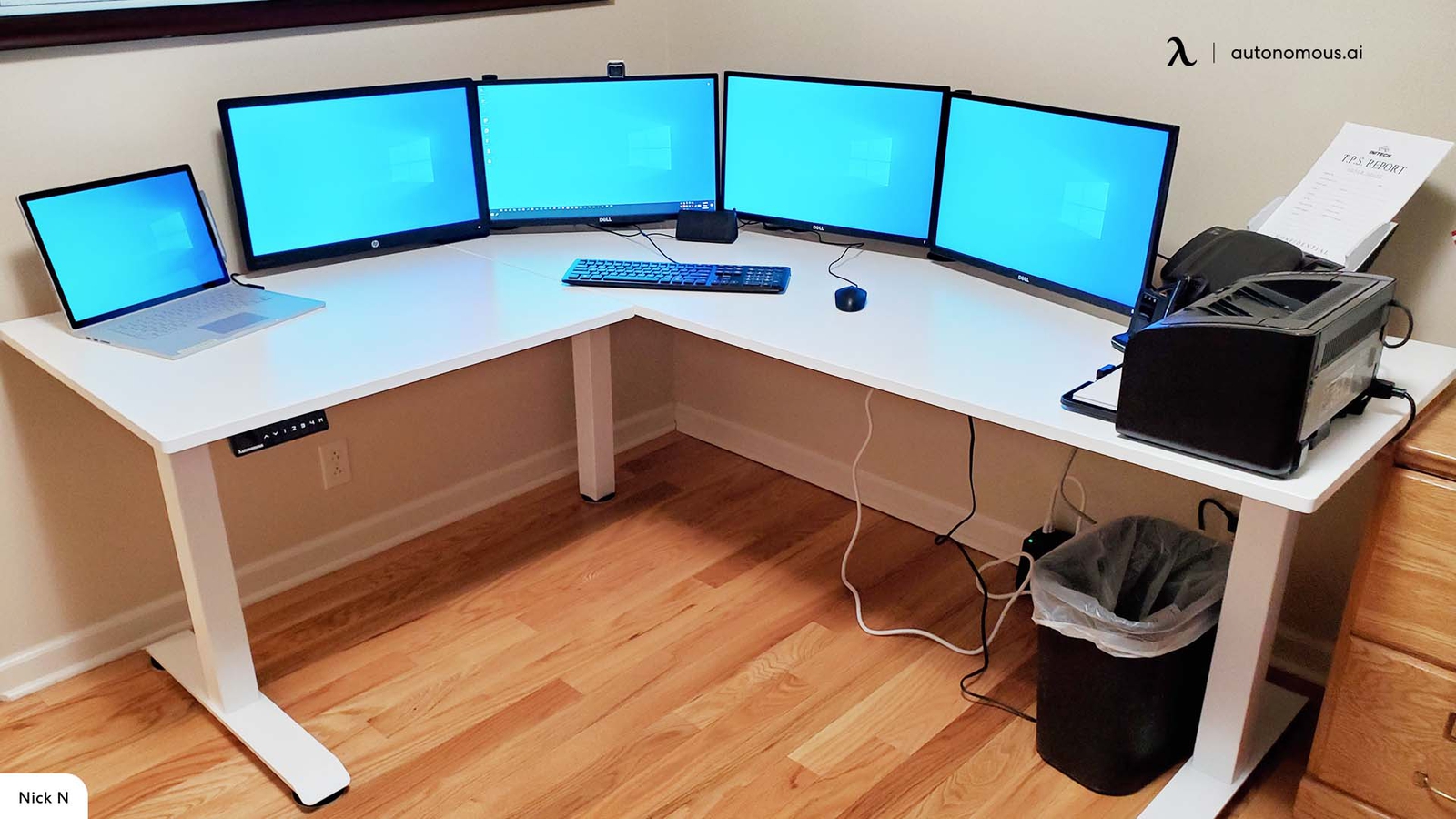 Workplace Inspiration
How to Make Quad Monitor Setup (A Complete Guide)

Autonomous
|
Dec 4, 2021
13,530 Views
In these times, owning multiple monitors has become the norm for home-office workers and gamers worldwide. Using just one monitor isn't enough to have a comfortable view and get the best out of our setup. However, have you ever wondered how many monitors work the best? 
We've figured that monitors' sweet spot is four. Having a quad monitor setup can look very well in your gaming room; it may also allow you to appreciate better graphics and have more control during your gaming session. Regardless, it's no easy task to set up and take care of a quadruple monitor setup. Hence, we created a simple step-by-step guide for you to get the quad display setup of your dreams. 
Pros & Cons of Quad Monitor Setups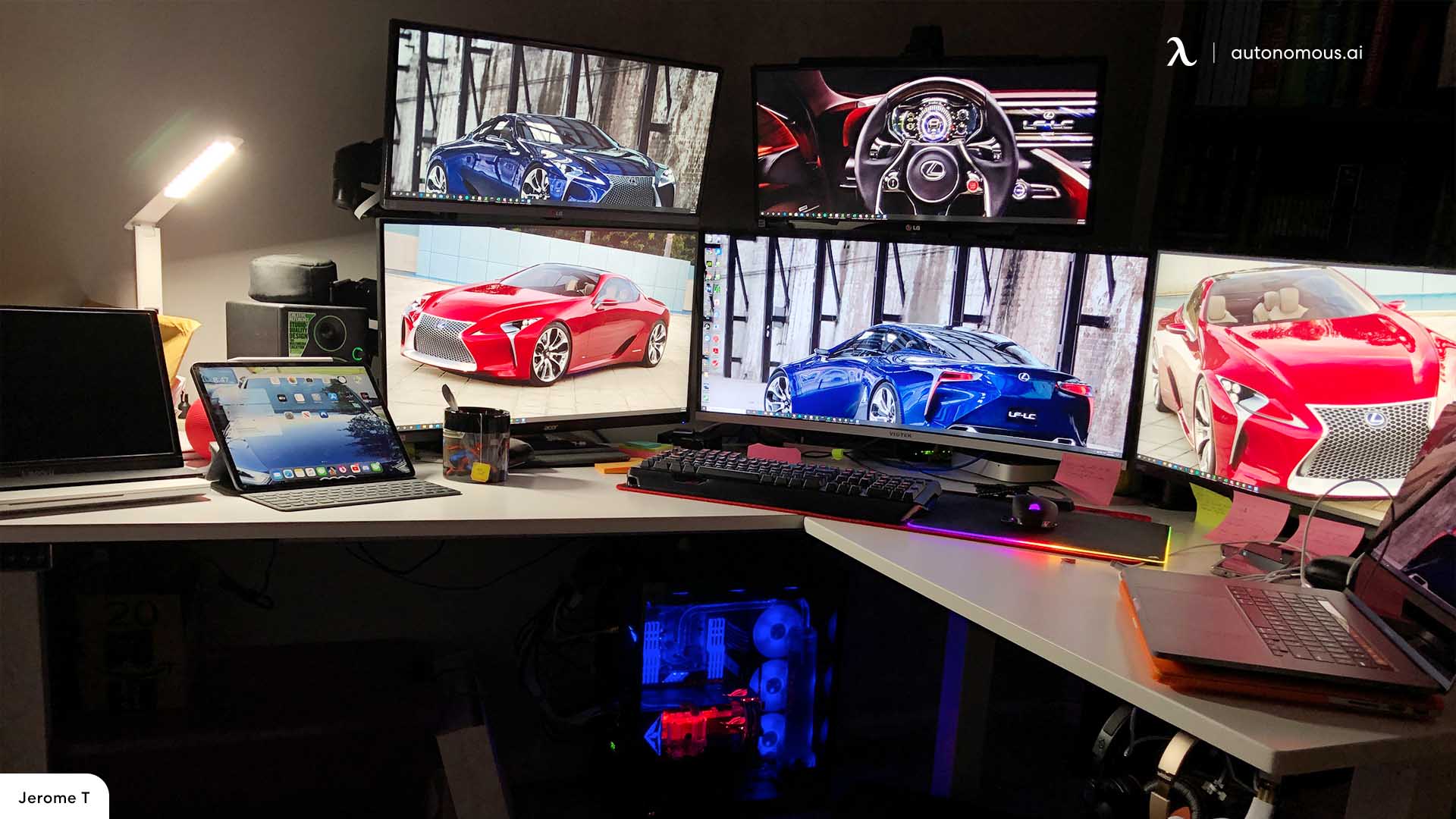 Before setting up our monitors, there are some things you might haven't considered about these kinds of layouts. Read this list thoroughly to help you decide whether you should get one or not. 
Pros of Quad Monitor Setups
Multitasking becomes easier. Since you have four monitors to work with, you can divide them and work on several tasks distributed among the four of them.
Efficiency. This aspect is tied to the last perk but having four monitors allows you to switch from one program to another without too much fuss.
There's more information available. Quad monitors setups aren't only suitable for gamers, but they can also make your life a lot easier if you work in fields like journalism and programming, where you are going to need access to a lot of information at all times.
Better game immersion. With four monitors, you have four times more of a fantastic experience while gaming, allowing you to see graphs that not even the widest of gaming monitors can offer by themselves.

It looks amazing. Who are we kidding? The way it looks is a huge reason for getting a quad monitor setup. Its aesthetic is a fantastic centerpiece for any gaming room. 
Cons of Quad Monitor Setups
Eye strain. If sitting in front of a monitor for too long can be exhausting for your eyesight, imagine what four of them can do to you. In order to prevent this, remember to take frequent breaks in between work or gaming sessions.
Less focus. It does make it easier to multitask, but this leads to a higher chance of getting distracted and ultimately taking a toll on your productivity. Things like reading and detailing specific items on your screen can become complicated. Our recommendation is to practice deep focus to prevent this.
It needs a lot more power to work. First of all, not all CPUs support four monitors, and even if they do, it is going to consume a lot of energy and need a higher GPU to work. This also can create much more heat than your typical quadruple monitor setup.
You can lose your cursor. With such a vast space to work, your regular white cursor can get lost between the monitors, though you can solve this by using a personalized pointer.
It's way more expensive. It's no secret that having a quad monitor setup may cost more than a regular one, but it's still something to keep in mind if you're working with a tight budget. 
Step by Step Guide to Install a Quad Monitor Setup
Multiple monitors are an excellent way to upgrade your quadruple monitor setup, whether you want to enhance your productivity or make your gaming room look as cool as the ones you see on YouTube. If you have already decided to take this step and have been through the basic knowledge about four monitor setups: let's get handy and start with step one. 
Step 1: The Desk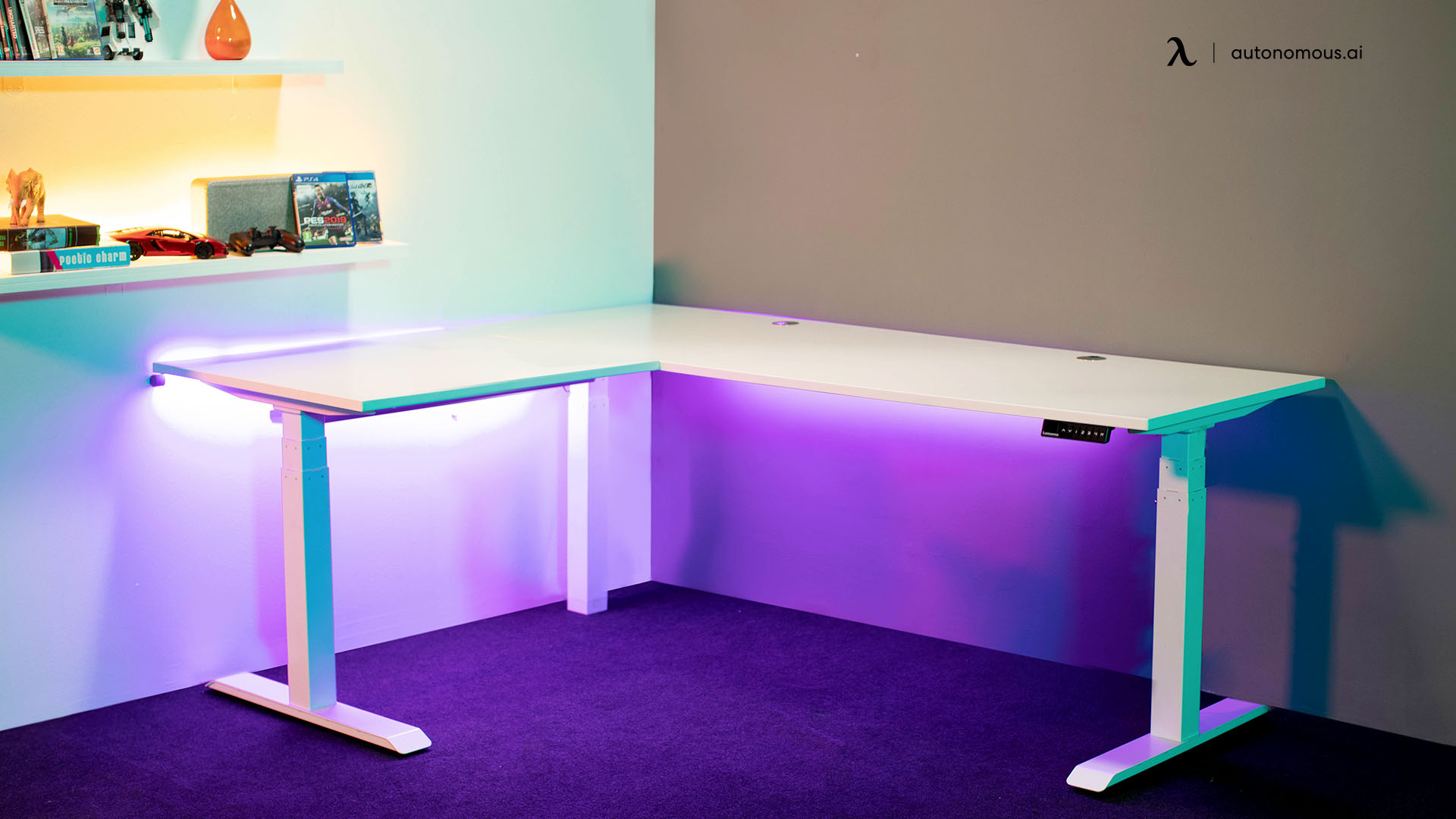 Buying four monitors is a waste of time if your desk isn't appropriately built to endure them. Hence, the first step is finding an adequate desk for your needs. Some of the things you must keep in mind for choosing one are:
Available space
You need to think about how much space is open in your room to find a suitable desk for you. If this isn't a problem, then a regular home office standing desk might work for you, but if you're struggling with this, an L-shaped one that you can fit into a corner is your best option.
The positioning
Do you prefer it to be in the center of the room? Perhaps in a corner? Make sure you're finding one that maximizes your space and gives you enough area to place your four monitors and all the extra gaming gear.
Your style
Owning a desk is a long-term commitment. You're going to spend a lot of time with it, so the safest best you can make is getting one that blends in with your room's aesthetic and your unique style.
The rest of your setup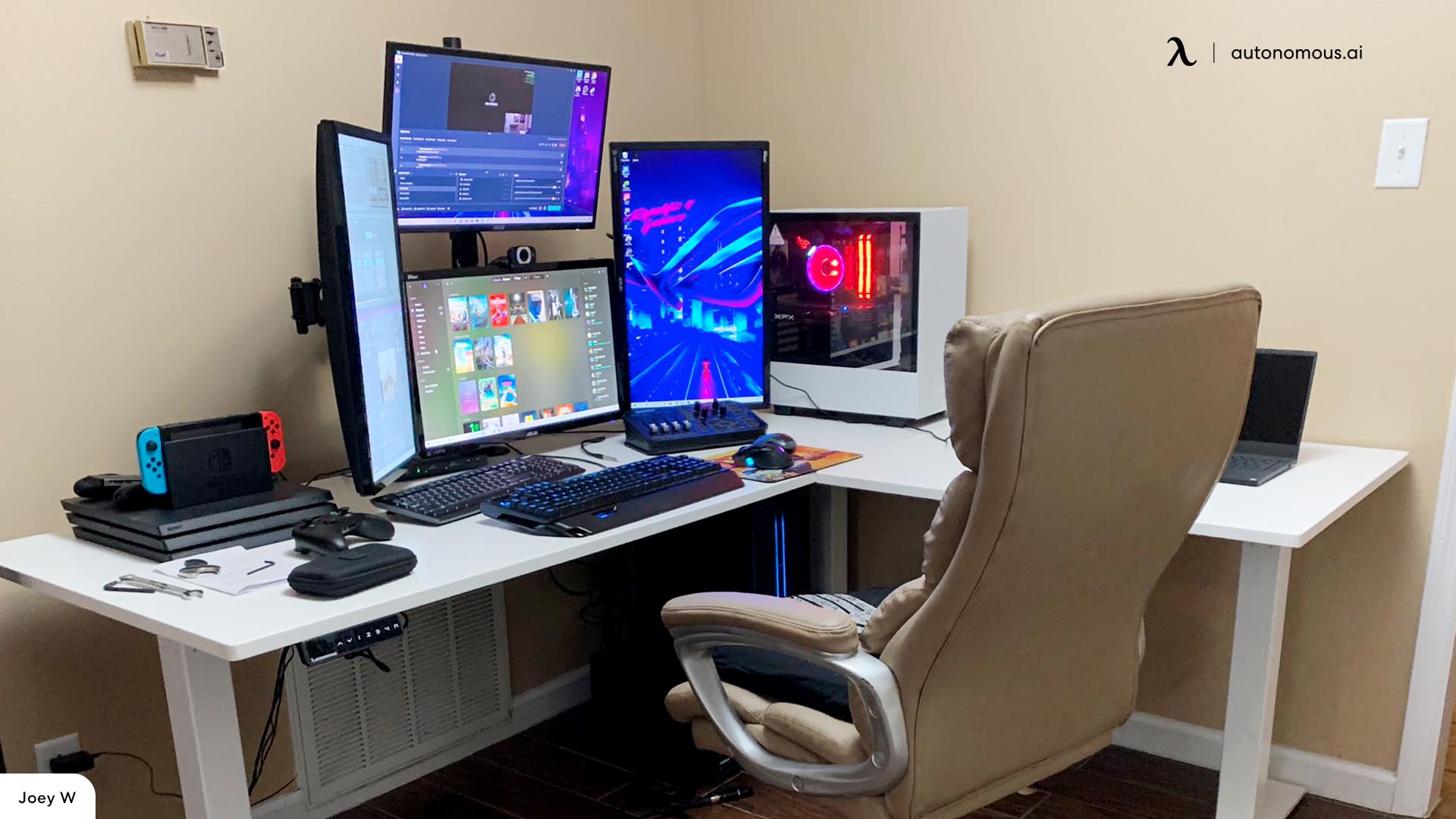 Four monitor setup is just the tip of the iceberg of your whole gaming setup, and you must keep in mind all the rest of the gear when finding a table. This way, you can make sure it's strong enough to support everything you need.
Your habits
They condition all the extra gadgets that your desk may need, for example: if you're using your computer to work or study, you may need space for any additional books or paperwork; meanwhile, if you're going to be sitting there for hours on end, a good addition might be a cup holder to keep you refreshed.
Your budget
Gaming desks come at all prices, but if you want a durable one, we recommend you to invest in a good-quality desk that can last you for years and isn't going to risk any of your gear. If you can manage to do this while being cost-effective, you have found the best desk for you! 
Our recommendations for gaming desks are the Autonomous SmartDesk Pro and the Autonomous SmartDesk Corner. Both of these sit and stand desks have what's needed to get the best of your gaming setup. They've been designed for optimal performance and long-term duration, with international certifications that make them your best desk choice. 
Step 2: The Monitor Stand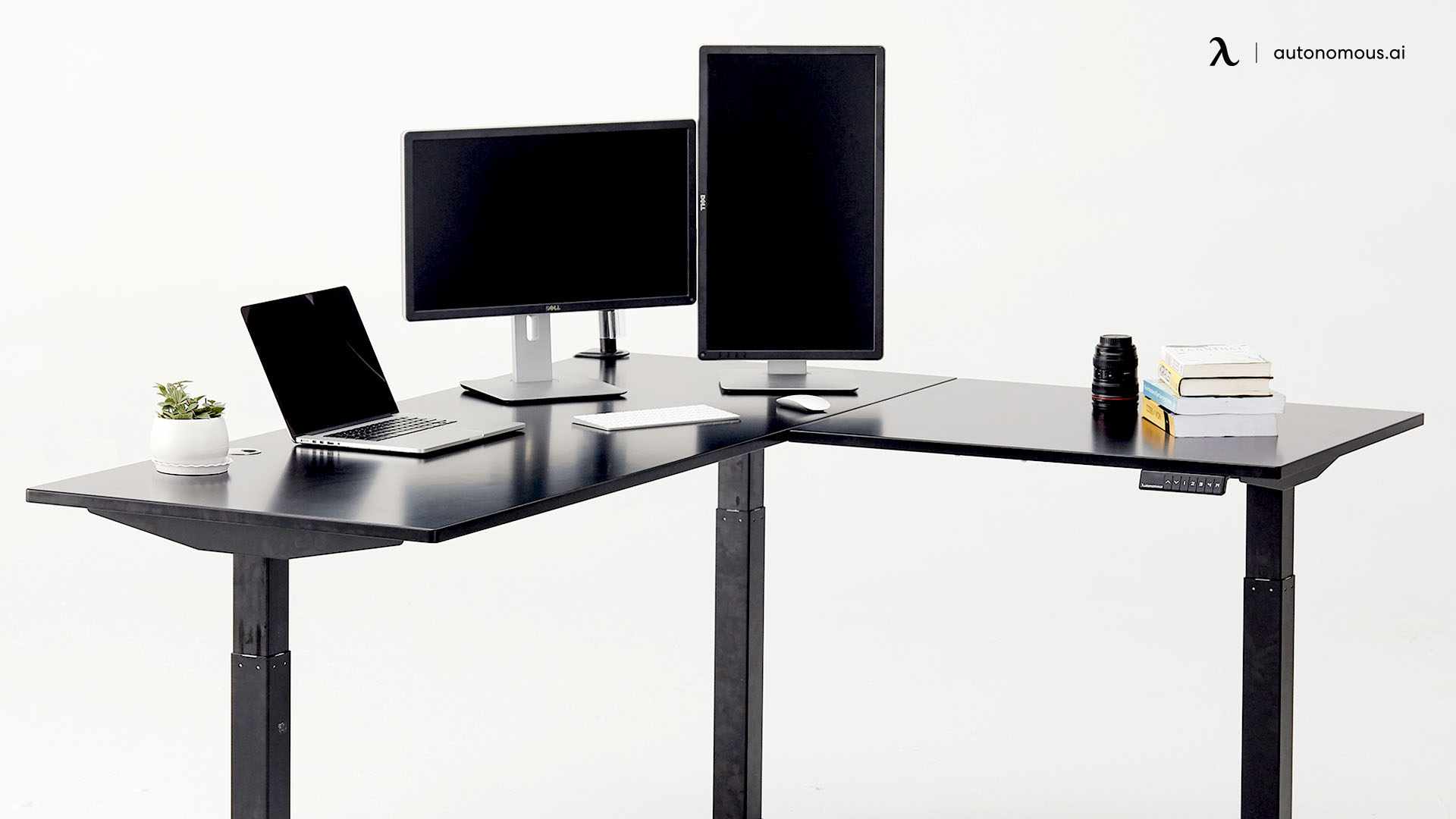 Having your four monitor setup scattered over your desk isn't just a very poor usage of space, but it may also make your whole set look messy and with poor cable management. Hence the importance of having a monitor stand, maybe quad monitor mount, that brings everything together and makes your setup look cohesive and neat. 
When dealing with four monitors, you have two options to pick from: a quad monitor mount or stand and two dual monitor stands. Quad monitor stands allow you to set everything together in the middle of the desk; meanwhile, double monitor stands give you more freedom of placement. With these, you can place two pairs of monitors together or a bit more separated from each other. 
Our best recommendation is one of the Autonomous Monitor Arms from our office accessories section. However, we also gathered some key points you should check when buying a monitor stand for your gaming 4 monitor setup.
Your monitor's specifications. Not every stand is going to work for your screens since they need to be specially made for their specifications, especially their size, model, and weight. If the stand fails to meet these needs, it might break under its weight.
The whole pattern. This is the VESA pattern at the back of your monitor; it's what allows it to stick to the stand. It should fit perfectly; otherwise, you aren't going to be able to get it up.
Its adjustability. Most monitor arms can adjust themselves to any position you want them to, but some are more flexible than others. Find one that allows you to place your monitors in a comfortable and ergonomic position.
The cable management. Nobody wants poor cable management, and four monitors are going to have a lot of wires hanging around. The least you can do is find a stand with a system that allows you to set everything as clutter-less as possible. 
Step 3: The Monitors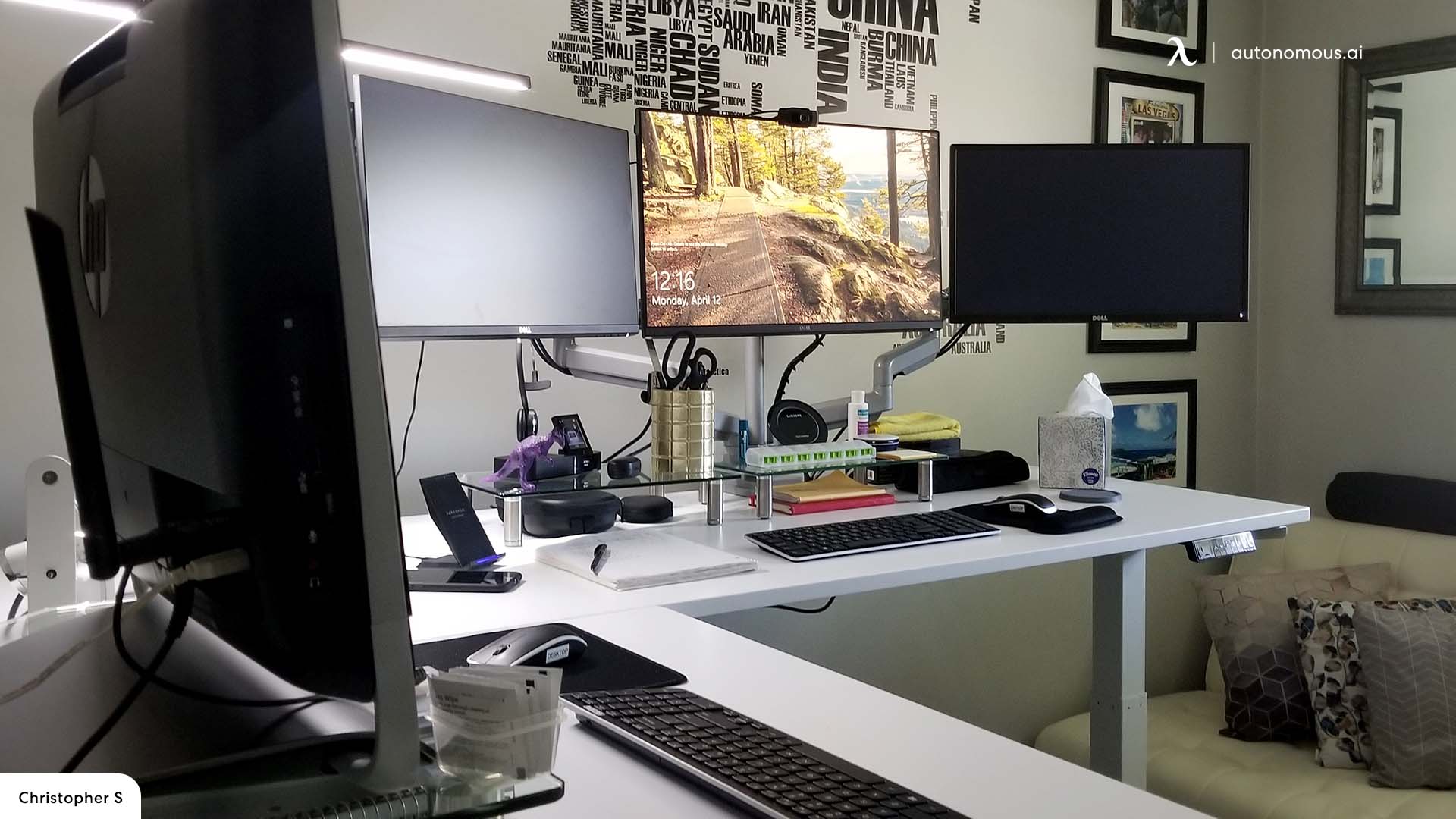 This is the moment that you've been waiting for - choosing the right monitors for your quad monitor setup. You most likely already have at least one monitor but do yourself a favor and take some time to review if it's suitable for adding another three. It might have some dislikable characteristics like being too chunky or straining your eyes a little too much. 
If you decide to keep it, you have to learn its characteristics by heart because they must match the new ones you're going to buy. If you prefer to replace it, here are some things to keep in mind when purchasing monitors for quad display setups. 
Workspace layout and displace size. First of all, you have to measure how much space you're working with. You don't want to end up with screens way too big for your room; this may result in you not being able to adjust them around or them not fitting altogether.
Micro-edge display options. Having the regular amount of not usable screen space in multiple monitors setup can be highly distracting and ruin the whole experience. This is why you should always check your screens have this option to hide their edges and ensure a smooth transition from screen to screen.
Make sure they feature low blue light and ergonomic options. Your health and well-being aren't a joke or something that should be ignored. These features are crucial if you plan to incorporate any monitors into your daily gaming or working routine. Future you are going to be thankful for that.
Compatibility and mounting. Just as we mentioned when choosing the suitable monitor stand, these two have to match adequately in order to maintain everything in place. Additionally, make sure the monitors are compatible with each other and your PC has enough power to feed four monitors steadily.
Match their decor. This might sound a little superficial but having different-looking monitors can be very distracting in the long term, and we want to ensure an immersive and smooth experience. 
Step 4: Connecting the Monitors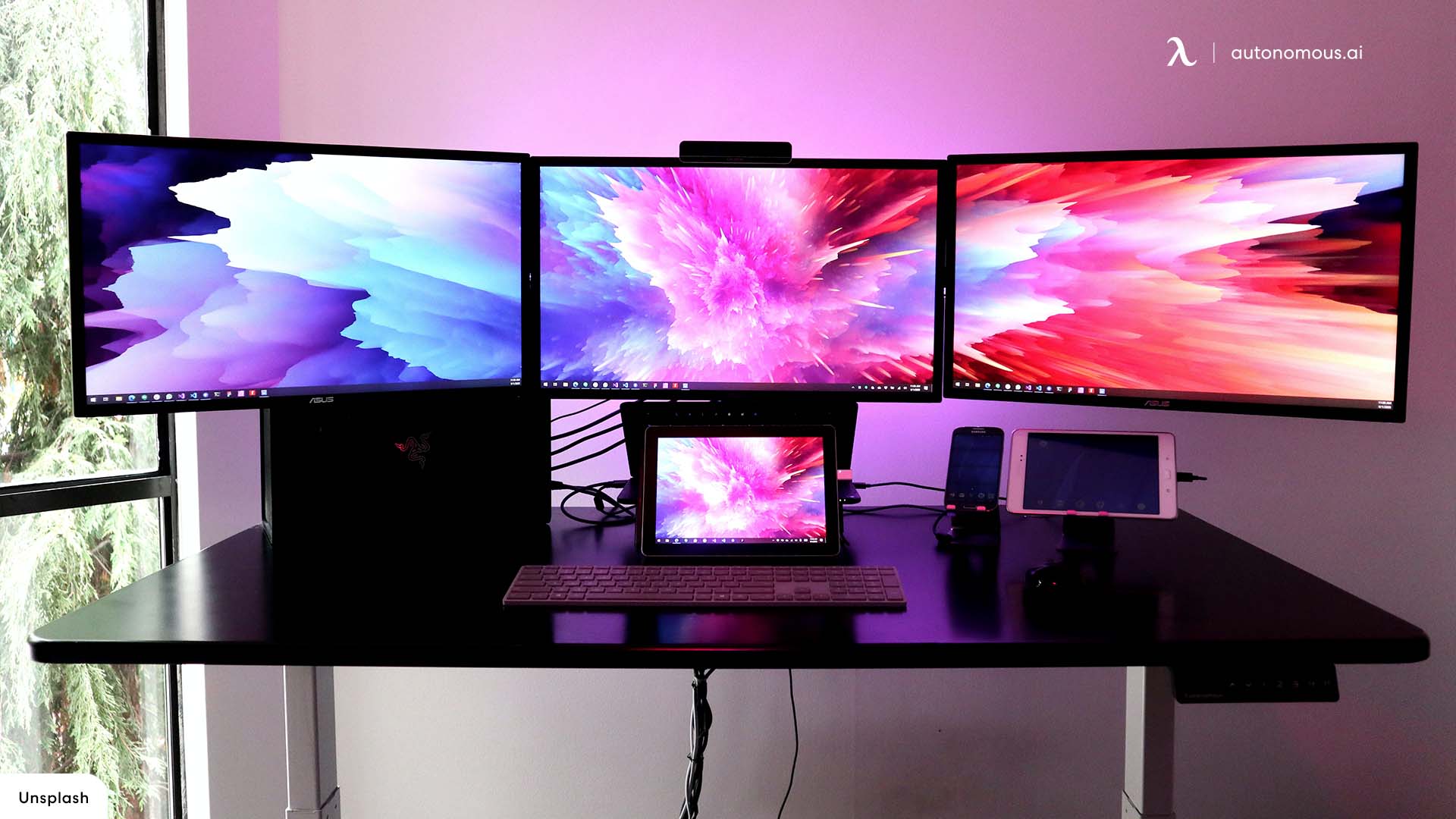 We've made it to the last and trickiest part of the list. After buying everything and ensuring all your hardware is compatible, the only thing left is setting everything up. This step usually requires professional assistance, but you can follow these instructions to try and do it yourself.
Make sure you meet all your hardware requirements. This means enough space on your multi-monitor desk for all your gear and you to comfortably sit and move everything around. Additionally, you are going to need enough ports in your PC for each monitor; most PCs come with space for plugging in two monitors; if that's the case, you can buy an extra graphic card or connect one monitor through another if allowed.
Connect everything. The power cable must go to a power outlet; remember, you need four available plugs. Then the video cable must go into the PC. When that's all set, you can turn everything on.
Choose the display. This step varies between operating systems, but all you need to do is customize your display to fit the positions of your monitors in your quad display setup. 
How to Upgrade Your Quad Monitor Setup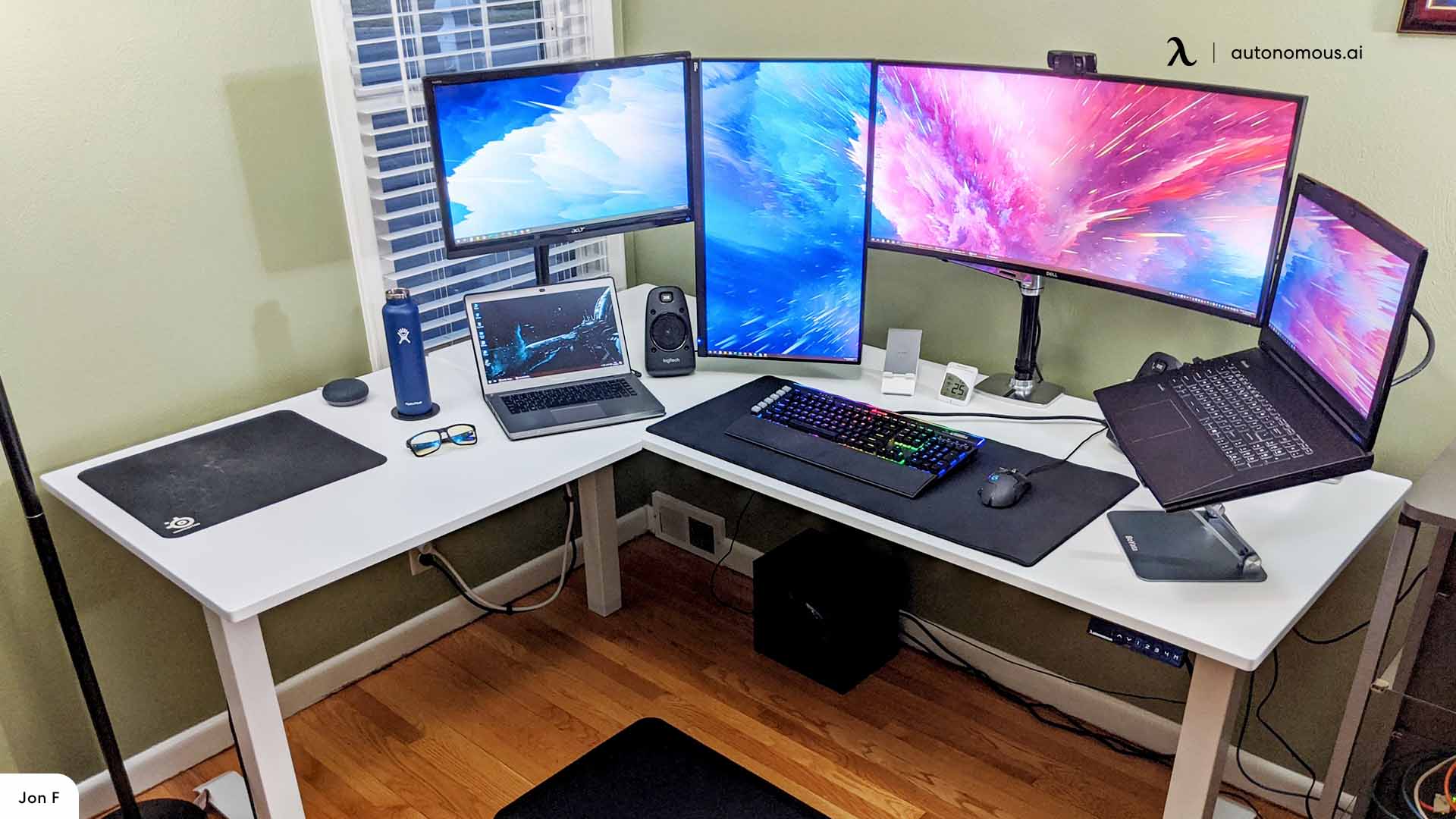 Now you've got a completely functional four-screen setup, but these quick adjustments might make it even more memorable.
Make your monitors match in brightness, color, and any settings you might like to customize.

Search for extra-large backgrounds that go well with your room's decor.

Learn about shortcuts and how to use them in your favor when using four monitors.

Lock your cursor to one screen when you're only using one, that way, it can't go missing. 
Bottom Line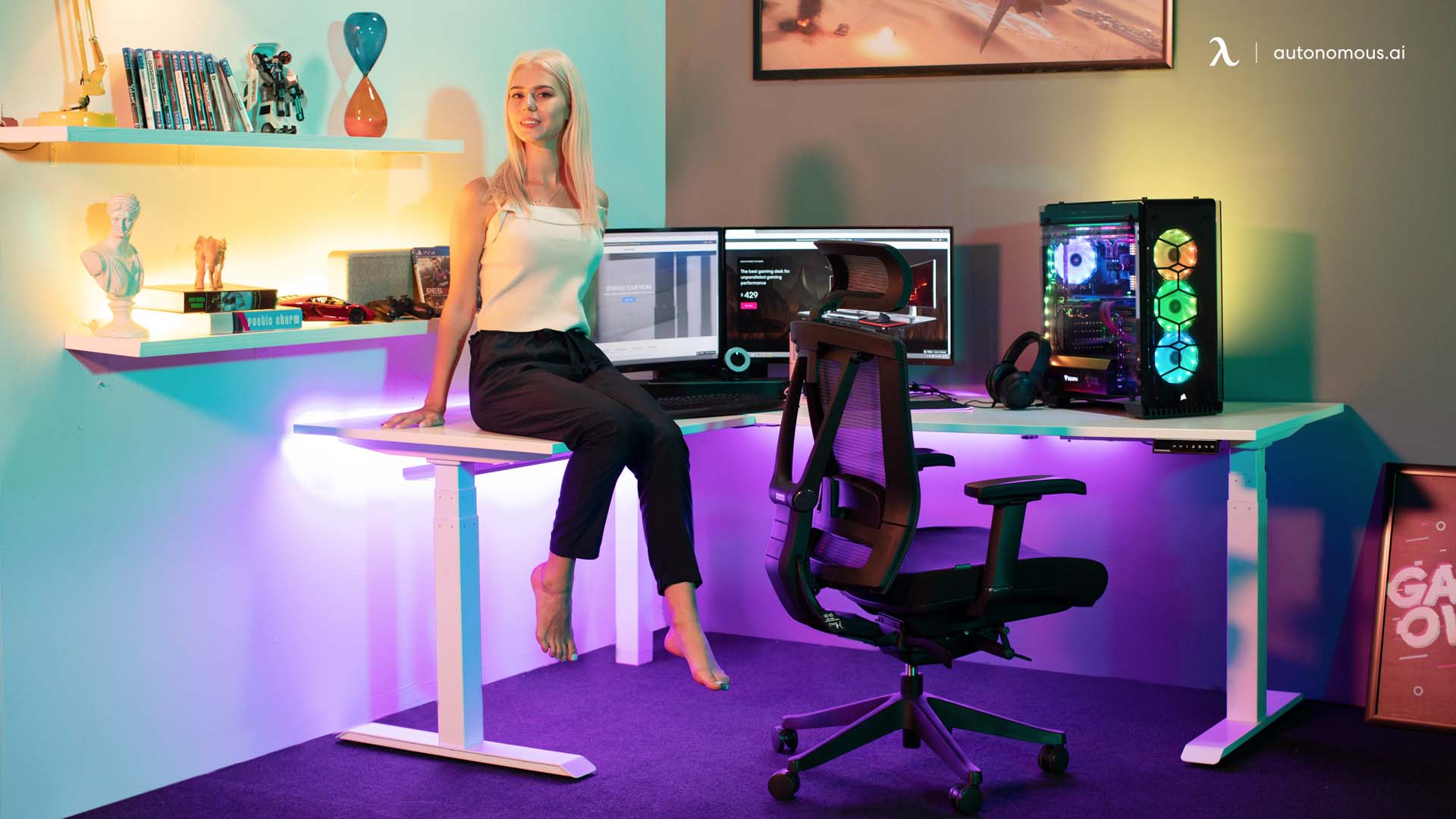 Do you remember when a dual monitor setup used to be the peak of technology and gaming? We even went as far as using triple monitor setups. These times have been left behind while we advance and realize that having multiple monitors  like a quad monitor setup can take your gaming and work experience to a whole new level. 
Hopefully, this guide was helpful for you, and you're inspired to create the gaming setup of your dreams. Don't forget to check out our catalog to find everything you need to make this dream come true.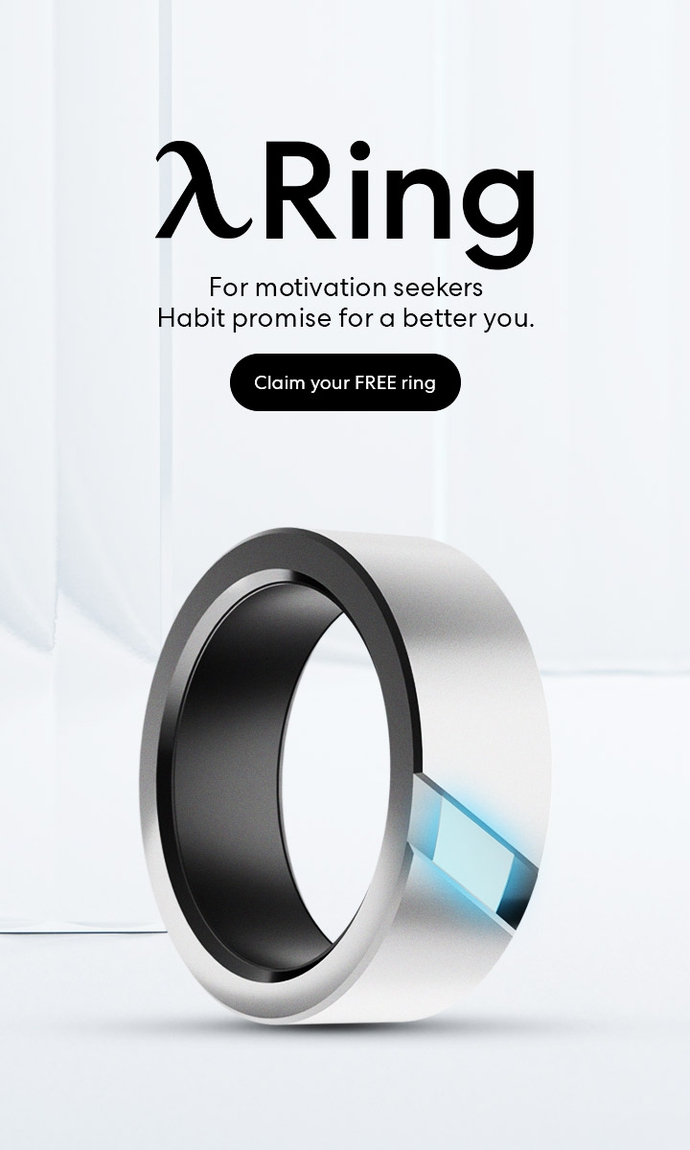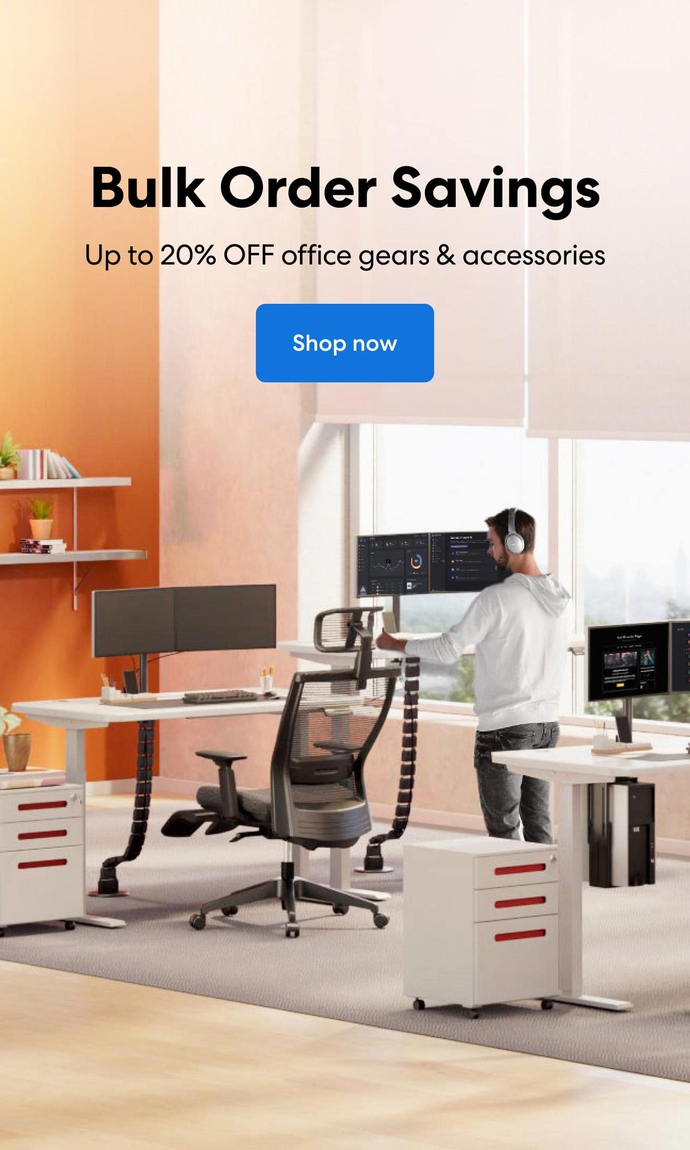 Subcribe newsletter and get $100 OFF.
Receive product updates, special offers, ergo tips, and inspiration form our team.