Workplace Inspiration
10 Elements to Decor a Cozy Small Studio Apartment

Autonomous
|
Sep 21, 2022
2,085 Views
Small spaces can be more inviting or homely when decorated with the right intent and planning. Especially in this era of soaring inflation and high rents, it is only a cozy small studio apartment that one can afford easily; hence, by all means, you should pick a living space that suits your budget and needs. Thankfully, even with increased taxes and high rents, there are many cost-effective solutions to set up your living space, and one of our favorite ones is a prefab studio. A privacy pod is suitable for both office uses and living space because, with the variety of Autonomous pods, you can choose the right type depending on your end need.
These office pods are sufficient with all the office supplies and large enough to provide a resting corner and a working station. But what elements of décor go into a cozy studio apartment that can be applied on a wooden pod for a garden too? Here is all you need to know about cozy studio apartment ideas. But before you pick the best suitable pod or studio apartment, we advise checking you out of the employee purchase program to make your next home purchase even more affordable.
Simple Cozy Small Studio Apartment Design Tips
Planning a home office setup isn't as straightforward as one would imagine, but it is more of planning, strategizing, finding the right space, and opting for the best office furniture. If you are someone with a cozy apartment, you might find it harder than others to blow life into your home office setup.
But this doesn't mean that a small cozy apartment cannot build the most perfect and productive office setup one has seen. All it requires is just a little planning, picking the right essentials, and ruling out the things you don't need. If you are also stuck with an office setup in a cozy studio apartment idea, then this article will help you pick the simplest cozy small studio apartment ideas for a work-from-home setup. Read below to check out the best small cozy apartment office setup inspirations and transform your work-from-home game today.
Anything limited in space with 600 square ft or less falls into a cozy small apartment. To some people, even greater apartments can fall into the cozy line because of their plans and intent with the space. But the trouble in paradise arises when your cozy apartment is always cluttered and not enough for you to eat, sleep, work, work out, chill, and hang out with friends.
What if we told you even in as minimum as 300 sq. ft you can do all the above activities with some space to spare too? It's all about planning. Read our small cozy apartment décor tips below to set up the perfect living space for you.
1. The Right Desk
The selection of desks, or more precisely, your workstation, can have a huge impact on your work productivity. It defines the way you set up your workstation, your creativity, and your ability to remain organized while working. The right desk can also help you attain more discipline and become better at creativity.
This is supported by various scientific research where there is much evidence to prove how your desk organization can impact your productivity. While we are at simple cozy small studio apartment office ideas, one needs to carefully choose the right desk with minimum space and maximum benefits approach in mind. Below are some of our top recommendations for some office desks for a cozy small studio apartment.
Corner Desk
Regarding an ergonomic work setup, you can never go wrong with a small corner desk. Corner desks are blessed with the edge to fit in the tiniest of the corner spaces while keeping the remaining room free for other activities. Corner desks or small L-shaped desks are also spacious and twice the size of an ordinary desk because the L shape provides two work surfaces rather than one. A corner desk is also highly beneficial to provide the right viewing angle and works great when using multiple monitor setups.
Desk with Tray
Do you also suffer from things falling off your desk? This is the problem faced by every person who owns a desk not sufficient for their accessories. While the small cozy apartment limitation might not allow you to work with a large desk, you can still be productive with a computer desk with a keyboard tray.
A keyboard tray helps you keep your desk essentials like a keyboard, mouse, mousepad, and headphones near your working station and provides a safe working distance. It also looks great because when you are done with work, the slide-in action of a keyboard tray can help you hide the keyboard and make the desk surface look spacious and free.
Desk and Chair Set
People too keen on aesthetics in their work setup should not compromise with a desk and chair that rarely match. Hence you can find many ergonomic options for a desk and chair set suitable for modern workplaces. When buying a matching desk and chair set, following a vintage style cozy small studio apartment theme also becomes easier because the antique color can give a natural retro vibe. Moreover, a desk and chair set also costs less than buying a desk and a chair separately.
Folding Desk
Another popular choice of desk for cozy and small places is a folding workstation. Folding workstations work great for people who have limited desk accessories or work with a laptop instead of a large desktop. A folding desk can provide the right surface to work where you can keep all your essentials, and once you are done with it, you can fold it away for later use.
While there are many folding desks in the market, the Modernsolid folding table takes the edge with a unique design. It has a v-shaped compact leg design with a smooth tabletop. The desk, despite being foldable, is height adjustable and spacious enough to hold a laptop, mouse, and even your cell phone, along with a coffee mug.
2. Office Chair
An office chair is the most important tool for a productive work setup. An ergonomic office chair will help you sit in a natural posture, prevent all kinds of pain and posture issues, and keep you energetic throughout the day. Without an ergonomic work chair, building an office setup are of no benefit as your health and productivity will be compromised. But since ergonomic chairs come with various adjustment points, some people find them too big for a cozy space. Thankfully you can find more compact options too.
AvoChair
The subject is compact chairs for office setups, so the AvoChair is a sure check. This Avo chair is available in more than four colors, each suited for a different theme idea in an office space. Despite being compact, the Avo chair is fully ergonomic, offers complete adjustability, and provides an ergonomic work setup. It can support up to 300 pounds, and for maximum safety, it is made with recycled materials only.
Folding Chair
Don't compromise the look of your apartment or your efficiency when you can get a folding chair to do the job perfectly. A folding office chair is compact even when opened but once done with work, you can fold it to form a compact-sized chair that can fit under the bed, behind the couch, or even under your desk. With a folding chair, several people can work at once around a shared table and be used for extra seating around the coffee table.
3. Smart Storage Options
The major intent of storage is to hide the things you don't need now. And what's the point of choosing storage solutions that only cramp up the space? You must plan your storage with the right technique for people living in small or even bigger spaces. Rather than opting for separate and large storage cabinets, make versatile options. Storage under the bed and sofa can be ideal for storing your out-of-season clothes. You can build large drawers under the bed to keep your shoes, some clothes, and even the extra stuff.
Office space cannot run smoothly without a proper storage option, and especially when it comes to compact work setups, the right choice of office storage ideas is highly desired. You can opt for under-desk storage options, such as a filing cabinet or shelves that remain underneath the desk. Another idea to build a smart storage solution is to go for vertical storage, which will help you keep the horizontal space in a room clutter-free.
Besides these hidden storage ideas, vertical storage is also very helpful in creating a modern and useful look for your home. Choose designs in the form of vertical cabinets that touch the ceiling. Keep away the goods you seldom need or travel bags that come out once a year. This will keep clutter away from sight and help you move freely around the house.
4. Windows
And just because windows don't have any physical presence inside your home doesn't mean they cannot play a part. According to many types of research, natural light makes a place look more open, fresh, and inviting. With the right supply of fresh light in your home, you can open up the view to the sky and feel the area is more spacious. Opt for larger windows in your apartment; if it's just one side facing the open street, then make sure the window over there is large enough.
5. Decorate Along the Layout
Looking for narrow space living room ideas for a small apartment? To achieve the same appearance, seek furniture with compact dimensions and lanky, ethereal pieces with little visible weight. Make the most of every available space by positioning huge bookcases and your sofa close to the wall.
6. Bring Natural Accents
Adding more natural textures, like the jute rug, the woven basket, the rustic white pottery, and the deep green bouquet with pink and white accents, is a simple way to make a space feel cozier. Off-white curtains with a natural beige base or walls painted in light shades are all some ways that speak volumes for coziness.
7. Be Selective
In a big or small space, you should never be careless with your home décor because it can seriously impact the entire look and damage the living space's vibe. Choosing your decor carefully and arranging items with great intentionality when decorating a tiny space is crucial. I make an effort to make even the most useful products attractive. Add rich color to the counter by placing fresh flowers there. Choose accents in beige and related colors to give your room a light, airy feel. Don't strive to do more; often, less is more, and space might feel claustrophobic if there is too much visual clutter.
8. Pick Multipurpose Options
A desk that you can work on and eat both? A cupboard with a mirror on one door and spacious enough? A Tv trolley that looks pretty but also offers the right space for your games and videos. Lastly, a bookshelf that acts as a room divider is a simple example of two birds one stone, so make sure you wisely select furniture options that work multiple jobs. This will save you space and be less costly on your new home décor adventure.
9. Work on Color Coordination
Maintaining color harmony throughout the area is a terrific way to make it feel more coherent; neutral color schemes are ideal for a tiny apartment. Simple ways to maintain your space appearing aesthetically pleasant include using browns, blacks, and whites. However, if you prefer more eccentric hues, don't feel bad about it; attempt to add some irregularity to a space to make it appear cozier.
10. Use Plants to Decorate your Space
Nothing feels better than breathing fresh air and enjoying the fresh views. What if your space is beside a busy street where constant horn honking and traffic are happening at all hours? You can bring nature to your home in many ways. To give your flat a more colorful, earthy atmosphere, fill the area with plants. Many lovely plants, such as Peace Lilies, Pothos, Money plants, Succulents, and Snake Plants, thrive in low-light environments.
Conclusion
Above are some of the useful tips that are suggested by us. If you are struggling to decorate a cozy small studio apartment and transform your small living space, let's try these ideas for your home upgrading plans.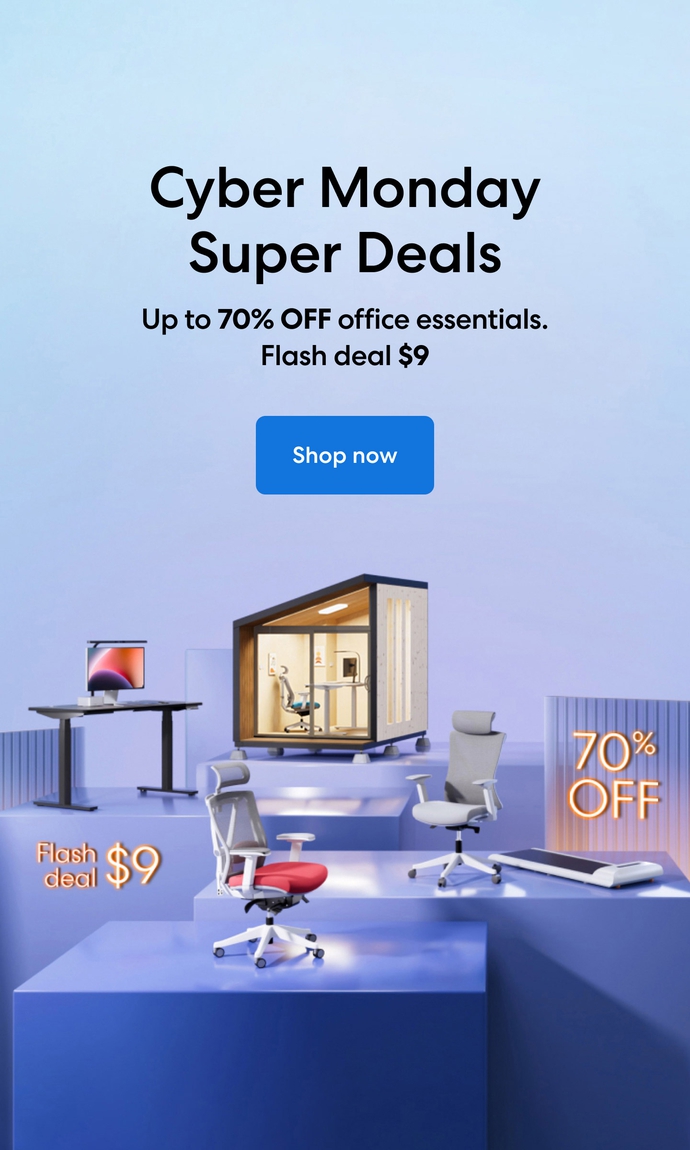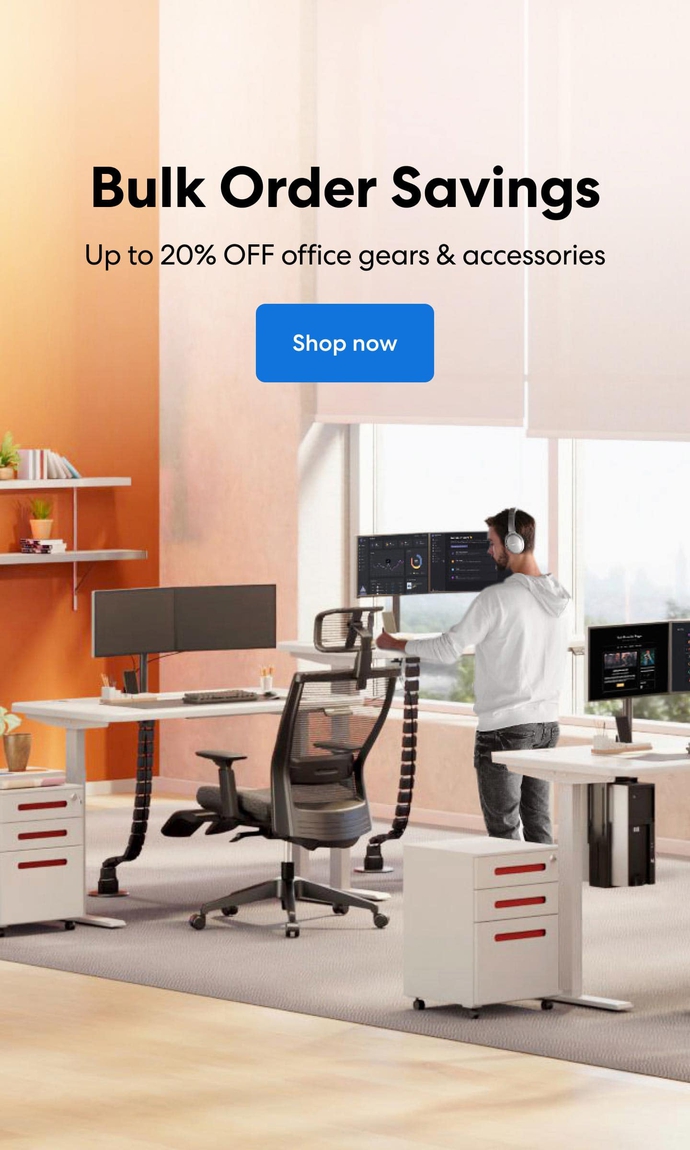 Subcribe newsletter and get $100 OFF.
Receive product updates, special offers, ergo tips, and inspiration form our team.