Aesthetics play a major role in the way people perceive things about you. You cannot just ignore the power of the first impression with some basic furniture or even a mediocre choice of colors. Even if you are spending lots of money buying the latest tools and technology for your home or even workplace, the whole place won't look appealing without proper color coordination.
For gamers who spend a lot of money making their gaming space as comfortable and as cool as possible, aesthetics and the choice of colors play a major role. From choosing the right type of gaming standing desk to picking the right color, each thing plays a huge role in defining how their play den would turn out. If you are going for all basics and looking for a white corner gaming desk, then you have come to the right place. This buying guide will help you choose the best white corner gaming desk for you with the right choices and top-rated products.
What is A White Corner Gaming Desk?
A white corner gaming desk or otherwise known as an L-shaped gaming desk is one of the most popular inventions in the office ergonomics category. An L-shaped Standing Desk is made in the shape of the letter L and is made suitable for the corner spaces. Unlike regular desks that are rectangular or square, a white gaming L-shaped desk gracefully resides in the corner, thus utilizing the maximum space at the end of the room.
With the help of an adjustable corner desk, you can set up your entire gaming equipment on one side of the room while the center or your room remains free, and space can be utilized elsewhere. There are many benefits of a standing desk and a white corner gaming desk. For starters, the color white complements each furniture type and will go with every theme in the house.
Besides being aesthetically pleasing, white gaming desks are also extremely beneficial for health and reverse the negative aspects of sitting for long hours.
Importance of a Gaming Desk for Gamers?
Gamers love gaming accessories that help them score better and be more comfortable. A gaming desk is one of the biggest and most beneficial additions to the gaming equipment family. Gaming desks are specifically made to keep the needs and requirements of gamers in mind. Their dimension, such as width, height, and depth, are made in a way that you can easily accommodate your screen, keyboard, and mouse.
Many gaming desks are also made for dual to three gaming monitors depending on the size you choose. The frame of a gaming desk is made sturdy to bear the extra load of gaming gadgets, and you won't have to worry about the desk losing strength anytime soon. Moreover, these desks are made with high-quality materials and woods or glass that do not heat up with constant use. If you are opting for a white gaming L-shaped desk , you must be aware of the few features of a gaming desk.
Width
The width of a L-shaped gaming desk all white is one of the initial factors and features to consider. It is solely dependent on the number of monitors you choose for playing and the width of each monitor. Even though gaming monitors are usually slim and thin, there needs to be extra space around the monitor.
Depth
The depth of the white L-shaped standing desk allows comfort and ease of use. Few inches from the monitors, and you can place your keyboard. Although many keyboards range from 8 to 10 inches in depth, having a little space around the keyboard is essential, so your wrist does not have to bear the unnecessary strain.
Material
The material of a white gaming L-shaped desk  governs its longevity and strength. Most gaming desks are made with a metallic frame and a wooden platform. This combination provides due strength, and the wood keeps your gaming equipment cool. Although glass is a common type of platform used in gaming desks, it adds to the aesthetics, too; a weaker glass could be a negative point in a gaming desk.
Keyboard Tray
The keyboard tray is part of the accessories that come with a gaming desk, which is beneficial for gamers. This keeps your ergonomic keyboard dirt-free and also saves space. You can choose a less deep L-shaped gaming desk all white if it offers a keyboard tray.
Mousepad
Limited space to run your mouse while gaming is extremely frustrating. Many gaming desks are made with a tabletop that supports the mouse. This allows all the space to be utilized so gamers can have a wonderful gaming experience. Although this feature adds to the cost of the gaming table, it also makes the product more desirable.
Cable Grommet
Cable grommet in a gaming table or even an office table helps you keep your wires and cables organized. What's the point of investing in a table when you are still going to have a clutter of wires all day? Cable grommets are one of the essential features of a gaming table.  
As the gaming desks observed popularity due to their flexibility and versatility, a further step is to make gaming desks as healthy as possible. White adjustable corner gaming desks, also known as standing desks, are a great way to release the stress from your back. It reverses the sedentary tasks of sitting for hours and helps you get many other advantages.
Benefits Of A White Gaming L-Shaped Desk For Gamers?
Getting a white corner desk for gaming in your room is a smart choice. It is a safe investment and has many benefits. A white corner gaming desk is certainly more beneficial than other gaming desks. Here are several reasons why:
Attractive
The color white is loved by all, and white furniture looks graceful. Especially for a gamer, a setup with white furniture can easily add to the aesthetics of a place. An L-shaped desk all white goes with any theme of the room, so even if you plan to change the color and furniture of the room, you won't find the gaming desk being the odd one. 
Symmetrical
For the Little OCD in everyone, symmetry gives a sense of peace to the human brain. A white adjustable corner gaming desk is usually symmetrical, with both ends extending to the same length against the wall. This gives a sense of peace and calmness to the mind. A corner desk is also the safest and nearest possible distance for the head to turn and one of the best gaming desks for multiple monitors.
Extra Space
Once you purchase a white corner desk for gaming, it's all yours. You can use the other half for work and set up gaming on one side. This is amazing since you won't be needing two tables for separate tasks.
Space Utilized
The white adjustable corner gaming desk uses the space which nobody would have thought to use. It is smart in many ways. It helps you make the most of your room, and for a little privacy in your tiny room, there is no better place than the corner.
Health Benefits
The health benefits of a white corner desk for gaming are two folds. For starters, it reduces the strain and turning angle of your neck by offering you both screens side by side, and secondly, the standing desk has many benefits. A standing desk is good for your posture and helps you take off the load from your lower back. It is also beneficial for your heart health as standing burns more calories and pumps blood to the body organs more efficiently.
The standing desk also helps focus more, especially while gaming. You can forget the tension and pressure on your muscles as your body is in the fight and fright motion while standing.
Best White Corner Gaming Desk
A white gaming L-shaped desk  offers many advantages over a normal gaming desk. It allows enough space for multiple monitors, it reduces the strain on your neck, and as mentioned above, it makes your place look more aesthetically pleasing. If you have finally decided to make this worthwhile purchase with your hard-earned money, here are some of the best white corner gaming desks in 2021.
1. SmartDesk Corner
SmartDesk Corner is an attractive white adjustable corner gaming desk that has a minimal and modern design. It beautifully resides in the corner space and has enough space to hold dual monitors and a sound system for the wonderful effects. The frame is sturdy and powered by a triple motor system. The load capacity offered by this gaming desk is 440 pounds, and you can depend on this white top white frame product to be your new gaming corner.
2. L-Shaped Tempered Glass Computer Desk
Another one from the white corner gaming desk family, the L-shaped tempered glass computer desk, has a white frame with a glass platform. With a powder-coated steel frame and a rugged P2 grade MDF board in a wood grain finish with transparent tempered glass for extra elegance, this machine desk is made to last. It also comes with additional accessories such as a slide-out keyboard tray.
3. L-Shaped Computer Desk
The white gaming L-shaped desk boasts a minimum design and a strong built. It is made with a metallic frame that has strong legs to bear up the load. The computer desk is smaller than another L-shaped desk, so it is ideal for tiny and confined spaces. This computer desk measures 21.7 X 59 X 30 inches and is made of E1 durable particle wood, which meets sustainability standards.
This makes it both versatile and long-lasting. It's also worth noting that the structure is made of tough aluminum, and the diagonal brackets contribute to the desk's longevity. When you mount your monitors on this desk, you won't have to think about it crashing.
4. Manual or Electric
Gaming desks that are adjustable standing desks have either a manual height adjustment system or electric. An electric standing desk is powered by motors to adjust the height. These white corner desks for gaming are usually pricier as compared to manual ones, but they are more efficient. Manually adjustable desks are monitored with a lever or a crank that allows to lower or increase the desk's height.
How to Choose the Best White Corner Desk for Gaming?
Choosing the right gaming desk depends on a certain number of factors. These factors range from person to person.
Ergonomics
No size or shape fits all; this is the theory of ergonomics. Ergonomics is an important part of human comfort. It is furniture engineered to maximize comfort and reduce the pressure from the human body. The right white corner desk for gaming depends on the ergonomics you choose.
An adjustable desk can provide you the benefit of adjusting the height to your eye level. Moreover, you can also choose many other desk accessories that enhance your comfort. From choosing a soft mouse pad that does not strain your wrist to have a chair that cushions your back, ergonomics is important for maximum comfort.
Paint Job
A white corner gaming desk is either painted white or made with white laminated sheets. Both are a great choice to give a great white finish. Laminated sheets are usually shinier, and with a paint job, you may want to have a re-do now and then.
Load Capacity
Constructed materials intended to bear weight are often designed not to carry more than a certain amount of weight. This is the maximum weight that an item, in this case, a white adjustable corner gaming desk, has been measured to bear. It's worth noting that not every vendor specifies this weight limit; instead, they can use a nebulous weight classification like the number of displays or computers and leave it at that.
Storage
Having storage options such as desk  drawers or file cabinets is a plus-plus in a gaming desk. These storage cabinets allow you to keep many accessories such as a mouse or other video game CDs. Storage also makes a white corner gaming desk or any desk multi-purpose.
Budget
Gaming corner desks are reasonably priced. However, be mindful that some of them are very costly, but this depends on the form of material to be used. You can get a good gaming desk in your budget, or if you are not willing to spend a lot, you can purchase a standing desk frame and set up your platform.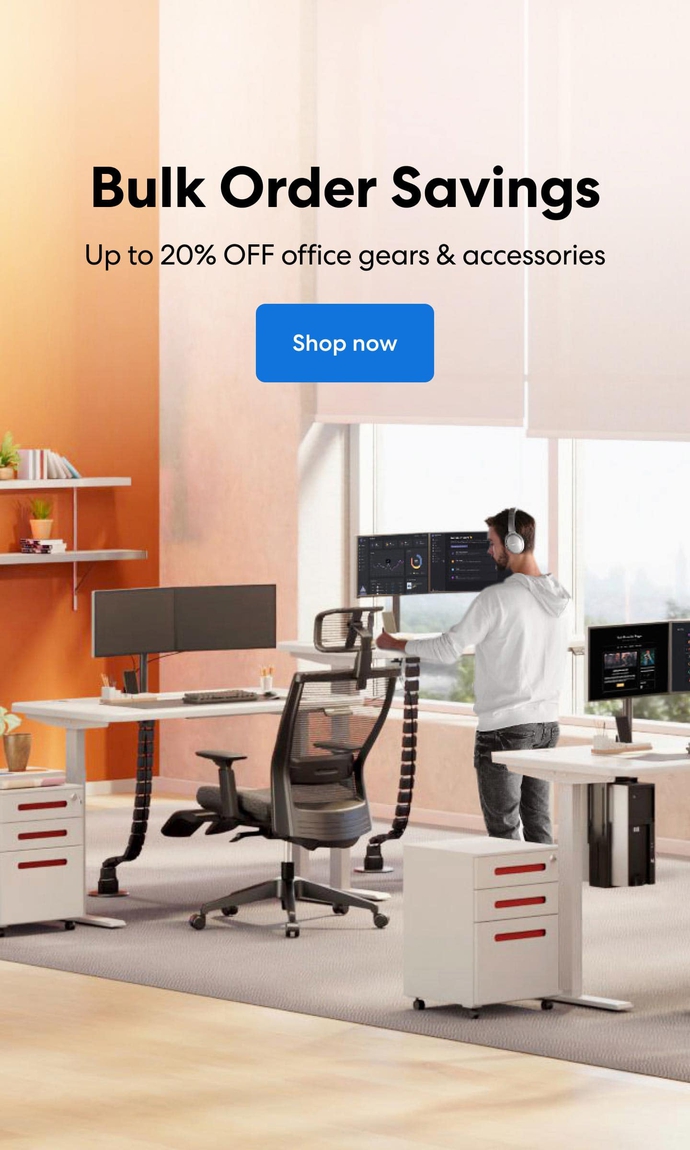 Subcribe newsletter and get $100 OFF.
Receive product updates, special offers, ergo tips, and inspiration form our team.