Gaming Setup
Ahead of the Game: Review of Top 10 Extended Mouse Pads

Autonomous
|
Apr 7, 2023
1,853 Views
As gaming becomes increasingly popular, players must have the best equipment to stay ahead of the game. An extended mouse pad is an essential piece of equipment, as it provides a larger surface area for gamers to use their mouse. 
However, a large mouse pad isn't just for gaming. It's great for other activities, such as graphic design and office work. While mouse pads have decreased in use and popularity with developing technology, many still use them, especially gamers. 
An extended mouse pad provides several benefits. Some have a smooth, non-slip top, which helps to improve accuracy and control when using a mouse. The broad surface also helps to reduce wrist strain, which is important for those who work long hours in front of the computer. 
 Mouse pads are also designed with anti-slip rubber backing to prevent the mouse pad from sliding around on desks. This article will provide a buyer's guide and review of the best extended mouse pads.   
What to Look for in an Extended Mouse Pad?
It can be difficult to choose the best desk mat that suits you because there are so many on the market. Knowing what to look for might make the navigation and buying process easier. 
Here are a few extended mouse pad fundamentals to keep in mind when choosing one: 
Size
Before hitting the purchase button, it's essential to consider the size of the mouse pad. An ill-fitting one can be a nuisance, as it may lead to a constant repositioning of the mouse or accidentally swiping it off the edge. To avoid this frustration, pay attention to the dimensions. Fortunately, they come in a variety of sizes. You can easily find an XL gaming mouse pad. 
Portability
When considering convenience, an XL mouse pad can be a hindrance if you frequently travel or move your setup. A large mouse pad will consume more space and add extra weight to your bag. Therefore, it's probably a better idea to choose a smaller one.
Soft or Hard Surface
When selecting a desk mat for gaming or other activities, there are options between a hard or a soft surface. A hard mouse pad can be composed of metal, plastic, or glass, whereas a soft one is typically made of cloth. Both options offer different benefits, so you should pick the one that best suits your needs. 
Color
Many people focus solely on functionality when searching for desk accessories. The overall look and aesthetic of work or gaming spaces are important, too. You can select from a range of pads based on size, color, and design. 
A classic black large mouse pad works for a sleek and streamlined look. RBG lighting or vibrant patterns are eye-catching. White desk pads will bring a touch of elegance to your space.  
Resistance
When shopping for a mouse pad, it is best to pick one that is slip-resistant. These have a textured bottom to keep them securely in place during usage. This is a must-have feature for all types of computer activity, but especially for gamers. 
Review of the 10 Best Extended Mouse Pads
Most focus on the bigger components of a gaming setup, such as monitors, keyboards, or consoles. The mouse pad might be a second thought. However, an extended mouse pad is more important than you may think. 
Having a smooth surface to move your mouse across can enhance work or gameplay. Therefore, it is worth considering. Read on to learn more about the best extended mouse pads. 
1. Autonomous Microfiber Vegan Leather Desk Pad
Keep your desk looking great and enjoy smoother mouse movements with this luxurious vegan leather desk pad. Non-woven technology is used to arrange ultrafine nylon yarns, which are thinner than silk. This replicates the rubbery collagen composition of real leather. 
A buyer of this extended mouse pad on the Autonomous website stated, "Absolutely amazing leather desk mat! It was nicely packaged, and the materials (back and front) are exceptionally high quality.
2. Function101 Desk Mat Pro with Desk Protection and Magnetic Cable Management
As one of the best desk pads, this adds a stylish touch to your desk and provides exceptional cable management. The XL mouse pad can accommodate your mouse, keyboard, laptop, and tablet. 
3. Burotic Leather Desk Pad: Handmade in Canada
After receiving numerous requests from their customers wanting a larger version of the same product, this company created the Leather Desk Pad. 
A satisfied customer complimented the makers of this mouse pad on their website, stating,
"The service is impeccable. They made sure everything was correct. A quick return to my email. The product lives up to my expectations." 
4. DeltaHub Desk Pad: Minimalistic & Anti-slip
This brand is a great desk mat protector that also offers the user comfort and stability. Transform your workspace into a cozy oasis with this soft extended mouse pad. Its cushiony surface supports your forearms while you work. 
The pad seems to be durable, as a satisfied customer on Autonomous' website expressed love for the product. The customer stated, "Genius design. The sticky anti-slip bottom is really good. I am pretty rough and reckless when I work at my desk. The desk pad looks and feels just as good 6 months later."
5. Deskr Topographic Desk Pad
This topographic mouse pad is the perfect combination of comfort and style. Its polyester and rubber material are environmentally friendly and provide a pleasant working and gaming experience. The anti-slip base ensures it doesn't move around, protecting your desk's surface.
6. Razer Firefly Hard V2 RGB Gaming Pad
The Razer Firefly Hard V2 RGB Gaming Pad is the perfect accessory for gamers who want to take their gaming to the next level. This mouse pad is designed with a hard, smooth surface that is optimized for both optical and laser gaming sensors.
7. Corsair MM100
This is the budget extended mouse pad for players, which is optimized for gaming sensors. It is a premium gaming mouse pad that is designed to provide a smooth and responsive surface for your gaming mouse. The Corsair MM100 features a non-slip rubber base that keeps the pad in place during intense gaming sessions, and a low-friction surface that allows for precise and accurate mouse movements. The pad is also large enough to accommodate a full range of mouse movements, and is available in different sizes to suit your specific needs.
8. Logitech G440
The Logitech G440 is a low-friction hard mouse pad designed for gaming. When it comes to speed and low tactile resistance, nothing beats a solid, hard-surface mouse pad.
9. SteelSeries QcK Prism RGB
The SteelSeries QCK Prism is the perfect addition to any gaming setup, offering a soft-touch mouse pad with RGB lighting around its edge. Additionally, the two zones within the SteelSeries app can be configured to create beautiful illumination in the dark, making it a stunning piece to look at.
10. Razer Strider
This is a great choice for gamers who want accurate and smooth mouse cursor control. The dimensions of the large mouse pad provide plenty of room for movement, making it a superior choice for users who like to make sweeping movements.
Benefits of Using an Extended Mouse Pad for Your Workspace
Using an extended mouse pad, also known as an oversized mouse pad or desk mat, offers several advantages for computer users. Here are some reasons why you should consider using an extended mouse pad:
Ample Space
Extended mouse pads provide a larger surface area compared to standard mouse pads. This extra space allows you to freely move your mouse without the risk of running out of room. It accommodates broader mouse movements, making it ideal for tasks that require precision and accuracy, such as gaming or graphic design.
Improved Precision and Control
The larger surface area of an extended mouse pad enables smoother and more precise mouse tracking. It reduces the need for constant lifting and repositioning, allowing for continuous, fluid movements. This enhanced control can be particularly beneficial for gamers and individuals engaged in tasks that demand fine cursor control.
Comfort and Ergonomics
An extended mouse pad not only provides support for your mouse but also offers a cushioned surface for your wrists and forearms. This can help reduce strain and discomfort, especially during extended periods of computer use. The added comfort promotes better ergonomics and helps prevent conditions like wrist pain or repetitive strain injuries (RSI).
Organization and Desk Protection
Aside from serving as a mouse pad, the extended size of these mats covers a larger portion of your desk. This feature helps protect your desk surface from scratches, spills, and general wear and tear. It also provides a designated space for your keyboard, ensuring it stays in place and preventing it from sliding around during use.
Aesthetics and Personalization
Extended mouse pads often come in various designs, colors, and patterns, allowing you to personalize your workspace and add a touch of style. They can enhance the overall appearance of your desk setup and create a cohesive look.
Cable Management
Some extended mouse pads come with built-in cable management features. These include cable routing options and dedicated spaces to hide or secure cables, helping to keep your workspace neat and organized.
Versatility
The large surface area of an extended mouse pad offers versatility beyond mouse usage. You can also use it to place other peripherals such as a tablet, smartphone, or notepad. This additional space provides convenience and keeps your essential items within reach
FAQs
Is it bad to use a mouse without a pad?
A mouse pad is essential for optimal mouse performance. It reduces friction between the mouse and the desk, helping to protect both from any damage that could occur from regular use. Additionally, it helps to improve the accuracy and sensitivity of the mouse. 
Are extended mouse pads worth it?
A large mouse pad is worth its value as it can stop your mouse from sliding off the edge when you're playing your most intense games, and it can take more wear and tear than a regular mouse pad. 
Is it hard to clean extended mouse pads?
Cleaning an extended mouse pad is easy, as they are usually made of a smooth material that is easy to wipe. 
How do you clean a mousepad?
The process of how to clean a mouse pad is simple: 
Remove the mouse pad from the desk.

Shake off any loose debris.

Dip a soft cloth in warm soapy water.

Gently scrub the surface of the mouse pad with the cloth.

Rinse the cloth and wipe the mouse pad until all the soap is gone.

Let the mouse pad air dry, or pat it dry with a towel. 
In a Nutshell
Based on our review of the top 10 extended mouse pads for 2023 gaming, there is a wide variety of options available to fit any player's needs. Each product provides reliable accuracy, comfort, and speed for gamers.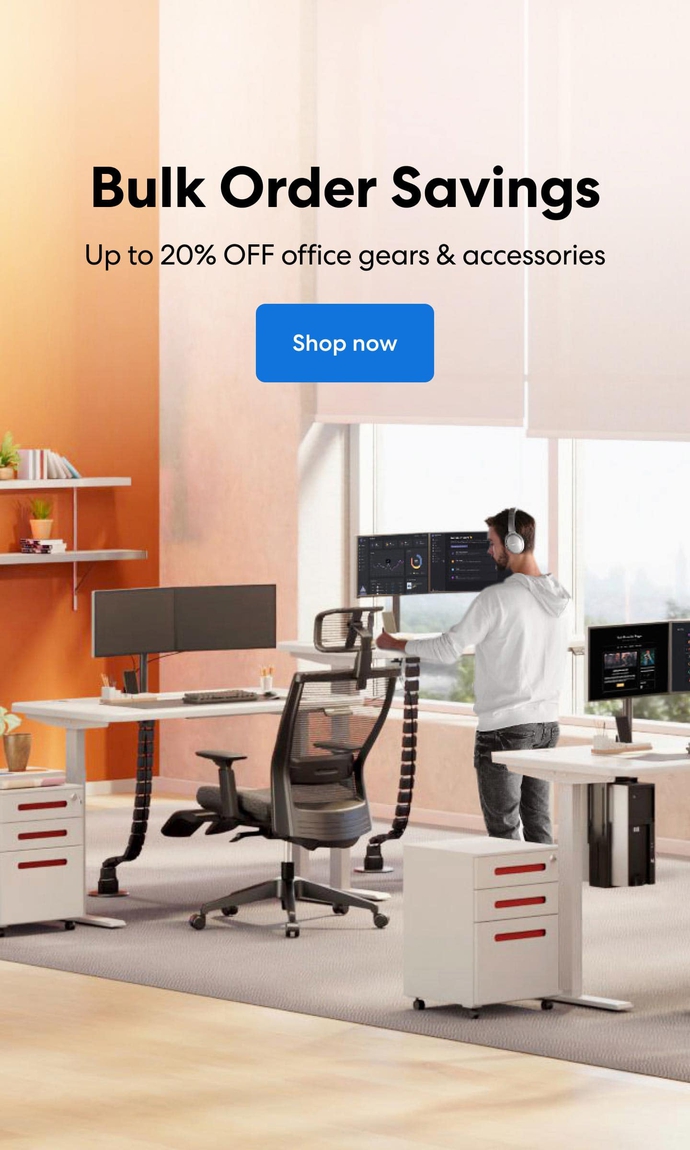 Subcribe newsletter and get $100 OFF.
Receive product updates, special offers, ergo tips, and inspiration form our team.