With a variety of games like Mario Kart and the newly released Legends of Zelda: Tears of the Kingdom, your Nintendo Switch won't disappoint you with its endless games and entertainment. However, a more immersive experience of the game can only be felt if you play in a perfect ambiance and environment. For that purpose, we have come up with a Nintendo Switch setup guide to help you set up your console in the most exotic way possible.
There are a few things that you need to buy for your setup, but first, keep in mind that you need to match the color pallet of your console with the other accessories or create a perfect contrast of colors to make it look more appealing to the eye. Here are the steps involved in creating the perfect Nintendo switch tv gaming setup. So let's read on and find out!
How to Create an Ultimate Nintendo Switch Gaming Setup?
1. Best Gaming Chair for Nintendo Switch Gaming Setup
Before selecting a gaming chair for your room, make sure you understand the different types of gaming chairs available in the market. Different gaming chairs are made for different purposes, such as Pc gaming, console gaming, and for racing games.
It comes with built-in speakers that create immersive sound with the help of a subwoofer at the back. If that didn't excite you, then the next feature definitely will. The chair also comes with Neo Motion RGB LED technology, which you can adjust to match your room color pallet. You can choose between 30 different colors for the light settings.
For gamers living in hot weather conditions, mesh gaming chairs are an ideal choice. They prevent the uncomfortable sensation most people feel after gaming for long hours.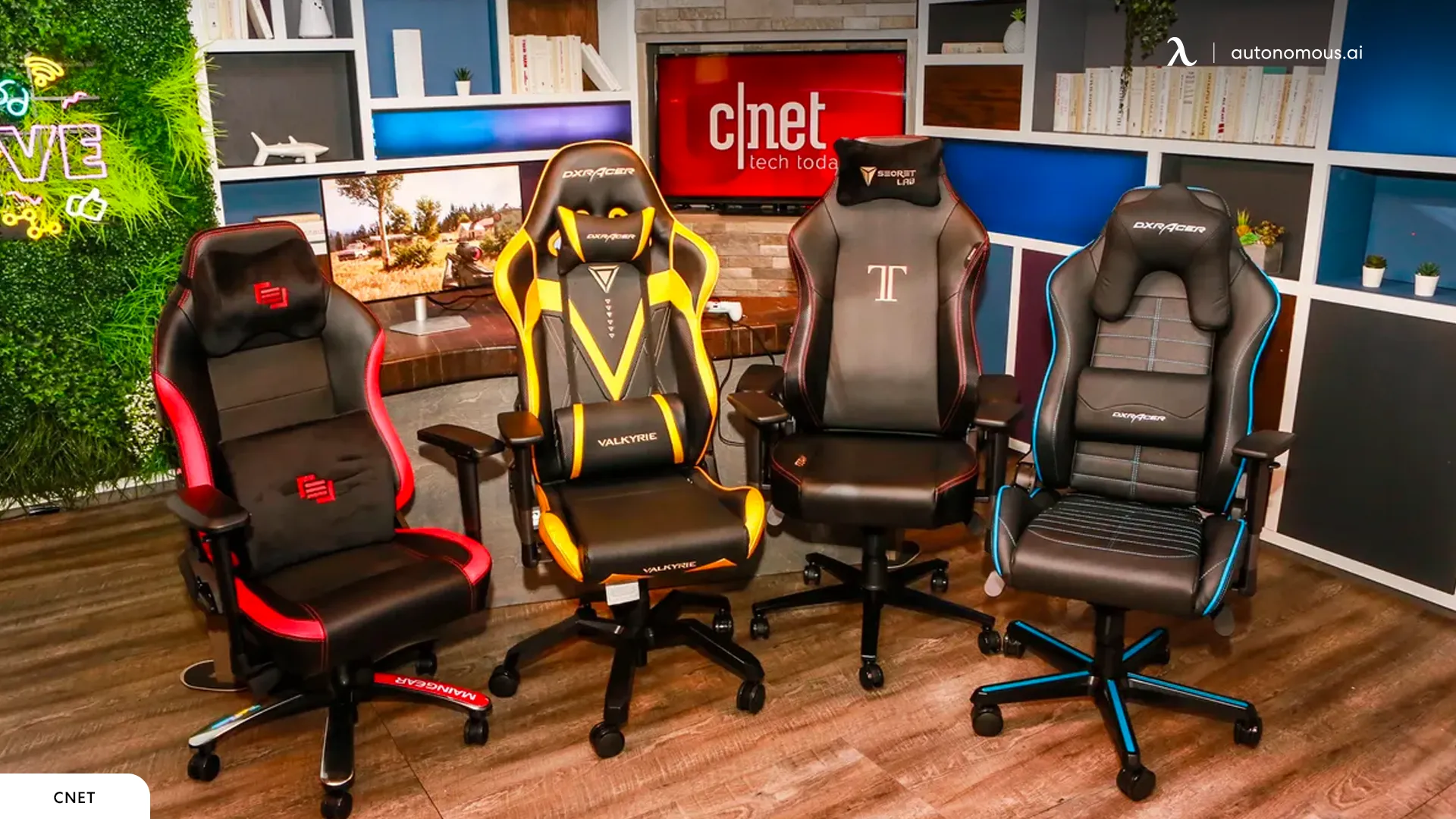 2. Best Gaming Desk for Nintendo Switch Gaming Setup
Choosing a gaming desk is where things get really interesting. You can choose between a simplistic or artistic design. For a console-like switch, a simple yet elegant design that matches the color of your console would be an ideal choice.
Our pick for the best gaming desk is Autonomous SmartDesk which allows you to manually adjust the height of your desk to match the viewing angle for the best gaming experience. These desks come in different sizes and lifting capacity. One of the variants is an L-shaped smart desk. The extra space in this desk allows you to keep your favorite video game figures and characters a part of your ultimate gaming setup. To further decorate it, check out the best gaming desk accessories.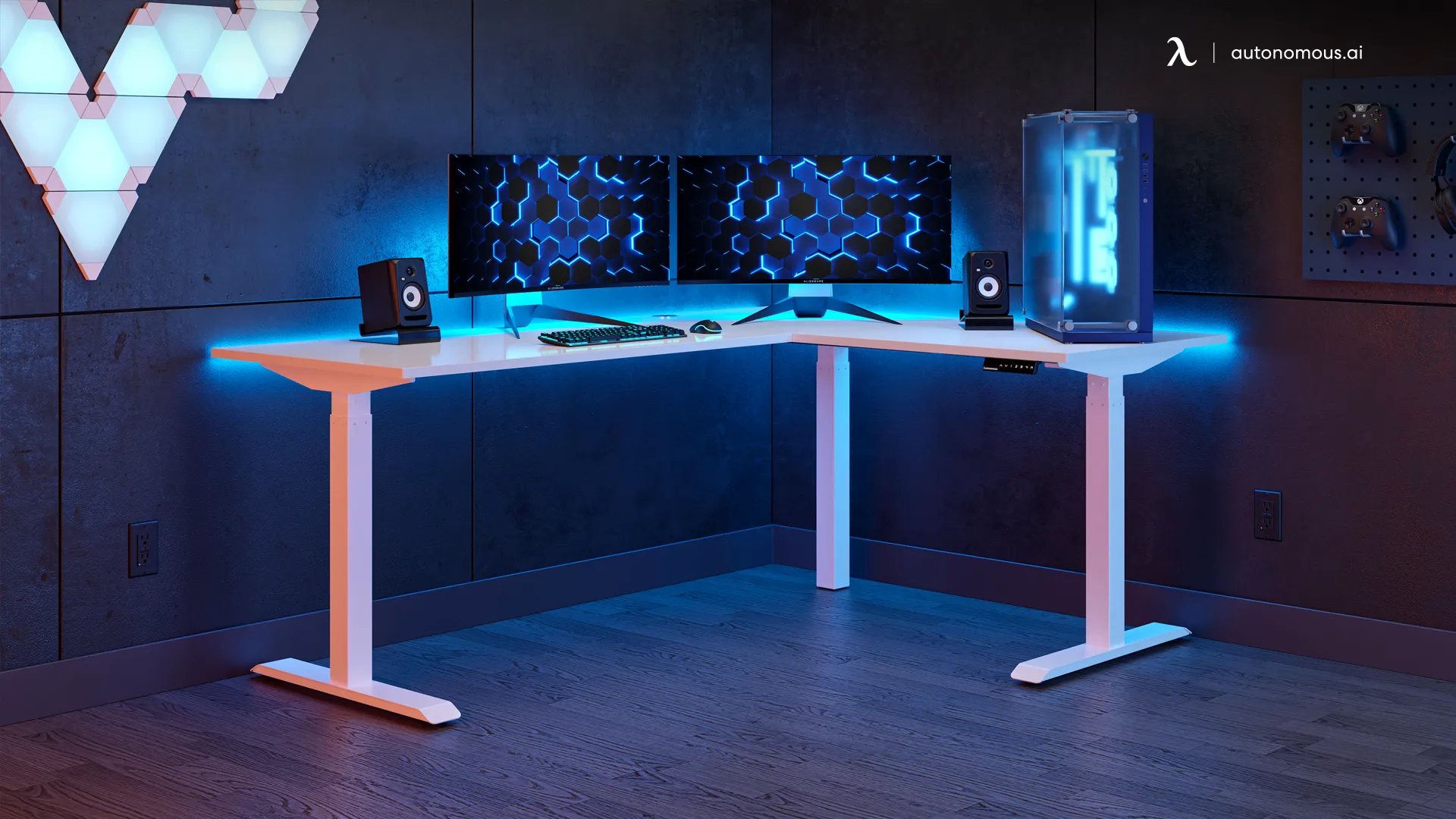 3. Best Monitors for Nintendo Switch Gaming Setup
Although Nintendo Switch comes with a 7-inch screen, it's better to buy yourself a separate screen for a more immersive experience. To be precise, you need to look for a monitor that comes with wide viewing angles and a good contrast ratio. Some of the best monitors you can use for your Nintendo Switch are
Sceptre C728W-1920R (High Budget)
Sceptre comes with a 27 inches screen that provides an amazing 1920*1080p at a high contrast ratio and 60-hertz refresh rate. The main highlight of this monitor is its curved screen, providing you with a cinematic experience with games like Legends of Zelda.
| | |
| --- | --- |
| Immersive curvature | 1800R |
| Display size | 27" |
| View angle | 178˚ (horizontal)/ 178˚ (vertical) |
| Resolution | 1920 x 1080 |
| Frequency | 60 Hz |
| Response time | 5ms |
Pixio PX248 Prime Gaming Monitor (Mid-range)
The Pixio PX248 Prime is a gaming monitor designed to provide an immersive and smooth gaming experience. It features a 24-inch Full HD display with a resolution of 1920 x 1080 pixels, offering crisp visuals and vibrant colors. The monitor has a fast refresh rate of 144Hz, which allows for smooth motion and reduces blur during fast-paced gameplay.
Pixio PX248 Prime Gaming Monitor
Dimensions
With stand: 21.26''W x 15.75''H x 5.61''D
Without stand: 21.26''W x 12.57''H x 1.73''D
Panel type
IPS
Display size
23.8"
Color gamut
103.26% sRGB 79.13% NTSC
Resolution
1920 x 1080
Frequency
144Hz
Warranty
3 years
Acer R240HY Bidx (Budget)
If you are looking for something that provides value with every penny spent, you should go for the Acer 23.8 inches full HD monitor with wide viewing angles. Its 72 percent color gamut and low blue light allow you to play games for longer without hurting your eyes.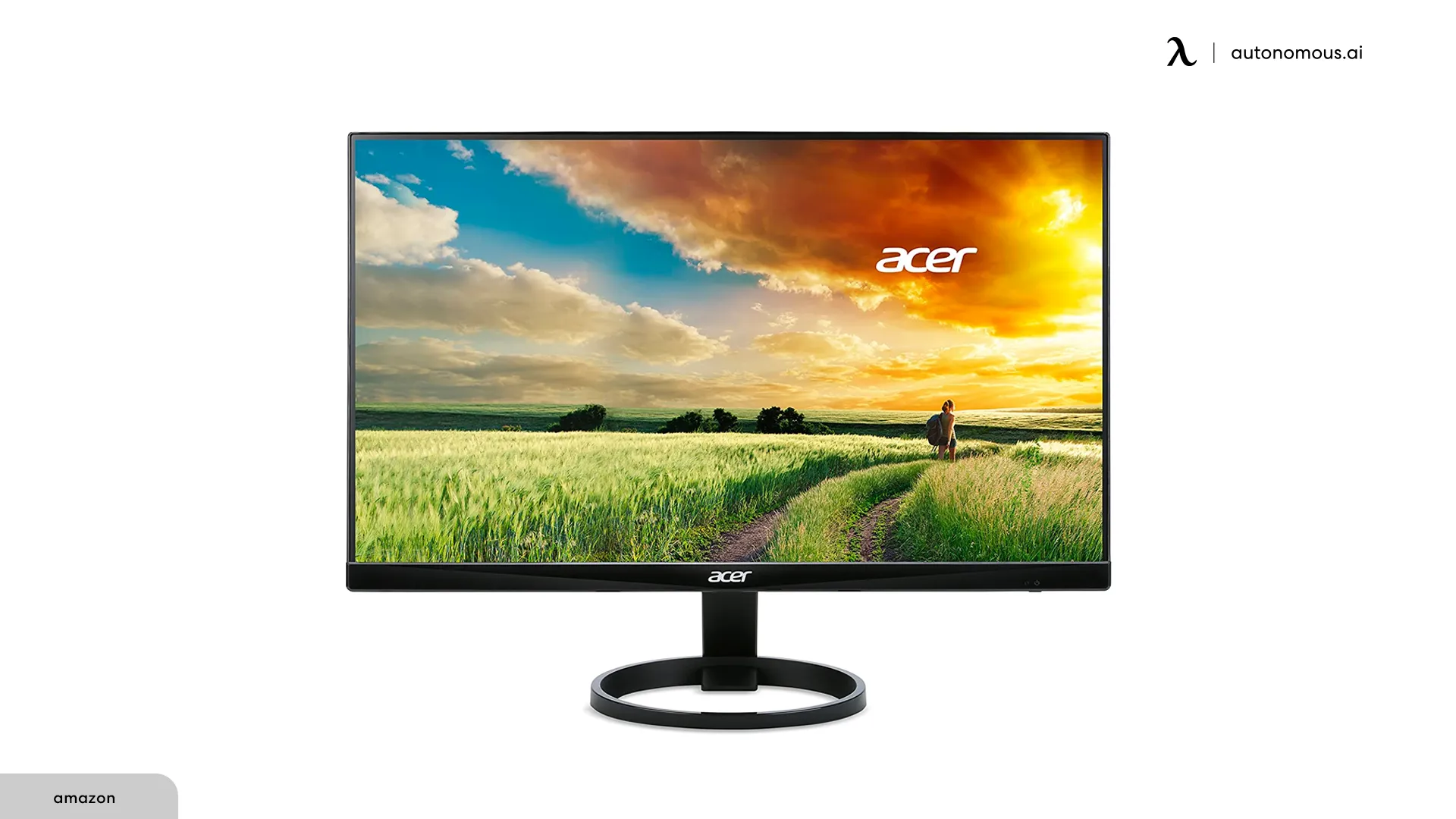 | | |
| --- | --- |
| Immersive curvature | 1800R |
| Display size | 23.8" |
| View angle | 178 degree wide viewing angle |
| Resolution | 1920 x 1080 |
| Frequency | 60 Hz |
| Response time | 4ms |
4. Creating the Perfect Ambiance
Dark rooms with neon lights behind a big screen with Nintendo sitting right beside it look absolutely stunning. To create the perfect ambiance, use colors like blue, yellow, purple, and red. You can get Lamp Depot LED Smart Strip Lights and attach it to the corners of the walls of your gaming room.
These led strip lights come with a remote control that allows you to change the color of your room with just a single press. Another advantage of using the Kyoholink led strip is its music syncing feature, which changes the light according to the beats.
5. Setting up the Backlight
To experience the games to their fullest, you can attach a Philips Hue Gradient Light strip to the back of your monitor or Tv. These leads sync with the tv to change the lights at the back according to the colors of your tv, allowing you to truly feel the atmosphere of your games.
Most led strips come with an adhesive that allows you to attach the strip to the tv. However, they aren't reliable as excessive heat produced at the back of the monitors makes the strip come off. An advantage of using Philips is that the mount it provides is more reliable than any other in the market.
6. Gaming Character Figures for Decoration
Collectors' editions of most of the games come with the main antagonist's figures and other collectibles. These collectibles look absolutely stunning when you place them in your gaming room. Decorate the gaming desk by placing a few of them on the right side of the monitor.
Cost of Building Ultimate Nintendo Switch Gaming Setup
An ultimate gaming setup for your Nintendo Switch can be costly, but choosing the right accessories is what brings the cost under the budget. Creating a gaming setup on a budget is easier than ever, thanks to the high competition in the market, with multiple brands offering high-quality accessories.
The Nintendo Switch itself costs around $299.99, and if you include all the accessories listed above, the price of the whole gaming setup would be around $1000 to $1500.
Set your gaming room now and enjoy the amazing gaming experience.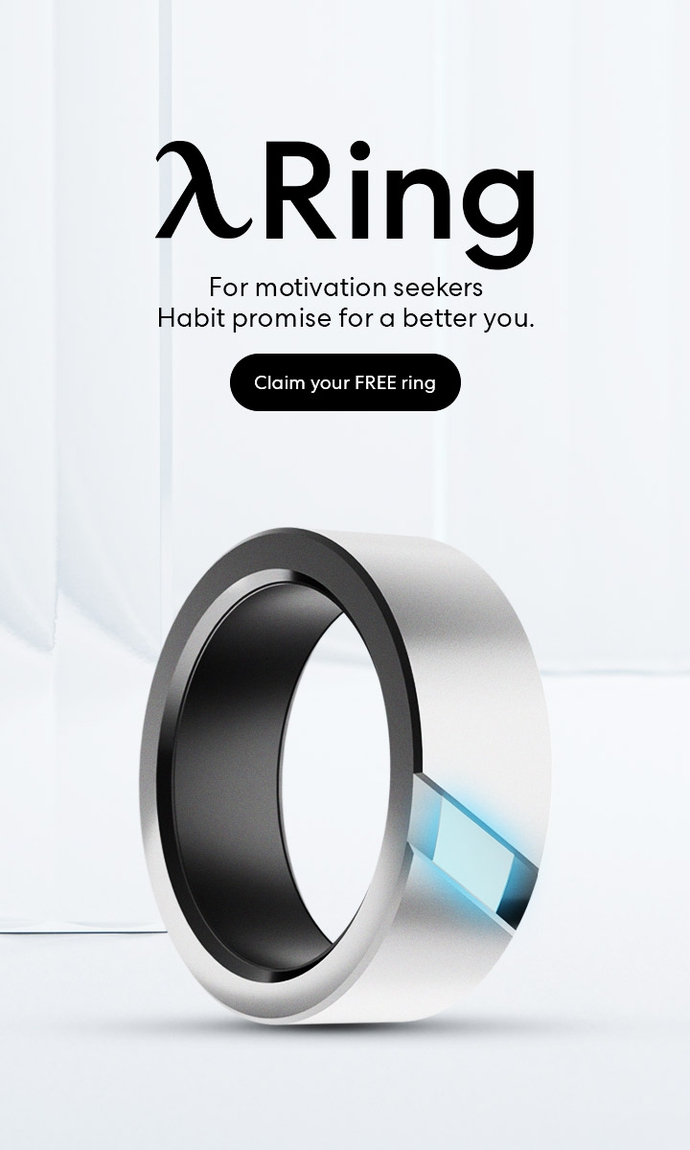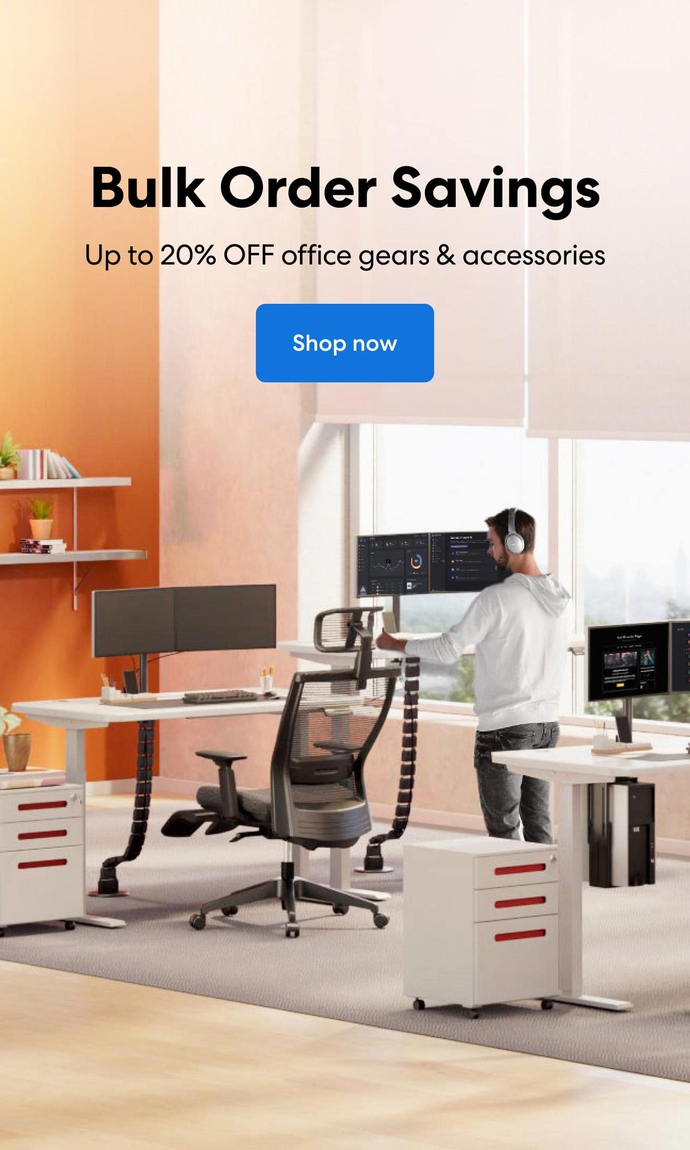 Subcribe newsletter and get $100 OFF.
Receive product updates, special offers, ergo tips, and inspiration form our team.