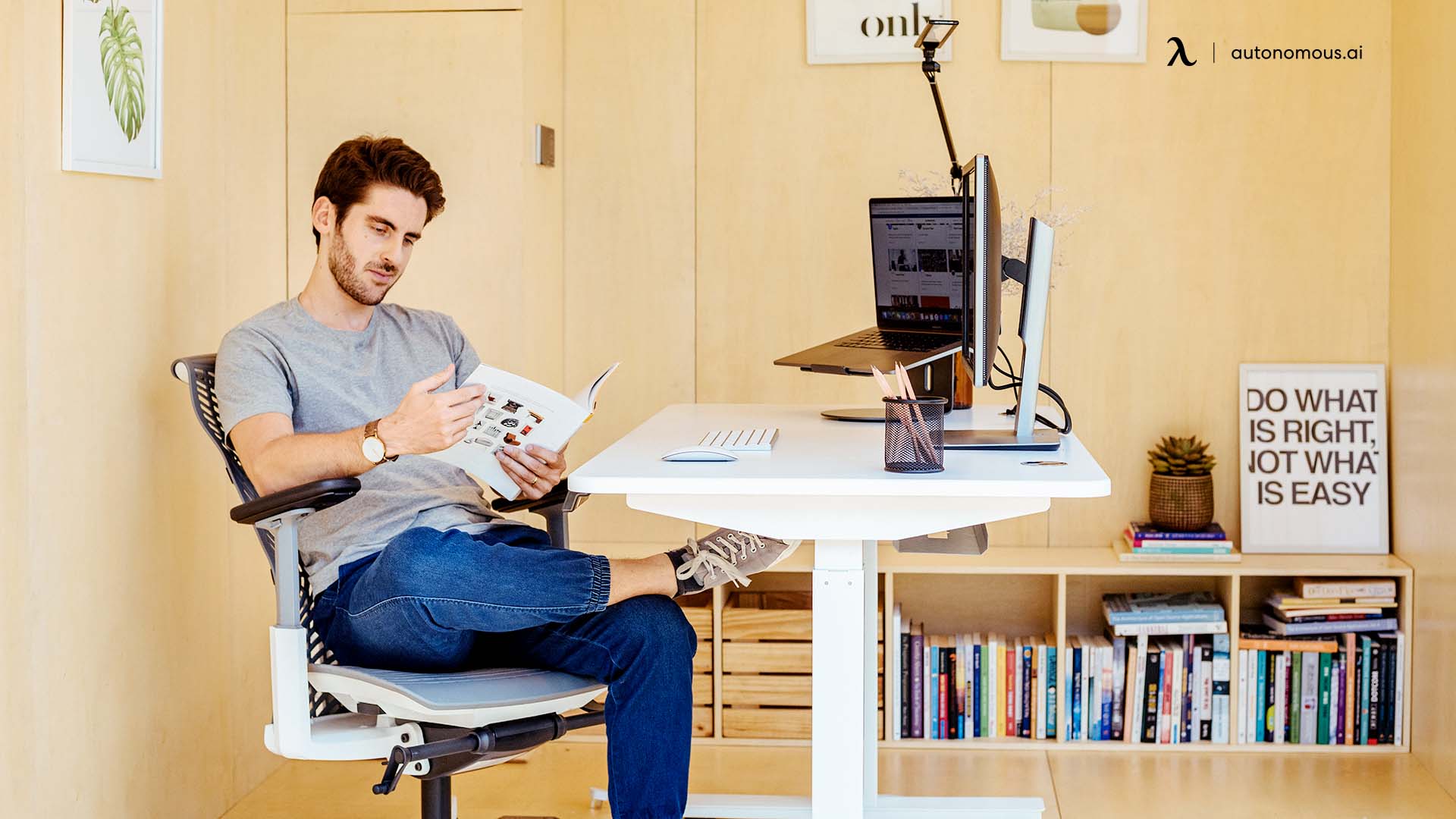 Smart Products
Top 30 Best Budget Ergonomic Chairs for Home Office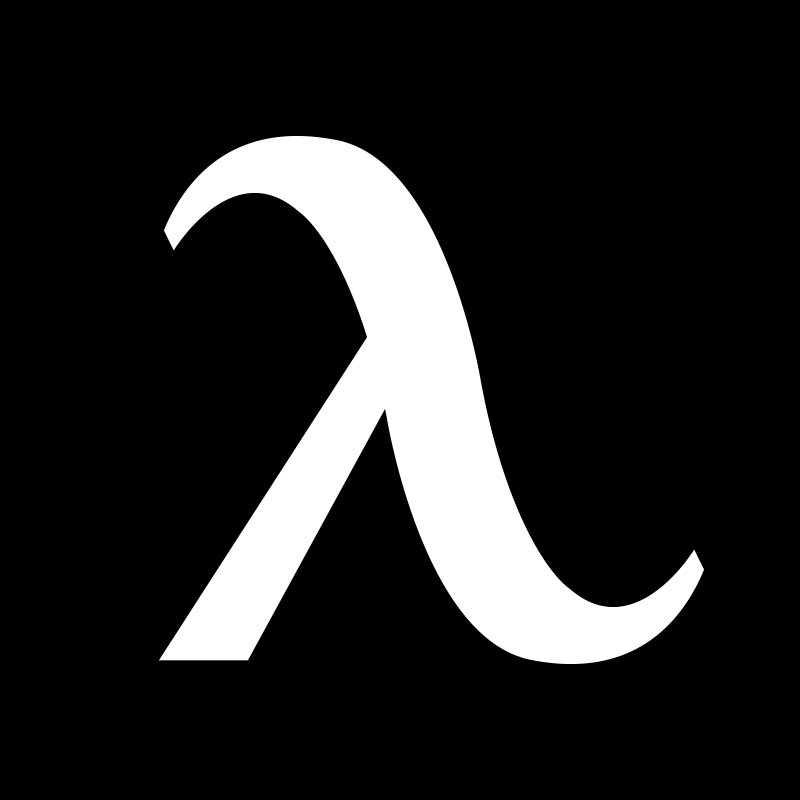 Autonomous
 | 
Jan 21, 2022
Whether you work remotely or in an office, the greatest desk chair is the one that you would not have to worry about throughout the day. Rather, it enables you to remain productive and comfortable while continuing your daily chores, only to end the day with ease rather than with spine or neck discomfort. The best budget office chairs are built with ergonomic characteristics to keep you relaxed even if you have to sit for lengthy periods.
Ergonomically designed chairs have three primary characteristics: supporting, highly adaptable, and comfy. In an ideal world, you would be able to adjust the elevation and inclination of your chair to obtain the ideal sitting posture. However, when you're on a limited budget, at the minimum, you'll want the best budget ergonomic chairs with adjustable armrests and height.
Why Should You Invest in an Ergonomic Chair?
One of the best budget office chairs that money can buy comes as an eco-friendly office chair. The AvoChair is a beautifully designed piece of art that offers full lumbar support.
You might think to yourself, why is an inexpensive ergonomic chair important? What benefits are there of using an ergonomic chair? What is the best budget ergonomic chair for my home office?
Today we answer all these questions. We explore the top 30 best office chairs for the home that suits your budget, height, and weight.
These all play a role in deciding which chair is the best fit to support your spinal column.
The multitude of options out there might make it tough to make a final choice. Whatever decision you make, your back is certainly going to thank you in the future.
What Are the Benefits of an Ergonomic Chair?
There are many benefits you are going to receive when converting your office space to an ergonomic environment.
While you might not notice it now, ergonomic injury is an ailment that is best prevented and tough to cure.
There is hope, and with the dedication to improving your posture, you can use one of these affordable ergonomic chairs to help correct your spine.
By providing full lumbar and spinal column support, ergonomic chairs play a massive role in correcting our posture. Combine this with standing desks and other ergonomic equipment, and you are looking to improve your health and well-being dramatically.
So, you might wonder what the best office chair type is? Let us discuss this below!
What to Consider When Buying the Best Cheap Office Chair?
When you are considering buying an ergonomic chair, most folks focus on the chair's features, or they look for the best affordable desk chairs. After all, that is what your primary need is for an ergonomic chair. Here are the top questions to ask as you think about the best inexpensive office chairs.
1. Seat pan
The seat pan or the chair seat is where you will rest your backside as you start your work. It is important to check by sitting in the seat that you don't have to push your backside too far into the back of the chair. Why? You may consciously do this, but as you get busier at work, you are sure to forget the need to sit upright.
Suppose the seat pan is too far back. In that case, your knees may land up being on the seat and not using a ninety-degree posture recommended even by Occupational Safety and Health Administration guidelines. Plan to keep an inch or so of a gap between the end of the seat and the back of your knee for your ease. As a rule of thumb, if the seat pan can accommodate at least two-thirds of your thigh, it is good to support.
Some of the best budget office chairs have additional features like increasing or decreasing the seat pan for different body shapes. Some ergonomic chairs offer a waterfall seat pan. What is a waterfall? A design where the seat curves downwards so that it doesn't hit the back of your knees for comfort
It is advisable for the seat pan to be wide enough to accommodate the shape of large body sizes. Unfortunately, some best cheap desk chairs may not offer these features.
2. Adjustable Height
One of the critical elements of an affordable computer chair is the adjustable height which enables you to get the best sitting posture with a ninety-degree angle at the knees and ankle so that the feet are resting on the ground firmly. So using a pneumatic height adjusting mechanism is a basic need.
It may be worthwhile to check the range of height adjustment of the chair. Why? So that even the tallest member in your family or most frequented user at your home office can use it.
3. An Adjustable Lumbar Support
This is a critical feature and becomes a selling point for most sellers. Look out for adjustable lumbar support so that when you have a visitor at your home office, they can adjust the lumbar support for long meetings or work with you. As a result, their lower back gets very good firm support as they get comfortable, and they aren't reluctant to visit your home office for work. Even the best budget computer chair today offers lumbar support. The question to ask is if that lumbar support is adjustable or not?
4. Backrest – Recline, Height?
Many buyers forget to consider if the chair's back is high or has a low back while buying the best cheap computer chair. What is the difference? With a high back chair, you can use the seatback to rest your back as sit upright to work on your system or recline. Results? Your spine and back receive firm support. They don't have to use much energy in staying. As a result, they don't get tired easily, avoiding pains or aches.
As you read through, ask yourself, which is the most comfortable office chair for long hours?
5. Cross-legged
Do some folks wonder if it's okay to sit cross-legged on the chair seat? Well, do read our blog on sitting cross-legged office chair.
30 Best Budget Ergonomic Chairs for Your Home Office
We evaluated hits and restricted the field depending on the simplicity of use, convenience, and affordability to come up with our selection of the finest desk chairs in the marketplace. With that in consideration, irrespective of your cost, the following would be the greatest affordable ergonomic chairs on the market to allow you to work more easily.
1. Autonomous ErgoChair Recline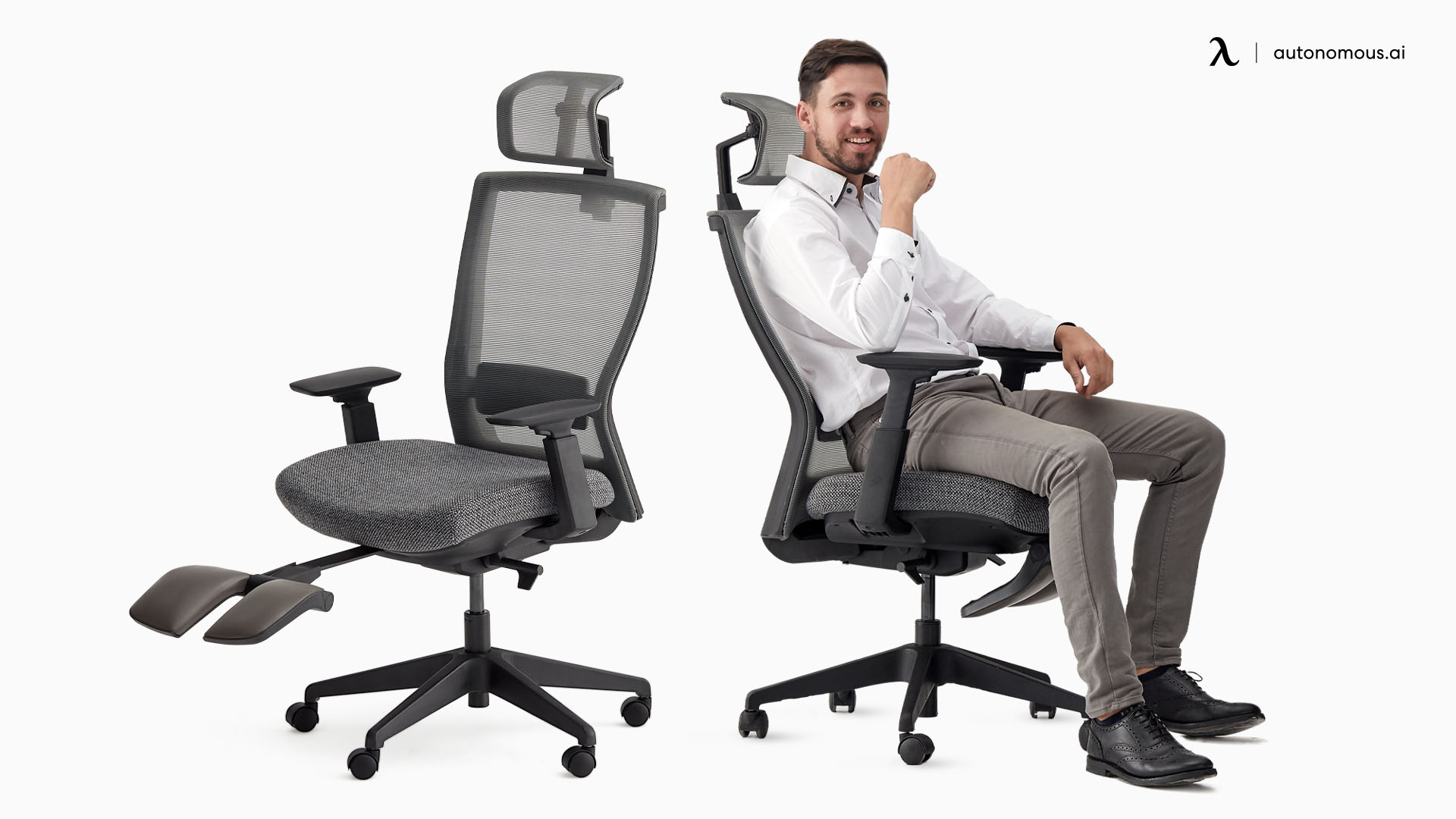 If you are looking for an inexpensive ergonomic chair, Autonomous has one of the best options on the market. The ErgoChair Recline is a base-level high back chair with head, neck, and full back support for tall and short people.
The breathable, reclining back incorporates balancing technology so that you can not fall off. You receive a 1-year warranty and can pay it off monthly if you choose to do so.
It could be the best budget desk chair for the home that you have ever used. Give it a try to see how it can benefit your back with the lumbar support you can expect from Autonomous.
2. Autonomous ErgoChair Pro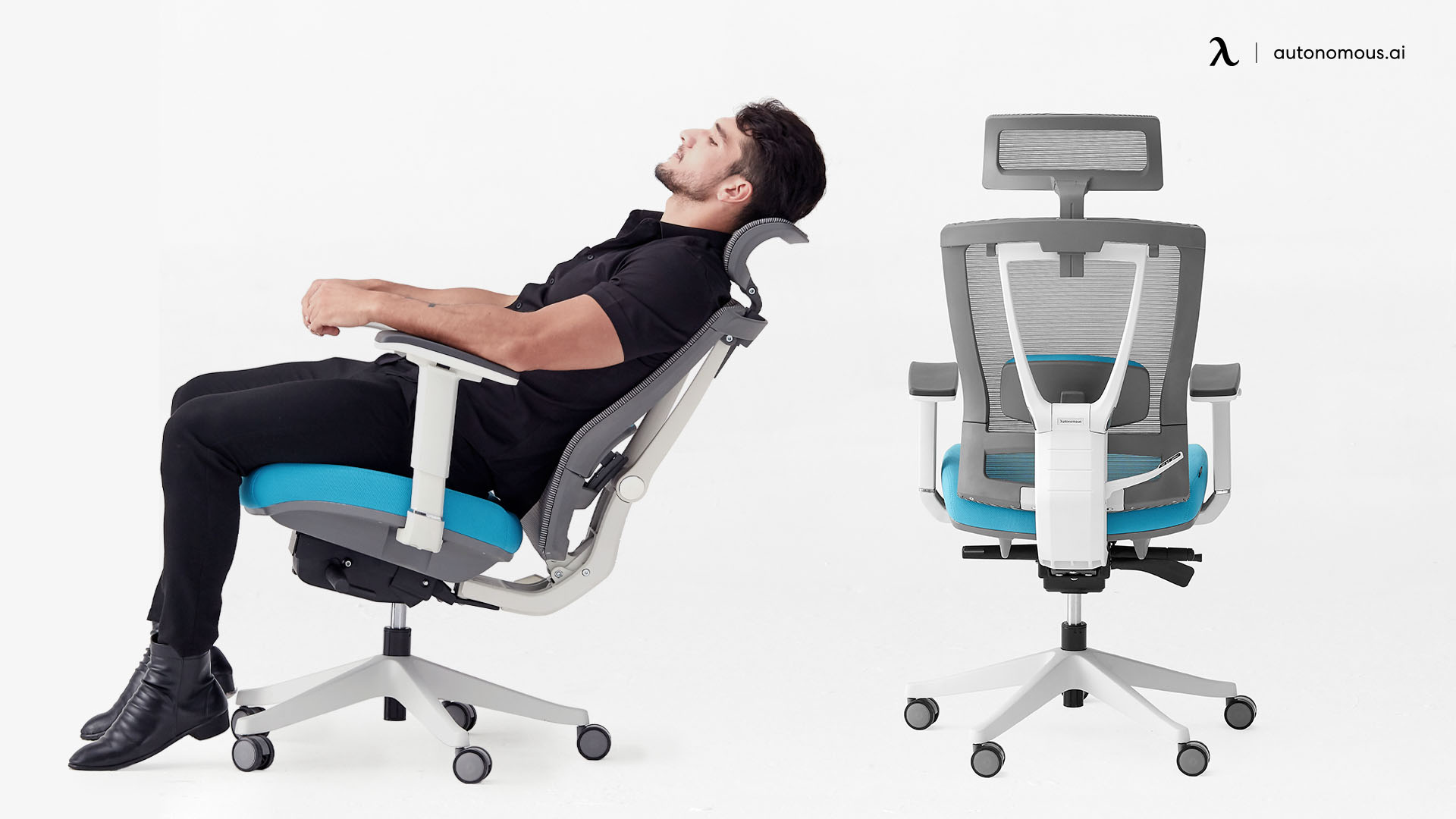 The Autonomous ErgoChair Pro is the best budget office chair on this list by far. It has all the customizable options you can expect from a quality brand like this.
It has a smooth recline with five lockable positions that can come in handy if you want to relax and even have a nap. The woven mesh backrest allows for optimal airflow and flexible lumbar support for sitting in any position.
This chair is outstanding and goes well with a standing desk from Autonomous. The desks are height-adjustable, so it is easy for you to add them to your ergonomic office setup.
It helps correct your posture by giving you fill-back support that is ergonomic and shapes your spine perfectly. If you are looking to buy an ergonomic chair, this is the one for you.
3. Autonomous AvoChair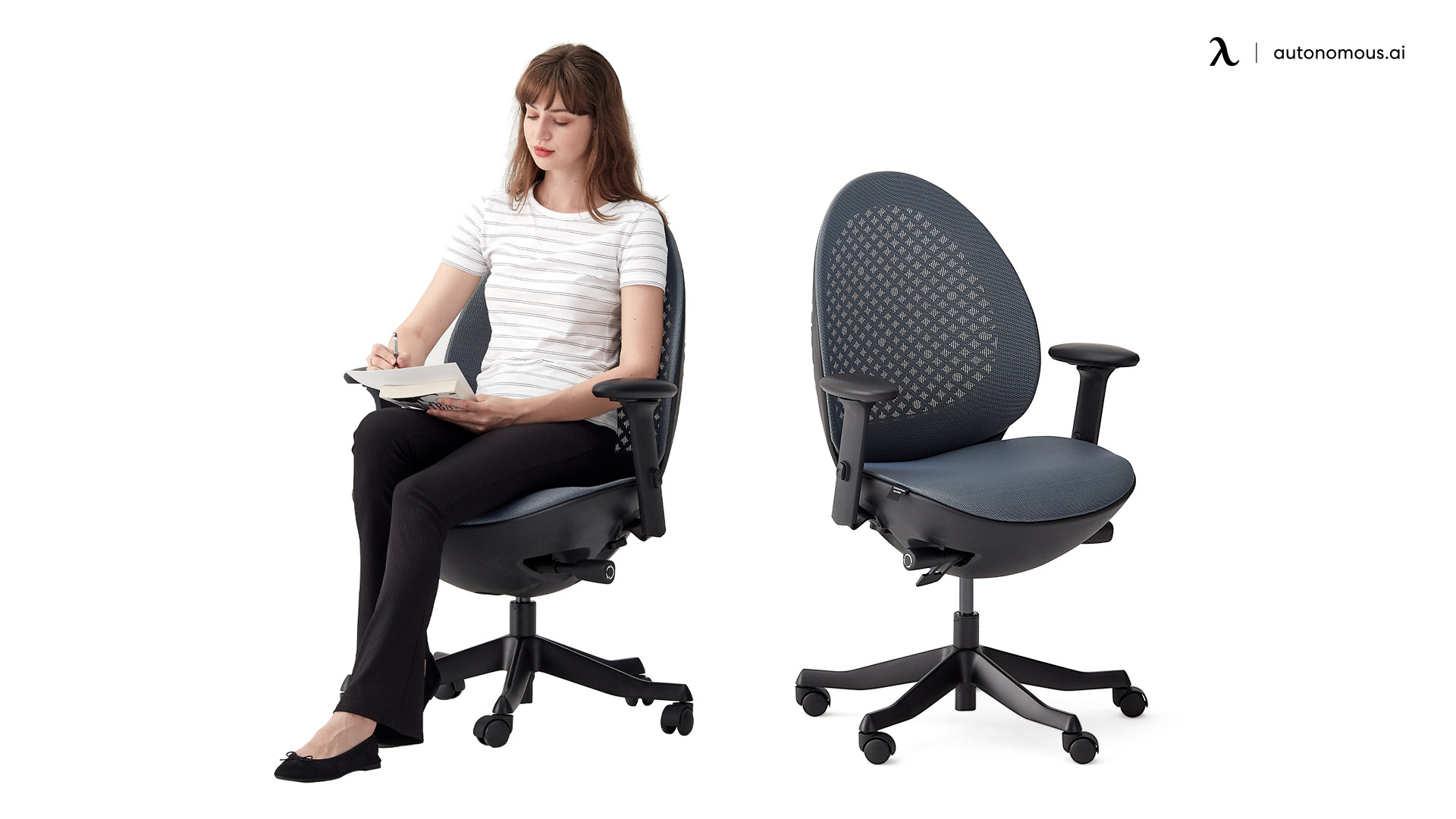 Autonomous is known for its meticulous manufacturing process and one hundred percent customer satisfaction.
This intuitive eco-friendly office chair is perfectly priced and well-balanced. It provides solid back support, adjustable height, back tilt, and a breathable back for those who get sweaty. It is one of the inexpensive ergonomic chairs now.
One hundred percent recycled material is used in its production, and this chair can support up to 250lb with a sturdy diecast aluminum alloy base.
Excellently priced and a 2-year warranty makes this a fantastic deal for anyone looking for the best budget office chair.
4. ErgoChair Core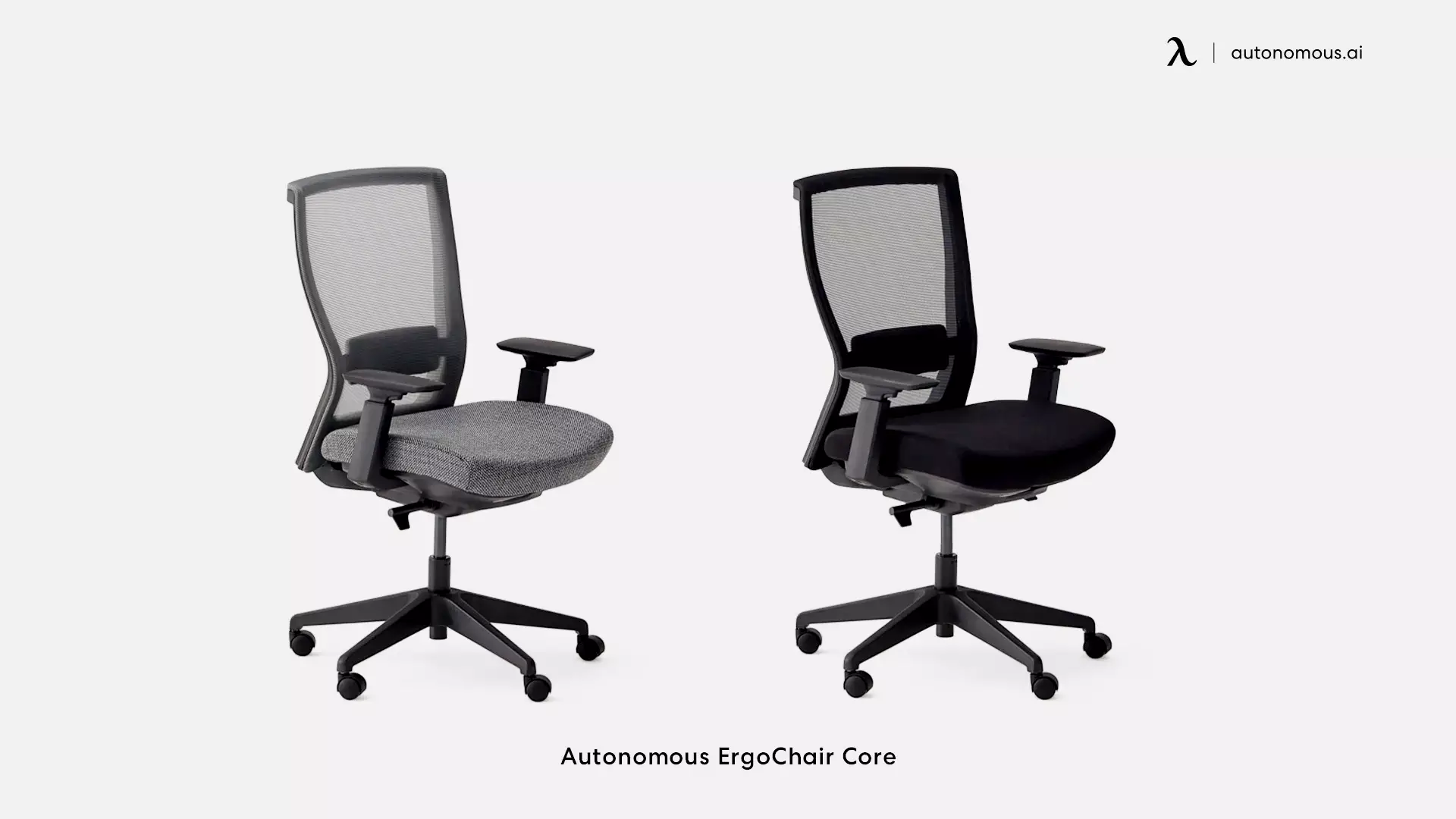 Luxury office seats can be costly, but this one is a computer ergonomic chair that provides all of the functionality you need at a reasonable price. It's composed of elastic mesh with a sculpted pillow for all-day convenience, and you can modify it in a variety of ways to suit your requirements. You may adjust the seat's arms in length and girth, and it has pneumatic seat adjustability, tension control, and a synchronal-tilt system.
5. HON Ignition Version 2.0 Mid-Back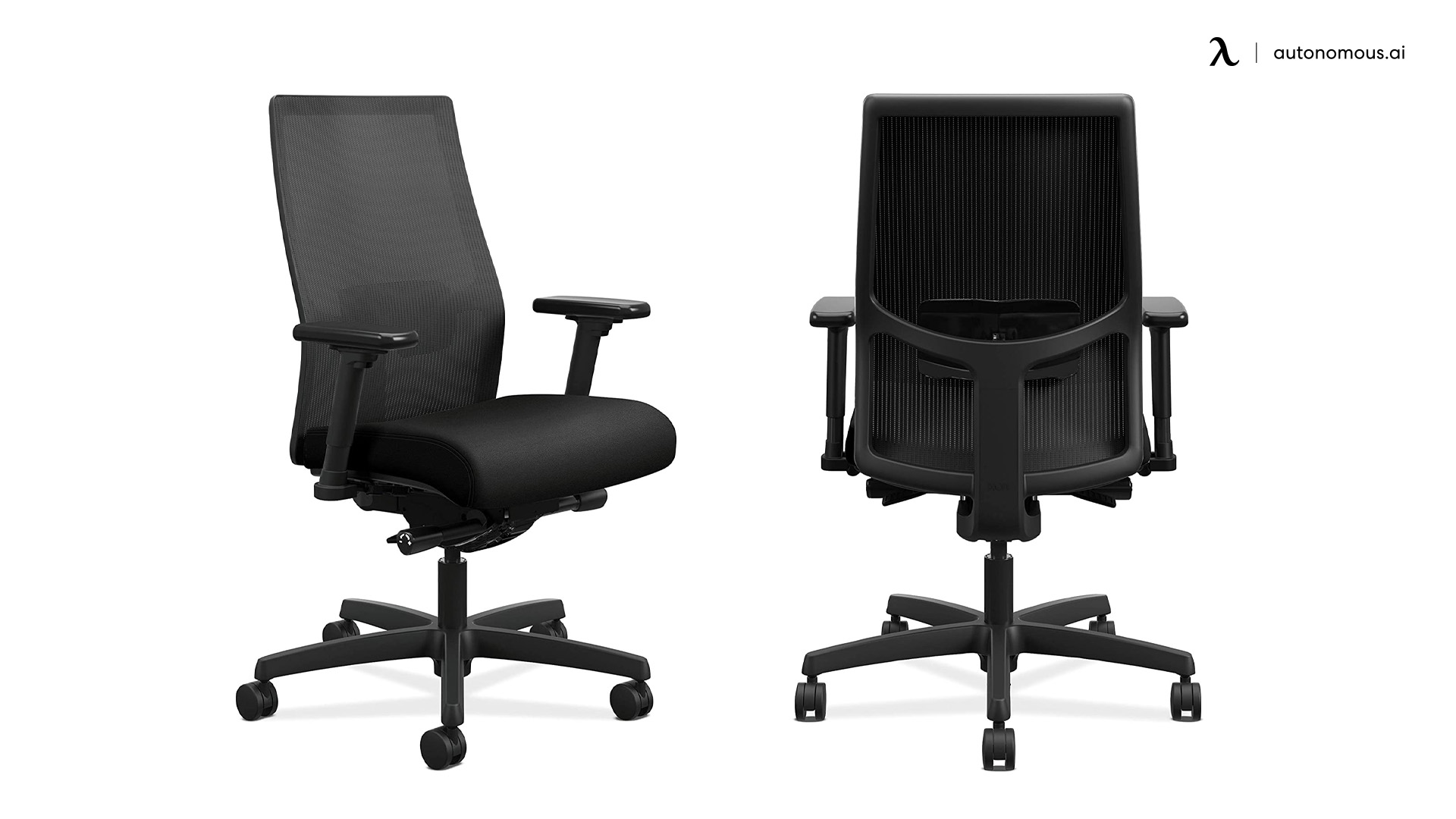 Hon Ignition version 2.0 is a great value-for-money chair that does not look very sexy at all.
It has a comfy foam cushion, up-down adjustability, adjustable arms, and dynamic lumbar support.
This high back ergonomic office chair is better suited for people that are 6 feet or taller.
The breathable back keeps you airy and dry while you are spending time working at home.
Looks aren't everything, which is evident with the Hon Ignition 2.0. You can get adjustable seating that does not cost an arm and a leg.
6. Fully Desk Chair
This budget chair is not the greatest one on the list, but it is designed with quality material and offers weight support of up to 300lb.
It is built on a sturdy aluminum base and has a high backrest with an adjustable armrest. The firm bottom cushions do keep you comfortable and at ease for those long work sessions.
You get a 1-year warranty with this budget chair, and you can expect fantastic customer support too.
7. Modway Articulate Ergonomic Mesh Office Chair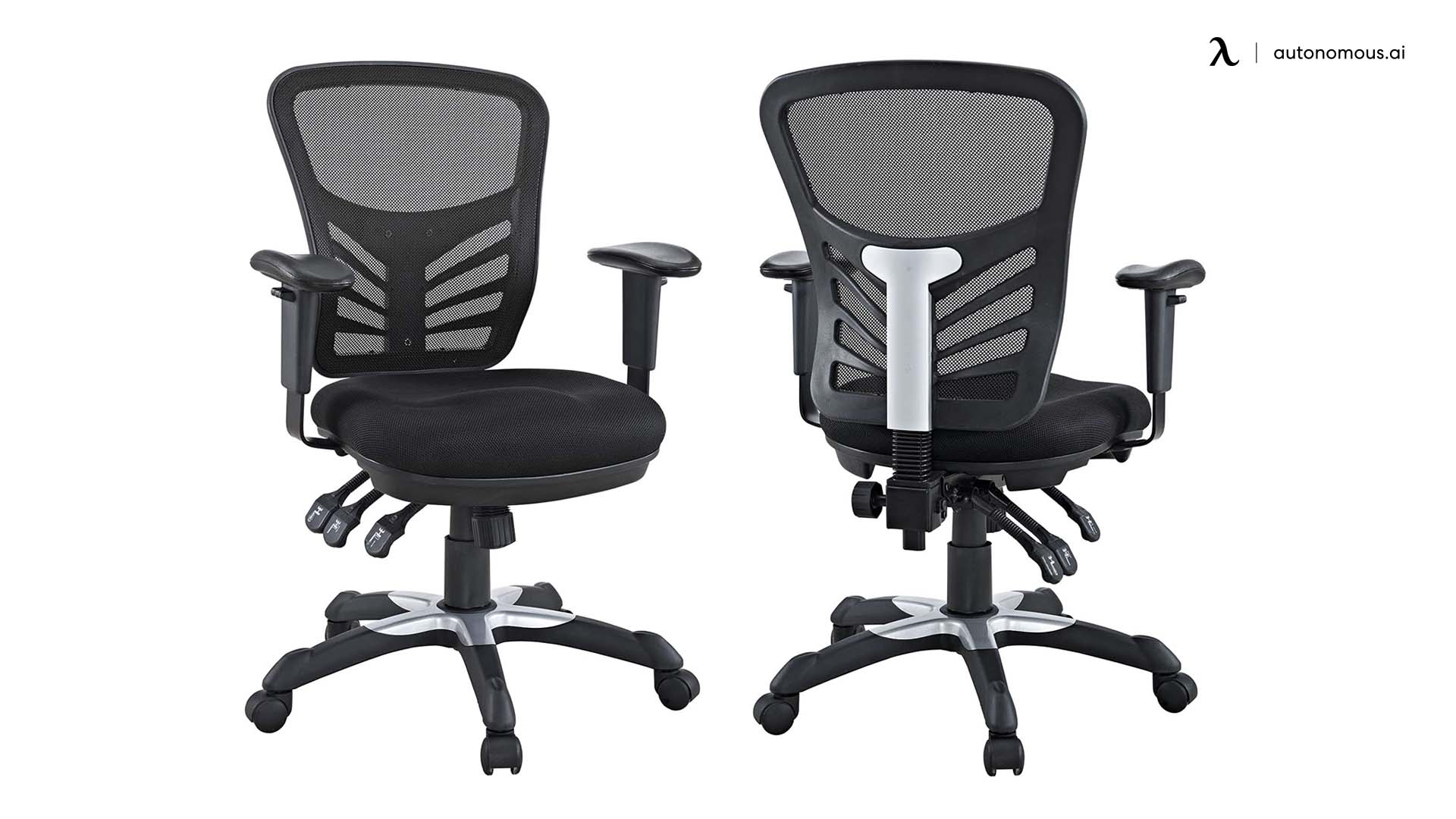 Modways Articulate ergonomic office chair is a premium quality chair at an affordable price that won't break the bank. It carries up to 330lb, is fully customizable, and offers comfort as you have never experienced before.
It comes in a generous selection of colors that include blue, black, green, and more.
Choose the Modway ergonomic mesh chair to add some life and color to your home office.
8. Homall Executive Leather Chair
Gaming comes to mind when looking at this chair and its features. It is an inexpensive ergonomic chair by Homall. It delivers the comfort and support you are looking to get out of a chair like this.
This best budget office chair offers head, neck, arm, back, and lumbar support with its soft cushioned PU leather body. You need this chair if you suffer from back problems and want something with full support.
It is time to feel like a boss in your home office.
9. Flash Furniture Mid-Back Swivel Chair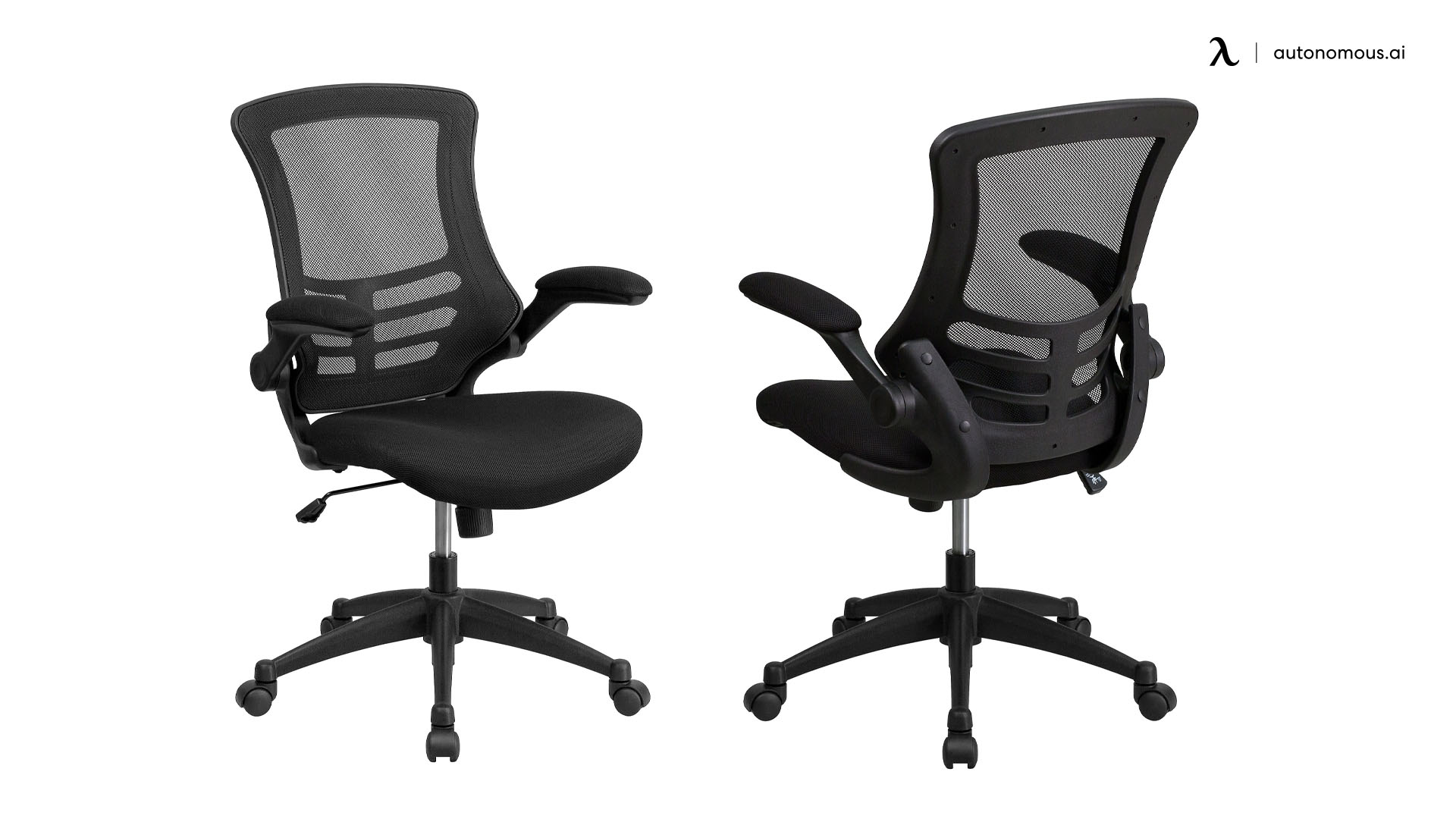 If you want to buy an affordable ergonomic chair, you have come to the right place. The Flash mid-back swivel chair is perfect for smaller folks looking for ultimate back support.
This cheap ergonomic chair offers mid to upper back support, a height-adjustable seat, and an armrest that folds up and out of the way.
What is not to love about this ergonomic office chair? It has stylish features and a fantastic price.
10. Branch Task Chair
It is the perfect affordable ergonomic chair with a bunch of high-priced features packed in a well-priced package. It has built-in lumbar support, a wide mesh back, adjustable arms, and a customer service department that cares.
On top of all of this, Branch offers a 2 to 10-year warranty on its products. This one is no expectation. You are going to struggle to find such a cheap ergonomic chair that gives you as much for the price.
11. Hbada Office Chair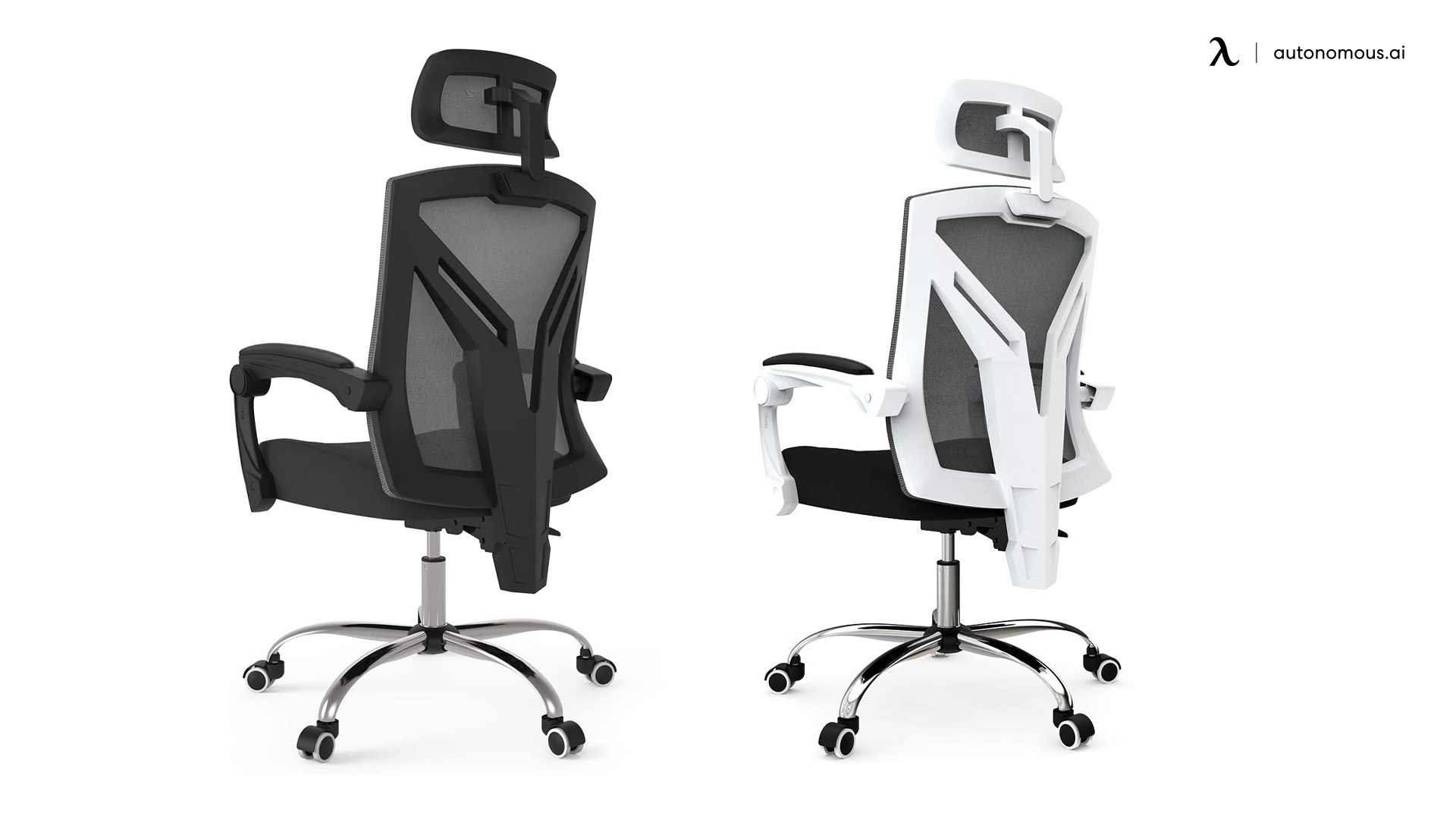 The Hbada office chair comes with an adjustable armrest that folds out of the way so that the chair can fit under a desk.
This ergonomic back mesh chair is suitable for people who are not taller than 6 feet. It offers them both comfort and stability when they need it most.
12. Smugdesk Ergonomic Office Chair
The Smugdesk best budget ergonomic chair is for people who spend long hours in front of the computer. It supports up to 250lb, and it has a breathable mesh backrest that complements the memory foam seat perfectly.
The headrest height is adjustable, and there is a tilt and lock system to ensure the correct posture of the sitter.
The chair design is ultra-comfortable so that you can spend long hours on it without being affected.
13. HON Volt Armless Task Chair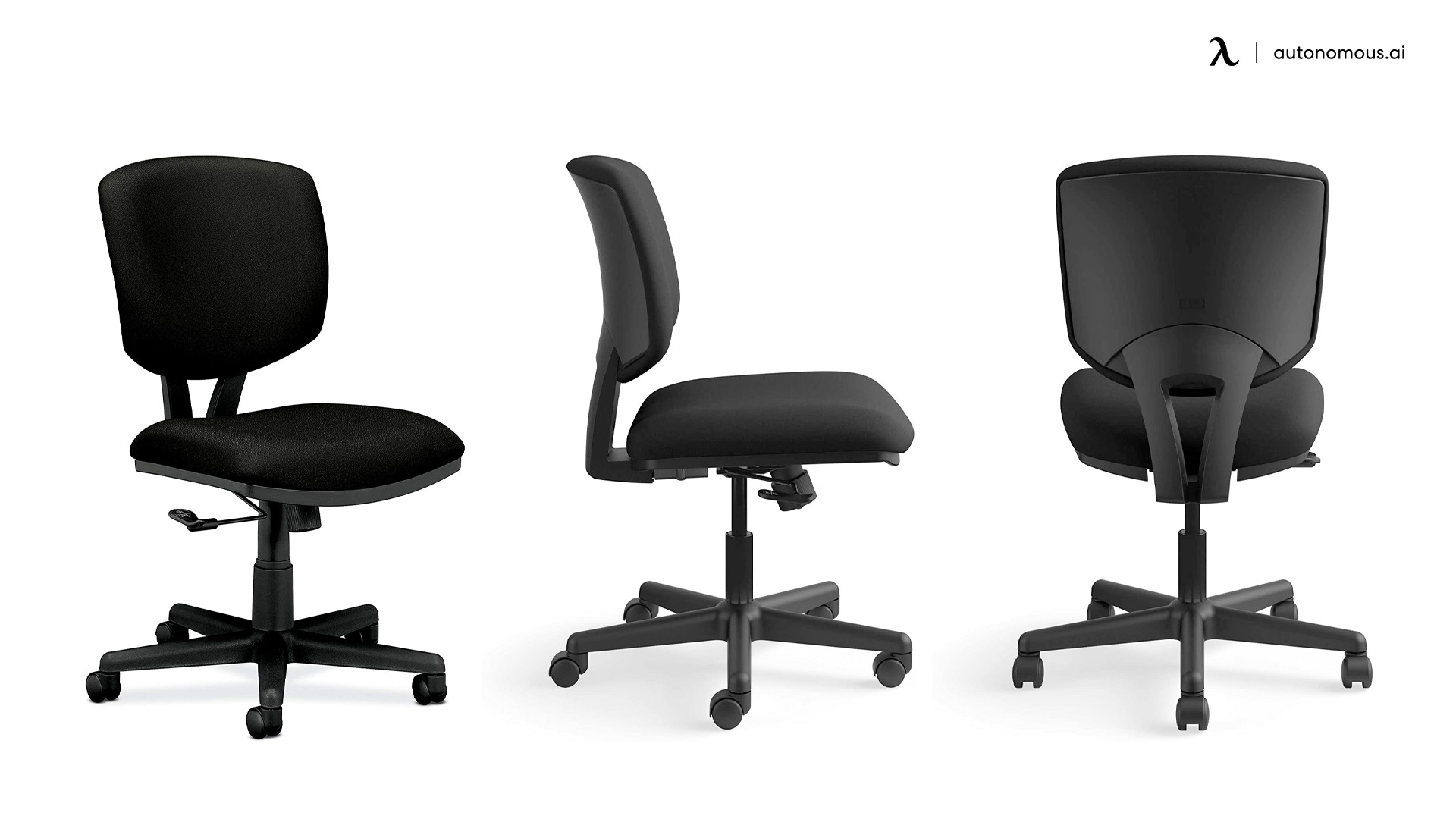 It is a bargain inexpensive ergonomic chair for someone using a standing desk in the office environment or home.
Coming in at only $50, it is a steal for someone who is hard-pressed for cash and in need of an ergonomic standing chair.
The height is adjustable, and it supports up to 250lb. There are no armrests included, but you can expect that from a model in this price range.
14. Amazon Basics Low-Back Computer Chair
Amazon Basics low-back computer chair is an affordable ergonomic chair that has all the features that you want in an office chair and more. Do not let the low price fool you, as it's made from a quality two-inch-thick mesh fabric that breathes new life into your posture.
It has a 360-degree swivel allowing you to jump from one task to the next with ease. Height adjustment is taken care of pneumatically, and it can support 275lb.
Investing in this chair is going to provide you with the ultimate satisfaction in lower back support.
15. Amazon Basics Executive Chair
An upgrade to the low-back computer chair offered from Amazon Basics, the executive version adds the extra bells and whistles you can expect from a higher quality build.
The Amazon Basics executive chair makes you feel like a king and gives you full lumbar support. You sit in comfort as you get wrapped in soft leather cushioned seating that makes you feel like a boss.
If you want to feel like an executive at home, maybe it is time to order this chair for yourself.
16. OFM Leather Gaming Chair
This racing-style leather gaming chair comes in a range of different colors that are eye-catching and inspiring. There is a selection of customization options that are going to have you gaming in comfort and style. It is rated as one of the best budget office chairs.
The thick fabric seating engulfs your buttocks, supporting your lower back, and comforting your neck. It is so comfortable you might never want to sit on another chair again.
Included is the expectational customer service that you can expect from large retailers such as Amazon.
17. Ikea Markus Chair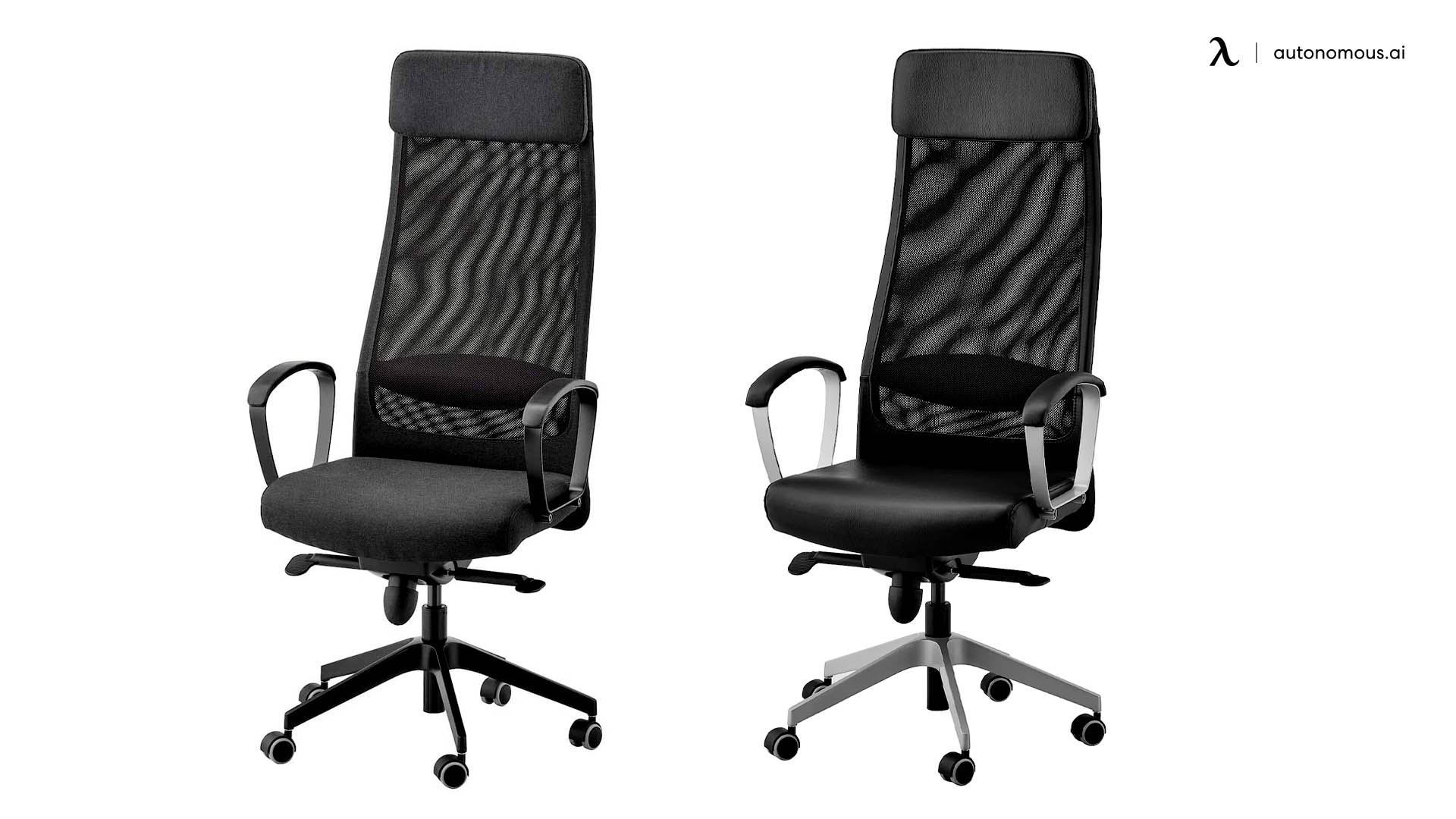 If you are a taller person, this cheap ergonomic chair can suit you perfectly. The Ikea Markus chair was developed with tall people in mind, offering a high mesh backrest for middle and upper back support.
The mesh backing allows the chair to breathe and keep your cool while working on those hot days.
By choosing a well-known brand like Ikea, you get quality customer service as expected from them.
18. Hbada Office Chair Desk Chair Flip-up Armrest Ergonomic Task Chair
Another best budget ergonomic chair is from Hbaba. If your seating arrangements at your home office are terrible, you are setting yourself up for trouble. Expect to get a decrease in productivity and an increase in ergonomic injury.
Hbada has a solution for you in the form of its ergonomic task chair that features flip-up armrests.
It is a mid-back chair that fits the lower back to keep it supported, and it helps prevent ergonomic injuries, such as lower back pain.
This chair is 100 percent foldable, and it supports a weight of up to 350lb. Order the white model if you want to add a futuristic look to your home office.
19. Moon Mesh Operator Chair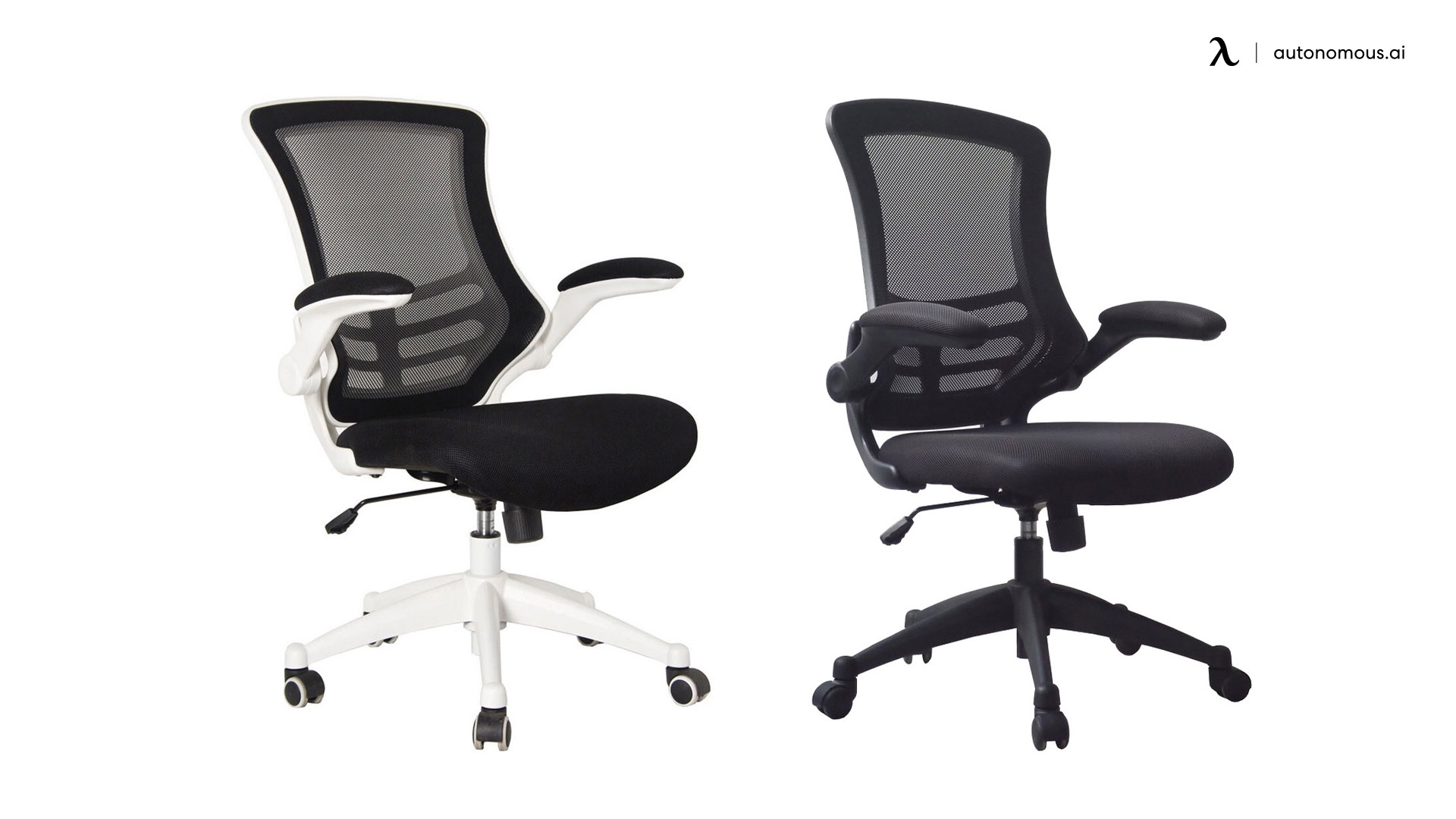 This is another best budget desk chair for your consideration. Available in a choice of colors that includes a burnt orange that looks epic, the mesh back chair gives you the comfort and support you deserve.
The tall back is curved to support your spine and give your posture the stability it needs.
There is weight tension control, gas height adjustment, folding arms, and fully reclinable via tilt mechanism.
It has a beautiful build quality and provides comfort and support at just the right price.
20. Real Space Synchro-Tilt Ergonomic Chair
This company has been in business for over 25 years, and you can expect quality and scrupulous design from this manufacturer. Realspace delivers a quality and best budget desk chair that is going to knock your socks off.
Everything from height adjustment, reclining adjustment, and breathable backrest are prime features of this affordable ergonomic chair.
There are endless customization options that leave you satisfied with your purchase.
21. SIHOO Ergonomic Office Chair
The SHIBOO Ergonomic office chair available from Amazon is one of the cheapest chairs on this list.
You get a breezy mesh back, lower back support, adjustable headrest, and armrests. It also contains a spring-lock tilt mechanism, which is a bonus on such a cheap chair.
It is going to change your opinion on budget ergonomic chairs with all of its customizable options.
22. Ergonomic Chair – Hardwood Floor Casters
With its hardwood floor casters, this is amongst the best cheap office chair alternatives you'll discover that promote correct ergonomics. The chair's design is ideal for uptight spaces, and it also has an elevated mesh backrest with a customizable headrest. Furthermore, you may customize the back support, armrests, seat level, and waist altitude to fit your preferences. This chair keeps you comfy for long amounts of time.
23. Minecraft's Ergonomic Chair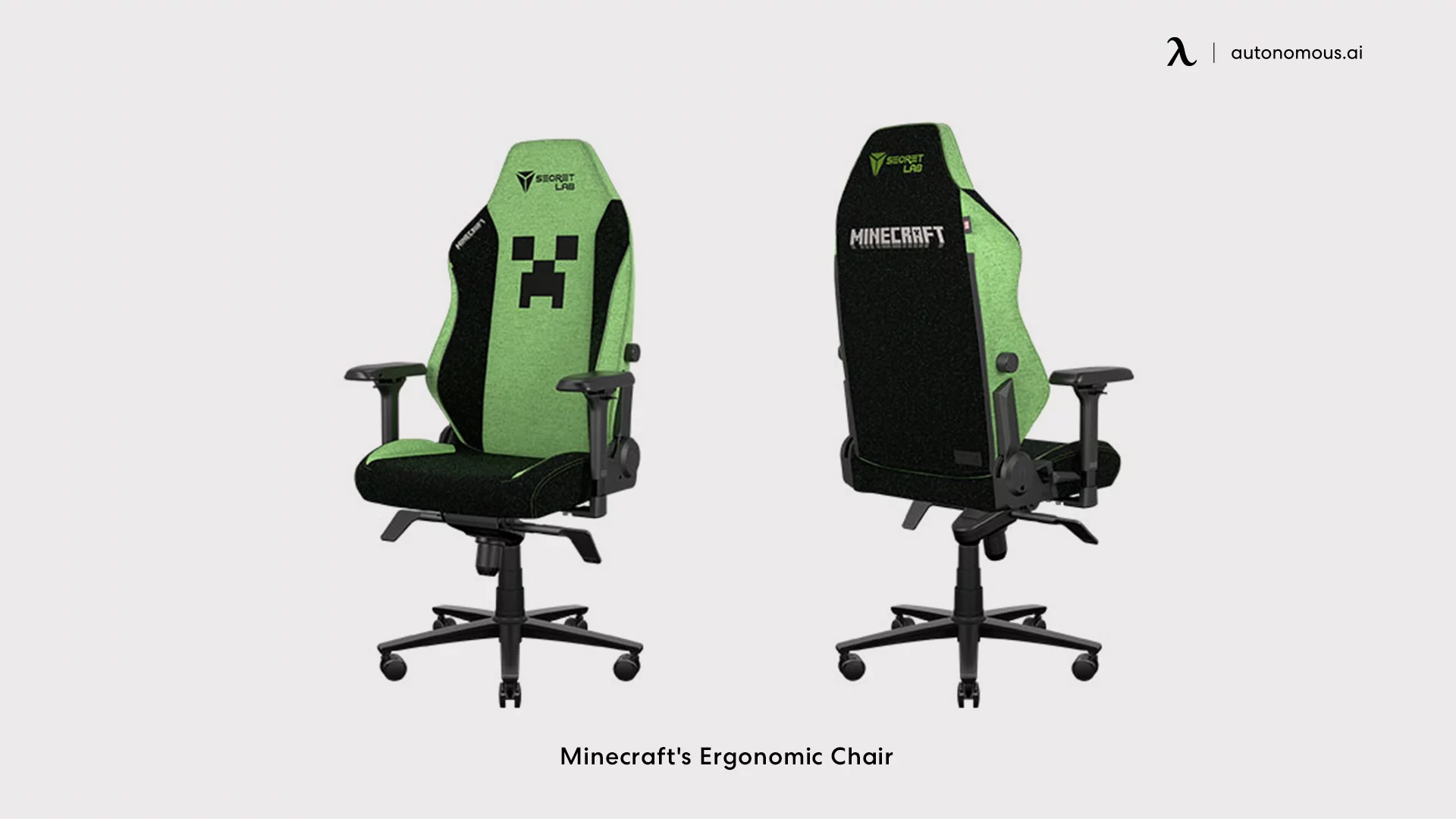 The right spinal support is necessary for maintaining your spinal column straight across the day. This armchair has a customizable design that makes you shift the back support in two directions. You may adjust the component anywhere using the knobs on the armchair's rear end to find them a much more comfortable place for your physique. It is one of the most comfortable office chairs, including several additional handy features. The seat cushion is curved, and the armrests, lumbar support, and headrest are all adjustable.
24. Aeron Chair by Herman Miller
Like the office oasis ergonomic mesh office chair, this is a reasonable investment for people who spend 8 hours (or even more) every day in a desk chair. It boasts an ergonomically designed structure that assures you'll be comfy during the day, with characteristics like a mesh back, solid base, and various sizes.
25. Sayl Chair by Herman Miller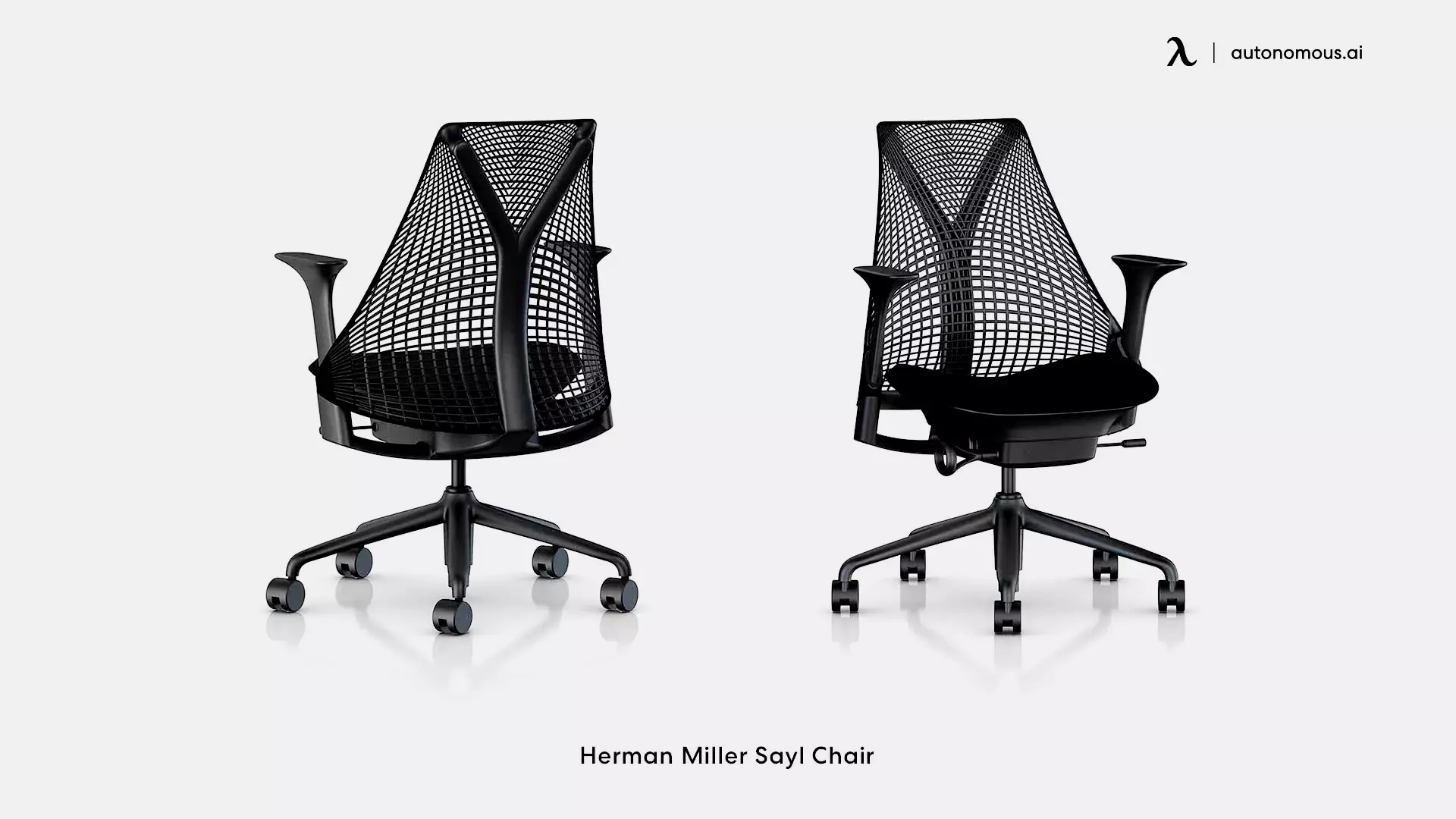 This best budget office chair has a distinctive contemporary design that is comfy and customizable. It includes a soft elastomeric back that maintains the optimum ergonomic position of your spine. Easily adjustable back support is another option for reducing back discomfort. Other armrests and seat adjustability choices are also provided, but please keep in mind that these will not be included in the standard price.
26. Ergonomic Office Chair by Oline
Mesh desk chairs are great for summer days since they're airy and they do not trap heat. Because of its adaptability, this reclining office chair with a footrest is among the top picks in this genre. It is also available in a variety of colors to fit your decor. With this seat, you can modify the headrest, arms, elevation, knee tilt, or tilt strength.
27. X-Chair X4 Memory Foam Leatherette Home Office Chair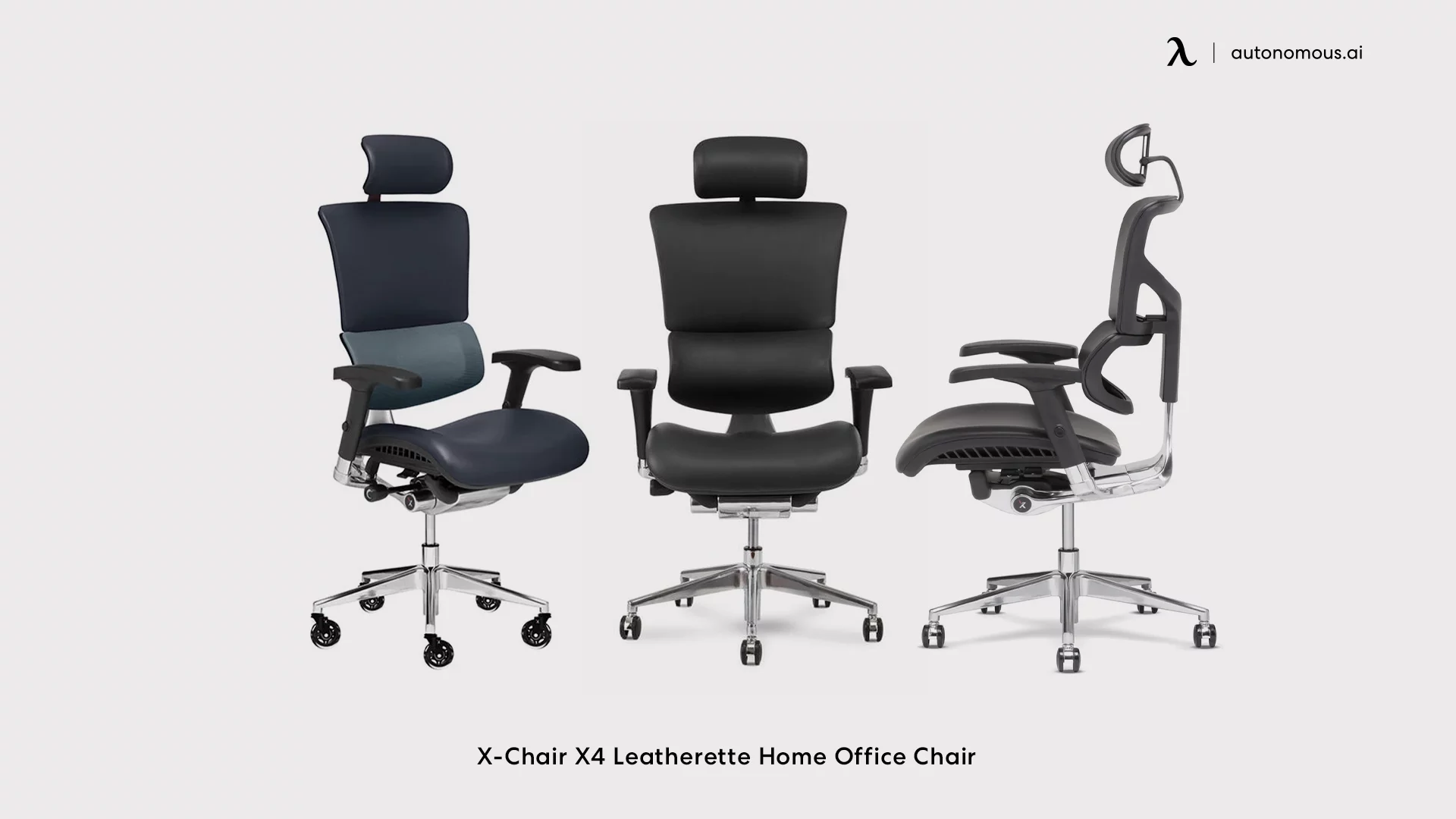 Finding a leather desk chair that provides sufficient ergonomic comfort can be difficult, but this best budget office chair is a better solution that fits both requirements. This sleek, futuristic number is upholstered in plush leather and can be adjusted in various ways.
28. Soho Soft Pad Managerial Chair by Laura Davidson Furniture
Choose this small ergonomic desk chair if you're searching for a contemporary office chair that will look excellent in any setting. This best budget office chair, which comes in various colors, has a traditional Eames design with an exceedingly durable leather sitting fabric and a sturdy steel frame. The seat is not only attractive, but it is also really comfy. Height, chair tilt, and swivel can all be adjusted, and the chair comes with a foam backrest and cushions to make you comfy throughout important meetings.
29. Gesture Office Desk Armchair with Headrest from Steelcase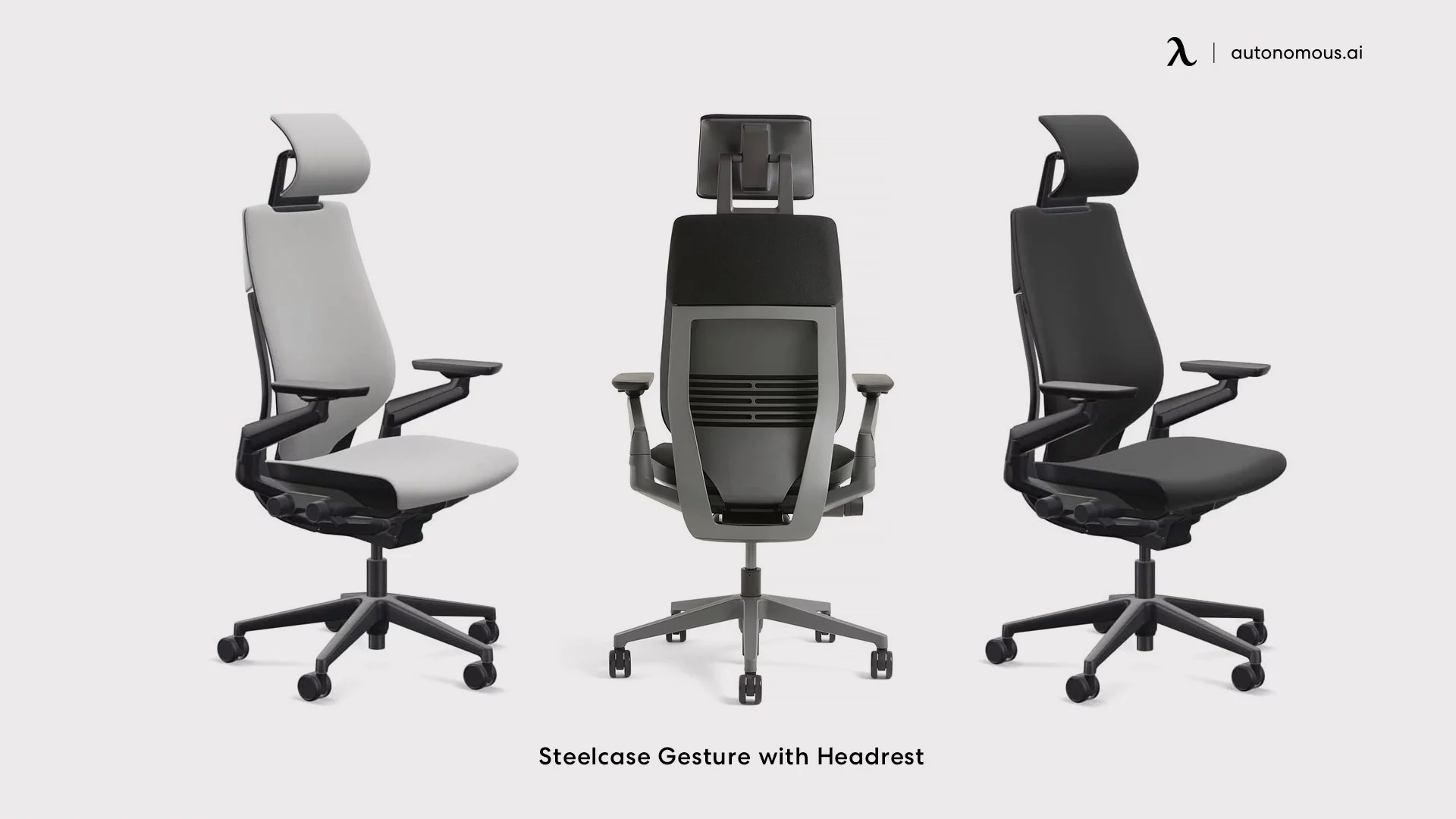 A desk chair with an armrest is available in a high-height model with a 400-pound capacity and sturdy construction, so this best budget office chair is an excellent choice for tall folks. The seat's headrest or high-tech arms that move alongside your arms to support nearly any posture are among the chair's features. This chair comes in a choice of colors to complement the remainder of your workplace, and the seat is much more versatile than others, allowing you to sit comfortably regardless of your posture.
30. Human-scale liberty
This brand produces some cool, high-end, ergonomically designed office chairs, and this seat is the apex of their coolness. It is intended to do aside from the complicated knobs or pedals that many adjustable options can baffle you with. It looks lovely – particularly in the cowhide alternative, and offers specific benefits in the event of unexpected drink spilling. The chair also automatically adapts to the best aesthetics for your posture. When relaxing in the armchair, for instance, it automatically changes the backrest stiffness to the most comfortable setting.
FAQs
1. Is it better to have a desk chair with or without arms?
Surely it would help if you bought the best cheap office chair with arms. The only other exception could be that you are short of space, and you need to store the chair under the desk when done for the day.
Well, an ergonomic chair with arms gives ample support to the upper half of your body. How? You can rest your forearms when not typing or reading a document. This allows you to rest your body, which rests your shoulders, upper back, and more.
In the same way, people also ask if it's important to have a footrest for the best cheap office chair? So again, our research on an office chair with leg rest is worth a read.
2. How long do ergonomic chairs last?
Like any other material, an ergonomic chair could last anywhere between 2 to ten years. The range difference appears high due to several factors. The quality of the chair, the frequency of usage, how heavily it is used, how it is maintained and more, determine the longevity of some best cheap office chairs.
If you are the sole owner and user of the chair, you will see that an ergonomic chair will last you longer than if it is placed as a common chair for use, among a family, or at the office. Why? Different folks will need different adjustments. The usage and handling also reduce the life span of any chair.
Annual preventive maintenance schedule, gentle and correct handling, and more can retain the best features of your best cheap desk chair for your home office.
3. Is it necessary to spend a lot on an office chair?
Woah! This is an important question that has no perfect answer to start with initially. Why? The variation of the right sum to pay for an ergonomic chair depends upon what you need from the chair, the brand, the features offered, and more. As they say, the cost of an item does not determine its value or worth every time. Certainly, many times, you can get the best value from a lower brand shop too.
The question really should be, have you got your money's worth? What were you expecting as features, maintenance, ease of cleaning, and other primary needs from your chair?
Summary
To wrap up, it is important to prioritize your needs from the best cheap desk chair. Then, as you explore, do not hesitate to ask questions on a forum or the seller or manufacturer. After all, the best budget computer chair that you are looking to buy is going to make you comfortable.
The best affordable desk chairs offer a cost-effective alternative to the sky-high pricing commonly associated with high-end products. While the more costly alternatives give an incredible measure of comfort and will protect your spine from transforming into the shape of a question mark, some seats may provide just about the same amount of relaxation without draining your wallet.
All the available options out there make it a tough decision when choosing the best budget office chair for your home office. The above options are all great best budget desk chairs, and some expectational ones include the Autonomous range.
The ErgoChair Pro is top-shelf, and you can get the best bang for your buck when investing in this beautiful crafted ergonomic office chair. If you want to avoid ergonomic injury and improve the look value of your office, look no further than one of these ergonomic masterpieces.
Hey, you have special pricing through your company.
Get exclusive rewards
for your first Autonomous blog subscription.
WRITTEN BYAutonomous
We build office products to help you work smarter.
Coming at You Live from Autonomous' Social Media!