Smart Products
Top 20 Small Desk Chairs for Narrow Office Space (2022 Review)
1,871 Views
If you have a smaller office, it is crucial to maximize your space as much as possible. One of the ways of achieving this is by investing in small desk chairs. A small office chair means you get a flexible working space. In a spacious office, employees can move around as freely as possible, making their jobs easier. Here's a list of the top 20 small desk chairs for small spaces available today.
List of Top 20 Small Desk Chairs
It's one thing to decide to invest in a compact desk chair to maximize other space, however choosing the best chair for you is a whole other ball game. Not every compact office chair is perfect. The key is to find one that's sturdy and comfortable so that you or your employees remain as productive as possible. The best desk chair for small office spaces is designed with three elements in mind. These include ergonomics, size, and aesthetics. The following chairs provide all of these elements and are the best options for anybody looking to buy ergonomic chairs.
1. The ErgoChair Pro By Autonomous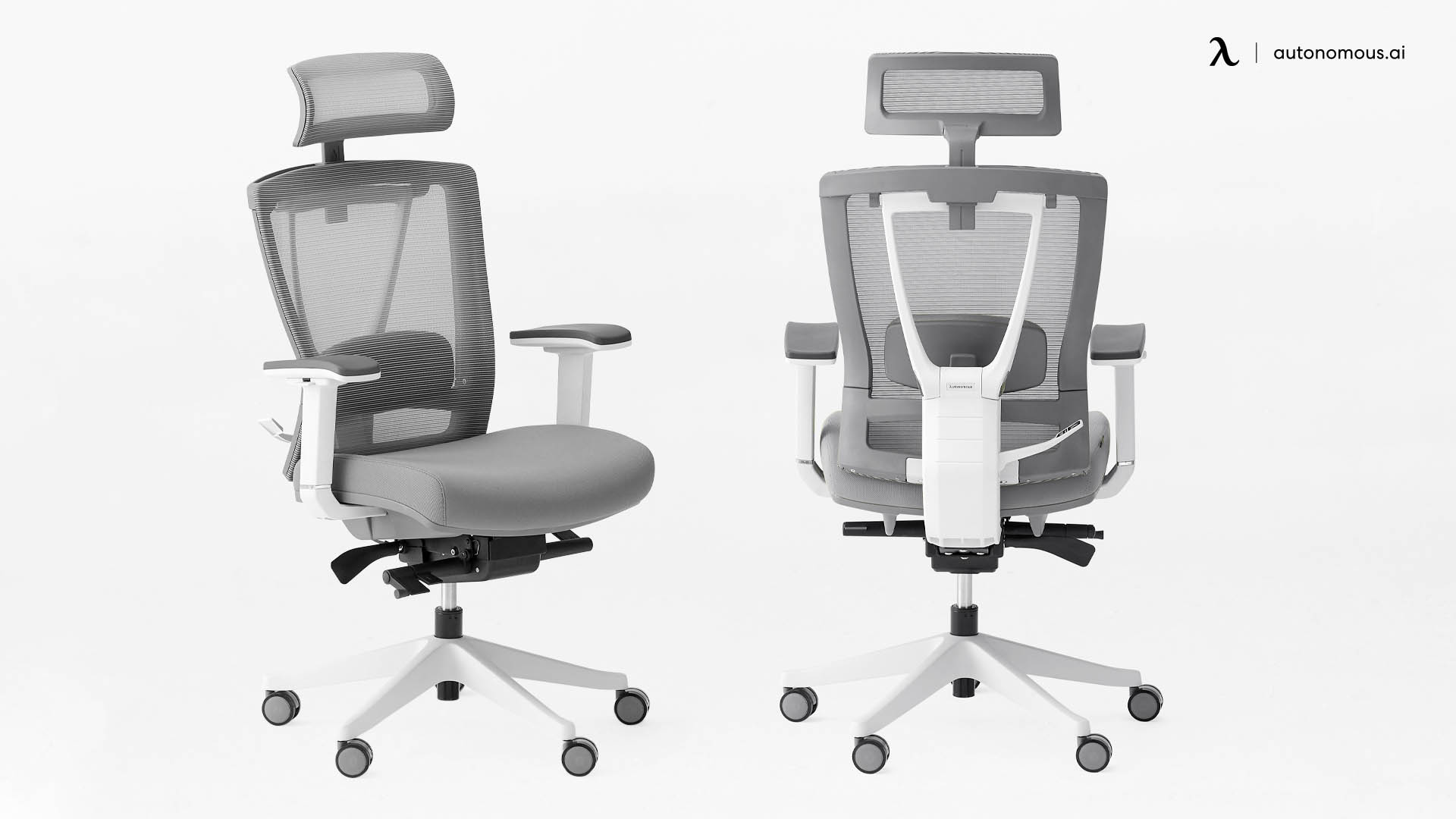 This portable office chair by Autonomous measures 29 inches in length and width and has an adjustable height from 46-60 inches. They can fit perfectly into any narrow office space. The ErgoChair Pro also has several features that bring it to the top of the list of small office chairs. Its ergonomic design helps it protect a user from back pain, wrist pain, and carpal tunnel syndrome.
It has a tilt mechanism with multiple levers that allow you to set the chair to your exact comfort level. There are soft seats covered with breathable material to keep one fresh and comfy all day long. It also has an adjustable armrest and flexible lumbar support. This lumbar support allows one to maintain a pain-free and healthy posture no matter how long they sit on the chair during work hours. It also has a headrest that could be tilted and adjusted to avoid neck pain. All its features considered, the Ergochair Pro by autonomous is one of the best small computer chairs you can find and can be likened to the ErgoChair Pro+.
2. The ErgoChair Recline By Autonomous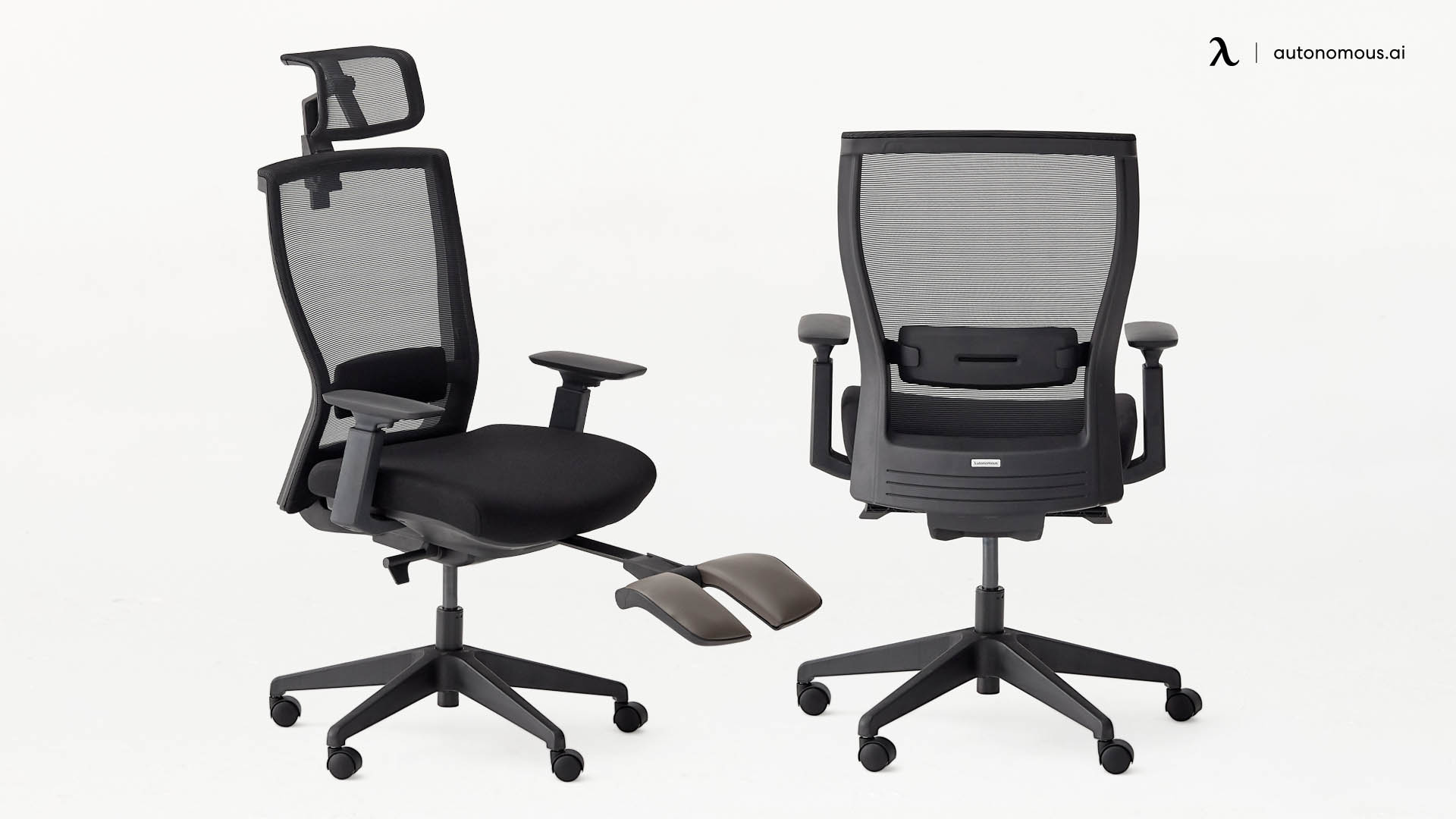 This ergonomic chair by autonomous is so comfy it feels like a couch. One of its most impressive features is its headrest which comes as an add-on. This allows people who don't need a headrest on their office desk chair to remove it. While headrests are not essential for everyone, some people might find them useful for better relaxation. This desk chair also comes with adjustable armrests with cushioning. These armrests slide forward and backward to suit every user's specific needs.
This reclining ergonomic chair also has a back tilt angle that lets you recline the chairs up to an 18 degrees limit. It also has a locking mechanism and can be set in three different positions. With this small desk chair, there's a chance to adjust your seat height to any position you find comfortable. The height goes from 18 inches up to 21 inches. Another remarkable feature of the ErgoChair Recline is its add-on footrest. This allows you to prop your legs when you need to and stretch them back out when you feel a cramp coming. It's the perfect desk chair for small office spaces and does a good job when paired with standing desks for small spaces.
3. AvoChair by Autonomous
This reclining ergonomic chair is another sitting solution that fits perfectly in narrow office spaces. It measures 28 inches each in length and width. The height is adjustable from 38 to 41 inches. This small computer chair offers a great deal of comfort and spinal comfort. It does not have any hard edges, giving a roll-off impression at the front. It also has very soft arm pads to maximize comfort.
This compact desk chair also offers a great personalized positioning experience. Its design is minimal yet contains a sophisticated mechanism built into its sturdy aluminum alloy base. This mechanism lets you lock in your preferences in height, armrest position, and recline. Unlike many other small desk chairs, this compact desk chair is also environmentally friendly. It is made with eco-friendly materials and most of its parts are 100% recyclable.
4. ErgoStool by Autonomous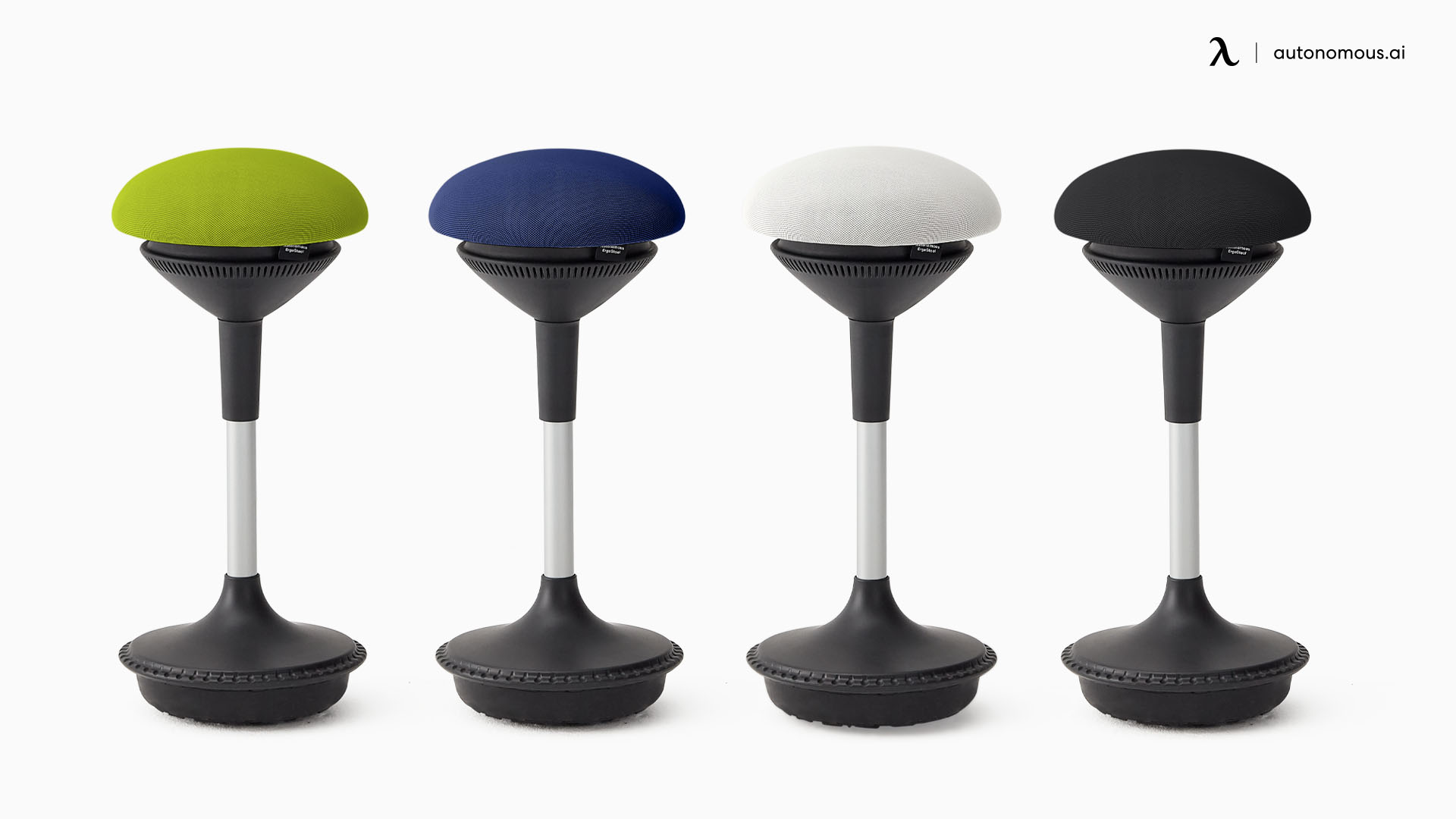 This small office chair is the best desk chair for a small office space. It measures 13 inches in length and width.
It is a balanced stool with no backrest. However, it is ergonomically designed to provide maximum comfort. It's also strong, yet very easy to move around. Its heavy base with a non-slip surface allows it to sit firmly on the ground, making them more stable than one expects. Its well-padded seats are also an added benefit.
5. Mimoglad Office Chair
The Mimoglad is just 21.65 inches wide; its width is its widest side, making it one of the small office chairs available. Despite its size, it's still very comfy. It comes with armrests and a curvy backrest that manages to fit into the narrowest office spaces. Its armrests can be flipped out of the way when you need to have a little extra space around. You can even slide this chair under your desk when not in use. It also provides reliable lumbar support with a rocking function to ease pressure buildup in your back from long hours of sitting. Finally, the mimoglad office chair is covered with mesh to keep one fresh and sweat-free all day long.
6. Task Chair By Branch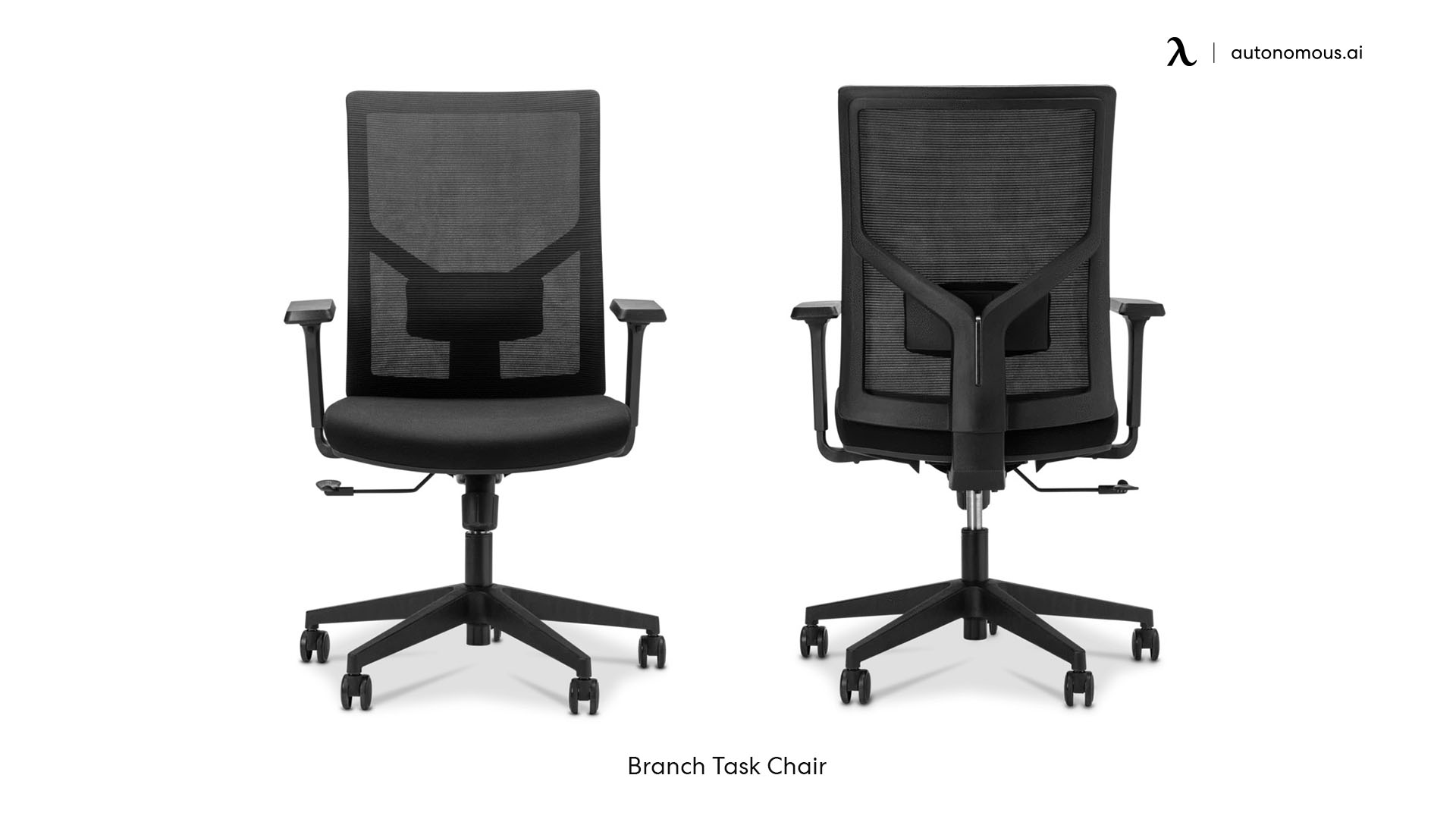 This small desk chair measures 25 inches in width and length and 48-52 inches in height. It has ergonomic qualities that make it a great desk chair for small office space. Firstly it combines a breathable mesh backrest with an adjustable lumbar rest. These two features provide ample support for hours of sitting.
This compact office chair also has a high-density foam cushion that ensures that your weight is evenly distributed around the chair to prevent neck and back pain in one spot from hours of sitting. The armrest, tilt, height, and lumbar support are all adjustable and can be modified to suit individual preferences. Finally, the Task Chair by Branch is easy to assemble and can squeeze into the most narrow spaces without compromising comfort.
7. Ergonomic Mesh Office Chair By Gabrylly
This is a high-back chair that fits perfectly into narrow office spaces. Some of the best features of this compact desk chair include its easily adjustable headrest, fixed lumbar support, padded backrest, padded armrests that fold up and down, and a mesh backrest and seat.
This compact desk chair has a 30 degrees backrest tilt. The height of the headrest is also adjustable, though the lumbar support on this chair is fixed. One great benefit of getting this chair for a small office is that you can easily slide it under the desk when you need it out of the way.
8. Aeron Chair by Herman Miller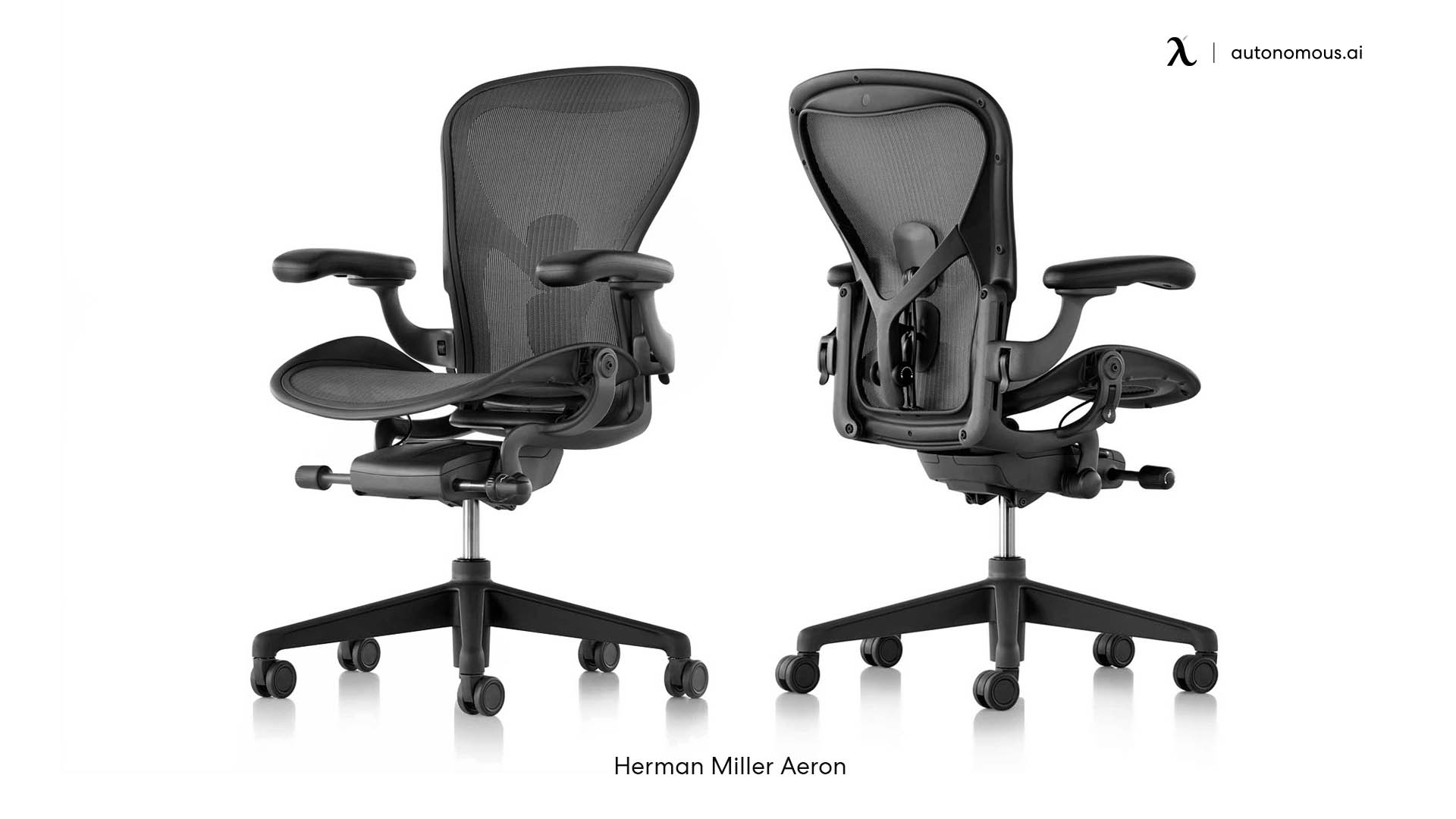 This chair is specially created to fill the needs of contemporary office spaces. It measures 25.75 inches in width, and 38.5 inches in height. Some of its best features are its ergonomic design, contemporary style, and strength. The Aeron chair comes with adjustable armrests that can be flipped or pulled back when not needed. It offers a superior comfort level. It has a smooth backrest, and a soft seat with waterfall edges, making it a great choice for comfy sitting in a small space.
9. Task Chair by Hbada
This chair has a great space-saving design and is pretty affordable for all the benefits it offers. Some of its most remarkable features are its smooth-rolling casters and rocking function. It's also very compact and stylish and has arms that can be flipped out of the way when necessary. It has a tight mesh back that improves airflow. Its cushion is padded a bit too thinly, however, which means you may have to buy an additional cushion for the seat to increase comfort.
10. Adjustable Task Chair by Yaheetech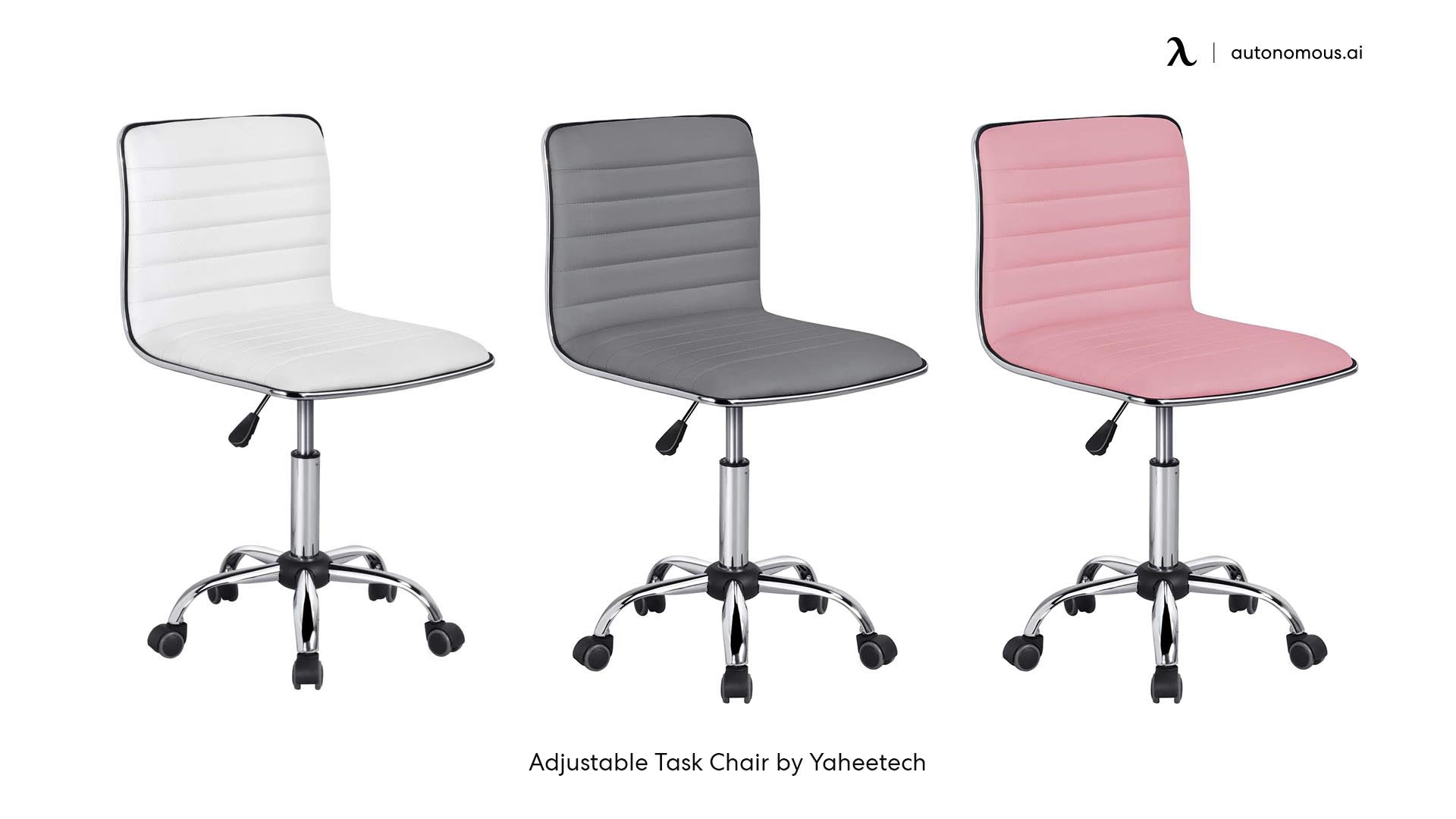 The chair has a stylish appearance that makes it a fit for all kinds of small workspaces.
More still it comes with impressive features such as its adjustable height and well-padded seats that provide comfort for the user. It also comes with no armrests at all, which makes it a sure fit for narrow spaces. It's easy to tuck this small desk chair out of the way when working. The only downside to using this chair is that it offers no ergonomic support.
11. Midback Task Chair by BTExpert
This armless minimalist office chair is the perfect desk chair for a small space. In addition to having no arms, it is lightweight and small which means it can easily be pushed away when there's a need to create more space. It has a pneumatic lift that can be adjusted from 18-23 inches and this happens to be its only ergonomic feature. The downside of getting this chair is that it has no lumbar support or tilt function. However, its gas lift with a five-inch height adjustment range still makes this chair a great compact desk chair.
12. Diffrient World Task Chair by Humanscale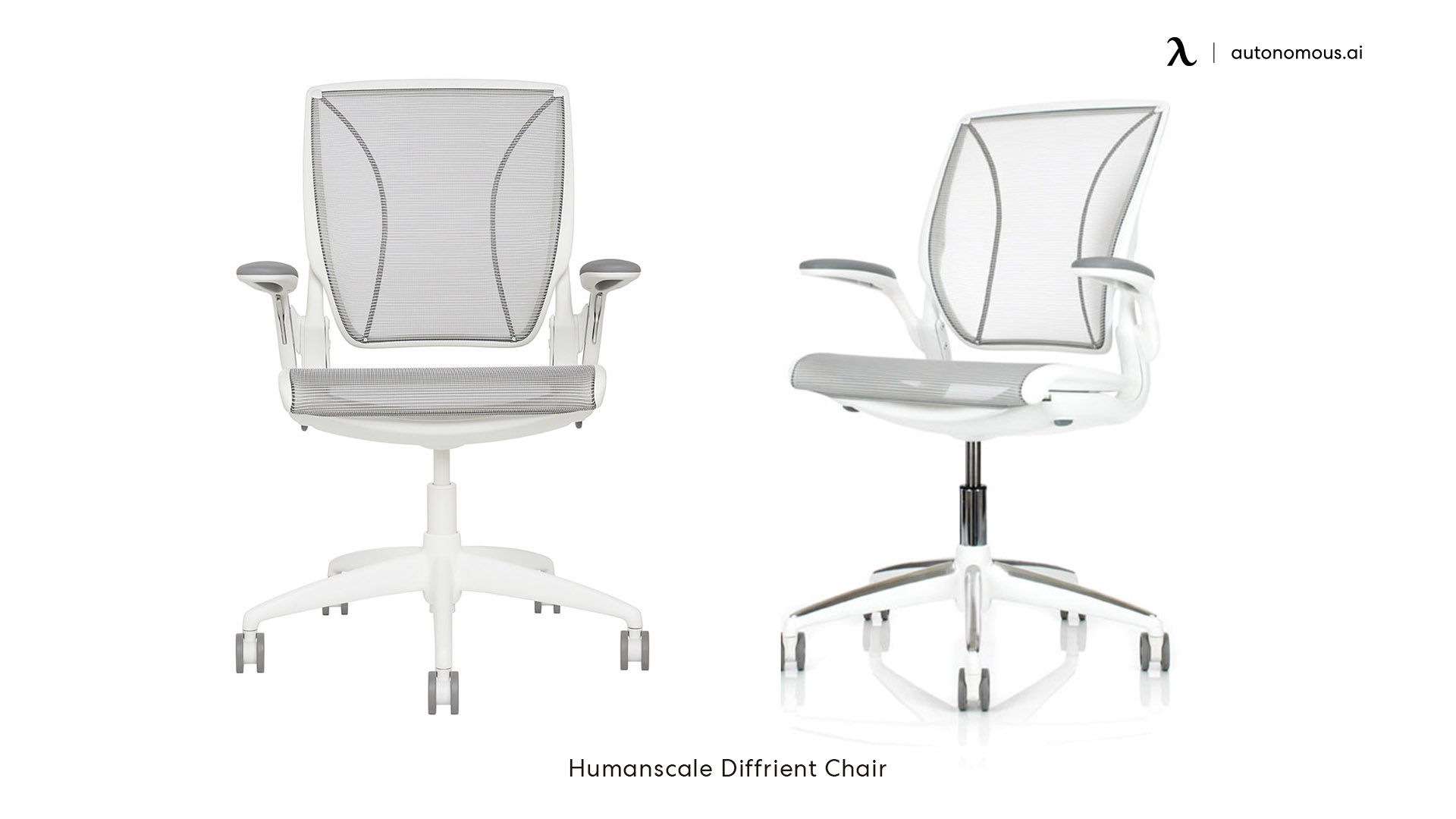 This compact office chair has a unique tri-panel backrest lined with a breathable mesh. This gives it a length and airy feel. Yet on the inside, this desk chair is made with heavy-duty materials that make it sturdy and comfortable for users. It has a height of 39 inches and a length of 25 inches. Its width is 25.75 inches which means it's very easy to squeeze this chair into narrow office spaces.
13. Mid-back Black Mesh Office Chair by Flash Furniture
This desk chair has built-in lumbar support, waterfall seat edges, a rocking mechanism, and standard seat height adjustments. It also has a rocking function with tilt-tension adjustments. All these features keep you as comfy as possible, meaning that you can sit on it for hours at a time without feeling joint pains. The seats are covered in a mesh which helps with ventilation and it's available in up to 14 different colors. The seats of this small office chair only measure 20.25 inches wide which means you can squeeze it into any narrow space in the office.
14. Serta Ergonomic Executive Office Chair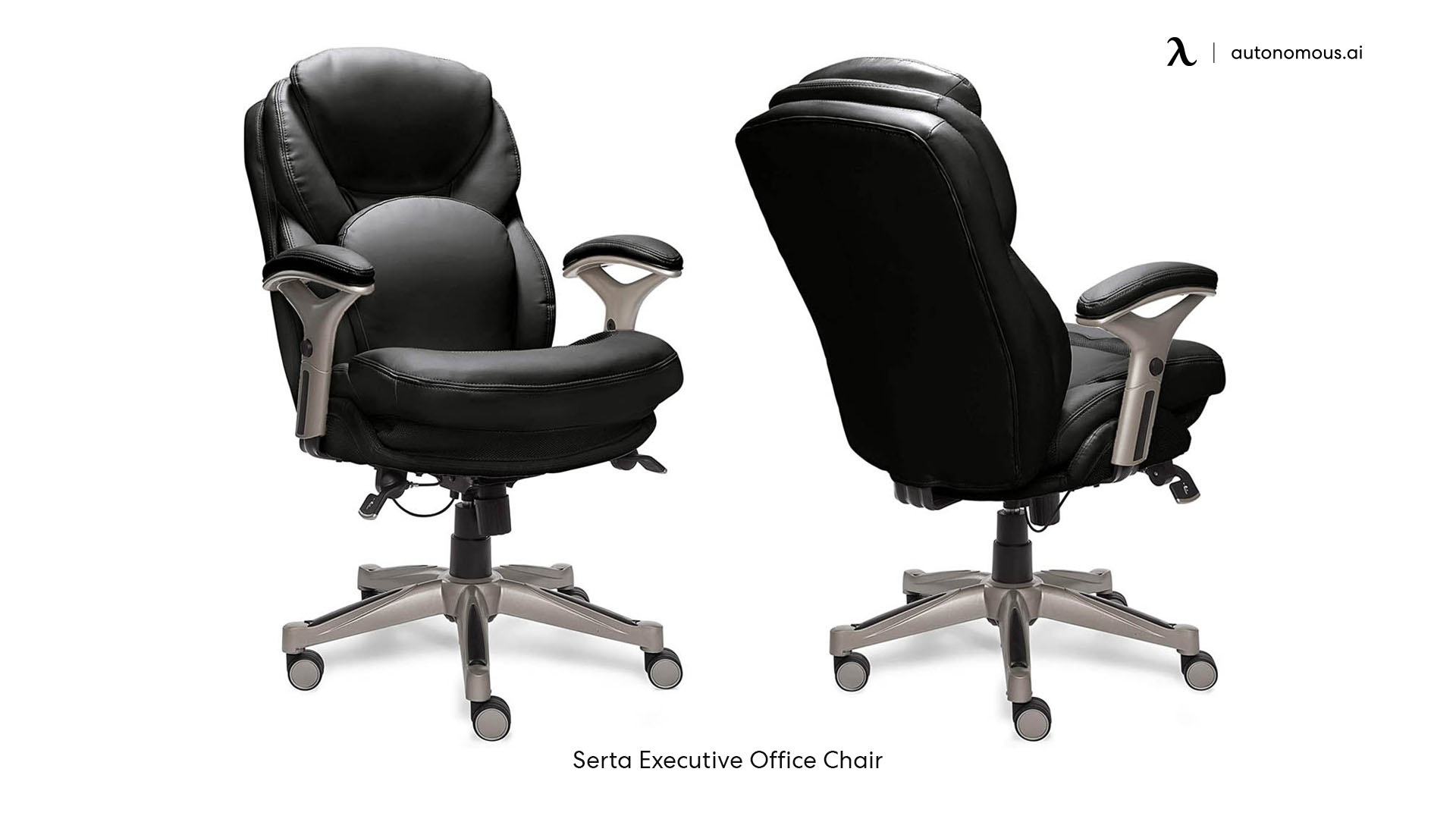 This small office chair can carry up to 250 pounds. Its best features are its adjustable armrests, seat-height modification options, cable-actuated levers, and handheld swivel. Its ergonomic features are known to improve lower back pain. Office workers can sit for hours on this chair without getting any joint pain.
15. Ergonomic High Swivel Executive Chair by Clantina
This small desk chair was specially designed to reduce back and neck pressure while sitting. Even with its ergonomic design, one can manage to push this chair into very narrow spaces because it only measures 27.8 inches in both width and height. It has a strong backrest lined with breathable material for easy ventilation. It also has a 360 degrees swivel and a back that reclines 90-135 degrees.
16. Ergonomic Office Chair by Komene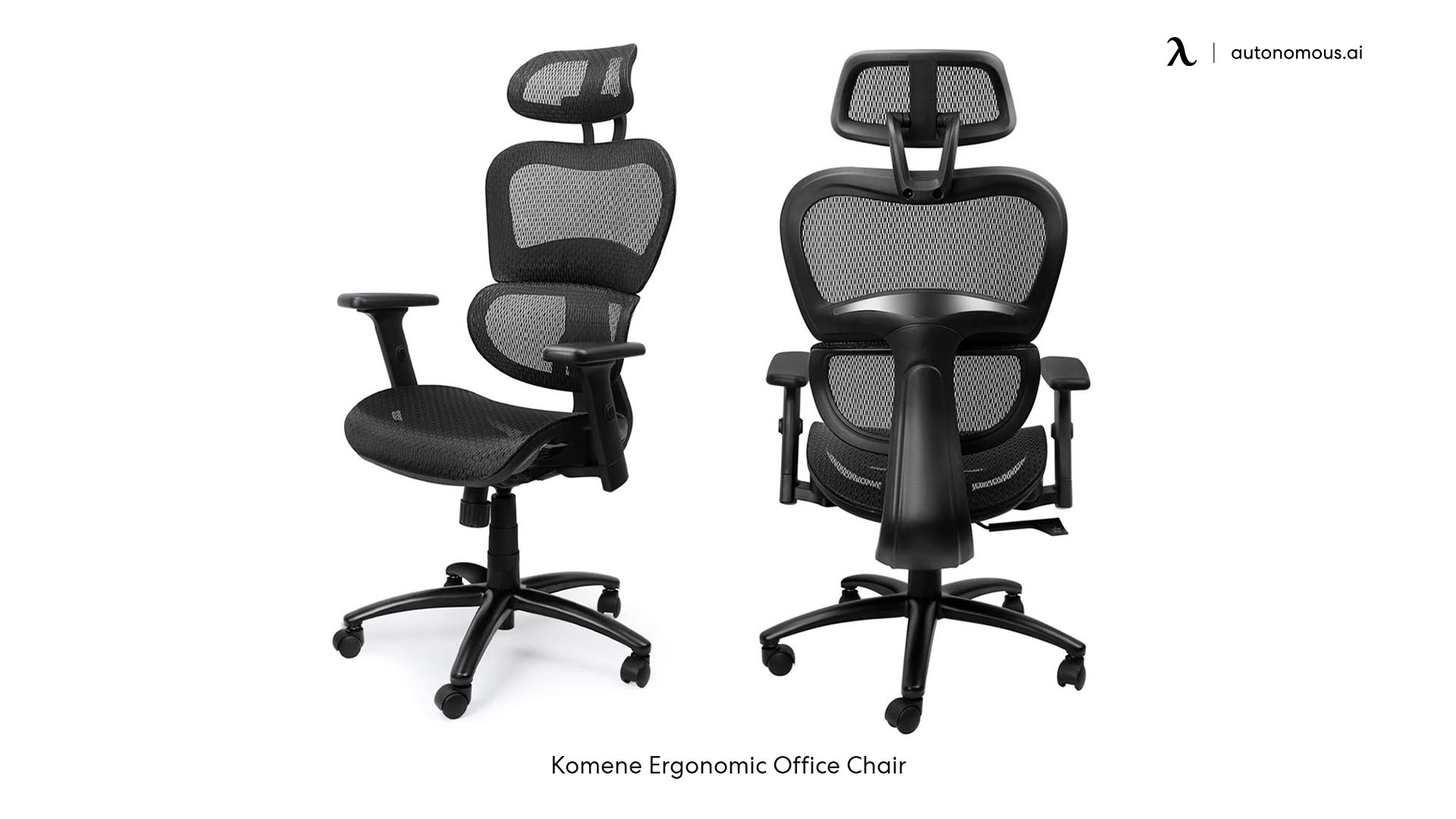 This small desk chair has several ergonomic features that make it the perfect chair for small spaces. First, it has adjustable lumbar support with four support points to reduce strain on the body as one sits and works. It also has a headrest, backrest, seat height, and armrests that can be flipped up to make the chair appear smaller. It can carry up to 250 lbs and is lined with breathable mesh material for better air circulation.
17. The Ergonomic Executive Chair by STARSPACE
This small computer chair is loved for its great cushioning. It's also very flexible and combined with its perfect cushioning; one can sit on this chair for hours without feeling neck or back pains. Asides from offering amazing lumbar support, this compact desk chair is lined with luxurious bonded leather that makes it very durable.
18. Billups Ergonomic Mesh Task Chair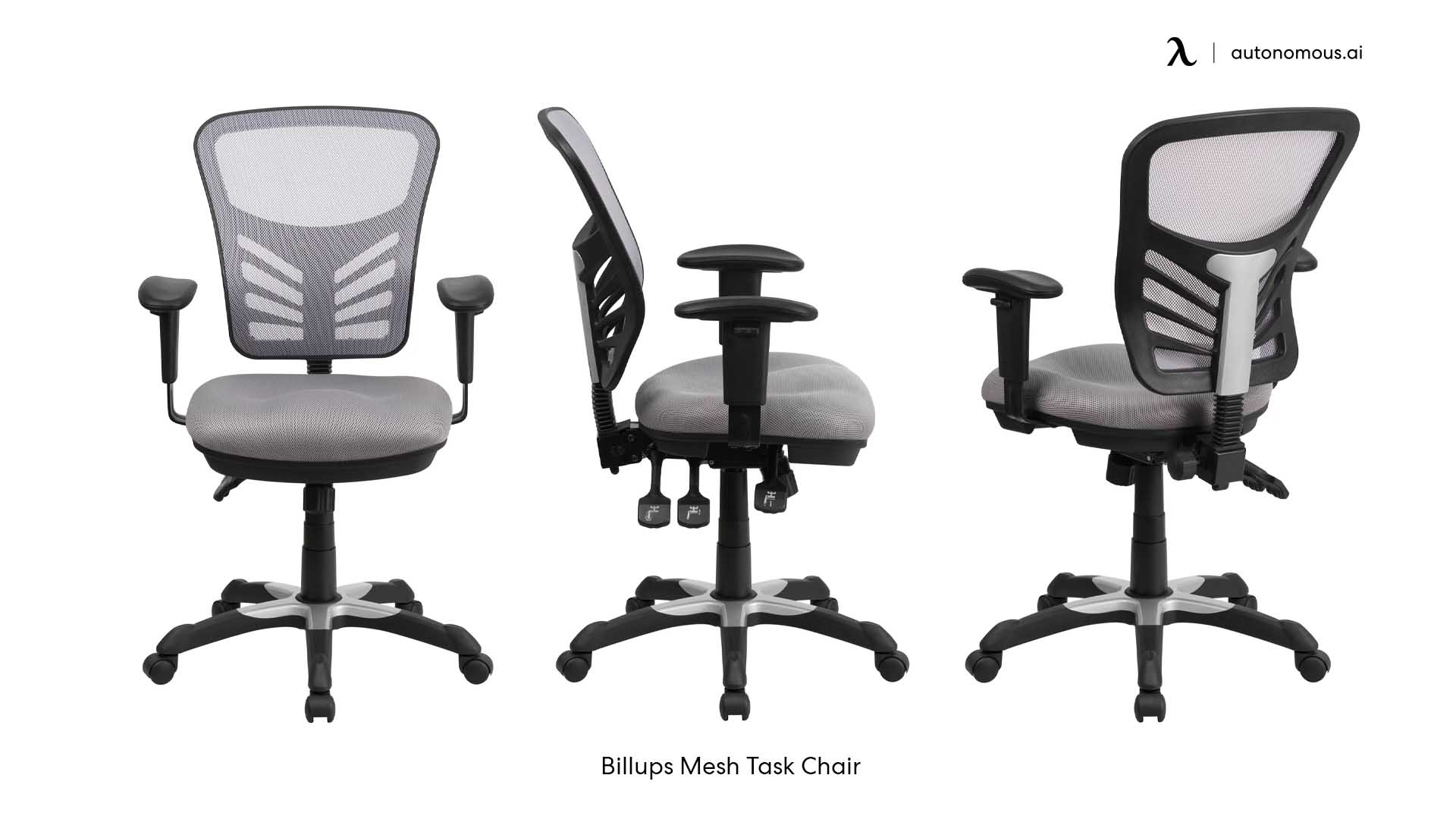 This small office chair, just like the Ergonomic Executive Chair by STARSPACE, is loved for its ample cushioning and protection. It is available in several shades of bright colors and offers great ergonomic qualities. It is also averagely priced which makes it perfect for anyone on a budget looking to buy a desk chair for a small space.
19. Odelle Ergonomic Mesh Task Chair
This small desk chair offers great benefits for anyone looking to work in an ergonomic style. It has a minimalist design that makes it a great fit for any kind of office décor. It can also be squeezed into narrow spaces because of its size. One can sit comfortably in this office chair for long hours without getting neck, back, or leg cramps and because of this, this chair deserves a spot on this list.
20. The Evey Ergonomic Task Chair by Brayden Studio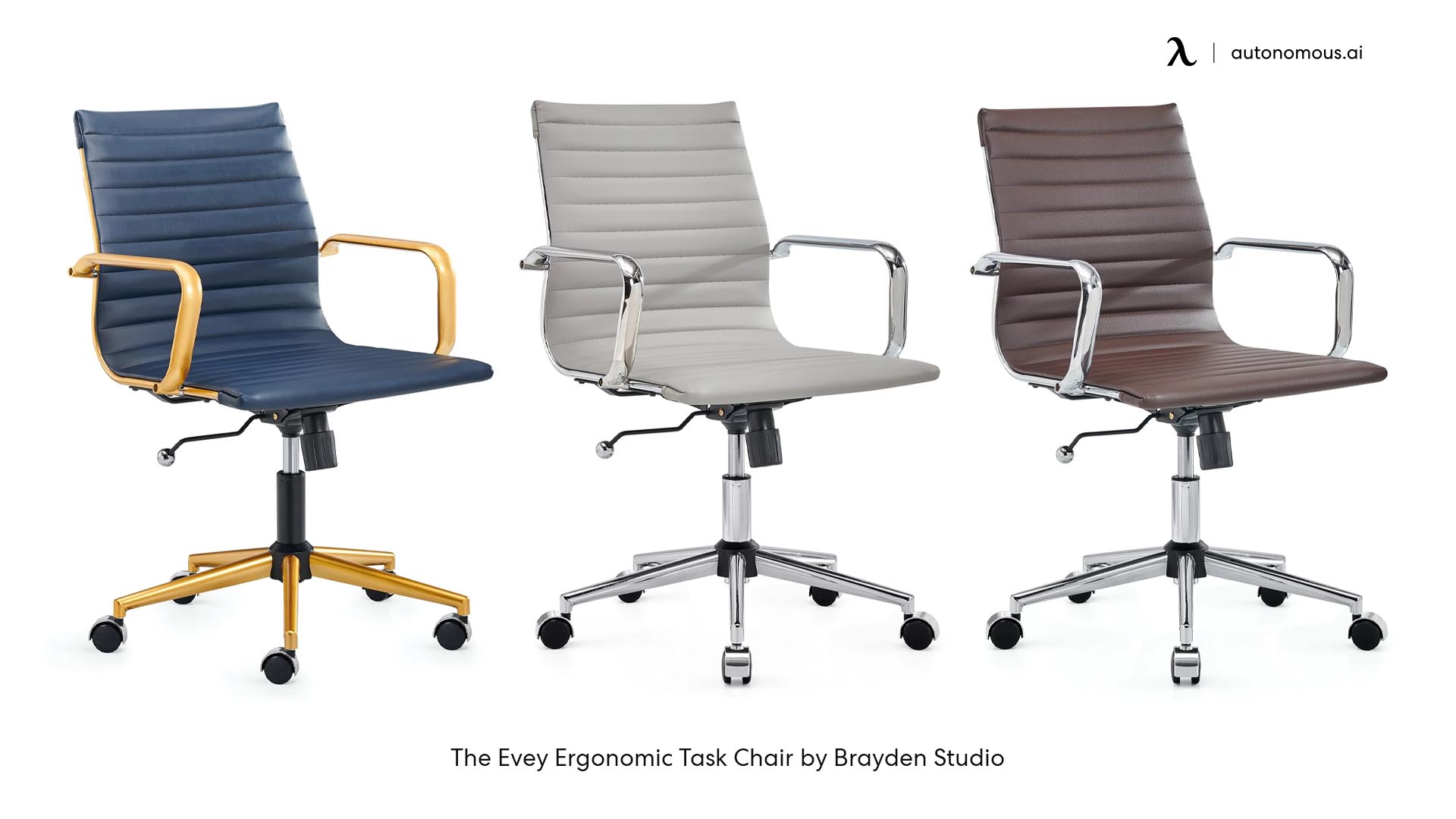 This compact desk chair provides strong lumbar support for anyone looking to avoid back pain from sitting on a chair for too long. Its ergonomic design allows the user to adjust the chair to whatever preferences they may have. This means that one can spend several hours daily working on the Evey Ergonomic Task Chair without risking body pains. Its minimalist design also makes it suitable for most workplace environments.
Hey, you have special pricing through your company.
Get exclusive rewards
for your first Autonomous blog subscription.
WRITTEN BYAutonomous
We build office products to help you work smarter.