Smart Products
Small Space, Big Comfort: 20 Small Desk Chairs for Tight Spaces 2023
2,711 Views
If you have a smaller office, it is crucial to maximize your space as much as possible. One of the ways of achieving this is by investing in small desk chairs. A small office chair means you get a flexible working space. In a spacious office, employees can move around as freely as possible, making their jobs easier.  Here's a list of the top 20 small desk chairs for small spaces available today. 
List of Top 20 Small Desk Chairs
It's one thing to decide to invest in a compact desk chair to maximize other space, however choosing the best chair for you is a whole other ball game. Not every compact office chair is perfect. The key is to find one that's sturdy and comfortable so that you or your employees remain as productive as possible. The best desk chair for small office spaces is designed with three elements in mind. These include ergonomics, size, and aesthetics. The following chairs provide all of these elements and are the best options for anybody looking to buy ergonomic chairs. 
1. Autonomous ErgoChair Junior
For healthy spinal development from age 4 all the way to 10. Grows with your child, so you can stop endlessly customizing poorly fitting chairs. Since there's no standard way to grow, help your child cycle through 7 ergonomic options to discover their ideal seated position. Adjustable height, back, arms, seat and footrest make this small desk chair ideal for anyone between 3'2 to 4'7 tall. Simply lock the casters if you need to moderate movement for a younger child. BIFMA and Greenguard certified fire-resistant, robust and non-toxic.
2. KERDOM Office Chair: Waterfall Seat Edge
This small office chair is the best desk chair for a small office space. It measures 13 inches in length and width. 
It is a balanced stool with no backrest. However, it is ergonomically designed to provide maximum comfort. It's also strong, yet very easy to move around. Its heavy base with a non-slip surface allows it to sit firmly on the ground, making them more stable than one expects. Its well-padded seats are also an added benefit.
3. Autonomous ErgoStool
The ErgoStool is designed to strengthen your back and core. Its weighted base provides great traction on a variety of surfaces, allowing for a wide range of motion while seated. It also promotes Dynamic Sitting, which emulates the frequent posture changes we make while standing and helps increase both our movement and energy levels.
Poor posture is one of the leading causes of back pain and can even speed up degenerative disc disease. As you acclimatize to sitting on a backless chair, you'll build core and back strength through active sitting. As a result, your posture will naturally improve and you'll feel the benefits not only when using the ErgoStool itself, but also while sitting in a regular office chair or even standing. It's a multi-functional ergonomic solution that'll complement your standing desk perfectly.
4. Uncaged Ergonomics Wobble Stool
Uncaged Ergonomics Wobble Stool Air Balance Chair
This balance stool effortlessly rolls into place or tucks out-of-the-way when not needed. Wobble Stool Air's balance seat swivels 360. Sit still comfortably or engage your core for active sitting.
Uncaged Ergonomics Wobble Stool Standing Desk Balance
Wobble Stool's unique design lets you sit still and focus or quickly engage your core as you rock, tip, twist, and balance the day away. Adjust up to 33" tall, giving you a rest from standing without having to go all the way back down to a normal chair!
Stay active & productive at your desk using Wobble Stool as an Active Sitting Stool to burn nervous energy, fidget, focus and sit comfortably. Plus motion helps keep people engaged in meetings & conferences. Perch near standing height with Wobble Stool - it's quick to sit on, easy to get up from and adjusts tall enough to give your legs a rest from standing.
5. Trio Supply House Office Chair
Modern style, with supportive curved backrest and seat cushion upholstered in a brown leather-look fabric. It may function just as well as a barstool at the height of a bar, adding flair to any kitchen island or home bar. The seat, which is covered in a black fabric that looks like leather, is comfortably padded.
6. Trio Supply House Office Chair: Chrome Base On Castors
This mid-back office chair with fixed armrests in white has your back if you need a supportive, comfortable, and stylish small rolly chair. The seat is deep, exceptionally wide, and padded generously to give it a roomy feel. The swivel seat and backrest are covered with white mesh fabric that promotes airflow.
7. AvoChair by Autonomous
This reclining ergonomic chair is another sitting solution that fits perfectly in narrow office spaces. It measures 28 inches each in length and width. The height is adjustable from 38 to 41 inches. This small computer chair offers a great deal of comfort and spinal comfort. It does not have any hard edges, giving a roll-off impression at the front. It also has very soft arm pads to maximize comfort.   
This compact desk chair also offers a great personalized positioning experience. Its design is minimal yet contains a sophisticated mechanism built into its sturdy aluminum alloy base. This mechanism lets you lock in your preferences in height, armrest position, and recline.  Unlike many other small desk chairs, this compact desk chair is also environmentally friendly. It is made with eco-friendly materials and most of its parts are 100% recyclable. 
8. The ErgoChair Pro By Autonomous
This portable office chair by Autonomous measures 29 inches in length and width and has an adjustable height from 46-60 inches. They can fit perfectly into any narrow office space. The ErgoChair Pro also has several features that bring it to the top of the list of small office chairs. Its ergonomic design helps it protect a user from back pain, wrist pain, and carpal tunnel syndrome. 
It has a tilt mechanism with multiple levers that allow you to set the chair to your exact comfort level. There are soft seats covered with breathable material to keep one fresh and comfy all day long.  It also has an adjustable armrest and flexible lumbar support. This lumbar support allows one to maintain a pain-free and healthy posture no matter how long they sit on the chair during work hours. It also has a headrest that could be tilted and adjusted to avoid neck pain. All its features considered, the Ergochair Pro by autonomous is one of the best small computer chairs you can find and can be likened to the ErgoChair Plus. 
9. The ErgoChair Recline By Autonomous
This ergonomic chair by autonomous is so comfy it feels like a couch. One of its most impressive features is its headrest which comes as an add-on. This allows people who don't need a headrest on their office desk chair to remove it.  While headrests are not essential for everyone, some people might find them useful for better relaxation.  This desk chair also comes with adjustable armrests with cushioning. These armrests slide forward and backward to suit every user's specific needs. 
This reclining ergonomic chair also has a back tilt angle that lets you recline the chairs up to an 18 degrees limit. It also has a locking mechanism and can be set in three different positions. With this small desk chair, there's a chance to adjust your seat height to any position you find comfortable. The height goes from 18 inches up to 21 inches. Another remarkable feature of the ErgoChair Recline is its add-on footrest. This allows you to prop your legs when you need to and stretch them back out when you feel a cramp coming. It's the perfect desk chair for small office spaces and does a good job when paired with standing desks for small spaces. 
10. Techni Mobili Modern Medium Back Office Chair
This small computer chair is packed with features that make it the perfect choice for your home or office workspace. With its pneumatic height adjustment, locking tilt control, and adjustable tension knob, you can easily customize the chair to your liking. This ensures that you can maintain an optimal seated position that reduces fatigue and stress on your back and neck.
The chair also features built-in lumbar support, which helps to align your spine and reduce pressure on your lower back. This is especially important for those who spend long hours sitting in front of a desk. With this chair, you'll be able to maintain a comfortable posture throughout the day, reducing the risk of developing back pain or other related conditions.
The chair is built on a 5-star chrome steel base that features locking non-marking casters. This makes it easy to move the chair around your workspace, and the casters won't leave any marks or scratches on your floors.
11. FM FURNITURE Brisbane Office Chair: Medium back rev chair
Do you know the importance of having a great and comfortable chair? To begging with the benefits of a comfortable chair, it will reduce any back pain. You will feel more comfortable after long hours of sitting.
12. Trio Supply House Contemporary Desk Chair
Upgrade your office space with this modern, ergonomically designed mid-back office chair in a classic black finish. This small rolly chair boasts a back and seat upholstered in durable black mesh fabric, which not only looks sleek but also ensures breathability for long hours of sitting. The thick cushioning on the seat and backrest provides the perfect amount of support to reduce pressure on your back and thighs.
To further enhance your comfort, the chair features an ergonomic curved backrest that aligns with your spine's natural curve and armrests that alleviate stress on your arms and shoulders. With this chair, you'll enjoy a comfortable posture that helps you stay focused and productive throughout the day.
The chair is also adjustable, thanks to the convenient lever that lets you customize the seat height to your liking. Whether you need to raise or lower the seat, you can easily do so without interrupting your workflow. With its durable construction, modern design, and ergonomic features, this desk chair is the perfect addition to your home or office setup.
13. Diffrient World Task Chair by Humanscale
This compact office chair has a unique tri-panel backrest lined with a breathable mesh. This gives it a length and airy feel. Yet on the inside, this desk chair is made with heavy-duty materials that make it sturdy and comfortable for users. It has a height of 39 inches and a length of 25 inches. Its width is 25.75 inches which means it's very easy to squeeze this chair into narrow office spaces.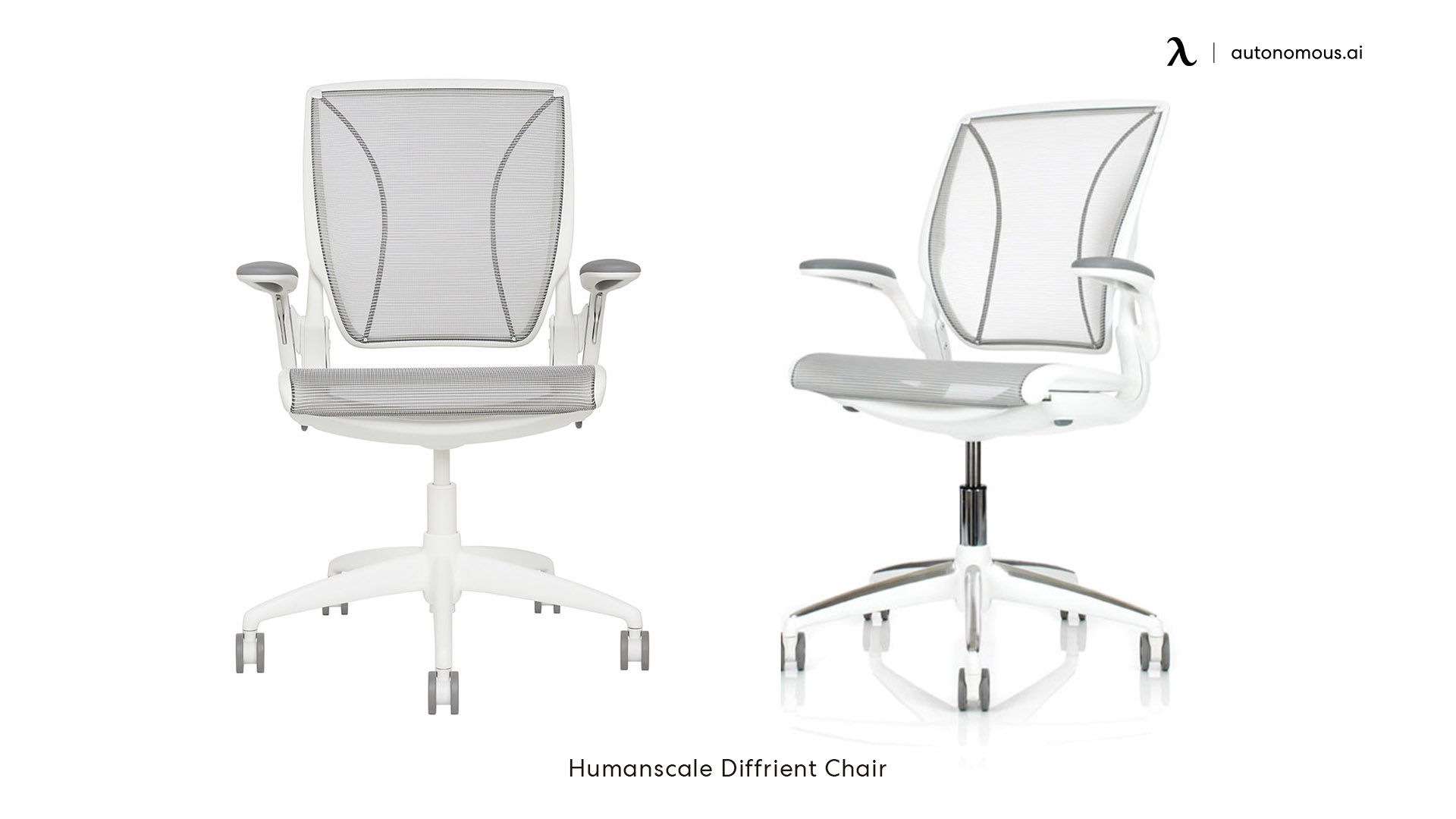 14. Serta Ergonomic Executive Office Chair
This small office chair can carry up to 250 pounds. Its best features are its adjustable armrests, seat-height modification options, cable-actuated levers, and handheld swivel. Its ergonomic features are known to improve lower back pain. Office workers can sit for hours on this chair without getting any joint pain.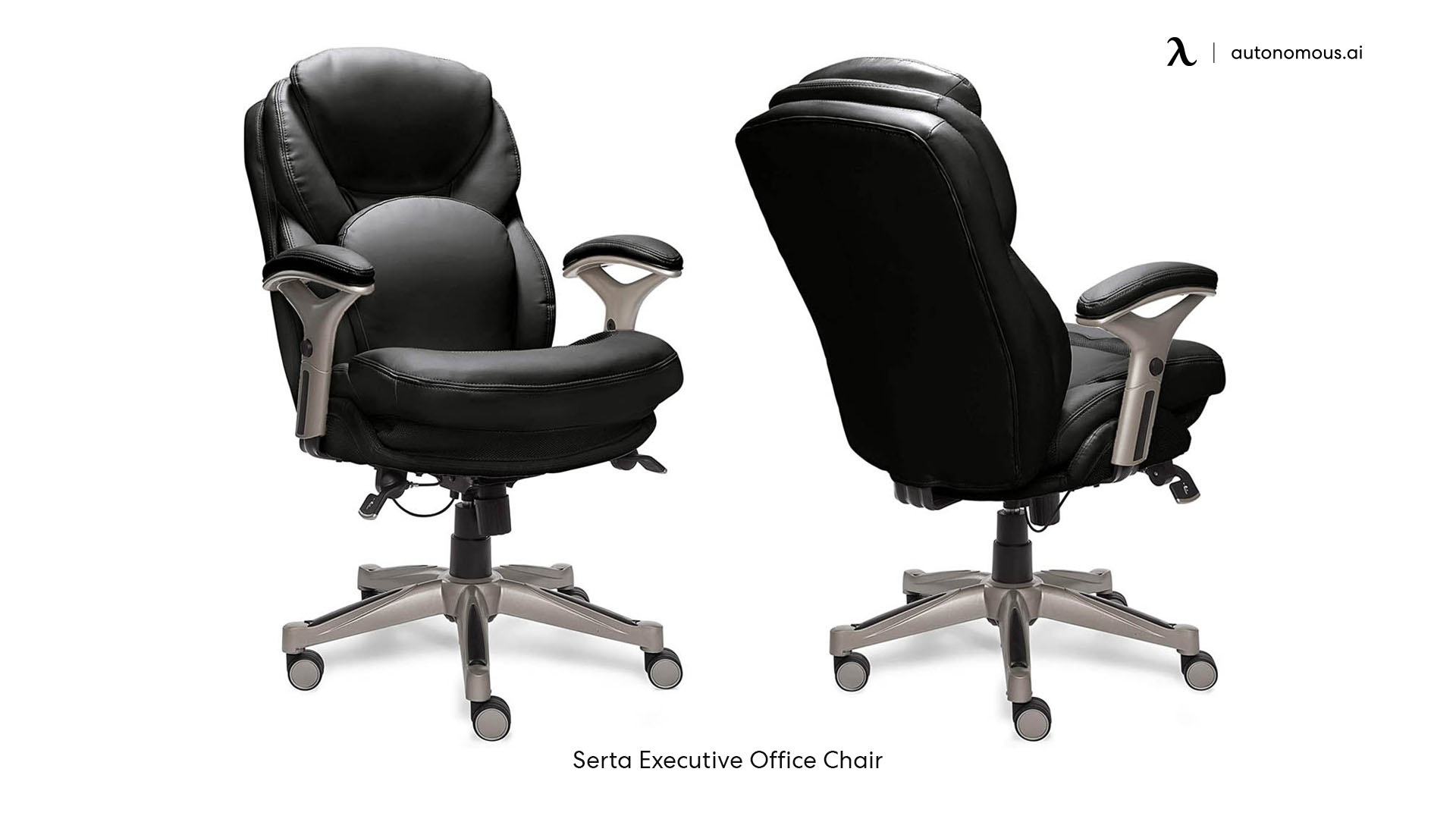 15. Ergonomic Office Chair by Komene
This small desk chair has several ergonomic features that make it the perfect chair for small spaces. First, it has adjustable lumbar support with four support points to reduce strain on the body as one sits and works. It also has a headrest, backrest, seat height, and armrests that can be flipped up to make the chair appear smaller. It can carry up to 250 lbs and is lined with breathable mesh material for better air circulation.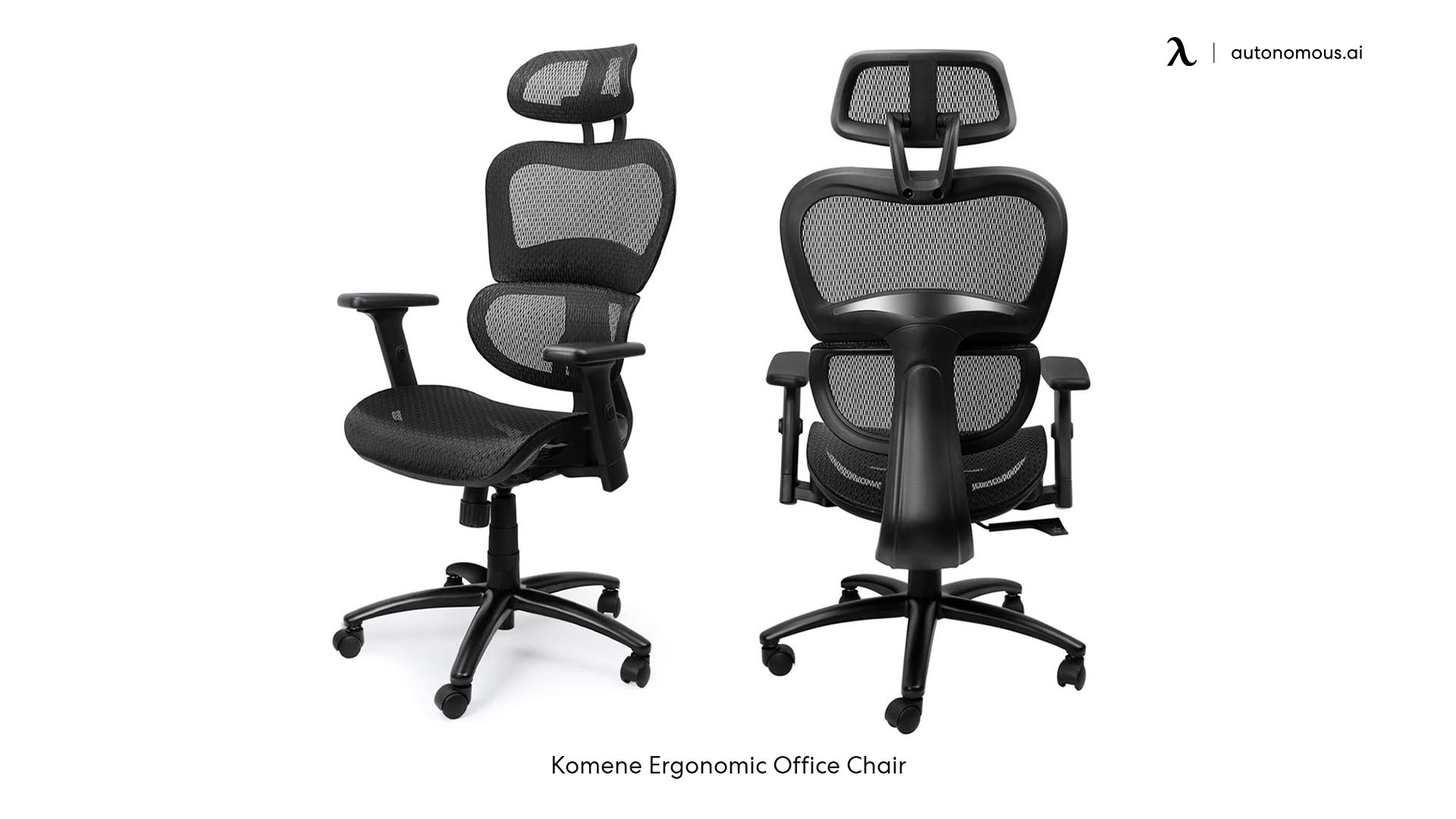 16. Billups Ergonomic Mesh Task Chair
This small office chair, just like the Ergonomic Executive Chair by STARSPACE, is loved for its ample cushioning and protection. It is available in several shades of bright colors and offers great ergonomic qualities. It is also averagely priced which makes it perfect for anyone on a budget looking to buy a desk chair for a small space.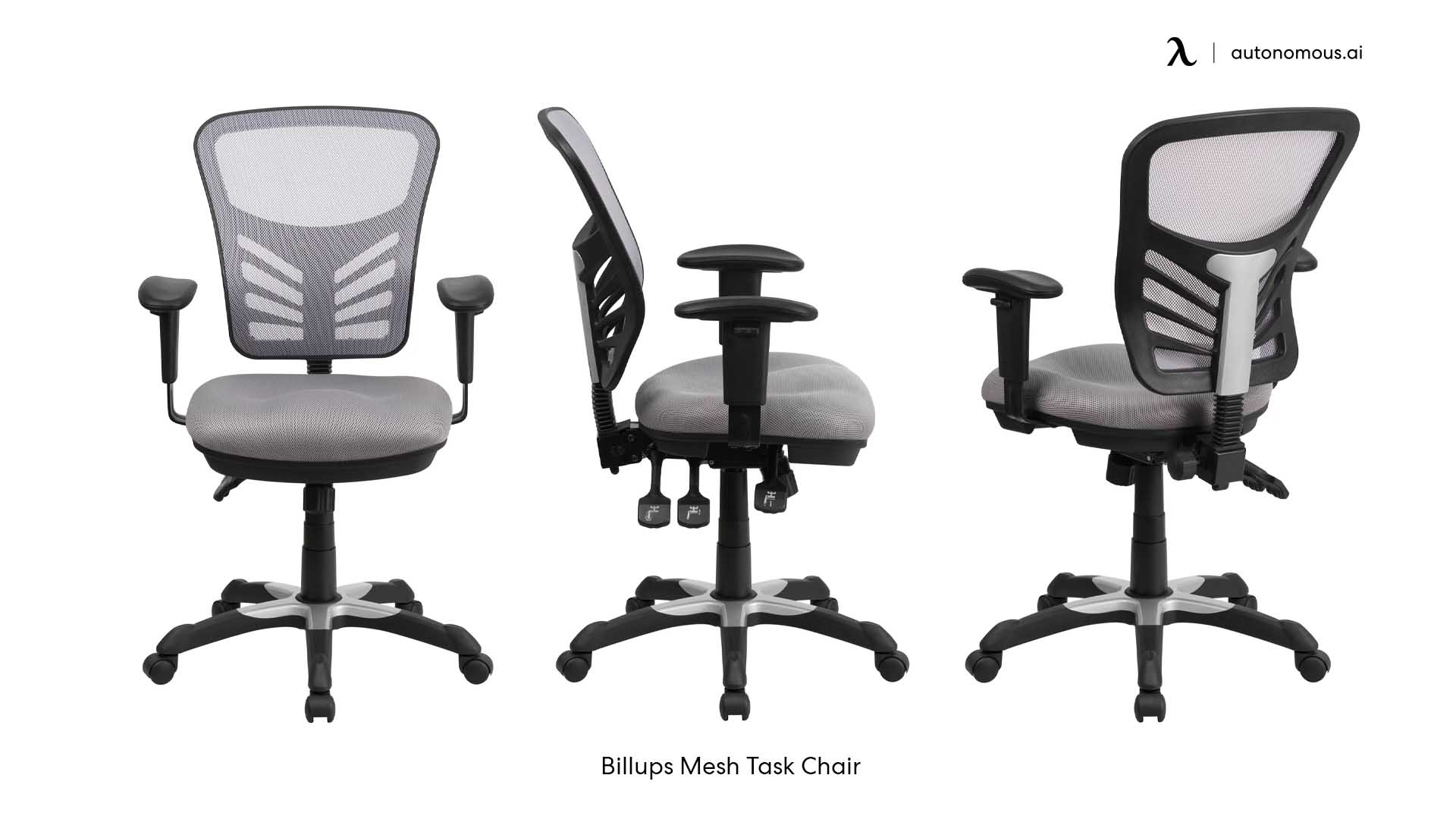 17. The Evey Ergonomic Task Chair by Brayden Studio
This compact desk chair provides strong lumbar support for anyone looking to avoid back pain from sitting on a chair for too long. Its ergonomic design allows the user to adjust the chair to whatever preferences they may have. This means that one can spend several hours daily working on the Evey Ergonomic Task Chair without risking body pains. Its minimalist design also makes it suitable for most workplace environments.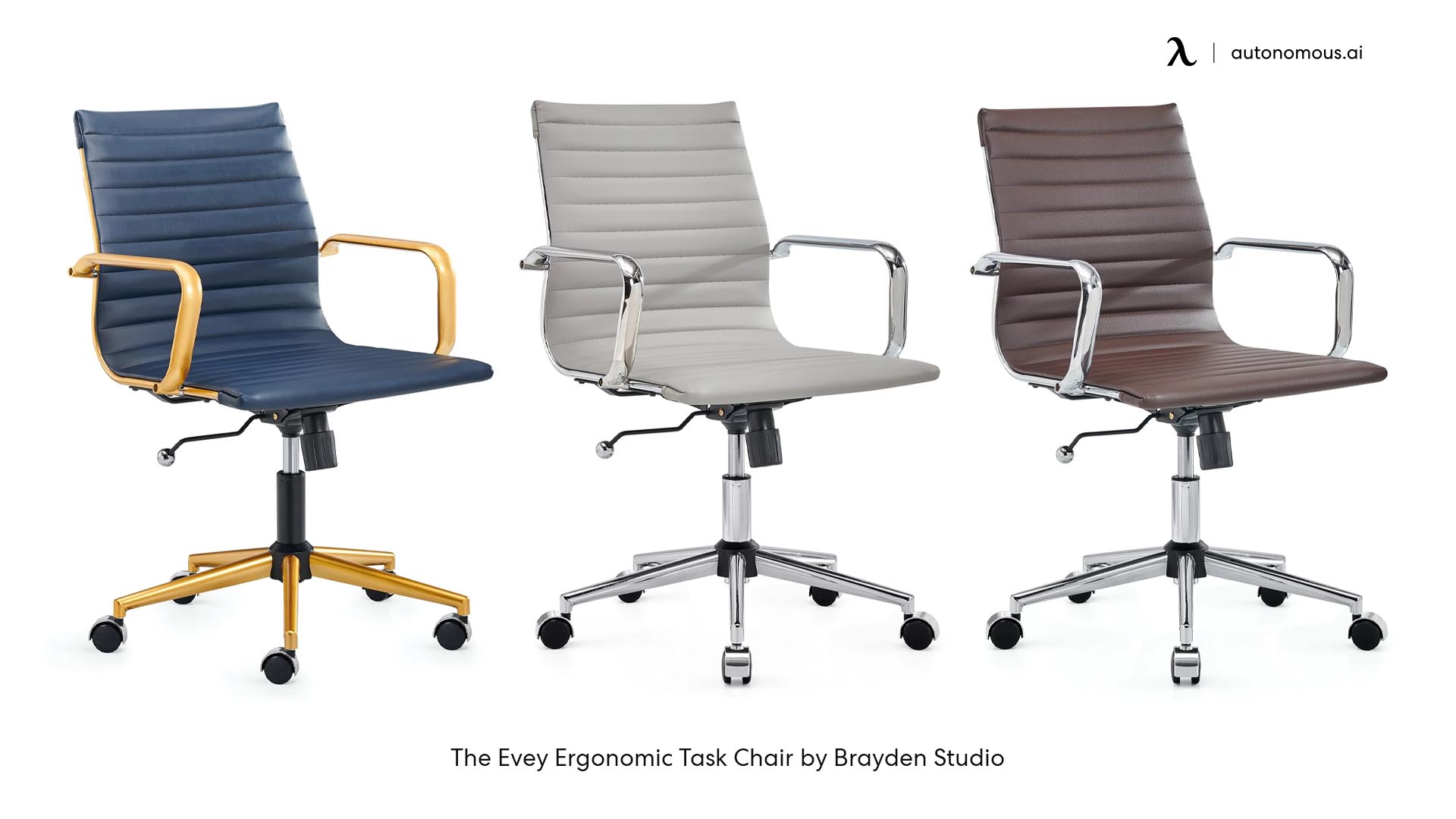 18. Task Chair By Branch
This small desk chair measures 25 inches in width and length and 48-52 inches in height. It has ergonomic qualities that make it a great desk chair for small office space. Firstly it combines a breathable mesh backrest with an adjustable lumbar rest. These two features provide ample support for hours of sitting. 
This compact office chair also has a high-density foam cushion that ensures that your weight is evenly distributed around the chair to prevent neck and back pain in one spot from hours of sitting. The armrest, tilt, height, and lumbar support are all adjustable and can be modified to suit individual preferences. Finally, the Task Chair by Branch is easy to assemble and can squeeze into the most narrow spaces without compromising comfort.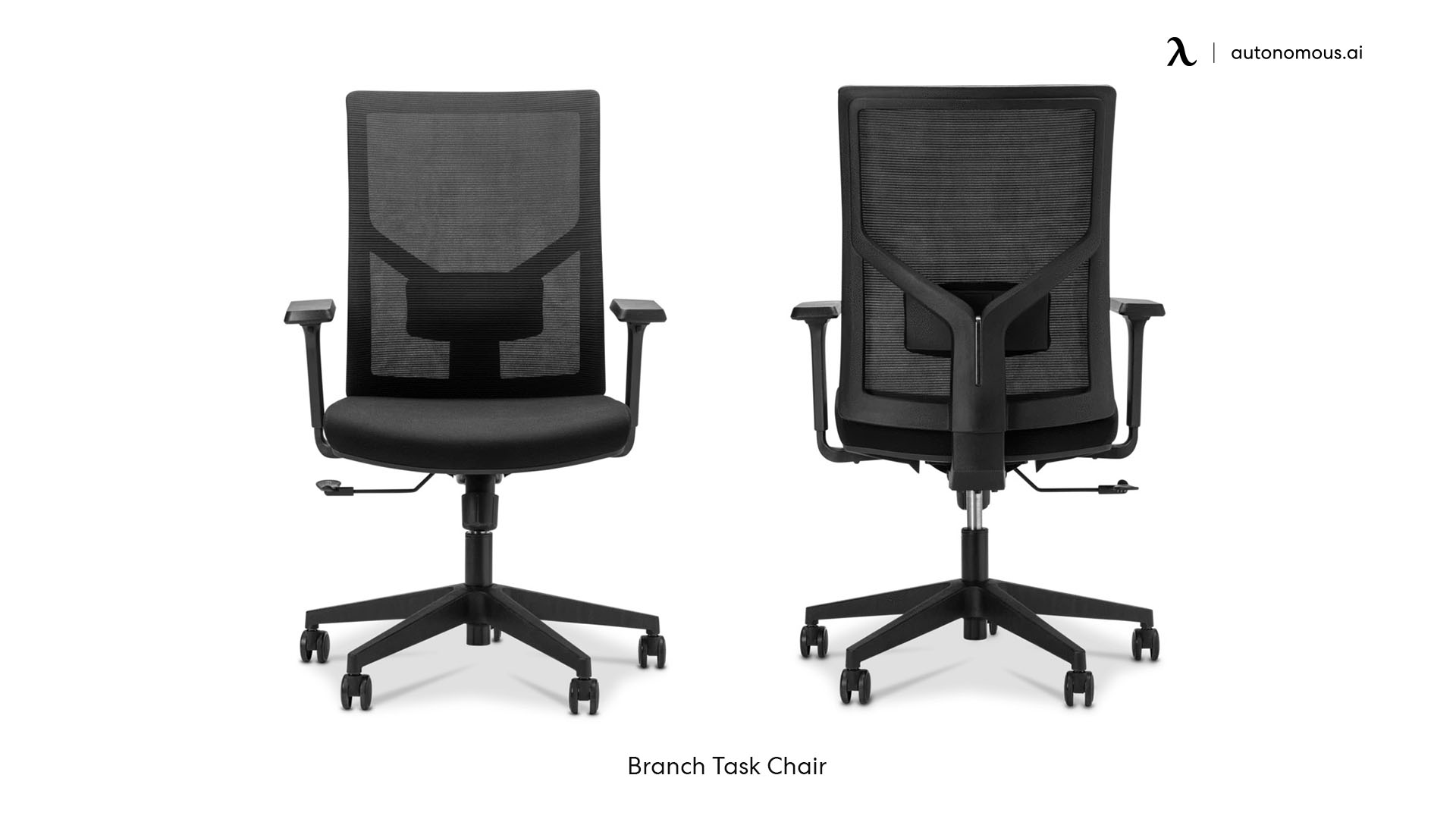 19. Aeron Chair by Herman Miller
This chair is specially created to fill the needs of contemporary office spaces. It measures 25.75 inches in width, and 38.5 inches in height. Some of its best features are its ergonomic design, contemporary style, and strength. The Aeron chair comes with adjustable armrests that can be flipped or pulled back when not needed. It offers a superior comfort level. It has a smooth backrest, and a soft seat with waterfall edges, making it a great choice for comfy sitting in a small space.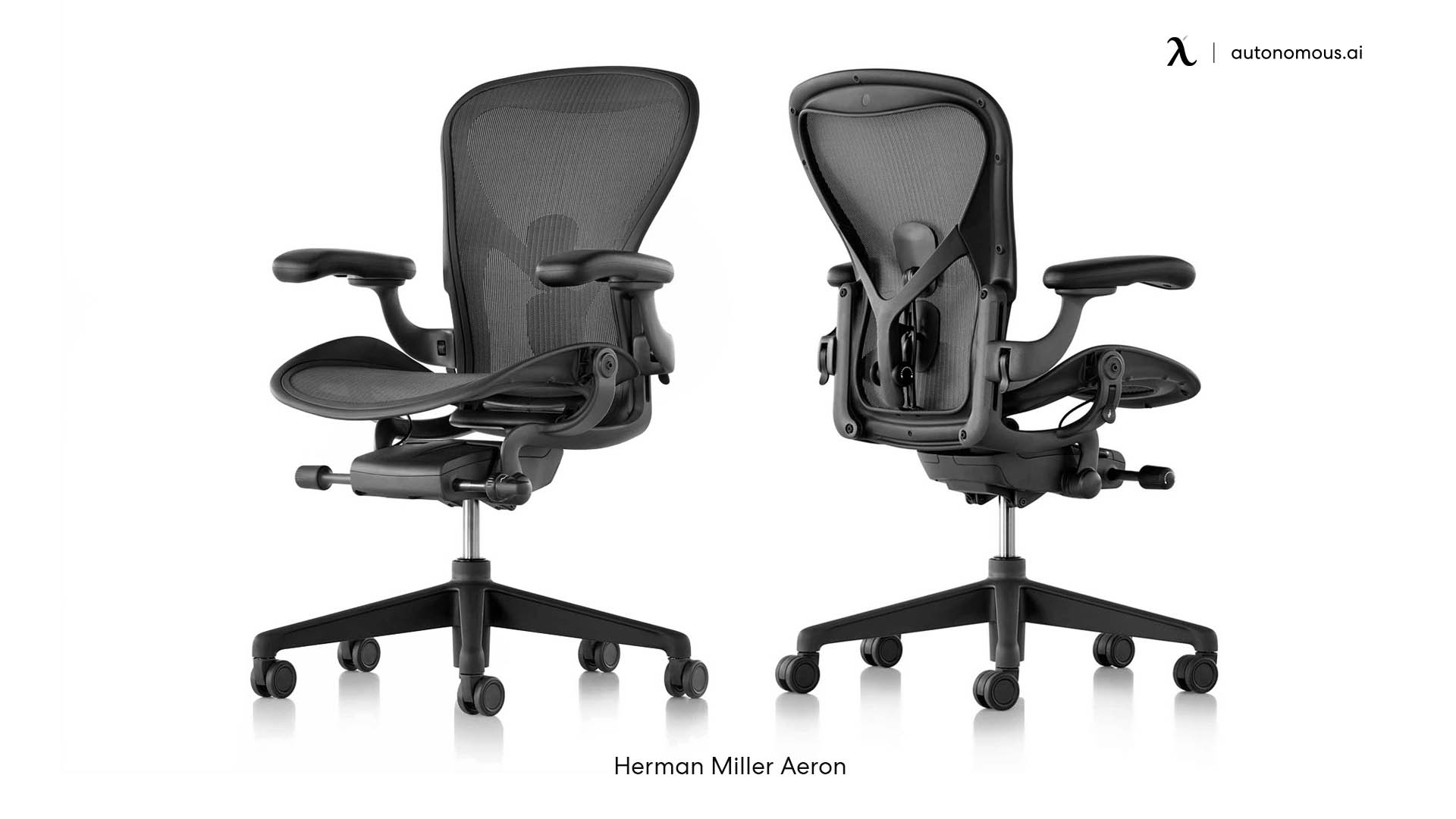 20. Adjustable Task Chair by Yaheetech
The chair has a stylish appearance that makes it a fit for all kinds of small workspaces.
More still it comes with impressive features such as its adjustable height and well-padded seats that provide comfort for the user. It also comes with no armrests at all, which makes it a sure fit for narrow spaces. It's easy to tuck this small desk chair out of the way when working. The only downside to using this chair is that it offers no ergonomic support.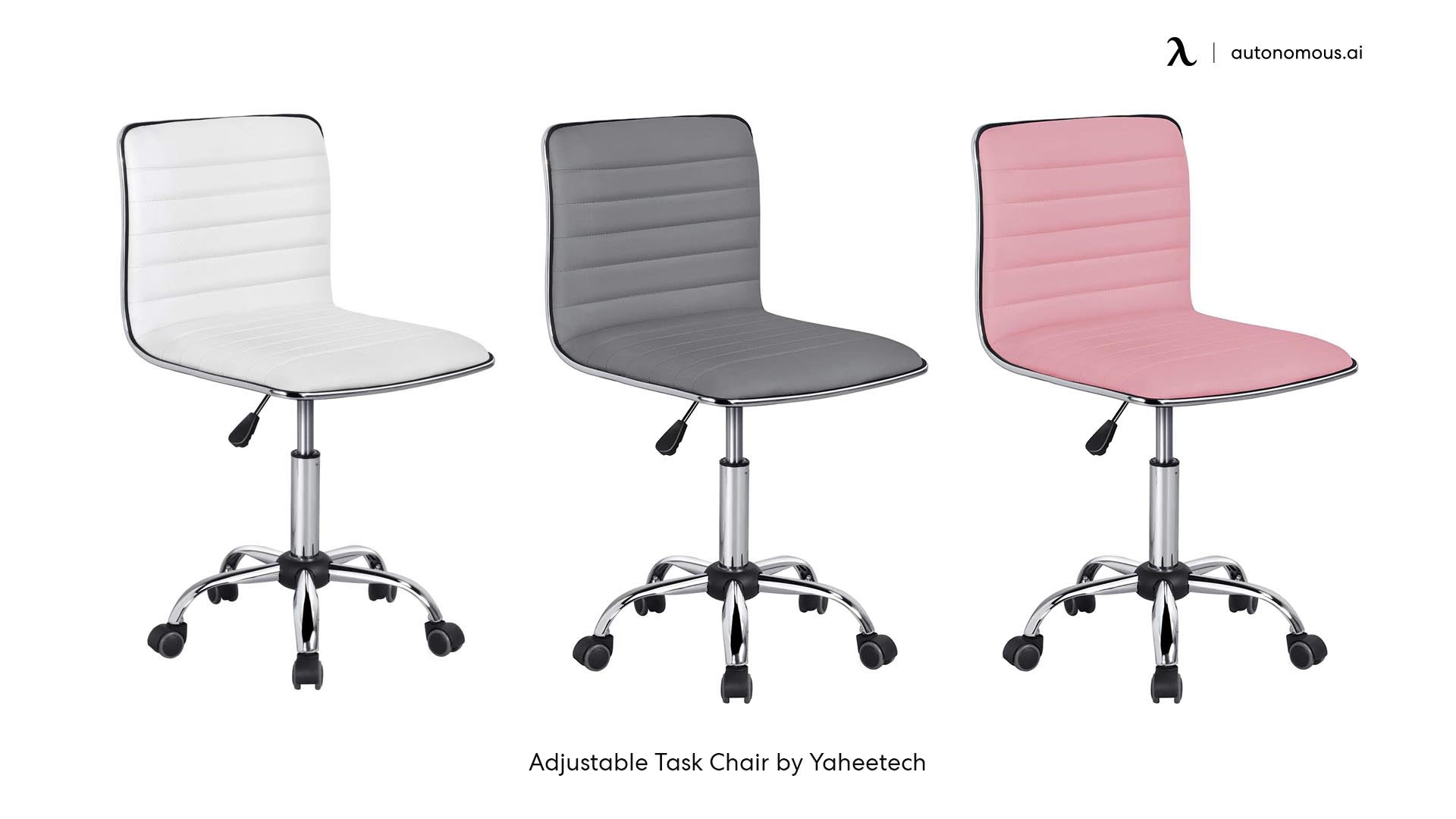 Keep up with Autonomous news
Stay informed, stay inspired with our new blogs.
WRITTEN BYAutonomous
We build office products to help you work smarter.