Workplace Inspiration
Top Inspiring Law Office Designs to Enhance Workplace Culture
285 Views
In today's competitive legal landscape, inspiring law office designs enhance workplace culture and foster a productive, motivated team. A well-designed law office not only reflects a firm's values and identity but also significantly impacts employees' well-being, job satisfaction, and overall productivity. 
Law firms can create an atmosphere that fosters mutual respect, support, and motivation by creating an inviting workspace that meets employees' needs and aligns with the company's goals. 
Moreover, in this article, we will talk about what to consider for a perfect law firm office design, trends in law office designs, and ideas to help create an inspiring and comfortable work environment.
What to Consider for Better Law Office Design Ideas?
When deciding on a big or small law office design, there are several essential factors to consider to ensure a comfortable, productive, and inspiring work environment. Here are some of the key law office design ideas to keep in mind: 
Space and Layout
A well-planned office layout should provide enough space for movement, collaboration, and privacy. Consider the size of your team and the type of work they do when choosing your office layout. Open-plan layouts can foster collaboration, while private office setups can offer more privacy for personal work.
Storage and Organization
Efficient storage solutions and organization systems are essential for maintaining a clutter-free and productive work environment. Think about including office shelving and space-saving furniture to optimize your office space and keep it organized.
Flexibility and Adaptability
As your law firm grows and evolves, your office space should be able to adapt to the changing needs of your team. Design your office with flexibility in mind, including modular furniture and easily reconfigurable layouts to accommodate future changes.
Branding and Company Culture
Your law office design should reflect your firm's values and identity, helping to create a sense of community and purpose among employees. 
According to Stacey Burke at Forbes, your law firm can create a persona that can resonate with your clients. 
Therefore, make sure to include elements of your firm's branding, such as logo, colors, and mission statement, into the office design to strengthen the connection between your team, your clients, and the firm's culture.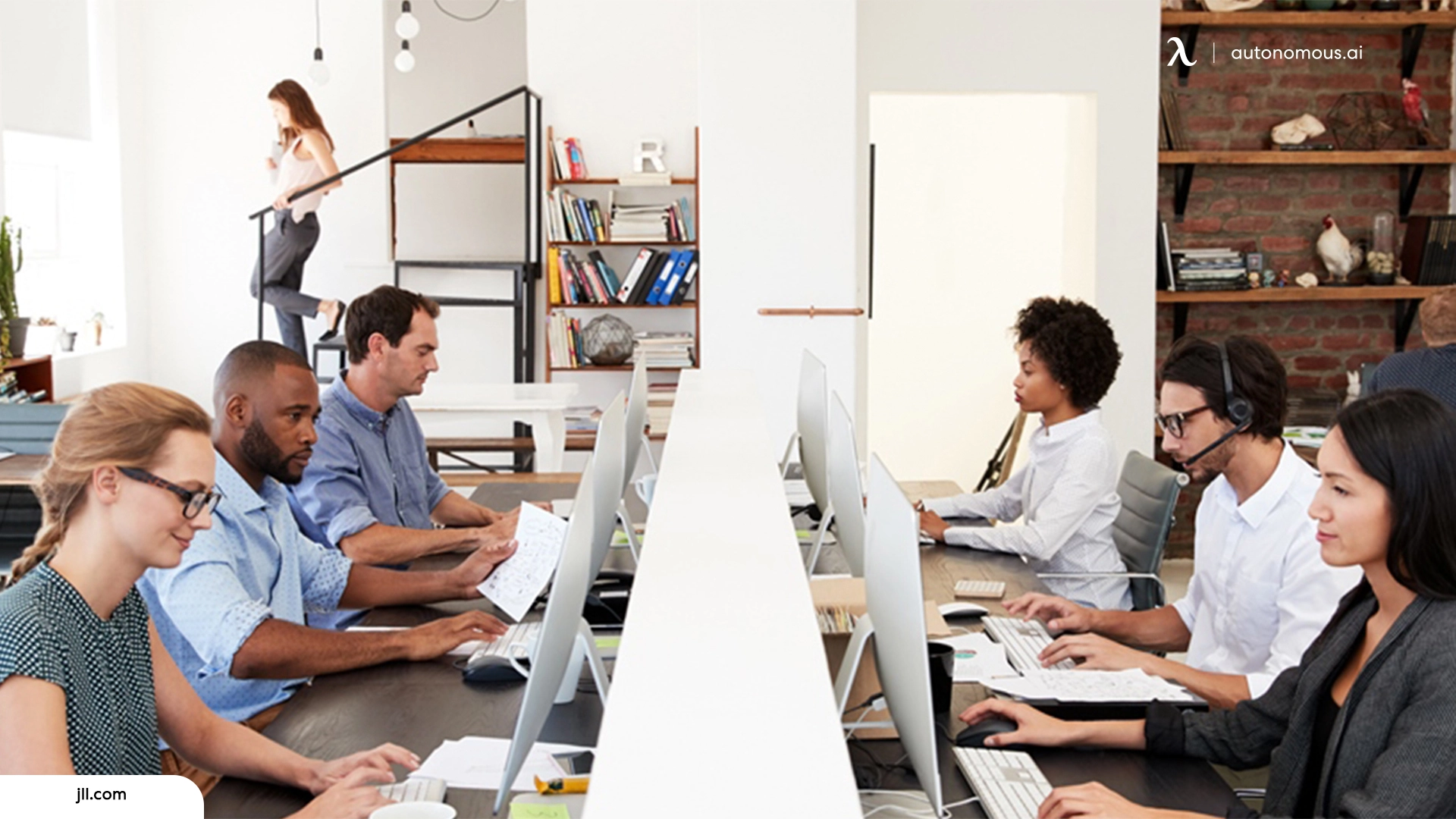 Activity-based Working (ABW)
Activity-based working is a design concept that provides employees with various workspaces tailored to specific tasks or activities. This approach encourages employees to move from one place to another in the office and choose the best environment for their current tasks, promoting productivity and well-being. 
Sustainable and Eco-friendly Design
Sustainability is becoming a significant focus in law office designs, with firms opting for eco-friendly materials, energy-efficient systems, and green office practices. Adding sustainable elements to your office design can help reduce your firm's environmental impact and create a healthier work environment for employees. 
Multipurpose Spaces
Flexible and multipurpose spaces are becoming increasingly popular in law office designs. These spaces can be easily reconfigured for different purposes, such as meetings, training sessions, or social events, with space-saving furniture for the office, making them valuable assets for a growing firm.
Five Types of Law Office Decor Ideas for a Better Workplace
Here are the six types of law office decor ideas that can transform your workplace into a more inviting, efficient, and inspiring environment. These innovative design concepts cater to various preferences and values, ensuring a personalized and engaging workspace that fosters productivity and collaboration for legal professionals. 
Ergonomic Office Furniture
Investing in ergonomic office furniture supports employees' health and productivity. Consider opting for ergonomic chairs that provide adequate lumbar support and adjustability.
Standing desks are also a great addition to promoting a healthier work routine by allowing employees to switch between sitting and standing throughout the day. 
1. Autonomous ErgoChair Pro
The ErgoChair Pro is a cutting-edge office chair designed to enhance mobility, alleviate discomfort, and promote overall well-being. Its stabilizing backrest, wrapped in ultra-breathable woven mesh, offers adjustable tension and 22° of recline, ensuring optimal posture and lumbar support. 
This chair's synchro-tilt mechanism fights fatigue by allowing the back and seat to move in tandem while the responsive lumbar cushion caters to your unique body shape for tailored support. Also, the adjustable headrest prevents hunching, and the waterfall seat pan improves circulation by distributing pressure evenly. 
2. Autonomous ErgoChair Core
Experience effortless comfort with the ErgoChair Core, designed to provide tailored support and encourage movement. Its user-friendly design features two intuitive levers for easy customization and a weight-activated mechanism that allows 18° of reclining while maintaining spinal stability. 
The breathable mesh back offers maximum airflow and evenly distributes pressure and weight for lasting comfort. BIFMA tested for durability, the chair's woven fabric is both strong and flexible. 
Furthermore, the height-adjustable lumbar pad is subtly arched to support your spine's natural curvature, ensuring proper posture, whether sitting upright or leaning back for brainstorming sessions. 
3. Autonomous SmartDesk Pro
This SmartDesk Pro is the culmination of years of research and development, providing an optimized workspace for enhanced productivity. With its upgraded dual-motor system, this height-adjustable desk ranges from 26.2" to 52", effortlessly lifting up to 310 lbs. 
Generally, the quiet operation at 40 dB ensures minimal disruption, while the sturdy steel frame guarantees durability. You can choose between Regular or XL desktop sizes, with the latter available exclusively in the US and Canada. Plus, this standing desk features four programmable settings for seamless transitions between sitting and standing positions. 
4. Autonomous SmartDesk Corner
If you're ready to have a modern office design at your workplace, the SmartDesk Corner can be a fantastic addition and easily fit the scene. 
Its double-segment design offers twice the space, adapting seamlessly to any workspace with modular, customizable segments. 
Experience unparalleled power and convenience with a whisper-quiet triple motor capable of lifting 400 lbs. on sturdy steel legs. The desk offers four programmable presets, enabling a smooth transition between your preferred heights. 
With BIFMA certification, the SmartDesk Corner promises long-lasting durability, sustaining 50,000 cycles with minimal wobble. Every purchase includes a free cable tray and a five-year warranty, making this height-adjustable desk the perfect addition to elevate your office experience. 
Home-like Comforts
Creating a more comfortable and home-like atmosphere in law offices can help employees feel more relaxed and engaged. This trend involves incorporating cozy seating, warm colors, and personal touches, such as artwork and decor, to create a welcoming and inviting work environment. 
1. A Magnetic Desk Organizer
Elevate your workspace with this stylish and functional desk organizer, the perfect addition to your office accessories collection. The unique magnetic organizer boasts a patented magnetic attachment design, allowing for effortless customization and organization. 
Crafted from high-quality solid bamboo and durable, high-grade plastic, this organizer can last a lifetime. You can also choose from various color options to complement your office aesthetic. 
2. NFT Art Display
Elevate your office wall decor with the Autonomous NFT Art Display, designed exclusively for showcasing your unique 1:1 NFT artwork. 
You can securely cast your digital masterpieces from your Metamask wallet and customize your display settings using app controls. 
The widescreen frame is perfect for vibrant, eye-catching NFT art, with a built-in accelerometer for seamless portrait or landscape orientation.
Biophilic Design Elements
Including natural elements such as plants, natural light, and nature-inspired textures in your office design can improve employee well-being and create a more calming atmosphere. Biophilic design can also help to reduce stress levels and improve concentration. 
1. The EVE Indoor Garden
Introducing the EVE indoor garden, a brilliant addition to modern office ideas, designed to cultivate fresh, pesticide-free herbs, vegetables, and flowers all year long. 
If you can't think of good law office decor ideas, try this compact system which allows you to grow 12 plants simultaneously, measuring just 8 inches deep and 18 inches wide, occupying less space than a traditional potted plant. 
Moreover, say goodbye to the days of neglecting your plants, as the smart system automatically waters them 48 times a day, ensuring optimal growth. 
2. Altifarm Pico Planter
Pico is a compact indoor plant pod designed to simplify plant care for beginners and experts alike. Made from food-safe, BPA-free, recyclable materials, it boasts various clever features, including telescopic grow lights, self-watering, and multiple mounting options to accommodate any surface. 
Easy, affordable, and available in three charming colors – coral white, stone blue, and sea green – Pico ensures your plant parenting journey is successful from the start. This palm-sized all-year grow unit is perfect for nurturing your favorite plants in any space.
Technology Integration
Modern law offices should have the latest technology to streamline work processes and improve efficiency. Ensure that your office design includes dedicated spaces for technology equipment, such as video conferencing systems, printers, and charging stations. 
1. Movo WebMic HD - USB
Upgrade your streaming or conferencing experience with Movo's WebMic-HD, a versatile device combining a 1080p HD webcam and a professional condenser microphone. 
You can capture crystal clear video at 30 frames per second and enjoy broadcast-quality audio with excellent noise reduction. Moreover, it allows simple connectivity to your Mac or PC via USB without additional hardware or software. 
2. Moshi Sette Q Wireless Charging Pad
Experience fast, wireless charging with this Qi-certified dual charging pad, offering up to 15W power for compatible smartphones and earbuds. Charge through 5mm thick cases and an additional device via the 5W USB-A port. 
Lighting and Color Scheme
Proper lighting is essential for employee productivity and mood. Natural light is best, but if that's not possible, consider adjustable lighting options that mimic natural light. 
The color scheme of your office can impact employee mood, creativity, and productivity. Make sure to choose colors that promote calmness, focus, and positivity. 
1. Moving Sands Lamp
The Sands of Time Lamp combines modern linear design with energy-saving LED technology. With cool white, warm white, and warm yellow lighting modes, this dimmable lamp comes with a remote control for convenience. 
As the natural red sand flows within the circular glass, it creates a mesmerizing, ever-changing landscape to alleviate fatigue and boost focus. You can place it by your bed or workstation for ambient illumination and improved mental clarity. 
2. Honeycomb Lights with Touch Sensitivity
Revamp your space effortlessly with this modular wall lighting. This wall lamp allows for independent control to form any design you envision and consists of six connectable tiles. 
It offers 13 fixed colors and three dynamic modes with timing functions, adjustable brightness, remote control, and touch-sensor activation. 
Autonomous Free Workspace Design Service
Designing the perfect law office can be a complex and time-consuming process, but Autonomous is here to help with our Free Workspace Design Service. This service can assist you in creating the ideal office layout and optimizing your space for comfort and productivity while maximizing value for your money. 
Benefits of the Service
Save Time: By sending your request to Autonomous, you'll receive your bespoke design within five business days, allowing you to be 100% ready to go when your furniture arrives.
Cost Savings: With a precise design in place, we can offer exclusive deals for the best items and products for your workspace, ensuring you get the most out of your investment.
Minimal Stress: Let the professional team take the stress and worries out by doing the complicated and time-consuming work for you. 
How to Get Started
To begin your design project, complete a short questionnaire on our website. Provide your preferences, send photos of your law office, and pick a style that you'll love to see. Our team will then create a 3D design layout, allowing you to move around, adjust angles, and suggest changes as needed. 
What You'll Receive
Personal Customer Support: Autonomous will provide dedicated customer support throughout the design process, ensuring the team meets your needs.
3D Floor Plan Layout: Our staff will create a detailed 3D floor layout, giving you the best possible perspective of your new office space.
Suggested Concierge & Shopping List Service: We will provide a suggested shopping list and concierge service to help you select the right products for your office design. 
By using our workspace design service, you can ensure that your law firm office design is both functional and inspiring, contributing to a positive workplace culture that promotes collaboration, creativity, and success. Visit the Autonomous website to learn more about this valuable service, and start planning your dream big or small law office design today. 
Summary
An inspiring law firm office design plays a crucial role in enhancing workplace culture, employee satisfaction, and overall productivity. 
With numerous law office design ideas to choose from, finding the perfect balance between functionality and aesthetics is essential for your firm's success. 
Whether you plan on a big or small law office design doesn't matter. By investing in a well-designed law office, you will not only improve the well-being of your employees but also contribute to the long-term success and growth of your firm.
Subcribe newsletter and get $100 OFF.
Receive product updates, special offers, ergo tips, and inspiration form our team.
WRITTEN BYAutonomous
We build office products to help you work smarter.