Smart Products
WalkingPad Reviews: What Is The Best Walking Pad?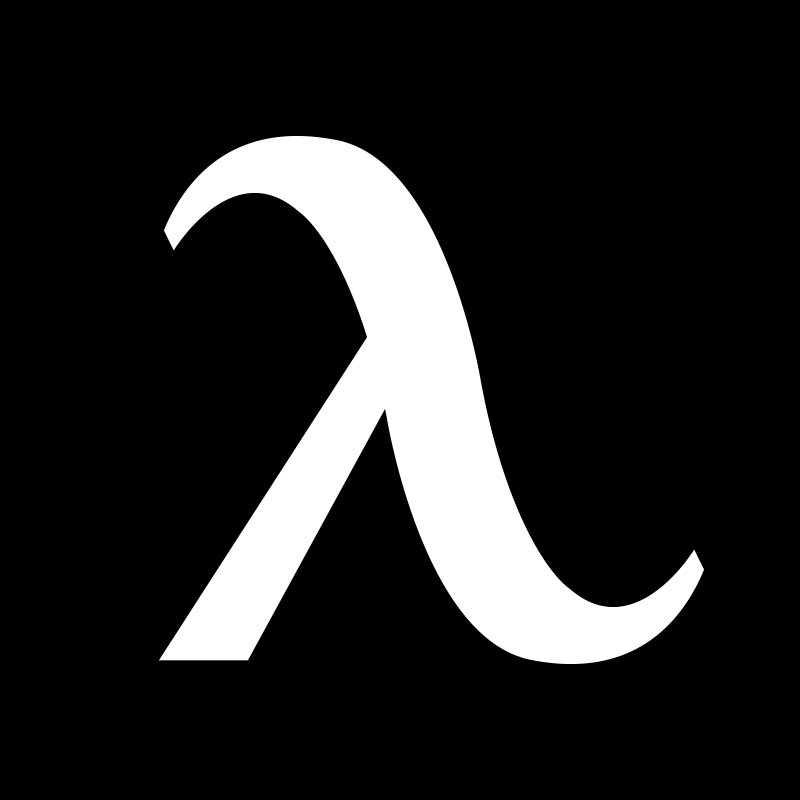 Autonomous
 | 
Jun 24, 2022
Gone are when treadmills used to be large and wild pieces of furniture. It would help if you thought several times before buying one. After all, who would like to compromise on the sweet couch space with a big ugly treadmill you don't even use?
And with more people working from home already as if there is enough space after the home office setup. While the first one can be addressed with subtle, compact home office designs, there is not much you could do about treadmills and their big designs up until now.
There's a burgeoning market of walking pads that offer a moving belt for walking in place without the vast surface and displays of a regular treadmill for individuals who don't want to invest in a full-blown treadmill. These walking pad reviews are promising, with the product being versatile and just the best solution for an effective home workout. Below we have reviewed (in-depth) the best home workout walking pads cum treadmills with patented technology and modern looks.

You can purchase all these modern treadmills through the Autonomous employee purchase program and enjoy a workout from home. Let's take a look on our WalkingPad review.
WalkingPad C2 Review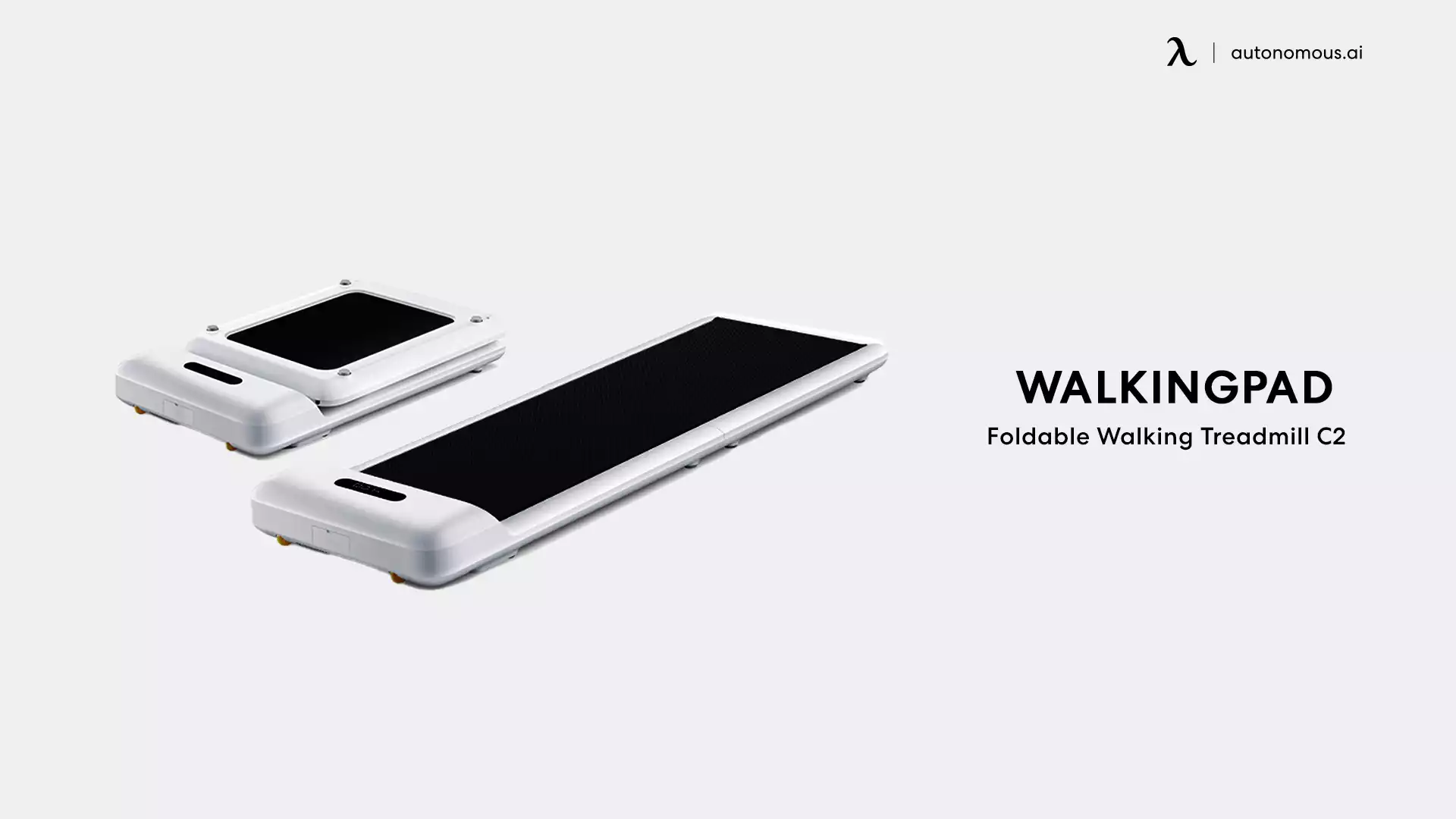 One of the pioneers of walking pads that made millions of customers due to its resilience and high quality, the WalkingPad C2 can be considered an initial solution for effective home workouts. This treadmill is especially suitable for remote workers because this treadmill is both quick, affordable, and compact. It has patented foldable technology, meaning the treadmill occupies the minimum space, and you can even travel with it in your car trunk.
It has a 4 layered structure with each layer made with high quality and precision to provide the workout of your life. The smart connection of WalkingPad C2 allows you to sync and control your workouts to stick to your long-term weight loss plans. The foot-sensing speed controls ensure your walking speed keeps you on the track, and you shed the right amount of calories with each workout. It is rated 4.7 stars out of 5 by the customers because of the ease of use and single-touch control.
WalkingPad A1 PRO Review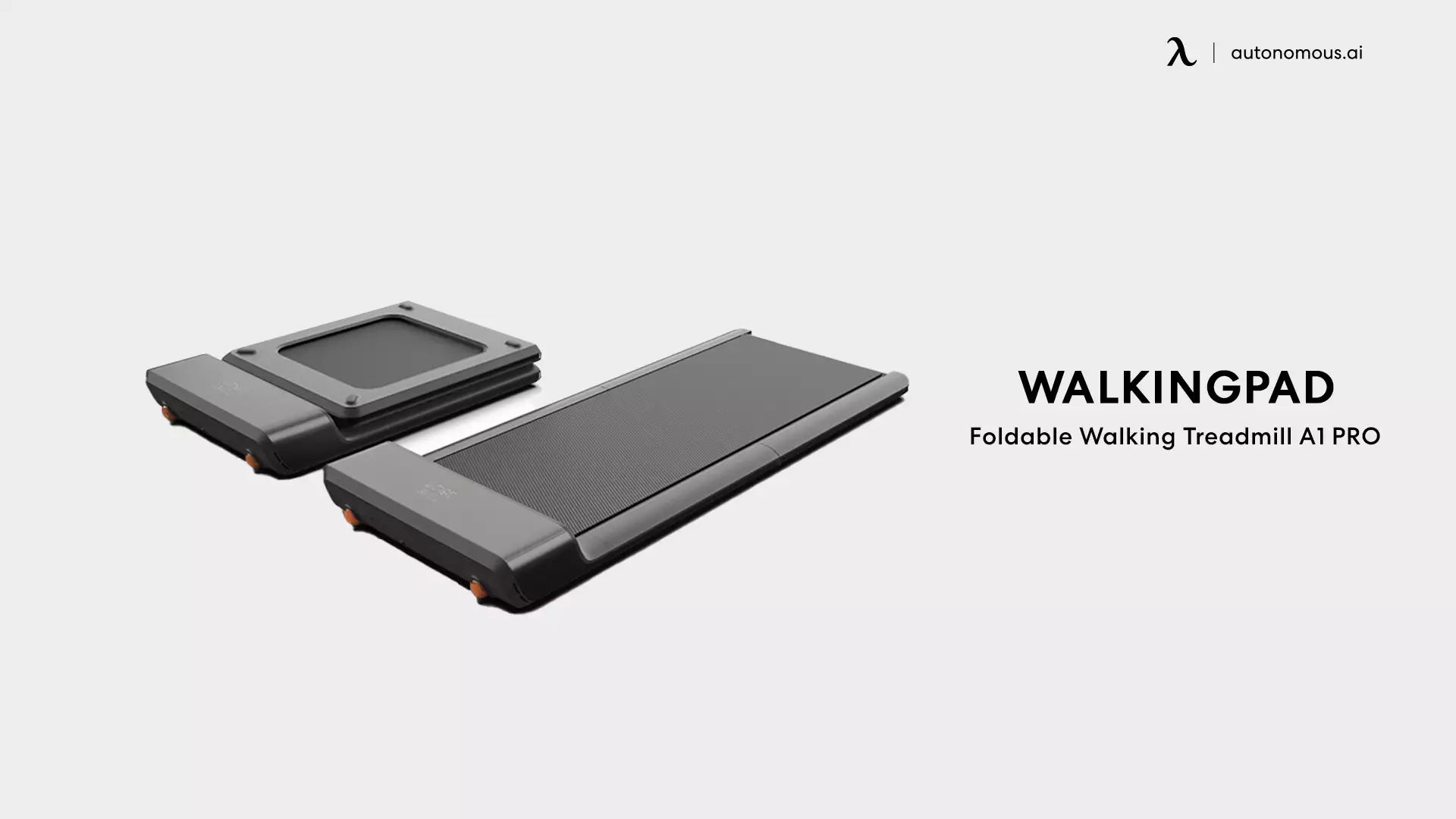 Here is the next product in our WalkingPad review. The WalkingPad A1 PRO foldable walking treadmill is a simple platform with no big attachments or elaborate designs. The treadmill folds to a compact 700 square inches and has many features, making it a top choice among customers. It has a 4 layered structure, as mentioned in the other walking pad treadmill reviews. It has a smart connection, so you can control and modify the treadmill speed and incline right from your cell phone.
The treadmill has a weight capacity of 230 pounds, so even obese people can rely on it to lose some healthy weight. The remote control ensures quick control, and the foot sensing speed control adjusts to your workout with maximum comfort. It also comes with a 1-year warranty.
WalkingPad R2 Review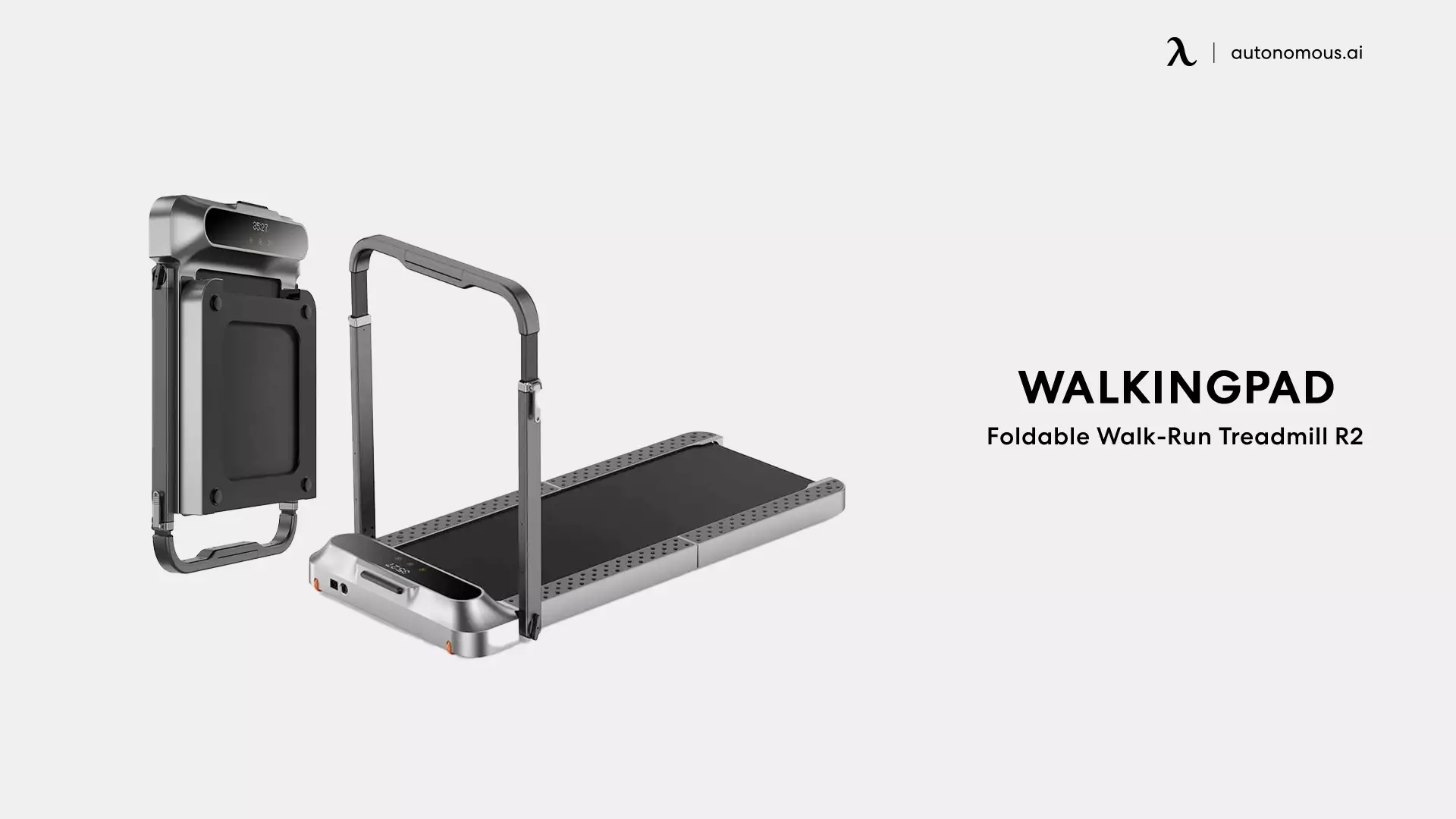 We love this WalkingPad R2 because it is a two-in-one foldable technology with several other features. Thanks to the space-saving hinge design, the treadmill can be folded in under 3 seconds. The treadmill is small enough to fit under your bed or couch and has anti-slip vertical storage, meaning you can place it right behind your door and not worry about it falling off anyone's feet.
The treadmill has significant strength but no sacrifice in terms of appearance. It has an aluminum alloy frame with an all-black finish and a simple yet sturdy form that expertly mixes current aesthetics with dependable strength. The 4-layer structure, the epitome of comfort in all walking pad treadmills, provides smooth movement, soft feel, high density, and friction-free foot movement for quick and effective workouts.
Besides that, the WalkingPad R2 is one of the quietest treadmills you will run on, and the only noise you will be hearing is those calories burning off because, at 65db, it is quieter even for the person who is in a meeting sitting right beside you. Best for an indoor walking workout, this treadmill is a game-changer for modern home gym setups.
WalkingPad X21 Review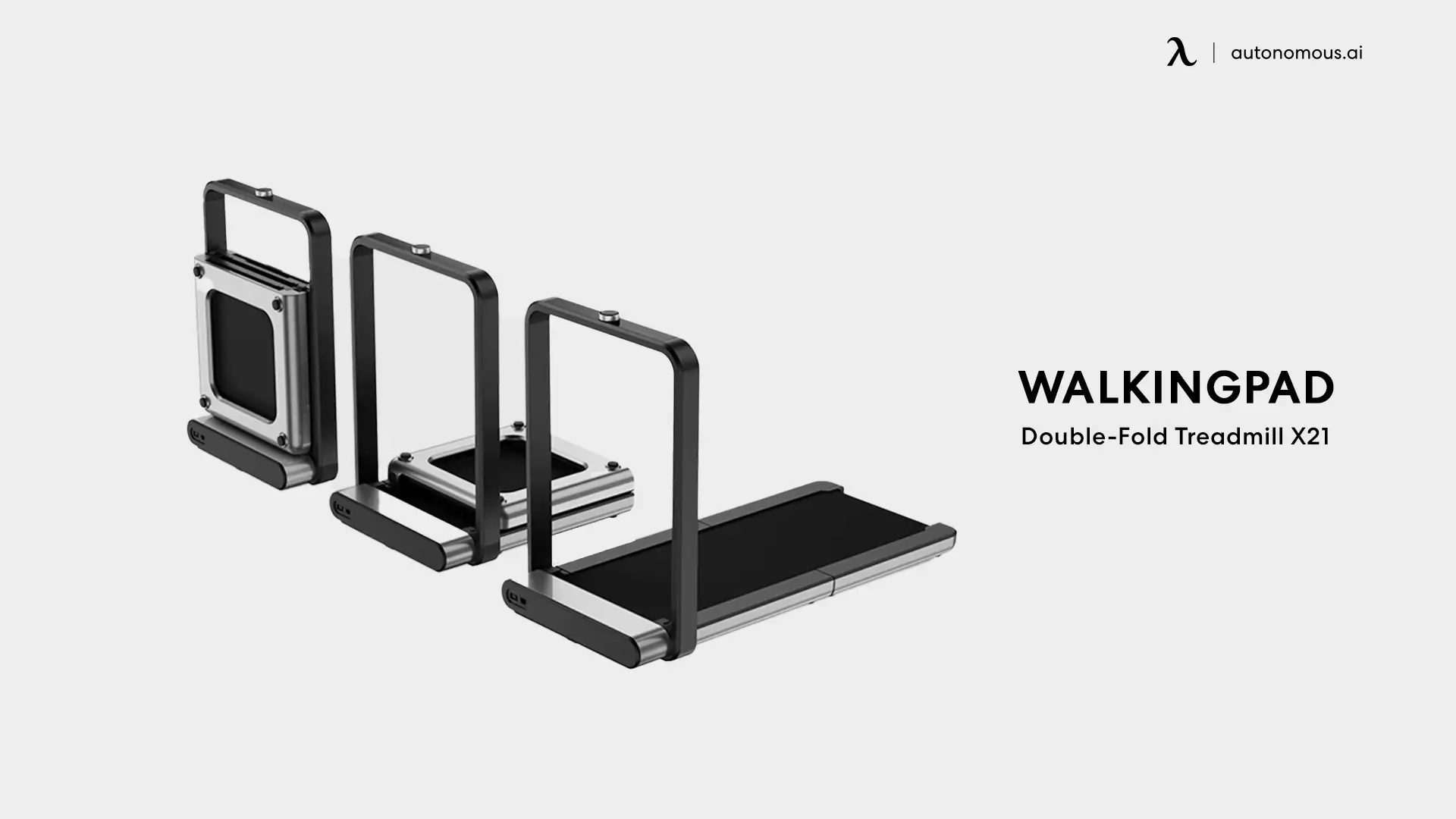 Another popular walking treadmill presented in our WalkingPad review allows you to walk on a flat surface, adjust the incline, or even run for your daily dose of calorie burn; the WalkingPad X21 is one of the best on the market. It has smart folding technology, making the treadmill 1/3rd of its original design. The treadmill is available in a silver and black finish and has both the combination of a modern design as well as a traditional look to it.
It is paired with many advanced features that make your workout hassle-free and ergonomic. You can use the digital display to manage the controls. It has a single-touch operation, and it is paired with NFC for maximum safety and user-friendliness. According to the WalkingPad X21 reviews, the digital control is one of the best features of this treadmill. The digital monitoring smart application lets you control and plan your workout far away from home.
It also has a detachable phone holder to keep your emails and work calls beside you while you are working out. The premium powder-coated frame gives this treadmill a fresh look for years to come and is prone to scratches or long-lasting marks.
WalkingPad R1 Pro Review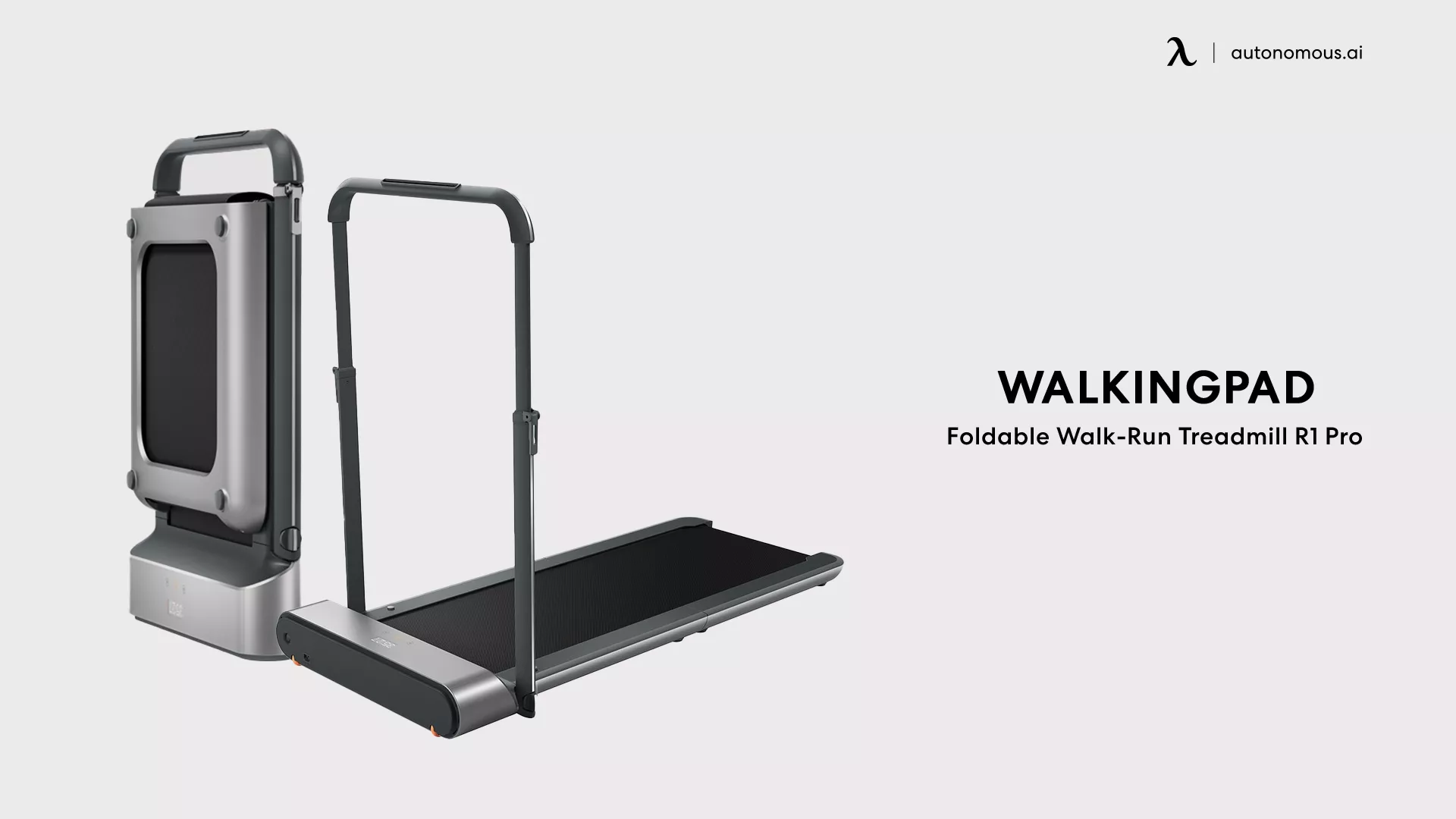 If you are looking for the best, most innovative, and compact foldable design in a treadmill, get your hands on this WalkingPad R1 Pro by WalkingPad. How does it perform? Let's move to the final section in our WalkingPad review. The treadmill has a patented design and can fold to 180 Degrees. It is one of the highly reviewed and loved treadmills sold by WalkingPad.
It has 4 layered treadmill belts and supports a smart app connection. The foot-sensing speed control ensures your workout is per your safety and comfort. The folded design is easy to carry, and you can move it around the house without help. You can place it anywhere for a nice in front of the TV or even an outdoor workout with the best natural scenery.
It is available in two amazing colors, black and chrome, shiny and sleek for a home gym or even a professional gym setup. With its tiny design, the treadmill can be your travel partner when you worry about consuming those extra calories or need a little exercise to get the happy hormones going.
Hey, you have special pricing through your company.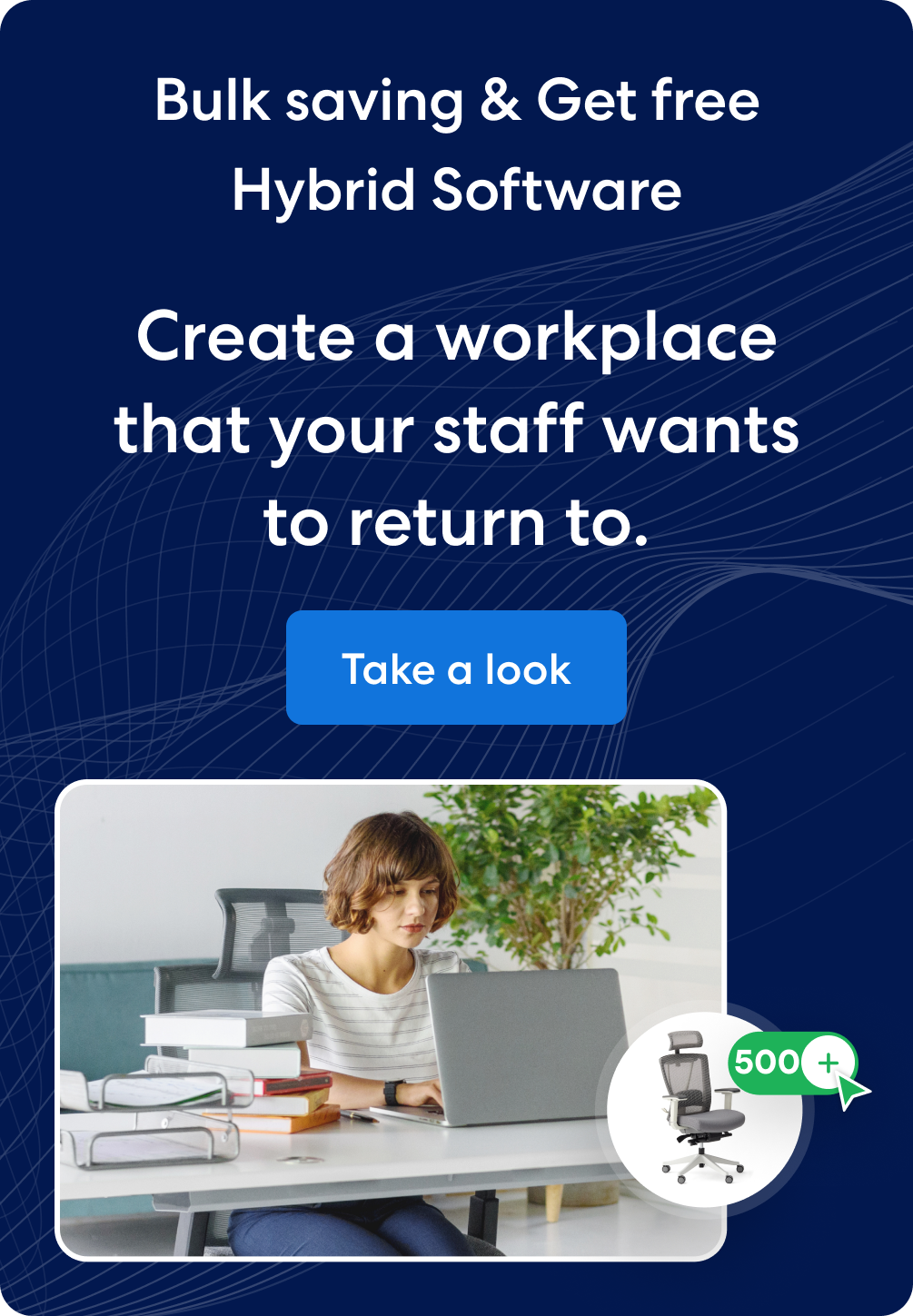 Get exclusive rewards
for your first Autonomous blog subscription.
WRITTEN BYAutonomous
We build office products to help you work smarter.
Coming at You Live from Autonomous' Social Media!