Smart Products
10 Best Study Chairs For Students to Sit Comfortably All Day
1,330 Views
It's a fact that studying does a number on your body. College students have lower back pain in the majority of cases, according to one study. Getting up frequently to move your body is not the only thing that will help you study better. In addition to encouraging good sitting posture, a good study chair provides better support for your body when studying. The following are our top picks for the 15 best types of chairs for studying in each category.
10 Best Study Chairs in 2022
1.  Autonomous ErgoChair Core
The ErgoChair Core is our basic budget offering. But don't let that price tag leave you thinking, as you get quite a lot for a smaller price. Among its features are a mesh back panel with lumbar support, a contoured foam seat, and tailored back support. 
2.  Autonomous ErgoChair Pro
The ErgoChair Pro is for you if you're looking for a more advanced study chair. It is a fully adjustable chair with additional support along the seat, armrests, height, and more. In addition, it has a smooth recline and five lockable positions for flexibility in seating.
3.  Autonomous ErgoChair Plus
Get the ErgoChair Plus if you would like to balance between price and performance. The frameless design allows for unhindered movement, and the TPE material has a 10x durability rating. Adaptive spinal support in the backrest moves with the user.
4.  Autonomous ErgoChair Recline
The ErgoChair Recline is ideal for longer study sessions punctuated by naps or quick breaks. This recliner is able to recline all the way back and even has an extendable footrest. Get up and lean back when you're ready to take a break from the notes you've been studying. Similarly to the others in the Autonomous line, this chair is covered in mesh, has foam seats, is adjustable in height, features armrests, lumbar support, and reclines as well.
5. Autonomous ErgoChair Junior
We think it's important for kids to have the right comfortable study chair. Designed to support your kids' back health, this ErgoChair Junior features adjustable features, seven ergonomic positions, a detachable footrest, and fits up to 4'7" tall users.
6. Duramont Reclining Leather Office Chair
This is a simplified version of the La-Z-Boy chairs and thick but soft padding from the headrest right to the seat's waterfall edge. The Duramont executive study room chair is built to last and features an extending footrest.
7. KERDOM Ergonomic Chair: Advanced Contoured Seat
Due to its nylon casters, this chair is perfect for hard floors. There is only a basic model, but it includes an ergonomic design, mesh covering, 3D armrests, a pneumatic rod, and a sturdy steel base. An adjustable headrest is attached to a backrest that tilts from 90 degrees to 135 degrees.
8. Logicfox Ergonomic Office Chair: Double Lumbar Support
Up to 6.2 feet tall, this dorm chair is suitable for tall people. There are six points of adjustment on the best affordable office chair: an adaptive 2D lumbar support (Front and Back), an Adjustable seat tilt, tilt tension, seat height, as well as a flip-up armrest. For more space, flip up the armrests to make the seat more comfortable and adjust the lumbar support to move along with your back.
9. Logicfox Ergonomic Office Chair: Saddle-shaped Mesh Seat
To support your thighs, this chair has a unique seat design with a high-density sponge only on the front edge. Other than that, the seat is made up of bare mesh. You can adjust the armrests backward and forwards with the 3D armrests. You can adjust the back panel up to 130 degrees using the paddle-shaped lever and tilt tension. 
10. KERDOM FelixKing Ergonomic Chair: for Wooden Floor
This second offering from KERDOM backrest can swing back and forth. Simply pull the lever outwards to make it swing and pull it in words to lock it. The armrests go from 90 degrees upward or 90 degrees backward.
How To Choose A Chair For Students
Any chair that helps you maintain your posture for a relatively long time is better than others. An office study chair with decent upholstery that helps keep you at ease and a well-founded headrest (not too low or too high) will likely help you maintain a good posture for lengthy periods of time.
What Is The Best Position For A Mesh Chair's Headrest?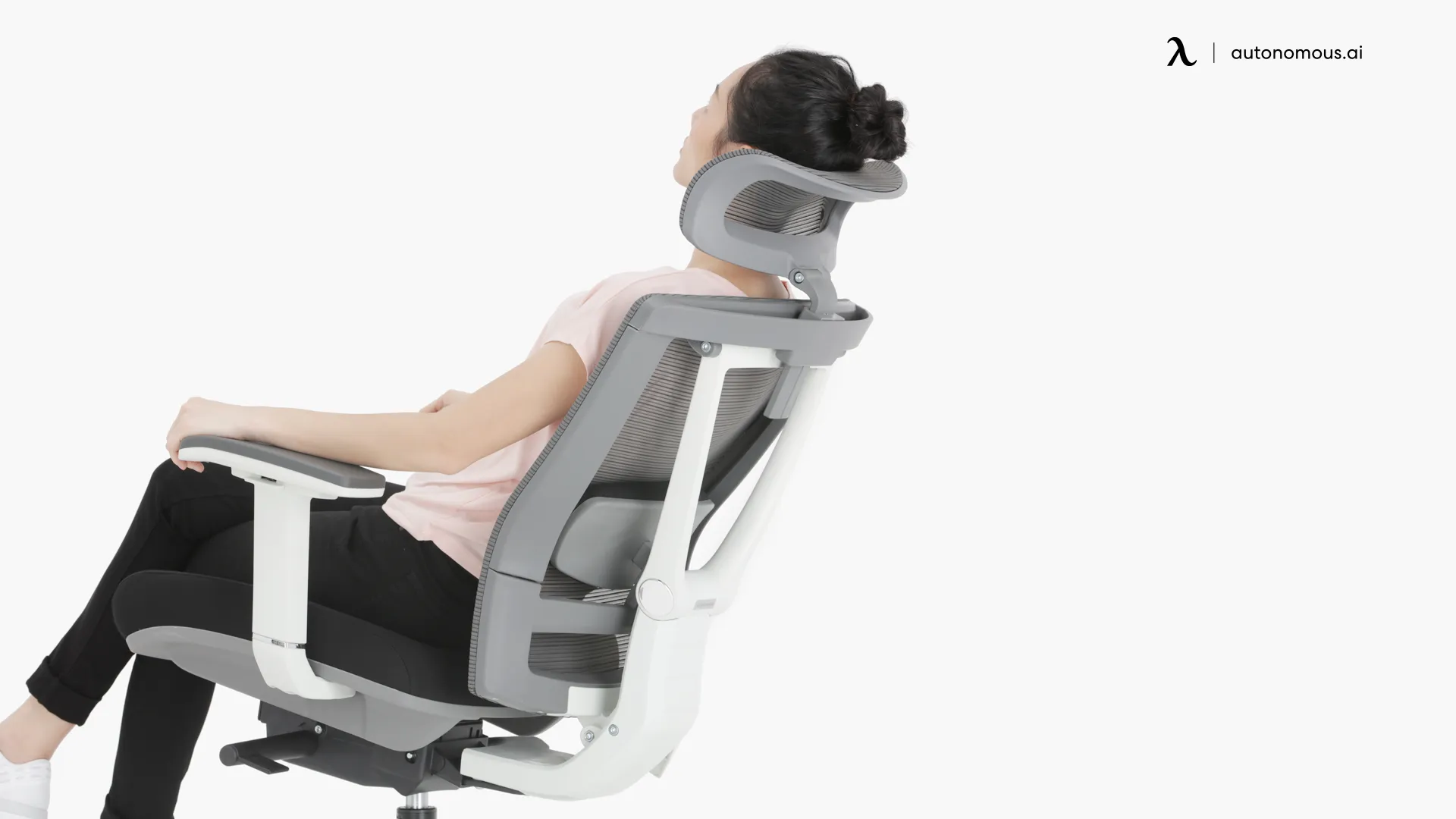 Many chairs have adjustable headrests, however, many people don't know the way to adjust them properly. The following tips will help you adjust the headrest of your ergonomic study chair for students: 
Place the headrest level with the head once you are seated in the 

office chair.

After that, place your head on the headrest and lean back. This will help it to fit comfortably.

As a final step, recline the

 chair back as well as adjust the headrest as necessary. 
These tips can help you adjust your chair's headrest so that you are comfortable at your compact desk.
Do Mesh Chairs With Headrests Really Make A Difference?
Your productivity and health get better by investing in a quality mesh recliner study chair with a headrest. A chair's ability to support your back is the most vital thing to keep in mind when purchasing one. If the cute desk chair can be adjusted, you will always be able to find the right position, so make certain that its standard chair height is contented for you.
Benefits Of Replacing Your Wooden Chairs With Mesh Chairs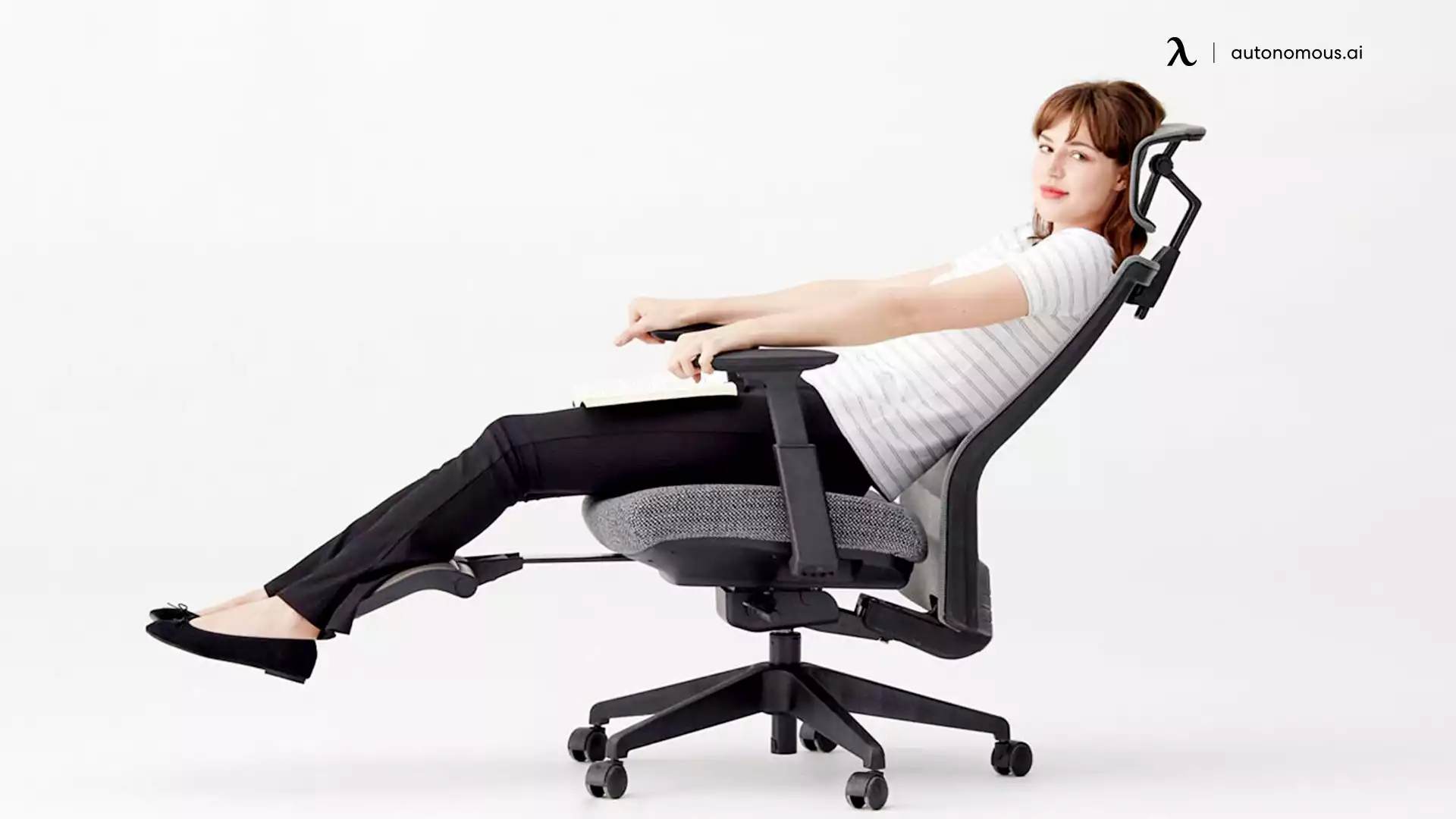 The main thing to consider when setting up working spaces/ home offices is a comfortable mesh study chair with a headrest. You will eventually lose concentration if you don't have the right back support while you sit. Because wooden chairs cannot recline, you are unable to take small breaks needed to recharge and keep up concentration for extended periods.
Keep up with Autonomous news
Stay informed, stay inspired with our new blogs.
WRITTEN BYAutonomous
We build office products to help you work smarter.