Smart Products
The 20 Best Ergonomic Chairs with Adjustable Armrests

Autonomous
|
Jul 22, 2021
5,376 Views
Ergonomics have been an essential aspect of the working environment ever since they came into existence, improving work efficiency and productivity by using specially designed furniture. These prioritize health and safety and prevent body pain and stress. They include desks, keyboards, mice, and, most importantly, office chairs. 
An ergonomic office chair allows employees to work without any setbacks throughout the day. After all, most people know that working numerous hours in a sedentary position is the cause of these issues, and these ergonomically designed chairs can resolve them. 
Still, some may wonder, what is an ergonomic chair? In simpler terms, it's a chair that people can adapt to their needs. It can improve posture and, consequently, prevent body pain. Manufacturers tend to classify chairs as ergonomic when they have adjustable seat height and depth, lumbar support, armrests, and other characteristics. 
The armrests, in particular, are one of the most important features to consider in an ergonomic chair. It plays an integral part in supporting the upper body and encouraging proper posture. For that reason, this article describes their importance and the best 20 ergonomic chairs with adjustable armrests you can get. 
Why You Should Get an Ergonomic Chair with Adjustable Armrests
Workers with deskbound jobs use their upper bodies considerably more. Their shoulders, arms, wrists, and hands are in constant motion, making it vital to have a chair that correctly supports them.
With that in mind, several manufacturers have paid more attention to equipping their ergonomic chairs with adjustable armrests that provide significantly better stability to shoulders and arms. These can reduce fatigue and shoulder stiffness or pain as it helps maintain the upper body in one ideal position. 
Chairs without adjustable armrests might raise the arms and shoulders while working or not support them properly, leading to discomfort and pain. In these cases, the ideal option is to remove the armrest. Due to this, it's crucial to get a desk chair with adjustable arms, and this article lists the best options for you. 
What Are the 20 Best Ergonomic Chairs with Adjustable Armrests?
Getting the best office chair with armrests possible should be a priority, but people shouldn't entirely disregard other features for it. Also, there are numerous options available, so picking one can be overwhelming. To help you select the best option, here are the 20 best adjustable armrest office chair options.
1. Autonomous ErgoChair Pro
The ErgoChair Pro is a fully adjustable computer chair with adjustable arms that's completely supportive. It has adjustable seat height, headrest, backrest, seat tilt, and a smooth 22-degree incline with five lockable positions. 
Its armrests are slightly hollow, allowing them to cradle your forearms comfortably. Additionally, they can move forward and backward, supporting various arm lengths. You can move them up or down and in or out as well, ensuring that your arms rest comfortably at a 90-degree angle. 
If you want to buy an ergonomic chair with arms that correctly support you without sacrificing any other feature, the ErgoChair Pro is a perfect choice. 
2. Autonomous ErgoChair Recline
The ErgoChair Recline is an incredibly comfortable ergonomic chair with adjustable armrests. It has adjustable seat height, tilt, and even an optional headrest and leg rest. Moreover, it has a cozy, supportive foam seat and a reclinable breathable mesh back that features excellent lumbar support. 
This chair's armrests are slightly different than most. They come with great cushioning while being fully adjustable. You can lower and raise them to tailor it to your needs. Furthermore, this reclining ergonomic chair with arms lets you move them forward and backward. People looking for a high-quality office chair with a leg rest should be more than happy with this one. 
3. Autonomous Avochair
The AvoChair offers significantly clean and functional ergonomics. It's inspired by nature, so it uses recycled materials in its design. This eco-friendly office chair lets you adjust its height, armrests, and back tilt angle and tension. Thanks to its airy elastomeric mesh backrest, the chair is incredibly comfortable and provides excellent spinal support. 
You can completely adjust the armrests on the AvoChair as well. There are buttons on both sides which let you raise and lower their height, and you can slide them in or out. If you're looking for an eco-friendly desk chair with adjustable arms, this sleek chair is for you. 
4. Herman Miller Mirra 2
The Mirra 2 is a high-end desk chair with adjustable arms. Herman Miller designed this chair for freedom and movement. Its range of adjustment and dynamic materials lets it support a wide range of bodies. Moreover, it uses breathable fabrics, optimizing its ventilation. 
What stands out from this chair are its armrests. Although the fully adjustable arms are optional, they're a must-buy. These arm pads have an immense range, are incredibly comfortable, can pivot, and are height, width, and depth adjustable. 
5. Steelcase Leap
Steelcase Leap is a superb computer chair with adjustable armrests that offers an exceptional range of features. It can provide full support for many body shapes and sizes and has many design configuration options available. 
You can adjust its armrest height independently within a 4-inch range to relieve upper back and shoulder fatigue. Moreover, the armrests' depth and width have similar adjustability ranges, and they have a 30-degree pivot to accommodate user preferences better. 
6. Secretlab TITAN EVO 2022
This new computer chair with adjustable arms from Secretlab offers exceptional durability and comfort. It leverages technologies and a science-driven design to provide excellent ergonomic features, regardless of body size. 
The TITAN EVO has new-gen materials that are significantly smooth and softer, breathable, and more durable technical fabrics. Moreover, it has extraordinary support features that you can quickly adapt to. The four-way lumbar support system and 4D armrests are the highlights of this chair. 
7. Steelcase Amia
The Amia is an ergonomic chair with adjustable armrests that integrates technologies that provide flexibility and movement, enhancing comfort and ergonomics. It has a synchro-tilt mechanism, lumbar support, seat height and depth adjustment, and a passive seat edge angle. 
This chair comes with fully adjustable armrests like the Steelcase Leap. However, it slightly lacks other features. For that reason, it's more accessible but still costly. Nonetheless, it's a superb desk chair with adjustable arms for those who can afford it. 
8. Nightingale CXO 6200D
This office chair with armrests is one of the most comfortable options you can get, and it has a refreshing modern look that can enhance any environment. The CXO's breathable mesh back offers generous lumbar support and allows dynamic movement. Also, you can adjust it up or down and in or out for more personalized support. 
The chair has a spring-loaded ball-bearing system that operates the armrests, allowing you to move them up or down, in or out, forward or backward, and swivel them as well. 
9. Herman Miller Embody
The Embody is an ergonomic chair with adjustable armrests that implements many advanced technologies, allowing it to support your body in ways never imagined. You can adjust most of this chair's features except for the lumbar support, which automatically molds to your back after some time. 
The armrests on the Embody are softly padded. You can move them up and down and closer or further, but you can't angle them in or out nor move them forward or backward. Still, the chair makes up for it with its superior range of adjustability. 
10.  Oline ErgoPro Ergonomic Office Chair
Oline designed this desk chair with adjustable arms to give your back the proper support that it requires while you sit. You can adjust its headrest, armrest, seat height, and knee tilt to tailor it to your body completely. It uses high-quality materials and world-class mechanisms to do this with ease. 
This chair's adjustable armrests are three-dimensional. You can set them in your preferred position by moving them backward, forward, sideways, up, and down, and it comes at an accessible price. 
11.  HON Ignition 2.0
This stylish computer chair with adjustable arms has a stretchable mesh backrest and a comfortable seat cushion that keeps you happy, comfortable, and cool, allowing you to concentrate on your task at hand. 
It has many customizable features, such as back recline and height, seat positioning, and armrests that are height, depth, and width adjustable. This chair only uses high-quality materials, so if you want a durable yet excellent ergonomic chair for long sitting, check out the HON Ignition. 
12.  Alera Elusion
The Alera Elusion office chair with armrests has a multifunction device with seat glide. It enables back angle adjustment relative to the seat, free-floating or lockable adjustable tilt, and forward tilt. This ergonomic chair with adjustable armrests has a comfortable, breathable mesh back that keeps you cool and a molded seat cushion with a waterfall edge that relieves pressure on your legs. Finally, its arms are height and width adjustable, and they feature soft polyurethane pads.
13.  Raynor Ergohuman Chair ME7ERG
The Ergohuman chair combines a robust set of ergonomic features with a high back. It's a stylish, contemporary chair that Raynor designed for superb long-term comfort. It supports your entire body and has easily adjustable characteristics at an approachable price point. 
This desk chair with adjustable arms has seat depth adjustment and a synchro-tilt mechanism that ensures the correct sitting posture. Additionally, it has height-adjustable, pivoting armrests. 
14.  NOUHAUS Ergo3D Ergonomic Office Chair
At a glance, the Ergo3D is a modern desk chair with adjustable arms and lumbar support. The latter contours your back completely, aligning your spine and reducing pain and compression. This way, you can work long hours at your deskbound job. Additionally, its ElastoMesh fabric provides optimal ventilation, preventing sweat and stickiness. 
You can adjust this chair's armrests in three dimensions, height, width, and depth, but they can be slightly uncomfortable. If you cushion them, it can become one of the best options. 
15.  SPACE Seating Professional AirGrid
The Professional AirGrid is an incredibly accessible ergonomic chair with adjustable armrests. It features an eco-leather seat with mesh fabrics that provides ventilation and comfort and adjustable lumbar support that makes it easy to have an ideal posture. 
Moreover, it has a two-to-one synchro-tilt control and height-adjustable angled armrests. This chair is an affordable upgrade for those with poor office chairs and provides most of the features required for proper support. 
16.  Duramont Ergonomic Office Chair
Duramont's office chair with armrests uses the highest-quality materials in its construction, including a soft cushion seat, sturdy arm pads, and a comfortable headrest. It has solid adjustable back support and a recline feature. The armrests don't have much adjustability, but you can change their height and distance from the seat. 
Furthermore, the other features of this chair are extraordinary. You can effortlessly find an ideal ergonomic position that can support you through grueling workdays. 
17.  NOBLEWELL Ergonomic Office Chair
The NOBLEWELL office chair has a backrest that imitates the human's spine, allowing it to provide perfect back and neck support and maintain the correct posture. This chair's headrest and lumbar support are height-adjustable and feature an excellent, breathable mesh fabric. 
You can change the height of the armrests with the push of a button at its side. In addition, it has an incredibly soft PU material that can relieve your shoulder and arm's pressure. 
18.  Modway Articulate Mesh Office Chair
The Articulate features reliable, ergonomic support. It has a breathable mesh back, passive back support, and an incredibly comfortable, six-inch thick mesh seat cushion. This office chair with armrests is ideal for everyday use. 
You can easily adjust it to your needs thanks to its height-adjustable armrests, assisting your seat posturing. This chair also includes a tilt and tension lock system that lets you recline as much as needed.
19.  Ticova Ergonomic Office Chair
This ergonomic mesh office chair is significantly adjustable. You can change the lumbar support's height and depth, the headrest's height and angle, seat cushion height, and tilting angle up to 140 degrees. 
Unfortunately, the armrests are lacking in that department as you can only change their height. However, they're significantly comfortable and have the ideal width for most body types. If you're looking for a cozy ergonomic chair with arms that still support you, this one might interest you. 
20.  SIHOO Office Chair
The SIHOO office chair with armrests is simple, stylish, and ergonomic. It has height-adjustable lumbar support with a breathable mesh that keeps you fresh as you work and a comfortable cushion with two inches of padding. The chair has three backward recline angles as well. 
You can adjust both the chair's seat and armrest height, but only that. Still, if you're looking for a computer chair with adjustable arms that can provide a comfortable sitting experience, this one is a great choice. 
The Bottom Line
With an ergonomic chair with adjustable armrests, you can easily set up the chair to properly support your upper body, preventing stress at work and reducing body pain. Every chair listed here has at least height-adjustable armrests and other ergonomic features which most people would consider essential, so you can rest easy by picking any of these.
Video ads for product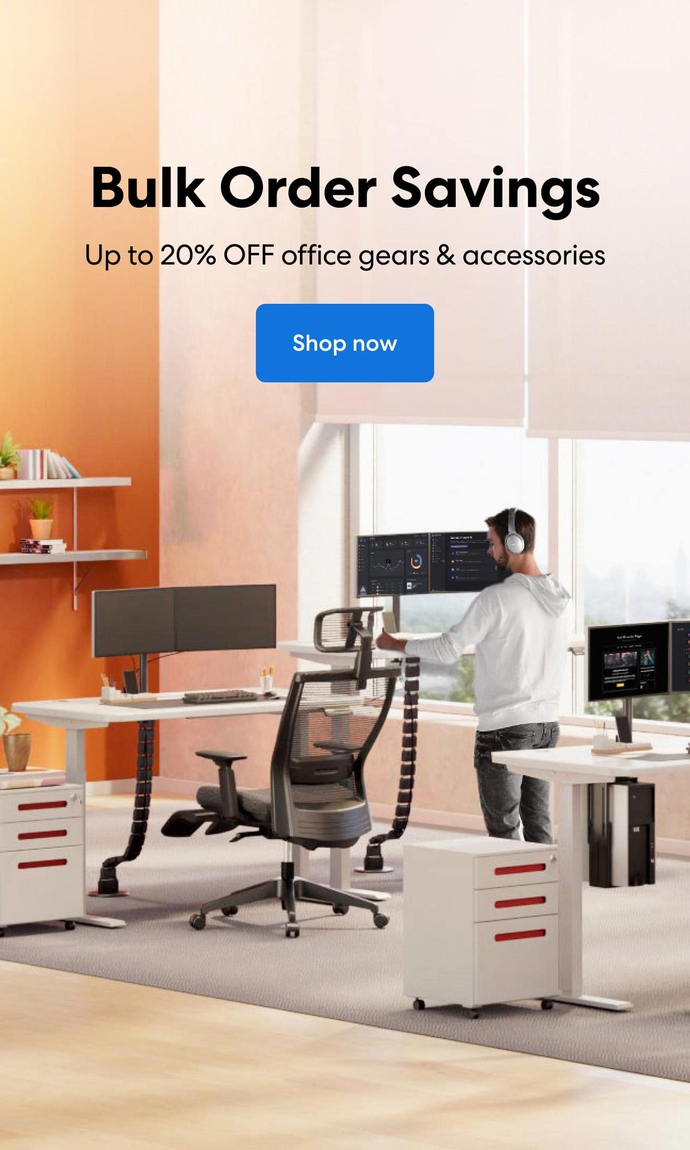 Subcribe newsletter and get $100 OFF.
Receive product updates, special offers, ergo tips, and inspiration form our team.