It's that time of the year again when you have to start thinking about the perfect Christmas gift for your sister. The holiday season is just around the corner, and you want to make sure she has something unique to open under the tree.  
From the typical jewelry pieces to something more practical and unique, there are plenty of options for finding that special gift. Whether you decide to shop online or in person, take your time to find something that your sister will remember for years to come.
The 30+ Best Christmas Gifts for Sisters
With so many options, it can be difficult to determine the best present. Fortunately, our list of 30+ Christmas gift ideas for your sister is sure to make the holiday season memorable.
1. Lamp Depot Pink Hydrangea Scented Candle
Our first pick is this floral-scented handmade candle by Lamp Depot. The soy-jelly wax combination ensures a burn time of four hours. Other than being a unique Christmas gift for your sister, this scented candle can also be considered for coworker holiday gift ideas.  
2. Lamp Depot Austin Rose Scented Candle
Available in four vibrant colors, this Austin Rose candle by Lamp Depot is perfect if your sibling prefers delicate and sweet notes. The hint of chamomile and wild bluebell creates a soothing aroma that can help your stressed sister relax after a day of work.  
3. Lamp Depot Mini Strawberry Cake Scented Candle
Get your sweet-toothed sister this adorable soy wax-scented candle in the shape of a mini strawberry cake. Ideal as a Christmas gift for siblings or as Valentine's Day present, the wild bluebell notes are sure to take your loved ones on a nostalgic trip down memory lane.  
4. Lamp Depot Coconut Bowl Scented Candle
Carved from an authentic coconut bowl, this product is an all-natural soy wax-scented candle with hints of coconut cream. The notes are perfect if your sister enjoys tropical flavors. However, the best part is the burn time of this candle, lasting up to 50 hours!  
5. Airthereal Aromatherapy Gift Set
Essential oils are known to provide comfort and relaxation to stressed individuals, so why not consider this set as a Christmas gift for your sister? Customers will receive six 10ml bottles in the package. You can choose between the floral collection and spirit-inspired alternative.  
6 Artistscent The Elizabeth Karlson Scented Candle Collection
Available in five flavors, this scented candle comes in an eco-friendly, zero-plastic package. The jar itself is beautiful to look at, making it a unique décor piece for any home. Your sister will especially appreciate the 100% natural soy wax composition of this scented candle.  
7. Artistscent The Ronnie Queenan Scented Candle Collection
You can also consider this sibling gift exchange item for Christmas. The packaging is made from 100% recyclable and eco-friendly materials, making it safe for the environment too. On top of that, no parabens are included in the product either.  
8. Artistscent The Ron Chereski Scented Candle Collection
The next pick for today is this handcrafted collection of scented candles by Artistscent. Similar to previous products by the same brand, the jars in this model are also eco-friendly and contain no plastic.  
9. Airthereal Therapy UV-free LED Lamp
There are five brightness settings and three temperatures your sister can switch between on this unique lamp. It also comes with a memory function, remembering the settings most opt for.  
10. Airthereal Air Purifier: 750 sq. ft.
Consider this desk humidifier as a Christmas gift for your sister this holiday season. The product has a laser dust sensor and a smart mode that purifies the air. On top of that, it covers a total area of 750 sq. ft., making it ideal for large bedrooms. 
11. Airthereal Air Purifier: 519 sq. ft.
Up next, we have another model of the same air purifier, but this one covers a relatively smaller surface area. The medical grade filter on the product filters out micro dust particles in the room.  
12. Airthereal Air Purifier: 355 sq. ft.
Give this model a check if your sister has a compact bedroom. Covering up to 355 sq. ft. only, this air purifier comes with an intelligent auto mode and UV control for optimum particle filtration. 
13. Airthereal Mini Dehumidifier: 55 sq. ft.
Further down the list, we have this mini dehumidifier by Airthereal again, but this one covers only 55 sq. ft. of surface area. Users can expect a maximum of 300+ filtration cycles with this product.  
14. FENGE Standing Desk
Available in five vibrant shades, this two-tier electric standing desk by FENGE can be the perfect Xmas gift for sisters. The furniture has a convenient fast-charging USB port and three programming settings.  
15. Lamp Depot Levitation Lamp: Floating Moon
Consider this unique 3D-printed floating moon lamp as a Christmas gift for your sister. The levitating product spins automatically due to the magnetic tension below. There are also three light modes on the moon.  
16. Lamp Depot Cylinder Fire Pit
Get your adventurous sister this outdoor concrete cylindrical fire pit for her next camping trip. The product requires rubbing alcohol as fuel and needs no post-cleanup after usage. On top of that, this fire pit is also lightweight, making it portable for trips.  
17. WalkingPad Foldable Treadmill C2
Help your sister stay active this holiday season by getting her a foldable and portable treadmill. The equipment comes with a smart connection with apps, allowing users to track their progress on their devices.  
18. WalkingPad Double-fold and Walk-run Treadmill
This double treadmill by WalkingPad allows users to walk and run on the equipment while working at a standing desk. The fold on the product is seamless, which makes storage easy too. You can also connect it to a mobile app directly.  
19. Autonomous Cork Desk Pad
Consider this cork desk pad if you're still on the search for budget-friendly Christmas gift ideas your sister will love. The salmon pink shade of this fully recycled desk pad gives it a chic appearance.  
20. Autonomous LED Desk Lamp
Help your sister pull all-nighters without straining her vision with this LED desk lamp. There are different color modes on the product and multiple brightness levels. This lamp can provide over 50,000 hours of illumination as well.  
21. Autonomous ErgoChair Plus
Is your sister a gamer? Why not get her a piece of comfortable furniture to sit and stream her gameplays on? The ErgoChair Plus is the best ergonomic chair within a budget, so you can definitely consider it for a sibling gift exchange this Christmas.  
22. Autonomous Filing Cabinet
Do you have a sister who works online all day? Remote work gifts are catered explicitly towards those who spend hours in their home office. This Christmas, get your workaholic sister this steel filing cabinet with three drawers and dividers inside. The product has wheels for easy transportation as well.  
23. Autonomous AvoChair
Another practical Christmas gift for your sister can be the AvoChair, a compact and comfortable piece of furniture for tight spaces. This chair is available in four shades and has a mesh backrest that allows proper ventilation.  
24. TREBLAB HD77 Wireless Bluetooth Speaker
Get your sister this handheld Bluetooth speaker, and let her blast her favorite songs on Christmas morning! The portable equipment is also water-proof, so users can take it to the pool as well.  
25. LumiCharge Charging Dock
Although compact in size, this wireless charging dock is perfect for those on the go. Help your sister keep her phone charged if she constantly forgets to power it the night before an important event.  
26. Autonomous ErgoStool
Sitting for long hours can put a strain on the body, especially on uncomfortable chairs. However, this ErgoStool is a fun alternative to boring furniture and provides users with a dynamic weighted base for sitting.  
27. Aiterminal Glass Desk
This tempered glass desk is the perfect addition to any workspace, providing aesthetic benefits alongside practical features. The furniture comes with storage space and a control panel that lets you adjust the height. 
28. LumiCharge Magnetic Charger and LED Light
Available in black and white, this magnetic charger comes with a built-in LED light, making it an ideal piece for any bedside table. Users can charge their phones and smart watches on the dock while also using the night light simultaneously.  
29. TREBLAB Workout Headphones
Another practical Christmas gift for siblings is this over-ear headphone with a built-in microphone. The product features state-of-the-art noise cancellation as well, making it an ideal piece for workout sessions.  
30. Lamp Depot Corner Lamp
Does your sister lack space in her home office? This corner lamp barely occupies any surface area, thanks to its slim design. The product has 300+ hue effects and over a million color combinations! Users can choose between different temperatures and timings with the remote control.  
31. Lamp Depot Dodecahedron Lamp
Further down the list, we have this remote-controlled table lamp by Lamp Depot. This model has 12 adjustable colors and a dimming setting as well.  
32. Lamp Depot Honeycomb Lights
These touch-sensitive wall lights are perfect for gamer girls. The best feature of this product is that each honeycomb can be individually controlled and adjusted. Users can also change the brightness and illumination hues independently.
What to Consider When Choosing a Christmas Gift for Siblings
Whether you have one sibling or several, it can be challenging to find the right Christmas gift. You want to find something that they will enjoy using and that you can afford. 
First, think about what the person is interested in. If they are into working out, a great sibling gift exchange idea would be fitness accessories or a new piece of sports equipment. On the other hand, if they are into home decor, then consider mini-scented candles or stick-on wallpapers to create Christmas aesthetic backgrounds. 
Budget
The holiday season is a costly time for many, and being able to stick to a budget can be a challenge when shopping for a Xmas gift for sisters. 
However, with a little bit of creativity, it's possible to find the perfect present that won't break the bank.  
Look for items that are reasonably priced but still show your thoughtfulness and love. Additionally, consider things that can be used over and over again, like a nice cork desk pad or a new set of work accessories. 
To find the right gift, it's important to think about your sisters' interests and hobbies too. Consider their favorite colors and styles, and then look for items that will show them you understand their personal preferences.
Personality
Coming up with meaningful Christmas gift ideas for your sister is an important process, as it is an opportunity to show your love and appreciation for her. Personality plays an essential role in the process, as it can help you in selecting the perfect gift.  
If your sister is an introvert, she may appreciate a thoughtful and meaningful gift that she can keep close, such as a personalized photo album or a decorative item, like a scented candle with her favorite notes.  
On the other hand, if your sister is an extrovert, she may prefer a more interactive gift, like tickets to a movie or a famous concert. By understanding the unique traits that make up your sister's personality, you can find a gift that will truly show how much you care. 
Why Should You Get Your Sister a Thoughtful Christmas Gift?
The holiday season is a time for family, friends, and giving in general. It can be tough to come up with the perfect Christmas present for everyone on your list, but your sister is always there for you, so why not show her how much you appreciate her with a thoughtful gift? 
When it comes to presents, a unique sibling gift exchange is an especially meaningful way to strengthen relationships. Whether you are close with your sister or not, giving them something special can be a great way to show how much you care. 
Gifts are an integral part of the Christmas holiday and serve as a tangible reminder of the special bond that exists between family members. 
Whether it's something practical or a sentimental gift, taking the time to find a present that she'll appreciate will make her feel special and show her how much you love her. By selecting a present that is tailored to her specific interests and needs, you can definitely brighten this holiday season and put a smile on her face!
Conclusion
Choosing the perfect Christmas gift for your sister can be a challenging task. It's not always easy to find something that is both meaningful and practical. That's why it's essential to take some time and consider what your sister might appreciate the most. 
The key is to think about her personality, interests, and what she would find most meaningful. To make it easier, it's best to start by narrowing down your search by considering her hobbies and lifestyle.
Video ads for product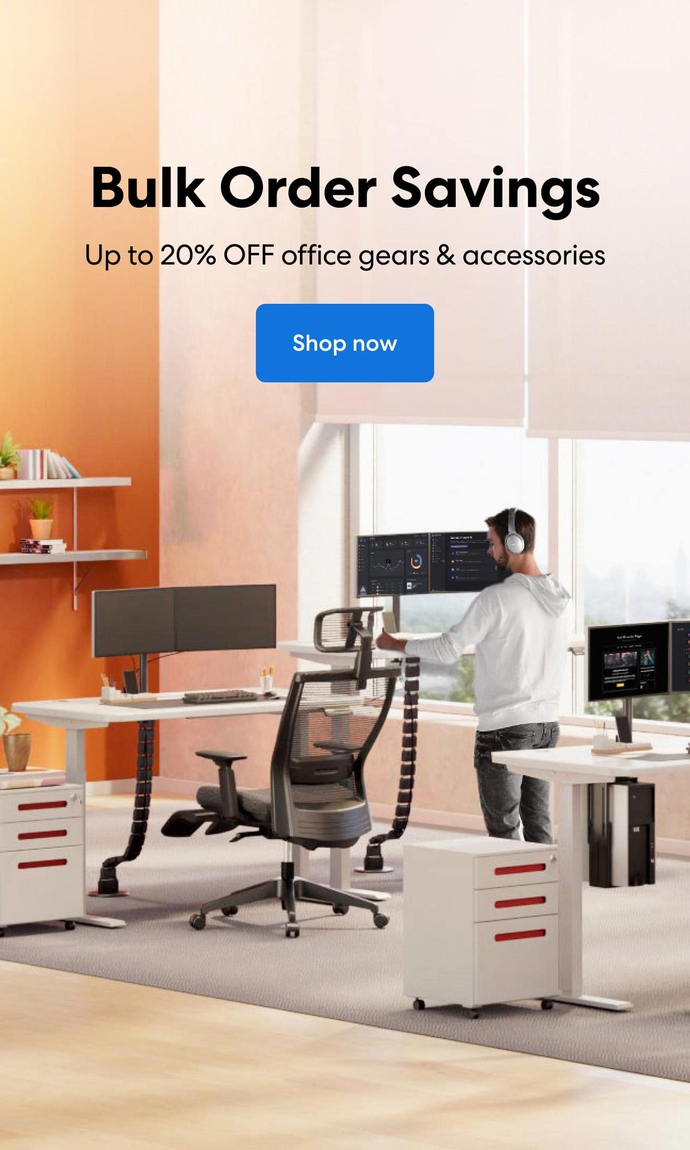 Subcribe newsletter and get $100 OFF.
Receive product updates, special offers, ergo tips, and inspiration form our team.