Workplace Inspiration
30+ Ideas to Bring Your Personality Into Your Office Cubicle Décor

Autonomous
|
Aug 17, 2022
2,507 Views
Your office cubicle décor can reflect your personality! While these little areas in workspaces are boring most of the time, there are plenty of things you can do to transform them into something fun and mood-improving. 
With just a few decorative features and office cubicle decor ideas, you can make this space's neutral walls host all your creativity and imagination! You just have to think about the things you like the most and get to work. 
Do you need help? You have come to the right place! Find the best ideas to decorate your desk cubicle here! 
The Best 20 Office Cubicle Decor Ideas
1.  Pick a Theme
If you have a chic office cubicle décor, the first thing you need to do is choose a theme. Do you like modern or minimalist spaces? Do you think rustic environments increase your productivity? Think through your answer and choose a color scheme and items that can go well with what you have in mind. 
Zen office decor ideas are great for quiet workspaces, for example. 
2.  Hang Photos
Your office cubicle can also be a space to remember how much you love your family and friends. You just have to hang some personal photos around your workspace to give it a touch of personality and love! 
Remember to choose the same color and type of frame if you want a consistent look. You can also opt for an asymmetrical layout with different frames, colors, and shapes. 
3.  Buy a Workspace Lamp
Lamps are among the best options to bring life to dark, boring environments. Most office cubicles are under blooming lights, but that doesn't mean you can't get creative with lighting. 
If you choose a workspace lamp to complement other office or desk cubicle decor ideas, you will see an immediate change around you! In this case, you should only pick one that goes well with the theme you have chosen. 
4.  Bring in Your Favorite Fresh Flowers
There are no spaces more beautiful than those that are full of flowers! Many think fresh flowers are simple decoration additions, but they're wrong. If you choose a seasonal bouquet and a matching base wisely, your workspace will take a 360-degree turn! 
Fresh flowers not only add color but also convey values ​​and bring positive energies to your desk cubicle! Furthermore, nature is often associated with higher productivity. 
5.  Add a Calendar
In addition to being useful, calendars can be a great addition to office cubicle decor. You can choose original and colorful designs to give a unique touch to the cubicle desk or consider more elaborate options, such as seasonal calendars.
Furthermore, in any case, you can choose the calendar you like the most with the theme you love. Some go well with a minimalist cubicle decor, while others are even inspired by movies or TV shows.  
6.  Paint Some Items by Yourself
There is nothing that shows your personality better than something made by yourself, don't you think? Whether you want office decor for women or men, you can bring something painted by yourself to bring a touch of color and life to your office. 
You only have to choose the craft you like the most or the one you are best at and let your creativity fly! If you trust yourself, you can have a beautiful item to decorate your desk cubicle. 
7.  Put a Fun Pillow on Your Chair
Do you have an ergonomic chair in your office cubicle? If so, a great decor idea is to throw a fun pillow in there! 
In addition to providing extra comfort, a pillow can add a touch of color and style to your workspace if you choose a striking and original design. Colors and patterns are the best options if you have a vibrant personality! 
8.  Use Ceramic Containers to Store Your Stuff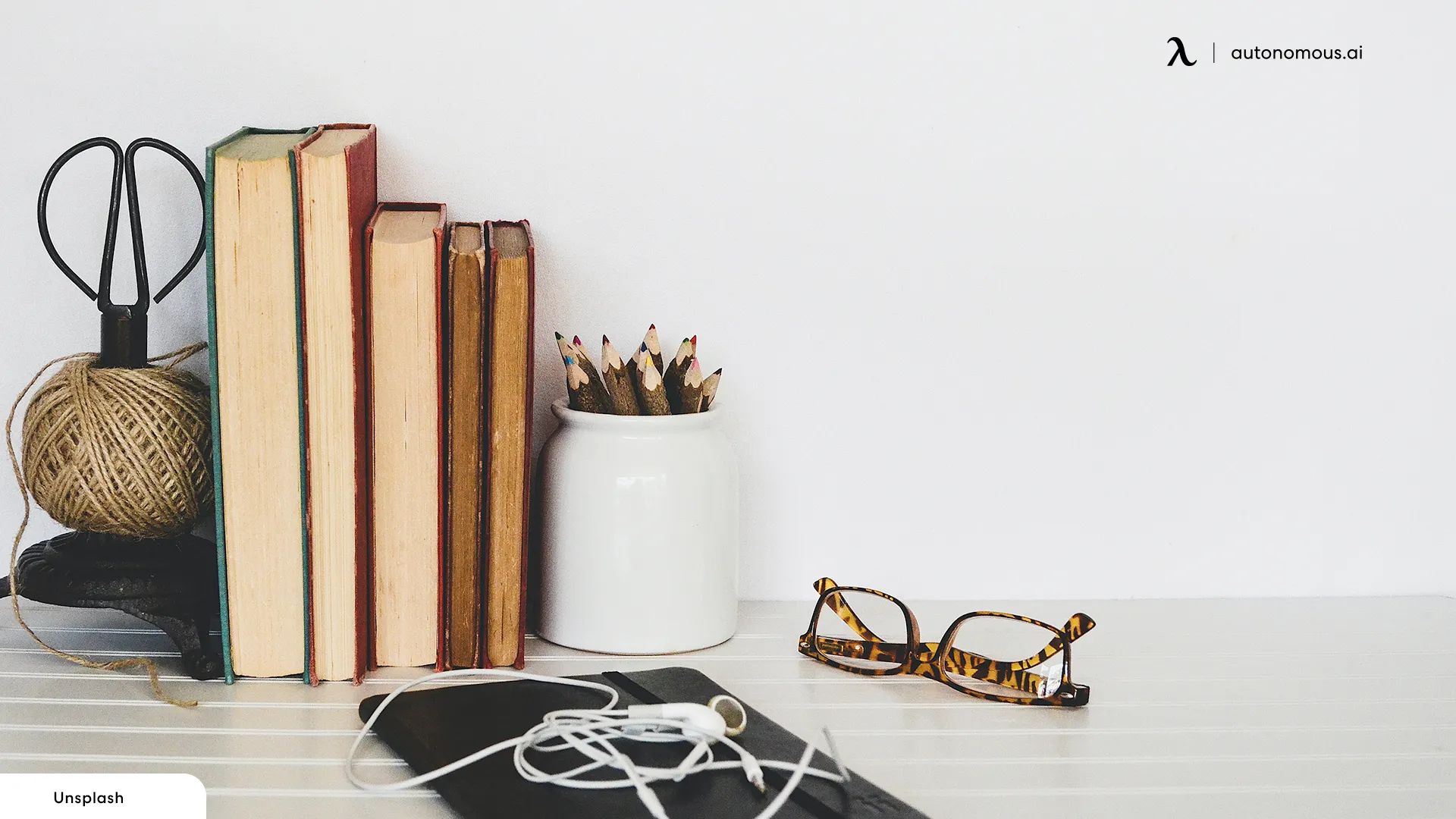 Office cubicle décor ideas can also include useful things! Containers are among them. Who doesn't need something to store their office stuff? Now, imagine that you choose some ceramic organizers to store all those things you had scattered on your desk. 
In addition to being your best allies to keep everything organized, ceramic containers are beautiful and go well with all kinds of office desk cubicle decor. 
9.  Bring in Your Favorite Plants
If you don't like flowers, you can bring something green and natural to your office cubicle: plants. 
Succulents are office workers' favorite options, but you can choose the one you like best. Remember to choose a base to match your decor theme or look for a colorful one if you think your workspace is a bit boring. 
Like flowers, plants can also bring positive energy to your office and even help you be more productive during the day. Thus, having some plants is definitely one of the best cubicle decor ideas! 
10.  Customize Your Organization's Solutions
If ceramic containers aren't for you, you can try custom organization solutions. Some options are holders, trays, and desk organizers. You just have to add some color or a fun design, and that's it! 
Patterned options can also match some cubicle décor. You can pick your favorites, take them to your office, and swap them out to fit the season or your mood. 
11.  Look for Fun Office Accessories
There are a lot of cubicle accessories! That means you have a ton of options to choose from if you want to get a little more creative and have something original in your workspace. 
You can choose a mousepad printed or inspired by your favorite beings and movies. Do you like Minions? You'll likely find some organizer or PC accessory inspired by those fun and adorable cartoons! 
12.  Customize Your Cubicle Walls
Another classic option to convey your personality through your office desk cubicle decor is to paint your walls with the colors or patterns of your choice. If you have already chosen a theme, make sure that this is the second step and that it matches the wall colors with the environment. 
Remember that your cubicle is not a prison. Just let your imagination run wild and have a cute office decor just by painting the walls! 
13.  Add Extra Lighting
Want your cubicle to have more personality? Add extra lighting to brighten your workspace. Lamps can be beautiful design elements if you choose them well. 
You can also try hanging string lights if you want to give your cubicle a pleasant glow or use fairy lights to decorate small spaces, such as frames or organizers. 
14.  Use Your Favorite Books to Decorate
If you are a literature enthusiast, books can also help you add more personality to your office desk cubicle decor. Whether you have a standing desk or just a traditional table, you can design a good-looking layout to show off the best works of your favorite authors. 
The shelves are good options to have books on the walls. You can also use desktop organizers and find a way to keep your favorite titles close to you. Moreover, remember that literature can also go well with some themes.  
15.  Choose a Color Scheme for Your Cubicle
Do you want a classy office cubicle décor? In that case, you should pay attention to the color palette. If you choose a neutral scheme color with contrasting colors, you can have a sophisticated and elegant workspace. 
However, bright colors such as yellow, red, or orange are better for fun and energetic settings. Choose the color of your cubicle wisely, buy matching office accessories and paint the walls with the perfect combinations. It is the infallible formula for the best office cubicle decor! 
16.  Hang Framed Art
Are you an art enthusiast? You can also leverage that passion and have a chic office cubicle decor with the best paints you can find. 
Art goes well with everything! You just have to find the paintings or sculptures that you like the most or that best go with the theme you chose and give your cubicle a sophisticated and classy touch! 
17.  Paste Keyboard Stickers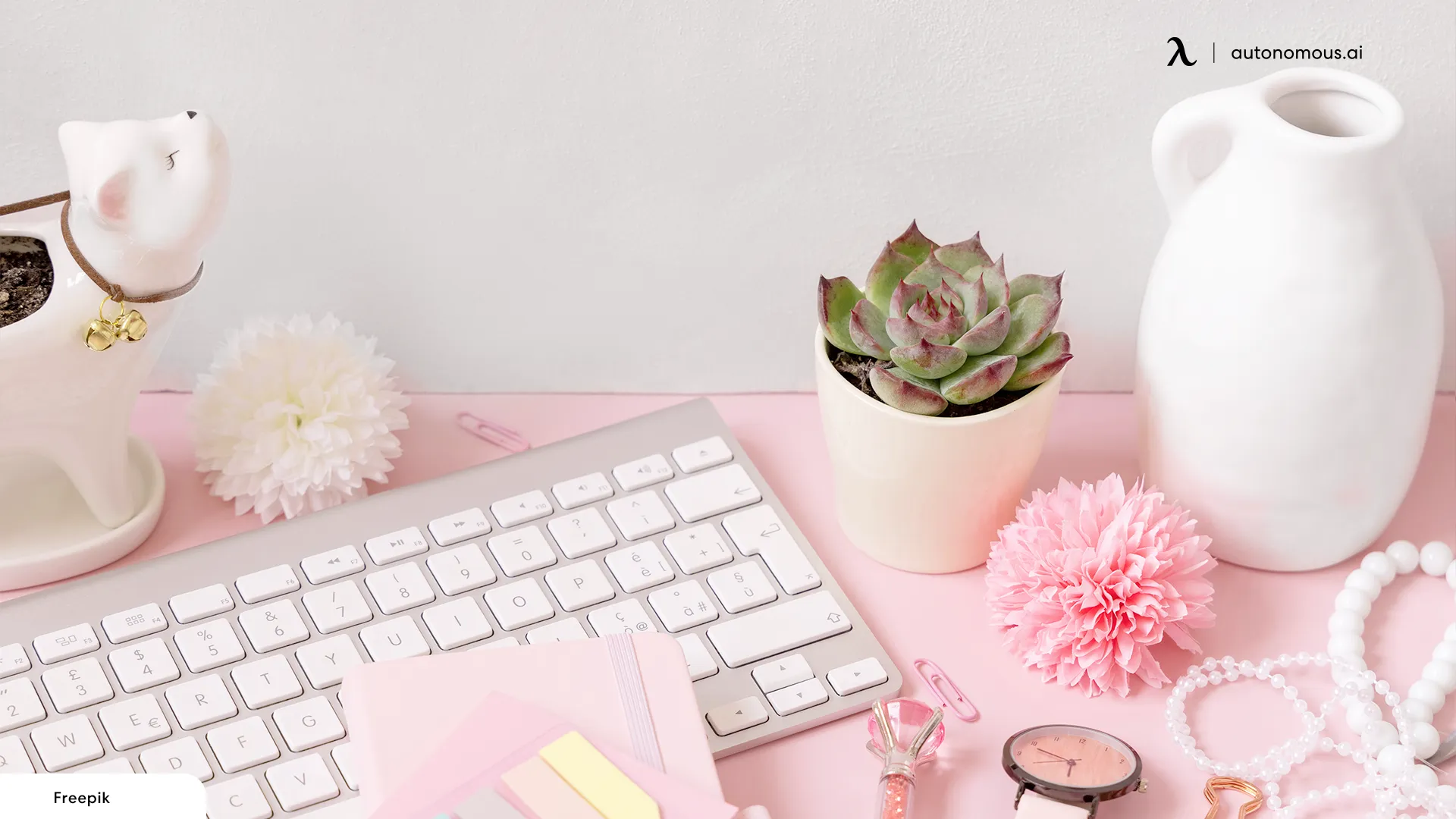 Keyboard stickers can be fun and add a touch of originality to your cubicle. Although they are not very popular elements for office cubicle decor, you can find some that are worthwhile and add more personality to your workspace. 
You can choose stickers in various colors or designs and add joy to what was previously very boring. There are also some stickers inspired by series, movies, bands, songs, and more. 
18.  Add Magnets
Are the walls of your cubicle metal? If so, another way to add personality is by placing magnets everywhere! 
If you brought back some souvenirs from your last Caribbean vacation, you could display them in your cubicle while boosting your office desk cubicle decor. 
Are you looking for ideas for a small desk decor? Magnets are the best options, since they do not take up as much space. 
19.  Use Unconventional Storage Solutions
Storage solutions are among the first things you should consider when organizing and decorating your office. They are indispensable! Also, if you are creative and choose wisely, you can use them as part of your office cubicle decor. 
Ceramic containers are beautiful and can help you create a sophisticated design. However, if you want something more creative, you can opt for unconventional storage solutions, such as shopping cart-shaped containers or music boxes. 
20.  Create a Hanging Photo Wire
Do you love your family and want to have their photos in your office, but don't you think the walls are a good option to hang them on? Create a hanging photo wire! 
You can use anything you have to display photos of your loved ones, including string, wire, or ribbon. Whichever option you choose, you can have a classy office cubicle decor with an original element that has emotional meaning. 
10+ Other Office Cubicle Decor Ideas
If you need a little more help because you still haven't found the perfect office cubicle decor project, check out these ideas: 
Create a monochrome environment. Choose accessories of a single color and create a 

blue office decor, for example.

Use bold technology. A funny mouse can also add a touch of personality to your cubicle.

Choose a much more fun theme to decorate. What if the perfect office cubicle decor is tropical, and you can stick pineapple stickers everywhere?

Use cords to keep cables tidy and add a touch of color to your cubicle.

Change your desktop background to match the decor.

Make some decorations with washi tape.

Create vertical storage solutions with funny containers.

Cover the walls with fabric, contact paper, or wrapping paper.

Upgrade your bookends and binders to add more color and personality.

Add a small rug to the floor for another cool visual element.

Incorporate inspirational phrases anywhere you can!

Leverage pegboard organization to decorate and create an attractive space. 
Final Thoughts

Did you find the best office cubicle decor idea? If you want to add more personality, color, and life to your workspaces, you just have to let your imagination fly, put some of these ideas into practice, and enjoy everything you can do when you are driven by creativity. 
Remember that personalizing your workspace, be it an office or a cubicle, can help you perform better at work and even increase your productivity. Also, it can help you improve your relationship with your peers and even help you to be more recognized by everyone! 
Wait no more! You are just one step away from adding all your essence to your workspace and starting a new professional experience. After adapting your office cubicle decor to your tastes and preferences, you will see that your mood will change, and you will feel happier every day. 
Also, it will be something to talk about with your peers. Perhaps you can help them customize theirs too. What do you think? Are you ready to start? Check out these office cubicle decor ideas again!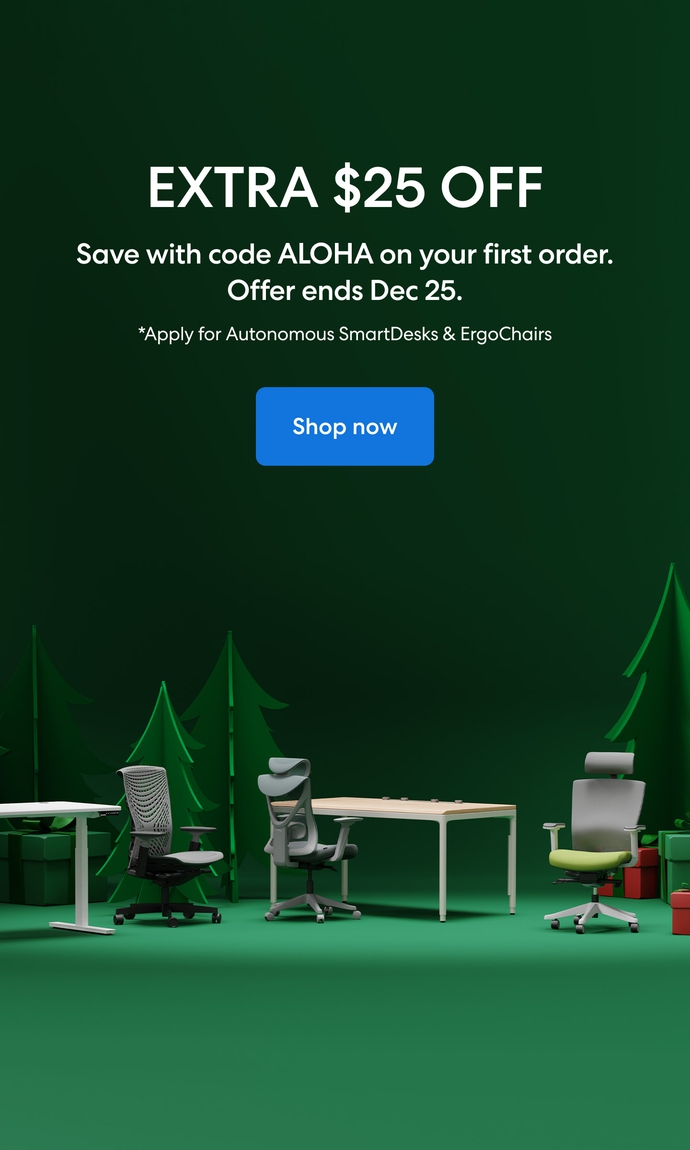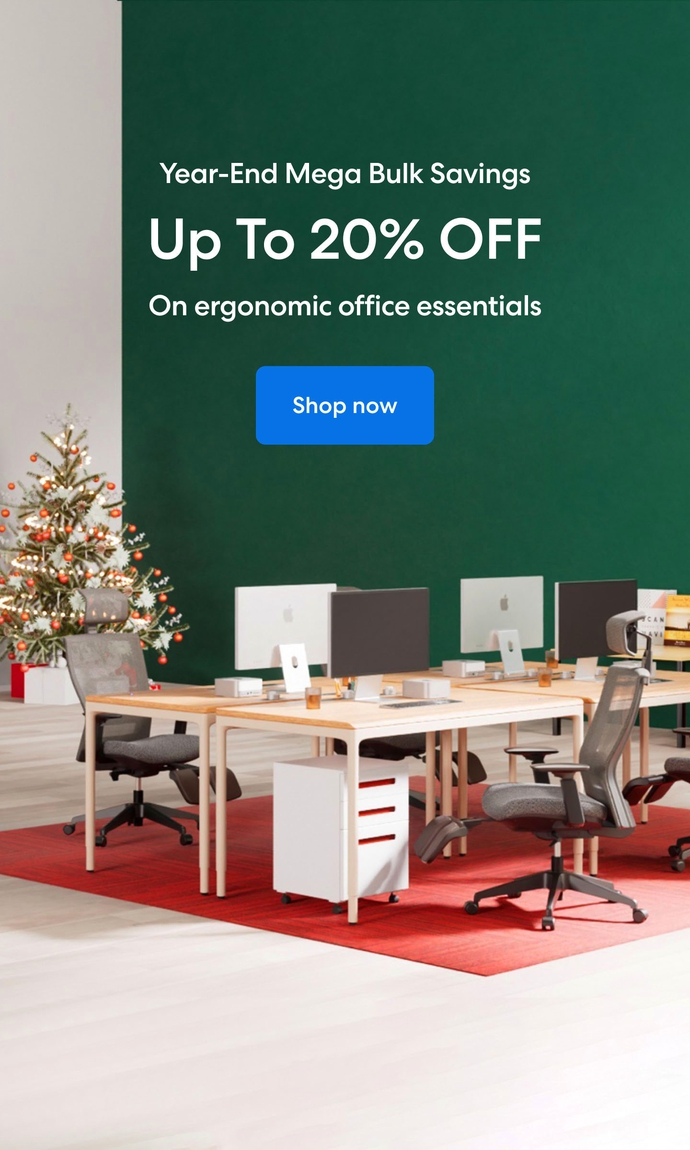 Subcribe newsletter and get $100 OFF.
Receive product updates, special offers, ergo tips, and inspiration form our team.