Smart Products
6 Office Equipment that Should Be in the Office to Support Productivity

Autonomous
|
Mar 16, 2021
6,184 Views
As a business owner, you strive to achieve high levels of productivity in an organization. You may think that this is solely up to your employees; however, this is not the case. Are you aware that the office equipment used can impact the levels of performance and output of employees?
There are various factors that affect productivity. Unfortunately, people are not going to have the greatest energy levels every single day, but you can take steps to try to support this. Research shows that workplace equipment for productivity makes a significant difference in multiple aspects of your employees' lives. Keep reading if you want to know the six must-have pieces of office furniture that all workers should have.
The Benefits of Having this Equipment in Your Office
It is essential to have this equipment in your workspace because:
It supports and boosts high levels of productivity and energy.

The equipment promotes good mental and physical health amongst employees.

There is an increase in workplace morale and culture.

Employees are more motivated, which leads to increased performance and output.

It creates an organized environment, which is calming.

Employees have higher levels of concentration.

People experience reduced lumbar and neck pain.
The Disadvantages of Having this Equipment in Your Office
While the pros outweigh the cons, disadvantages that can be associated with this are:
Investing in all this equipment is expensive – you have to budget for it.

One may not have the required space in their office for all the equipment.

Setting the equipment up is a time-consuming task.
The Six Must-Have Equipment in the Office to Support Productivity
When working in an office, there are certain pieces of equipment that you cannot compromise on, including:
1. Ergonomic Chair
An ergonomic office chair may be at the top of the list of best office equipments for productivity, along with a standing desk. Most office workers spend the majority of their day in a chair. You want to ensure that this is helping them to produce high levels of work.
Ordinary chairs have various adverse effects, such as back pain and discomfort. These negative factors affect your ability to concentrate and produce high-quality work.
Ergonomic chairs are completely customizable which means that you can adjust everything to suit your optimal levels of comfort. You would be surprised at the increase in productivity when you are not focusing on pain or constantly trying to get comfortable. These chairs are designed to help you during your workday, not distract you.
2. Standing Desk
A standing desk is another must-have item in office equipment for productivity list. There are endless benefits of standing desks. Did you know that constantly sitting at your desk the entire day is detrimental to your physical and mental health?
If you are looking for modern office furniture for productivity, this is an ideal place to start. Standing desks combine the positive attributes of sitting and standing, which when integrated, can lead to excellent levels of productivity. This does not only help with your work performance, but it also ensures that you get your physical activity in for the day.
A desk is often the center of your workspace; every other piece of equipment functions around this, so you want to make sure that you have a setup that complements all other aspects of your office.  
3. Laptop or Monitor
Almost every single office worker needs a laptop or monitor. It is a necessary workplace equipment for productivity. Whether you prefer working on a laptop or screen is completely up to you; however, there are a few factors to note.
It is essential to pay attention to the positioning of your screen as well as the brightness. These factors impact your performance and health. Your screen should be directly in front of at eye level. It should also be bright enough so that you can see everything.
4. Keyboard
A keyboard is one of office equipment for productivity we do not pay much attention to in the office; however, it does impact your health. To get the most out of your ergonomic keyboard, you should place it directly in front of one of your shoulders, and your wrists should be resting comfortably on the board. Try to minimize the amount of movement you need to make.
5. Document Management Devices
One cannot stress the importance of having a document management device enough. For many workers, just the thought of chaotic and disorganized documents makes you not want to work.
Document management devices like filing cabinets assist in keeping your office clean and organized. Many people do not realize this office equipment for productivity, but a tidy space has a significant impact on your productivity, because it helps to reduce your stress levels.
This does not only affect you on a mental level; it also helps you to save time and energy. These devices store all your documents, which means you do not have to spend hours looking around the office for what you need. The more time you have, the more productive you can be.
3. Other Accessories
Office accessories allow you to get creative with your space and to add a personal touch. Do not underestimate the importance of this because this is where many people draw inspiration from.
There are various types of accessories. Some are there to inspire you, while others are there to help you stay focused and organized. Filing cabinets and LED desk lamps are helpful when it comes to keeping your space organized. Having less clutter means that you can focus on your tasks and get the job done.
If you need best desk accessories to inspire and motivate workers, you can consider plants, air purifiers, and stress balls. The right accessories can take your performance to the next level.
The Bottom Line
Productivity is not only affected by any employees' mindset. As a business owner, providing the necessary equipment and office furniture for productivity may result in increased energy levels, moods, and enjoyment, which can give you the performance you are looking for.Having a productive physical and digital workspace setup may be the step you need to take to get your desired results.
Video ads for product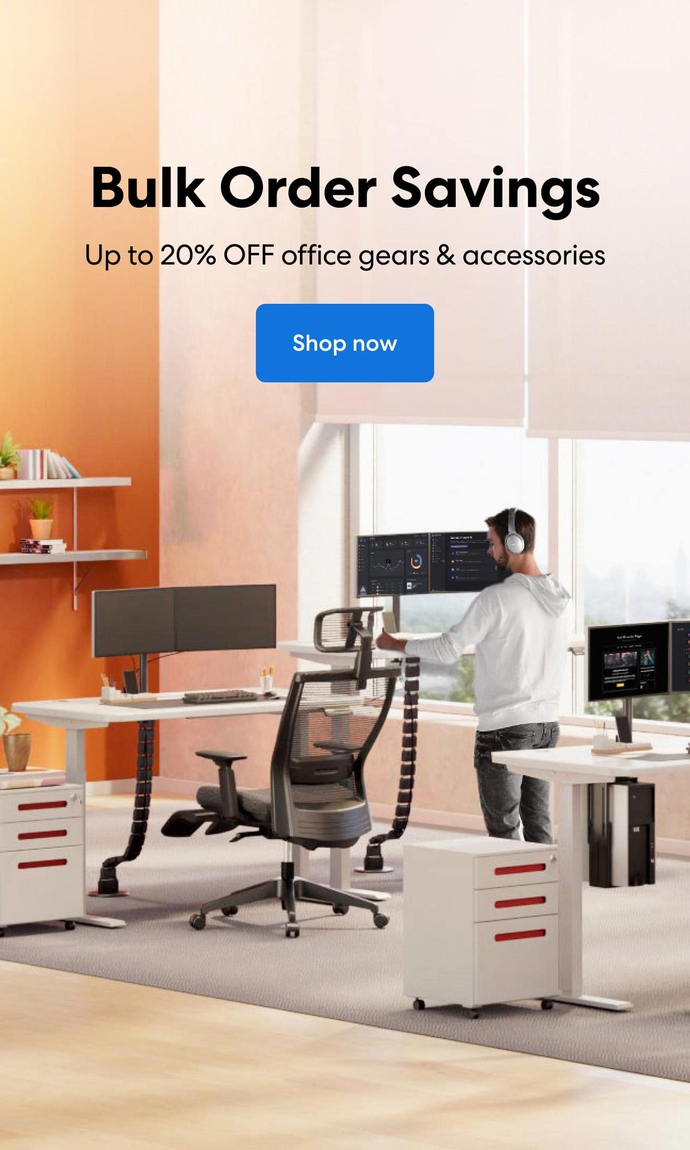 Subcribe newsletter and get $100 OFF.
Receive product updates, special offers, ergo tips, and inspiration form our team.