Workplace Inspiration
A Guide for Home Art Studio Setup with Budget
783 Views
Art is one of the finest forms of complete expression. Creating artwork in all its varieties requires creativity, imagination, and of course passion. As an artist, you do what you do because you love the experience. You find a great deal of pleasure in creating masterpieces.
One of the great benefits of crafting art is it can be done anywhere and anytime. You might even consider a blog like this an artistic expression. With a proper home art studio setup, not only will the creation experience be more efficient, but far more enjoyable.
From the chair you sit at to the desk you use, such details can have an impact on your overall environment and ultimately, your productivity. Additionally, with a customized home art studio that considers ergonomic home office design, you can truly work to your fullest potential.
Building an art studio workspace you can be proud of is not a complicated task to do. This guide will suggest not only key recommended products but discuss ideal lighting conditions and other tips that can make a home art studio your dream setup.
What Are Ergonomic Products?
All the products highlighted are ergonomically designed. What does this mean for you? According to the Cambridge Dictionary, Ergonomics is "the scientific study of people and their working conditions, especially done in order to improve effectiveness." In other words, ergonomic offerings are specifically designed with you in mind.
Often, ergonomic office products provide discomfort relief for your lower back and neck or use certain technologies to correct posture. A more comfortable work environment with proper home art studio setup means a happier and more productive you! Let's find out some interesting art studio ideas below!
Home Art Studio Setup Ideas
To design the ultimate home setup, a few central products will need to be acquired. These include an ergonomic chair and an adjustable standing desk. Additional office accessories such as an ergonomic keyboard and flow board are also helpful!
This caliber of product is recommended because when personal comfort meets artistic creativity, amazing things can happen.
Why a flow board? These balancing tools were specifically designed not only for the necessary breaks that occur each working day but to even stand on when you work at a standing desk. By practicing balance and movement, your body will become more energized. In turn, you will be more engaged and focused.
Building a personalized digital artist desk setup means freedom of choice. Beyond ergonomic products, tools such as powerful tablets, compatible electronic pens, and software including Adobe Suite and Microsoft Office 365 can be of great service. These aids can increase your ability to express and make it far easier to make your artistic visions a reality.
Ergonomic Chairs
There are a variety of ergonomic chair selections you can choose from. Autonomous offers some of the best chairs for artists in the market. The ErgoChair lineup has multiple models including the ErgoChair Plus, the ErgoChair Pro, the ErgoChair Recline, and the ErgoChair Core. Each ErgoChair was designed with the highest quality ergonomic standards and was built to offer long-term and unwavering support to your back and spine.
1. ErgoChair Plus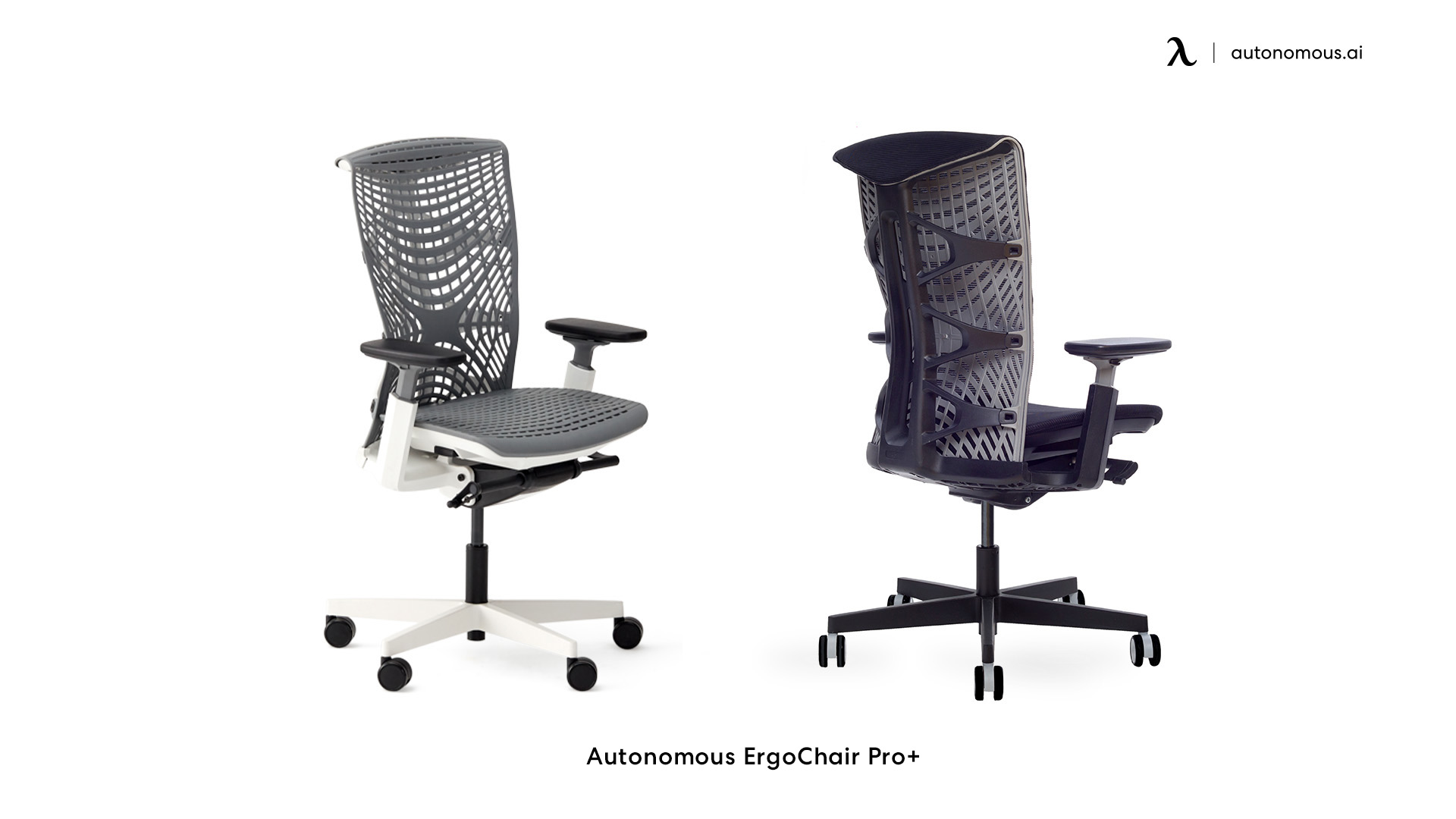 The ErgoChair Plus's design fully encourages movement. By offering incredible adjustability and 11 tilt lock positions, the chair is one of the most competitive on the market. It boasts 26 degrees of recline and was built with durable materials to resist wear and tear.
The chair's actual shape was carefully selected to limit pressure with its state-of-the-art TPE backrest system. It was designed from the ground up to offer a premium and enjoyable sitting experience for users. ErgoChair Plus is officially BIFMA certified, supports up to 300 Ibs, and comes in Black, Grey, and Blue color variations.
2. ErgoChair Pro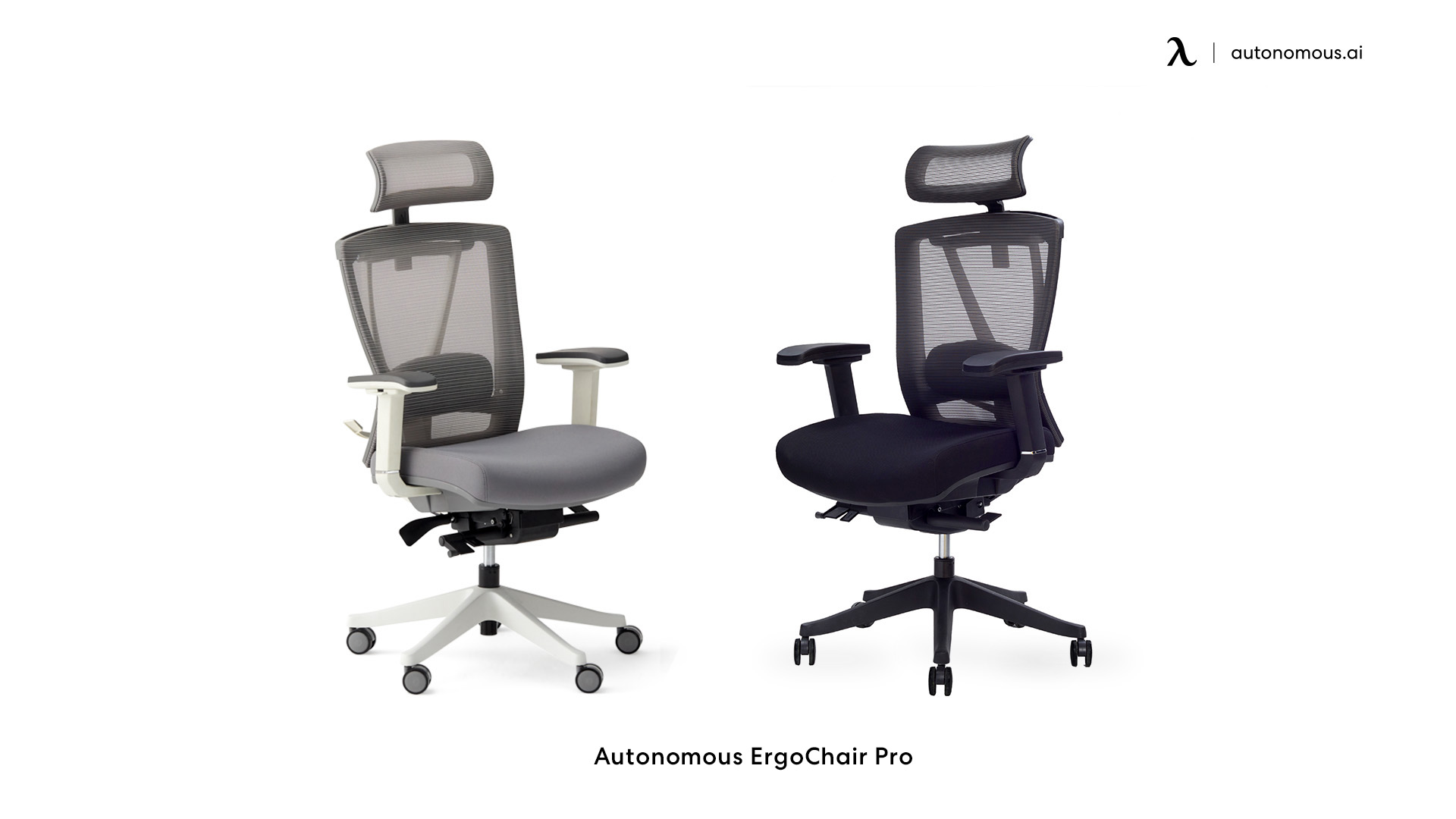 The ErgoChair Pro offers a very similar experience to the Pro+, while more budget-friendly. It offers 22 degrees of recline and five lockable tilt positions. ErgoChair Pro has a mesh lumbar support design like the Pro+.
At the heart of the ErgoChair Pro, just like its sister ErgoChair products, is adjustability and mobility. Its height, armrest, backrest, and headrest all are adjustable, encouraging movement and body discomfort support.
With its 22 degrees of recline, ErgoChair Pro aims to improve and correct posture. Additionally, with the standard 2:1 back and seat recline ratio, all recline positions will limit pressure on your back. The ErgoChair Pro supports up to 300 lbs and comes in All Black, Cool Gray, Evergreen, Black and White, Red Apple, and Baby Blue.
3. ErgoChair Recline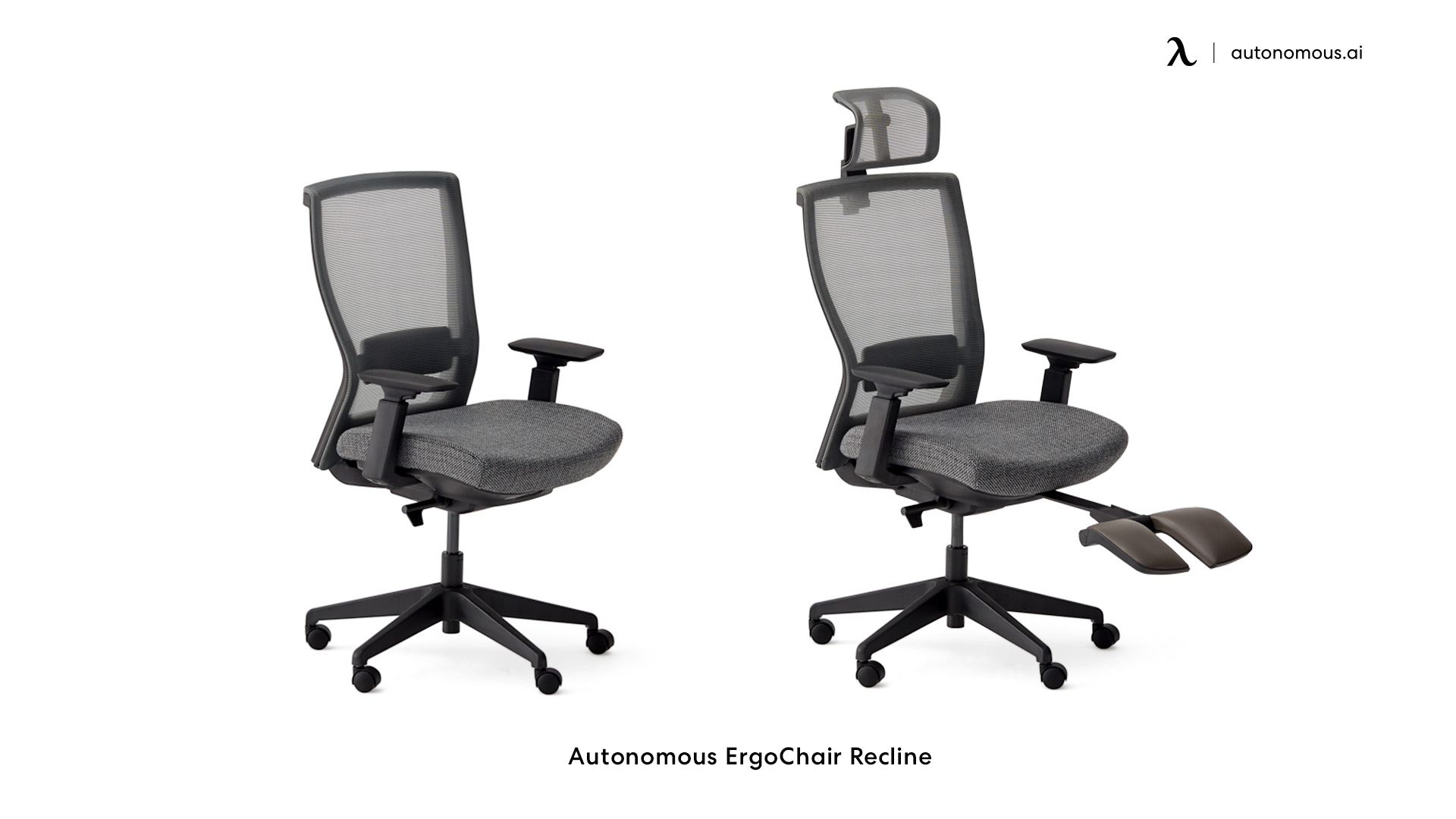 The ErgoChair Recline was designed for ultimate lounging and relaxation. Its design includes an adjustable headrest and extendable leg rest. With 18 degrees of recline and effective lumbar support, the ErgoChair Recline offers three strategic lockable positions perfect for overall body comfort.
The key feature that makes the ErgoChair Recline stand apart is its leg rest. You can recline in such a comfortable way that you could easily take a nap in this chair! Thinking of new artistic ideas requires a lot of mental thought, every great artist deserves some rest time.
Easily, this could be your thinking chair as well. Recline and dream up your next great project. When in a relaxed state, your imagination can go to a whole new level.
ErgoChair Recline supports 250 lbs and comes in All Black and Cool Gray color variations.
4. ErgoChair Core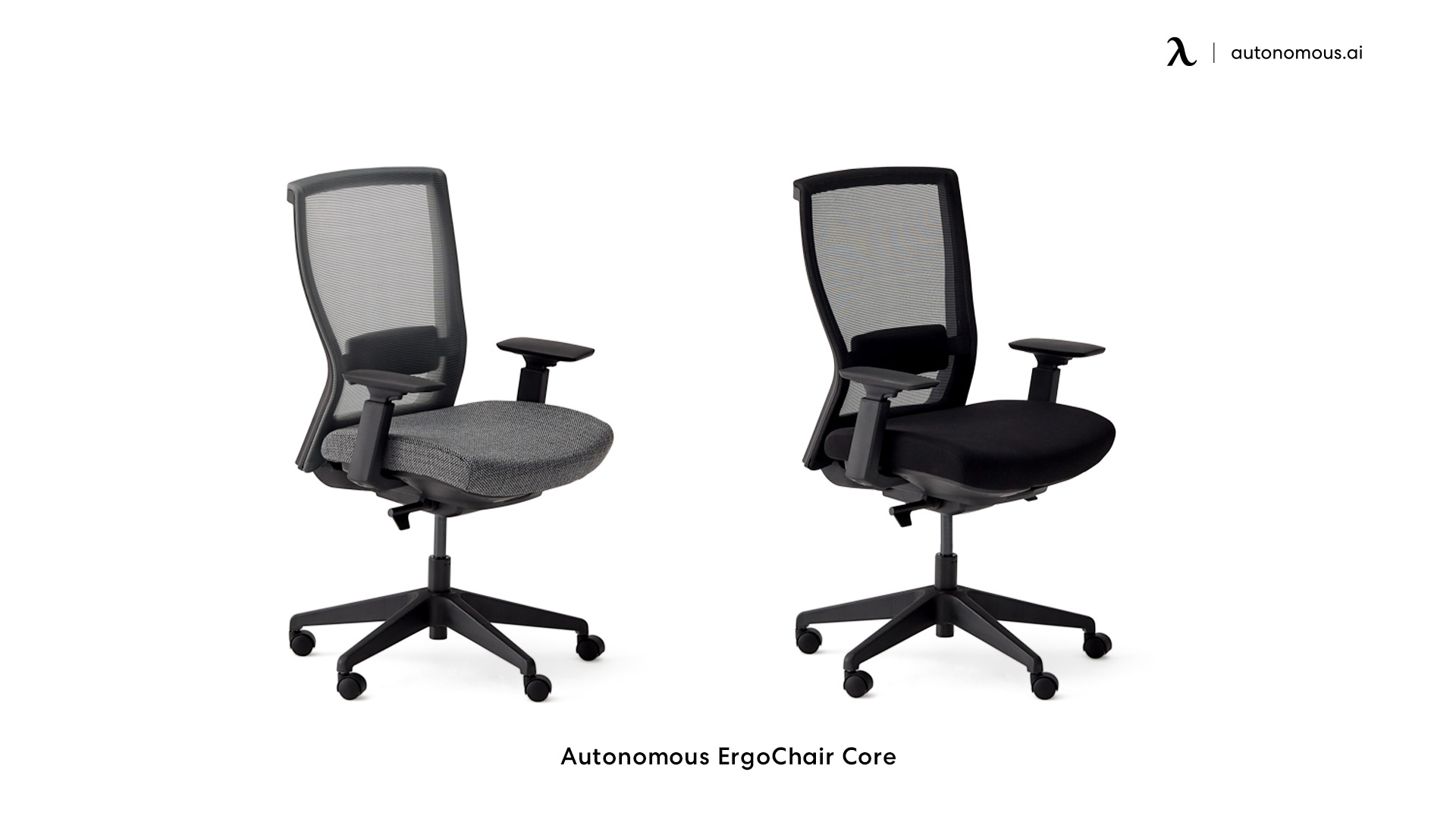 The ErgoChair Core is another reliable ergonomic chair option. It boasts 18 degrees of recline and three tilt lock positions like the ErgoChair Recline.
The Core is the most affordable ErgoChair option while still providing the value the ErgoChair lineup is recognized for. ErgoChair Core has a mesh back with lumbar support and offers key adjustable features such as tilt, armrest, and chair height.
It supports up to 250 lbs and comes in All Black and Cool Gray.
Standing Desks
A complementary product for your ergonomic chair is a standing desk. Most standing desks are adjustable and are designed to ergonomic standards. Autonomous has a collection of smart standing desks that would be perfect for your dream home art studio setup.
The lineup includes the SmartDesk Core, SmartDesk Corner, SmartDesk Pro, SmartDesk Core Duo, and Smart Desk Connect. These desks like the ErgoChair models were specifically developed to create the most comfortable work environment possible.
1. SmartDesk Core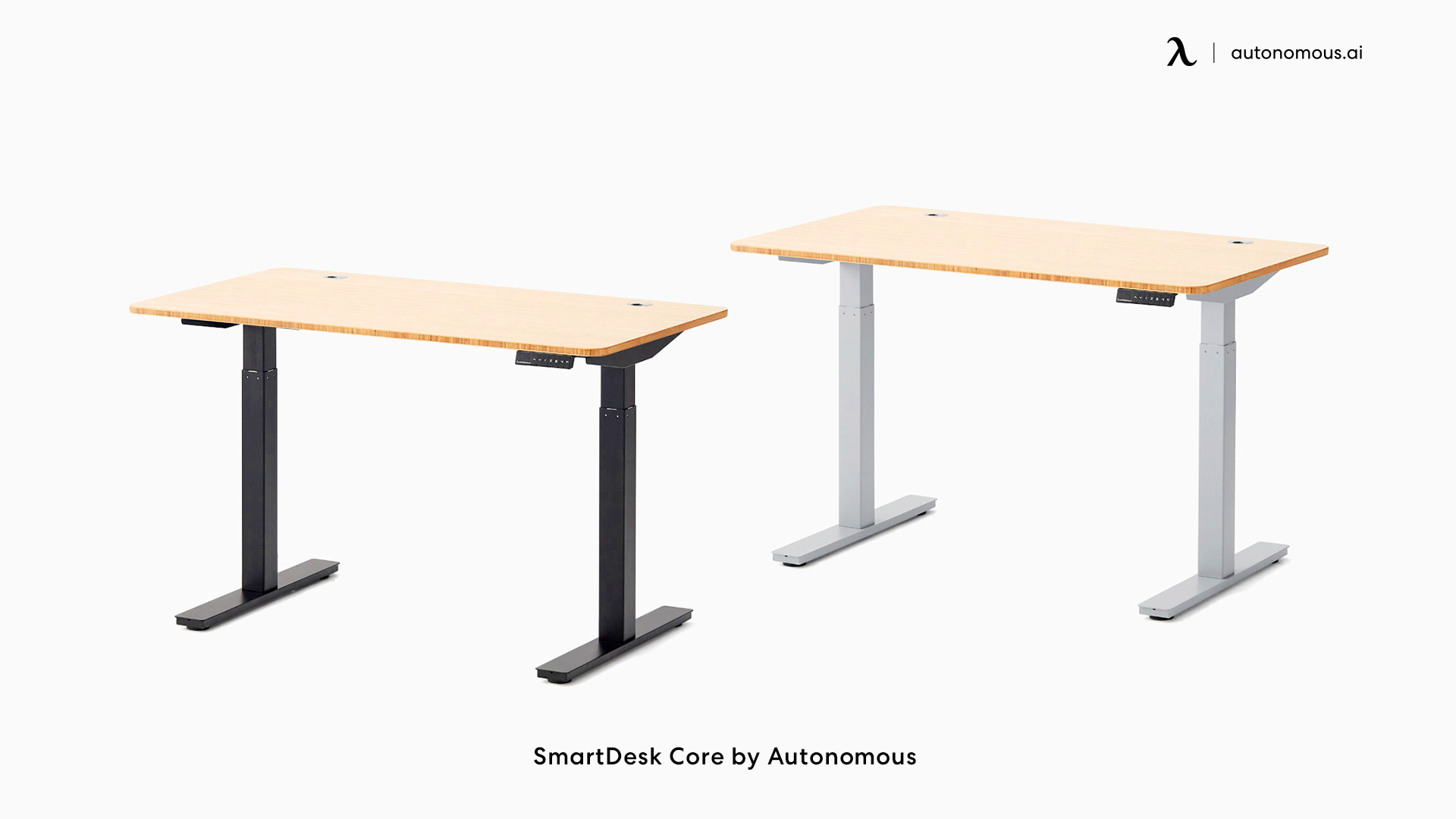 The SmartDesk Core is the essential standing desk perfect for an at-home art studio. It lifts 265-270 lbs easily and has a durable and long-lasting structure. Smart Desk Core is height adjustable offering flexibility for perfect body positioning.
It is controlled by a digital keypad and has four programmable settings. You can customize the height adjustments. Yes, the SmartDesk Core will learn your preferred different height settings for your convenience!
SmartDesk Core offers White, Black, Walnut, White Oak, Bamboo, Dark Bamboo, Pink, Blue, and Teal desktop color variations. Desk frames come in White, Black, or Gray.
2. SmartDesk Corner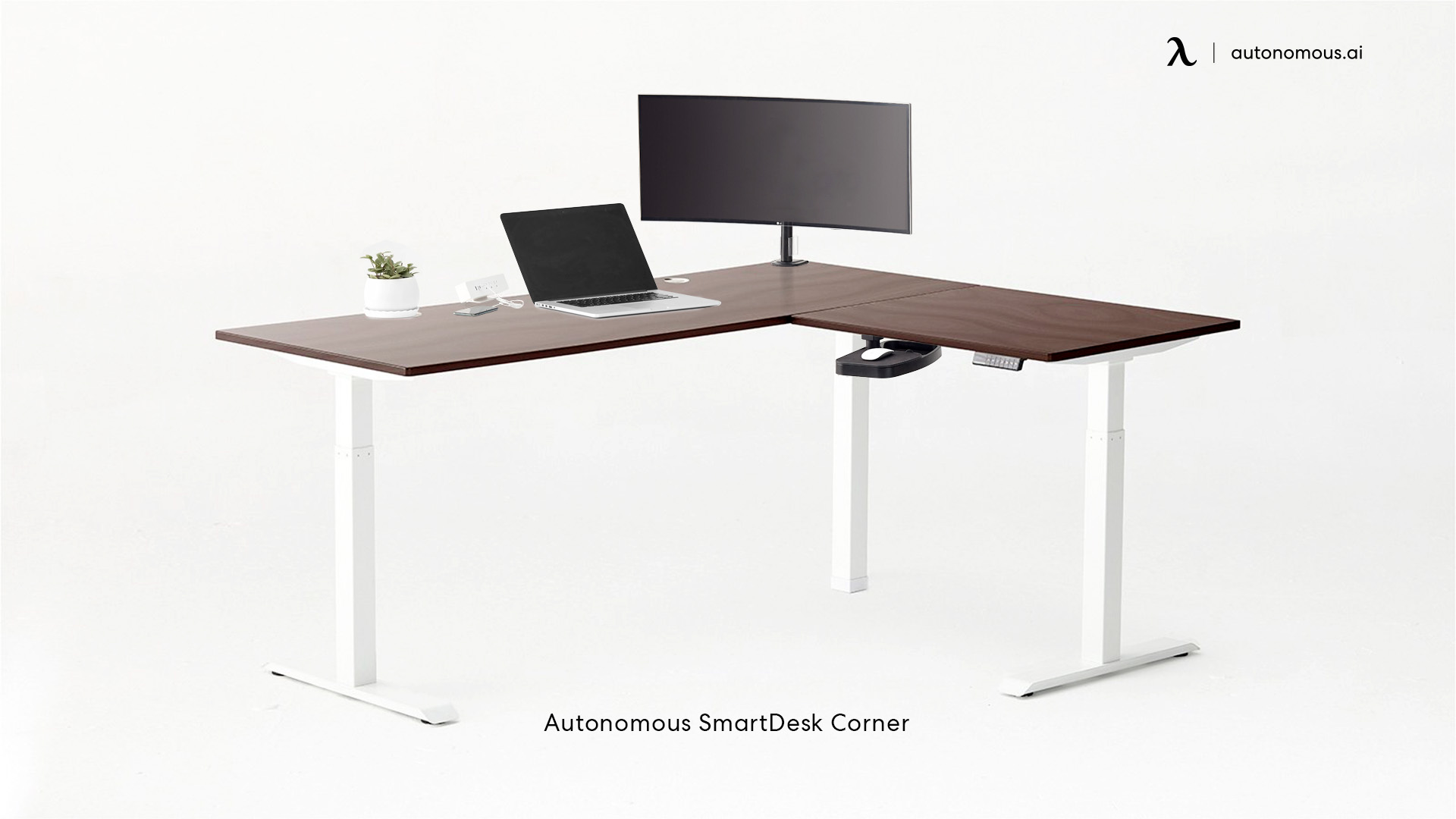 The SmartDesk Corner is the most spacious and wide SmartDesk offering. This desk would be perfect for an in-home art studio setup because it offers a substantial amount of more room to work and create.
It boasts twice the space of any other SmartDesk, the ability to hold up to 400 lbs, and height adjustability between 29.4" to 48". The shorter side of the desk can be easily switched to be customizable to any room corner.
With the space SmartDesk Corner provides, three computer monitors can comfortably fit on the desk. It is also controlled by a digital keypad and has four programmable settings. The Corner has a solid ten-year lifespan of significant usage, making it long-lasting and competitively durable.
SmartDesk Corner's desk top comes in White, Grey, and Black. Its desk frame comes in White and Black.
3. SmartDesk Pro
The SmartDesk Pro offers a premium standing desk experience with key features to the extreme. Carefully designed after years of research and development, the Pro is more durable, can lift to 310 lbs, and is height adjustable from 26.2" to 52".
An additional bonus is it is quieter than any other SmartDesk. It has an impressive 40 dB sound level. The Pro offers peak performance for a ten-year span, making it a long-lasting investment. Like other SmartDesk options, it has four customizable program settings. SmartDesk Pro has been certified by UL, BIFMA, and EMC.
Color variations include a White desktop and White, Black, and Gray desk frame options.
4. SmartDesk Core Duo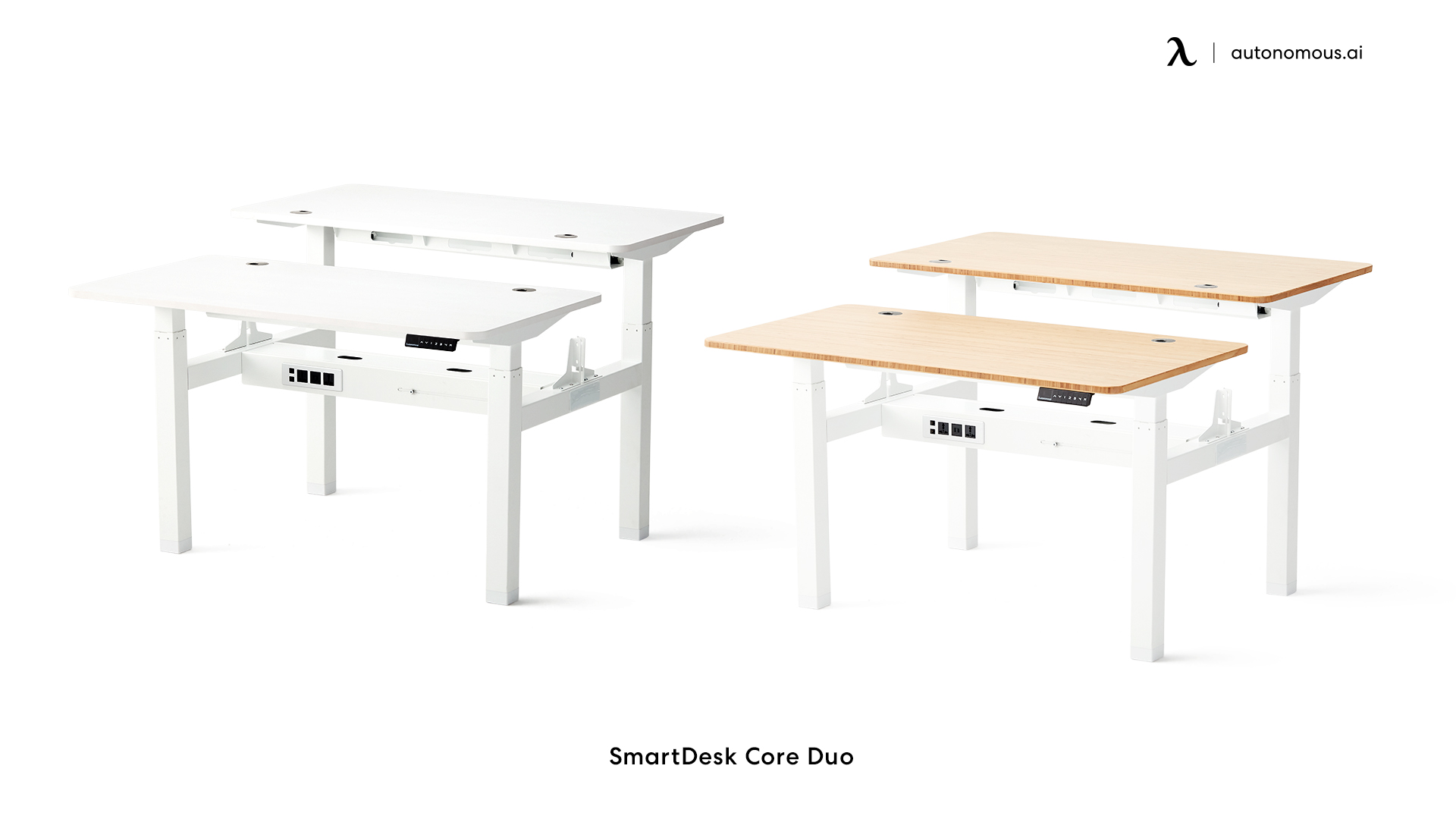 The SmartDesk Core Duo's unique design means double the productivity. Featuring two individual desk spaces, this option is perfect for team collaboration. Core Duo has two motors to control its dual design, and each can lift up to 290 lbs. Additionally, it includes two cable trays.
SmartDesk Core Duo is height adjustable from 29.4" to 48". Not only can you choose to sit down or stand up when working at Core Duo, but so can your partner. Yes, you can stand with a height-appropriate workspace, while your team member chooses to do the opposite with one product! That is the Core Duo's specialty.
If you just need one desk for yourself, no problem. You can adjust the product to be one individual space. SmartDesk Core Duo is proudly UL, BIFMA, and EMC certified.
5. Smart Desk Connect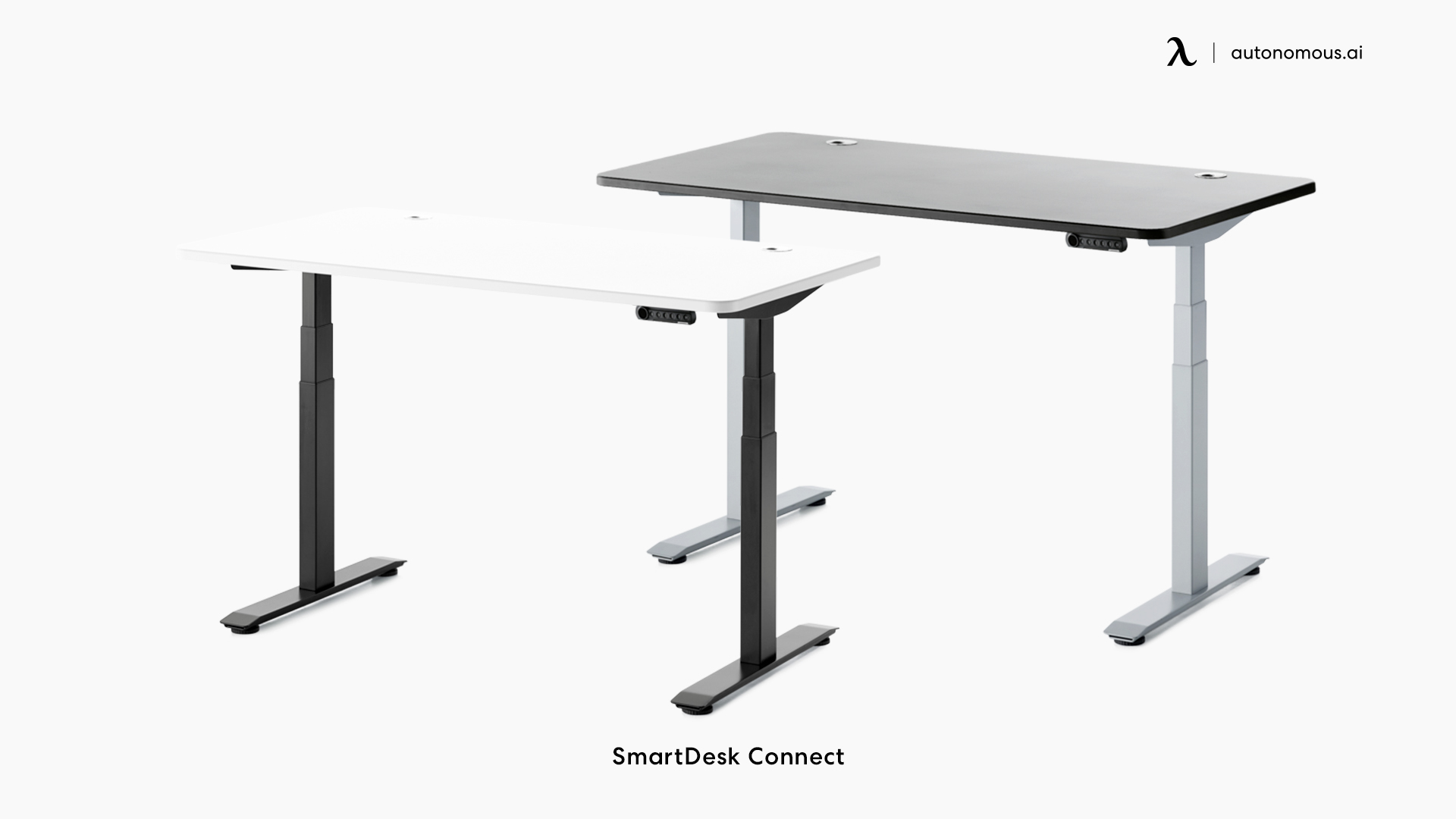 The SmartDesk Connect is the most technologically advanced SmartDesk with incredible connective abilities. Instead of a keypad controlling desk settings, Connect users program their preferred settings in an easy-to-use application that is downloadable for smartphones, desktops, and tablets.
SmartDesk Connect offers a state-of-the-art anti-collision feature, an improved electronic dual motor for smoother, seamless adjustments, and the ability to lift 310 lbs.
Connect makes it easier than ever before to synchronize your workstation in such a customizable way. Its desk top comes in White, Black, Dark Bamboo, Pink, Blue, and Teal, while desk frame options include White, Black, and Gray.
Lighting Can Make All the Difference
When developing a large or small art studio setup, lighting plays a crucial role in the overall work environment feel. Appropriate lighting has multiple key benefits including the ability to see your digital tools better and craft your projects in a more vibrant environment. Health benefits should also be considered. Your vision is an imperative asset you must protect.
If you also draw or paint on paper, office lighting is essential. There are a variety of different lamb options to consider. LED flashlights are recommended based on their consistency and quality. Ambient compatible LED options are particularly noteworthy to explore since they have settings that limit eye strain. With an LED floor lamp or a desk lamp, artificial lighting can be perfect for different times of the day particularly evening and night.
It is important to remember not to neglect natural lightning and what such lightning can provide for your at-home art studio setup. During the day and if you have good natural light coming in, keep your blinds and shutters open. Natural light offers a fresh sensation and is more comfortable for your eyes.
The Bottom Line
The flexibility of creating a dream at home art studio setup brings upon a lot of questions and ideas. Fortunately, there are a variety of great product options to design your setup most comfortably and efficiently as possible. With a selection of ergonomic aids at your disposal, you can work smarter than ever before.
With ergonomic chairs, standing desks, and well-designed lambs, your art studio setup can have all the necessary tools to help you create your best projects ever. Additional accessories such as tablets and electronic pens take digital art to a whole different extreme.
Every detail in your setup or home art room should be taken into consideration. Even the colors of your walls and room decorations can have an impact on the environment. The key thing to remember is to design your home art studio setup in a way that is pleasing and appealing to your tastes.
Product branding can also be a noteworthy preference. As an example, if you prefer Apple hardware, invest in a MacBook or iPad Pro. Use products you are familiar with and comfortable with.
You want to work in a space that is aesthetically attractive and inviting while inspiring productivity and comfort. With the tips and product suggestions provided, you can create such an art studio setup.
Keep up with Autonomous news
Stay informed, stay inspired with our new blogs.
WRITTEN BYAutonomous
We build office products to help you work smarter.