Smart Products
What is the Best Executive Office Chair with Adjustable Arms?

Autonomous
|
Sep 1, 2021
2,016 Views
Ergonomics defines the need for armrests in chairs for giving strong support to your arms and hands. Together they make up for more than 12% of your total body mass. Dangling them in the air wouldn't be helpful as you try and type on your system or do other tasks. Research shows that when armrests support arms and shoulders, they can minimize the payload on your spine by up to ten percent.
As you look for an executive office chair with adjustable arms, here is our selection.
15 Best Executive Office Chair with Adjustable Arms
It may be helpful to get some facts and myths about an adjustable armrest office chair before you go through our research.
1. ErgoChair Plus
Looking for an executive desk chair with adjustable arms doesn't have to be a challenging task. Just reach out for the ErgoChair Plus from the house of Autonomous group that has designed this ergonomic chair for senior executives like you. Designed from one single frame, this iconic chair is yours to use. Enjoy the freedom to lower or raise the wide armrests between 7 to 11 inches. It offers you the best recline in its class of one hundred twenty-five degrees! The earth-friendly TPE material is durable and highly breathable so that you remain cool during the day's rigor. Some folks prefer using this as a gaming chair with armrests.
2. ErgoChair Pro
One of the best ergonomic chairs, the ErgoChair Pro is designed ergonomically.  With the adjustable height, armrest, headrest, backrest, and seat tilt, you have one of the best chairs for your workplace.  You can also lock recline with five lockable positions that are on offer.  Now adjust the flexible lumbar support to manage your lower back. With a weight capacity of 300 lbs, its performance is unmatched.
3. ErgoChair Recline
Looking to buy an ergonomic chair of your choice? Don't miss the ErgoChair Recline, which has an adjustable headrest, armrest, back tilt angle, seat height, and even a footrest!  Made from polyester fabric and molded foam interiors, you have comfort galore. In addition, the durable nylon plastic frame can hold a weight capacity of 250 lbs.
4. Herman Miller Aeron Remastered Task Chair (Graphite)
Setting new levels of comfort, this is one of the best office chairs with adjustable arms. The Classic Aeron has an iconic design that is a style statement for executives. The chair has a uniquely designed 8Z Pellicle elastomeric suspension seat and backrest that offers maximum comfort.
5. Steelcase Gesture
Gesture by Steelcase is your choice for a chair with adjustable arms. The Gesture 360 arm moves like the human arm, giving you the freedom to move in any direction yet be supported.  No health concerns with the new Text Neck™.  You get the best support with various postures through the seat back, the seat itself, and the armrests. Of special interest is the integrated headrest, unlike others who had it as an afterthought.
6. Euro High Back Mesh Ergonomic Task Chair with Adjustable Arms
This mesh executive office chair from Transteel is the best for an adjustable seat.  This executive office chair with adjustable arms offers you easy-to-use built-in lumbar support. So your lower back can be easily supported, no matter what your height is. Ah! Here it is, the adjustable armrests are a perfect way to reduce your forearms and shoulder's fatigue as you spend long hours at your desk.
7. Ergonomic Genuine Leather Chair by GM Seating
This executive office chair with adjustable arms is made from genuine leather and adapts a unique style that matches any boardroom chair.  It combines ergonomics and upholstery to give the special executive finish. With fully adjustable features like seat slide adjustment, tilt tension, headrest, height angle adjustment, you cannot just tick this off your list.  Moving forward or backward as you complete your office tasks? No worries as the armrests move back and forth with you or up and down when you adjust the seat height. 
8. Serta Back in Motion chair
Serta now offers you an adjustable arms chair for your office. The focus and highlight of this chair are the ergo-layered body pillows that offer the best comfort. In addition, the chair offers you eco-friendly bonded leather that is smooth and cooling for your body. You can even manage the height of the padded armrests merely with the flick of a button.
9. Steelcase Leap Fabric Chair
What matters is the quality and features offered, just not the brand. However, Steelcase lives up to its name by using the patented LiveBack technology that supports your movements in the chair. More than 30% of the chair is produced from recycled materials. Done with the usage of this chair? More than 90% of the chair is recyclable.  Get the best support with adjustable arms and seat height. Watch out for the heavy-duty plastic base, which may not be as durable.
10. Herman Miller Sayl Chair
The designer has drawn inspiration from the Golden Gate bridge. This executive office chair with adjustable arms has a Y-shaped back that stretches the fabric. The ArcSpan gives a large shape to the back. The unique and sleek design catches mostly everyone's attention. The best part is that this chair does not use any PVC material; all materials are recycled.  It comes with fully configurable arms, adjustable chair depth, chair tilt, back tilt, and back tension.
11. Raynor Ergohuman ME7ERG
Made from mesh, the Raynor Ergohuman ME7ERG has an adjustable headrest, arms, seat depth, and back tilt tension. Don't miss the fully customizable back-tilt angles. This is one of the best executive office chairs with adjustable arms. Manage your body's correct posture with the adjustable backrest height and lumbar support. Some may find the external lumbar support a bit odd.
12. Uplift J3
Covered in leather and mesh, the Uplift J3 has adjustable seat depth, arms, back-tilt, recline tension, and height. Of special mention is the removable headrest, should you not want it.  Now you can relax as you work because the fine mesh material at the back keeps your body cool. However, some folks may not like the stiff and hard leather seat it offers.
13. Steelcase Amia
The Steelcase Amia is an ergonomic chair made from fabric with adjustable height, depth, back tilt tension, back tilt limiter, and armrests. The sleek lumbar support is built-in and does not protrude out. However, some folks find the rather stiff fabric cushions, not to their taste, given that this is a Steelcase product.
14. Knoll ReGeneration
A modern ergonomic chair, the Knoll ReGeneration, is made from good quality elastomer and fabric. It offers the user an adjustable height, seat depth, and adjustable armrests. Offering you a flexible backrest, there is minimal use of knobs and levers to manage adjustments. There is no need for all those levers and knobs.
15.Humanscale Freedom Headrest Chair - Wave
The Humanscale Freedom is an excellent executive computer chair with adjustable arms. The armrests move up or down as you lower or raise the chair.  Even if you recline, the armrests move with you as they are attached to the chair's spine. All three, the seat, backrest, and headrests, can be individually and manually adjusted for your best comfort.  
Wrap-up
Our research leads us to recommend the ErgoChair Plus or the ErgoChair Pro as one of the best executive office chairs with adjustable arms.  Giving you one of the best recline in its class, these executive chairs have ergonomic designs.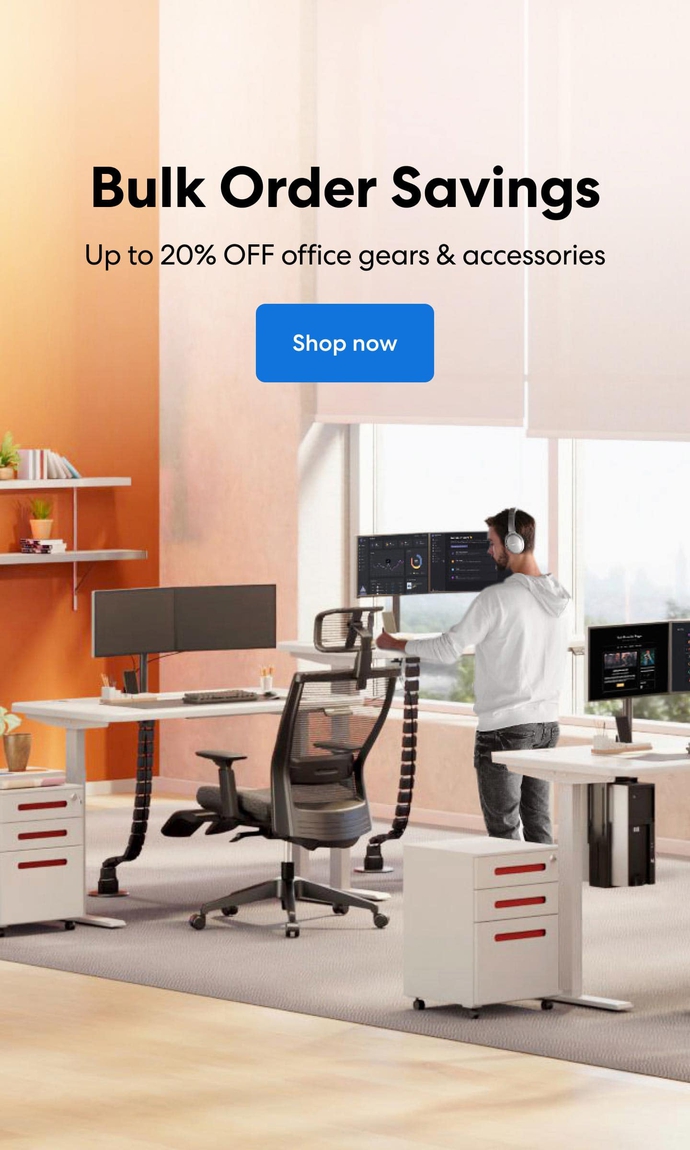 Subcribe newsletter and get $100 OFF.
Receive product updates, special offers, ergo tips, and inspiration form our team.