Working remotely has become the accepted norm for most of us – yet some have yet to take the freedom to consider how we will deal with the tricky issue of establishing a designated place, only for ourselves, besides other people in the family. Some of whom are also working – or schooling – at home. But it's not only about obtaining spaces; it's also about not being able to view the workplace gear at the end of each day. It simply makes it so tough to shift off.
Getting a desk that hides monitors in an office space can increase your efficiency, even if you're searching for the finest computer workstation for two to three monitors. It is simple to find a hidden monitor desk fit for your office space.
The 5 Best Desks That Hide a Monitor Lift in 2023
A regular computer table is great if you're working or studying. However, these types of tables can adversely affect the learning experience in classrooms and training centers. A desk that hides a monitor allows you to maintain eye contact with your lecturers or teachers without any technological distractions.
In this article, we will explore the five best desks with hidden monitor lifts. Keep reading this article until the end, as we will go over some fantastic tables and review their features.
Let's get started! 
A desk with hidden monitor storage or arm is different from a regular computer table. These types of furniture have compartments or equipment that allow you to stow away your display when you don't need it.
What makes these types of tables unique is that you can convert them into regular workstations, making them the best furniture for conventions, training centers, and classrooms.
Whether you're looking for a desk with a hidden monitor lift or a table with a display arm to mount your screen, our list has something for everyone.
1. Delta View | Computer Desk with Hidden Monitor Lift
If you're looking for a desk that hides a monitor, look no further than the Delta View computer workstation. We needed a table for our creative studio and had to give this one a try. After testing it out, we were really impressed.
Who Should Buy This Desk?
This desk with a hidden monitor lift is ideal for any classroom or training area. It is excellent for all those individuals or organizations who are on a budget but are looking for quality furniture.
Frame
Made from powder-coated steel, the frame of the Delta View computer desk is extremely durable. It contains post-consumer and post-industrial recycled materials, making this table an eco-friendly piece of furniture.
Design
The Delta View computer desk has a gorgeous wood top that is made from recycled materials. It has a black colored frame that looks great, and the surface has a nice smooth finish.
There is an integrated cabinet that you can open to access the monitor. With a single push of a button, the vertical gas-assisted lift will slowly bring your display out of hiding.
When you're done using the screen, you can simply pop it back into the storage space.
Features
The Delta view computer desk with a hidden monitor lift is the perfect furniture for classrooms. It comes in single and dual configurations and is one of the most affordable options on our list.
What makes this desk with hidden monitor storage great is that you can keep multiple pieces of this furniture side by side, and it'll look like a single unit. It is a multi-functional flexible furniture solution that caters to the needs of today's learning environments.
This desk with monitor lift comes in two variants, one with a key lock and the other without it. We recommend splurging the extra cash, as the lock will allow you to store your monitor and prevent theft.
The desk has integrated cable management, ensuring a clean and tidy workspace. You can easily remove the access panels, and there is no need to connect to power, as the furniture uses gas propulsion to lift the monitor.
We love the fact that you can reach out to the RightAngle™ design team if you're looking to add additional features to the table or want to make some changes. All you need to do is submit a drawing, and one of the company's representatives will get back to you.
2. Computer Training Desks
Are you looking for a flexible and secure training table? Do you want a workstation that can handle a dual monitor setup? The computer training desk by Nova Solutions is a fantastic option to consider.
Who Should Buy This Desk?
The computer training desks by Nova Solutions are perfect for large classrooms or training centers that have VESA-mountable monitors.
Since it comes with a surface large enough for multiple monitor setups, it is a fantastic piece of furniture for offices or rooms that have a limited amount of space.
Frame
The frame is a three-panel structure made from alloy steel. It is as durable as any table can get.
Since this desk with monitor lift is smaller than most units, the three-panel frame is enough to provide support to the solid surface that lays on top of it. 
Design
The Nova computer training desk that hides a monitor has a silver work surface made from graphite nebula, and it comes with a slate grey base that looks pretty decent. Its metal modesty panel makes the entire table stand out.
You can reveal the monitor by simply tapping on the perforated surface, and the mechanism will slowly lift the screen up.
Features
The computer training desk with a hidden monitor door by Nova Solutions has patented access doors that automatically open and close by simply pushing a button. It comes with a low-voltage electrical motor that helps lift and lower the display.
We were really impressed by the Intelligent Motion Technology, which detects movement and protects the display from vandalism and accidental damage. The system also links all of the monitor lifts together, allowing you to raise and lower them simultaneously. 
This desk can support most VESA mountable monitors up to 24" and comes with two multi-plug power strips and wire management channels, allowing you to stash away all of the cables and wires for a clean look.
Unlike the previous desk with a hidden monitor storage, this one has a keyboard and a mouse drawer. When not in use, you can stash away these devices inside the table.
This table has five locking positions and a built-in wrist rest, which is a fantastic addition to this workstation.
3. flipIT Lift Motorless Monitor Lift Computer Desk
The flipIT Lift Motorless Monitor Lift Desk provides you the functionality of a regular computer desk with a modern lift mechanism that is unobtrusive. It also has a lot of customizable options, making this a fantastic table to consider.
Who Should Buy This Desk?
This desk that hides a monitor is an excellent option for STEM educators and classrooms where students work on computer-aided designing, drafting, and programming applications.
The students can easily stow away the monitors and return back to lecture mode without any technological distractions.
Frame
Similar to the previous desk with a monitor lift, the flipIT table has a three-panel structure that provides support and stability to the wooden surface.
This piece of furniture has a storage section in the middle that strengthens the structure, making it a highly durable option for daily use.
Design
The flipIT Lift Motorless Monitor Lift Computer Desk has a gorgeous design. It has clean lines and a smooth finish.
This desk's wooden surface perfectly complements the slate grey three-panel structure. It has a slim profile that will look great in any training center or classroom.
There are a lot of different colors to choose from, including shadow, khaki brown, blue, hunter green, and many more.
Features
Today, workplaces or training centers have modern monitors or all-in-one computers that have a slim design. The flipIT Lift table has an elegant look that can easily blend in any classroom.
To reveal the monitor, push down on the lid, and the mechanism will slowly lift the display upwards. There are no electric motors or spring adjustments. When done using the computer, users can stow away the screen and return to taking notes.
We love how customizable this desk with a hidden monitor lift is. You can choose between a single or double table and select your preferred width. There is also the option to add a monitor mount and a CPU.
However, if you want to add optional features, such as casters, a locking door, a pull-out shelf, a utility drawer, and other add-ons, be ready to pay extra.
4. Hanghaijia Modern Computer Desk with Hidden Monitor Function
If you're looking for a modern desktop table with an innovative design, the Hanghaijia Modern Computer Desk with Hidden Monitor Function may just be the right option for you.
Who Should Buy This Desk?
The Hanghaijia Modern Computer Desk with a monitor lift is specially designed for educational and training institutions and conference rooms.
Frame
The frame of this desk that hides a monitor is sturdy. It is a three-panel structure made from durable materials that will last you a long time.
This desk comes with a solid base support that provides additional stability to the table.
Design
The table top is a melamine board, while the internal base material is a high-density compressed board.
With a surface that has a thickness of 25mm, this desk is resistant to friction, high temperatures, and corrosion. It's such a strong table that you can put up to 800 lbs on it, and it won't bend or deform. 
Features
Unlike the other four tables mentioned on this list, this one has a unique mechanism. This desk with a hidden monitor lift does not push the display upwards.
Instead, it is a flipper system that uses a pneumatic flip, which reveals the screen whenever you need it. All you need to do is pull the lock button.
With a flipper capable of supporting up to 33 lbs, you can place a wall-mounted computer monitor with a screen size between 17" and 24". What's great about this table is that once you flip the screen open, you will still be able to maintain eye contact with the lecturer, trainer, or teacher.
The desk also has a keyboard and mouse storage area, which allows you to hide your devices when not in use. Once you lock the monitor away, the desk turns into a regular table that is perfect for lectures, study, and work.
5. HorizonLine Monitor Lift Desk
Are you looking for an elegantly designed computer desk with a hidden monitor lift? Do you want to invest in a table that helps maximize space usage and offers a lot of customizable add-ons? The HorizonLine Monitor Lift Table is a great option to consider.
Let's quickly go over the desk's features and design to see what it has to offer.
Who Should Buy This Desk?
The Monitor Lift Table from SMARTdesks is a fantastic desk solution for large convention centers, training rooms, and educational institutions. You can add connectors to join multiple tables together, ensuring a single seamless workstation.
Even small retail stores can also use this desk, as it doesn't take up much space and can help improve your employee's productivity. 
Frame
The frame of this desk that hides a monitor is made from solid steel. It has bracings to provide enough support to hold your monitor and other gadgets in place.
Since it is made from high-quality materials, the HorizonLine Monitor Lift table is highly durable and doesn't look flimsy.
Design
When it comes to the design of the HorizonLine Monitor Lift table, this desk with hidden monitor storage doesn't hold back. It has a sturdy surface that has a gap in the middle with a monitor arm.
It comes in two variants (single and dual), and the table has a pull-out surface for your keyboard and mouse. When not in use, you can put it away.
Let's quickly go over the features and find out whether this desk is worth the investment. 
Features
The Monitor Lift Table from SMARTdesks has a monitor arm in the middle of the desk's surface. You can mount your display and adjust it according to your needs, making this workstation an ergonomic option for all those tired of back pain and stiffness due to poor viewing angles.
This desk with a hidden monitor arm is highly customizable. You can choose between the two basic variants and select the width, type of keyboard tray, and levelers or casters.
Additionally, you can also opt for add-ons, such as a side chair, grommets, table connectors, thermofoil colors, and more, if you have the budget. 
A desk that hides a monitor is the perfect furniture solution for large classrooms and training centers. It not only removes the technological distraction but also helps save space, as you can opt for dual variants.
We hope that this article on the five best desks with hidden monitor lifts removes any doubts you may have and guides you in making a well-informed decision.
Ideas for Desks Which Can Also Hide Monitors
It's possible that your home office layout isn't optimal. It might be in your dining room, bedroom, lounge room, or even on your legs. It might be minimal – or you could have a huge separate space – but how do you fit it into an adjoining space? Whatever the case, you will appreciate these desks with hidden monitor storage solutions. It is all about hiding the workstation while you're not using it. Either you close a doorway or merely a lid.
1. Hide a Desktop Computer Behind a Couch
This isn't a novel technique to make a hidden workstation, but even the little ones are sometimes a creative way to get started in a shared house. To make such a setup work, use a QuarterSign desk and a Hidden Dual Monitor lift and ensure that the arching ledge remains ideal for fanning out documents while working and providing a dramatic display platform when you're not working.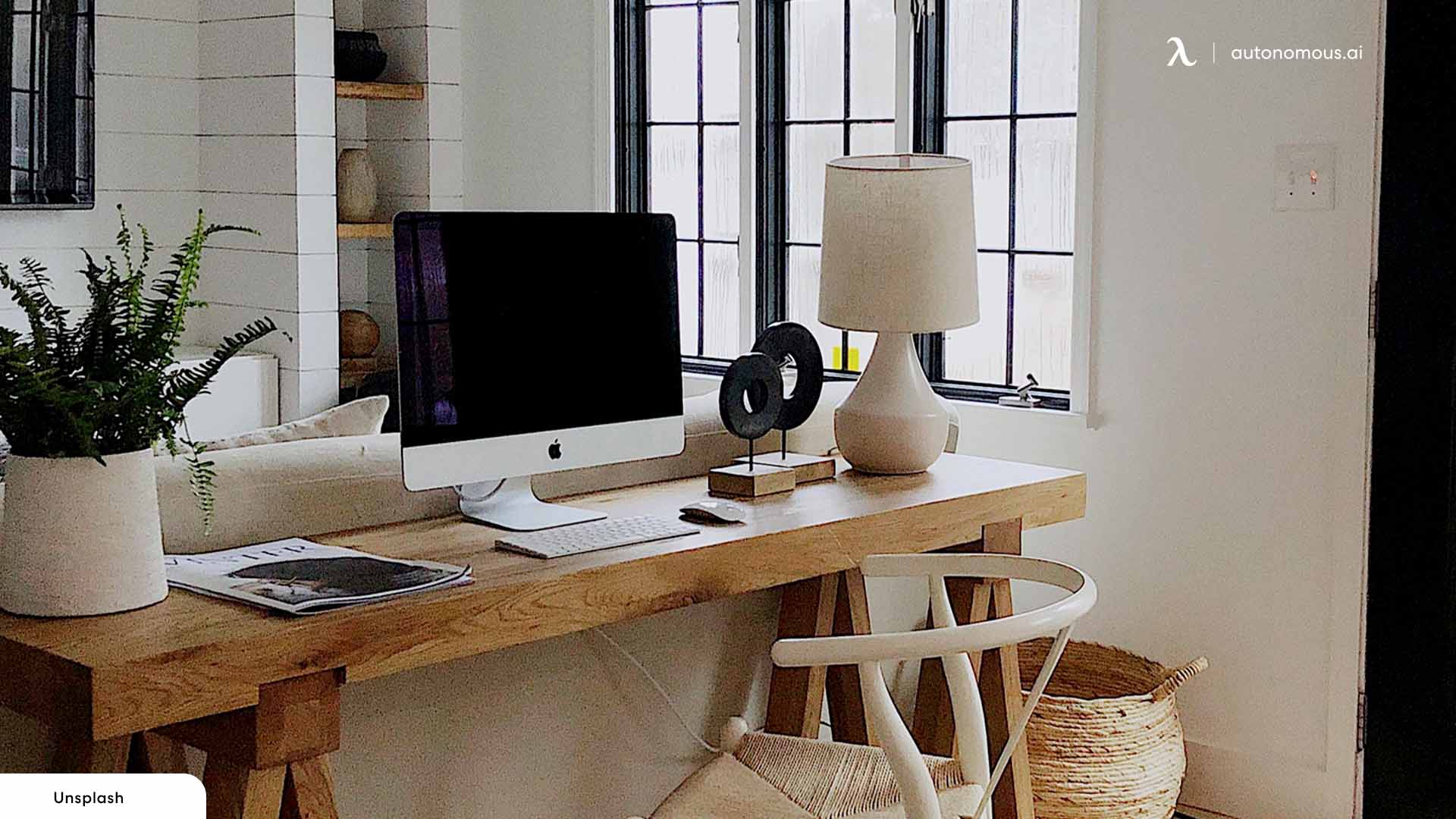 2. Build a Concealed Workstation into a Little Occupied Floor Space
Since you're imaginative, you can operate in even the tiniest areas. A constructed, slide-out hidden monitor computer desk or desk with monitor lift and storage provides many comfortable work areas and storing space beneath while taking up very little square footage. When you finish working from home and go to the workplace, this storage and screen space may be transformed into clothing storage and a grooming table, with cosmetics and jewelry hidden underneath.
3. Buy a Computer Desk with Hidden Dual Monitor Lift
Computer desks with hidden monitors underneath the stairwells may be effective if done quietly. Sure, you may have units installed to incorporate storage that match the fine craftsmanship on your stairway. Still, we prefer a simple minimalist method, in which a gap is hollowed out, varnished, and embellished with nothing but a gorgeous bit of timber. These hidden monitor desks maintain the area simple and aesthetically clean, ideal for a small space.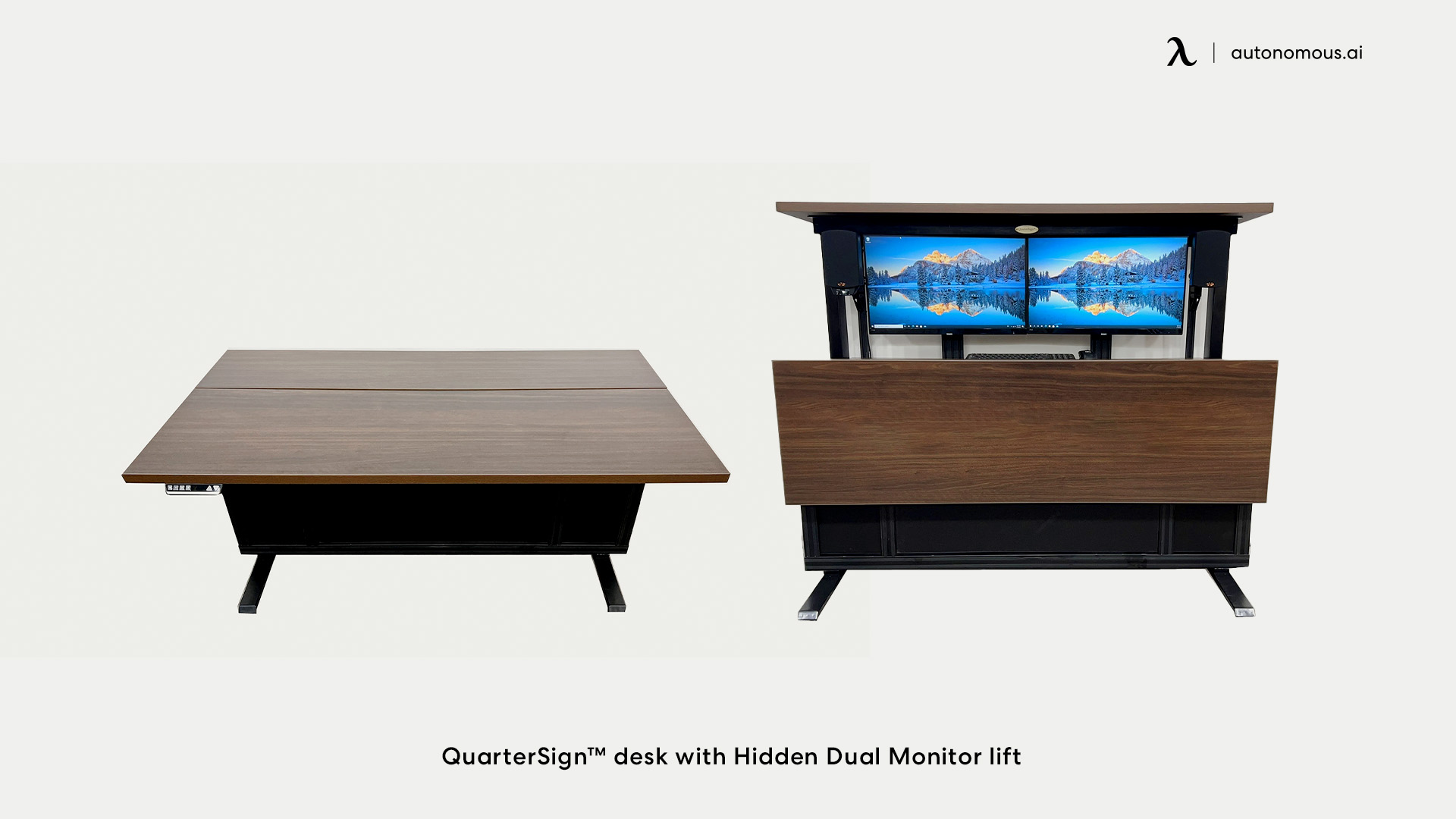 4. A Bedroom Hidden Desk
Bedroom cubby holes on smart office desks are ideal for concealed workplaces, with compact workstations which are ideal for writing letters, laptop research, and simply allowing you some time to relax, with some chests that come with pull-out computers combining storage for documents or clothing to fit your requirements. When designing a home office, utility, including storage, should be vital to your layout but not be aesthetically prominent.
5. Convert a Vintage Piece into a Concealed Desk
If appearances are crucial to you and your only alternative is a standalone piece, why should you settle for a standard workstation and basic office shelving when you can precisely convert an outstanding piece of equipment to fit your needs? - Using antiques, you may construct a personal study for yourself. A beautifully hand-painted chinoiserie office desk with cabinets in the main bedroom will conceal your display and make the workstation more appealing.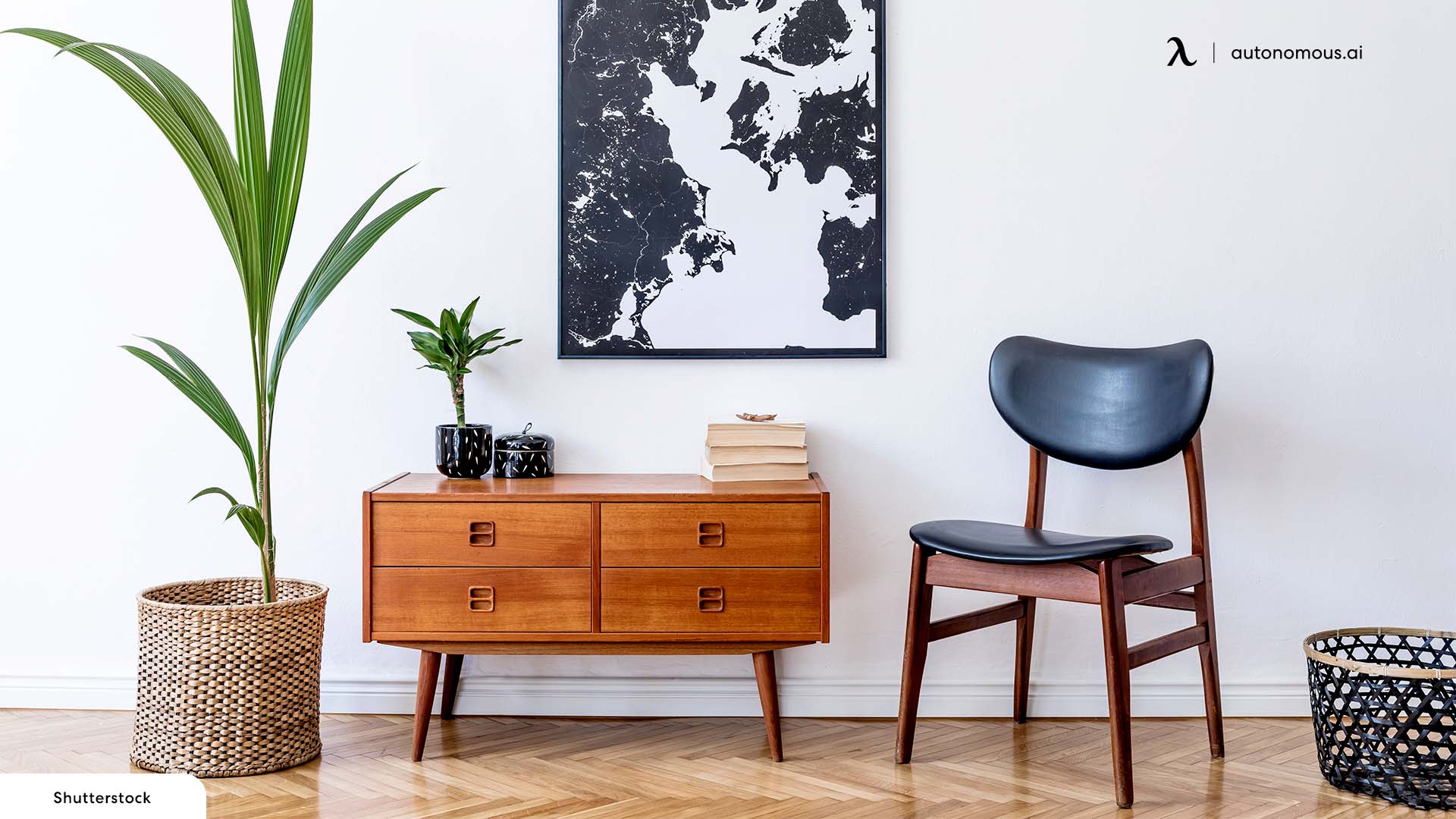 6. Create a Separate Workstation with an Open Plan Space Divided by Doors
If your current desk for dual monitors is part of a public plan structure and you cannot simply seem to obtain the calmness you need, consider shutting off the side you're operating in with shutters or doors. Sliding doors require less space as compared to hinged doors, and then if you select ones with personality, those will make an aesthetic impression and be functional. Coloring the office space, a darker, more expressive color divides it and provides evidence that it has a distinct function compared to the majority of the plan.
7. Rethink Windowless Areas You'd Passed Over
Take a new look throughout your home - check if there is any free space you previously classified as undesirable, possibly due to a lack of natural daylight? It could even be an insulated pantry with a removable partition wall or the rear half of a large living room and kitchen. Instead of using the area only for a workspace, go for a fragmented design and build a curved monitor desk setup with transparent inner walls and a door – that lets natural light in for a while, keeping noise from everyone else out.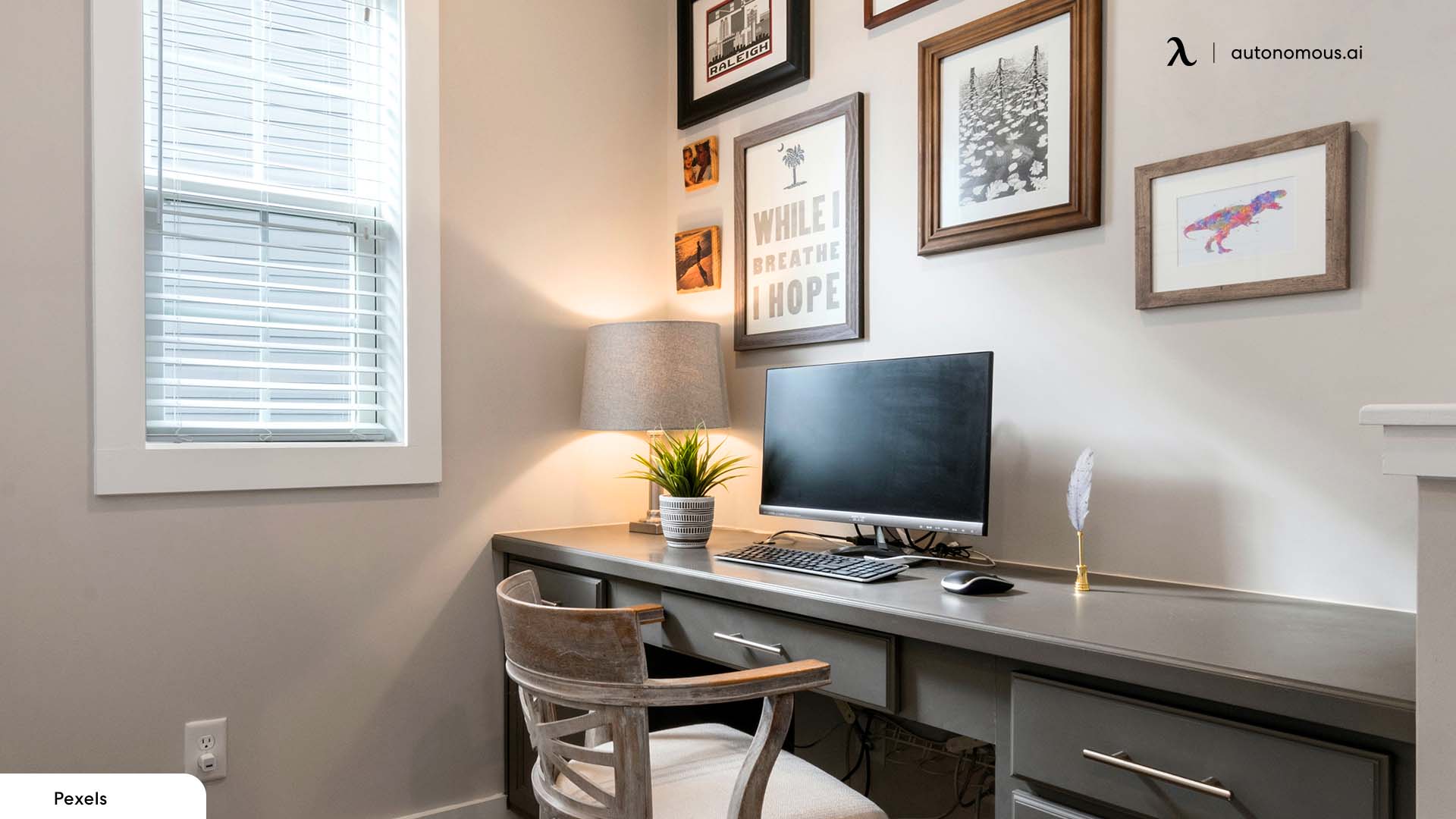 8. Buy a Purpose-Built, Self-Contained Home Office
The easiest approach to establishing a concealed laptop and monitor setup is an all-in-one solution, such as a separate home office. When not in use, an office built into a dresser for hidden monitor desks is ideal for concealing the monitor. When the doors are closed, it seems to be a stylish piece of equipment – and you could have it repainted and select door furnishings to match your design. It becomes a perfectly usable compact home office when the doors are opened. The clever part is that the shutters should be pivoted so they may loop all around the sides and be used as a pinboard. It should also provide the proper height for the monitor. This dresser or workspace has flexible shelves, pull-out drawers, and a typical hole to cover all of your cables.
9. Color Coordinate Your Desk Storage
Color-coordinate your workplace and craft items in clear jars and complementary containers to combine utility and style. Instead of wasting valuable work space, utilize empty wall space by adhering them to lined shelves.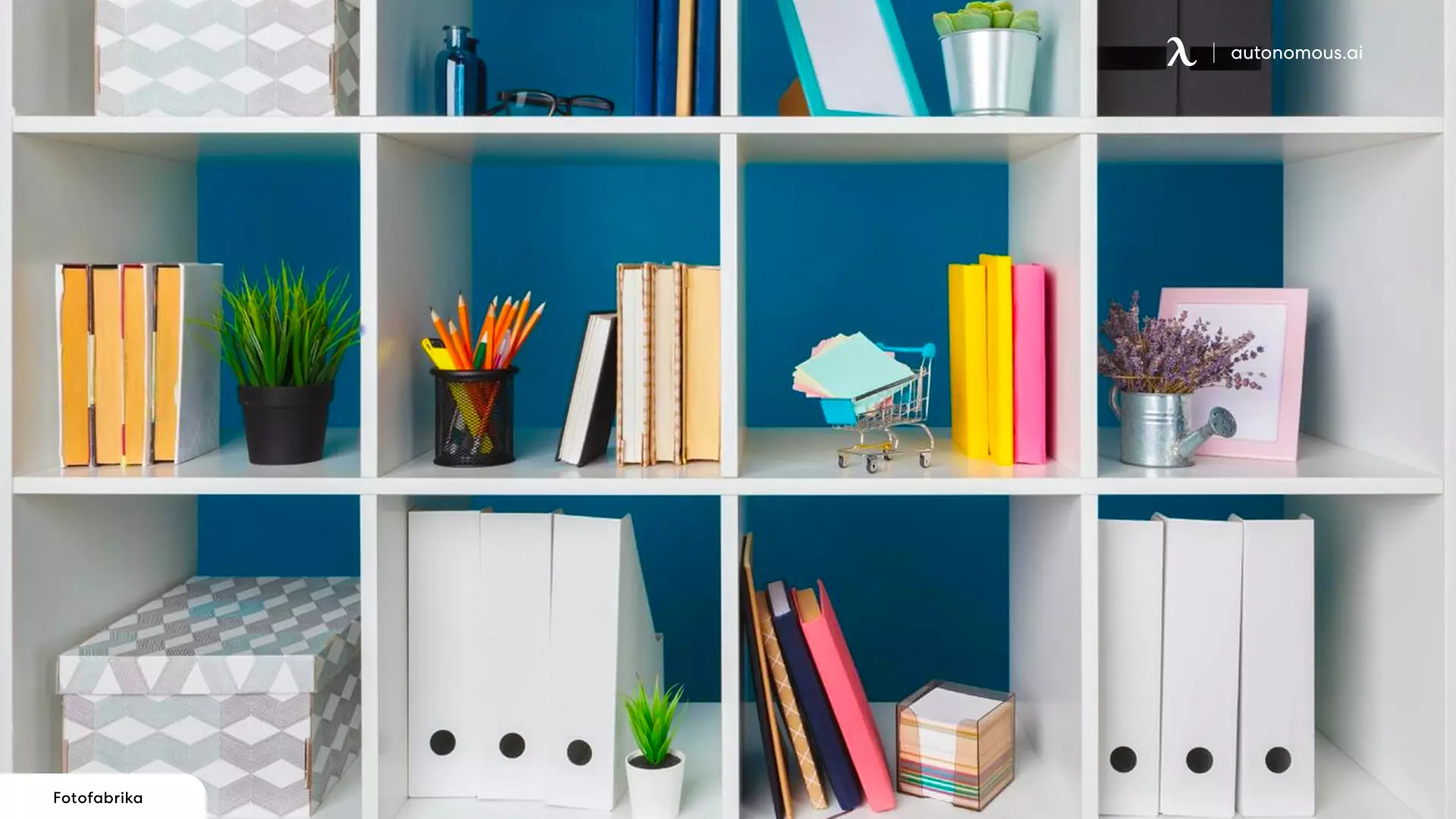 10. Desk Under the Stairs
If you wonder how to hide monitors on a desk, this is a great idea for you. If done tastefully, desks tucked beneath stairs can be very effective. You can also plan storage options that match your needs. a designed delicate woodwork will complement well to an under-stair desk idea. This strategy keeps the area organized and visually clear, which is ideal for a small space.
11. Wall Divider
A wall divider isn't just for privacy but, in the modern world, can work as a private office. Use a wall divider to define a boundary between work and office. You can use the wall for important notes, post-its, or work reminders that slip off your mind regularly.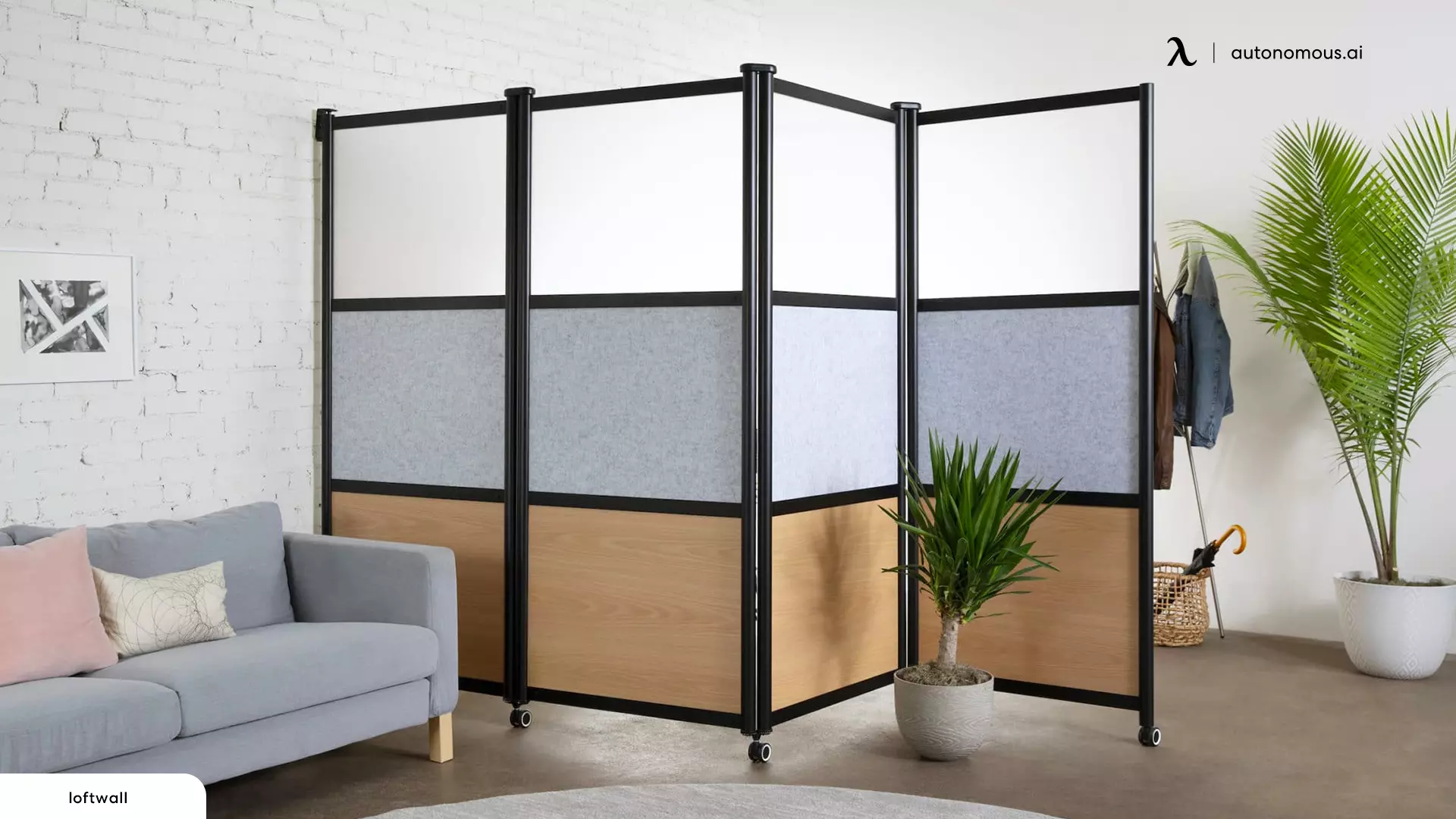 12. Look for Ignored Space
Look around your house with fresh eyes. Is there any unutilized space that you weren't paying attention to because it was dark and secluded?
Well, a little work can be done to make it shine. It could be a locked cabinet with a stud wall you can take down or the opposite end of a long kitchen/diner and living area. Start being creative.
13. Closet Desk
Have some extra closet space? You might be low on shopping sprees these days, and there is another benefit of that other than just saving money. A closet desk is a wonderful hideaway idea that can be used for a home office setup. Mount a platform inside your closet and use it for your work needs. Make arrangements for other accessories and invest in a cable management system.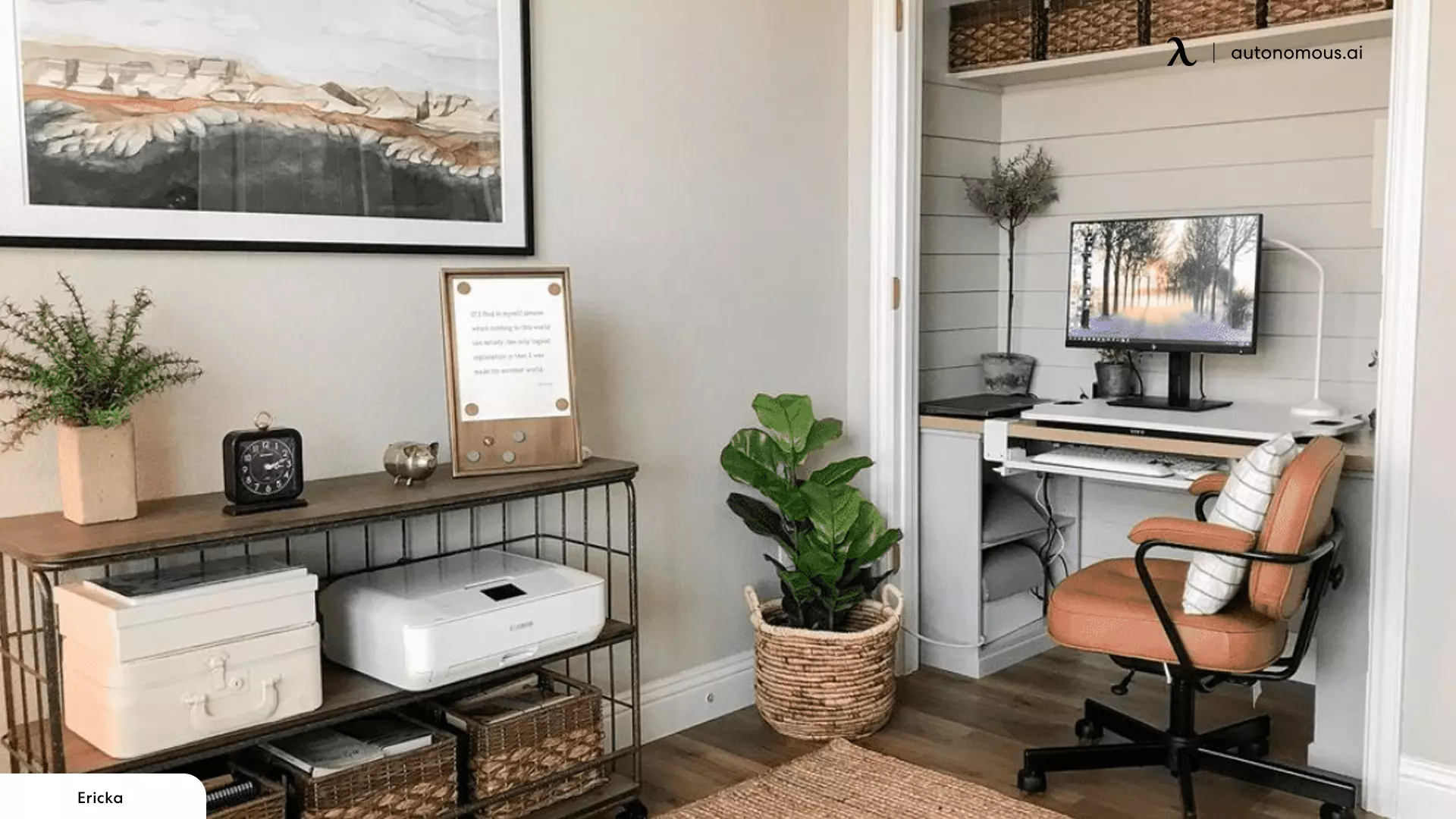 14. A Desk with a Door
You have seen rooms with doors and closets with doors, but a desk with a door is a new idea. After all, we promise some unique ones for you. If you cannot manage a full space for your work, mount a fold-down desk for a corner of the wall. Dress up your desk with some essentials and work peacefully.
15. Mirrored Desk
This seems like a great investment, but we promise you will not regret it. The mirror trick works great when looking for a hideaway desk idea. Elegant mirrored furniture will appear lovely, improve your bedroom, and won't obstruct the view where you might want to hide a workspace if it is kept tidy and handled with care.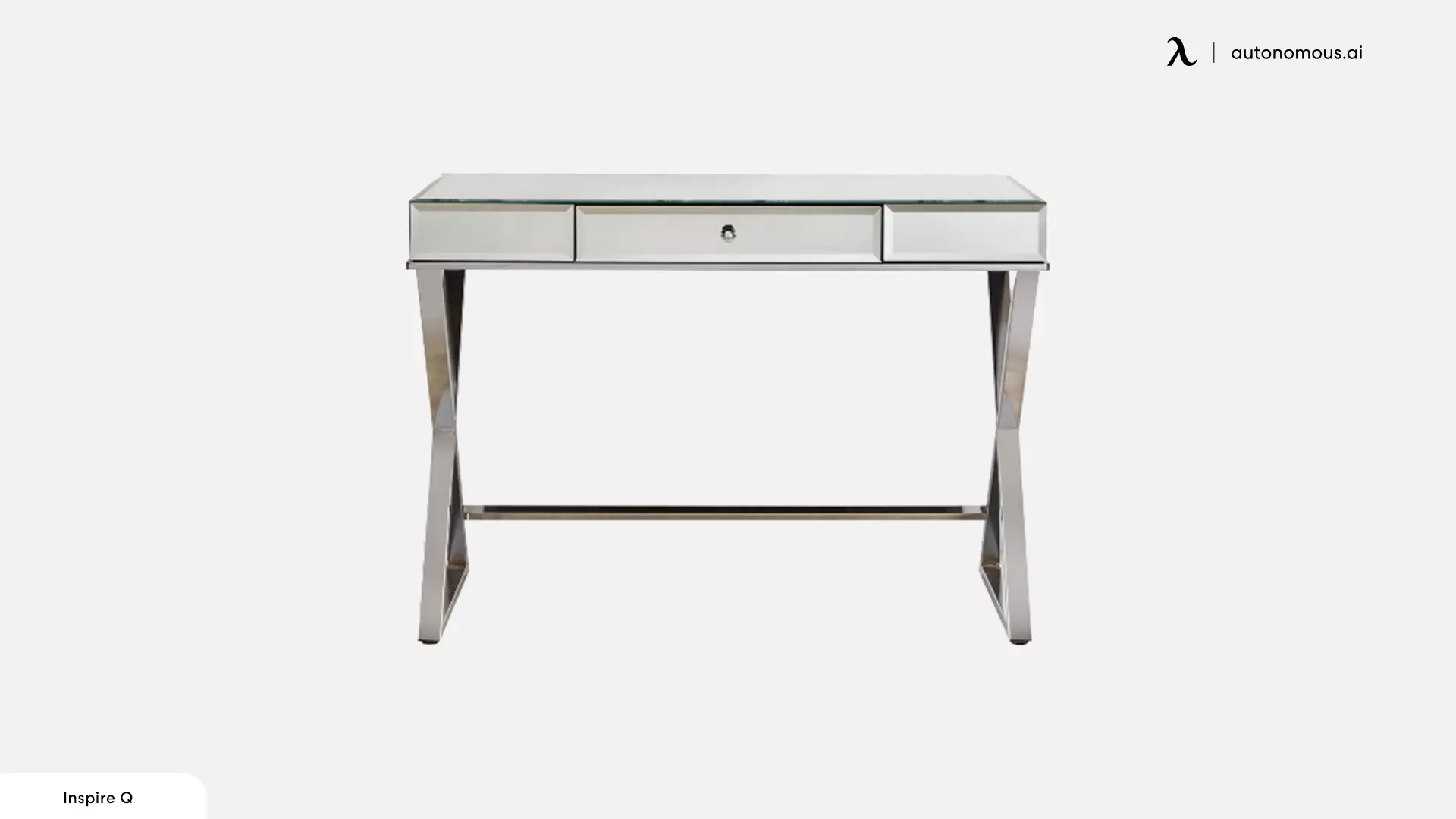 16. Work Desk Out of Dresser
Are you worried about not having the budget to spend on a different desk? You need to look in the right direction. Your room dresser can be a great part-time work desk when you need it. If you're beginning from scratch, join a piece of plywood to a set of dressers that match. The spacious dresser drawers, unlike typical desks, provide you with plenty of room to store creative items, school books, and electronic equipment.
17. Vanity Office
Turning an unused bedroom vanity into a workstation is one option if you want to work from home but lack office space. You can decorate it as you please and have a private work space for which no one will come.
Conclusion
Workstations, including monitors, may be hidden in lounge rooms or your dedicated home offices. The less obvious approach to disguise a desk is to position it just behind a piece of furniture, such as the backrest of a couch - this works especially well in open-concept spaces. Another alternative to hidden monitor desks is to place a desk in a lounge room corner - inside a cabinet is the ideal way to conceal it, but select one with a lighter finish to avoid looking cumbersome. You can also hide a workstation in a lounge room by employing a monitor display to pull over it when not being used.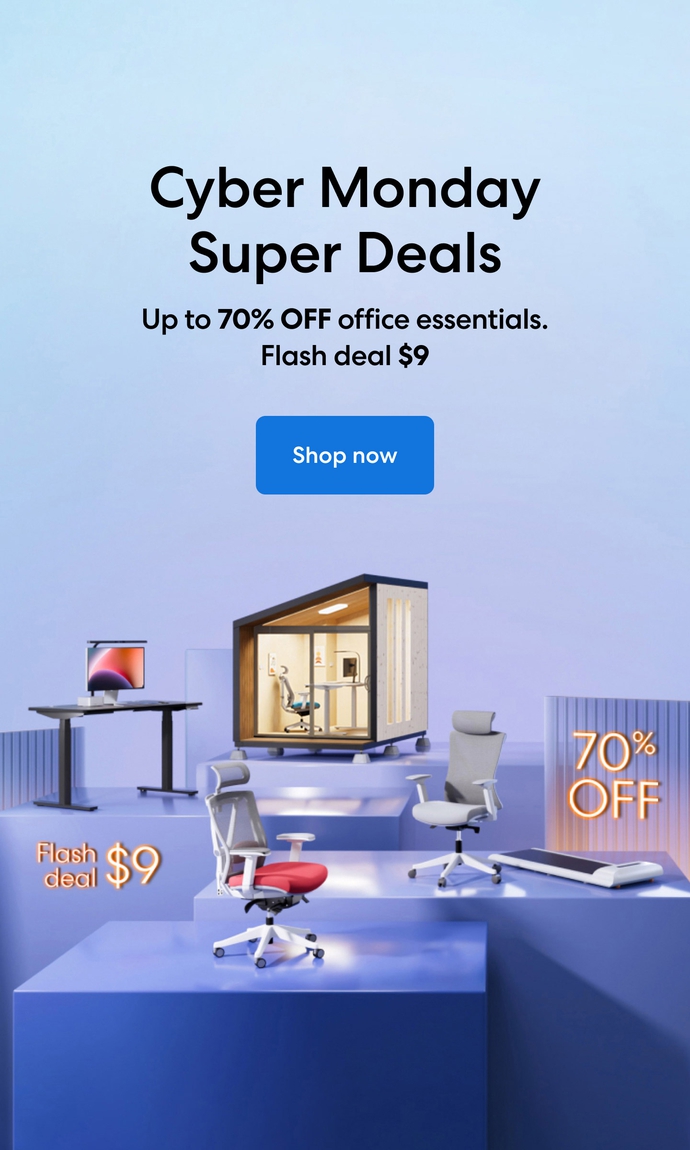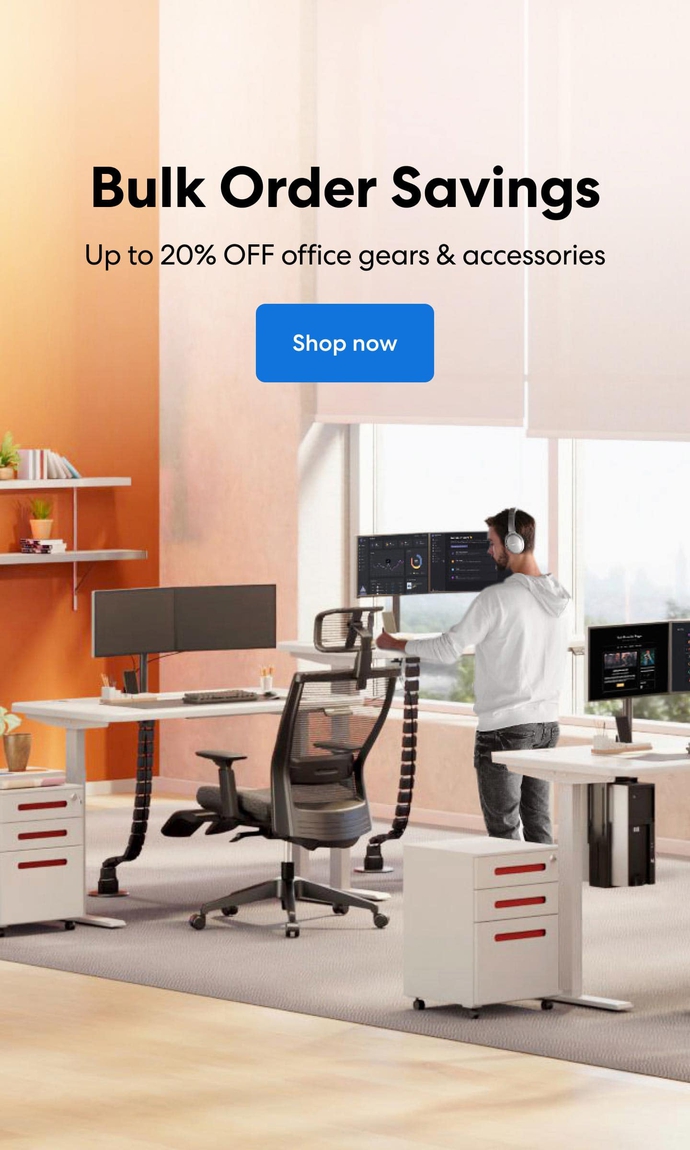 Subcribe newsletter and get $100 OFF.
Receive product updates, special offers, ergo tips, and inspiration form our team.