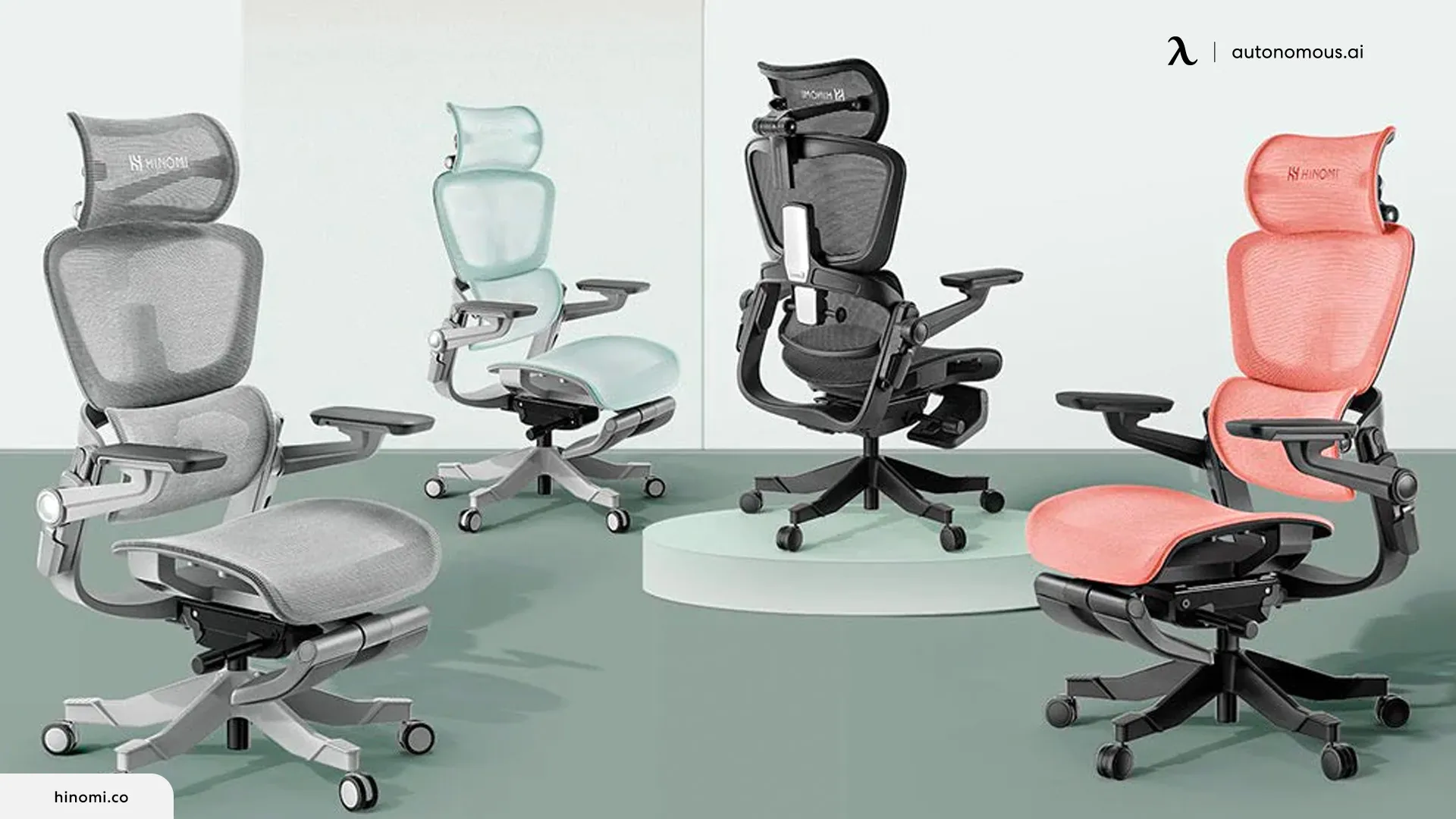 Smart Products
Hinomi Chairs Review 2023 | Double Lumbar Support for Comfort

Ethan Johnson
|
Oct 30, 2023
1,393 Views
Office ergonomics have become a major talking point in recent years, which is why you need to consider buying a Hinomi chair for your office. There is simply too much evidence proving the link between long office hours and poor structure for you to ignore. 
However, choosing the best office chair for your needs is not easy, which is why we decided to do the heavy lifting for you by compiling this in-depth Hinomi chair review. 
While this might not be the right place to look for the best office chair under $200, this review will help you choose from the hundreds of ergonomic chairs being sold online by different furniture manufacturers. 
About the Hinomi Brand
Hinomi is a growing office chair manufacturer from Singapore that is dedicated to promoting an ergonomic culture in the workplace. The brand has managed to spread its wings across the globe, and it now has branches in Europe, the UK, the USA, and Canada. 
One of the reasons for its widespread appeal is the flawless way the Hinomi chair designers can balance ergonomics and elegance. With a Hinomi ergonomic chair, such as the popular Hinomi H1 Pro, you can enjoy the best of both worlds in terms of health and style. 
Hinomi has become a favored brand for people in the market for office saddle chairs, and its online store is full of awesome products for customers to browse through.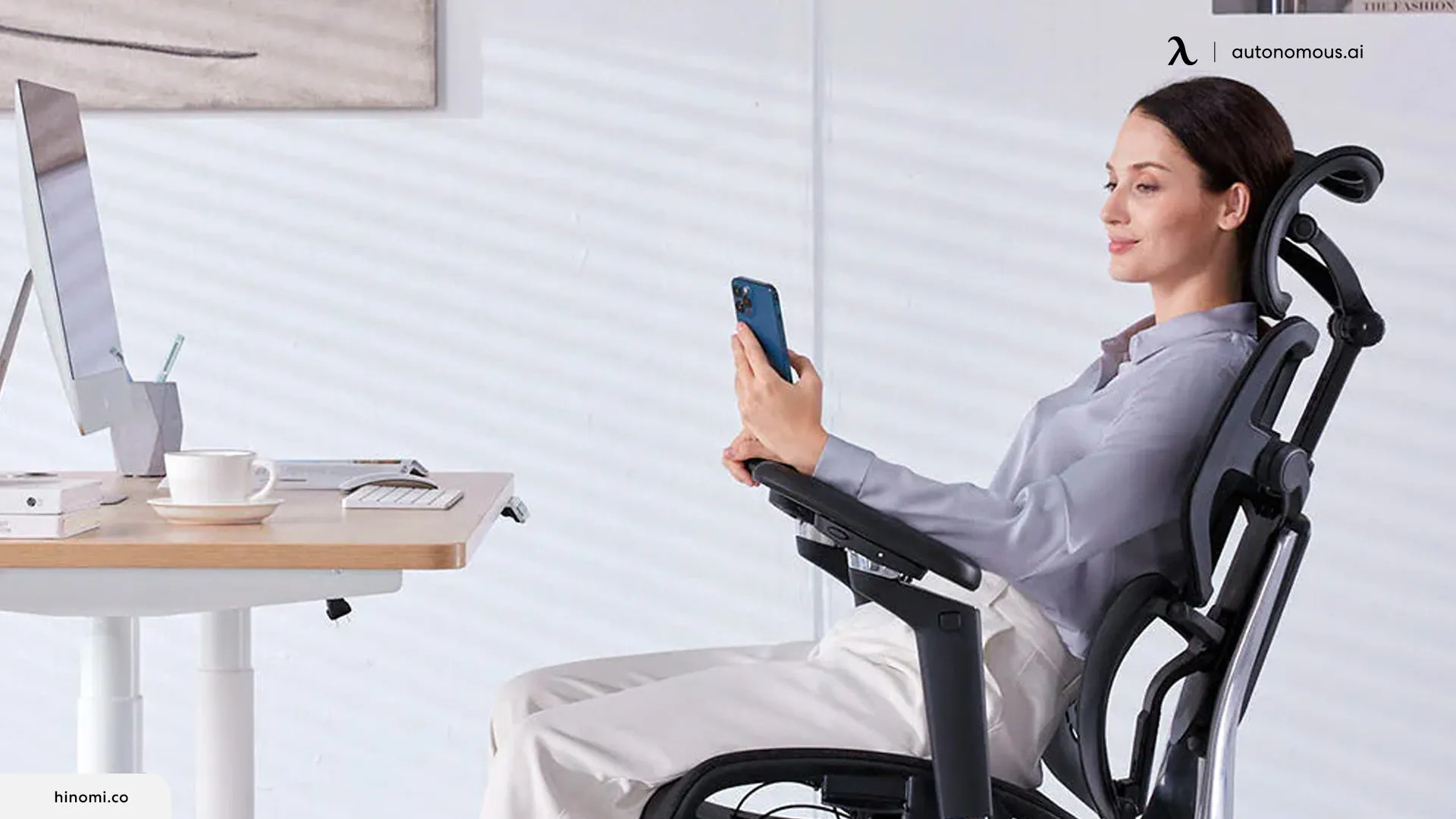 How We Picked and Tested Our Hinomi Chairs?
Choosing the best Hinomi chair requires considering a number of factors that will affect the suitability of the desk chair. No wheels on an office chair, for example, is a deal breaker for us because we want an ergonomic option that allows maximum freedom of movement. 
As such, when we picked and tested our Hinomi chairs, we considered the following: 
Ergonomic capabilities and lumbar support
Comfort
Design
Range of features
Budget
Quality of material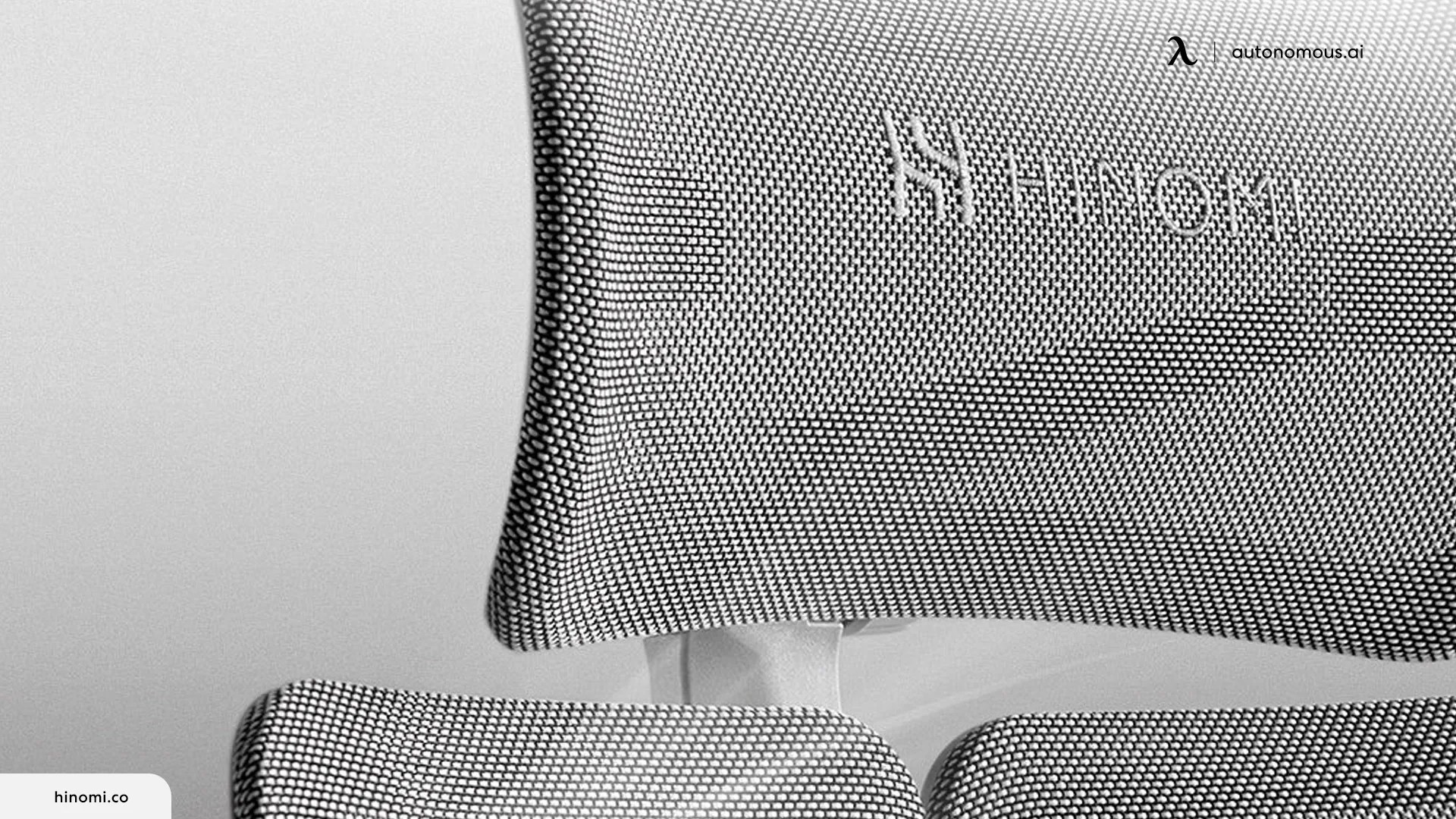 Who This Review Is For 
This Hinomi chair review is meant for anyone who is in the market for a high-quality ergonomic computer chair that meets all the needs of a modern office in 2023. If you have been struggling to find the best chair for your needs, you have come to the right place. 
Need Superior Lumbar Support? Try These Top-tier Hinomi Chairs
With the right chair and the best accessories, you can boost your productivity and take good care of your health and posture. The following Hinomi chair options passed all our tests with flying colors, and they would be an excellent addition to your office: 
1. H1Pro V2 Ergonomic Office Chair
When we tested these Hinomi chairs, the most important feature we were after was lumbar support. Based on that, the H1Pro V2 Ergonomic Office Chair proved to be more than capable of meeting the needs of all our team members when it came to providing ergonomic support.
Features 
From the moment we unwrapped and assembled the H1Pro V2 Ergonomic Office Chair, my eyes were immediately drawn to the intricate 5D armrest design. No matter which angle I chose to sit at, the armrests could easily be adjusted to provide constant support. 
As I said before, this chair has highly capable ergonomic features for lumbar support. I would go as far as saying the Hinomi H1 Pro has the best 3D lumbar support I have ever encountered. That is a huge bonus considering the competition this chair is up against. 
If you are worried about comfort, you will be more than satisfied with the adjustable recline, backrest, headrest, armrest, and height. It also has a retractable leg rest, which comes in very handy when you are reclining at the maximum angle. 
Considering how sophisticated and modern this chair looks, I was a bit worried about the assembly. However, as it turns out, I didn't have to worry at all. The assembly process is very easy. Even without the help of my team members, I was able to set up my H1Pro V2 Ergonomic Office Chair in just 5 minutes. 
Our offices are located in a very hot part of the country, so the breathable mesh was a welcome addition. It is also made of fire-resistant material, which is not something you find in many chairs these days. 
Speaking of material, the Hinomi H1 Pro is made of the highest quality materials that give it a robustness that we did not expect in such a luxurious-looking chair. It is no wonder the manufacturers were confident enough to give customers a massive 12-year warranty on this chair.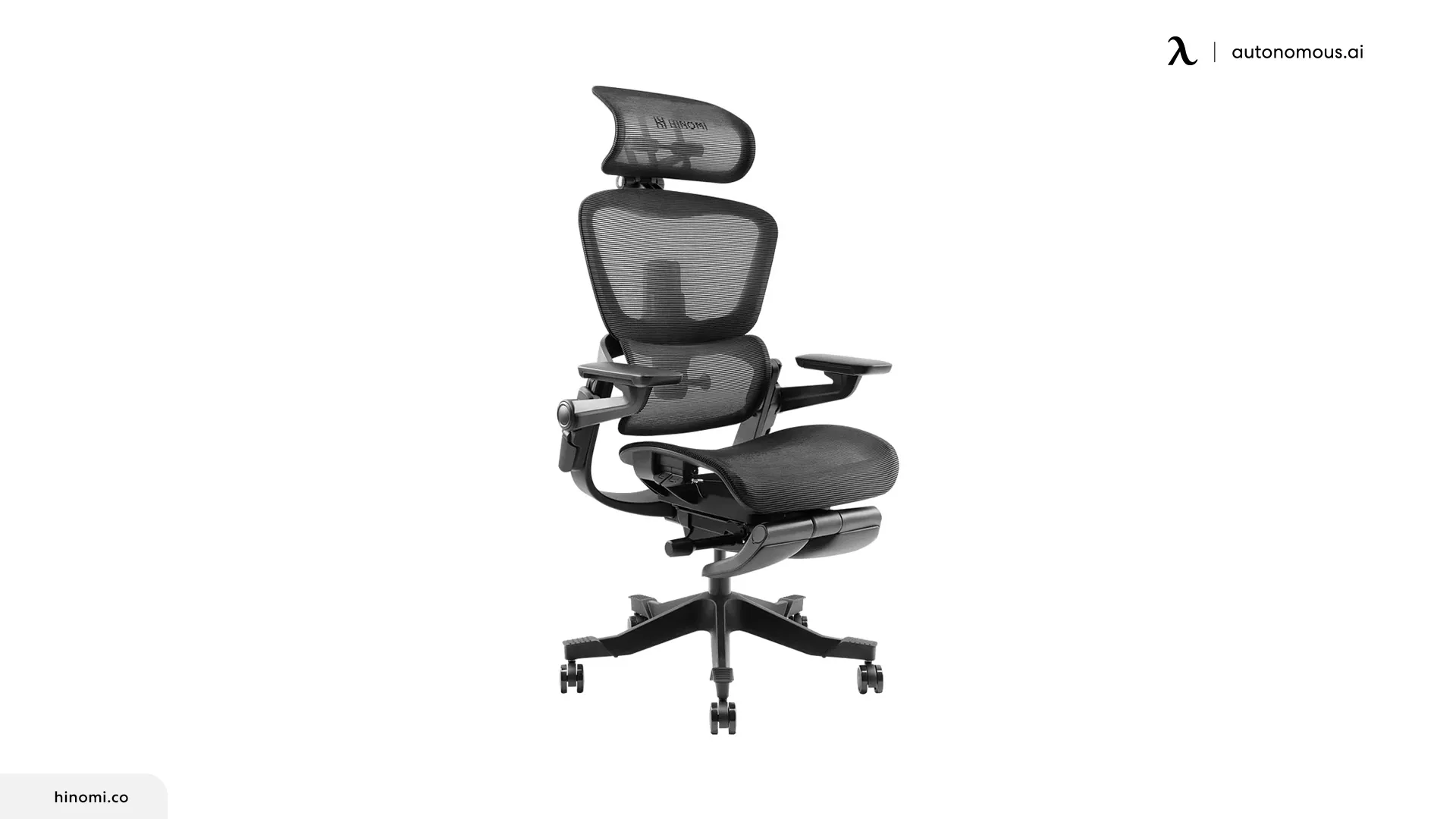 H1Pro V2 Ergonomic Office Chair
Pros

Cons

Elegant design
A bit expensive if not for the Autumn sale
12-year warranty
Highly adjustable features
Extraordinary lumbar support features
Breathable mesh back
2. X1 High-end Ergonomic Office Chair
If you want to buy something special to go along with your executive office design, look no further than the X1 High-end Ergonomic Chair. 
Features 
As the name suggests, this is a high-end chair that is designed to be a step ahead of all the other similar ergonomic chairs in this category. 
To start, the X1 has an unbelievable 6D adjustable armrest, which is something we came across for the first time while trying out this chair. This feature allows you to easily adjust the chair's armrests to suit the size of your body and the angle you want to sit.
When we took turns using the X1 High-end Ergonomic Chair, each team member was able to adjust the armrests to their preferred setting easily. 
The X1 High-end Ergonomic Chair also comes with a four-panel backrest that provides unsurpassed lumbar support throughout the day. Those long office hours did not seem so long when sitting in this chair. This one is a shining example of what perfect lumbar support is all about. 
What I also loved about this chair is the top-quality feel it has – it just shows you it was built to last. The choice of materials guarantees that if you use it well, the X1 High-end Ergonomic Chair will outlast the 12-year warranty it comes with. 
With the X1 High-end Ergonomic Chair, you can finally say goodbye to lower back pain. Even our most consistent workaholics reported feeling a lot more comfortable sitting in this chair for long hours. This was mainly due to the 3D gentle yet precise lumbar support feature that you will only find on the X1 High-end Ergonomic Chair. 
Some of our team members have a great appreciation for the finer things in life. As such, they are not easily impressed when reviewing office chairs. However, the looks, comfort, and features of the X1 High-end Ergonomic Chair blew them all away, which gives you an idea of what to look forward to.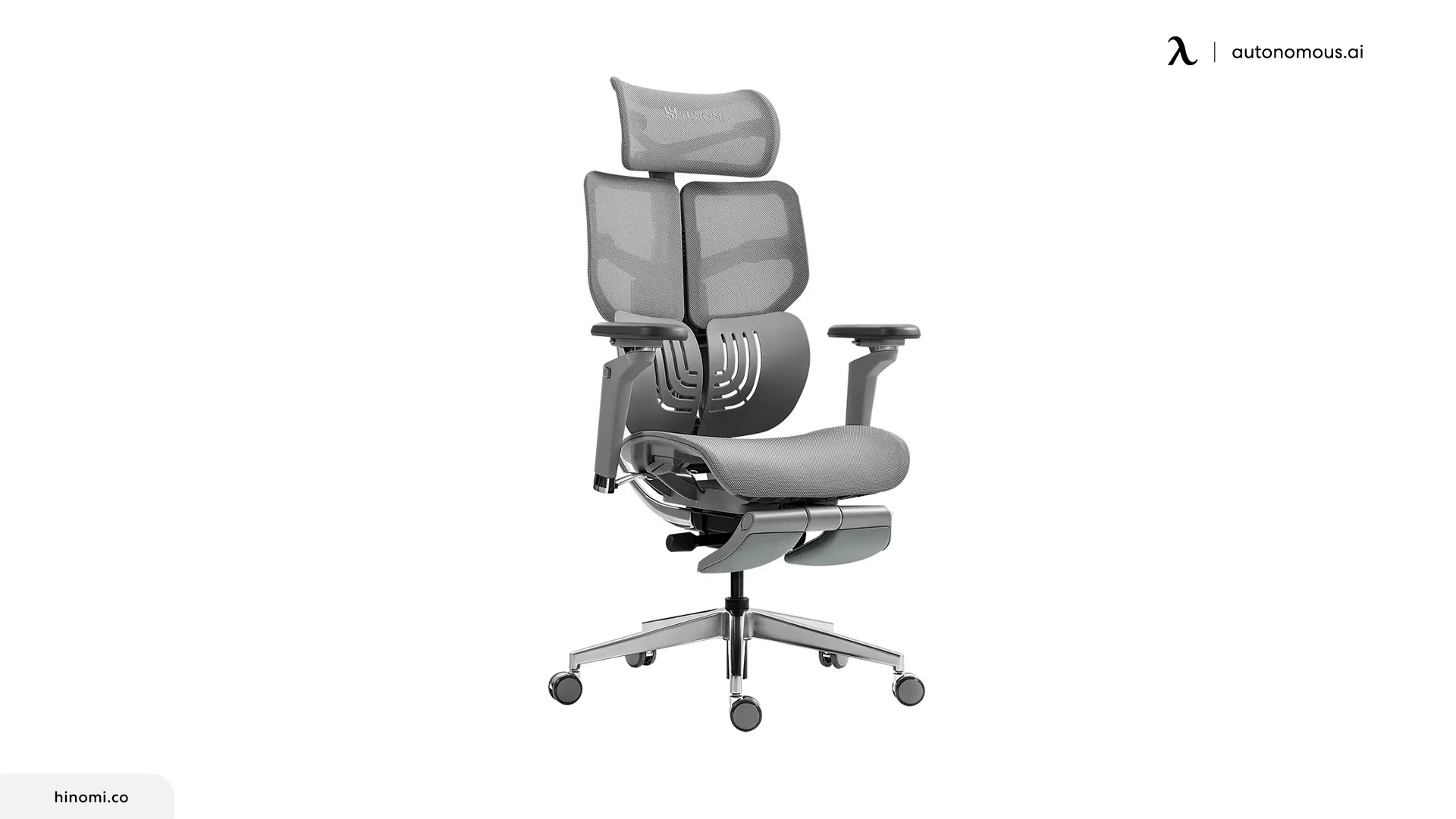 X1 High-end Ergonomic Office Chair
Pros

Cons

Incredible 3D lumbar support
Limited color options
Easily adjustable features
High-quality material
12-year warranty
3. H1 Pro Ergonomic Gaming Chair
Are you an avid gamer? The Hinomi H1 Pro Ergonomic Gaming Chair would be a worthy addition to your game room. If you are looking for the best big and tall office chair, this chair can rise to the task. 
Features 
The Hinomi H1 Pro Ergonomic Gaming Chair is a chair that was designed from scratch with the needs of gamers in mind. I consider myself a serious gamer, so this is the one chair I was eager to try out very quickly. 
Luckily, the assembly process was not difficult, so I was able to set up the chair in just a few minutes. Once it was ready, I was immediately struck by the sophisticated design. When you see how the lines and colors have been selected for this chair, it is clear that it was made to be the centerpiece of any gaming room. 
One thing all gamers know is that in the heat of the moment, it is difficult to sit still. You will be constantly moving around all over the place, so you need a chair that will provide ergonomic support, as well as freedom of movement. That is a tough combination to have, but the Hinomi H1 Pro Ergonomic Gaming Chair makes it look easy. 
I took this chair for a spin by playing a few intense games, and I was very happy with the support and freedom I got from the Hinomi H1 Pro Ergonomic Gaming Chair. Its neck support effortlessly follows your every movement while ensuring that you always have the ergonomic support you need. 
The backrest is controlled by four gears, and each provides a different level of support depending on how you want to sit. Since everyone has a different requirement when it comes to lumbar support, the Hinomi H1 Pro Ergonomic Gaming Chair accommodates all gamers by having five different settings. 
This Hinomi chair also has the superior upholstery to provide unparalleled comfort. If you regularly spend many hours immersed in your favorite game, this is the kind of chair you will want to avoid back pain and sore legs.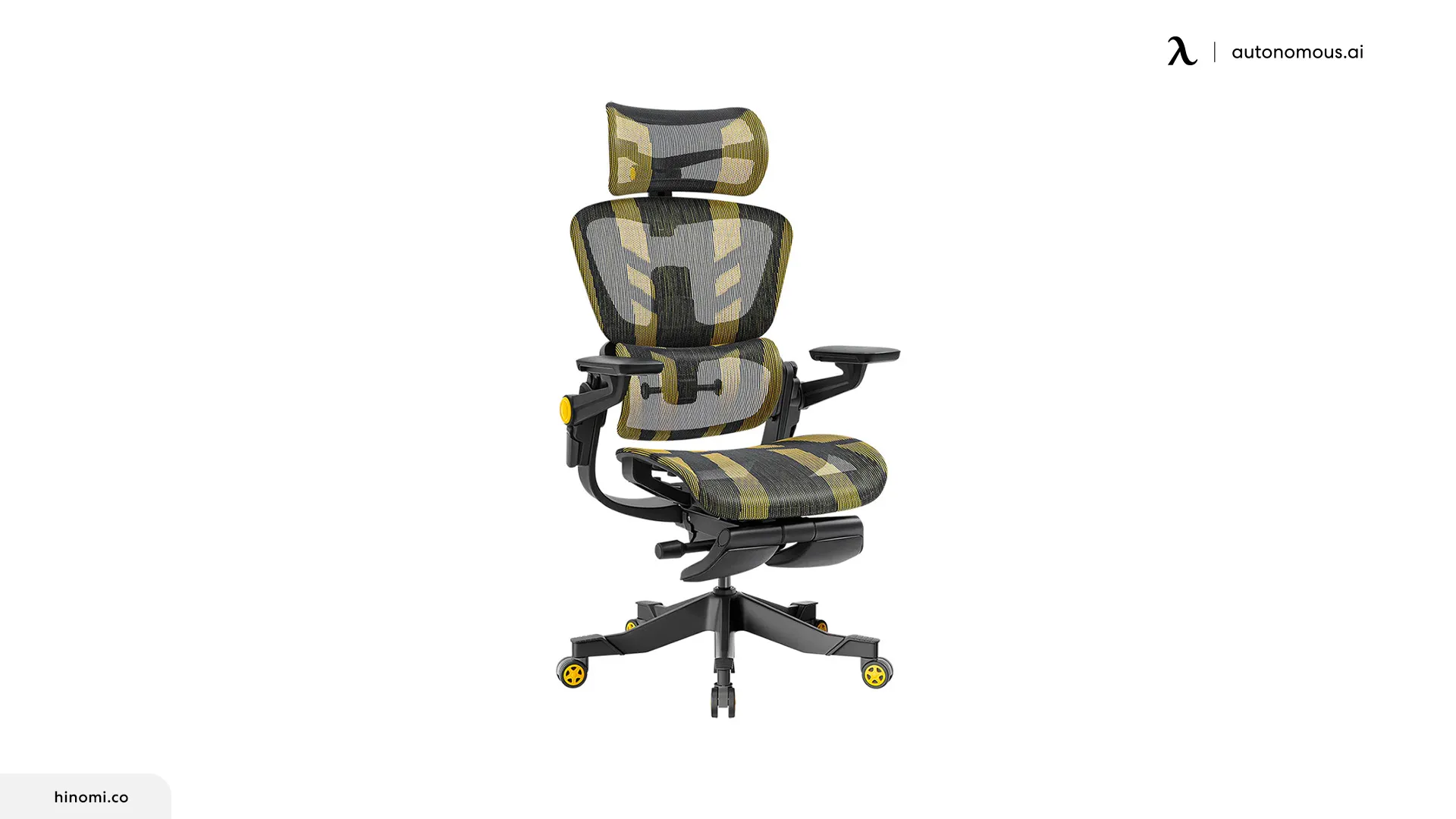 H1 Pro Ergonomic Gaming Chair
Pros

Cons

Adjustable lumbar support
Not suitable for conservative office designs
Perfectly designed for gamers
Adaptive neck support
Vibrant colors and design
Superior comfort
4. H1 Classic Ergonomic Office Chair
The last addition to our list of the best Hinomi chairs for lumbar support in 2023 is the H1 Classic Ergonomic Office Chair. I like to think of this chair as one of the pioneers of the Hinomi Ergonomic chair movement. Surprisingly, it still has a lot to offer. 
Features 
The stand-out feature of the H1 Classic Ergonomic Office Chair is the impressive lumbar support that you can enjoy from the moment you sink into the arms of this awesome chair. Its lumbar support feature has a simple yet very effective design that allows it to provide adequate support to the lower back regardless of who is sitting in it. 
While the H1 Classic Ergonomic Office Chair comes with a useful pair of armrests you can easily flip them up and out of the way when not needed. This was especially useful when some of the heavier members of our teams tried the chair for themselves. Instead of feeling trapped between the armrests, all that was needed was to get them out of the way and enjoy better movement. 
The H1 Classic Ergonomic Office Chair also has a high-quality breathable mesh design for its backrest. It is made from fire-resistant material, which is a bonus to give you peace of mind. 
This chair does not always come with a headrest, so if you want one, you will have to add it to your purchase as an option. Maximum ergonomic support requires all the body parts to be well supported, so a headrest is not something you should do without. 
If you regularly spend long hours in your office working behind your desk, you will appreciate how useful a good recline feature can be for stretching your body now and then. The H1 Classic Ergonomic Office Chair can recline to an impressive 136 degrees, which is more than enough to help you relax during the day. 
Finally, the heavier members of our team loved the fact that the H1 Classic Ergonomic Office Chair has a maximum weight capacity of 300 pounds. This is perfect for every member of our team and very surprising considering that the chair only weighs 55 pounds.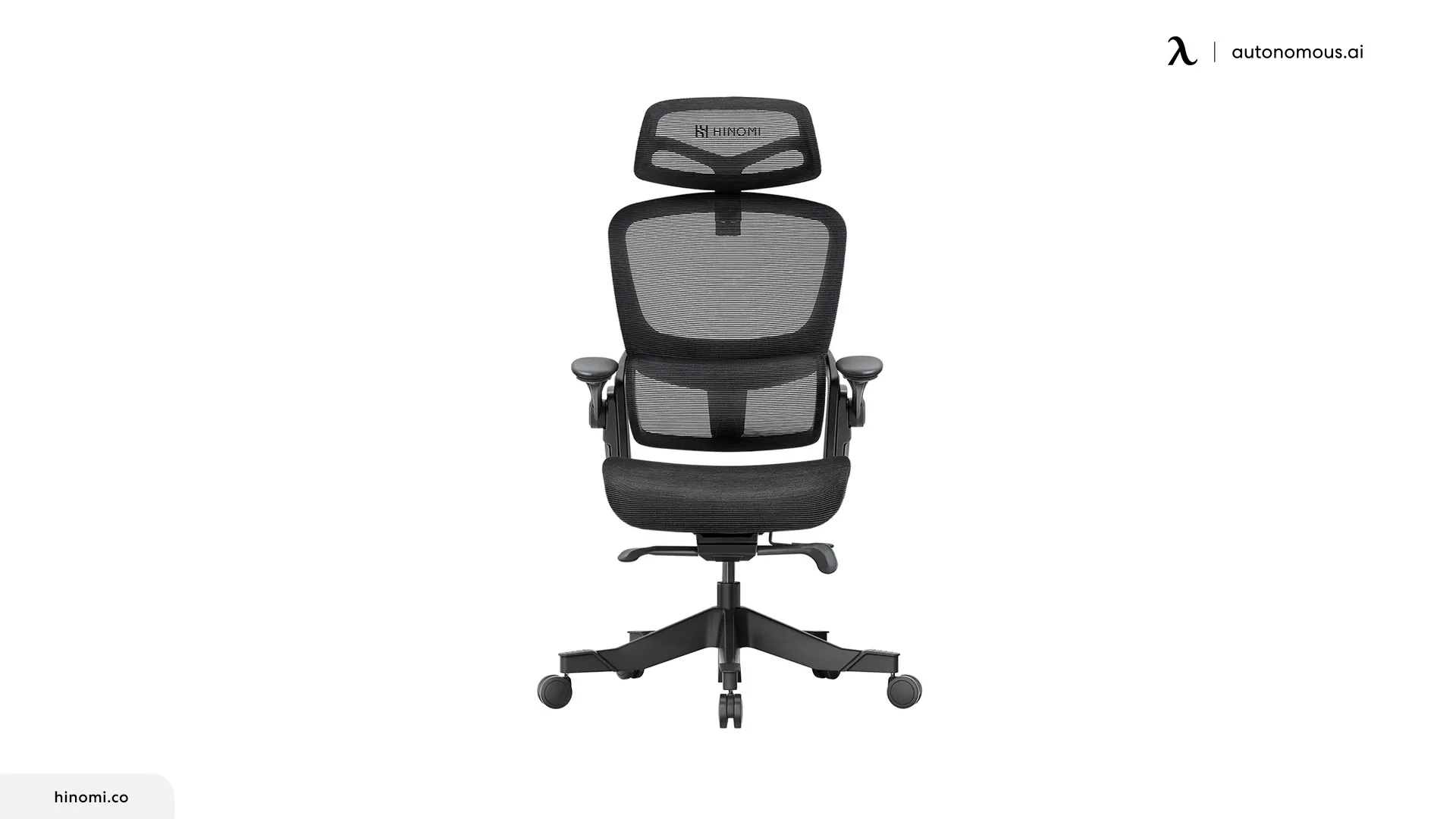 H1 Classic Ergonomic Office Chair
Pros

Cons

Simple yet elegant design
Headrest is optional
Easy to adjust
Limited color options
Can hold up to 300 pounds
Great recline feature
Effective lumbar support
Our Top Pick
As difficult as it was to pick the best chair from these great options, our job would not be complete if we didn't agree on an overall winner. After much debate, the H1Pro V2 Ergonomic Office Chair came out on top compared to the best chair brands we have ever tested. If you are looking for chairs for scoliosis or back pain, the Hinomi H1 Pro will not disappoint.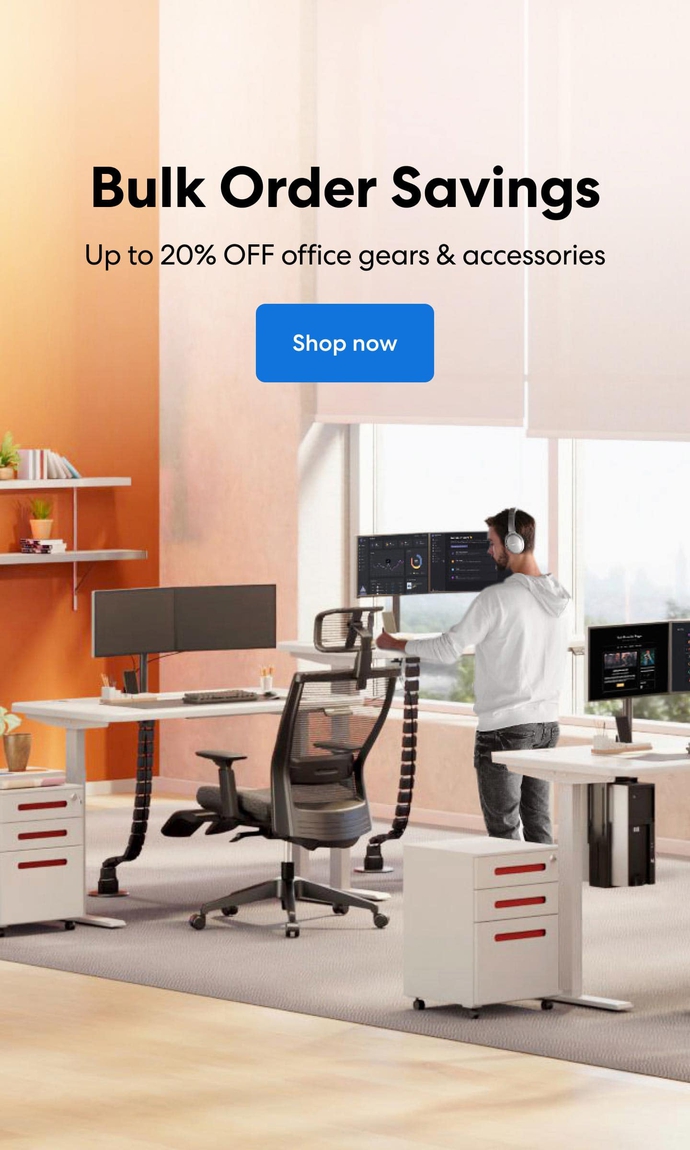 Subcribe newsletter and get $100 OFF.
Receive product updates, special offers, ergo tips, and inspiration form our team.