Smart Products
15 Top-Rated Triple Monitor Stands for 2023: Enhance Your Setup
3,304 Views
Having three monitors on your desk is no longer something that is regarded as unusual these days. In fact, it has become rather common, and as such, a lot of people find themselves looking for a triple monitor stand and a sit-stand desk that can handle their needs. 
Buying a tri monitor stand may seem like it's too much at first, but once you get used to it, you will learn to appreciate the added space and convenience of having a love of space to work on. Thanks to the Autonomous employee purchase program, finding the right 3 monitor stand, as well as all the accessories that go along with it, is very easy and affordable. 
This review will look at the best triple monitor stands you should consider buying, as well as give you some great advice and a full guide for a triple monitor setup. 
What is a Triple Monitor Stand?
A triple monitor stand is a mount that holds and supports three monitors on a single stand or mount, often used for increased productivity or gaming setups. It comes in various designs and sizes with adjustable arms or mounts for custom positioning.
Great Triple Monitor Stands
Want to speed up your workflow and increase efficiency? If you need a triple monitor stand, go no further than our hand-picked selection of the 14 greatest options. We have a wide variety of options, including mounts for three monitors and flexible arms and supports.
In addition, you may choose from several monitor stands, such as a monitor stand with a drawer, a portable monitor stand, or a monitor shelf for a desk. Whether you're a gamer, a designer, or a professional that wears several hats, you'll find helpful tips in our guide. The best 3 monitor stands for your three-screen setup and is only a read away for you!
Now that you have decided to get a brand new set of computer monitors, it is time to look for the right triple monitor arms to help set them up nicely on your 3 monitor standing desk. Here are some of the best options you can choose from: 
1. Mount-It! Triple Monitor Stand Mount
This one is for the big screen lovers because the Mount-It! Triple Monitor Stand Mount can support monitors with up to 32 inches wide screens. The counter-balanced gas springs make mounting up large screens very easy. That's not all this stand has to offer, with added features, such as a USB and audio port, along with matching cables on each arm. 
The Mount-It! Triple Monitor Stand Mount can hold up to 15 lbs on each arm and comes with a five-year warranty.
2. Mount-It! Triple Monitor Arm Stand
The Mount-It! The Triple Monitor Arm Stand can support up to 53 pounds, making it an ideal mounting option for three monitors of varying sizes (up to 27 inches apiece). The gas spring mechanism and completely flexible arms provide for simple personalization and optimal positioning. See how it may revolutionize your work environment by giving it a try.
3. Mount-It! Triple Monitor Arm: Full Motion
The maximum weight the Triple Monitor Arm can support is 53 pounds and accommodate displays up to 27 inches in size. Its gas spring technology makes mobility and adjustment a breeze, while its solid build and cable management system provides a clutter-free work environment. Whether you want to save desk space or improve your comfort, this triple monitor arm is the way to go.
4. Northread Triple Monitor Electric Sit Stand Workstation
The Northread workstation is a versatile mounting solution that can hold displays up to 19 inches in size and weighing up to 20 pounds each. This triple monitor mount's sturdy construction and clamp-on d sign provide a secure and space-saving option for any workspace.
5. Mount-It! Corner Desk Monitor Stand
The Mount-It! Corner Desk Monitor Stand offers three height settings and can hold displays up to 27 inches in size and weighing up to 22 pounds. Its space-saving design is perfect for corner desk setups and its adjustable height settings provide ergonomic comfort. Check it out and learn more about how to measure monitor size for the perfect fit!
6. MOUNT PRO Triple Monitor Desk Mount
First on our list is the Mount Pro Triple Monitor Desk Mount with integrated cable management and an advanced gas spring support system. This is one of the best quality options in its category and comes at an affordable price too. 
Some of its stand-out features include a 90-degree swivel action combined with 360-degree rotation. This versatile 3 monitor mount is also easy to set up in just 10 minutes. 
7. MOUNTUP Triple Monitor Stand Mount
Specifically designed to make working with three monitors less strenuous on your body, the MOUNTUP Triple Monitor Stand Mount is the best choice for those looking for an ergonomic stand. Thanks to the 17-inch height adjustment pole, this mount can be easily adjusted to your perfect height for maximum comfort. 
However, the brilliant space-saving design is somewhat let down by the arms that have a tendency to bounce around a little more than is normal. 
8. WALI Premium Triple LCD Desk Mount
If you are looking for an all-black tri monitor desk mount that has a beautiful and sleek design to compliment your screens, then your search is over. The WALI Premium Triple LCD Desk Mount combines good looks and an increase in efficiency that is top of its class 
With its two-stage locking system, you can be assured that this triple-monitor arm will keep your monitors safe and secure on your desktop. On top of all that, you also get a 10-year warranty. 
9. ECHOGEAR Triple Monitor Desk Mount Stand
The stand-out feature of the ECHOGEAR Triple Monitor Desk Mount Stand is its top-of-the-range ultra-smooth 370-degree swivel action. No matter which angle you decide to set up your stand, you will be guaranteed the best possible view in your preferred comfortable sitting position. 
This 3 monitor stand easily supports large 27-inch monitors with a maximum weight of 20 lbs, and thanks to its wobble-free clamp, the whole structure will remain steady while you work. 
10. Vivo Triple LCD Computer Monitor Desk Mount
Just one look at the Vivo Triple LCD Computer Monitor Desk Mount and you will know that what you have on your hands is a truly heavy-duty tri monitor stand that will handle any requirements you might have. This is a top-tier stand that guarantees customer satisfaction. 
With its three-year warranty direct from the manufacturer, you can rest assured that in the unlikely event that there is an issue with the stand, you will receive all the technical support you might need. One slight drawback is that only the center arm can be height adjusted and not the other two side arms. 
11. HUANUO Triple Monitor Arm
This is the best option for an ergonomic and highly organized look on your desk that will help you boost productivity and efficiency very significantly. The stand can easily hold three massive 32-inch monitors on its strong and durable arms while still being able to guarantee 360-degree rotation. 
Furthermore, the added rotation feature requires a bit of room, though, so to get the full benefit of the HUANUO Triple Monitor Arm, you might have to move your entire desk slightly away from the wall. The well-designed all-black look should be enough to make up for this slight added inconvenience, though. 
12. Stand Steady Triple Monitor Desk Stand
As the name suggests, when you buy the Stand Steady Triple Monitor Desk Stand, what you get is a very well-balanced, secure, and wobble-free stand for your monitors. Another great feature of this stand is that it allows you to spread the side arms up to three feet apart, which is something you do not usually get with similar stands. 
It does, however, have a tendency of leaving the side monitors slightly crooked because of a lack of tightening function on those monitor arms. 
13. IMLIB Triple Monitor Stand
Whether you have a flat or curved monitor is not an issue with the IMLIB Triple Monitor Stand thanks to its versatility and easy-to-use features. The very useful built-in cable management system will allow you to keep your cables neatly tucked away allowing you more freedom of movement on your desk. 
You will also have a choice between two mounting options so that you can orient your monitors in the best way possible for comfortable use. If you need any proof of how confident the manufacturer is with their product, how about the lifetime quality guarantee that comes with this product? That means guaranteed support if ever anything goes wrong. 
14. AVLT Triple Monitor Arm Desk Mount
Working, gaming, or just surfing the web is made very easy when using the diverse and highly effective AVLT Triple Monitor Arm Desk Mount. The extra-wide base ensures maximum stability and support for your expanded workstation. 
Additionally, the great monitor angles that you will get when using this stand will allow you to sit upright in the best possible posture during those long hours of work or play. However, the c-clamp option that is used by this triple-monitor arm is not as secure as other stands, and a desk drilling feature would have been the better choice. 
15. TechOrbit Three Monitor Stand Mount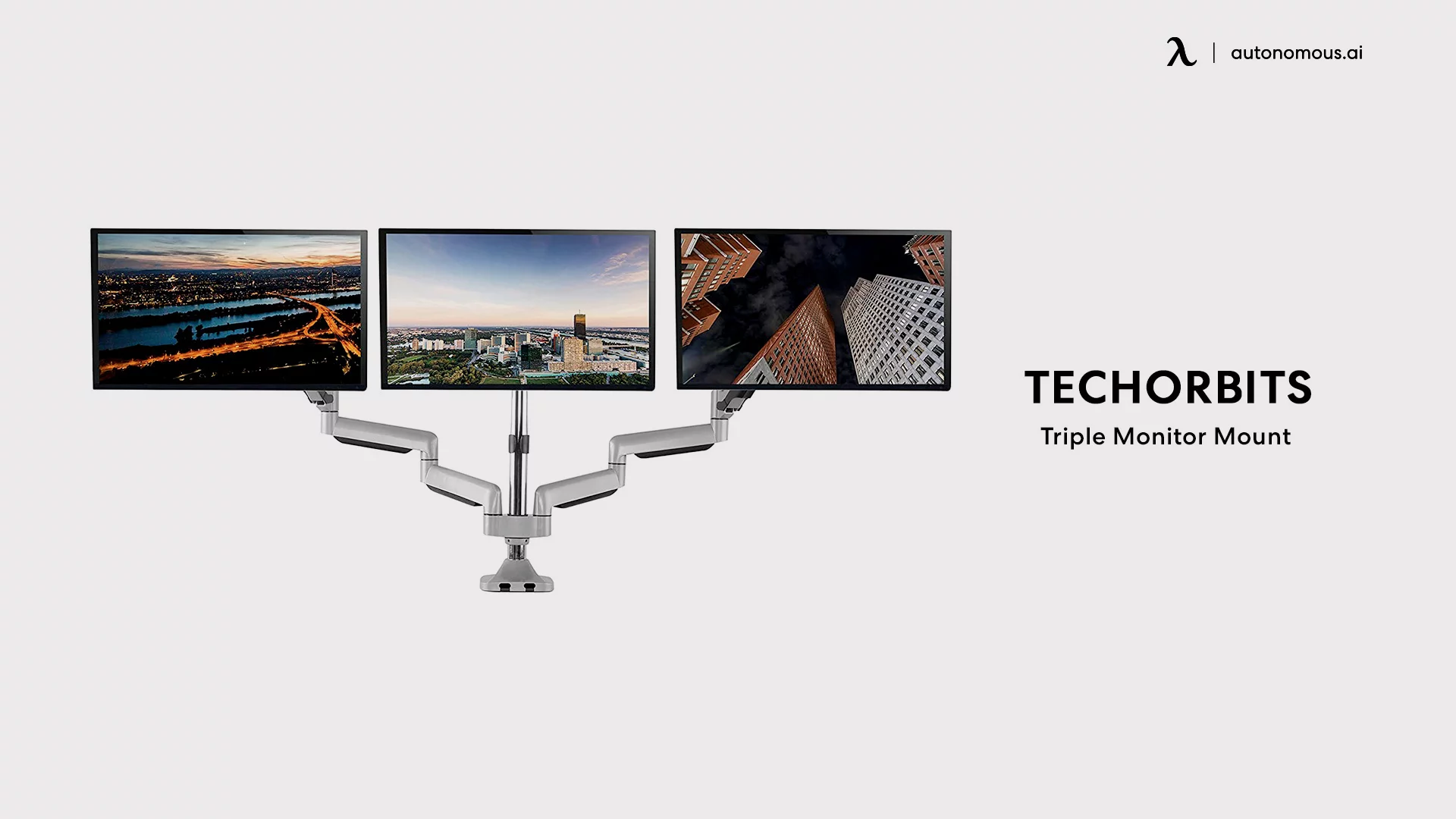 Stability is not a problem with this next monitor stand, thanks to the choice between either clamping or drilling that is offered by the TechOrbit Three Monitor Stand Mount. You can easily support up to 30 inches wide monitors, at a total weight of 20 lbs. The highly flexible joints and super-smooth swivel action ensure that switching from one angle to another while working is quick and easy. 
However, the disadvantage of the TechOrbit Three Monitor Stand Mount is that it is not as robust as other triple monitor stands in its class. This might be a problem in situations where you try to mount very heavy monitors. 
Why Do You Need Three Monitors?
These days, people are getting used to the idea of having three monitors all running at the same time. It is no longer unusual to walk into an office and see a set of monitors sitting on a triple-monitor arm. The real question, though, is, "is it necessary to have so many monitors on your desk?" 
In most cases, it depends on the individual's preferences as well as the activities they are doing. Some jobs require multiple screens, and research has shown that people tend to get a lot more work done when they have more screen space. In fact, a study found that using three monitors increased the productivity of employees by up to 35.5%. 
It should be noted that using three monitors does place a bigger processing burden on your CPU, therefore they should only be used when absolutely necessary.  Some monitors are better options for a three monitor setup than others, such as the Pixio monitor from Autonomous. 
The following are the most common situations in which three monitors might be needed: 
When analyzing multiple charts, graphs, or data trends at the same time

During high-level gaming where an immersive experience is desired

People use three monitors when multitasking

When running multiple programs that all need constant monitoring 
Pros and Cons of a Triple Monitor Mount
If you have decided that you need three monitors, you might be wondering whether it is better to simply lay them out across your standing desk or to invest in a good quality triple-monitor arm. There are advantages and disadvantages of going for a tri monitor stand. Some of the pros and cons are as follows: 
Pros 
Creates more space on your desk even when using multiple monitors

Allows you to adjust our monitors to the right viewing angle and height

You can easily set up your monitors in a mix of portrait and landscape orientations

The overall appearance is much neater

Your monitors will have greater stability to prevent them from being knocked over 
Cons 
Setting up and aligning all three monitors correctly can be challenging

Buying a tri monitor stand is an investment that you will need to add to your budget, although using the 

Autonomous EPP special pricing option can help. 
What Is the Best Way To Set Up Your 3 Monitor Stand?
When considering the right way to set up three monitors on your desk, the best option is to use a 3 monitor stand. Many types of 3 monitor mounts are available. Before choosing the right one for your needs, you should consider the following:
Strength of the Desk
Any suitable desk for 3 monitors will come with a specified maximum weight which they can carry. You should make sure that adding three monitors and your triple monitor arm does not exceed the recommended weight otherwise you risk breaking the desk and damaging your equipment.
Available Space
Make sure you choose the right setup and type of stand that will fit in the space you have on your desk. You should set up your monitors in an ergonomic way that also leaves you room to work on your desk.
Type of Stand
You can choose either a tilt, swivel, or rotate tri monitor stand, depending on your taste, available space, and your budget, because not all stands cost the same.
Durability
Different stands will have different durability, so going for the cheaper option is not always the best solution. Consider the weight of the monitor as this will determine the required strength and durability of your stand.
Final Thought
At long last, there are some great triple monitor stands options to choose from for individuals who cannot get by with just a single monitor stand. Invest in a triple monitor stand or mount to maximize productivity and comfort in your workspace. There's a solution for everyone, with various options available, including articulating arms and cable management systems. Upgrade your setup today and experience the benefits of a triple monitor stand or mount.
You can now increase your work productivity and take your gaming to a whole new level by creating a highly economic and efficient three monitors setup for your desk. Thanks to the wide range of options reviewed in this article, you are sure of getting the right stand to suit your needs.
Subcribe newsletter and get $100 OFF.
Receive product updates, special offers, ergo tips, and inspiration form our team.
WRITTEN BYAutonomous
We build office products to help you work smarter.