Smart Products
Expert Picks for The Best Vertical Monitor Stands of 2023

Autonomous
|
Feb 4, 2023
3,632 Views
People who make an earning working in front of a computer are common today. Most professions, such as gaming and video editing, require more than one computer. It doesn't matter how many screens you see simultaneously; your eye level and angle matter the most. Improper posture and eye level lead to eye strain and computer vision problems.
Vertical monitor stands go a long way in improving your setup. Sure, horizontal monitors are fantastic – what's not to like about them? Mount it vertically, though, and you practically have a whole new perspective.  
The point of a vertical monitor is to change the way you work or game. Not only does it feel different, but it can improve your workflow to a great extent. The mount makes all the difference, so getting one that can support your monitor is crucial. Here is our expert list of the top vertical monitor stands to boost your productivity at the workplace. Let's read on!
20+ Best Ergonomic Vertical Monitor Stands
Below is the most ergonomic selection of vertical monitor mount options that work perfectly with most, if not all, monitor setups.
1. Autonomous Monitor Arm
With a vertical reach of 20" and an all-around 360° swivel, the Autonomous monitor arm is ideal for screens up to 28".  
Easy installation and cable organization make it a must-have for small office spaces. Users can find the product with single and double arms for vertical monitors. The matte black coating on the stand makes it look modern and minimalistic.
2. Rain Design mTower Vertical Laptop Stand
This is a simple computer monitor stand for people who work on their laptops and struggle to keep the ideal eye level. This vertical monitor mount turns your laptop into a computer monitor by effectively mounting it. It is a sturdy aluminum stand that is made for Apple Macs. It is a minimal vertical laptop stand that allows your laptop to stay cool while working on it.
3. burotic Ergonomic Dual-Monitor Arm: 360° Rotation
Almost all the vertical monitor setups mentioned today can be assembled within five minutes, and this model is no exception. The clamp mount makes it easier to attach the monitor stand to the desk.  
Monitors no larger than 32" are compatible with the Burotic dual-monitor arms. For rotation and tilting, users can expect it to turn 360° and 90°, respectively.  
4. Mount-It! Triple Monitor Arm
Although the Mount-It! Triple Monitor Arm is one of the most heavy-duty models on this review today, it is anything but expensive.  
Standing at only $59, this triple monitor stand can easily support screens as large as 27". The arms reach a maximum of 47", so users can bring it as close as they want or push it further back.  
Expect a 360° swivel with maximum forward and backward tilt of 90° and 45°, respectively. Adjust the height of the stand up to 16", reducing screen glare as much as possible.
5. R-Go-Tools Caparo 4 D2 Circular Gas Spring Monitor Arm
Complete with a 360° swivel design, the R-Go-Tools Caparo 4 D2 Monitor Arm includes convenient cable management that hides all that jumble behind your monitor.  
To top it all off, the monitor arm is compatible with massive 40" screens. R-Go-Tools went the extra mile when manufacturing this excellent dual vertical monitor mount.   
6. R-Go-Tools Zepher 4 C2 Circular Monitor Arm
Like its previous model, the R-Go-Tools Zepher 4 C2 is also equipped with smart buttons. However, the only difference is the lift, where this model stands at 19.69" compared to the 25.2" of its predecessor.  
Besides that, the upgraded Zepher 4 C2 vertical monitor mount is easy to install without any tools and comes with cable management. The aluminum body allows the product to be lightweight but also durable.
7. Mount-It! Single Monitor Desk Stand: Freestanding
The next vertical monitor stand on our list is another Mount-It! monitor stand. The best part about this model is that it also comes with a laptop workstation so you can carry out tasks efficiently.  
Users can enjoy a 180° swivel on the arm and a 90° tilt of both the vertical screen and the laptop stand. The maximum height of the monitor stand reaches 18.5", which can be decreased according to user preferences.
8. Modernsolid Single Monitor Arm: Full Motion
Constructed with durable but lightweight aluminum, this vertical monitor stand has an entirely adjustable 360° swivel for both the mount and the bracket. Tilt your screens vertically if desired for a pleasant viewing experience.  
The clamp on the bottom blends in well with neutral-colored desks, creating a minimalist workspace. Instead of zip-tying all your cables, clip them onto the monitor stand for a clean look.  
9. Mount-It! Triple Monitor Arm: Full Motion
The Mount-It! monitor, comes with easy-to-rotate 360° orientations, which allow users to tilt their screens to a vertical position smoothly. Height adjustability makes this triple monitor setup seamlessly turn into an active sit-stand station.  
When it comes to compatibility, users can mount screens of 32" or less on the rotating arms. The VESA is entirely detachable, therefore allowing easy monitor installation.  
The best part is that you can clip loose cables on the mount, ensuring your workspace remains tidy and uncluttered. Mount the vertical monitor stand onto the desired area with the help of the convenient grommet on the bottom.   
10. Northread Triple Monitor Electric Sit Stand Workstation
Very few dual vertical monitor mounts can facilitate a laptop and monitor setup. This Northread alternative is not only ergonomic but also stylish. Sporting a matte black shade, the aluminum alloy mount can easily hold three 19" monitors at once.  
Alongside that, the dual work areas also have vertical height adjustments. The product comes with two electric buttons on the side of the first shelf. This allows you to adjust the height of the entire workstation, so users can choose to sit or stand while working.  
Place your laptop on one station and RK61 keyboard or decorative pieces on the other to create your dream setup!  
11. Mount-It! Full Motion Single Monitor Desk Mount
Users looking for a compact yet heavy-duty vertical monitor mount can benefit from this single-arm Mount-It! alternative. It's the perfect stand for those lacking space on their desks. 
The monitor stand is suitable for screens of up to 32", with tilt adjustability up to 45° vertically. Additionally, the swivel on the arm is 360° for easy installation.  
Increase the height of the monitor arm up to 18", allowing users to work away on their screens without enduring eye fatigue from unwanted glare.  
12. EUREKA Ergonomic S05 Single Monitor Arm
With a maximum of 30" screen compatibility and a premium aluminum alloy body, this vertical monitor stand is the ergonomic answer to all tiny workspaces.  
The 360° rotation and 90° swivel on the arm allow users to choose their preferred viewing angle easily. Bring your screen closer to you with the help of the 27.3" arm extension. High-quality gas suspension makes the arm smooth to move around.  
Attach loose cables to the stand's rear end, so there's no clutter on your workstation.  
13. Mount-It! Dual Monitor Desk Mount with USB Ports
Gamers searching for an alternative to their traditional horizontal single stations can benefit from this Mount-It! Dual Monitor Desk Mount with USB Ports.  
The arms on this come equipped with mechanical springs that allow users to change the mode to landscape or portrait seamlessly.  
On top of that, this dual vertical monitor mount also has two USB ports. Reviewers usually utilize both ports to set up their mouse and microphone for streaming purposes. Hide extra cables to the back of the stand to keep things off the table.  
14. Mount-It! Heavy Duty Monitor Desk Mount w/ USB & Multimedia Ports
For users looking for a monitor stand with more than just USB ports, this Mount-It! Dual Monitor Desk Mount w/ USB & Multimedia Ports is a match made in heaven.  
The product comes complete with a mount that can be released with the flick of the thumb and there's also a convenient cable management system. 
Such a heavy-duty desk mount is perfect for holding screens as large as 35". The arm is constructed with a gas spring inside, allowing it to move smoothly and support heavy weight. Enjoy charging your phone or transferring data to your PC through the built-in USB and multimedia ports.  
15. FinerCrafts Monitor Arm
Whether you need a single or dual vertical monitor mount, FinerCrafts has both. This aluminum alloy constructed stand comes with 360° revolving arm(s) and tilt adjustability of up to 90°.  
The arms can extend as far as 21", so users can set it to an angle that feels the most comfortable. The maximum screen size is a fairly impressive 32", with a height range of up to 21". 
The built-in gas spring ensures smooth arm turning, capable of supporting two monitors at once.  
16. Mount-It! Full Motion Dual Monitor Desk Mount: Heavy-duty
Most of the vertical monitor stands reviewed today were for desks, but this is a monitor wall mount with a screen size compatibility of up to 30".  
The product comes with a knob that allows users to tighten or loosen the mount's grip. This wall mount makes switching the monitor to a vertical position easy and smooth.  
Users can tilt the screen to only 15° up or down to eliminate glare, or they can swivel the screen up to 330° for a panoramic view. Due to its limited tilt adjustability and rotations, this monitor wall mount is better suited for hospital x-ray usage or reception purposes. 
17. Northread Single Monitor Arm: Easy Assembly
Available in shades of silver and gray, the Northread monitor arm is perfect for single screens. Compatible with monitors of up to 32", the 360° swivel lets you position the screen vertically and at a comfortable angle.  
Tilt the screen to up to 75° for easy visibility and to eliminate unwanted glare from the screen. Clip your monitor cables to the back of the stand to keep your desk uncluttered.  
18. Northread Dual Monitor Arm: Cable Management
Unlike its predecessor, this dual vertical monitor mount by Northread allows you to enjoy viewing two screens simultaneously, with added benefits.  
The product is ideal for tiny desks and cubicles, as it has a maximum compatibility of 27" for screens. Tension adjustability on the back of the stand makes movements smooth.  
Tilt the mount to 70° for both screens, and rotate the swivel up to 360°. Pass your monitor cables through the management tubing behind the stand.  
19. LifeDesk Monitor Arm
Found with both single and dual monitor arms, users can expect a maximum height reach of 23" and screen compatibility of up to 32".  
Like most monitor arms, this one also comes with a cable management system, as well as a grommet and clamp for steady placement.  
The swivel stops at 180° for this product, which isn't bad since it protects your monitors from bumping into the wall behind (if any). Anyone wanting to create a 4 monitor setup can purchase two of these arms for a budget-friendly alternative to quad monitors. 
20. LifeDesk Heavy Duty Monitor Arm
Available as both single and dual arms, the product utilizes a traditional VESA stand with a frontal reach of 21" max.  
Ideal for screen sizes up to 32", the LifeDesk monitor arms come with a max adjustable height of 18". Users can attach the stand to their desks with the help of the durable grommet and clamp present.  
Additionally, the vertical monitor stand comes coated with a silvery matte finish, which looks sleek and blends in well with the base of the mount. 
21. AmazonBasics Vertical Monitor Stand
This sturdy piece of tech weighs only 3 and a half kilos and can bear a weight of up to 25 pounds, making it the perfect lightweight vertical monitor stand for your bulky PC. Don't worry about its adjustability as well. The arm is flexible and can move up to 70 degrees back. It can also be clamped to a small computer desk. 
22. Fully Jarvis Dual Vertical Monitor Mount
The Fully Jarvis dual vertical monitor mount is a great option for streamers, gamers, and video editors. This computer monitor wall mount is an ergonomic option that works best for monitors up to 32 inches. Its sleek and modern design makes it a stylish option for your work desk. It comes in three distinctive colors, which include silver, black, and white. However, it lies on the pricier side.
23. Ergotron LX Desk Monitor Arm
This next vertical monitor stand works best with specific monitors (especially the ones from the 80s'). This stand incorporates mostly all types of computer monitor sizes, making it a flexible option to have. It can tilt 70 degrees to the back and 5 degrees to the front. It can also bear a maximum weight of up to 25 pounds. This beastly monitor stand can easily support a monitor of up to 34 inches.
24. Humanscale M2.1 Vertical Monitor Stand
This vertical monitor stand looks like something from the Transformers movie. It is a stylish polished aluminum stand that works best for lightweight monitors. It is mainly made for flat monitors that are lightweight. Please do not use it on a heavy monitor; it might break on you.
25. Mountup Dual Vertical Monitor Mount
If you are searching for affordable computer accessories that do not break the bank, go for Mountup dual vertical monitor mount. This monitor stand comprises detachable VESA plates, which makes it easy to adjust and fit almost any desk. However, it requires some tools to install, including materials such as wood anchors and bricks.
26. Ergotron MX Desk Monitor Arm
After the LX, it is the turn for the MX to shine. This ultimate monitor stand can support a monitor size of up to 42 inches, the largest one on this list. It can support very heavy and big screens making it great for video editing setups. If you have a computer desk with a keyboard tray, this option is great since it saves you a great deal of space to keep your office supplies on the desk.
Vertical Monitor Stand Buying Guide
Finding the right vertical monitor setup for your needs can take time since there are many options on the market. How do you know which ones are the best for you? It's essential to go for a stand that is both ergonomic and durable.
Material
Aluminum alloy is lightweight yet durable, so a vertical monitor stand featuring this material is a good idea. Avoid plastic-body products, as they are flimsy and don't even last long.  
Flexible
A vertical monitor is only good if the mount allows it to move freely. Opt for models with at least 90° tilt adjustability and a 360° swivel to get your money's worth.  
Screen Compatibility
A moderate-quality monitor setup should support a screen size of at least 26" and no less. It's even better if the product is compatible with dimensions higher than 28".
How to Setup a Vertical Monitor Stand?
Here is a 3-step guide on effectively setting up a vertical monitor stand:
1. Choose a Suitable Location
Remember that a monitor stand will be fixed for a long time wherever you install it. Hence, choose wisely. Ensure your chosen location has enough space for the stand to move flexibly. It should be able to incorporate the monitor's dimensions.
2. Install the Stand
It is best practice to read the manual or guide printed on the box of the stand, and it will give you step-by-step instructions on how to install the stand. Don't worry if there's no guide. Follow us! A typical installation of a vertical monitor stand includes attaching the stand base, the vertical pole, and the support brackets. Sometimes you might need additional tools and materials.
3. Attach the Monitor
Once the stand is attached and snug securely, fix your monitor onto it. Depending on the stand you purchase, there are various ways to attach a monitor. Most of the time, you must remove the monitor base and fasten the screws from the stand on the base. Once the monitor is fixed, adjust the height to your desired level, and you're good to go.
Conclusion
A vertical monitor stand can save you a ton of space on your desk while giving you a better working experience. Vertical monitor orientations are the latest trend for gamers, and most professional workplaces are opting for them too. Not only are they stylish and unique to look at, but their use cases also explain why people often prefer them. 
The best vertical monitor stands should allow you to tilt and adjust the screen according to your preferences without risking it toppling over. Consider purchasing any one of the vertical monitor mounts reviewed in this post. All these options are of top-notch quality, providing an optimal working experience. We hope our detailed review was an eye-opener for you and that it assists you in your next shopping spree! Thanks for reading!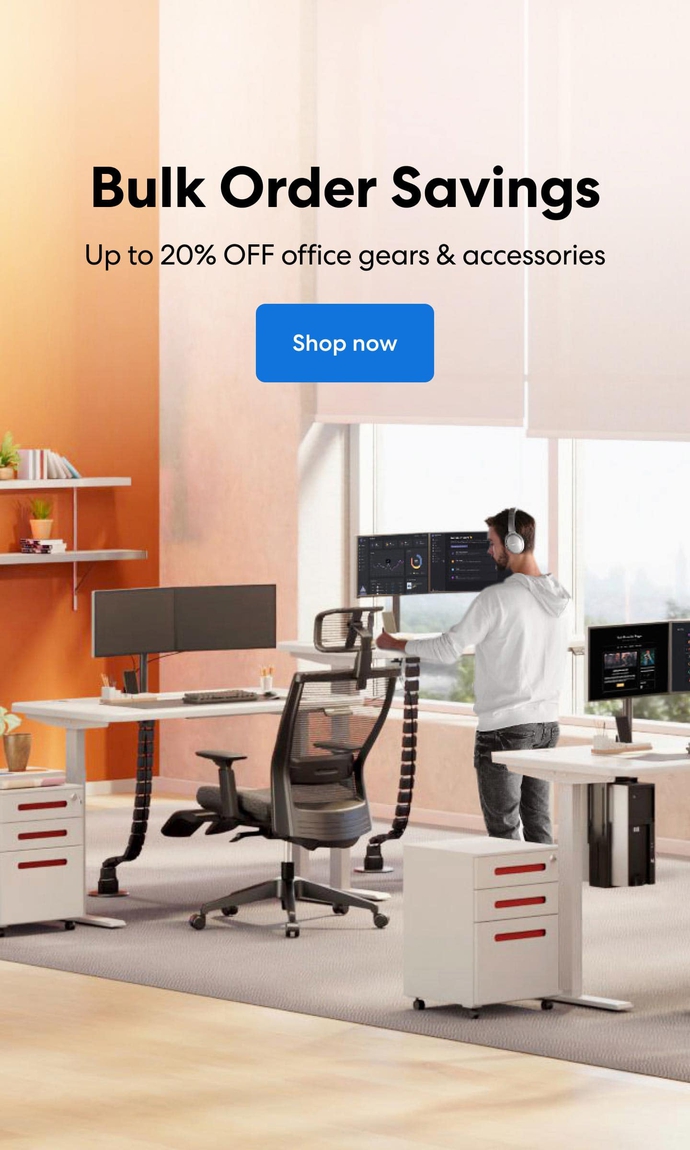 Subcribe newsletter and get $100 OFF.
Receive product updates, special offers, ergo tips, and inspiration form our team.