Smart Products
Top 15 Standing Desks with Drawers of 2022
645 Views
The back and shoulder pain you experience after spending almost all day at your desk may seem inevitable. Studies have hinted at a connection between sitting a lot and many health problems. These issues are prominent in people who often work seated in comparison to those who don't.
Workplaces are turning to the standing desk with drawers to reduce the health risks identified with long hours of sitting. It also prevents the development of bad posture by encouraging you to stand, pace, or walk. Many advantages come with using one, even though the full extent of its benefit is not known.
Standing Desk with Drawers Versus No Drawers
It is not common for a standing desk to have drawers because of the weight they add to it. The heaviness, in turn, places a strain on the lifting columns. Storage drawers also create an unbalanced load situation, stressing the legs of the desk. All these increase the probability of ending up with a broken piece of furniture.
Nevertheless, there has been an increased demand for storage capabilities as standing desks grow in popularity. In response to this need, manufacturers have been including drawers and file cabinets in their new designs.
Reviewing 15 of the Best Standing Desks with Drawers
Here are some of the best standing desks with drawers currently on the market.
1. SmartDesk Connect Pro
SmartDesk Connect Pro is an adjustable desk with drawers that uses sensors to make automatic changes according to its environment. It has enough space for storage and an anti-collision feature. The product can transform from a height of 23.6 inches to 49.2 inches. There are also grooves at the back of the desk to help with cable management.
Overall dimension
55" x 29.2 x 4 (3" hollow)
Drawers dimension
18" x 7.4" x 2"
Height range (without top)
23.6" - 49.2"
Materials
Top: MDF and white PU paint
Frame: SPCC steel
Colors
Top: White
Frame: White, Black, Grey
Weight capacity
310 lbs
Warranty
7 years for frame
1 year for top
2. Carson Electric Furniture Sit/Stand Desktop, Brown
This electric standing desk is made from solid wood and has an elegant finishing that fits both home and executive offices. You can use it as a sitting or stand-up desk with storage by adjusting its height to within a range of 30 and 45 inches.
It has a drop-front drawer for your pencil or keyboard, two others for additional storage, three USB outlets, and two grooves to help you properly manage your wires. The weight makes it heavy enough to support heavy loads.
3. FLEXISPOT UD1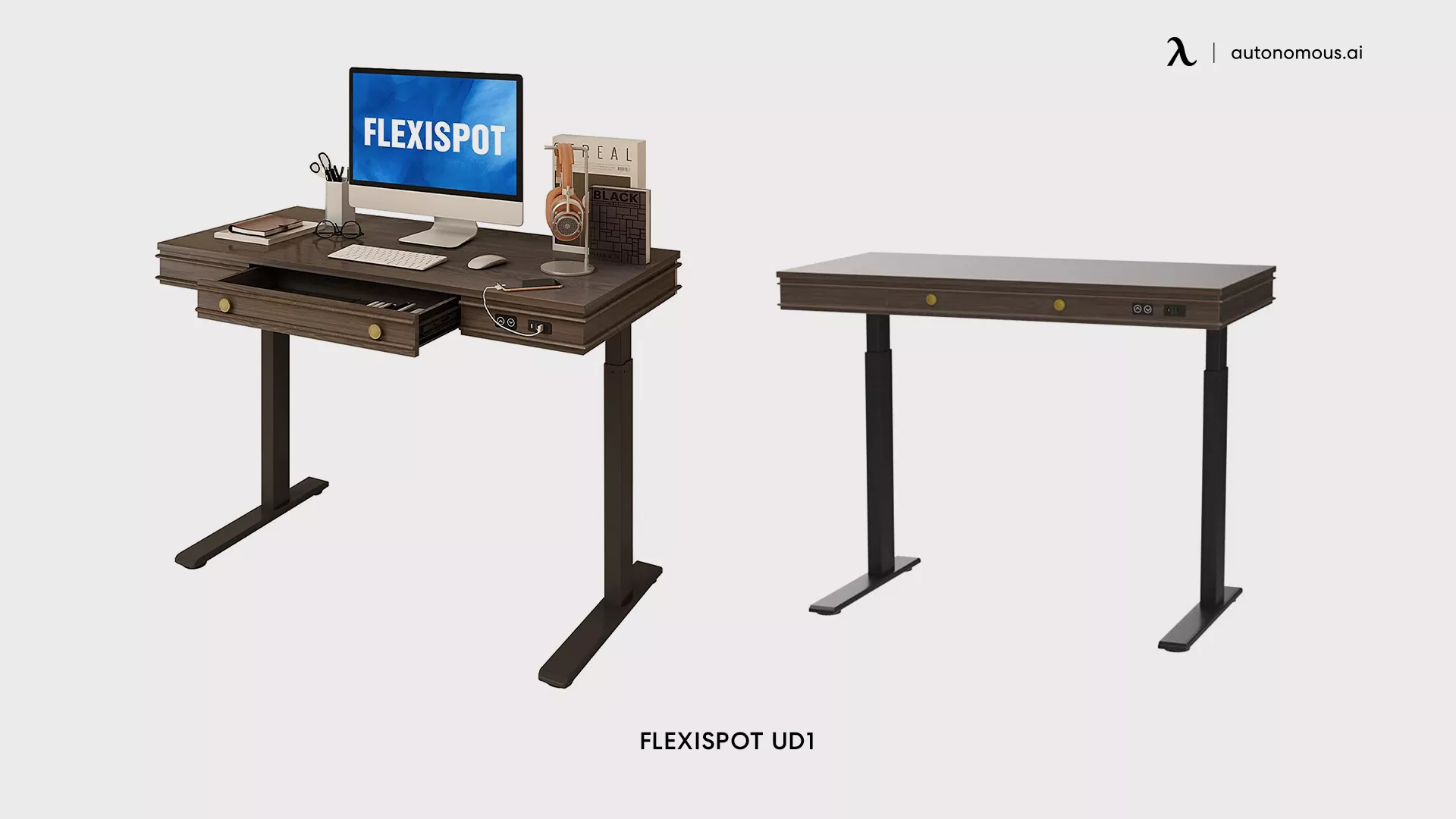 The Flexispot UD1 is a classic stand-up desk with storage that blends well with modern elegance. It has a spacious drawer that opens and closes without a problem. This minimalist desk has a Type-C port and two Type-A ports that integrate well into its sleek design.
Anyone can assemble it within five minutes without extra tools or professional help. You can also adjust the height to one that makes you more comfortable.
4. FEZIBO Standing Desk with Double Drawer
This standing desk with storage has a solid construction that gives you a comfortable working experience. Its adjustable height means it can be changed to fit anyone.
There are two wooden drawers for storage and desk hooks to hold bags, headphones, and jackets. The desk has a rack on the side for efficient wire management and uses anti-collision technology. Its wheels underneath can turn in any direction, simplifying movement. They can also be locked to restrict it.
5. TribeSigns Modern Lift Top Computer Desk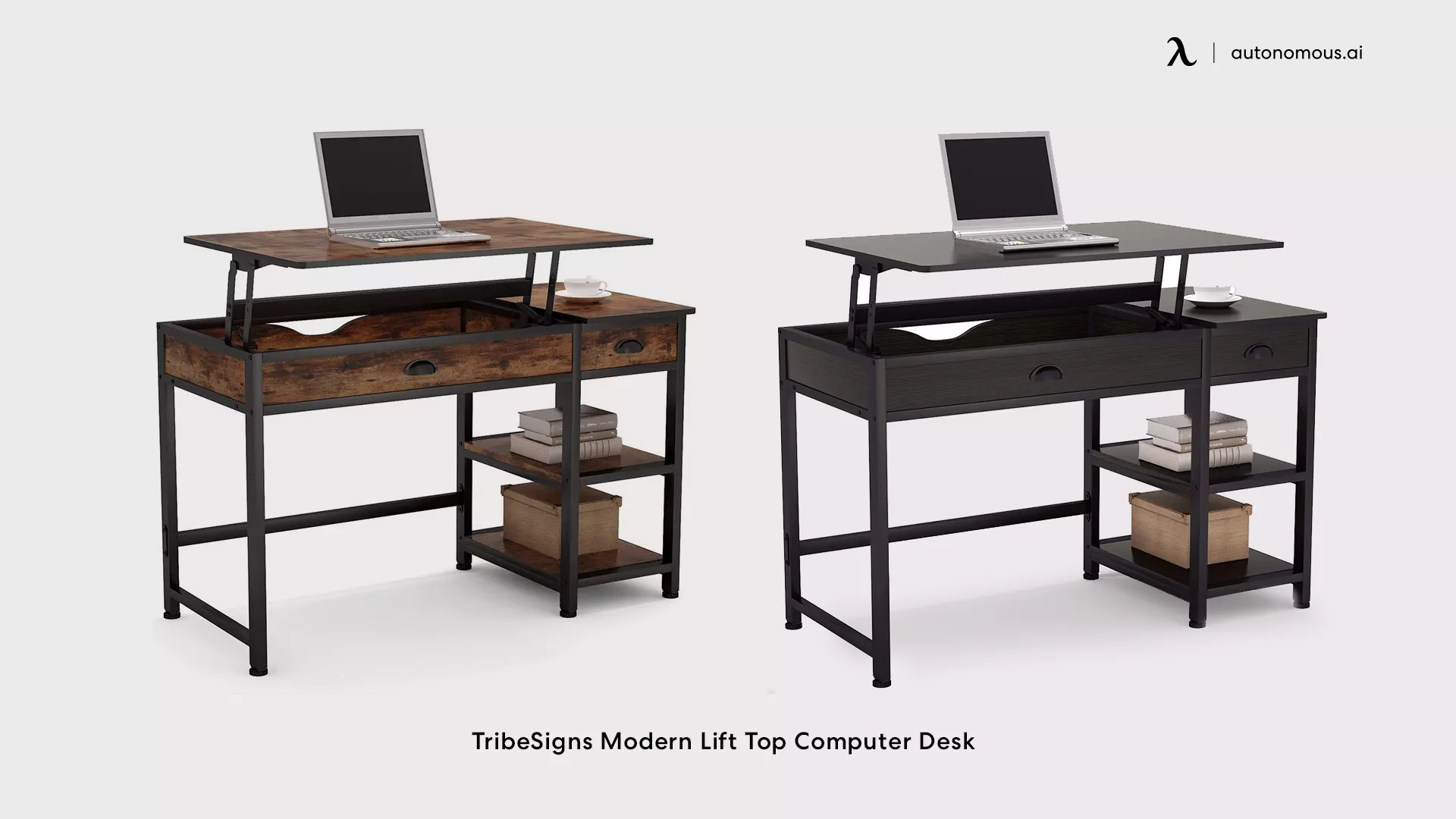 This adjustable desk is perfect for people who prefer stretching a bit or standing after sitting down for a long time. It is made from vintage wood grain and has a metal frame that creates a modern-retro blending effect.
There are two open shelves under the desk with enough storage space for papers and files. It also has a built-in drawer and a slot at the back for easy wire management. The working surface is laminated to give it a smooth finish. Plus, its legs are strong enough to provide 450 lbs. of weight support. They are also fitted with anti-slip pads to make it steady.
6. AITERMINAL Electric Standing Desk
If you are looking for modern office furniture with classic finishes for your home or executive office, this stand-up desk with storage is one of your best options.
The long utility drawer can store files and office supplies. It has two USB charging ports and three US power sockets for easy electronic connections. You can easily adjust the height of the product by simply pushing a button.
7. Bush Furniture Somerset 72W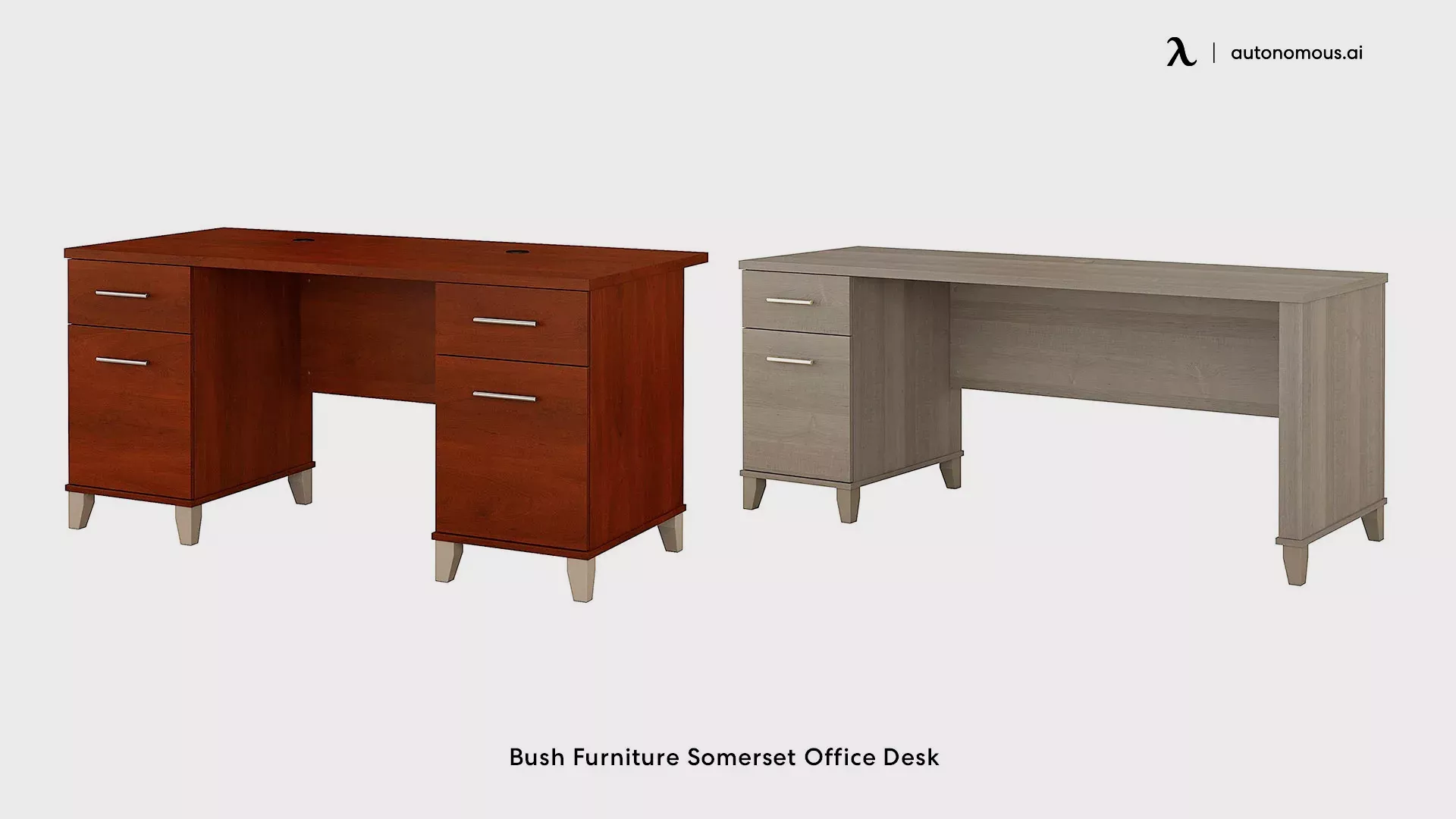 You don't always come across desks like the Bush Furniture Somerset 72W. The product enables you to transform your sitting workspace into a standing desk with storage so that you can move and stretch more.
It achieves this using an electric adjusting option and a lock system that places the height range between 35 and 41 inches. There is a file drawer that slides out and provides you with storage space. A hutch also attaches to it to add two frosted glass doors you can use for concealed storage.
8. FLEXISPOT EW8
FLEXISPOT presents the EW8 electric standing desk as a suitable workspace for homes. The adjusting switch transforms it from a sitting height of 28.3 inches to 47.6 inches within seconds.
You can charge up to three devices using the two Type-A and Type-C USB ports. It also has a child lock button to prevent accidental switching of the standard desk height. The pull-out drawer stores office supplies out of sight to keep your space neat.
9. FEZIBO Electric Height Adjustable Standing Desk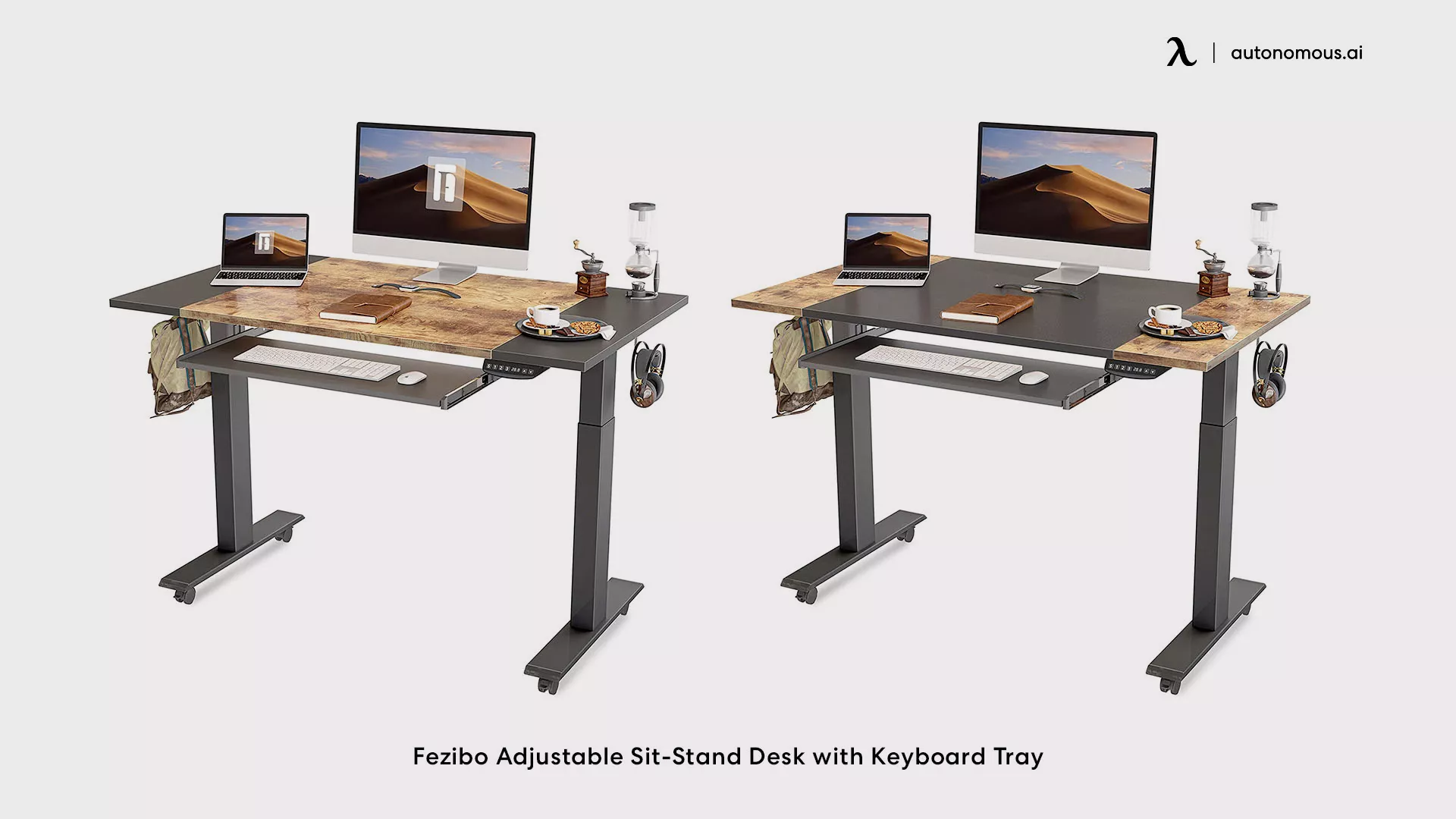 The benefits of a standing desk with storage cannot be emphasized enough in this product from FEZIBO. It has a simple modern design with a smooth working surface that can support up to 176 lbs.
An electric adjusting lift controls the height of the furniture between 27.7 inches and 46.6 inches. These lengths make it suitable for people to use it in both sitting and standing positions. The desk has drawers that you can use as a storage space and rollers that make it easy to move.
10. Rolanstar Standing Desk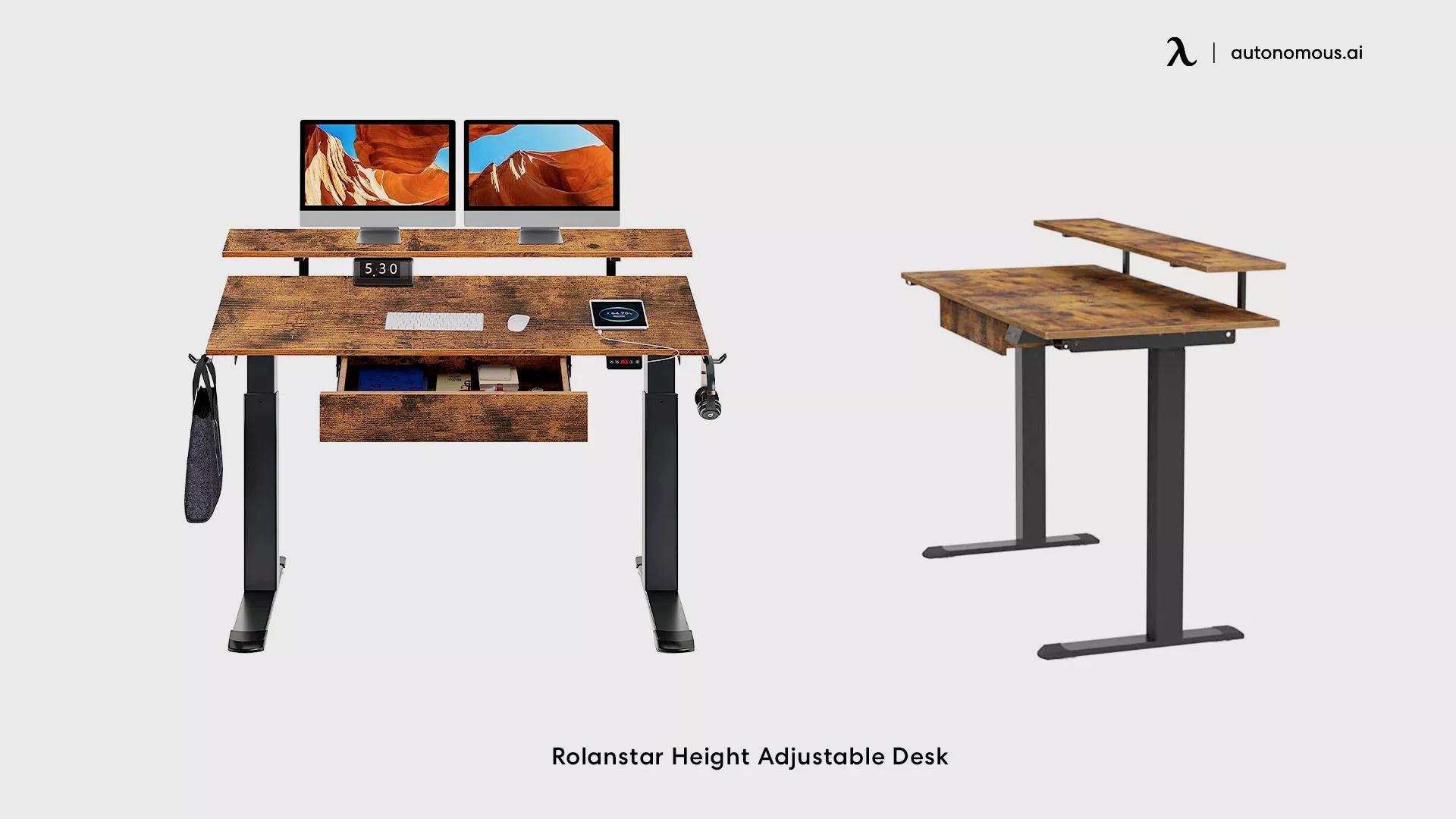 Use the Rolanstar standing desk with storage to make work more comfortable in any position. The item has a smooth lift with a controller that can set it from a height of 30.5 inches to 47.2 inches. It also comes with a monitor shelf and has two drawers. This feature helps you keep your desktop tidy and maximizes your working space.
The USB ports enable you to charge your electronic gadgets. You also get a cable tray to manage wires and desk hooks that can hold your bags or headphones.
11. WWS Height Adjustable Computer Desk
The WWS adjustable desk with drawers transforms from a sitting desk height of 24 inches to a standing desk height of 34 inches. There is a knob to help you secure the level you are comfortable with within the given range. It has a pull-out drawer that can store office supplies and books to keep your working surface neat.
12. FENGE Electric Standing Desk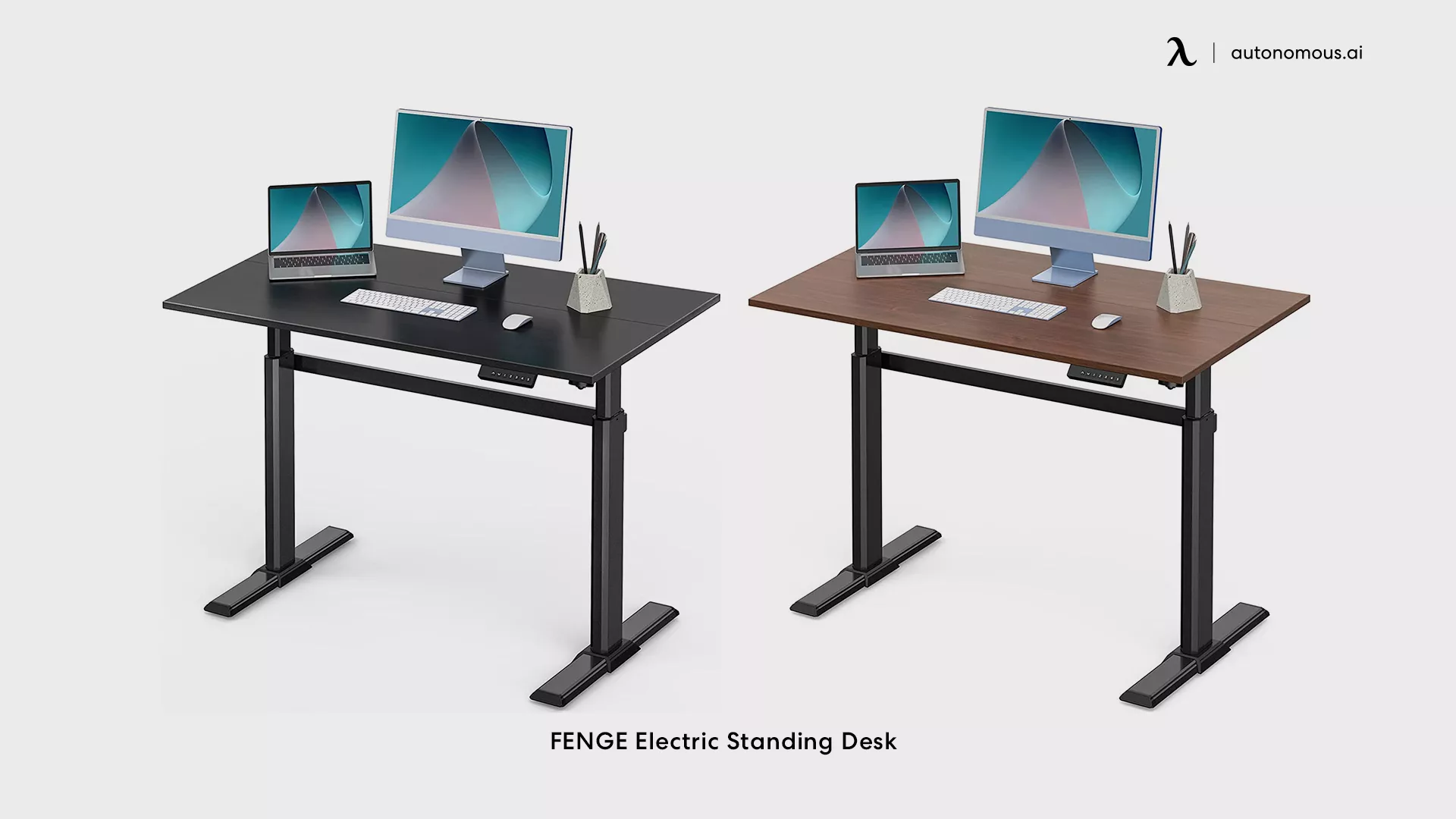 This product offers you an electric adjustable desk with drawers that can change its height from 29.5 inches to 48.2 inches with a button. It has a pull-out drawer that you can use to store office supplies, reducing clutter on your desktop. You also get a wire storage space, a hook to hang your headphones or bag, and rounded corners to promote safety.
13. Stand Steady Tranzendesk 55
Stand Steady Tranzendesk is a full-size desktop that you can adjust from a sitting position to a height of 46 inches. It has two drawers that can store work tools and files. The display shelf can extend outward or inward to increase your working space. It has leveled feet that prevent it from wobbling, giving you a steady desk.
14. OneSpace Martin Standing Desk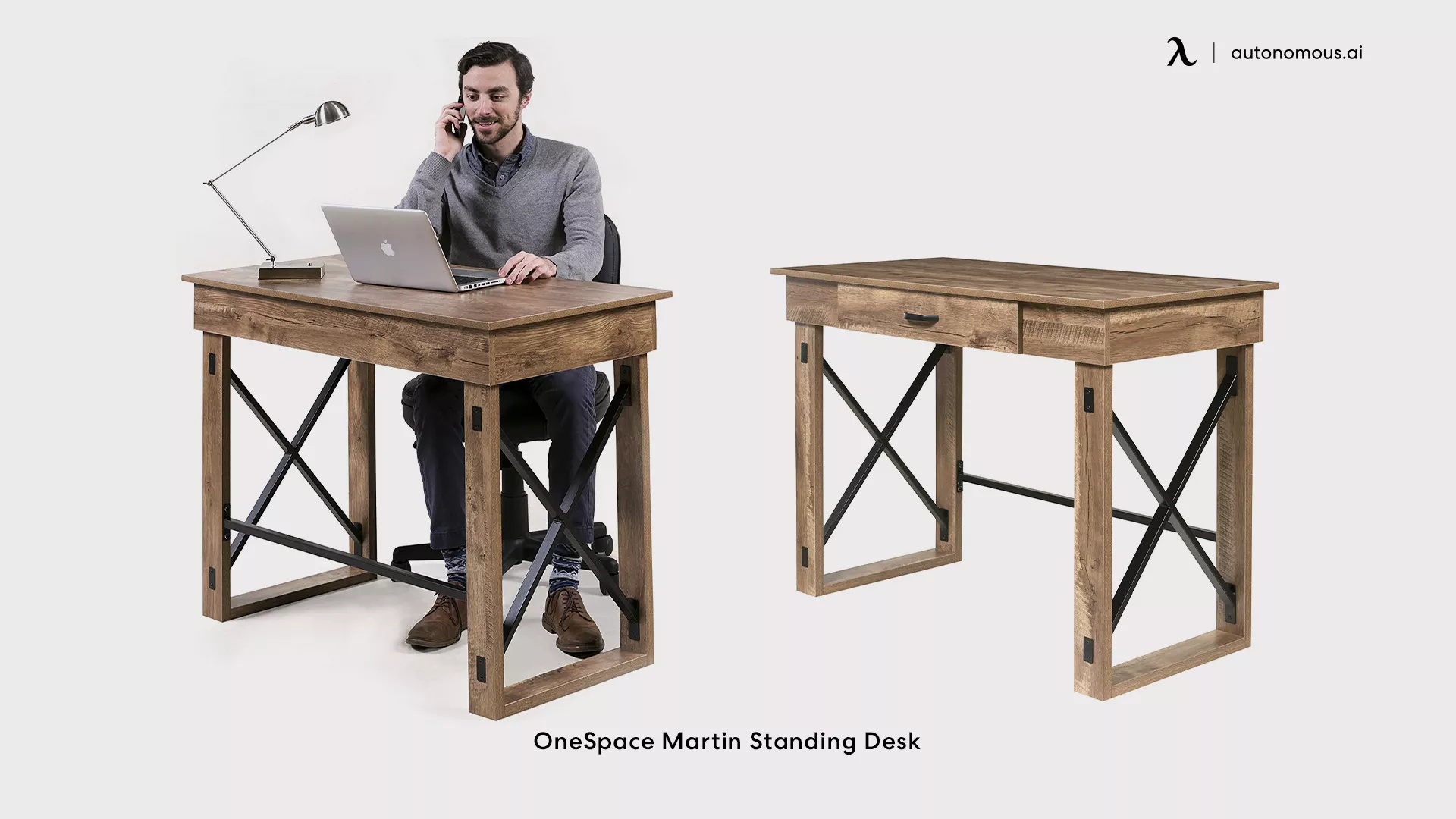 This adjustable desk with drawers can convert from a sitting to a standing height when you lift the tabletop. It uses hydraulic support to move from 31.8 inches to 38 inches. There is a center drawer that you may use for storing office supplies. You can also assemble this product within minutes.
15. Evolve Primio Series
The Evolve Primio standing desk is a piece of well-thought-out office furniture that features two smooth drawer slides for storage. Adjust the sitting height to one that you may use standing up by pushing a button. It is also equipped with a child lock to prevent accidental adjustments, and the surface is scratch/heat resistant with anti-collision functionality.
What You Should Look for When Buying a Standing Desk with Drawers
Consider many factors when you are getting a desk for your working space. The following are a few of them that will help you get the best furniture available.
Location
Where you plan to put your desk is important when choosing which type of product to buy. The amount of space available influences the size of furniture you can purchase. You don't want to get one that is bigger than the place you wish to put it.
There is also the situation where you pass up on a desk you can accommodate just because you underestimated the location. Compared to the one you end up buying, the other one may have given you better value.
How Customizable Is the Desk?
To take proper advantage of a standing desk with drawers, you should get an adjustable one. The best one to go for will be one that can be customized enough to become a sitting desk. You can also consider features like a keyboard tray and enough space to accommodate an add-on drawer if necessary.
Design
Ignoring the role appearance plays when selecting a desk is a mistake you should avoid. Things like the color and other visual elements should blend well where you will put the furniture. If you are going to create a working space, there's no harm in making sure your interior decoration is aesthetically pleasing.
Stability
Consider how sturdy the standing desk with drawers you want to get is because of the general height of such office equipment.
A wobbly work surface is terrible especially if it supports something fragile like a computer monitor. Typing or writing on it can also be an unpleasant experience. Ensure that the desk you get is steady and safe by extending it to its full height. You can then assess how solid it is when standing.
Ergonomics
The associated health benefits have influenced the switch to this type of desk. It is also focused on preventing the development of bad posture in the same way.
You should allow these ideas to guide you in ensuring that the standing desk is well oriented to you. The height should not make you strain your neck and back when staring at a screen it supports. It should also allow your hands to be in a natural position while you work.
Material
Think about the material used to make the sit-stand desk with drawers that you select. It doesn't only play an aesthetic role but affects your surroundings. Ensure that it is durable and friendly to the environment.
Autonomous EPP

Luckily, Autonomous has a program that you may use to buy world-class ergonomic tools and solutions for your office. The products the company has available are among the best equipment you can find on the market. It also has special discounts for workers and companies who buy in bulk.
As an employee, you have the opportunity to access many Autonomous benefits through their employees' purchase program. Use your company credentials to register for this offer so that you can take advantage of the benefits it makes available to you.
Conclusion
A standing desk does not only give your office a trendy look but offers many advantages too. With added drawers, you now get all the features of a usual desk and chair set.
You may now support your working computer and store your files while enjoying the health benefits associated with them. Some also come with spaces to help you manage your wires and USB ports so you can charge your devices.
The products we have reviewed in this article should guide you in finding the best sit-stand desk with drawers for a healthier office lifestyle.
Hey, you have special pricing through your company.
Get exclusive rewards
for your first Autonomous blog subscription.
WRITTEN BYAutonomous
We build office products to help you work smarter.