Smart Products
Top 8 Desks That Hide Monitors in 2023
6,600 Views
Working remotely has become the accepted norm for most of us – yet some have yet to take the freedom to consider how we will deal with the tricky issue of establishing a designated place, only for ourselves, besides other people in the family. Some of whom are also working – or schooling – at home. But it's not only about obtaining spaces; it's also about not being able to view the workplace gear at the end of each day. It simply makes it so tough to shift off.
Getting a desk that hides monitors in an office space can increase your efficiency, even if you're searching for the finest computer workstation for two to three monitors. It is simple to find a hidden monitor desk fit for your office space.
List of 8 Ideas for Desks Which Can Also Hide Monitors
It's possible that your home office layout isn't optimal. It might be in your dining room, bedroom, lounge room, or even on your legs. It might be minimal – or you could have a huge separate space – but how do you fit it into an adjoining space? Whatever the case, you will appreciate these desks with hidden monitor storage solutions. It is all about hiding the workstation while you're not using it. Either you close a doorway or merely a lid.
1. Hide a Desktop Computer Behind a Couch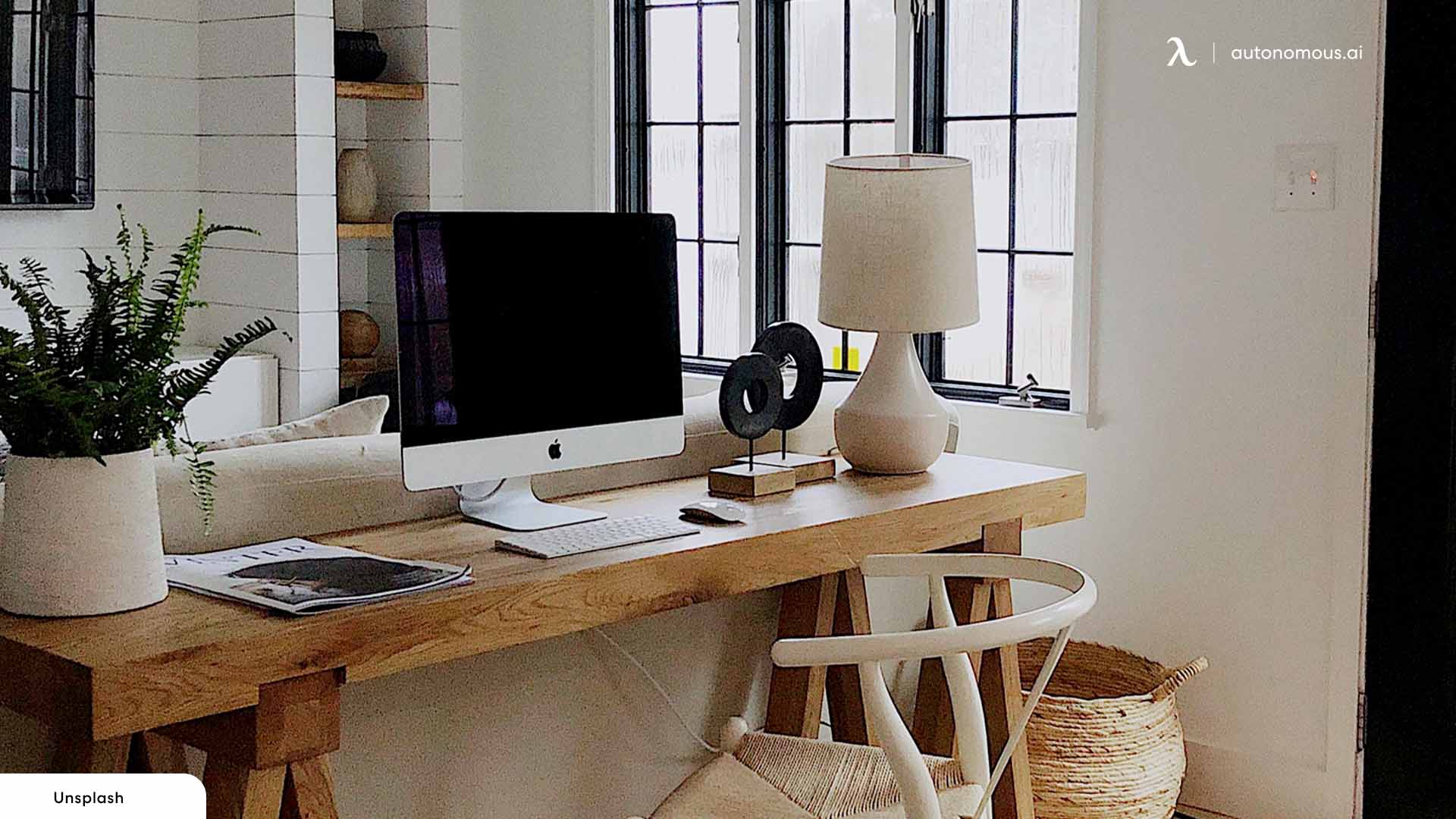 This isn't a novel technique to make a hidden workstation, but even the little ones are sometimes a creative way to get started in a shared house. To make such a setup work, use a QuarterSign desk and a Hidden Dual Monitor lift and ensure that the arching ledge remains ideal for fanning out documents while working and providing a dramatic display platform when you're not working.
2. Build a Concealed Workstation into a Little Occupied Floor Space
Since you're imaginative, you can operate in even the tiniest areas. A constructed, slide-out desk with a hideaway monitor or desk with hidden monitor storage provides many comfortable work areas and storing space beneath while taking up very little square footage. When you finish working from home and go to the workplace, this storage and screen space may be transformed into clothing storage and a grooming table, with cosmetics and jewelry hidden underneath.
3. QuarterSign™ desk with Hidden Dual Monitor lift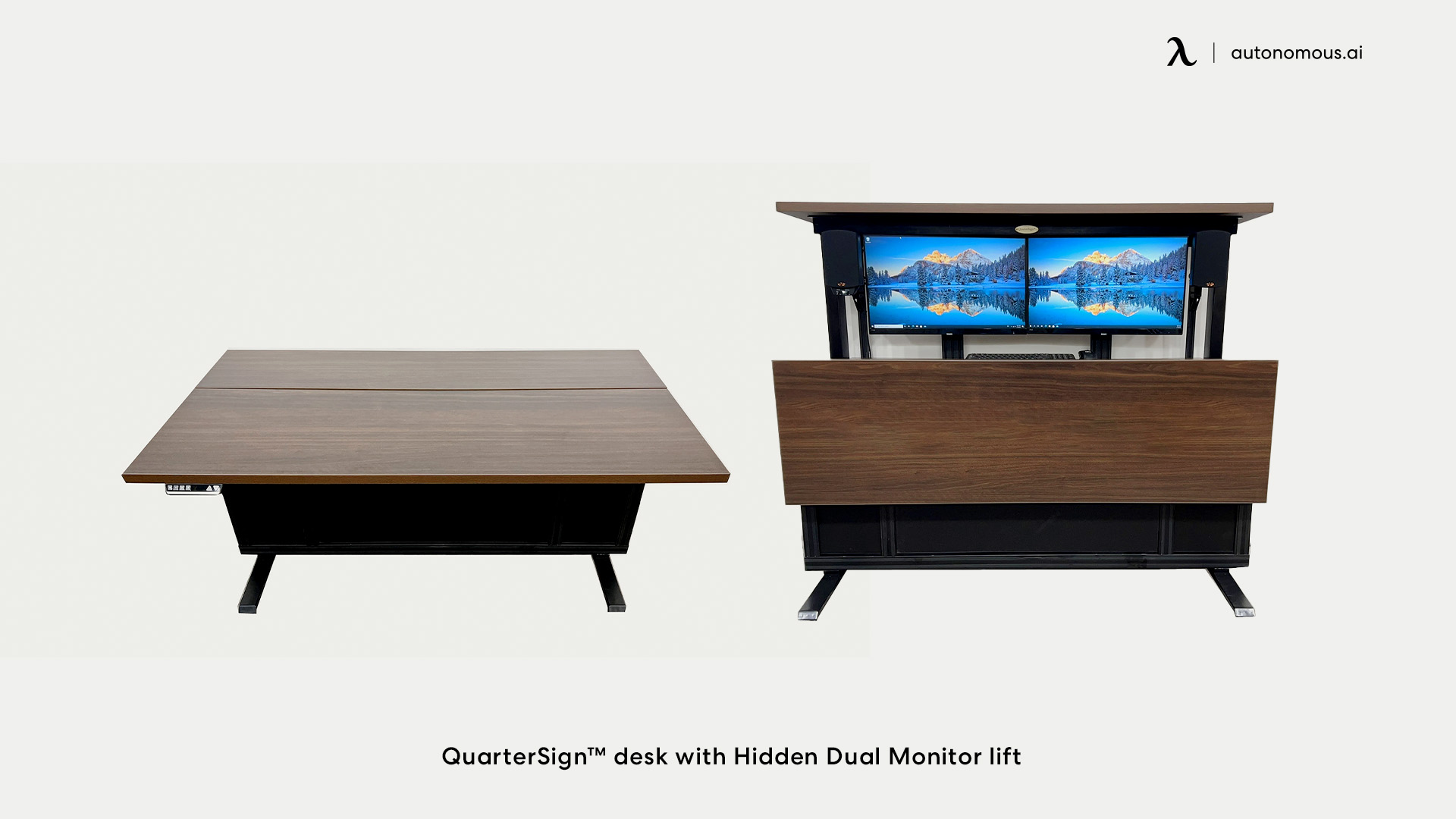 Computer desks with hidden monitors underneath the stairwells may be effective if done quietly. Sure, you may have units installed to incorporate storage that match the fine craftsmanship on your stairway. Still, we prefer a simple minimalist method, in which a gap is hollowed out, varnished, and embellished with nothing but a gorgeous bit of timber. These desks that hide monitors maintain the area simple and aesthetically clean, ideal for a small space.
4. A Bedroom Hidden Desk
Bedroom cubby holes on smart office desks are ideal for concealed workplaces, with compact workstations which are ideal for writing letters, laptop research, and simply allowing you some time to relax, with some chests that come with pull-out computers combining storage for documents or clothing to fit your requirements. When designing a home office, utility, including storage, should be vital to your layout but not be aesthetically prominent.
5. Convert a vintage piece into a concealed desk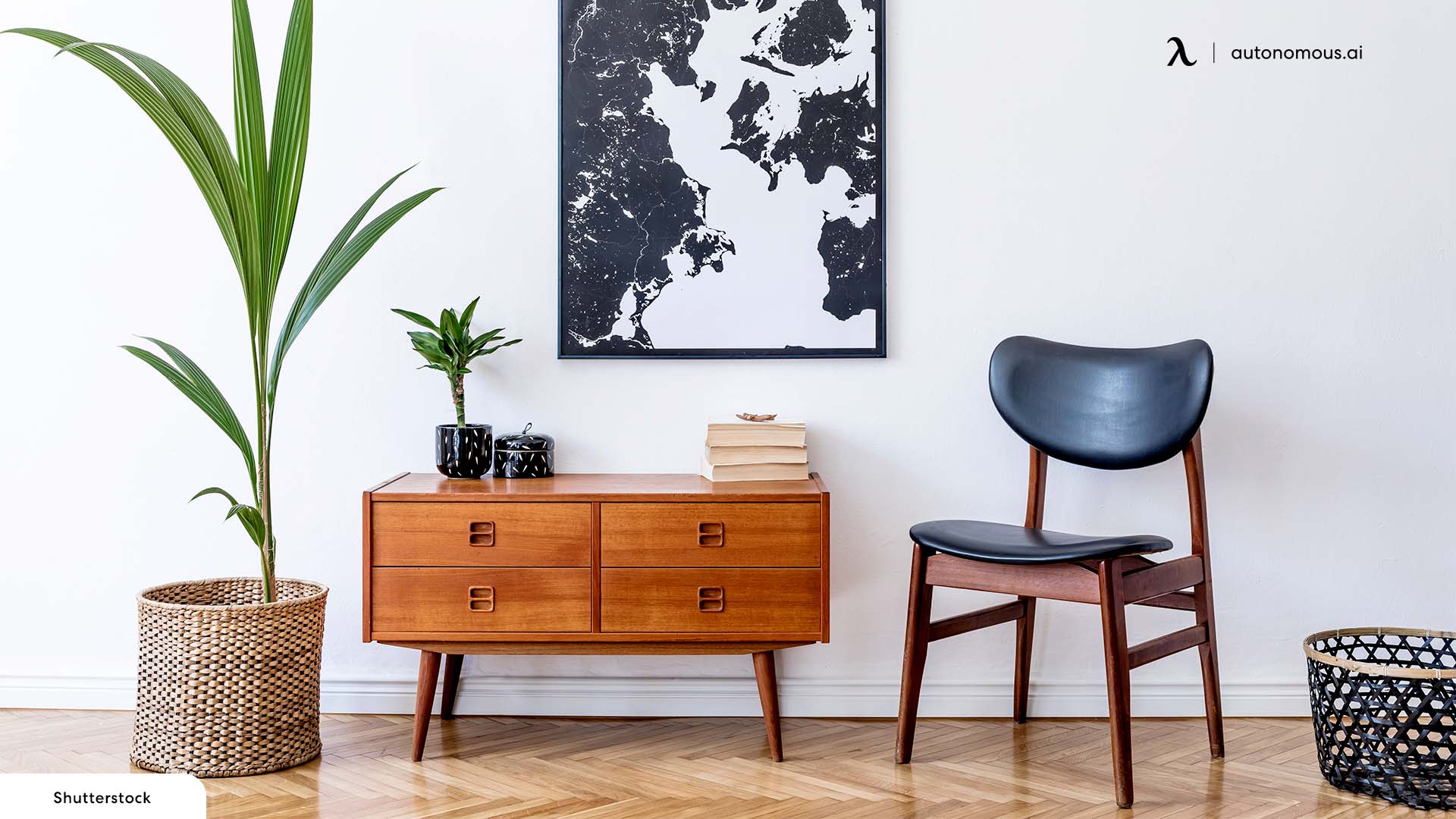 If appearances are crucial to you and your only alternative is a standalone piece, why should you settle for a standard workstation and basic office shelving when you can precisely convert an outstanding piece of equipment to fit your needs? - Using antiques, you may construct a personal study for yourself. A beautifully hand-painted chinoiserie office desk with cabinets in the main bedroom will conceal your display and make the workstation more appealing.
6. Create a Separate Workstation with an Open Plan Space Divided by Doors
If your current desk for dual monitors is part of a public plan structure and you cannot simply seem to obtain the calmness you need, consider shutting off the side you're operating in with shutters or doors. Sliding doors require less space as compared to hinged doors, and then if you select ones with personality, those will make an aesthetic impression and be functional. Coloring the office space, a darker, more expressive color divides it and provides evidence that it has a distinct function compared to the majority of the plan.
7. Rethink Windowless Areas You'd Passed Over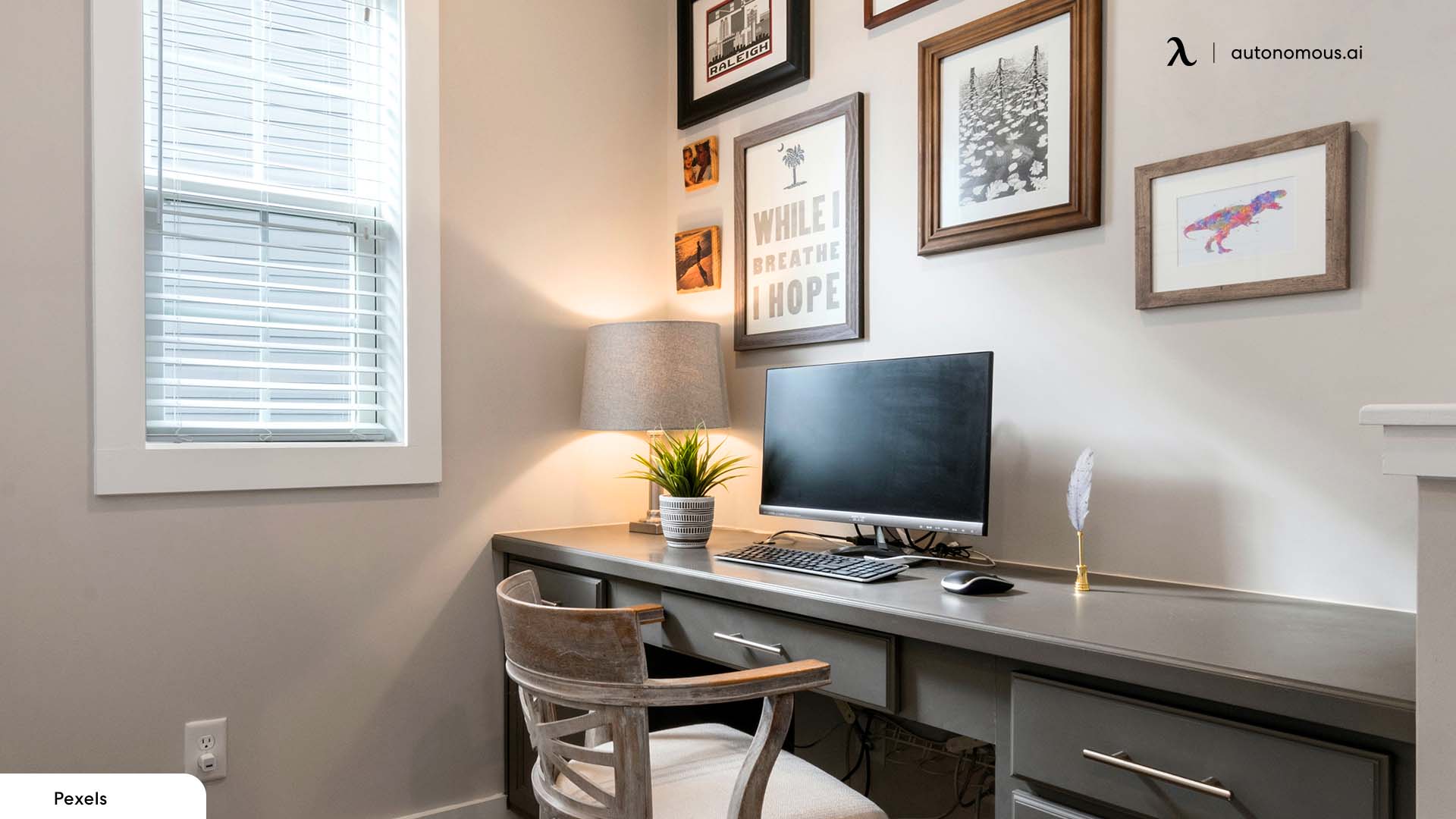 Take a new look throughout your home - check if there is any free space you previously classified as undesirable, possibly due to a lack of natural daylight? It could even be an insulated pantry with a removable partition wall or the rear half of a large living room and kitchen. Instead of using the area only for a workspace, go for a fragmented design and build a curved monitor desk setup with transparent inner walls and a door – that lets natural light in for a while, keeping noise from everyone else out.
8. Buy a Purpose-Built, Self-Contained Home Office
The easiest approach to establishing a concealed laptop and monitor setup is an all-in-one solution, such as a separate home office. When not in use, an office built into a dresser for desks that hide monitors is ideal for concealing the monitor. When the doors are closed, it seems to be a stylish piece of equipment – and you could have it repainted and select door furnishings to match your design. It becomes a perfectly usable compact home office when the doors are opened. The clever part is that the shutters should be pivoted so they may loop all around the sides and be used as a pinboard. It should also provide the proper height for the monitor. This dresser or workspace has flexible shelves, pull-out drawers, and a typical hole to cover all of your cables.
Conclusion
Workstations, including monitors, may be hidden in lounge rooms or your dedicated home offices. The less obvious approach to disguise a desk is to position it just behind a piece of furniture, such as the backrest of a couch - this works especially well in open-concept spaces. Another alternative to desks that hide monitors is to place a desk in a lounge room corner - inside a cabinet is the ideal way to conceal it, but select one with a lighter finish to avoid looking cumbersome. You can also hide a workstation in a lounge room by employing a monitor display to pull over it when not being used.
Hey, you have special pricing through your company.
Get exclusive rewards
for your first Autonomous blog subscription.
WRITTEN BYAutonomous
We build office products to help you work smarter.