Smart Products
Hidden Monitor Desk Ideas for a Private Home Office
10,569 Views
Working remotely has become the accepted norm for most of us – yet some have yet to take the freedom to consider how we will deal with the tricky issue of establishing a designated place, only for ourselves, besides other people in the family. Some of whom are also working – or schooling – at home. But it's not only about obtaining spaces; it's also about not being able to view the workplace gear at the end of each day. It simply makes it so tough to shift off.
Getting a desk that hides monitors in an office space can increase your efficiency, even if you're searching for the finest computer workstation for two to three monitors. It is simple to find a hidden monitor desk fit for your office space. 
Ideas for Desks Which Can Also Hide Monitors
It's possible that your home office layout isn't optimal. It might be in your dining room, bedroom, lounge room, or even on your legs. It might be minimal – or you could have a huge separate space – but how do you fit it into an adjoining space? Whatever the case, you will appreciate these desks with hidden monitor storage solutions. It is all about hiding the workstation while you're not using it. Either you close a doorway or merely a lid.
1. Hide a Desktop Computer Behind a Couch
This isn't a novel technique to make a hidden workstation, but even the little ones are sometimes a creative way to get started in a shared house. To make such a setup work, use a QuarterSign desk and a Hidden Dual Monitor lift and ensure that the arching ledge remains ideal for fanning out documents while working and providing a dramatic display platform when you're not working.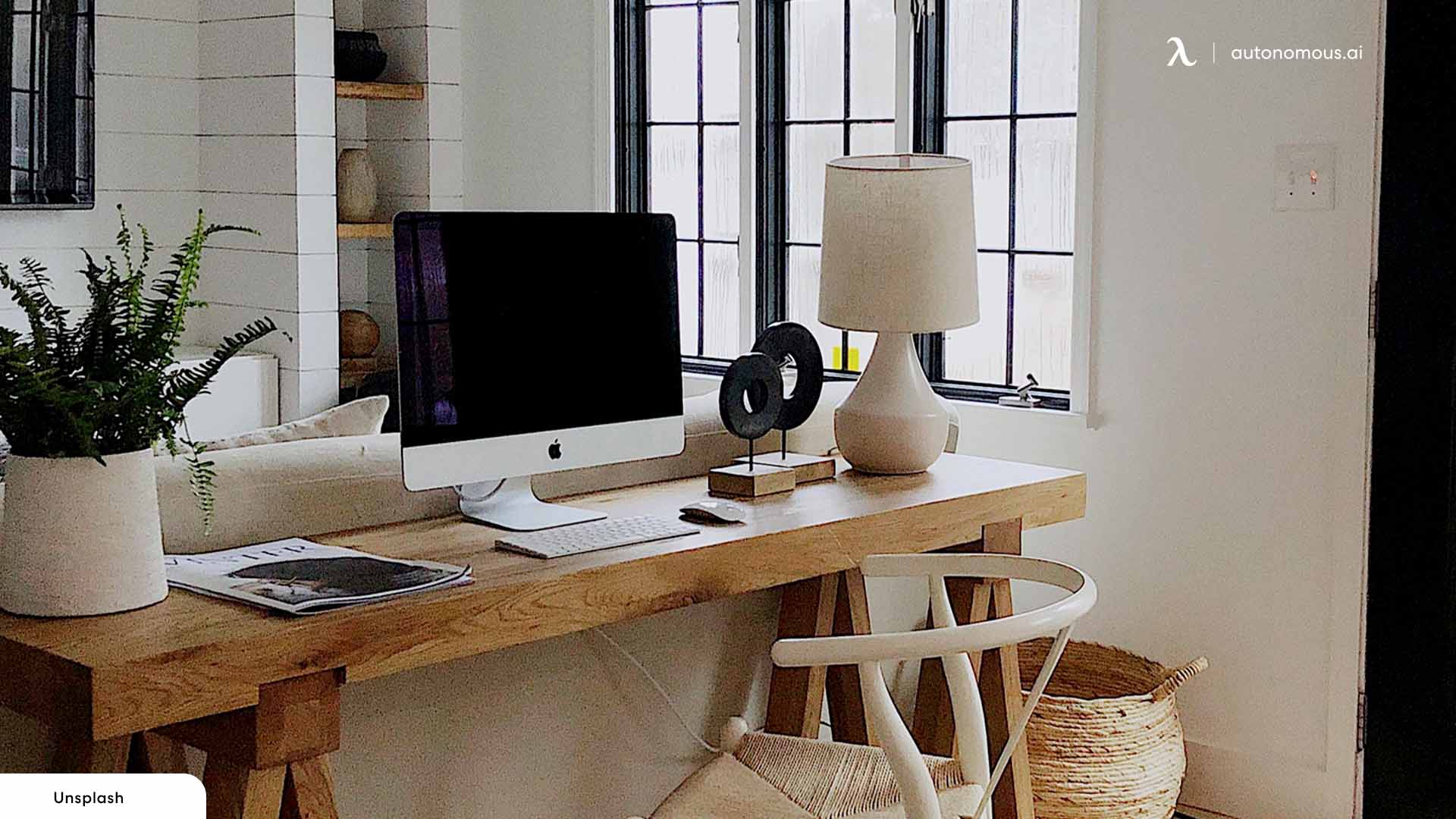 2. Build a Concealed Workstation into a Little Occupied Floor Space
Since you're imaginative, you can operate in even the tiniest areas. A constructed, slide-out hidden monitor computer desk or desk with monitor lift and storage provides many comfortable work areas and storing space beneath while taking up very little square footage. When you finish working from home and go to the workplace, this storage and screen space may be transformed into clothing storage and a grooming table, with cosmetics and jewelry hidden underneath.
3. QuarterSign™ Desk with Hidden Dual Monitor Lift
Computer desks with hidden monitors underneath the stairwells may be effective if done quietly. Sure, you may have units installed to incorporate storage that match the fine craftsmanship on your stairway. Still, we prefer a simple minimalist method, in which a gap is hollowed out, varnished, and embellished with nothing but a gorgeous bit of timber. These hidden monitor desks maintain the area simple and aesthetically clean, ideal for a small space.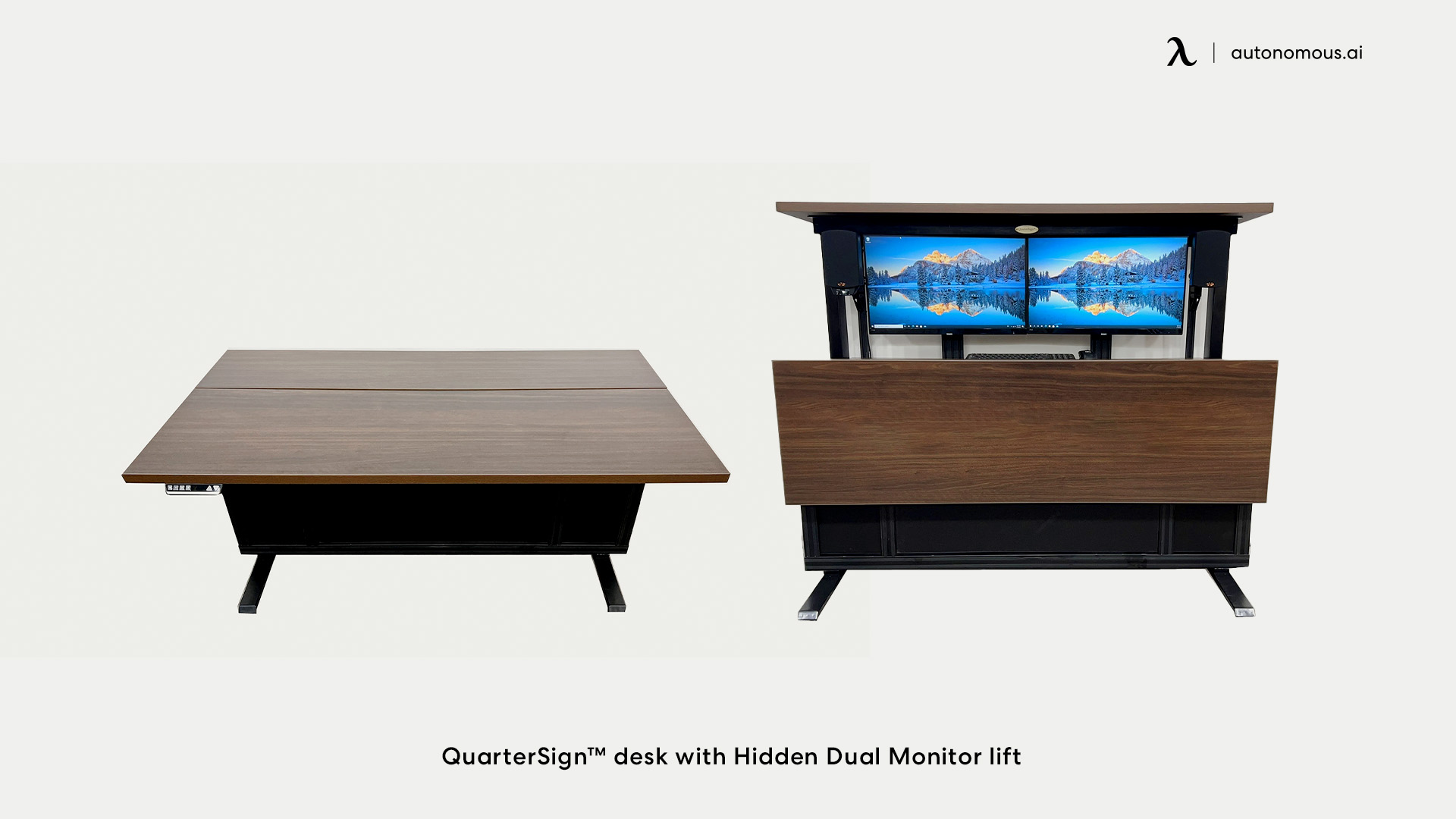 4. A Bedroom Hidden Desk
Bedroom cubby holes on smart office desks are ideal for concealed workplaces, with compact workstations which are ideal for writing letters, laptop research, and simply allowing you some time to relax, with some chests that come with pull-out computers combining storage for documents or clothing to fit your requirements. When designing a home office, utility, including storage, should be vital to your layout but not be aesthetically prominent.
5. Convert a Vintage Piece into a Concealed Desk
If appearances are crucial to you and your only alternative is a standalone piece, why should you settle for a standard workstation and basic office shelving when you can precisely convert an outstanding piece of equipment to fit your needs? - Using antiques, you may construct a personal study for yourself. A beautifully hand-painted chinoiserie office desk with cabinets in the main bedroom will conceal your display and make the workstation more appealing.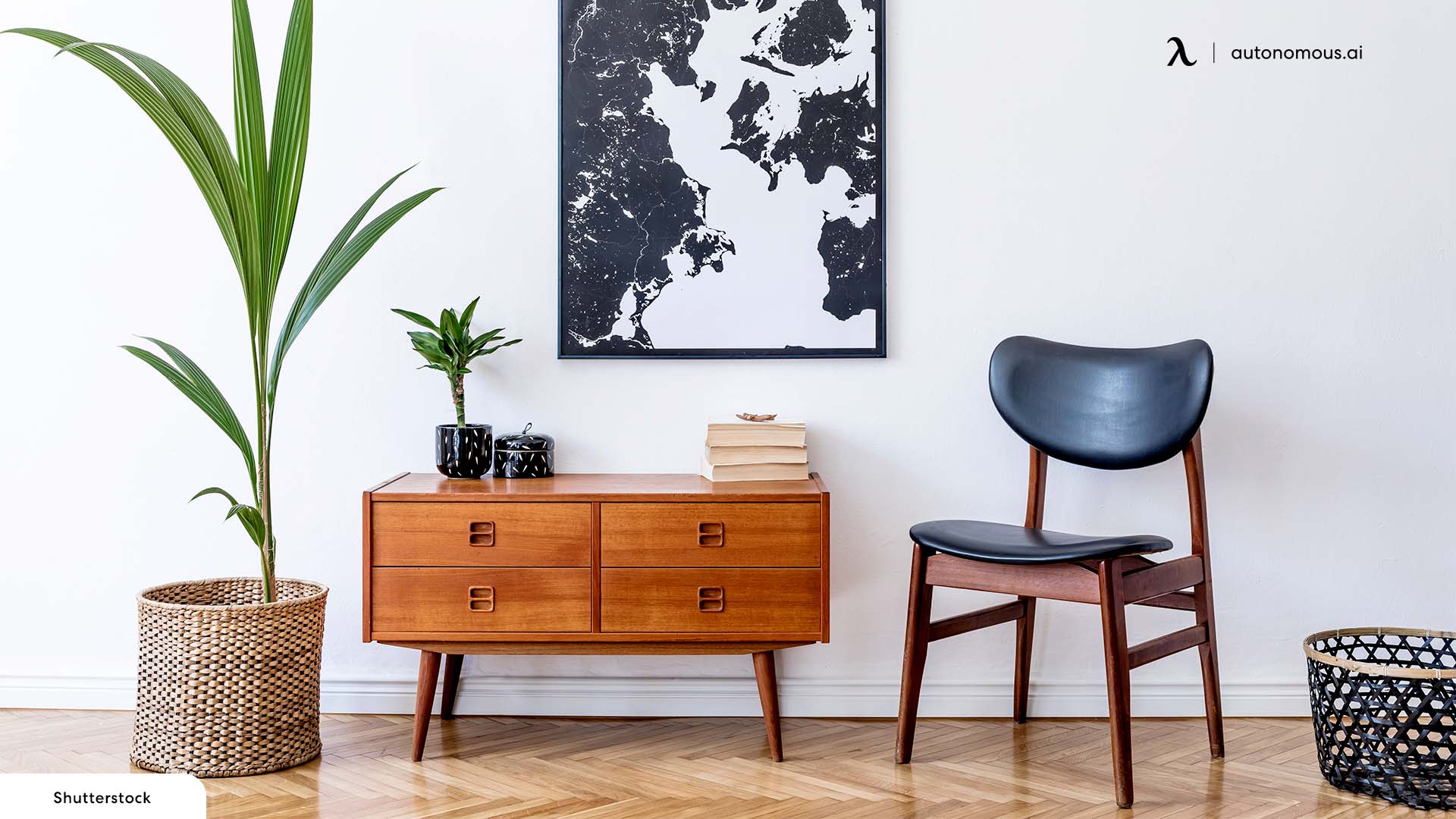 6. Create a Separate Workstation with an Open Plan Space Divided by Doors
If your current desk for dual monitors is part of a public plan structure and you cannot simply seem to obtain the calmness you need, consider shutting off the side you're operating in with shutters or doors. Sliding doors require less space as compared to hinged doors, and then if you select ones with personality, those will make an aesthetic impression and be functional. Coloring the office space, a darker, more expressive color divides it and provides evidence that it has a distinct function compared to the majority of the plan.
7. Rethink Windowless Areas You'd Passed Over
Take a new look throughout your home - check if there is any free space you previously classified as undesirable, possibly due to a lack of natural daylight? It could even be an insulated pantry with a removable partition wall or the rear half of a large living room and kitchen. Instead of using the area only for a workspace, go for a fragmented design and build a curved monitor desk setup with transparent inner walls and a door – that lets natural light in for a while, keeping noise from everyone else out.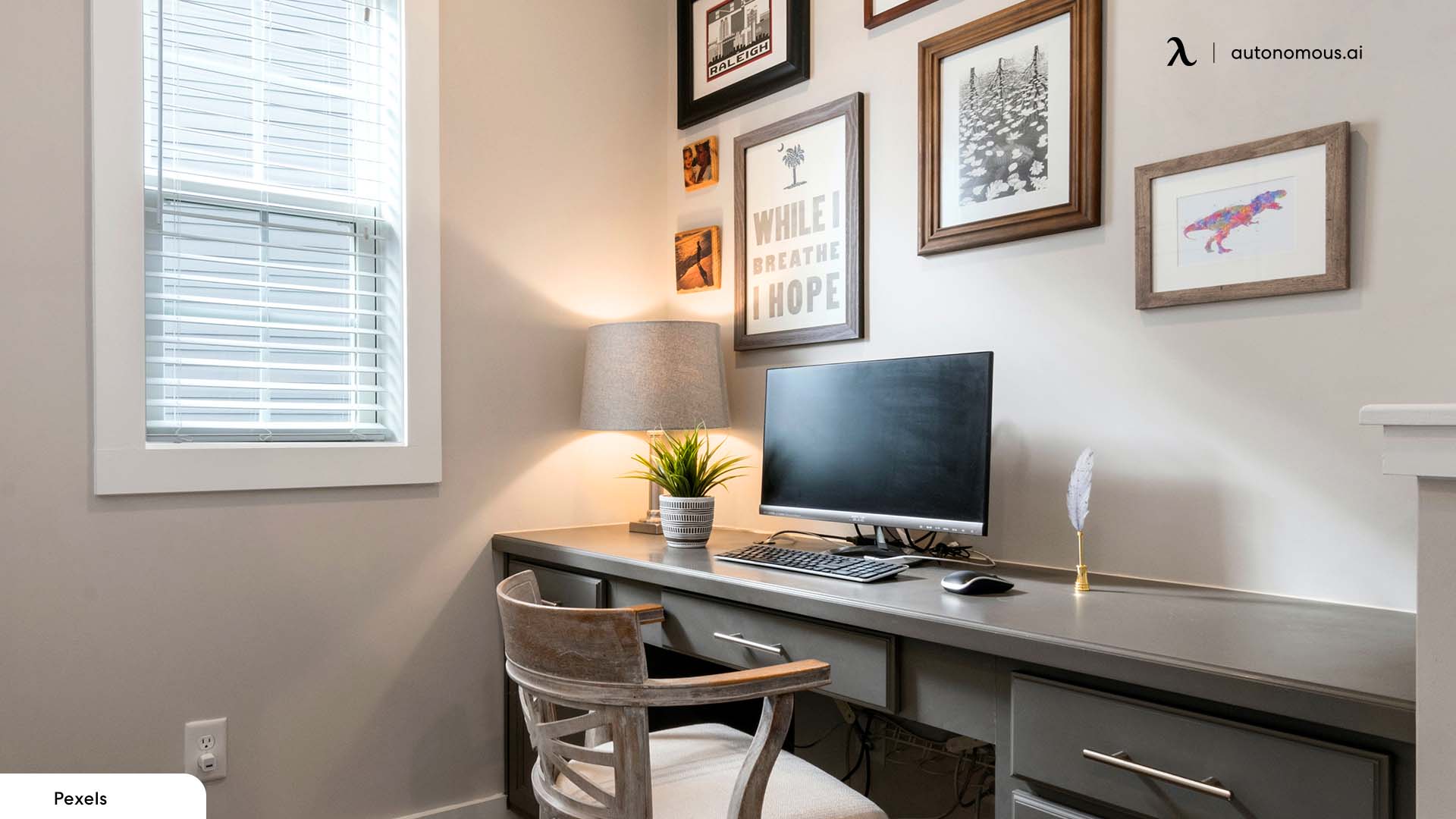 8. Buy a Purpose-Built, Self-Contained Home Office
The easiest approach to establishing a concealed laptop and monitor setup is an all-in-one solution, such as a separate home office. When not in use, an office built into a dresser for hidden monitor desks is ideal for concealing the monitor. When the doors are closed, it seems to be a stylish piece of equipment – and you could have it repainted and select door furnishings to match your design. It becomes a perfectly usable compact home office when the doors are opened. The clever part is that the shutters should be pivoted so they may loop all around the sides and be used as a pinboard. It should also provide the proper height for the monitor. This dresser or workspace has flexible shelves, pull-out drawers, and a typical hole to cover all of your cables.
9. Color Coordinate Your Desk Storage
Color-coordinate your workplace and craft items in clear jars and complementary containers to combine utility and style. Instead of wasting valuable work space, utilize empty wall space by adhering them to lined shelves.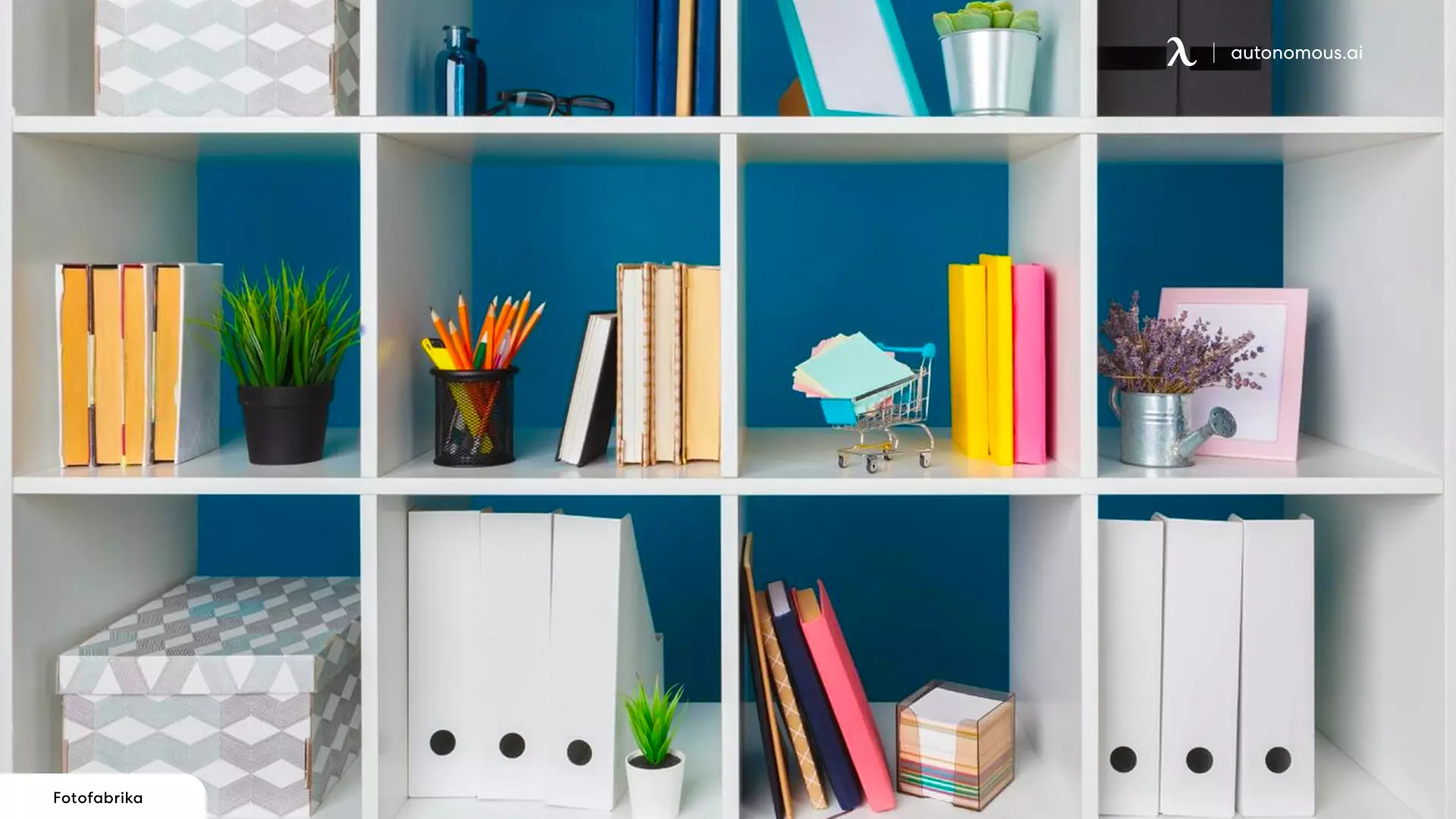 10. Desk Under the Stairs
If you wonder how to hide monitors on a desk, this is a great idea for you. If done tastefully, desks tucked beneath stairs can be very effective. You can also plan storage options that match your needs. a designed delicate woodwork will complement well to an under-stair desk idea. This strategy keeps the area organized and visually clear, which is ideal for a small space.
11. Wall Divider
A wall divider isn't just for privacy but, in the modern world, can work as a private office. Use a wall divider to define a boundary between work and office. You can use the wall for important notes, post-its, or work reminders that slip off your mind regularly.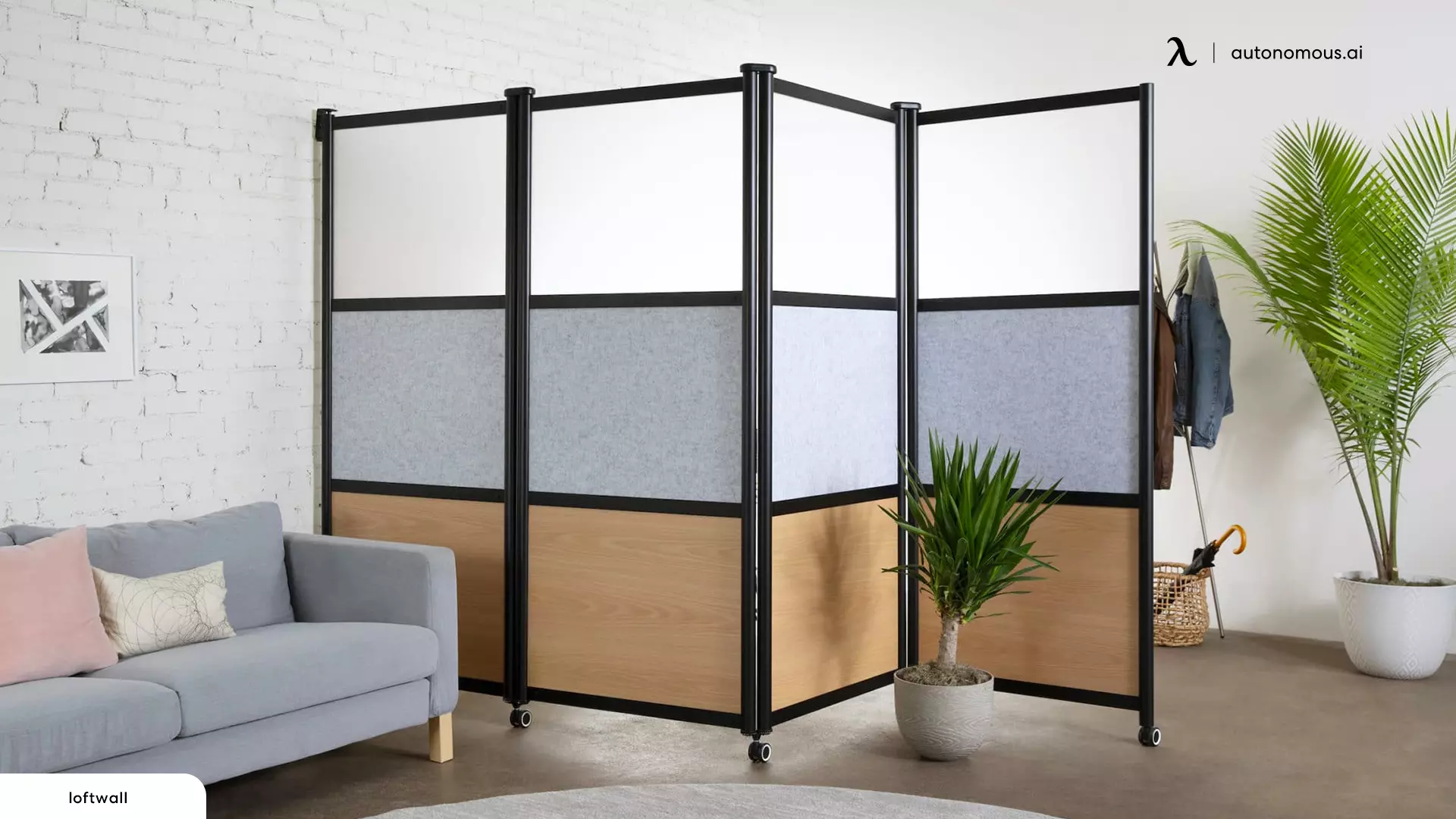 12. Look for Ignored Space
Look around your house with fresh eyes. Is there any unutilized space that you weren't paying attention to because it was dark and secluded?
Well, a little work can be done to make it shine. It could be a locked cabinet with a stud wall you can take down or the opposite end of a long kitchen/diner and living area. Start being creative.
13. Closet Desk
Have some extra closet space? You might be low on shopping sprees these days, and there is another benefit of that other than just saving money. A closet desk is a wonderful hideaway idea that can be used for a home office setup. Mount a platform inside your closet and use it for your work needs. Make arrangements for other accessories and invest in a cable management system.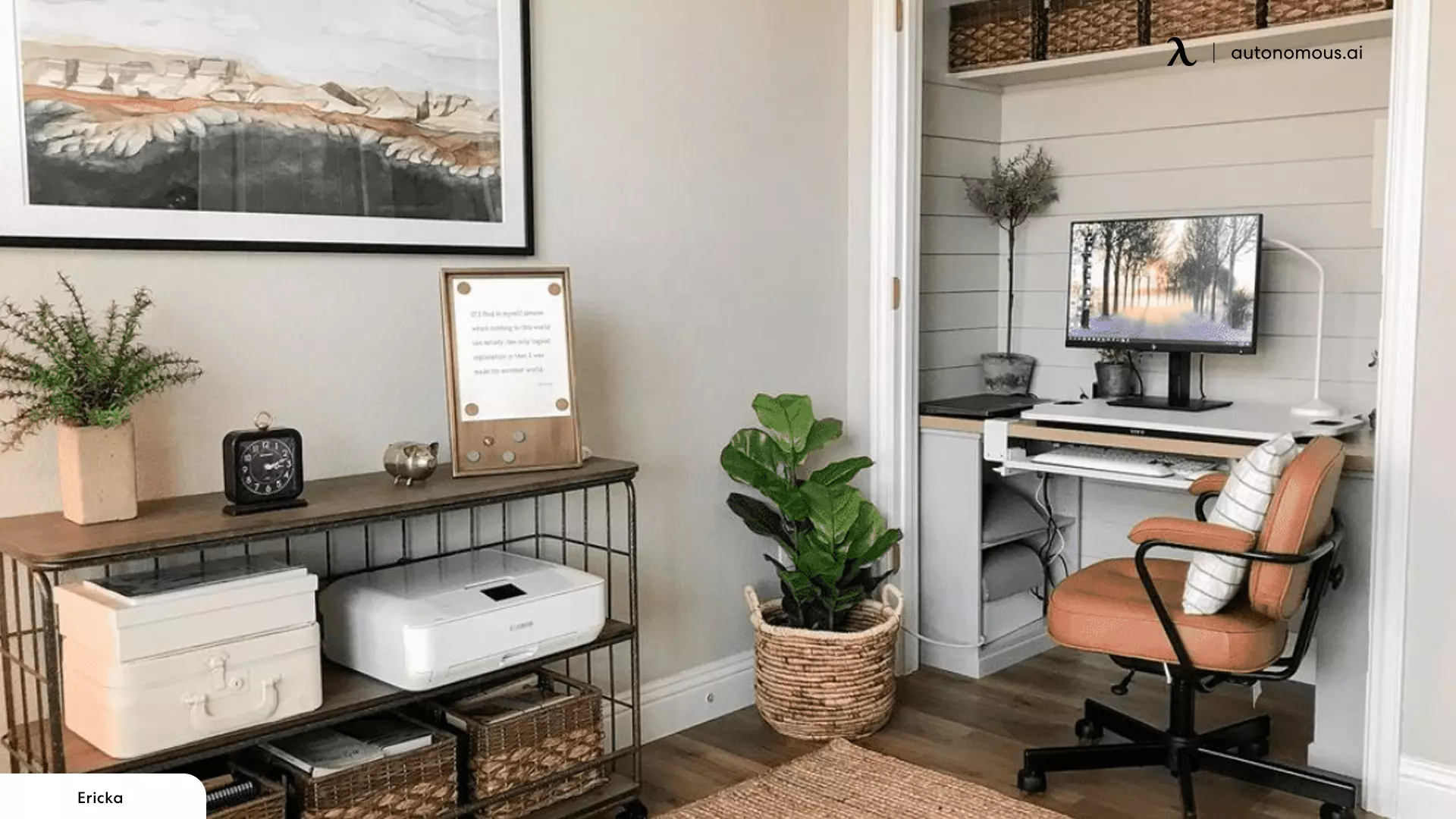 14. A Desk with a Door
You have seen rooms with doors and closets with doors, but a desk with a door is a new idea. After all, we promise some unique ones for you. If you cannot manage a full space for your work, mount a fold-down desk for a corner of the wall. Dress up your desk with some essentials and work peacefully.
15. Mirrored Desk
This seems like a great investment, but we promise you will not regret it. The mirror trick works great when looking for a hideaway desk idea. Elegant mirrored furniture will appear lovely, improve your bedroom, and won't obstruct the view where you might want to hide a workspace if it is kept tidy and handled with care.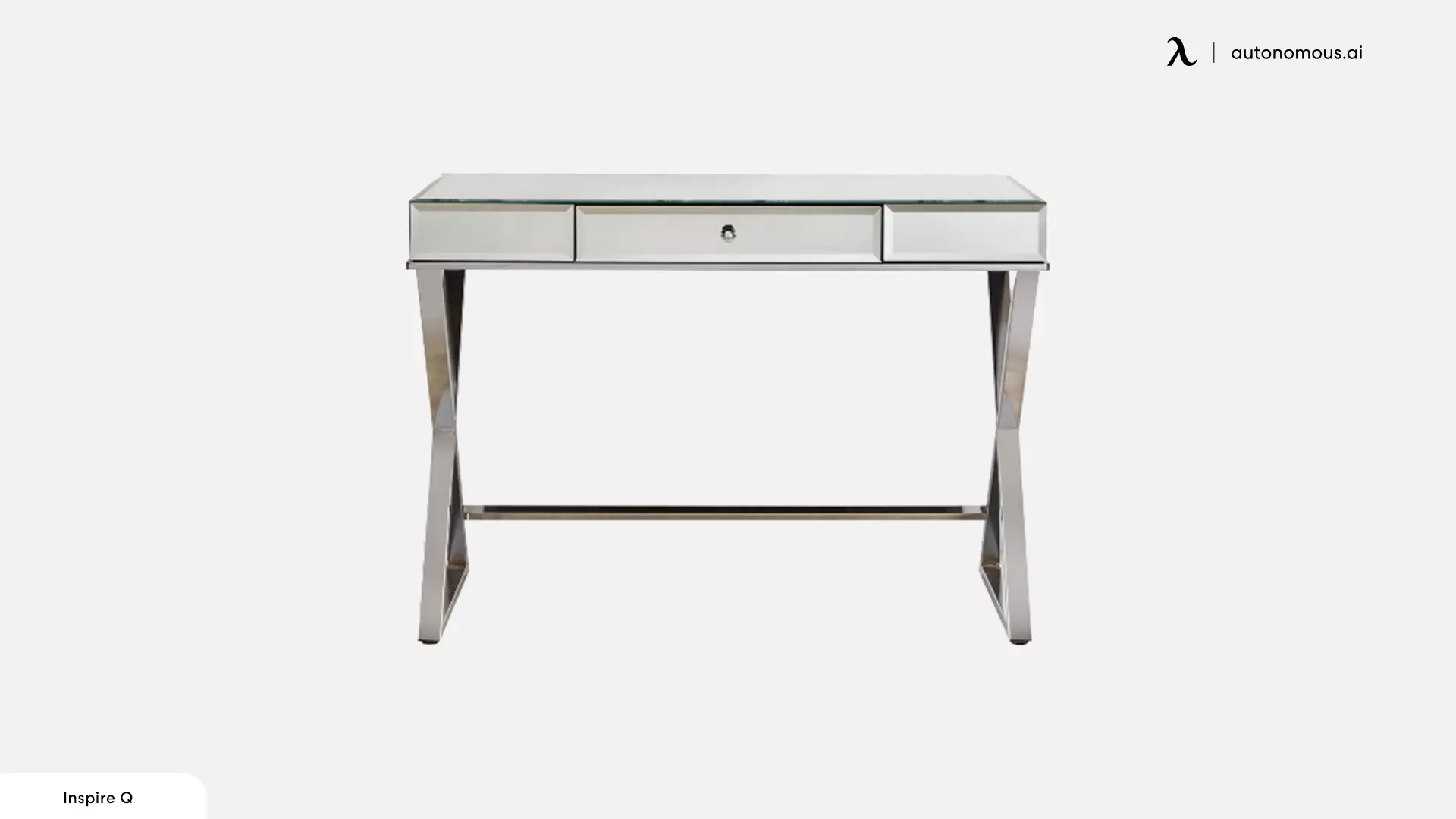 16. Work Desk Out of Dresser
Are you worried about not having the budget to spend on a different desk? You need to look in the right direction. Your room dresser can be a great part-time work desk when you need it. If you're beginning from scratch, join a piece of plywood to a set of dressers that match. The spacious dresser drawers, unlike typical desks, provide you with plenty of room to store creative items, school books, and electronic equipment.
17. Vanity Office
Turning an unused bedroom vanity into a workstation is one option if you want to work from home but lack office space. You can decorate it as you please and have a private work space for which no one will come.
Best Products to Hide Monitors on Desks
Privacy in a workplace is a crucial key factor that leads to productivity. Some people prefer working in a quiet corner where no one is peeking over their monitor, or they will find themselves frozen and unable to work. That means that one should look for a private workspace to keep themselves fully engrossed in the work. A private workspace or a hidden monitor desk is even more important when discussing a home office. This is because a hidden computer monitor will provide the right solution to a crowded home or shared office space.
Another reason to opt for a hidden monitor computer desk is that most people partially use their home office desk for other needs. A hidden monitor desk will then help you attain the perfect work-life balance where you can tune your work computer out of sight when done with office hours.
In this part; we will enlist the best ways to hide monitors on desks as well as desk solutions that can hide your computer accessories.
1. Autonomous SmartDesk Corner
Not the exact definition of a hideaway desk, but the Autonomous SmartDesk Corner provides the right level of privacy in a workplace. This desk is a large L-shaped desk that smartly utilizes the corner space. Ideal for single to triple-monitor setups, the smart desk corner lets you work peacefully without anyone peeking into your screen.
2. Autonomous Monitor Arm
Do you also have a multi-purpose desk that becomes your work desk and decoration table for the rest of the day? A monitor stand for a desk could be the right lift you need for your work screen.
A desk with monitor lift has many benefits besides being a temporary work surface. The Autonomous monitor arm keeps your work desk clean and gives an ergonomic screen height while working.
3. Mount-It! Standing Desk Converter with Gas Spring
A gas spring lifting mechanism supports this standing desk converter by Mount-It!. It folds away into a compact desk and can be opened to work. The desk has a weight capacity of 37 pounds and is a perfect temporary and portable work desk. The desk might not be spacious, but with a CPU holder, you can complete your entire work setup.
4. Modernsolid Mobile Laptop Cart
The Modernsolid mobile cart is a mobile height-adjustable desk. This desk comes out when needed and can be slid back behind a door or closet. Ideal for tiny homes, the Modernsolid mobile laptop cart has wheels, lockable wheel casters, and a sturdy structure.
6. A Rolling Cart for Desk Clutter
Put your work supplies on a nearby rolling cart that you can move around as needed throughout the day to keep everything close at hand. This will keep all your accessories organized and in proximity and remove the hassle of tidying up your desk at the end of the day.
7. Floating Shelves
Huge pieces of furniture take up too much room in small areas, so attach shelves directly to the wall and install a tracking system above your work desk. Add as many shelves as you require to suitably store your workplace necessities, including books and art items. And when the work hours end, fold away your laptop and use the desk for other purposes.
Conclusion
Workstations, including monitors, may be hidden in lounge rooms or your dedicated home offices. The less obvious approach to disguise a desk is to position it just behind a piece of furniture, such as the backrest of a couch - this works especially well in open-concept spaces. Another alternative to hidden monitor desks is to place a desk in a lounge room corner - inside a cabinet is the ideal way to conceal it, but select one with a lighter finish to avoid looking cumbersome. You can also hide a workstation in a lounge room by employing a monitor display to pull over it when not being used.
Subcribe newsletter and get $100 OFF.
Receive product updates, special offers, ergo tips, and inspiration form our team.
WRITTEN BYAutonomous
We build office products to help you work smarter.