Smart Products
Top 15 Rolling File Cabinets Under Desk and How To Choose
2,256 Views
Are you tired of the mess on your work desk? Are you struggling to keep your system, mouse, paperwork and more on your desk? Tired of trying to find things from the swamp of items on your desk? Whether you are a home office worker or a business entrepreneur, expect paperwork to pile up on your desk.
Get rid of all the mess as you economize on floor space and stay organized for maximum productivity, says Harvard Business Review. How? Get yourself a rolling file cabinet under a desk that gives you ample space for your storage needs. Even the New York Times highlights the need for one, especially now that people are working from home.
Top 15 Rolling File Cabinets in Markets
Many activities are going on with every office, big or little, at any particular time. Staying organized and keeping the mess to a minimum are the most critical things you could do to maintain your workstation for your sanity and performance. When you just set up your workplace, you probably relied on workstations, chairs, laptops, and scanners as the equipment you'd want to get the task done. However, you probably overlooked storage.
The reality is that companies create a lot of paperwork, from agreements to bills, but where would you put it all once it has been approved and paid? Let's take a look at the real world of under desk cabinets. While all these rolling file cabinets have been here for a long time, they haven't evolved much through the years since they don't have to.
Manufacturers may have altered simple design considerations, wheels for movement have been installed in some, and latches for safety have been installed. Still, the rolling under desk storage cabinet's essential base stays the same as a cupboard with huge drawers that you can pull out for convenient access. It doesn't get any easier than this regarding office storage options.
If you're looking for some rolling file cabinets, you're certainly going to be overwhelmed mostly by the variety of options available. So, we've come up with a few of the best-rated products so you can decide and choose the ideal under desk cabinet system for your workplace – even if it was at a residence! Here are some of the best rolling file cabinets with drawers that you can get. As you go ahead and explore, don't miss to check out various file cabinet accessories that increase your work efficiency.
1. Filing Cabinet by Autonomous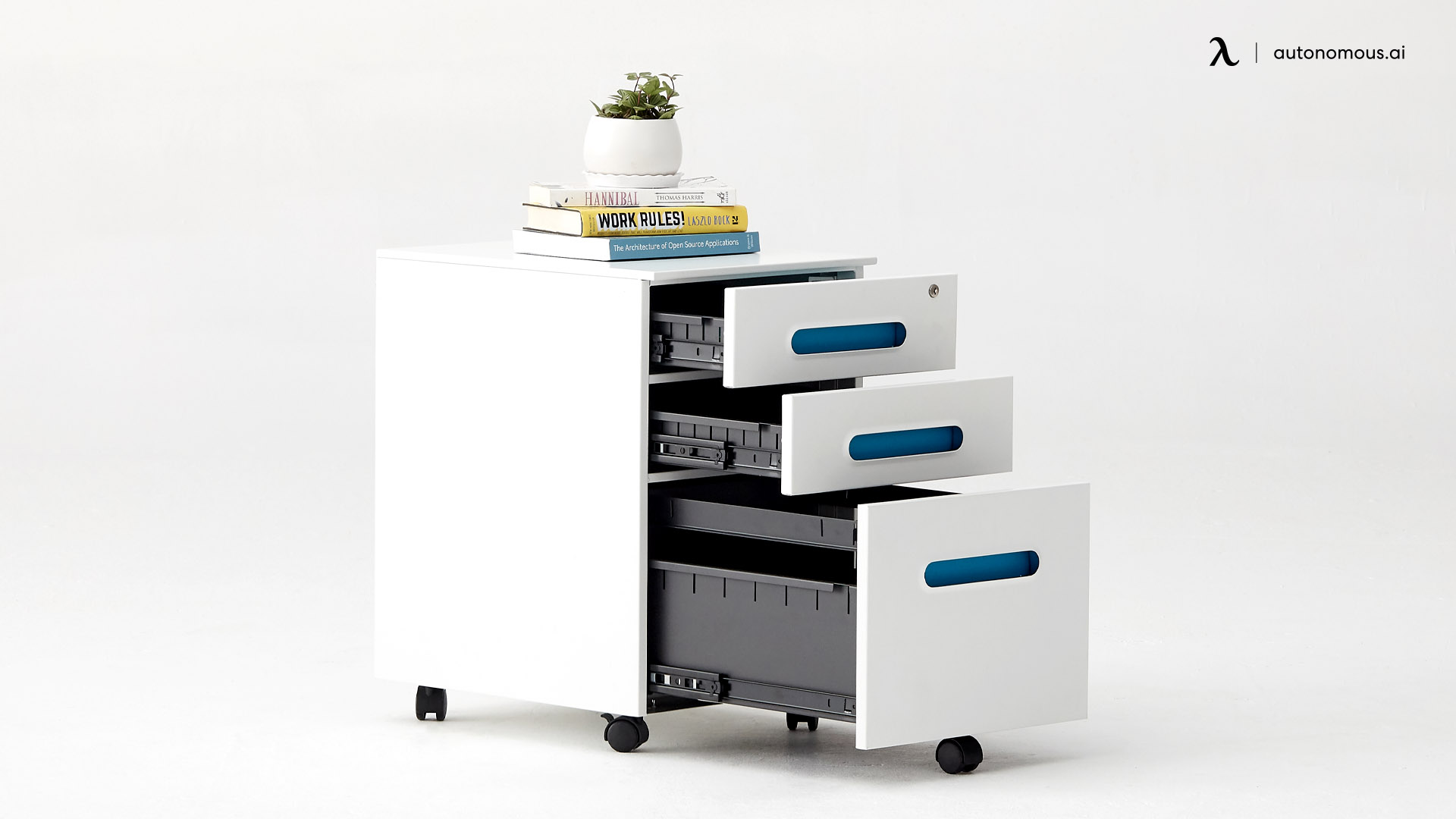 Your search for a filing cabinet is finally over! Yes, that's right. This filing cabinet by Autonomous rolls in under your work desk smoothly. Lock the wheels for a stationary position. As you explore the triple drawers, you find it has a large space inside. You can easily place your items and lock them up too for safety. You can also look to add a magnetic desk organizer.
If you are planning to store different file sizes, you have no worries about the available customizable dividers. It is made from solid steel and finished with anti-rust paint for longevity. Have you thought about an L-shaped desk with file cabinet?
2. Lorell File Cabinet (14341)
The Lorell two-drawer is eighteen inches deep, giving you more space. Available only in black color, this rolling file cabinet under desks is made from steel. It has a nice glide suspension for ease of operation. You will like the letter-sized high-side drawers.
3. Cabinet by Space Solutions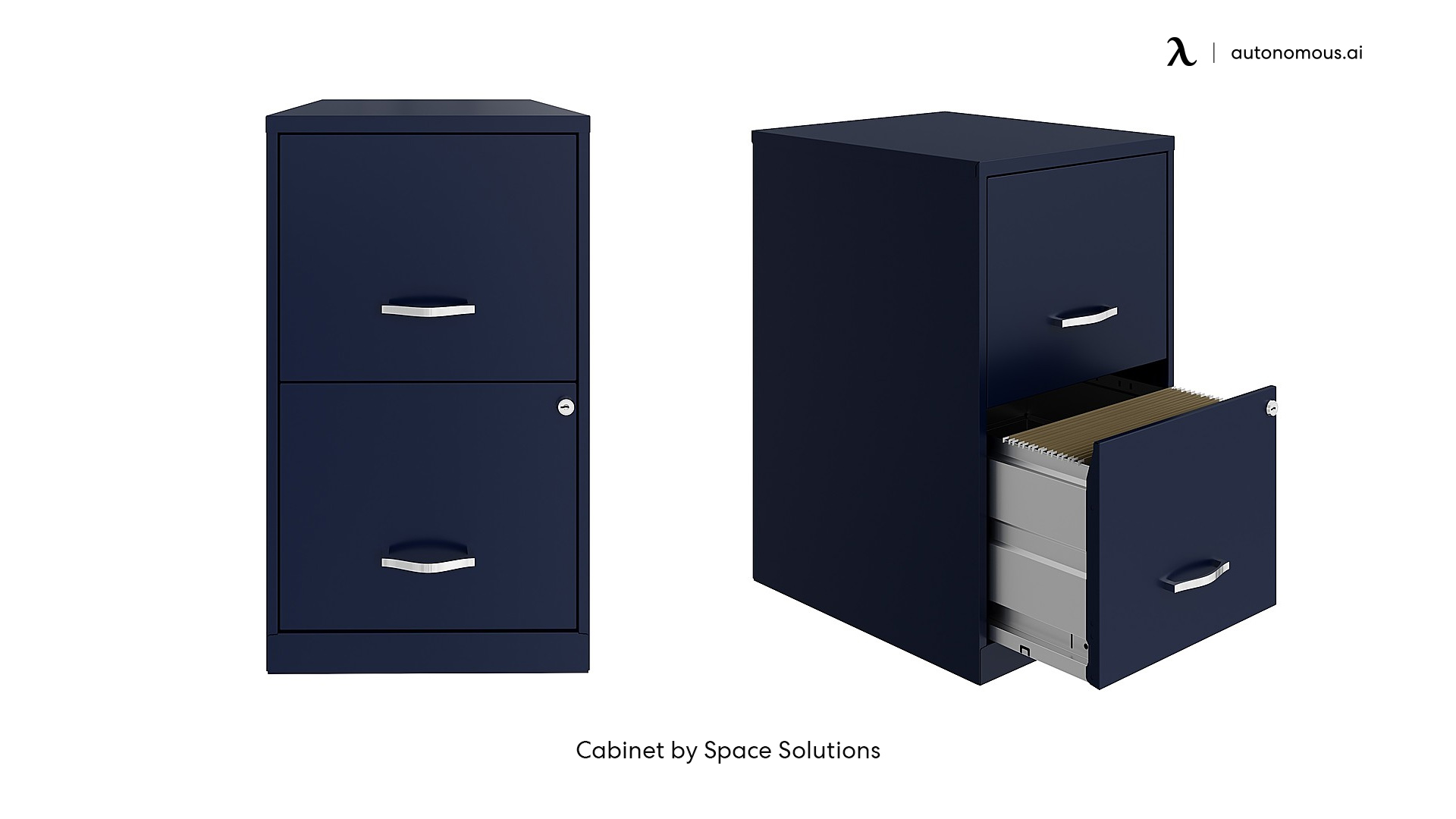 Explore this choice of metal file cabinet that offers you an additional small drawer for your everyday needs. Place this in small spaces or under your desk. You can easily hang letter-sized files. It also uses a patented glide suspension for smooth and easy operations. You are secure with a cam lock for the top two drawers.
4. Alera File Cabinet
You will love the different colors and dimensions this drawer is available in. The entire drawer has a telescoping slide suspension fitted with ball bearings. This rolling file cabinet under desks offers you an easy glide. You get recessed pulls for easy access. Don't miss the anti-tipping interlock system. It restricts you from opening more than one drawer at a time.
5. Union & Scale™ MidMod Cabinet (UN56967)
Thinking about refreshing your modern office furniture? You can't do without the Union & Scale™ MidMod lateral file cabinet. You can use storage for keeping documents and reports, and more. Remember, it is a lateral and portable filing cabinet under desk. It has a box drawer and a file drawer for storing files.
6. HON File Cabinet (H512)
Made from alloy steel, this metallic file cabinet is another choice. This vertical file cabinet has a double-walled front to enhance security. You can easily replace the one key core-removable lock, should you need it. Cut out the noise with the smooth glide it offers.
7. Slim Stow Cabinet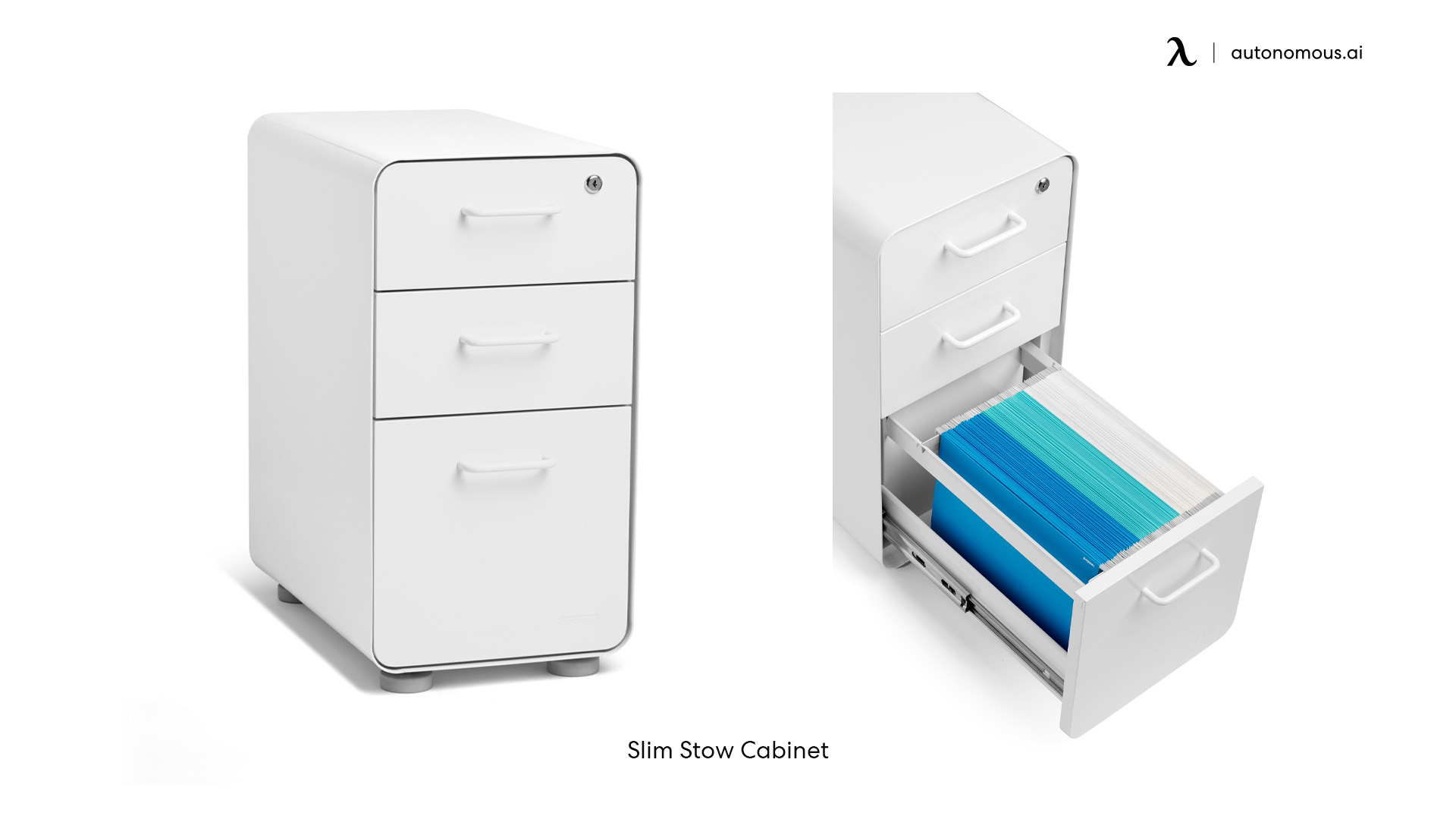 Save yourself ample leg space with this Slim Stow file cabinet. It is made from steel (powder-coated) to offer you higher safety. This 3 drawer rolling under desk storage offers you a simple yet secure lock that keeps all three drawers under a vigil.
8. Bonnlo Cabinet
Another choice that you must look up is the Bonnlo rolling cabinet with drawers. It is made from metal and has a superior environmentally friendly finish for durability. Hang your files in the bottom drawers. Use the upper two drawers for miscellaneous storage. It has a pedestal lock to manage your safety needs.
9. INTERGREAT Cabinet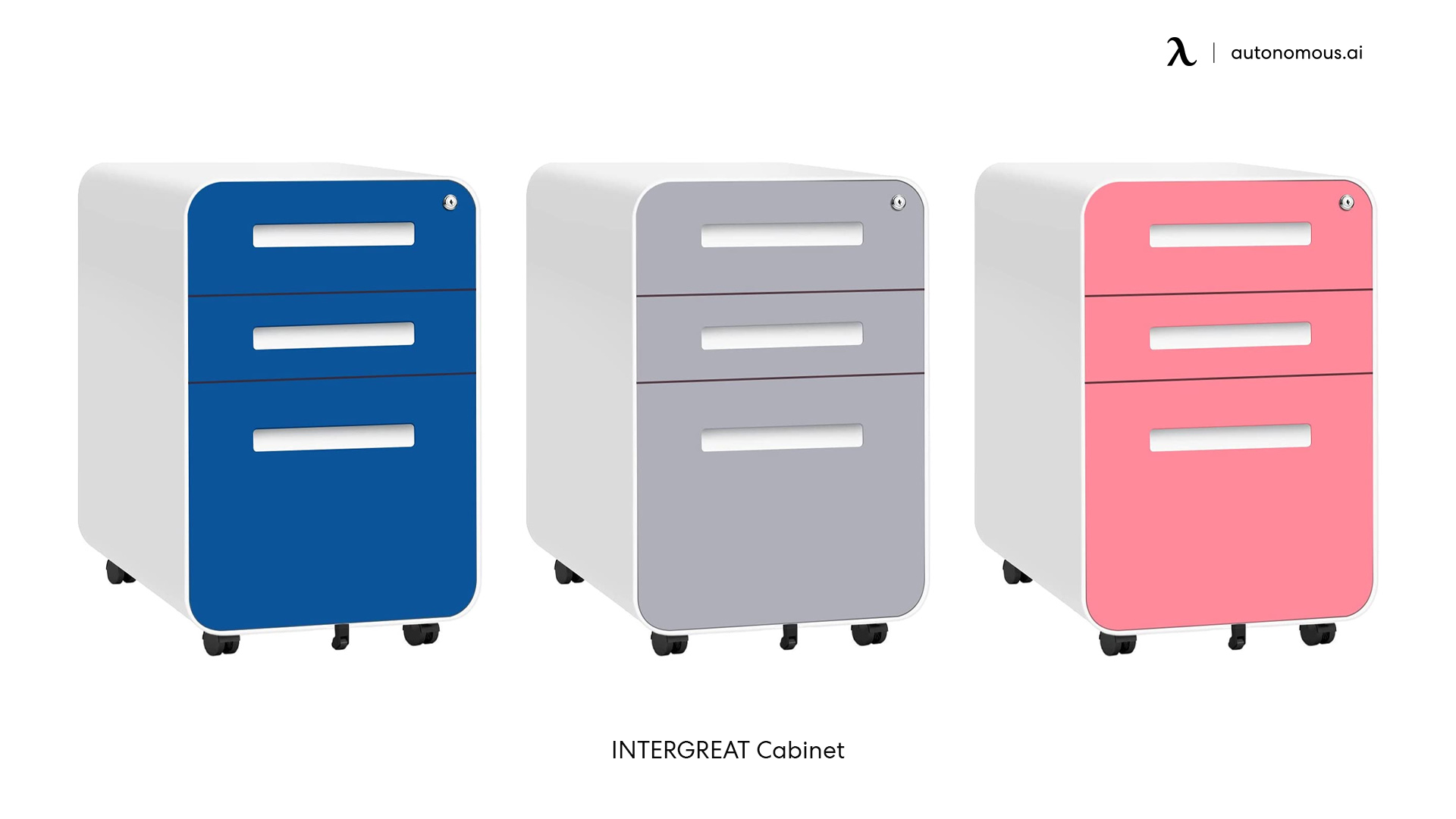 Reinforced with a steel frame, this filing cabinet suffices all your storage needs. No more corrosion or rust with an eco-friendly powder-coated on metal. You get two utility drawers and a pencil tray too.
You will love the inset handles that make it easy to access. The ball bearing glides make it easy to pull out heavily stored drawers.
10. Winsome Halifax Cabinet
With the Winsome locking rolling file cabinet under desks, you can sort and store your files and paperwork. This mobile filing cabinet has easy storage with cut-out drawers for easy access. You can even lock the castors in place.
Or you could always explore how to build a file cabinet yourself.
11. Slim Filing Cabinet by Autonomous x Wistopht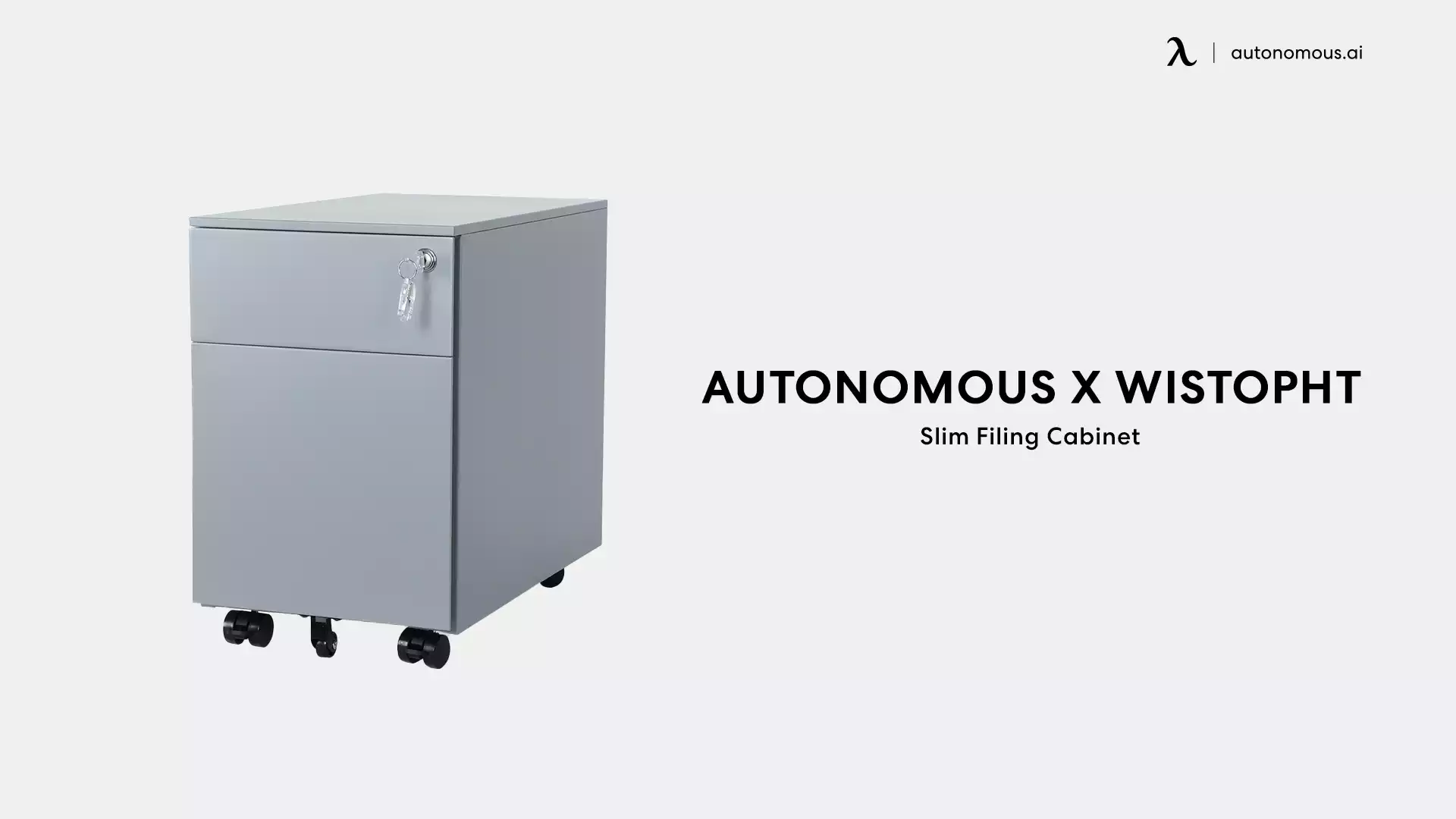 The Wistopht compact cabinet is a flexible workplace buddy that helps you manage all of your paperwork in a modest compact design ideal for small spaces. Its large weight capability works as a transportable table or footstool, making it the ideal multipurpose workplace tool.
12. Standard Filing Cabinet by Autonomous x Wistopht
The Standard Cabinet has been more than simply storage; it is a basic, stylish, and fashionable addition to your workplace. Due to its large and sturdy construction, it may also be used as a footrest. With this multipurpose organizational tool, you can keep your workstation nice and tidy.
13. 2 Drawer Retractable File Cabinet by YITAHOME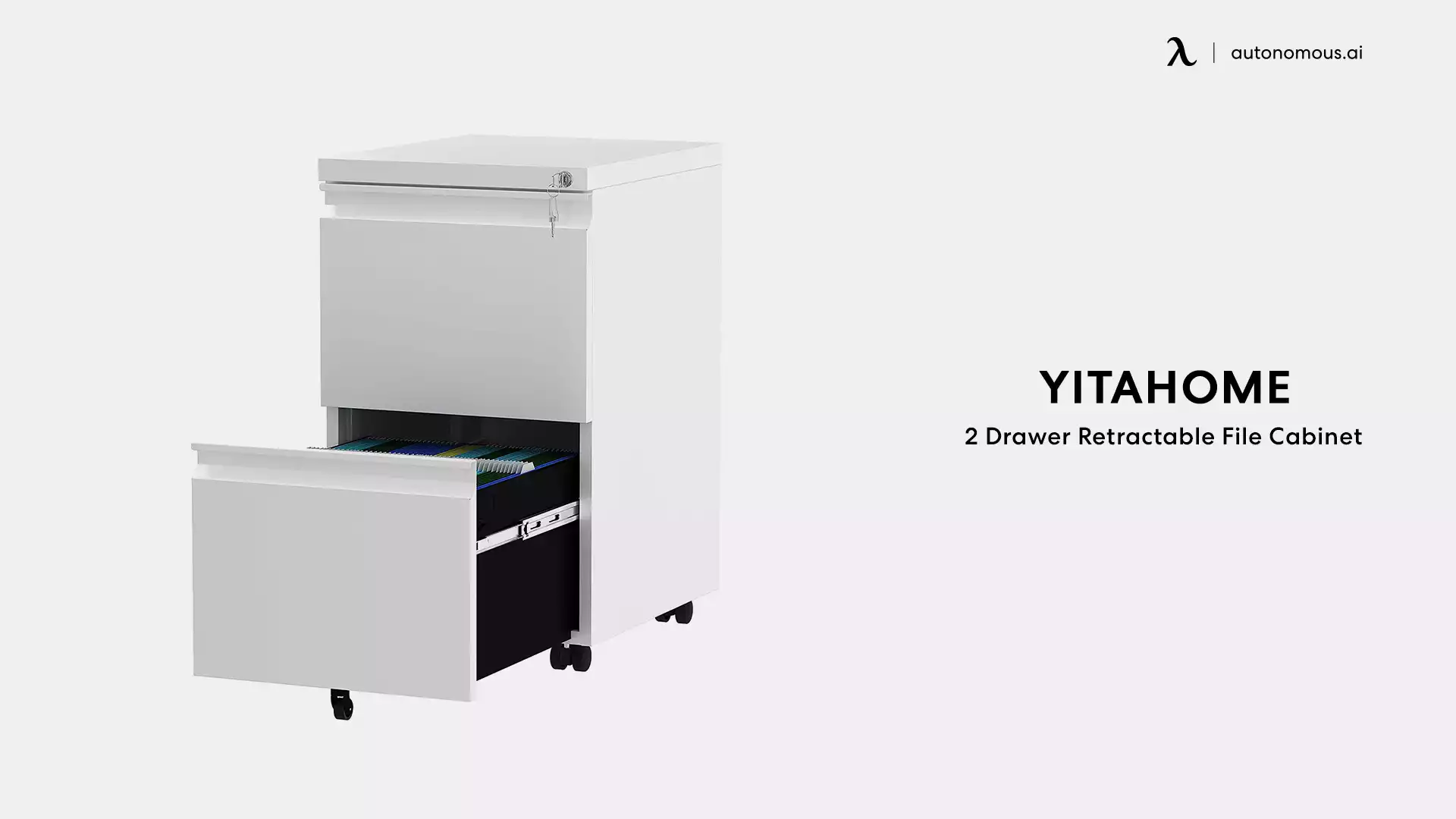 This basic metal layout by YITAHOME is a brilliant under desk PC mount option if you require a storage unit that is made to last, fit underneath a workstation, and is transportable. It's built of high-quality metal with a long-lasting powder-coated appearance. With the addition of wheels and softened edges and corners, this filing cabinet under the desk is indeed a surefire winner.
14. FC-103BL Aurora 3-Drawer Steel Mobile File Cabinet
This can be a good alternative for your work from home desk setup if you like a more conventional look for your steel beneath desk file cabinets. It does not have any curved sides, and if you select a neutral color like black, it will go well with any workplace setting. This under desk cabinet comes in wacky colors and perhaps even two-tone variants, such as Ocean Blue and Metallic Gray.
15. Office Filing Cupboard with Rollers and Lock by SONGMICS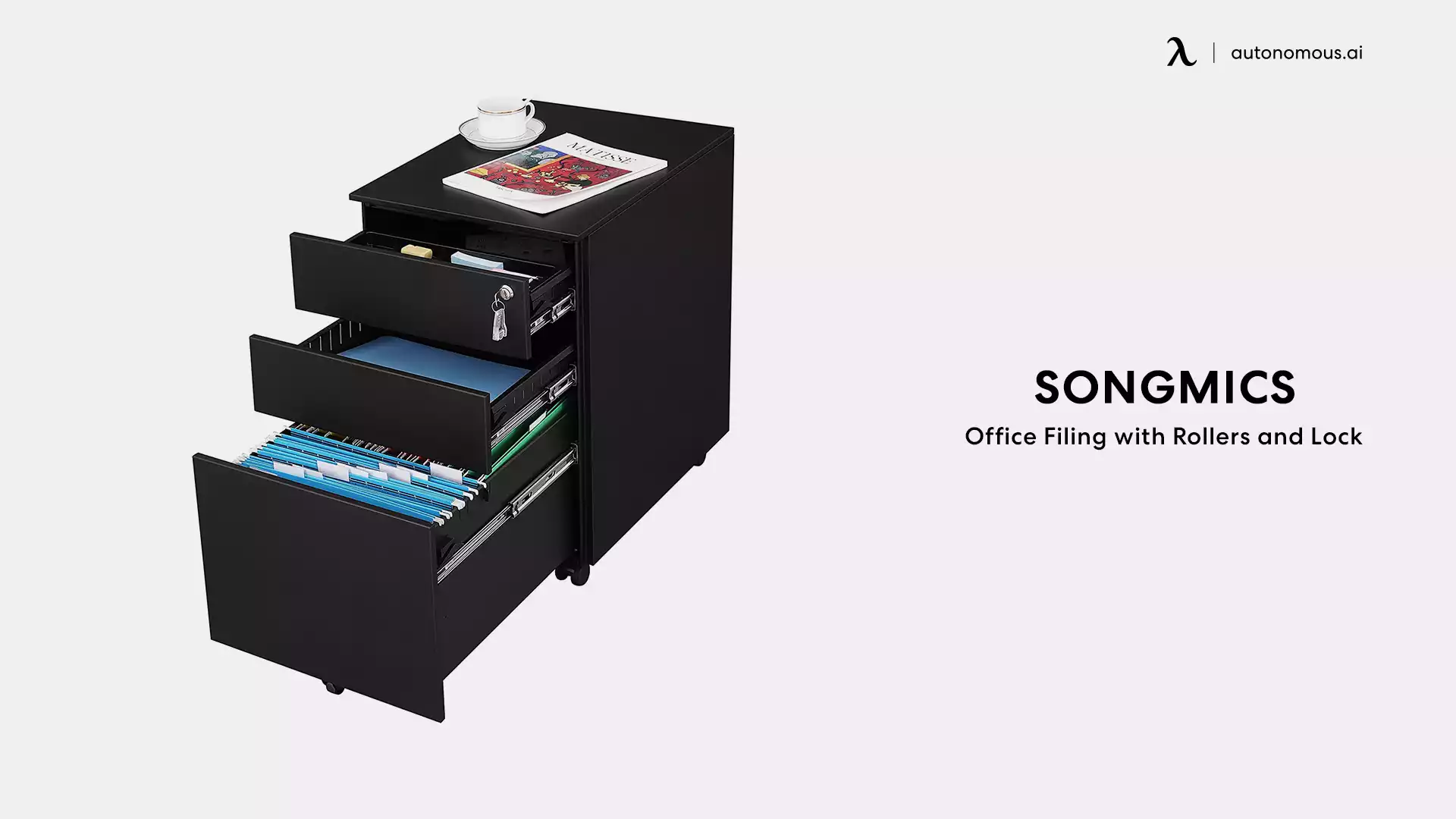 This vintage brown rolling cabinet with drawers is an excellent alternative if your company or home workplace has a traditional feel. This under desk cabinet is the best combo of classic practicality with modern style, manufactured of robust plated alloy steel and rollers for easy transportation. It also features two standard cabinets and one file drawer, allowing you to keep everything that you need underneath your workstation.
What Are the Benefits of File Cabinets?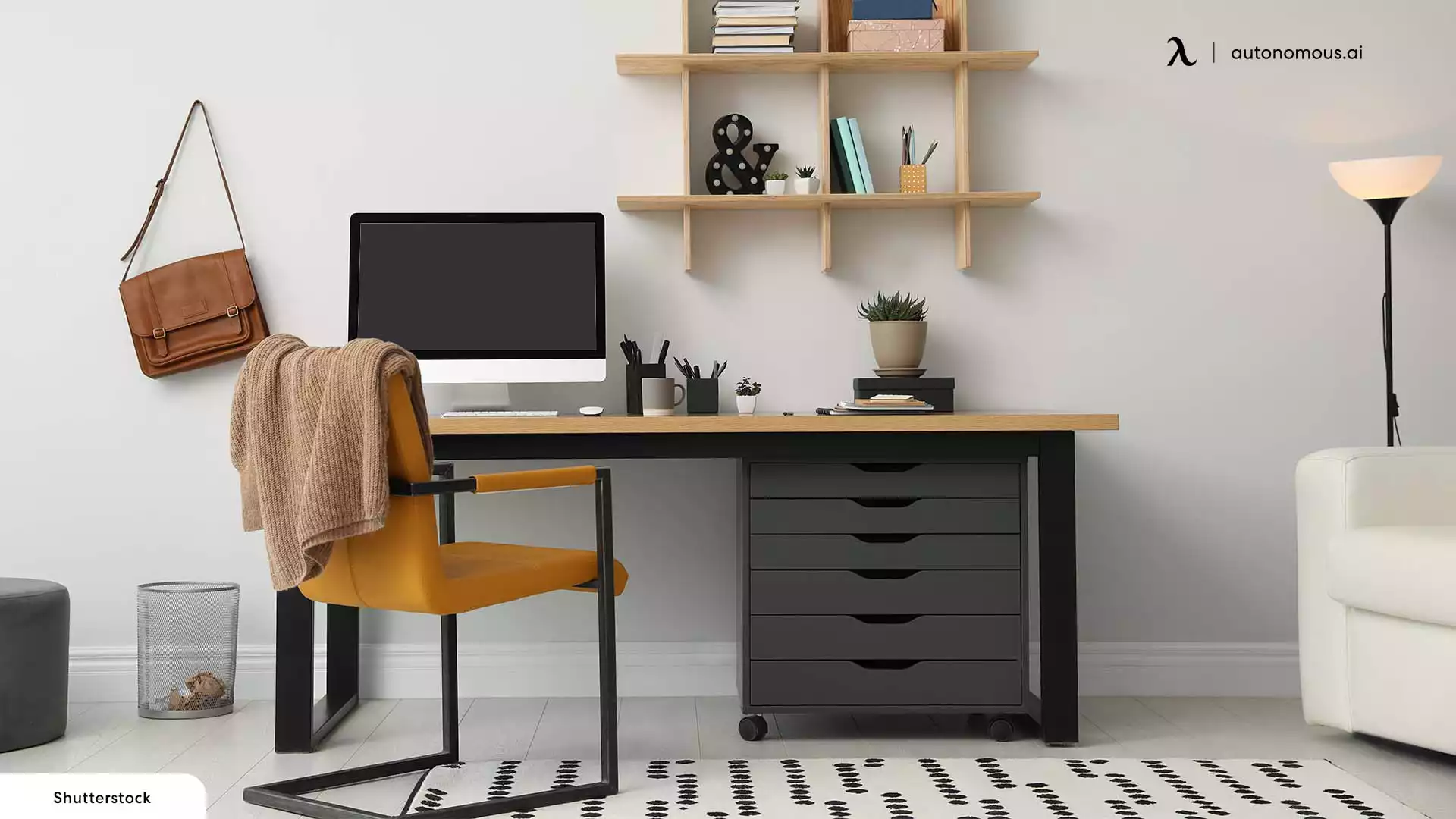 Rolling file cabinets are among the greatest workplace storage solutions for a clean desk setup. These containers can help with various tasks that can help with day-to-day activities. Businesses must have cabinets in their workplaces as a result of this.
The finest feature of a filing system is its capacity to contain many files while not taking up all the room on the ground.

Professionals can also organize and store files and documents using

under desk cabinets. It improves efficiency by making things easier for staff to gain information.

Keeping all of the relevant files and directories in one location can help prevent data loss and harm to the filing cabinet's materials.

Firms may also improve the safety of the papers and folders in the filing system by investing in fire-resistant filing storage technologies.

Filing drawers can also be equipped with various locks to protect the classified data kept within these.
Regularly, almost all workplaces must manage huge amounts of material and documents. These documents might include vital business data on a firm or a customer. As a result, protecting these files against loss, robbery, or destruction is critical. The excellent thing is that it's a simple task that you can accomplish with the right computer desk organizers and office storage cabinets.
How to Choose an Under Desk Cabinet?
Here is our list of the top considerations.
Size
In particular, consider the desktop space and check that the drawer can fit under it. You will need to keep an additional space for castors. This will ensure that the drawers ordered stay under the table. Some folks prefer to have a shorter height to use additional space between the underside of the table and the top of the file cabinet.
Material
Cabinets are made from wood, metal including steel, aluminum or more. Check for what you prefer and what goes with the office décor? Wooden cabinets are not a good choice in humid and temperate regions.
Drawers
How much storage do you need? Are you looking for deep drawers to hold legal or A4-sized files? Do they have file racks internally fitted so that you can hang the files? Or do you need shallow drawers that allow you to access your stored items quickly? So decide the number of drawers and the type of drawers, shallow or deep.
Lock
Check if the drawers can be locked for any future need, if not now. It is important to keep your secure documents under lock and key.
FAQs
Question: What should I look for in a filing cabinet?
Answer: Look for the correct size, orientation, types of filing cabinets, and security that a certain file cabinet offers.
Question: How do you keep files upright in a filing cabinet?
Answer: If you possess a vertically built file cabinet and wish to keep the documents upright, you could keep it open and connect it with a "hanging clip." Once you remove the cabinets, the file should have been open, so you'll be able to access them quickly. You could also employ a "steel bar" to erect the files.
Question: Where should heavy materials go in a filing cabinet?
Answer: The heaviest things must be put towards the bottom when unbalanced. Whenever a heavy top shelf is pushed out, it might cause the overall cabinet to tumble over. If you're storing anything except documents in the cabinet, ensure everything fits perfectly into the slot.
Question: How do you use a filing cabinet?
Answer: You can use a filing cabinet by putting in the most important files or equipment needed at the office. Refrain from putting anything unnecessary because that would only overcrowd your filing cabinet.
Wrap-up
Rolling file cabinets under desks is a great idea for storage. You save on floor space and have easier access to your stored items. As you explore, ensure you know of your storage requirements. So, now that you are all set, it's back to work!
Keep up with Autonomous news
Stay informed, stay inspired with our new blogs.
WRITTEN BYAutonomous
We build office products to help you work smarter.