Finding a desk that is right for you isn't easy, especially if you are tight on space. A standard computer desk is one thing, but have you ever considered a computer desk with a keyboard tray? These desks are far more convenient, and you can make much better use of your space with one, as well as reap the benefits of an optimal typing position. In this article, as many as options for a computer desk with a keyboard tray will be discussed.
Top 20+ Computer Desks with Keyboard Tray and Drawers
If you are someone who spends a lot of time working on a computer, having a desk with a keyboard tray can greatly enhance your work experience. Not only does it provide a dedicated space for your keyboard, but it also helps to keep your workspace organized and free of clutter. In this list, we have compiled some of the best computer desks with keyboard trays available in the market. Whether you are looking for a traditional or modern design, we have got you covered. Let's take a look at our top picks!
1. Skyline Decor Three Drawer Pedestal and Pull-Out Keyboard Tray: Desk
This computer desk with keyboard tray is designed to help you get everything done efficiently. Despite its compact size, it provides ample storage space for your laptop, desktop monitor, and other office supplies. With four storage compartments, including one open and three behind drawers, you can easily keep your workspace organized.
The keyboard tray also serves as a storage area for writing materials and small devices while you work on your laptop. If you're looking for a functional workspace that can help you power through your workday, consider upgrading to this new single pedestal desk.
2. Trio Supply House L-Shaped Computer Desk: Keyboard Tray
This modern computer desk in the shape of a trio L has a roomy desktop that can be customized to your liking, where the long and short sides can be changed to left or right hand side. It has a raised shelf in the corner and a sizeable keyboard tray that slides out and has a safety stop that can also be reversed. Constructed with strong engineered wood panels covered in a moisture-resistant PVC laminate veneer and a steel frame that's powder-coated to resist scratches.
The rectangular desktops can hold up to 50 pounds of weight each, while the corner desktop panel and keyboard shelf can hold up to 30 pounds, and the accessory shelf has a capacity of up to 20 pounds. It comes in a mahogany color.
3. EUREKA ERGONOMIC AED 72" Standing Desk with Keyboard Tray, Walnut
The Eureka Ergonomic computer desk with keyboard tray is a versatile desk that excels in different settings, including graphic design and remote workspaces. This desk boasts a spacious top and two shelves, providing ample space for a computer, laptop, lamp, books, and more.
With its distinctive design and numerous features, this desk offers both style and functionality. The curved design not only enhances the efficient use of space but also contributes to a neater and more organized environment.
4. EUREKA ERGONOMIC L60 L-shaped Rustic Standing Desk: Keyboard tray
This computer desk with keyboard tray from eureka has a wood grain texture. The desk is aesthetically suitable for luxury office setups, workplaces, and even gaming setups with a touch of finesse. The biggest benefit of this L-shaped standing desk keyboard tray is that it comes in both left and right settings so the user can choose accordingly. The desk is 60 inches wide and designed to fit in the tiniest corner spaces.
It is electrically adjustable from 29 to 48 inches and comes with 2 preset memory height settings. Controlled by smart dual motors, the quiet lifting action ensures every person feels comfortable while switching from standing to sitting or vice versa. The industrial-grade steel frame allows greater durability, and the desk has a weight capacity of 220 pounds. It comes with a headphone hook, a cup holder, cable management grommets, and a setting to keep your sockets in place. 
5. EUREKA ERGONOMIC Standing Desk: Double Drawers and Hutch
The desk is equipped with drawers and USB ports and can be adjusted to different heights, offering a personalized workspace suitable for both gaming and work. With a human-centered design and ample space, it provides a comfortable environment. You can switch to various heights to ensure the protection of your neck and promote a healthier workday.
6. EUREKA ERGONOMIC AED 72" Large Standing with Desk Keyboard Tray
The top-performing desk with multiple functions is the Eureka Ergonomic computer desk with keyboard tray, ideal for diverse settings, including graphic design and remote workstations. This desk has an extensive surface area and two shelves that provide ample space for a computer, laptop, table lamp, books, and other items.
It boasts a distinctive design that merges various features into one, enhancing the overall look and utility of the workspace. The curved design of the desk helps optimize space utilization while ensuring a more organized and clutter-free room.
7. Mount-It! Standing Desk: Sustainable Melamine
This home office desk with keyboard tray has a melamine table top. The Mount-It! standing desk has a single motor adjustment hence a weight capacity of 176 pounds. It is suitable for tiny work setups or a regular multi-monitor setup. The desk is suitable for a crowd taller than petite and has a height range of 29 inches to 49 inches. Besides height adjustment, the desk also offers width adjustment from 39 to 63 inches.
With a 10-year warranty, the melamine standing desk is made to last. The keyboard tray glides in and out easily and provides an ergonomic platform for your wrists to work. It also has a CPU holder and headphone hook to improve desk organization. The three programmable presets ensure quick height adjustment, and the digital display panel helps with precise height control.
8. Eureka Ergonomic Gaming Desk with Hutch: Keyboard Tray
The Eureka gaming desk with hutch and keyboard tray is designed for elaborate gaming or work setups. It combines a smart office desk with keyboard tray and a modern corner gaming desk. The ergonomic leg design provides space for your legs and a sufficient area for a filing cabinet to slide underneath. Rather than a conventional L-shaped desk, this corner desk has a symmetrical design.
The symmetrical feature improves the desk's aesthetic and makes it great for compact spaces. You will also find two tiny shelves on either side and a wide keyboard tray that can both hold your keyboard and mouse. Besides design, the desk is sturdily built with a solid steel frame. This offers the desk a weight capacity of 400 pounds. Other than this, the top features of this desk include built-in accessories with 2 monitor risers, mobile device slots, a headphone hook, a cup holder, an ergonomic keyboard tray, a full-surface mouse pad, and RGB lighting.
9. FinerCrafts Desk Convertor with Anti-slip Pads
This FinerCrafts desk converter is a portable solution for a workstation on the go. It is not as big-sized as a desk with keyboard drawer, and this feature makes the desk a great pick. With a steady build commercial grade design, this converter is stronger than most desks and can bear up to multi-monitor loads at once. It has an easy height adjustment system with a manual height adjustment.
The converter has a weight capacity of 33 pounds, suitable for laptops and a few other desk accessories too. The built-in groove design provides a swift cable management solution and keeps clutter at bay. It also has non skid silicone pads to provide anti-slippage action. This keeps your accessories from falling off the desk and provides a great solution to working while traveling.
10. Standing Desk Converter by Mount-It!
Those of you that already have an office desk but could do with a cost-effective upgrade or the benefits of ergonomic furniture will find that the Mount-It! desk converter is exactly what you need. 
The keyboard tray featured on this standing desk converter is spacious enough to fit both your keyboard and mouse, changing your workstation into an ergonomic, clean, and organized office desk with a keyboard tray, and all for an affordable price too.
11. EUREKA ERGONOMIC L60 L-shaped Standing Desk: Key board tray
The most popular and healthy way to work is provided by the L-shaped desk that automatically adjusts its height and is electrically powered. By adopting a standing posture, you can reduce tension in your back.
12. Uncaged Ergonomics Glass SmartDesk: Drawer & USB ports
An efficient package that blends luxury and value is what you get with this electric standing desk. It boasts a glass desktop that not only looks but also feels amazing, lending your office a high-end appearance. Additionally, the desk features built-in USB, USB-C, and AC ports that allow you to charge all your devices.
13. Kowo K303 Standing Desk: Drawer
The Kowo Electric Standing Desk with built-in drawers and a wireless charger is a 48" computer desk designed for home offices. It can accommodate various body types with its adjustable height feature, which ranges from 28" to 47.6". This allows you to customize your work environment and achieve optimal ergonomic comfort.
14. EUREKA ERGONOMIC 63" Standing Executive Desk: 2 Drawers
The desk with adjustable height and drawers has a design that prioritizes the needs of the user and provides plenty of workspace. Its intelligent desktop charging station has a built-in socket, USB port, and wireless charging, which adds convenience and enhances efficiency in your daily life. The desk features a modern trapezoidal leg design and a solid wood veneer that gives it an artistic touch and makes it an elegant furniture piece for your home office.
15. ApexDesk CompactDesk: Touchscreen Control & USB Charging Port
This desk features a smaller footprint and is designed to be used while standing. It is equipped with a touchscreen control panel that allows users to adjust the desk height to their preferred level with ease. Additionally, the desk also features a built-in USB charging port that enables users to charge their electronic devices conveniently. This type of desk is often favored by those who work in smaller spaces or who want a more ergonomic workspace setup that allows them to stand while working.
16. Nexera Arobas Desk with Drawer: Desk
Nexera's Arobas Desk is a versatile furniture item that comes with a drawer that has full extension slides, enabling easy access to its contents even at the back. The Arobas Collection by Nexera stands out for its contemporary style, numerous intelligent functions, and adaptable options for creating a personalized workspace in your home office.
17. FENGE Standing Desk Converter
The 32" wide work surface of the FENGE standing desk converter offers plenty of room for a single monitor, dual monitor, laptop along with computer monitor setups, and other office accessories. This manual height adjustable desk comes in colors black white, and brown and offers a smooth finish surface.
It is made of engineered wood and has a height range of 4 to 19 inches. The desk comes with a 1-year warranty. It has a weight capacity of 33 pounds, sufficient for your medium-sized monitor setup. The desk with keyboard pull-out tray is an affordable option if you don't want to invest in a large electric height adjustable desk.
18. Modernsolid Rolling Computer Cart
The Modernsolid rolling computer cart is a height-adjustable working cart. It has a burglar-proof design, suitable for workplaces with sensitive information and private documents. The extra storage basket improves ergonomics by providing plenty of storage. Similar to a fully functional desk with pull-out keyboard tray, the rolling cart encourages a great working posture and removes the strain from all the pressure points.
The workstation has rolling wheels underneath, which help with the cart's easy movement and provide mobility in the work setting. The desk cart also has a wheel caster with breaks to control mobility. You can get peace of mind with a 3-year warranty, and the support handle for moving makes it a user-friendly option for busy workplaces.
19. Trio Supply House Computer Workstation Desk With Storage
The Dual Complete Computer Workstation Desk has several features, including an elevated shelf for accessories, slide-out shelves for the keyboard and other accessories with safety stops, two drawers for storage, and an open compartment for the CPU that has a shelf which can be adjusted or removed. The desktop is raised to allow for additional storage above the pedestals, and the slide-out accessory shelf and CPU compartment have cable openings at the rear.
The computer desk with keyboard tray can support up to 80lbs on the desktop, while the shelves can each hold up to 30lbs and the drawers can hold up to 22lbs. This desk is made with MDF panels in an Espresso color and has a moisture laminate veneer. The frames are made of powder-coated steel that resists scratches and adds a touch of elegance to the design.
20. Mount-It! Height Adjustable Rolling Desk
The mount height adjustable rolling desk is designed for busy workplaces on the go. This desk has multiple tiered shelves, with the top one being suitable for your laptop and other accessories. The bottom shelves provide smart storage. The desk has a pull-out keyboard tray and a manual height adjustment system. This 17-inch height adjustment range gives you greater control over precision and accuracy. The wheels provide quick movement but can also be locked to control the desk from moving too far away.
21. Kowo Kowo K305 Standing Desk: USB port and wireless charging station
The Kowo K305 Standing Desk has a USB port and a wireless charging station, and its slim drawers and modern colors contribute to its sleek design. The desk is suitable for a wide range of individuals, as it can be adjusted in height from 28 inches to 47.6 inches, allowing you to customize your ergonomic work setup to your liking.
22. Aiterminal Ergonomic Tempered Glass Desk: USB ports /4 programmable
A Tempered Glass Desk with USB ports and adjustable height is a type of desk that features a surface made of tempered glass, which is durable and resistant to shattering. It also has built-in USB ports that allow for easy charging of electronic devices, as well as an adjustable height feature that enables users to customize the desk to their preferred height for comfortable use. This type of desk is often favored by those who prioritize both functionality and style in their workspace setup.
23. Kowo K302 Glass Standing Desk: Wireless Charger
The wireless charging pad allows users to charge their Qi-enabled devices by simply placing them on the designated spot on the desk surface. Additionally, the desk also has an adjustable height feature that allows users to customize the desk to their preferred height for comfortable use.
24. Mount-It! Keyboard Tray: Clamp-On
Keyboard trays have been a long-standing workplace staple, and these ergonomic solutions are not going anywhere anytime soon. While the all-around black look of the Mount-It! clamp-on adjustable keyboard tray doesn't have too much to offer in terms of style, it is, however, great in terms of functionality. They are the perfect ergonomic solution and ensure that a user's hands, forearms, and arms are correctly aligned when typing. 
Both an adjustable standing desk and a sitting workstation can benefit from the Mount-It! Clamp-On Adjustable Keyboard Tray; the SmartDesk Core by Autonomous is a perfect example of this. Thanks to the integration of this ergonomic keyboard into your home office furniture collection, you have now been able to turn your writing desk into a writing desk with a keyboard tray.
Typing for you will no longer be a difficult and taxing task, and your desk and all its displays will be raised, alleviating any wrist, neck, and upper back discomfort. The simple up and down sliding of this keyboard also makes it perfect for persons of varying heights. 
A side note, if you're working from home, you can have special pricing on a new standing desk or ergonomic chair from Autonomous through an Bulk Order. If that intrigues you, you should check it out! 
Other options
Glass Computer Desk with Pull-Out Keyboard Tray by Flash Furniture
This Glass Computer Desk with Pull-Out Keyboard Tray by Flash Furniture is a stylish desk that would be a perfect addition to any home office. The glass design makes it a desk that would also be able to look good in places other than an office, such as your dining room or bedroom. 
Its minimalistic frame is manufactured from sturdy cherry wood, and the pull-out tray provides you with ample space on your desktop, making it the picture-perfect description of a home office desk with keyboard tray; a feature that guarantees a comfortable typing position throughout its use. 
Walker Edison Modern Metal and Glass Laptop Computer Desk
If you happen to be on the lookout for a sleek modern pull-out desk, the Walker Edison Modern Metal and Glass Laptop Computer Desk will most definitely grab your attention. Whenever glass is mentioned, people often associate this material with fragility. However, the tempered safety glass found on this Walker Edison model has been specifically treated for strength, so whether this desk can hold your laptop should be the least of your worries. 
Its under-desk keyboard tray will ensure that you have enough room for your notebook and other desk accessories, making it a good candidate for a computer desk with a keyboard tray. 
Calico Designs Convertible Art Drawing or Computer Desk
The only thing better than one removable table extension is two. Presented to you for its versatility and boost of surface area is the Calico Designs Convertible Art Drawing or Computer Desk. 
These table extensions may be placed at any height, a bonus to what the average computer desk with keyboard tray can provide. Placing them at table level will provide more desktop space, but they could be attached lower down for shelving purposes. They can also be removed altogether if you happen to be tight on space. 
Apart from the extensions, the table itself is hard wearing and durable, and the ash wood desktop gives it a refined and high-quality aesthetic. If you are in need of a versatile, adaptable desk with a keyboard drawer, this desk is a great value for money. 
VECELO Keyboard, Corner Computer Writing Shelves
The VELECO Keyboard, Corner Computer Writing Shelves desk is a practical, yet attractive writing desk with a keyboard tray. Better yet, it is an excellent space-saver. Having plenty of space for your computer and other desk accessories is as simple as setting up this desk in your home office or in the corner of any room around the house. 
Whether you purchase it in black, teak, or rustic natural brown, all will look extremely stylish tucked away neatly in a corner. The keyboard tray is also large enough for a full keyboard and mouse. 
Moreover, the long shelf attached beneath the desk also provides storage for books or any other items that you may need in close range to your workspace. 
Kings Brand Furniture Contemporary Style Home and Office Desk
An eye-catching desk equipped with a rolling keyboard tray is the Kings Brand Furniture Contemporary Style Home and Office Desk. Available in black or white, this beautiful, modern home office desk with keyboard tray is the perfect addition to any minimalist home. 
The two drawers on either side also provide enough storage space to hold any necessary work supplies. When these drawers are closed, they smoothly blend into the lacquered wooden desktop, almost unnoticeably. It is a solid, heavy, scratch-resistant desk that requires minimal effort to clean, but setting it up is a completely different story. 
OneSpace Ultramodern Glass Computer Desk
With the OneSpace Ultramodern Glass Computer Desk, you are not compromising durability for style, nor style for durability. This gaming desk with keyboard tray has it all. Not only is it an attractive and sleek desk, but its frosted glass work surface provides more than enough space for your laptop, among other desk accessories. Its wide gaming keyboard tray can easily hold your keyboard and mouse, creating even more desktop room. 
Overloading the desk is also the least of your concerns, as the desk is supported by a heavy-duty steel frame. The only downside to this amazing computer desk with keyboard tray is its lack of drawers or shelves for storage purposes. 
Aingoo Writing Desk Small Portable Study Laptop
If you're reading this article, then you are probably in need of space-saving solutions for your desktop as well as your floor space. The Aingoo Writing Desk is the most logical option for those who don't exactly have a lot of free floor space to work with. 
Despite this writing desk's ability to fit into the tightest of spaces, it still offers a keyboard tray that will hold a full-sized keyboard along with any other accessories, such as a mouse. Anything that doesn't fit on the desktop or keyboard tray has a space on the shelf above, meaning you will have everything that you need in order to be productive nearby. 
This desk is a computer desk with a keyboard tray that just keeps on giving. Another bonus is the fact that this desk is on wheels, meaning that you can change its location with ease. More so, it is very easy to assemble and is an all-around simple, yet effective piece of furniture. 
Flash Furniture Black Glass L-Shaped Corner Computer Desk
There is no better way to make the most of your corner space than with the Flash Furniture Black Glass L-Shape Corner Computer Desk with Pull-Out Keyboard Tray. Here, the black glass surface of this smart L-shaped desk adds flair, especially with the curved cherry wood legs. 
With a corner desk and two-full sized home office desks, there is no limit to what you can display, laptops, monitors, tools, and notebooks; you can display them all. 
Furnimall L Shaped Computer Desk with Keyboard
Next to make the list of the best computer desks with keyboard trays is the very affordable Furnimall L Shaped Computer Desk with Keyboard. This corner desk provides a large desktop space for you to work with without taking up your entire office or room. The keyboard tray is also a very clever addition that frees up even more desktop space for your desk lamp, office supplies, and other personal touches. 
Considering the price you are paying, it is overall a great value for money and is a purchase made to last in terms of the durability of the desk. 
ODK Corner Desk, Triangle Computer Desk
Those looking for a compact desk will come to find that the ODK Corner Desk, Triangle Computer Desk ticks all the boxes of one. Just because you need a smaller desk does not mean you should be sacrificing space. The full-sized keyboard tray provides you with more than enough desktop room to easily hold your laptop and other things. 
It is a brilliant example of engineering, making the most of a tiny area with a large open shelf below the desk that does not sacrifice leg space either. It really is the perfect office desk with a keyboard tray for any home office or workstation.
Zipcode Design Harris Desk
The Zipcode Design Harris Desk is the precise modern home office desk with keyboard tray for just about any home office setup or workstation, and not to mention that it is totally affordable too. 
One side of the desk features a single cabinet door, ideal for holding a computer tower, while the other side of the desk features a file drawer on the bottom along with two other soft-close drawers. In between these drawers, you will find the sliding keyboard tray that gives this desk the "best computer desk with keyboard tray and drawer" status. 
FEZIBO Dual Motor Height Adjustable Electric Standing Desk
Not only does the FEZIBO Dual Motor Height Adjustable Electric Standing Desk come with a smooth sliding keyboard tray, but it is also an adjustable standing desk. Those big on ergonomic furniture will love the features and benefits that this computer desk with keyboard tray is able to offer them. Keep in mind, however, that with premium desks such as this one, a premium price tag follows.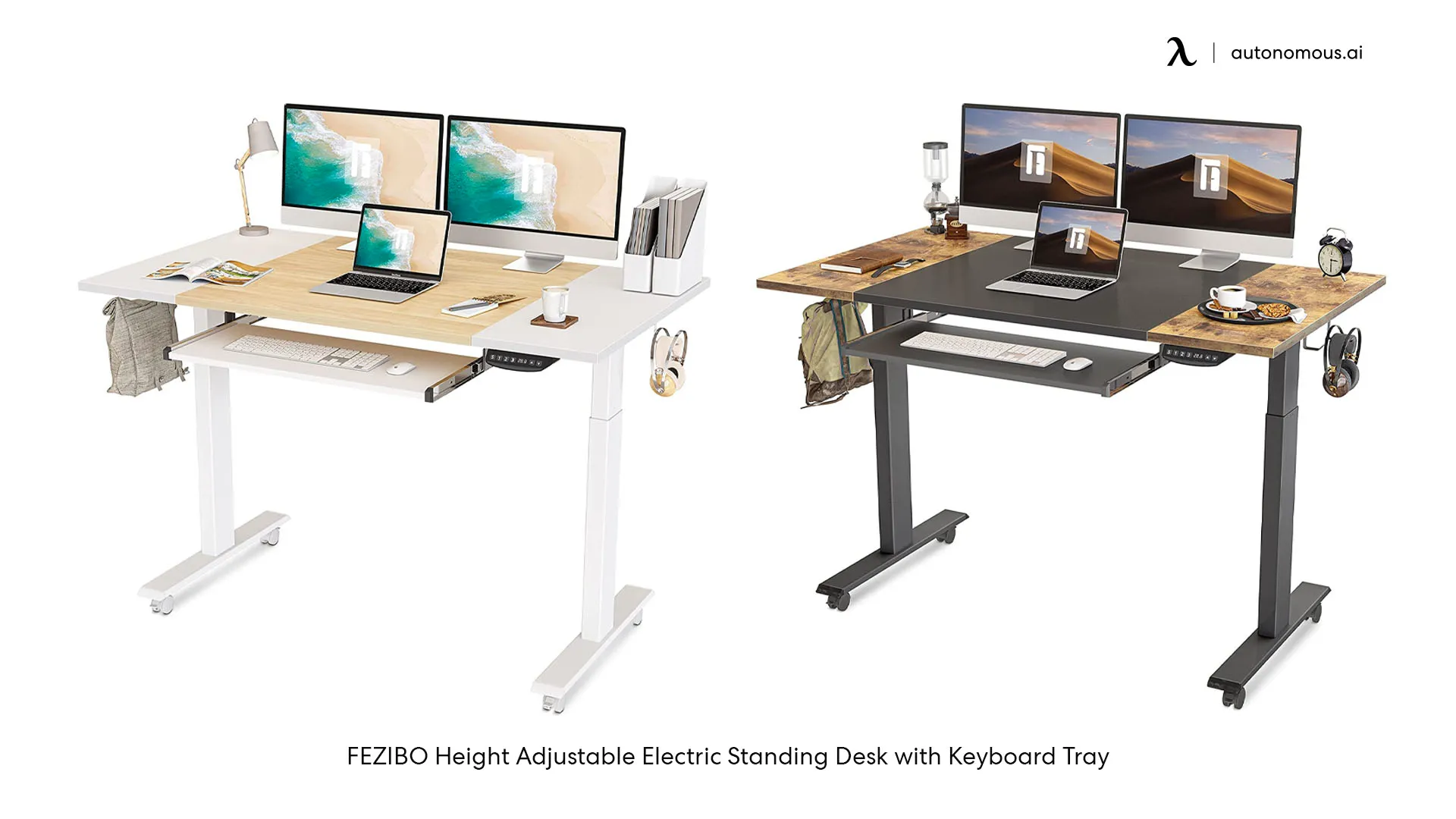 Topsky Computer Desk with Storage Shelves
A combination of durability, design, and affordability can be found in the Topsky Computer Desk with keyboard tray. If you have limited-under desk space, then this is definitely a keyboard tray that you will want, positioning your arms, wrists, and hands below the desktop, and preventing any pain and fatigue that arises from a long workday. 
South Shore Axess Desk with Keyboard Tray
Those looking for two open storage spaces divided by one adjustable shelf will find these features in the South Shore Axess Desk with Keyboard Tray. A five-year quality guarantee also comes attached to this office desk with keyboard drawer for purchasers' peace of mind.
Ivinta Reversible Black Gaming Desk Corner Desk Modern
Finally, a gaming desk with a keyboard drawer that is eco-friendly and scratch-resistant is the Ivinta Reversible Black Gaming Desk. All in all, this is a spacious desk that provides plenty of room for all gaming equipment, along with an excellent cable and wire organizer. Any and every gamer would be satisfied with what this desk can provide them with. 
Considerations When Buying a Computer Desk with Keyboard Tray
When shopping for a computer desk with a keyboard tray, there are several factors to consider to ensure you find the right desk that meets your needs and preferences. Here are some important considerations to keep in mind:
Size and Space
Evaluate the dimensions of the desk and the available space in your room or office. Consider the desk's width, depth, and height to ensure it fits comfortably in the designated area. Additionally, think about the amount of surface area you need for your computer, monitors, and other accessories.
Keyboard Tray Design
Examine the design and functionality of the keyboard tray. Look for a tray that is spacious enough to accommodate your keyboard and mouse comfortably. Ensure that it slides smoothly and offers enough legroom when in use. Consider whether you prefer a retractable tray that can be tucked away when not in use or a fixed tray that remains in a stationary position.
Ergonomics
Pay attention to the ergonomic features of the desk and keyboard tray. Look for adjustable height options that allow you to position the keyboard tray at a comfortable level for typing. A tray with a negative tilt or adjustable angle can also promote better wrist alignment and reduce strain.
Build Quality and Durability
Assess the build quality and durability of the desk. Look for sturdy materials, such as solid wood or metal, that can withstand regular use and support the weight of your equipment. Check customer reviews or warranty information to get an idea of the desk's durability and longevity.
Cable Management
Consider the desk's cable management features. Look for built-in cable management solutions such as grommets, cord organizers, or cable trays that can help keep your workspace tidy and free from cable clutter.
Additional Features and Storage
Determine if you require any additional features or storage options. Some desks come with built-in shelves, drawers, or compartments that can provide extra storage space for office supplies or accessories. Consider your specific organizational needs and choose a desk that offers the necessary storage solutions.
Style and Aesthetics
Consider the overall style and aesthetics of the desk to ensure it aligns with your personal taste and the existing decor in your workspace. Whether you prefer a modern, minimalist design or a more traditional look, choose a desk that complements your aesthetic preferences.
By considering these factors, you can find a computer desk with a keyboard tray that not only meets your functional needs but also enhances your overall work environment. Take the time to evaluate your requirements, measure your space, and explore different options to find the perfect desk for your setup.
Conclusion
After this round-up of the best computer desks with keyboard trays and drawers, it is clear to see that there really is a desk out there for everyone, but those that purchase the desks above will benefit in more ways than one. The first is more space, and the second is an optimal sitting position, all because of the genius keyboard tray that is incorporated throughout these desks. With that being said, 17 is a lot of choices, so choose wisely!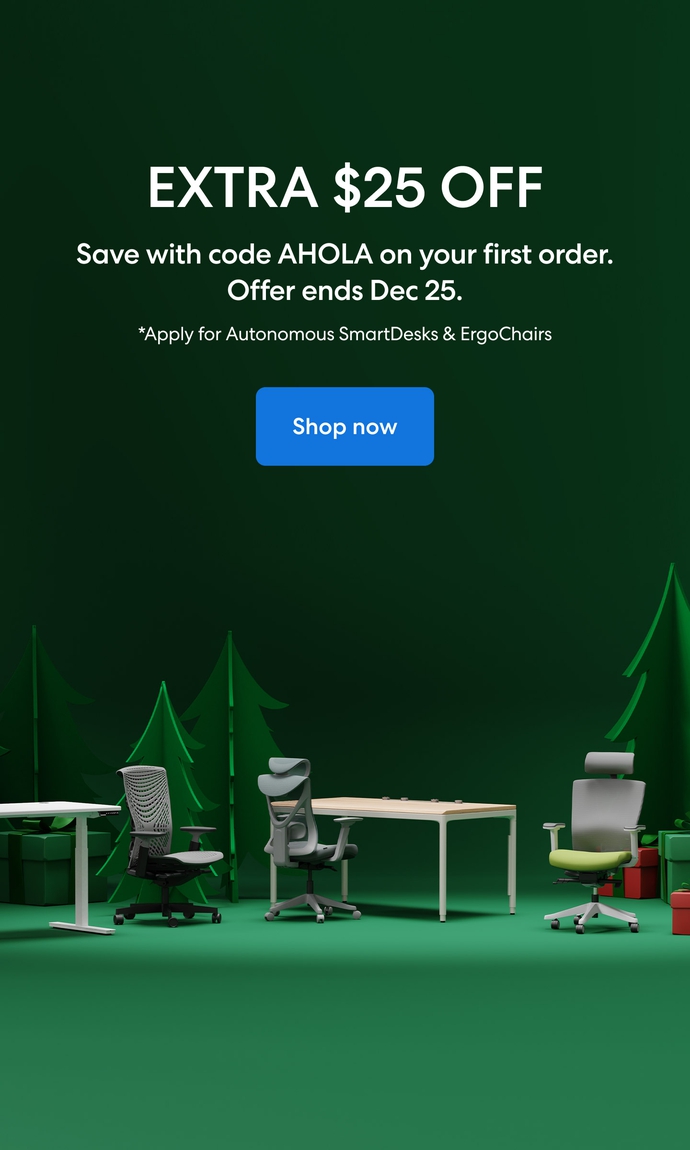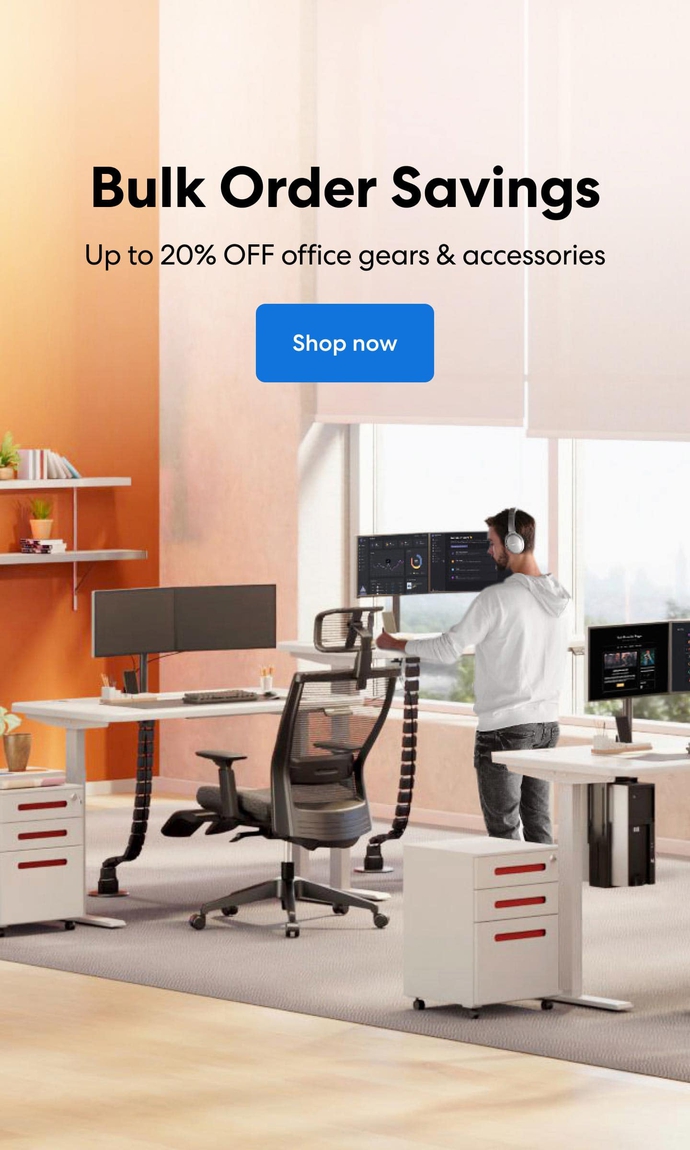 Subcribe newsletter and get $100 OFF.
Receive product updates, special offers, ergo tips, and inspiration form our team.