Smart Products
6 Top-Rated Executive Office Chairs with Lumbar Support

Autonomous
|
Jul 3, 2021
2,205 Views
Executive office chairs are always different from that of a common employee. While this difference could be seen as evident in terms of power and domination, presenting authority isn't the only reason why some ergonomic office chairs are made in a large design or a stronger make. In addition, executive desk chairs with lumbar support and other additional features are made extra comfortable for those long hours of sitting.
Since executives and other higher authorities such as business owners don't have a 9 to 5 shift, nor are they too mobile in their tasks, an executive chair must be able to combat the negative impacts of sitting. An office chair with adjustable lumbar support could be a great choice for an executive who has to go through the stress of managing employees and conducting interviews. Moreover, a mesh executive office chair keeps the stressed executive well aerated and helps them straighten that spine.
The Best Executive Desk Chair with Lumbar Support
What are the best executive office chairs with lumbar support in 2021? The world of ergonomics is always updating with the latest additions. From ergonomic chairs to standing desks, anti-fatigue mats to monitor arms, there is no stopping to elevate the experience to a healthy and positive work environment. The great thing about a modern workplace is that you can choose from tons of options and discover the best product for you.
Here are some of the best executive office desk chairs in 2021. Even though the name suggests otherwise, there is no reason why everyone shouldn't use any of these amazing products for many hours of work.
1. ErgoChair Pro
An Adjustable armrest, headrest, seat title, and backrest are all features of this smart ErgoChair Pro. It has a smooth recline making it ideal for people with sensitive spines, and the flexible lumbar support makes it an ideal purchase for an executive. In addition, the chair has a woven mesh back for maximum airflow along with a weight capacity of 300 pounds. This executive office chair with lumbar support from Autonomous also comes with a 2-year warranty, thus a safe investment for an executive.
2. ErgoChair Plus
ErgoChair Plus, one of the most dynamic work chairs in 2021, this product has a large weight capacity and a sufficiently wide back. The chair is made with a frameless construction to facilitate natural mobility, and the cooling naked TPE keeps you relaxed during stressful hours of work. The chair also has adaptive spinal support along with an adjustable combination of many features. ErgoChair Plus is available in over six colors providing the executive office various options to choose from.
3. ErgoChair Recline
ErgoChair Recline could also be defined as a mesh high back office chair owing to its strongly woven meshed back for maximum ventilation. The chair also has a headrest made in a mesh structure and the active spinal support makes sitting on it a breeze. In addition, the ErgoChair Recline comes with lumbar support ready to make each individual enjoy working.
This executive office chair with lumbar support could be the next and biggest healthy change in your workplace since it is classified as comfier than your couch. The chair also has an adjustable height, armrest, and seat tilt. In addition, the adjustable headrest and leg rest makes it a fully ergonomic piece of furniture. The design, strong build, and smart color make it suitable for the executive office too.
4. Eurotech Vera
The Eurotech Vera mesh chair looks simple but is much more modern than that. This chair is best for back support and people with pain in the spine. For people who have had an unfortunate back incident or gotten surgery, this chair is your companion in the workplace. One of the greatest things about this executive office chair with lumbar support is that it keeps you in an upright position, while once you decide to scoot back, it will just rightly conform to the body shape.
This unique piece of furniture is very clever; the Vera provides average to medium-strong lower support while straight. Lower support diminishes as you recline on the chair, with full recline providing limited lower support.
5. Herman Miller Task Chair
Is there even a list of comfortable executive office chairs with lumbar support complete without Herman Miller? This chair offers mild support for upright task positions, but it does have a unique feature to tilt forward for curious workers who love to work closer to the screens. However, it might not be as large or as comfortable as a large executive chair, but it does the job better as it looks.
6. ErgoHuman Office Chair
The ErgoHuman Office Chair, with a great rating on the internet, is both design and comfort combined. This chair is specially designed for people who frequently complain about lower back pain. The chair has many adjustable features which let you play with different heights and weights. Also, for people who are habitual of leaning forward while working, this chair won't let you go alone.
The ErgoHuman's support is particularly unique due to the design of the lumbar and upholstery. It doesn't stretch over your lower back as a mesh option would. This is significant since some people may dislike the sensation. High on lumbar support, this chair lives its name to the promise of giving lumbar adjustability.
Why Choose an Executive Chair With Adjustable Back Support?
There are many reasons to opt for an ergonomic lumbar support chair and look for other features that make sitting on a chair easy and comfortable. Several types of research have proven physical fatigue to be the major reason for downtime in productivity. As much as each employee needs to be efficient in a workplace, an executive cannot just compromise on quality and productivity.
Lumbar support for an executive chair or even a simple work chair is imperative in keeping the spine aligned with the body's natural curvature. It also prevents the back from being susceptible to any long-term or short-term injuries.
The lumbar support should be able to fit into the natural curve of your spine, which is usually in the small of your back, just above your belt line. This feature is frequently incorporated into the chair, allowing you to change the chair's back height and the lumbar support simultaneously. In addition, if your chair offers adjustable back support, then the lumbar could be adjusted to fit your body and spine. This is a very crucial factor for a work chair that promises to deliver comfort in a workplace.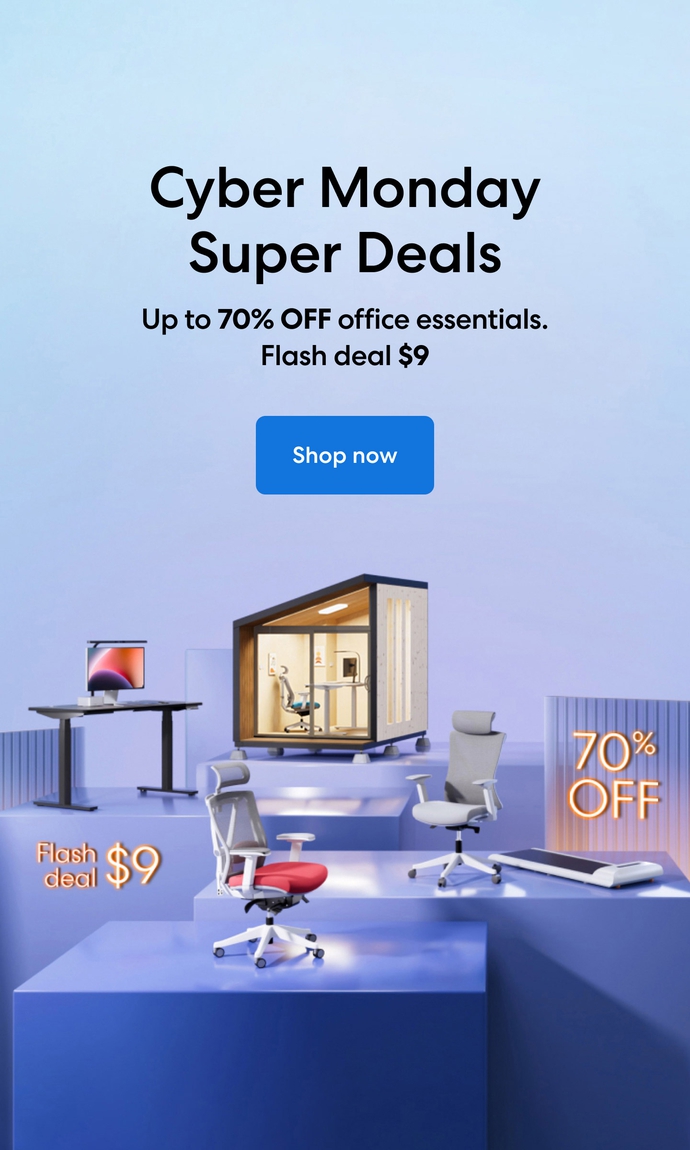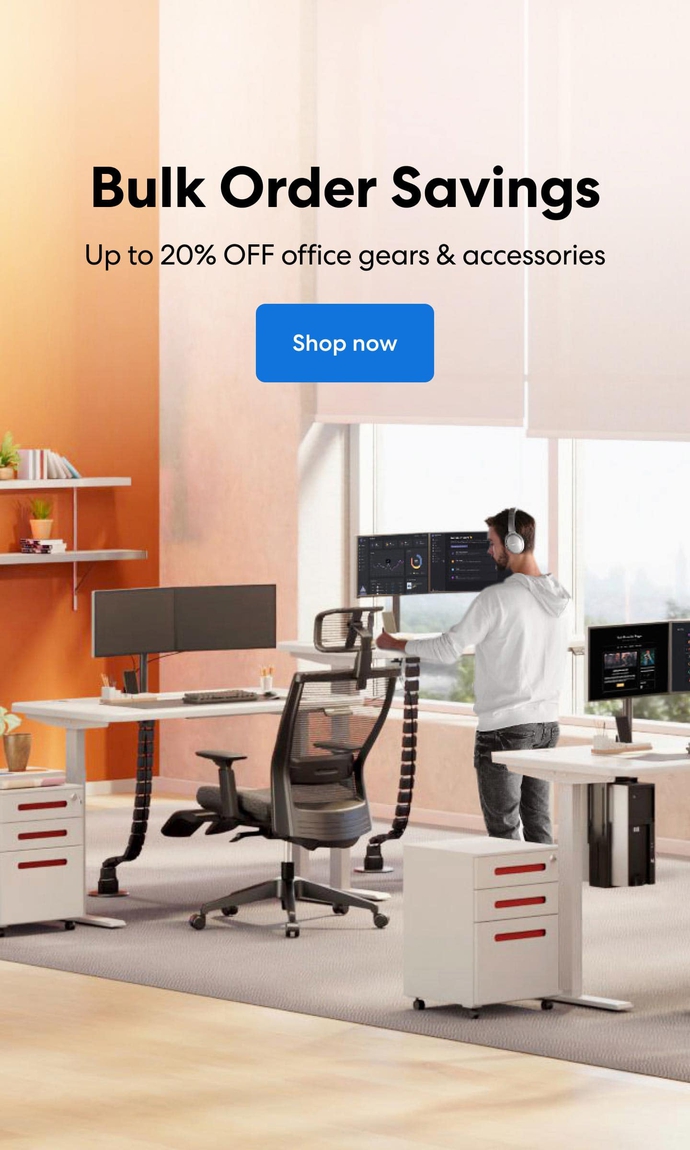 Subcribe newsletter and get $100 OFF.
Receive product updates, special offers, ergo tips, and inspiration form our team.