Smart Products
9 Great Tips for Dealing With an Uncomfortable Small Office Chair

Mark Hernandez
|
Sep 24, 2023
1,131 Views
There are times when having a small office chair is your only option. This could be because of your budget, or because you have limited space in your office. However, you need to realize that if your office chair is too small, this can cause a lot of problems for you, especially if you regularly spend a long time at work. 
Therefore, you need to find ways to make sure that even if your chair is small, you make it as comfortable as possible. If you can't do that, the ideal solution would be to invest in an ergonomic office chair, even if it means going slightly above your budget.
Many of the chronic back problems suffered by office workers have been linked to poor sitting posture, which may be caused by having an inadequate office chair. At Autonomous, you can find a wide range of awesome ergonomic chair options that will be a game-changer in your fight against back pain.
In the meantime, if you are stuck using a small, uncomfortable office chair, this article has some tips to help you sit more comfortably while you work. Read on to find out more!
Common Issues and Problems of Using a Small Office Chair
Having to put up with a small computer chair comes with a host of problems that will make your work life a lot more difficult than it has to be. If you make the mistake of buying the wrong size desk chair, no wheels, recline, mesh back, or other features will change the fact that your chair is simply too small for your body.
Here are some of the common issues and problems you can expect from using a small office chair:
Ergonomic Shortcomings
With a small office chair, there will be hardly any room for movement, so any thought of sitting in an ergonomic position goes right out the window. These ergonomic shortcomings are what you will soon regret when the back pain starts to set in.
Lack of Proper Lumbar Support
Even when you require a compact office chair, it should never be at the expense of having proper lumbar support. However, with small chairs, features such as lumbar cushions are often not available.
Cushioning and Padding Issues
Another common trait among small task chairs is that there is very little cushioning and padding to improve your comfort level. The longer you sit in such a chair, the more you will start to suffer from aches and pains all over your body. 
Inadequate Adjustability
With a small computer chair, simple things that you can easily do in bigger chairs become difficult. This includes adjusting various features of the chair, such as height and the recline tilt. 
Poor Concentration
Sitting in a small office chair that is too tight and uncomfortable will affect your ability to concentrate. Instead of doing your work, you will find yourself fidgeting and thinking about how uncomfortable your chair is, which is bad for productivity.
Temporary Solutions for Immediate Comfort
If you are stuck with a compact office chair that is too uncomfortable for your needs, but you can't replace it any time soon, there are a few things you can do in the meantime, such as: 
1. Adding a Cushion or Pillow
A simple addition of a cushion or a pillow could be the answer to your back problems or poor sitting posture. Many cushions are designed for office use, and you can choose one that goes well with the rest of your office décor.
2. Using a Lumbar Support Pillow
Having a small office chair does not mean you are automatically doomed to suffer from a sore back. You can invest in a lumbar support pillow that can be placed on your lower back to provide adequate support while you work. 
3. Adjusting Your Posture
If you are forced to sit in an uncomfortable, small, and compact desk chair all day, be sure to adjust your sitting position regularly. Unlike an ergonomic chair that automatically helps you sit in the best position, in this kind of chair, it is something you will need to do consciously. 
4. Taking Regular Breaks
Take a few minutes to get up from your small computer chair and stretch your body. If you do this regularly throughout the day, these breaks will help prevent many of the problems associated with having the wrong type of office chair.
Long-term Solutions to Solve Your Discomfort
While temporary solutions are fine when you have no choice but to use an inadequate small task chair for a while, you will eventually need a more permanent plan. Try the following:
1. Looking for Ergonomic Office Chair Options
The best thing you can do for yourself is to invest in a proper ergonomic chair. You can forget all about suffering from back pain, or dealing with poor sitting posture if you simply buy the right kind of ergonomic office chair for your needs.
2. Ensuring Proper Chair Height and Positioning
Even a small office chair can do a good job if you know how to adjust and position it correctly. You have to consider how tall you are, the size of your desk, and the nature of your work to help you decide the best way to adjust your chair.
3. Finding Chairs With Adjustable Features
With so many great chairs that are packed with features and easily available online, you have no excuse for settling for a chair that cannot be adjusted. Even a studio chair can have a lot of adjustable features if you make the right choice while buying.
4. Choosing Chairs With Quality Cushioning
A compact office chair will not feel so uncomfortable if it has some great-quality cushioning. With so much attention being given to ergonomic features, this is often an area that is overlooked. 
5. Investing in a Standing Desk
If you have no choice but to put up with a compact desk chair that is too small and uncomfortable for your needs, you could balance it by buying a standing desk. This will allow you to regularly switch from sitting to standing, ensuring that you spend as little time as possible sitting in one position.
Autonomous Ergonomic Chairs for Long-lasting Comfort
As you have seen in this article, if you are stuck using a small task chair that is inadequate for your needs, there are many temporary solutions you can try. However, the only real solution that will have long-lasting effects is to invest in a good quality, ergonomic office chair that is the right size for your needs. 
If you can get your hands on the best office chair for long hours, you can finally say goodbye to all your office-related back issues, and enjoy more productive and comfortable days at work. Consider the following options from Autonomous:
1. ErgoChair Pro
When it comes to comfort, style, and quality, there are very few chairs that can compete with the ErgoChair Pro from Autonomous. This is one of the reasons why more than 2,700 Google employees rely on this ergonomic office chair for their daily use. 
The ErgoChair Pro is a fully supportive ergonomic chair that comes loaded with features designed to make the long hours at work feel a lot less tedious. You can get lost in your work while sitting in this great chair. The flexible lumbar support is quite effective in any seated position you choose. 
It has all the bells and whistles that you would expect in a top-tier office chair, such as wheels for easier mobility, woven mesh back for optimum airflow, and fully adjustable height, armrest, headrest, backrest, and seat tilt. 
The chair is made of 100% environmentally friendly materials, which should put your mind at ease if you are worried about your carbon footprint. You get a two-year warranty with this chair, which shows just how confident the manufacturer is with the quality of this product. 
As a bonus, the ErgoChair Pro can recline to five lockable positions, allowing you to stretch out for a few minutes when taking a break from work. With such a long list of impressive features, this chair should be one of the first items on your shopping list.
2. ErgoChair Recline
The ErgoChair Recline is sometimes referred to as a simple compact office chair, but in reality, it is a lot more than that. This recliner desk chair is the perfect companion for any workaholic who spends the majority of each day in the office. 
As the name implies, the ErgoChair recline means business when it comes to its tilt function. It has a massive 18-degree tilt range, which is more than enough to allow you to stretch out those sore muscles when you have been working for a few hours. 
The adjustable headrest and leg rest mean that you can set up your chair in the most comfortable position for your body. This, along with the comfortable foam seat, will provide your body with the support it needs. 
If you work in a hot environment, you will appreciate the mesh back too. It allows maximum airflow to your body, meaning you can forget about sweating through your shirt even when working on one of the hottest days in summer. 
The ErgoChair recline is a sturdy piece of office furniture, built to easily support a body weight of up to 250 pounds. This makes it more than capable of handling the needs of most office workers. If you get it now from Autonomous, you will also enjoy a great one-year warranty to give you peace of mind about your purchase.
3. ErgoChair Plus
Considered by many to be the best ergonomic chair on the market, the ErgoChair Plus is a top-notch office chair that is loaded with impressive features. It is one of the most dynamic office chairs you will find, with a great design that was inspired by the need to provide maximum freedom of movement to its users. 
Balancing between providing enough support and allowing the user to move freely is an art that the ErgoChair Plus handles perfectly. Its adaptive spinal support system is the key to this chair's ability to provide exceptional lumbar support while allowing you to move as naturally as possible. 
Part of the reason why this chair seems naturally suited to your body's movement is that it has a frameless design, which means you have nothing getting in the way of your arms or other parts of your body. It is made of environmentally friendly and cooling TPE, which is a highly durable material that will last for many years. 
If the TPE design is not to your liking, you can try the mesh option, which provides both a different look and a more breathable design. Also, you don't have to worry about whether the chair can handle your weight. It was designed to handle up to 300 pounds, which is very impressive for an ergonomic office chair.
4. ErgoChair Core
The ErgoChair Core is an innovative computer office chair that is as ergonomic as it is comfortable. It is designed for proficiency and good health while looking great in the process. With a contoured foam seat and a lumbar support pad, this is the kind of chair that you can sit in for hours on end without feeling the tell-tale signs of backache and fatigue.   
Its designers describe this chair as being somewhere between a couch and a computer chair, which gives you the best of both worlds in terms of support and comfort. The ErgoChair Core can easily support up to 250 pounds and has a breathable mesh back to help keep you cool in summer. 
In terms of adjustability, this chair gives you many options. You can adjust the seat pan, back recline, lumbar support, armrests, and height until the chair is positioned perfectly for your needs. If you get it today from Autonomous, you can enjoy a one-year warranty for this high-quality ergonomic office chair.
An Ergonomic Chair Can Be the Answer to Your Back Problems
Having to deal with a small office chair every day can make your work life quite miserable. Apart from the effect it will have on your health, you will also suffer from a reduced level of productivity. 
This is why it is worth it to invest in ergonomic, high-quality, comfortable, and heavy-duty office chairs. The extra cost you may have to pay for an ergonomic chair is worth it when you consider the comfort and other benefits to your body. Autonomous has an impressive range for you to choose from on its website.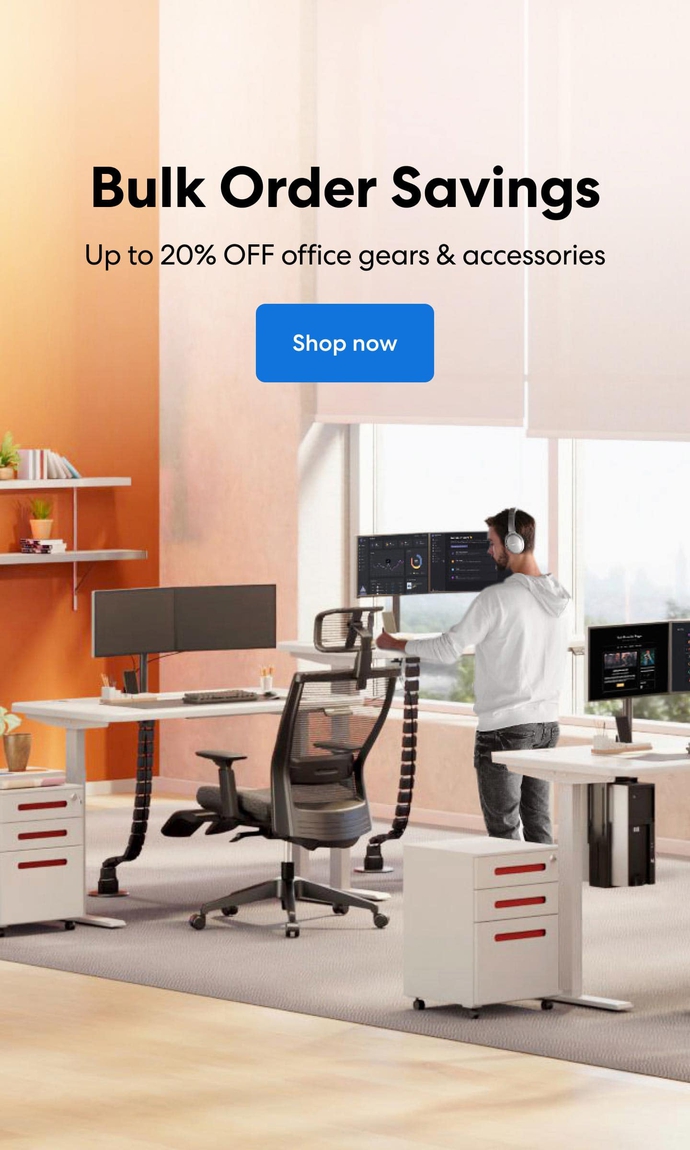 Subcribe newsletter and get $100 OFF.
Receive product updates, special offers, ergo tips, and inspiration form our team.