Smart Products
Are File Cabinets Fireproof? What You Really Need to Know
862 Views
Are file cabinets fireproof? It's a common question among people. After all, most people (if not all) use file cabinets to store important documents and other papers. Therefore, it's better to make sure that the area where you are storing such crucial information is 100% safe in case of different hazards, including a potential fire.
So, Are Metal File Cabinets Fireproof?
The direct answer to the title question is no. Generally speaking, a file cabinet is not fireproof. Typically, these pieces of furniture are made from steel, which happens to be an insulator. However, that doesn't mean that everything is lost. It's possible to find a filing cabinet that is fireproof and can keep all your files and documents protected.

You can find fire-resistant filing cabinets of different sizes. Typically, these office accessories are protected by a layer of inflammable insulation. This prevents the temperature in the interior from rising at high speeds. Although it'll still be possible for your documents to catch on fire, it'll take a long while before that happens. By then, the fire should've been extinguished already, and your files will still be safe.
This article will guide you through some of the options you can consider for water and fireproof file cabinets. This way, you will be able to keep your documents protected in case of an accident.
Best Fireproof File Cabinet – Top 5 Options
1. Aoke Standard Filing Cabinet – Autonomous x Wistopht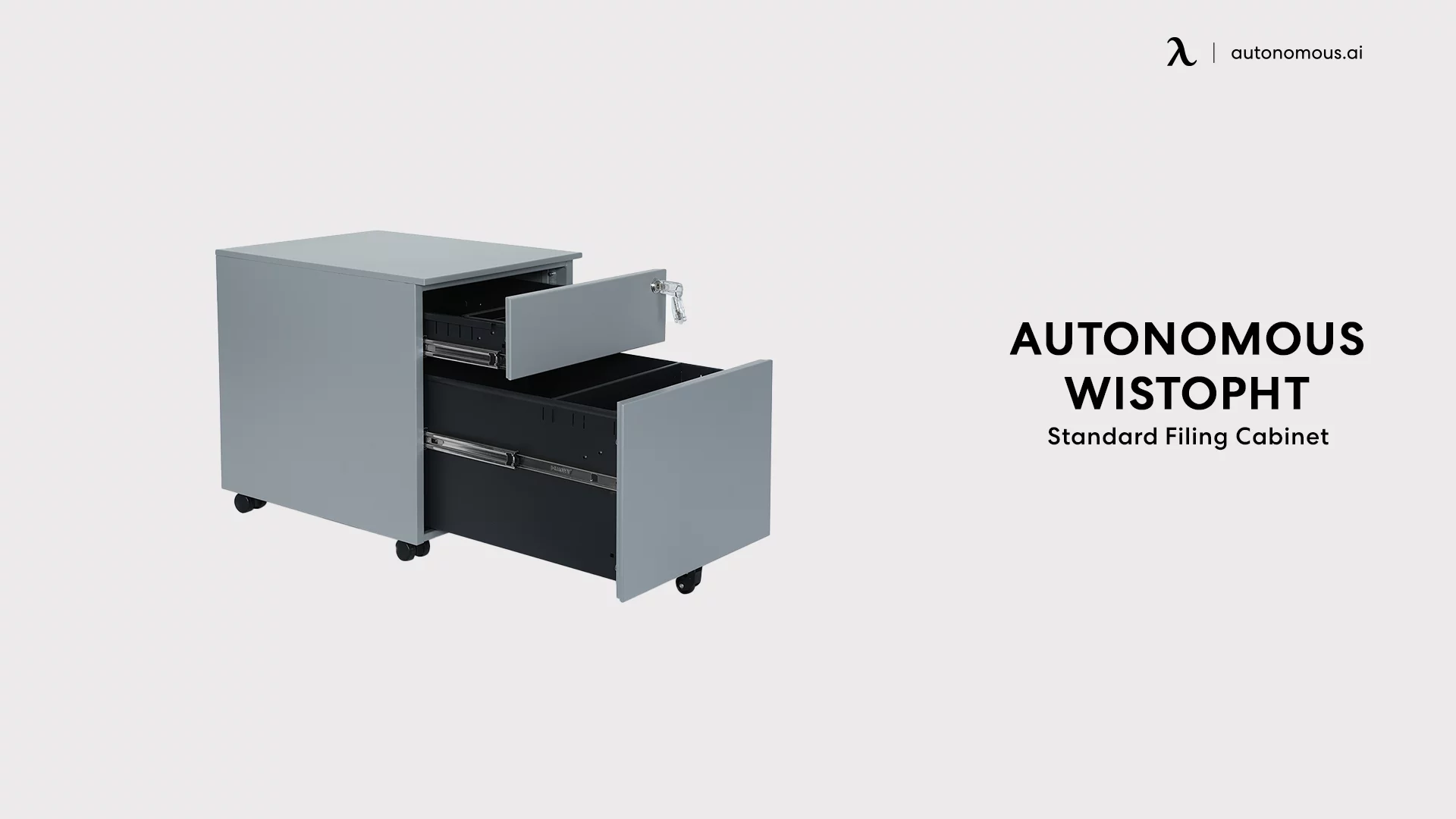 The first option is a 2-drawer file cabinet that can accommodate plenty of documents. It's a good choice for small workstations. It has a beautiful and modern design that will fit in any office.
Thanks to its sturdiness, it can also be used as a footrest. Hence, it's a multifunctional object that you can use for multiple purposes besides storing documents. As per usual, it includes lockable drawers and wheels, as well as a customizable divider that you can modify as much as you want.
2. Aoke Slim Filing Cabinet – Autonomous x Wistopht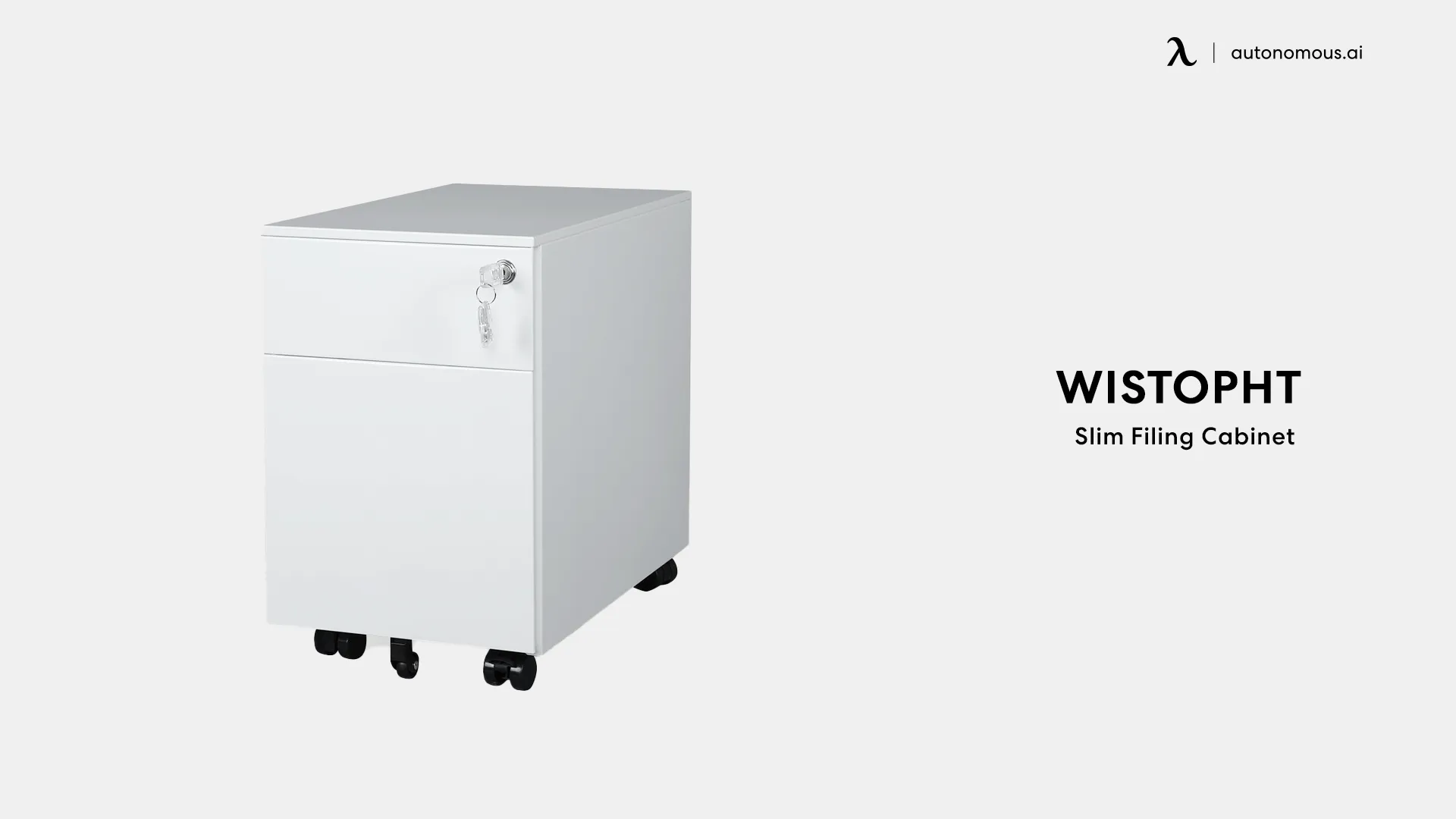 This filing cabinet has a beautiful finish and is space-saving. It can be the perfect companion for any person that works from home. It's extremely sturdy and offers enough layers of protection to keep your files intact at all times. It's also available in white, black, and gray, making it easier to combine with the rest of your workstation.
You will also have access to a customizable divider. It includes lockable drawers and wheels, allowing you to move it from one place to another effortlessly. This slim file cabinet is one of the best options you can choose, especially if you have a small workstation.
3. FireKing Patriot – 2P1825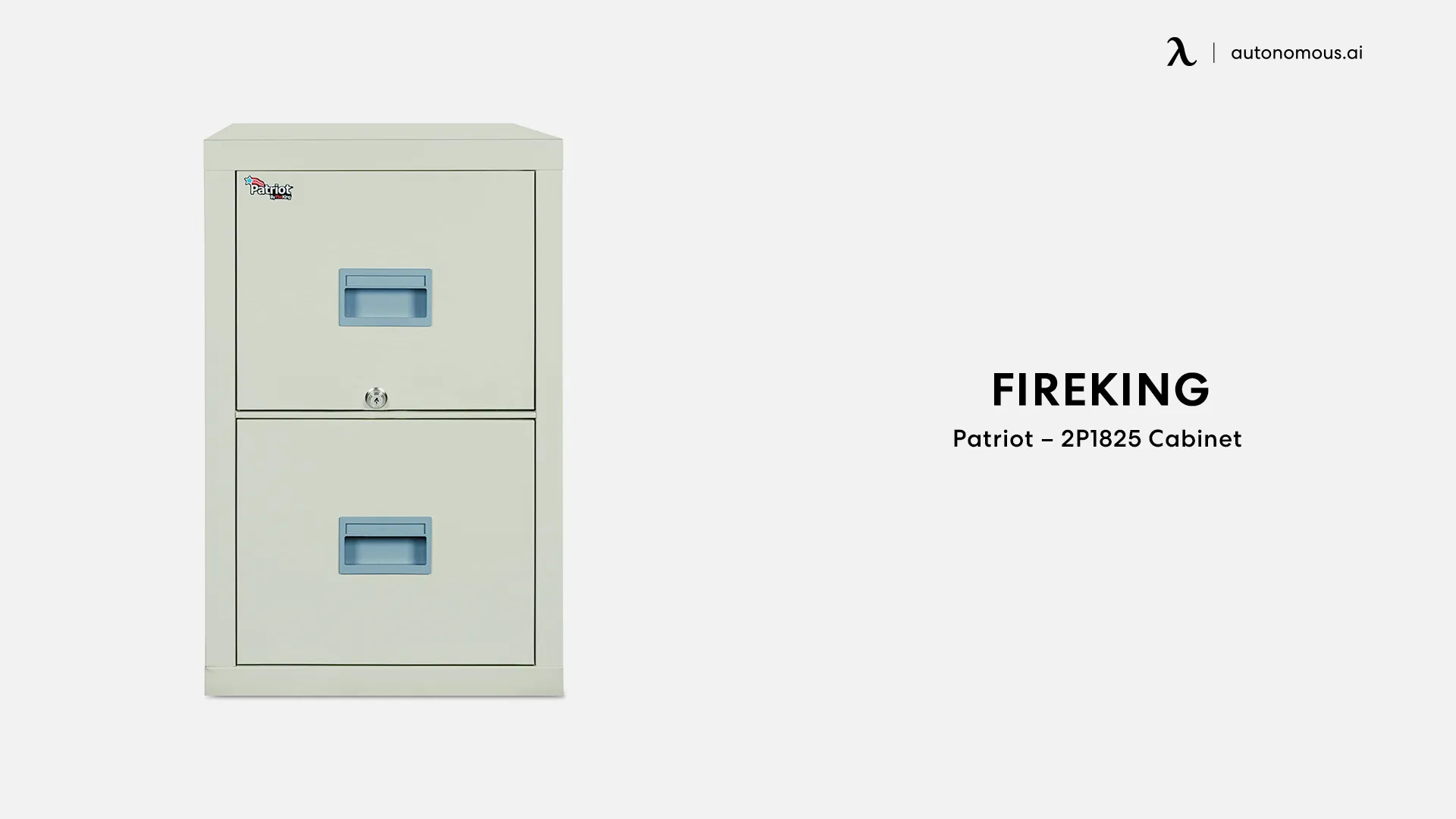 FireKing is a widely popular brand that focuses on manufacturing some of the best file cabinets. Although there are tons of options you can choose from within this brand's catalog, we recommend taking a look at this option.
The Patriot 2P1825 looks like a regular file cabinet, but it's actually 100% functional and fireproof. It also includes a lock and a key, which functions smoothly and allows you to keep private documents safe and out of everyone else's reach. It includes 4 drawers, each of which is thoroughly insulated to keep your files protected.
4. SFW123DSB – Fireproof and Waterproof Safe by SentrySafe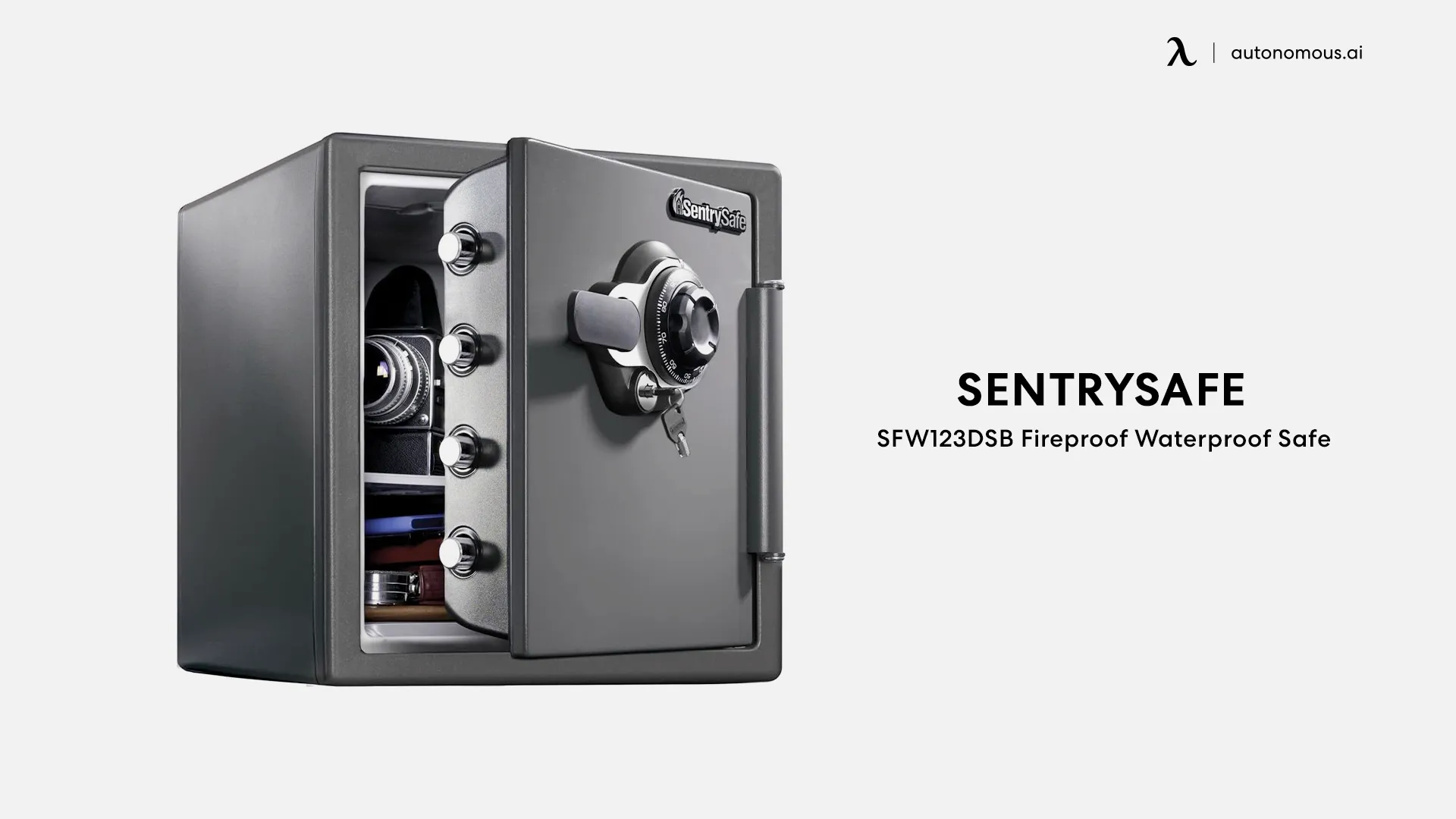 Water and fireproof file cabinets exist, providing an extra layer of protection to your documents. This fireproof and waterproof safe can be an excellent option for those who have private files they would want to keep away from other people while also keeping them protected against potential accidents.
It uses a digital keypad, which you must use to enter a unique combination of digits so no one except you can have access to your files. There are three versions available, allowing you to choose between different sizes:
0.82 cubic feet

1.23 cubic feet

2.05 cubic feet
Hence, you can choose from diverse options depending on your needed space and the documents you want to store.
5. Chubbsafes Fire File 25"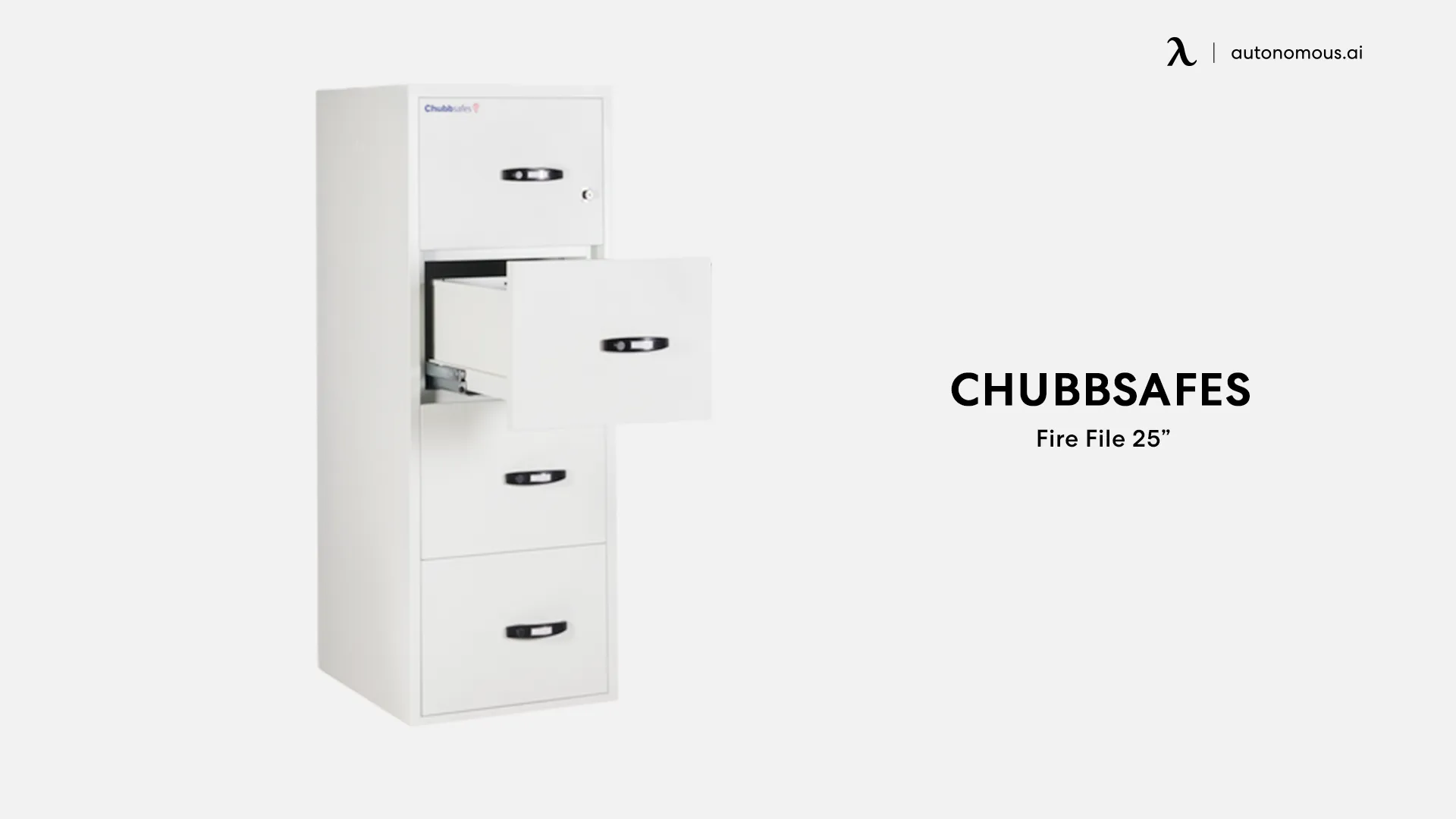 Here we have another 4-drawer cabinet. It offers one hour of protection against fire, making it a very solid contender on this list. The company allows you to choose between different lock options, including a key, an electronic lock, or a combination lock.
Hence, you can be sure that your files will be 100% protected with this file cabinet. Although the option we're describing here has 4 drawers, there are smaller versions that you can consider if you don't need such a big piece of ergonomic office furniture.
Other Things You Should Consider
Most fireproof filing cabinets offer different levels of protection against fire. Therefore, before buying, it is important for you to check how much heat the piece of furniture can resist and for how long. It's also worth considering purchasing file drawers that offer individual protection for drawers, allowing you to keep the rest of the cabinets protected. The industry standard is 60 minutes of protection as per NT Fire 017-60 Paper.
Some file cabinets are also waterproof, thanks to the inclusion of water-resistant seals. Hence, finding a file cabinet that combines fireproof and waterproof features can be the perfect option to keep your files protected against any potential accident that could happen.
Conclusion
We've listed some of the best fireproof file cabinets that you can find in today's market. Keeping your documents safe at all times is extremely important, which is why many companies focus on providing high-quality pieces of furniture that can help you store and protect your files while also contributing to the aesthetic of your office environment.
There are tons of options out there that you can consider, but it's important for you to take into account that they must follow the industry standards.
If you are interested in acquiring a new fireproof file cabinet as soon as possible, you can do so now via the Autonomous Employee Purchase Program. This program allows you to acquire office furniture and accessories at special pricing, allowing you to build your dream setup without spending that much.
Hey, you have special pricing through your company.
Get exclusive rewards
for your first Autonomous blog subscription.
WRITTEN BYAutonomous
We build office products to help you work smarter.