Smart Products
Top 10 Fireproof File Cabinets of 2023: Ratings and Reviews

Autonomous
|
Feb 11, 2023
3,857 Views
Your documents' safety is a must whether they are related to your work or some other place. Since you would be aware of how easily ordinary file cabinets can catch fire, it is better to have a fireproof file cabinet.
Are file cabinets fireproof? It's a common question among people. After all, most people (if not all) use file cabinets to store important documents and other papers. Therefore, it's better to make sure that the area where you are storing such crucial information is 100% safe in case of different hazards, including a potential fire. Below we have shared a list of the best fire-resistant file cabinets you can use to assure your documents' safety and increase office storage.
So, Are Metal File Cabinets Fireproof?
The direct answer to the title question is no. Generally speaking, a file cabinet is not fireproof. Typically, these pieces of furniture are made from steel, which happens to be an insulator. However, that doesn't mean that everything is lost. It's possible to find a filing cabinet that is fireproof and can keep all your files and documents protected.
You can find fire-resistant filing cabinets of different sizes. Typically, these office accessories are protected by a layer of inflammable insulation. This prevents the temperature in the interior from rising at high speeds. Although it'll still be possible for your documents to catch on fire, it'll take a long while before that happens. By then, the fire should've been extinguished already, and your files will still be safe.
This article will guide you through some of the options you can consider for water and fireproof file cabinets. This way, you will be able to keep your documents protected in case of an accident.
Best Fireproof File Cabinet
1.  Autonomous x Wistopht Standard Filing Cabinet
The first option is a 2-drawer file cabinet that can accommodate plenty of documents. It's a good choice for small workstations. It has a beautiful and modern design that will fit in any office.
Thanks to its sturdiness, it can also be used as a footrest. Hence, it's a multifunctional object that you can use for multiple purposes besides storing documents. As per usual, it includes lockable drawers and wheels, as well as a customizable divider that you can modify as much as you want.
2.  Autonomous x Wistopht Slim Filing Cabinet
This filing cabinet has a beautiful finish and is space-saving. It can be the perfect companion for any person that works from home. It's extremely sturdy and offers enough layers of protection to keep your files intact at all times. It's also available in white, black, and gray, making it easier to combine with the rest of your workstation.
You will also have access to a customizable divider. It includes lockable drawers and wheels, allowing you to move it from one place to another effortlessly. This slim file cabinet is one of the best options you can choose, especially if you have a small workstation.
3. Skyline Decor Modern 3-Drawer Mobile Locking Filing Cabinet: A4, F4
This thing is absolutely fantastic! It is one of the best fire-resistant file cabinets in the market. And let's talk about the practicality of it all - with 3 spacious drawers, you'll have plenty of room to store all your A4 and F4 documents. Plus, with the added security of the locking mechanism, you can rest easy knowing that your sensitive information is safe and secure.
4.  SFW123DSB – Fireproof and Waterproof Safe by SentrySafe
Water and fireproof file cabinets exist, providing an extra layer of protection to your documents. This fireproof and waterproof safe can be an excellent option for those who have private files they would want to keep away from other people while also keeping them protected against potential accidents.
It uses a digital keypad, which you must use to enter a unique combination of digits so no one except you can have access to your files. There are three versions available, allowing you to choose between different sizes:
0.82 cubic feet

1.23 cubic feet

2.05 cubic feet
Hence, you can choose from diverse options depending on your needed space and the documents you want to store.
5.  Chubbsafes Fire File 25"
Here we have another 4-drawer fireproof file cabinet. It offers one hour of protection against fire, making it a very solid contender on this list. The company allows you to choose between different lock options, including a key, an electronic lock, or a combination lock.
Hence, you can be sure that your files will be 100% protected with this file cabinet. Although the option we're describing here has 4 drawers, there are smaller versions that you can consider if you don't need such a big piece of ergonomic office furniture.
6.  FireKing Patriot – 2P1825
FireKing is a widely popular brand that focuses on manufacturing some of the best file cabinets. Although there are tons of options you can choose from within this brand's catalog, we recommend taking a look at this option.
The Patriot 2P1825 looks like a regular file cabinet, but it's actually 100% functional and fireproof. It also includes a lock and a key, which functions smoothly and allows you to keep private documents safe and out of everyone else's reach. It includes 4 drawers, each of which is thoroughly insulated to keep your files protected.
7. Phoenix Lateral Fireproof File Cabinet
Phoenix Lateral File Cabinet is a fireproof cabinet that can help you with office desk organization. The best part about this cabinet is that it is not only resistant to fire but does not catch rust, as it is resistant to moisture. It comes with locks, so keeping your documents safe will become easier.
8. Hirsh Industries 3-Drawer File Cabinet
Hirsh Industries SOHO 3-Drawer File Cabinet is a fireproof file cabinet that can help you keep your documents safe. Since its cabinets and drawers are of different sizes, it can accommodate any file or valuable that you like keeping safe. This cabinet is a 3-drawer file cabinet, which provides you with plenty of storage space.
9. Fireproof File Cabinet by Chubbsafes
Chubbsafes Fireproof File Cabinet is a locking file cabinet with four drawers that can help you keep your documents safe. Since it is a reliable company, you can trust the quality of its white file cabinet.
10. Vaultz CD Case Holder File Cabinet
Vaultz CD Case Holder File Cabinet is a small file cabinet that you can use for keeping useful documents. Usually, people who do not have under-desk storage go for this file cabinet. So, you can give it a try.
11. Honeywell 1108 Fireproof File Chest
The Fireproof File Chest 1108 by Honeywell is one of the best choices for people who are looking to invest in a safe space to keep their documents. The box can withstand higher temperatures and has enough space for carrying all sizes of files and documents.
Other Things You Should Consider
Most fireproof filing cabinets offer different levels of protection against fire. Therefore, before buying, it is important for you to check how much heat the piece of furniture can resist and for how long. It's also worth considering purchasing file drawers that offer individual protection for drawers, allowing you to keep the rest of the cabinets protected. The industry standard is 60 minutes of protection as per NT Fire 017-60 Paper. 
Some file cabinets are also waterproof, thanks to the inclusion of water-resistant seals. Hence, finding a file cabinet that combines fireproof and waterproof features can be the perfect option to keep your files protected against any potential accident that could happen.
Fireproofing Your Filing Cabinets: Steps to Protect Your Documents from Fire Damage
Fireproofing filing cabinets can help protect important documents and valuables from the risk of fire damage. Here are some steps you can take to fireproof your filing cabinets:
Choose a fire-resistant filing cabinet
Look for filing cabinets that are specifically labeled as fire-resistant or fireproof. These cabinets are designed with special materials and construction techniques to withstand high temperatures and prevent fire from spreading to the contents inside.
Keep flammable materials away
Avoid storing flammable materials, such as paper, near the filing cabinet. Keep the surrounding area clear of any combustible items that could potentially ignite in the event of a fire.
You can add an additional layer of fire protection to your filing cabinets by using fireproof insulation. This can be done by lining the interior of the cabinet with fire-resistant material, such as fireproof mats or fireproof insulation sheets. Make sure to follow the manufacturer's instructions for proper installation.
Check for any gaps or openings in the filing cabinet that could allow heat or smoke to enter. Seal these gaps with fire-resistant sealants or fire-resistant caulking to prevent fire from penetrating into the cabinet.
Store documents in fire-resistant containers
Place important documents and valuables in fire-resistant containers, such as fireproof file folders or fireproof document bags, before storing them in the filing cabinet. This provides an extra layer of protection in case of a fire.
Avoid overloading the cabinet
Avoid overloading the filing cabinet with too much weight, as this can strain the cabinet and potentially compromise its fire resistance. Follow the manufacturer's recommendations for maximum weight capacity and avoid exceeding it.
Regularly maintain and inspect the cabinet
Regularly inspect and maintain the filing cabinet to ensure that it remains in good condition. Check for any signs of wear and tear, such as damaged seals or hinges, and replace them promptly to maintain the fire resistance of the cabinet.
It's important to note that while fireproofing measures can significantly reduce the risk of fire damage, no cabinet or container is completely fireproof. It's always best to have multiple layers of protection, such as storing important documents and valuables in multiple locations and having offsite backups, to ensure their safety in case of a fire. Additionally, consulting with a fire safety professional or expert can provide further guidance on how to effectively fireproof your filing cabinets based on your specific needs and circumstances.
FAQs
Now, here are the answers to some of the most frequently asked questions about a fireproof file cabinet. 
What makes a file cabinet fireproof?
The material used in making a file cabinet makes it fireproof. Its makers line the cabinet with a clay mineral named vermiculite, usually to make the cabinet fireproof. Being a high water absorbent material, vermiculite keeps your document safe when the fire is around. Its absorbed water turns into steam to ensure the cabinet's interior stays cool and documents remain safe. 
How heavy is a fireproof file cabinet?
There is no standard weight for a fireproof cabinet, so it can vary. However, on average, fireproof file cabinets can weigh anywhere from 100 to 500 pounds. Or even more, depending on the size and construction of the cabinet. 
Can you fireproof a cabinet?
Yes, you can fireproof a cabinet by adding materials resistant to fire to its construction. For example, you can add fireproof insulation, such as ceramic, to the walls and doors of the cabinet. You can even design a homemade fireproof file cabinet on your own.
However, it is important to note that fireproofing a cabinet does not guarantee that it will provide complete protection for its contents in the event of a fire. A fireproof file cabinet that is specifically designed and tested for fire resistance may offer more reliable protection. 
Do old fireproof file cabinets contain asbestos?
Some older fireproof file cabinets that people made before 1989 may contain asbestos, as used as a fireproofing material due to its heat-resistant properties. However, modern file cabinets do not have it, as experts do not consider it safe.
Conclusion
We've listed some of the best fireproof file cabinets that you can find in today's market. Keeping your documents safe at all times is extremely important, which is why many companies focus on providing high-quality pieces of furniture that can help you store and protect your files while also contributing to the aesthetic of your office environment.
There are tons of options out there that you can consider, but it's important for you to take into account that they must follow the industry standards.
If you are interested in acquiring a new fireproof file cabinet as soon as possible, you can do so now via the Autonomous Bulk Order Program. This program allows you to acquire office furniture and accessories at special pricing, allowing you to build your dream setup without spending that much.
Video ads for product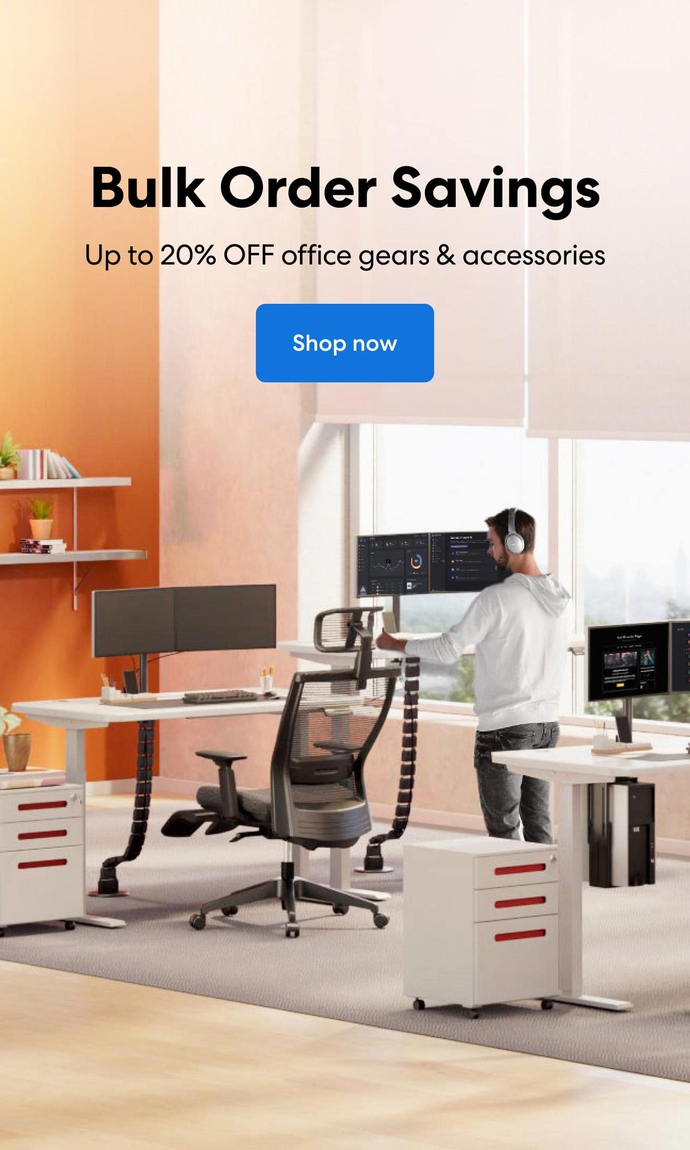 Subcribe newsletter and get $100 OFF.
Receive product updates, special offers, ergo tips, and inspiration form our team.