Smart Products
Come To Autonomous for 15 Best Locking File Cabinets for Your Office
933 Views
Even as the world tries its best to move towards a completely digital way of life, some things remain important when it comes to running a business the right way. No matter how big and advanced computer hard drives may become, they will never completely replace a good old-fashioned locking file cabinet.
Certain things are just better off kept secure in proper lockable filing cabinets. However, these are becoming increasingly difficult to find, especially if you are looking for a good quality filing cabinet with lock mechanisms.
Luckily, Autonomous has just the right solution for your needs. With our wide range of 3-drawer file cabinets with lock mechanisms and locking storage drawers, you will definitely be able to find a great quality addition to your office. There is also a great offer for those with employee benefits when they purchase other office items, such as standing desks and chairs.
This article will provide you with all the information you need about locking file cabinets, including where to find the best ones and why you need one from Autonomous today.
Why Do You Need a Locking File Cabinet?
Seeing a file cabinet tucked away in a corner has been the norm for any office environment for many generations. In fact, after a desk and chair, lockable filing cabinets are among the most popular ergonomic office furniture items purchased by businesses big and small.
However, some of the younger generation, along with modern upcoming businesses might be wondering why they would need such an old-fashioned item in their office. Well, we are here to tell you that a few locking storage drawers can still benefit your business in many ways.
Paper Is Still Important
Even though businesses are moving towards a paperless way of operating, there are still a lot of things that require the use of paper. Paper has the following advantages:
Paper is durable

It is easy to use and still preferred by most people around the world

T

he written paper is trusted and agreements on paper carry more weight
Thus, for these reasons, having a safe and secure place to store paper documents is important, and lockable filing cabinets offer the best storage option.
Safe From Hackers
The rise of digital crime, such as hacking, means that any sensitive information that is stored on computer hard drives is in danger of being hacked. Important information, such as contracts, is better off kept in a safe and secure locking file cabinet, where the only way to get to it is by physically breaking into the office.
Keeps the Office Clean
A good 3-drawer file cabinet with lock does wonders for keeping the office clean and free of clutter. A lot of times, having an untidy office is simply due to not having adequate storage space. If you provide your employees with the right place to put away paper files and documents, your office will be a lot tidier.
Improves Efficiency
Having a properly labeled locking file cabinet means that all your employees know where to find whatever documents they need quickly and easily. There is no need to go through tons of office documents because everyone knows exactly where to look.
Types of File Cabinets Found in the Office
Basically, office file cabinets can be divided into either vertical or lateral file cabinets depending on the drawer arrangement. However, within these two distinct types of cabinets, there is a wide range of other categories of cabinets that are sorted according to design, size, functionality, and mobility, for example, 3-drawer filing cabinets, 2 or 5 drawer ones.
Which type of cabinet is chosen by specific office personnel depends on such factors as space, budget, level of security required, type of documents to be stored, preferred design, and type of business being conducted in that office.
In the end, there are 10 different types of filing cabinets, which are as follows:
Letter-size

Legal-size

Lateral filing cabinet

Vertical filing cabinet

Mobile filing cabinet

Open shelf

Side tab

Flat filing cabinets

Storage Islands

Fireproof filing cabinets
How To Choose the Best Filing Cabinet
When it comes to choosing the right under desk file cabinet for your office needs it is important to consider what you intend to use the cabinet for, and where you plan on keeping it.
A locking file cabinet is a type of office furniture that is guaranteed to last you a very long time unless something as drastic as fire destroys it. It is for this reason that you need to pay special attention to the following tips on choosing the best filing cabinet, otherwise, you risk getting stuck with the wrong storage use for many years.
Size
Where do you plan on putting your filing cabinet? How much information/documents do you plan on keeping in it? Answer these two questions and you will have a good idea of the right size of filing cabinet you should buy.
Material
The type of material depends on the following:
Budget – different materials have very different costs

Design – you need a cabinet that is in line with the rest of the office furniture

Fire resistance – A metal cabinet is best if you need your cabinet to be fireproof
Drawers
Make sure you choose a locking file cabinet with enough drawers. Generally, this depends on how many types of documents you need to keep, meaning you need the right number of drawers to prevent mixing up different sets of documentation.
Security
This will determine whether you need lockable filing cabinets or just ordinary cabinets. If you plan on storing important and confidential information in there, then a lock is essential
15 Best Locking File Cabinets
Here is a comprehensive list of 15 of the best locking file cabinets you can consider for your office:
1. Filing Cabinet by Autonomous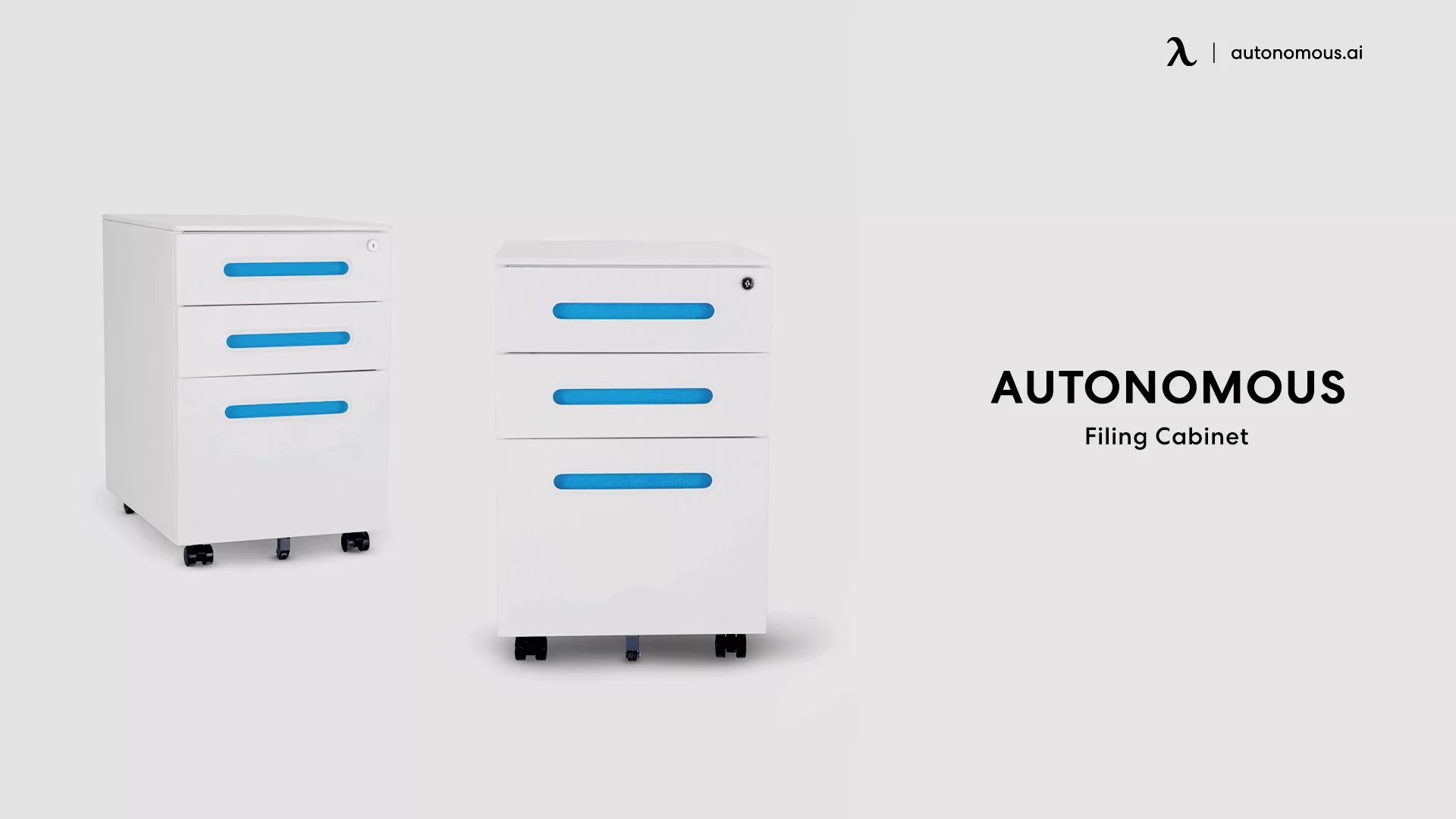 If ever there was one filing cabinet that embodies all the features and characteristics that we mentioned above, it is the metal filing cabinet 3 drawer from Autonomous. Small enough to roll under your desk, this cabinet also has wheels to make moving it around the office very easy. However, do not let the small size fool you. Open up the drawers and what you will find is a lot of storage space available. To top it all off, the lock is made of high-quality material to keep your valuables safe.
2. Slim Filing Cabinet by Autonomous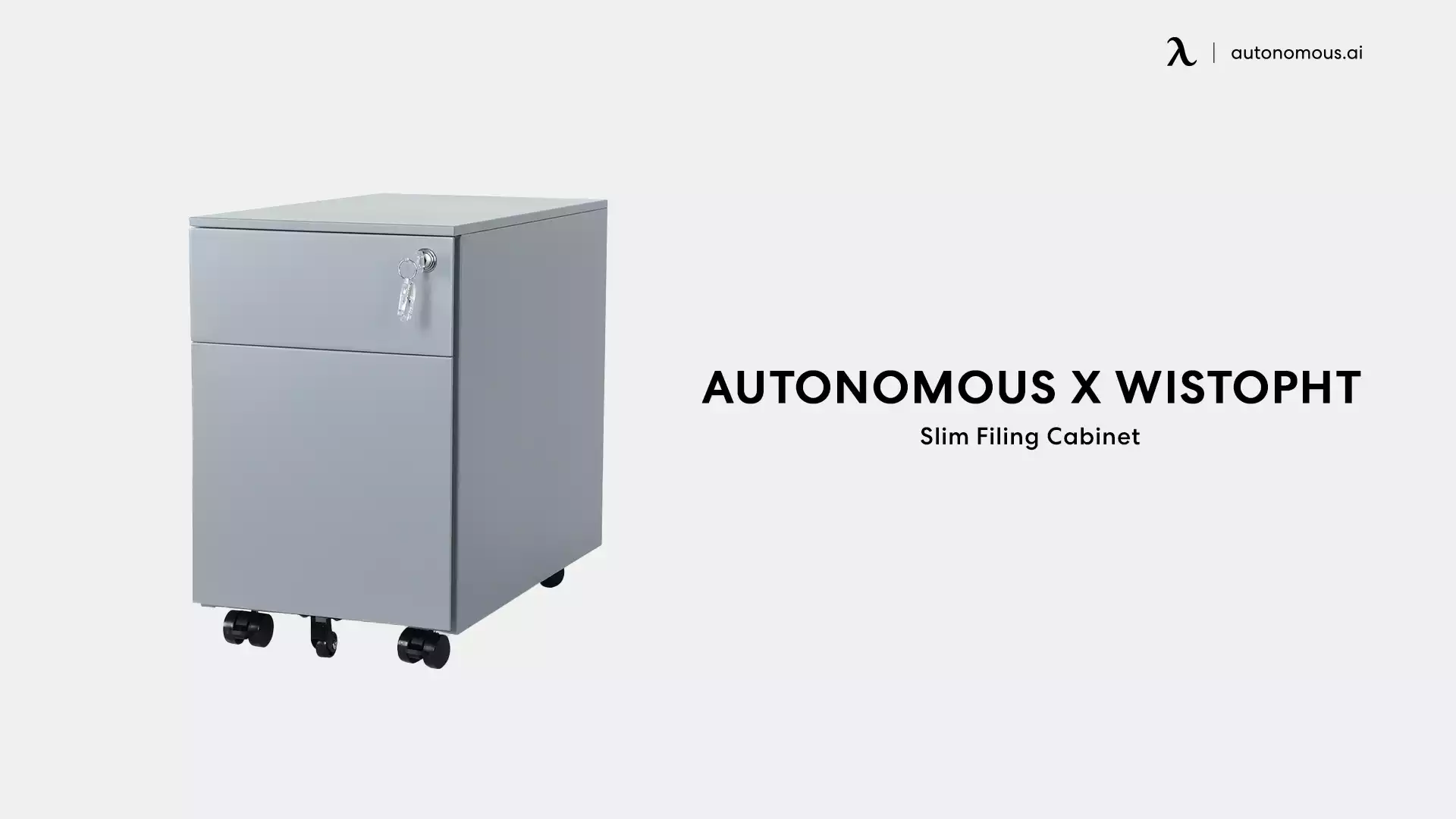 Are you looking for a small, easy to manage, but very useful storage solution? Then look no further than the Slim Filing Cabinet. It is ideal for small spaces and is actually built to easily slide under your desk effortlessly. This cabinet is an ideal choice for a small but busy office.
3. Devaise 3-Drawer Vertical File Cabinet
One of the high-end options on this list, the Devaise 3-Drawer Vertical File Cabinet comes at a higher cost than other cabinets in this category, but it more than makes up for that price by being a truly great and useful file cabinet option with lots of storage space.
4. White 3-Drawer File Cabinet From Bush Business
This lateral cabinet has two small drawers and a much larger drawer at the bottom for keeping large items like files and the like. It has a beautiful design that will add style to any office and is made of fire-resistant material.
5. Alera File Cabinet
Users of this filing cabinet appreciate the telescopic slide suspension that is fitted with durable ball bearings to make the drawers slide open smoothly and quietly. It also comes in a wide range of colors to suit your office design.
6. Metal 3-Drawer File Cabinet by Yitahome
Another great product, the Metal 3-Drawer File Cabinet has a lot of storage space available for offices that deal with a particularly large amount of paperwork. The cabinet also has a convenient removable tray for storing stationery and other small items.
7. Midmod Cabinet From Union & Scale™
Short, sturdy, and stylish, are probably the best words to describe the Midmod Cabinet (UN56967). However, do not let the small size fool you, because this is still one of the best options on this list. It is best suited for offices with a modern design and is highly portable thanks to its set of wheels.
8. Metal 3-Drawer File Cabinet By Space Solutions
If you have a limited budget but still need a good storage solution, then we suggest you consider the Space Solutions Metal 3-Drawer File Cabinet. It has all the necessary features of proper lockable filing cabinets, but the one drawback is that it does not have any wheels, so moving it around is not easy.
9. Hon File Cabinet
The Hon File Cabinet made from alloy steel is a great choice for those who want a simple set of locking storage drawers that are fireproof. What it lacks in style, it more than makes up for in storage security for your documents. This filing cabinet with lock is proof that even the simplest designs can get the job done to your satisfaction.
10. Stockpile 3-Drawer Filing Cabinet By Laura Davidson
Before going further, you should note that this is one of the most expensive cabinets on this list. But if you can afford it, it is worth every cent. It comes in a wide range of colors and would be the jewel of any office. To make the price easier to bear, this cabinet comes with a great two-year warranty.
11. Slim Stow Cabinet
As the name suggests, this is a small-sized cabinet with a very narrow design. It does, however, have a lot of storage space considering how compact it looks on the outside. The Slim Stow Cabinet is made of metal with a powder coat finish, making it very secure for your important documents.
12. INTERGREAT Cabinet
Thanks to the reinforced steel with an eco-friendly coat of paint, you can rest assured of the safety of this cabinet, while at the same time not worrying about rust or corrosion. Featuring some inset handles that give it a nice look, the INTERGREAT Cabinet also has a strong set of wheels to make moving it around an absolute breeze.
13. Cabinet by Space Solutions
Simplicity and functionality combine perfectly in the Cabinet by Space Solutions. This metal filing cabinet has two doors and offers a simple fireproof solution for those who are not concerned with stylish designs.
14. Standard Filing Cabinet From Autonomous and Wistopht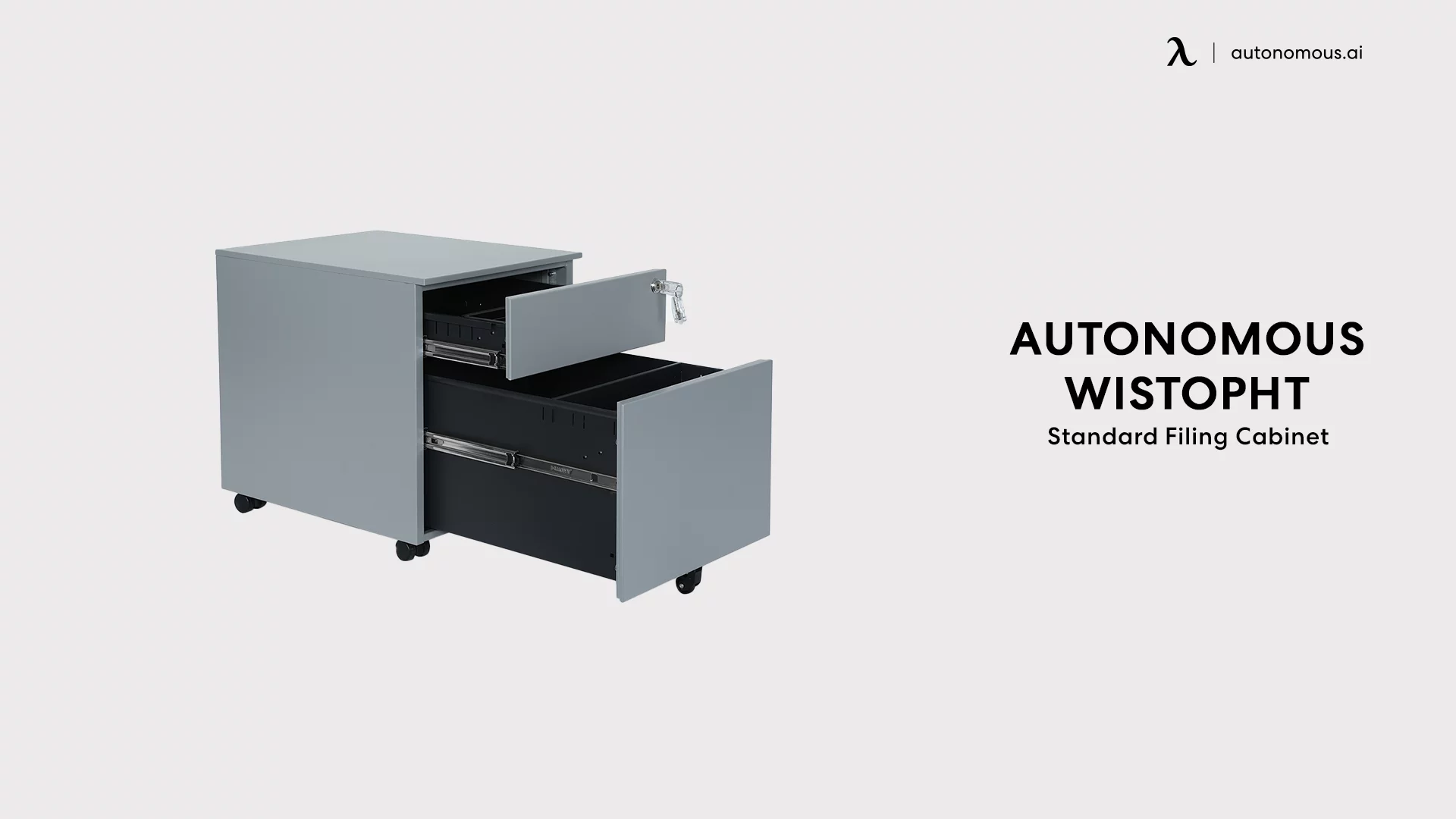 Sometimes all that style and design is unnecessary in a work environment. If all you need is a functional locking file cabinet that does the job it is meant to, then you should definitely consider the Standard Filing Cabinet. Place it in any modern office space and you are guaranteed a reliable and long-lasting storage solution.
15. Lockable Office Filing Cupboard by Songmics
Security and functionality are the most important features of this vintage-style filing cabinet with lock from Songmics. It is made of a very strong and robust type of steel guaranteeing that you have a good chance of recovering your documents even after a fire. It is also small enough to slide under your desk, which is very convenient if space is an issue.
Conclusion

Finding the best storage solutions for your important and confidential documents does not have to be a problem anymore, thanks to these wonderful locking file cabinet options available on the Autonomous website. Get it at a great price today from the Autonomous with Autonomous employee purchase program.
Each and every one of the cabinets on this list has qualities that you will find very beneficial to your office environment. Improve your employees' productivity and efficiency with one of these great cabinet choices from Autonomous.
Hey, you have special pricing through your company.
Get exclusive rewards
for your first Autonomous blog subscription.
WRITTEN BYAutonomous
We build office products to help you work smarter.