Working out is one of the best things you can do for your physical and mental health. It will always help you stay in a better mood, but not everyone has the money or time to go to a gym every day. If you are one of those, you should get workout equipment for your home.
People are often scared that they won't get decent results working out at home compared to what they would get if they go to an actual gym. That couldn't be further from reality since getting the best at-home workout equipment will give you access to modern features to customize your routine and everything related to it.
If you are looking forward to buying the right home workout equipment for your house, this is the article for you. Dive into this page to learn everything you need to know about the matter.
What Are the Latest Trends in High-Tech Workout Equipment for Home Use?
Technology developments always determine where the world is headed, and that applies to all industries. Hence, the home gym equipment available depends on them and how companies take advantage of them.
Knowing the latest trends in high-tech workout equipment can help you understand what the machines do. Here are a few of them:
Smart Fitness Equipment
Smart fitness equipment is one of the main reasons home gyms are more popular now, as they make working out easier for people. It's not about making the exercises easier but rather making them more straightforward.
This includes smart workout machines for your home and wearable gadgets such as fit watches. They include special functions such as real-time analysis and feedback on your workout routine. These gadgets are often cloud-connected, so they let you know if there's any problem or glitch with them.
Besides that, cloud-based platforms allow you to check the feedback on your workout routine from all kinds of devices. Many high-tech workout machines even include a mobile app to check what you are doing during the day.
AI Personalization
AI technologies are trendier than ever, and all industries are doing what they can to adapt artificial intelligence to their services and products. However, how can AI optimize home exercise equipment? Well, in a nutshell, it's all about data analysis and real-time recommendations.
When companies optimize gym machines with AI, they can offer customers a personal approach to their daily routines. You can get recommendations and advice based on your specific information and the data you submit to the app, which is something you won't get from a website or online platform with general information.
Sustainability and Energy Efficiency
Apart from the features you get from a home workout machine, you also get additional benefits such as sustainability and energy efficiency, which help you save money at the end of the day. These machines are often made of materials that use alternative power sources apart from direct electricity, which helps you save money on energy bills.
Virtual Reality and Gamification
If you want to commit to your workout process, you need to find it interesting. Making your small home gym setup more appealing is fundamental if you don't want to stop working out after a few weeks. Virtual reality and gamification features can help you with that.
Do you need a few examples of this? High-tech machines often have a community-based platform that lets you compete with friends and include leaderboards for specific workouts. Moreover, you can set rewards for special missions and goals and track your progress through the same app.
Virtual reality, on the other hand, can make your workout experience more immersive. You can use VR lenses and work out in a different environment set by yourself or the platform you are using.
Streaming Fitness Classes
Getting to the last trend we will talk about on this list, we have streaming fitness classes. We know it's difficult for newcomers to master their workout techniques, and you don't have gym trainers to help you at home.
Workout equipment for home users that stream fitness classes is made to address that problem. They often are connected to the local internet and let you watch how to do the main workouts you can do at home or with that machine.
Factors You Should Consider When Building a Smart Home Gym
As you could see, high-tech workout machines for home use offer excellent features, but that doesn't mean all of them are good. You need to know where to look for these products and what to look for in them. We are here to help you with that.
Below are the main factors you need to take into account when making a smart home gym. You should consider them all when considering your new gym setup, as ignoring one of them could make you lack a few of the most essential features you need.
Space
The first thing you have to think about when you start thinking about new shed gym or basement gym ideas is the space you have available and how to use it. Workout machines are often big, so you need a big room.
We recommend that you measure the space and number of machines you have there. If you don't have enough for your workout machines, try to look for another place.
Connectivity
If you are looking forward to turning your basement or shed into a smart home gym, you need to ensure the place has enough connectivity capabilities. Most high-tech machines must be connected to the local internet, so you should start with that.
Customization
Regardless of the home exercise equipment you get, it must have a wide range of adjustments. You will change your routine after a few weeks or months, so you need a place ready to allow those changes.
Equipment
Once you know how much space you have for the gym, you can start getting the equipment for it. Focus on the things you need for your current workout routine. You can buy more stuff as you get the money. However, make sure they have the features we mentioned before.
Safety
The last factor you should take into account is the safety of the whole place. This is as simple as getting machines with emergency stop buttons or safety locks to keep any accident from happening while you work out.
Top 10 High-Tech Workout Equipment Products for Home Use
There are hundreds of companies that offer high-tech home workout equipment worldwide, and we understand if you don't have the time to check them all out. You don't have to, though. Here, we have a list of the top 10 high-tech workout products for home use in 2023. The first five of them are available on the Autonomous website.
1. WalkingPad Foldable Walking Treadmill A1 PRO
If you are looking for a foldable walking pad, you will love this product. In a nutshell, a product of this kind lets you fold it once you use it to store it anywhere you want.
You can do that with the WalkingPad Foldable Walking Treadmill A1 PRO, which also has smart connection features and a KS fit app to track your progress. It works with remote controls and foot-sensing speed controls.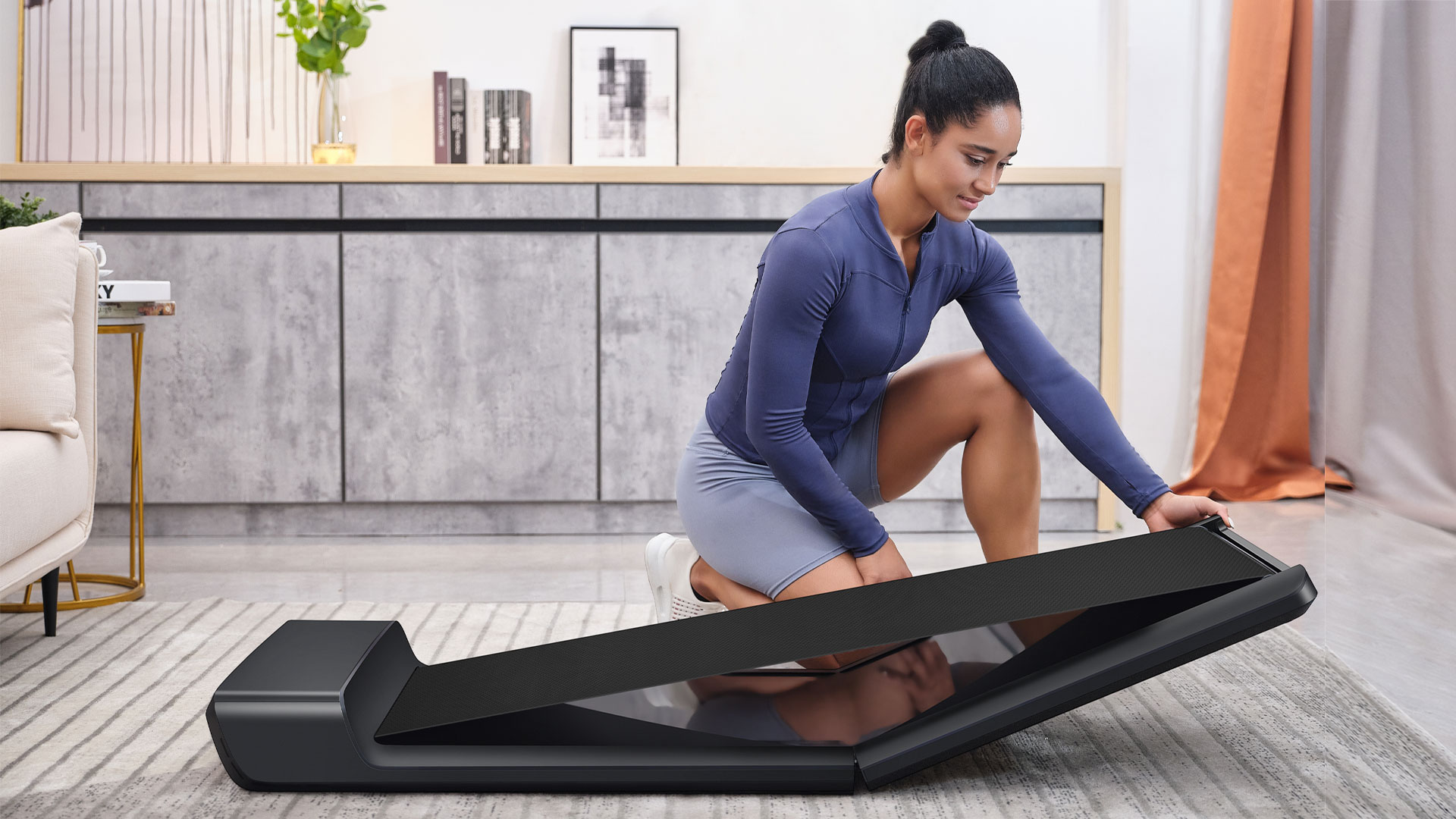 Walkingpad Foldable Walking Treadmill A1 PRO
Dimensions
Unfolded: 56.4" L x 21.5" W x 5" H
Folded: 32.5" L x 21.5" W x 5" H
Walking area: 47" L x 16.5" W
Item weight
62 lbs
Color
Quiet Black
Materials
Running board: HDF
Shell cover: IML injection
Layer: EVA cushion
Power
1.25 HP
Speed Range
0.3 - 3.7mph
Weight capacity
230 lbs
App
WalkingPad KS fit app
Available for both IOS & Android
Warranty
1 year
Pros

Cons

Foldable technology
Expensive
Tracks your progress
Remote control
2. MyKronoz ZeTime Hybrid SmartWatch
Smartwatches have been highly popular in the past few years, but unlike what many people think, many brands offer excellent models for specific tasks. MyKronoz is one of those brands, and the MyKronoz ZeTime Hybrid SmartWatch proves it.
It includes an activity and calorie tracker, so you don't have to worry about missing those small details in your workout sessions. Besides that, you can use it to monitor your sleep. The MyKronoz smartwatch is water-resistant, so you can use it if you take swimming classes and want to track your progress.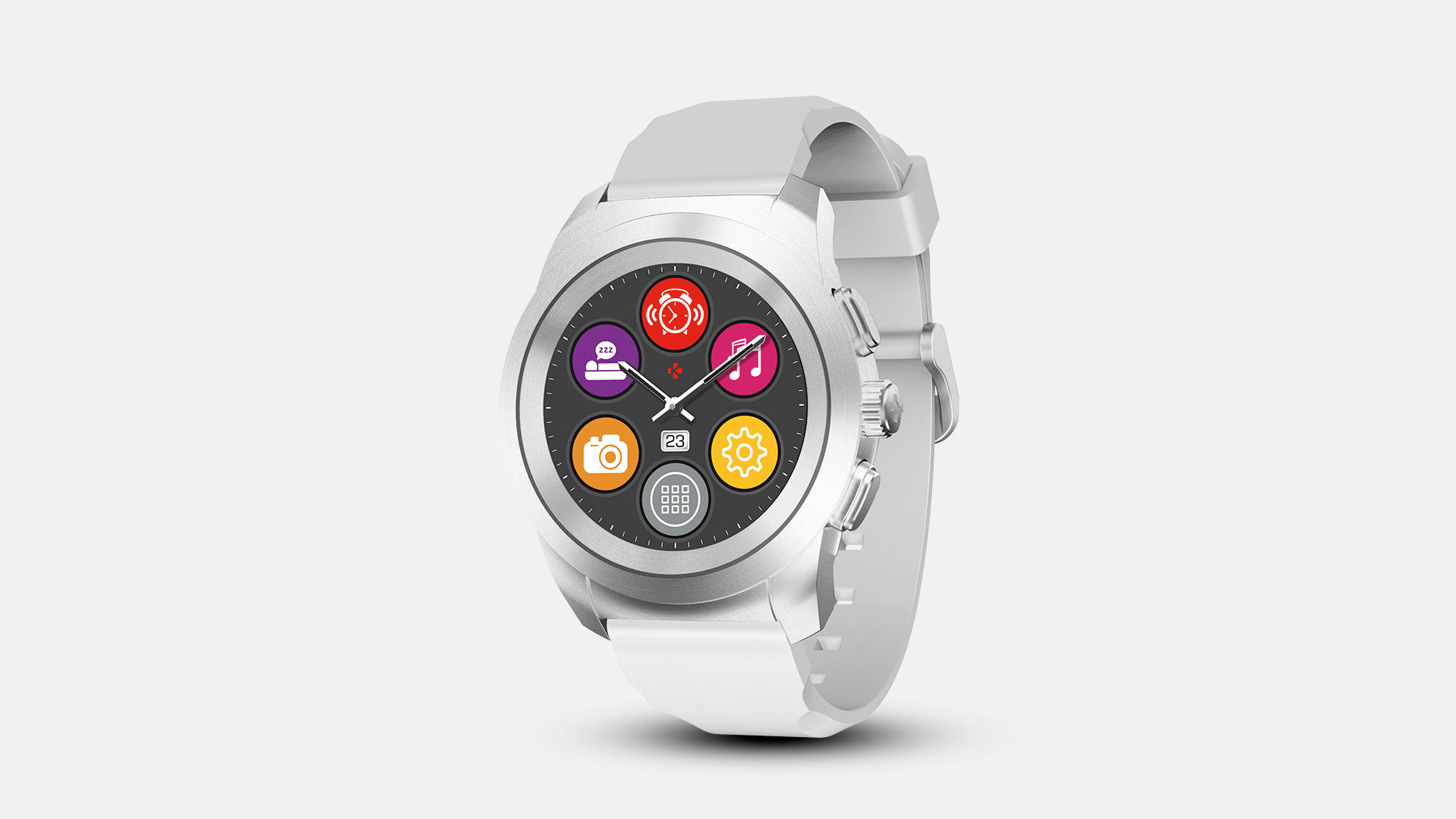 MyKronoz ZeTime Hybrid Smartwatch
Dimensions
Regular: 1.73'' x 0.5'' x 0.19 lbs
Petite: 1.54'' x 0.49'' x 0.16 lbs
Watch band
Regular: 0.87''
Petite: 0.71''
Color
Black, White
Materials
Watch case: stainless steel
Face: sapphire glass
Band: silicone
Connectivity
Bluetooth BLE 4.2
Display size and resolution
Regular: 1.22'' / 240x240px
Petite: 1.05'' / 240x240px
Sensors
3-axis accelerometer
Optical heart rate sensor
Battery type
Regular: Li-iOn 200 mAh
Petite: Li-iOn 180 mAh
Warranty
1 year
Pros

Cons

Budget-friendly
Lack of an appealing design
Water-resistant
Sleep monitoring
3. HEALBE GoBe3 Smartband
Speaking about smartwatches, we now have the HEALBE GoBe 3 Smart Band. What's the difference between this product and the previous one? It's mainly that this one strictly focuses on workout and gym use.
The GoBe fitness band accurately tracks your daily calorie burn and intake. The best part of getting it is that you can set reminders for the drinks or shakes you need to drink throughout the day. Its lightweight design makes it minimalist and appealing to everyone.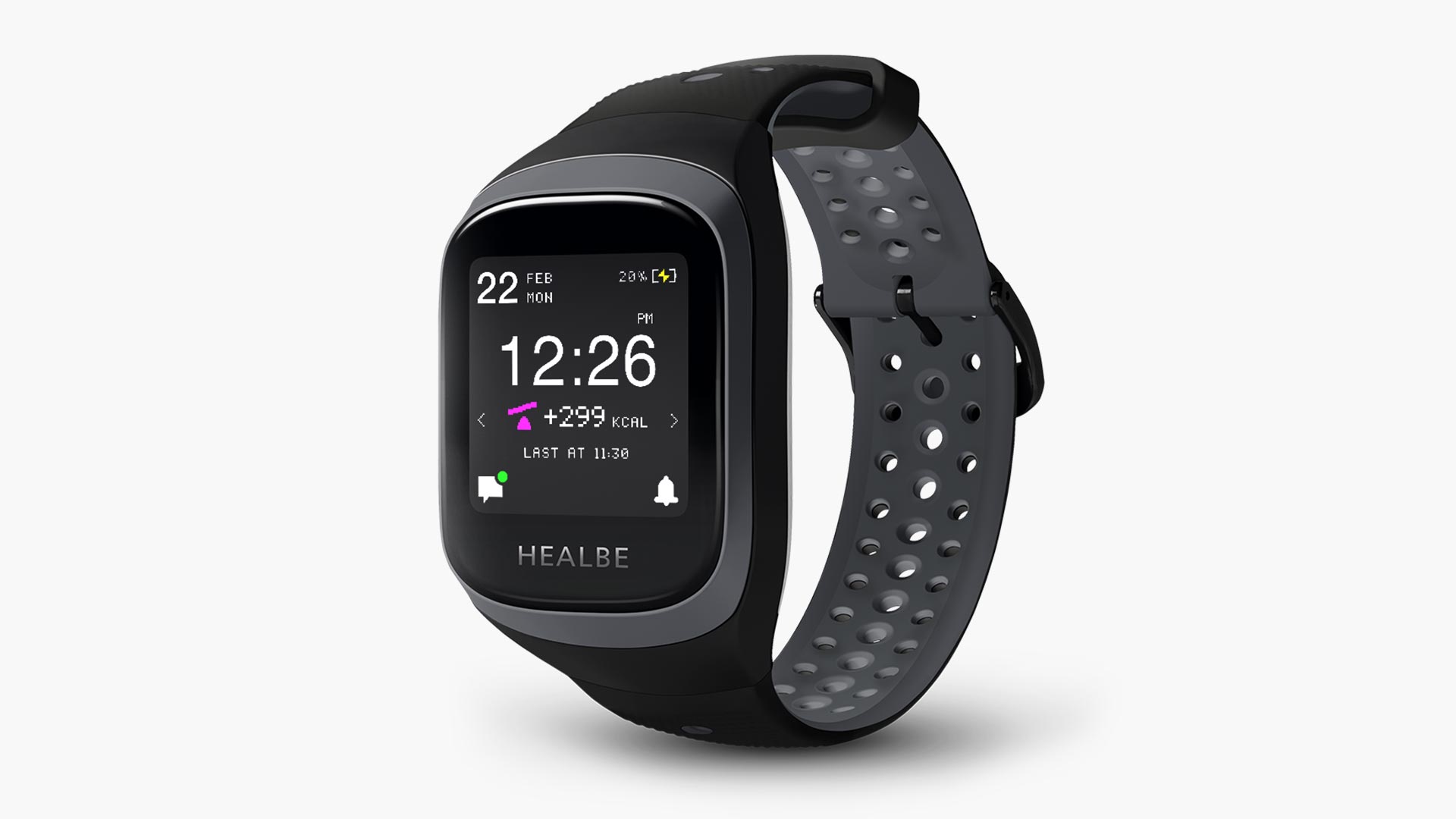 Dimensions
9.1"L x 1.4"W x 0.5"H x 0.63 lbs
Display
1"L x 1"W
176x176 pixels
8 colors
Backlight
Color
Gray / Burgundy / Yellow
Materials
Lens — Gorilla Glass 2320
Case / Electrodes - ABS plastic
Replaceable strap — Plastic 2500 + Silicone
Warranty
1 year
Pros

Cons

Appealing design
Expensive
Calorie tracker
4. Cubitt CT4 Smart Watch
While the other smartwatches on the list focus on tracking your progress throughout your workout routine, the Cubitt CT4 Smart Watch tracks your all-day activity. It also has information on up to 14 sports and a built-in accelerometer sensor.
You can use this product to check your heart rate and blood oxygen. Like the others before, it also offers a sleep monitor. However, the main feature this watch offers is that it tracks your daily stress.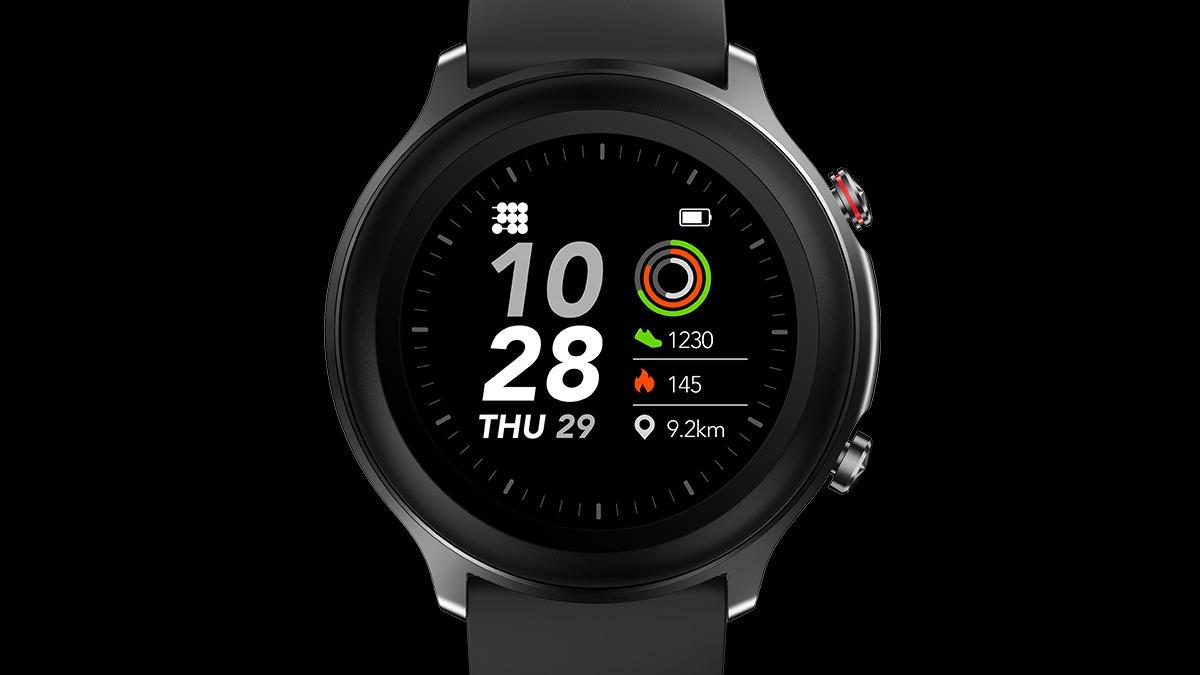 Screen size
1.28" TFT-LCD Color Screen
Sensor
Accelerometer Kionix, Heart Rate Silicon Lab
Display
Color Display - Full Touch
Materials
2.5D Glass, Stainless Steel Casing, super slim 12mm
Working time
5-10 days, 300mAh
Waterproof
IP68
Bluetooth
BLE5.0
Features
14 Sports Modes Tracking
Dynamic Heart Rate Monitoring
Warranty
1 year
Pros

Cons

Stress tracker
Complex interface
All-day activity tracking
Lets you receive social media notifications
Budget-friendly
5. WalkingPad Foldable Walking Treadmill C2
There are many walking pads available on the market, but not all of them let you work out while working. If you are looking for a standing desk with a treadmill, you will love the WalkingPad Foldable Walking Treadmill C2.
This product has a weight capacity of 220 lbs and offers smart connection features. It's not that the treadmill itself is a standing desk, but you can put it below one and work as you walk.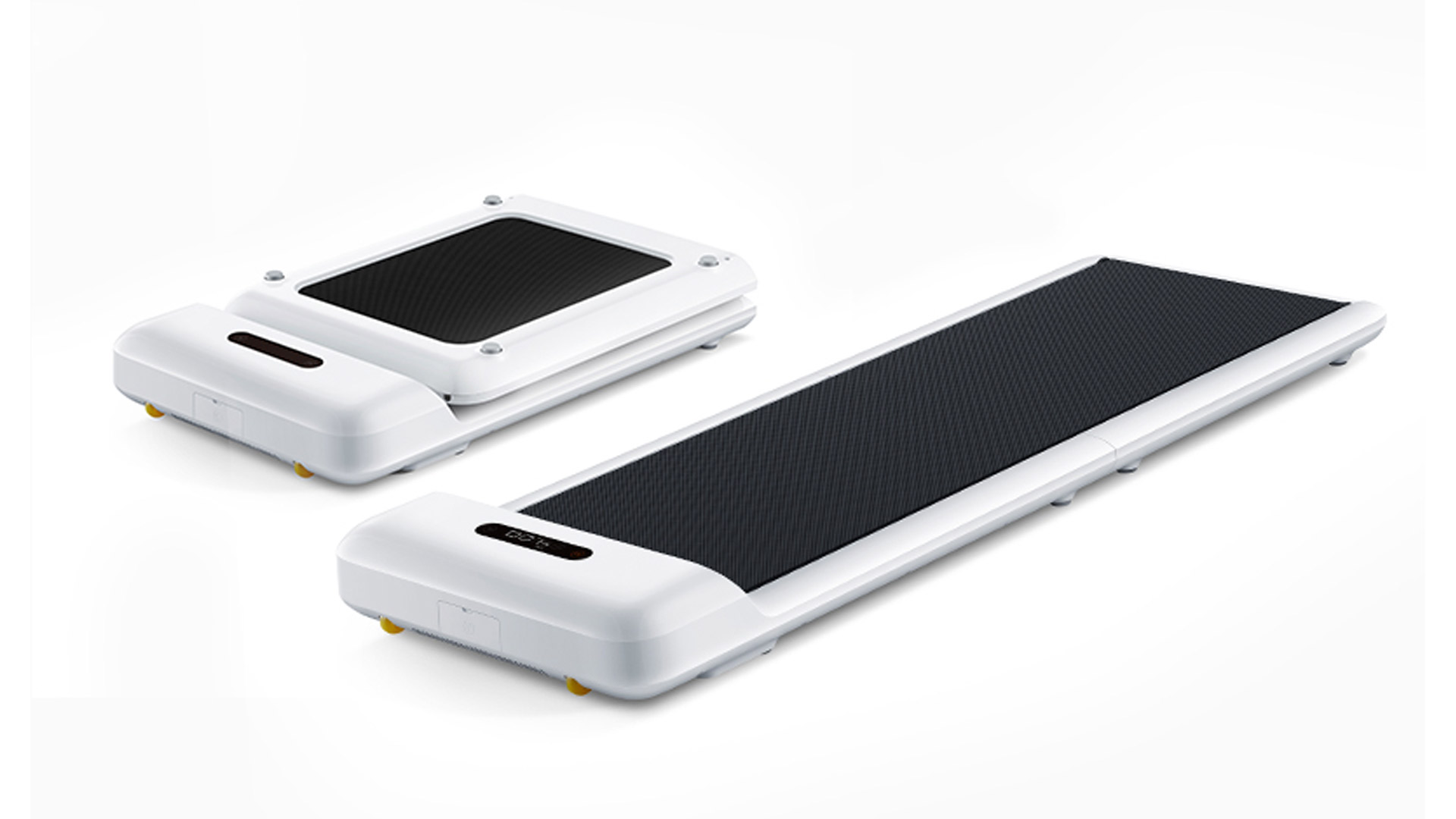 Foldable Walking Treadmill C2 by WalkingPad
Dimensions
Unfolded: 56.9'' L x 20.4'' W x 4.9'' H
Folded: 32.5'' L x 20.4'' W x 5.4'' H
Item weight
48.5 lbs
Color
White / Black
Materials
Panel: ABS plastics
Power
1 HP
Speed range
0.3 - 3.7mph
Weight capacity
220 lbs
Warranty
1 year
Pros

Cons

Perfect match with a standing desk
Expensive
High weight capacity
Smart connection features
6. DYLN Alkaline Water Bottle
You may be confused to see a water bottle in a list of high-tech workout machines for home gyms, but this product is not as simple as it seems. The DYLN Alkaline Water Bottle has advanced features such as a diffuser system and vacuum insulation.
It's made of surgical-grade materials, which makes it more resistant and durable than others on the market. You can put 40 ounces of water in it, which is the average most water bottles let you take.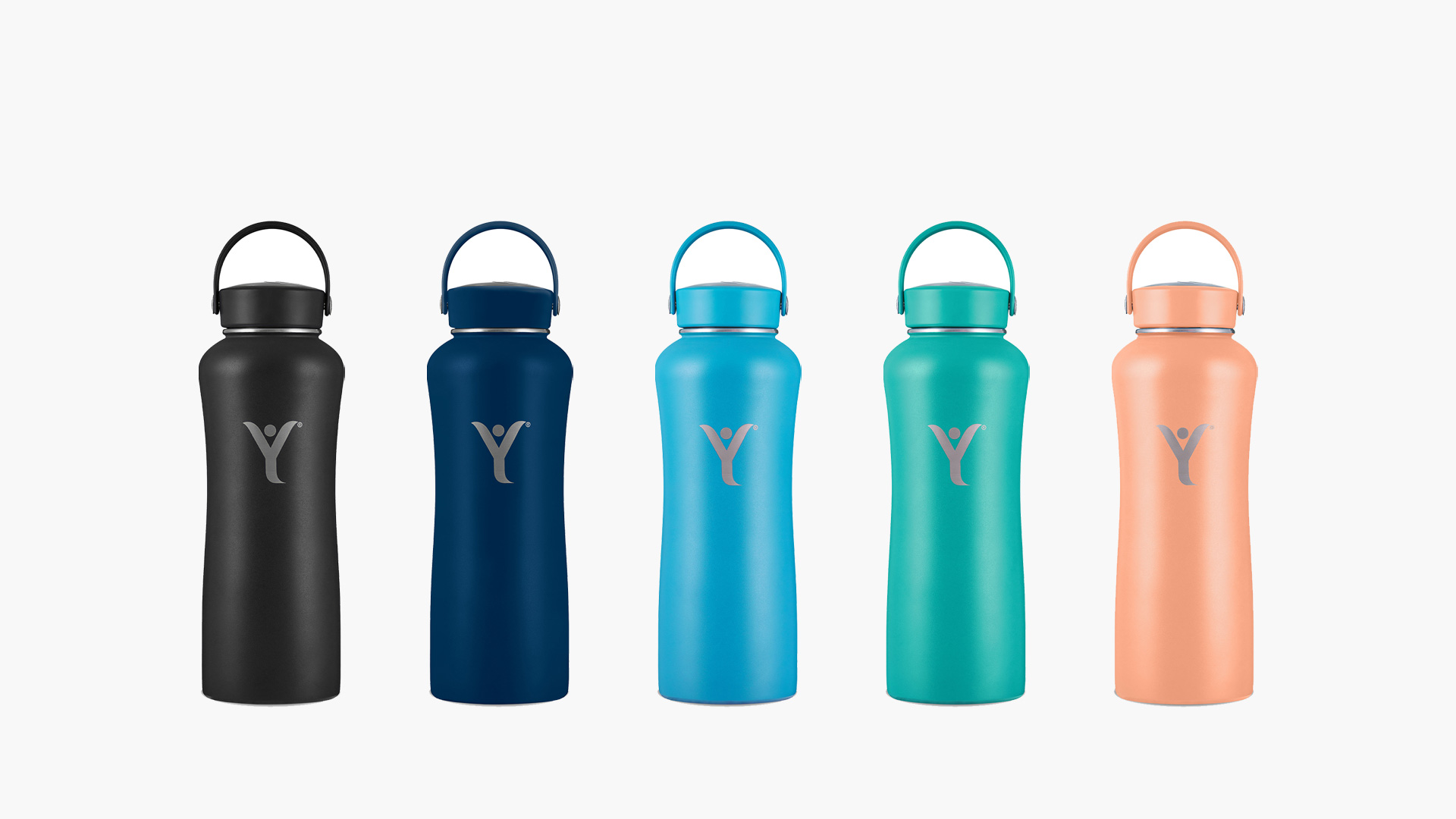 DYLN Alkaline Water Bottle
Dimensions
ϕ 3.7" x 11" H x 1.53 lbs
Color
Blue / Black / Pearl / Aqua Teal / Galaxy Blue / Living Coral
Materials
Food-grade 304 stainless steel
Surgical-grade 316 interior
VitaBead components
Magnesium
Tourmaline
Zinc
Silica
Volume
1.2L (2.5 lbs)
Warranty
Lifetime
Pros

Cons

Diffuser system
Simple design
Triple layers
Surgical-made materials
7. MyKronoz Body Scale: App Control
When people think of high-tech equipment for a home gym, they often think of an indoor walking pad or a smartwatch, but there are more things than just that. You need a body scale if you want to truly track your progress, and the MyKronoz Body Scale: App Control is perfect for the job.
This body scale has Wi-Fi synchronization and a heart rate monitor, so it does much more than just tell you how much you weigh. Its interface is user-friendly, and it displays the information you need on a large LED display.
MyKronoz Body Scale: App Control
| | |
| --- | --- |
| Dimensions | 13.4" x 0.8" H x 4.63 lbs |
| Color | Black, White, Gradient |
| Materials | Tempered glass, ABS bottom housing |
| Weighing range | 9 - 396 lbs |
| Units | Kg, Lb |
| Compatible apps | Apple Health, Google Fit |
| Warranty | 1 year |
Pros

Cons

LED display
Only has a one-year warranty
User-friendly
Heart rate monitor
8. Ovicx Deep Tissue Massage Gun
Regardless of whether you do treadmill workouts to lose weight or want to focus on other things, you need to understand your muscles are not used to working out at first. Hence, they will be tense and will need something to relieve that tension. You can use the Ovicx Deep Tissue Massage Gun.
Its design makes it easily portable, so you can take it wherever you want. It has four intensity levels and massage heads. You get seven hours of use after you charge it, and charging it only takes a few hours.
Ovicx Deep Tissue Massage Gun
| | |
| --- | --- |
| Dimensions | 2"L x 3.7"W x 6.4"H x 1.7 lbs |
| Color | Black |
| Materials | Aluminum-alloy |
| Vibration frequencys | 1500 - 3000 rpm/min |
| Input voltage | 110 - 220 V / 60Hz |
| Warranty | 1 year |
Pros

Cons

Fast charging
Lack of design variety
Offers different massaging styles
High portability
9. Wagan HealthMate EL2773 Mini Cycle
The Wagan HealthMate Mini Cycle is ideal for people who don't have time to work out. You only need to sit on it and start using it to improve your blood circulation. It has adjustable tension and resistance.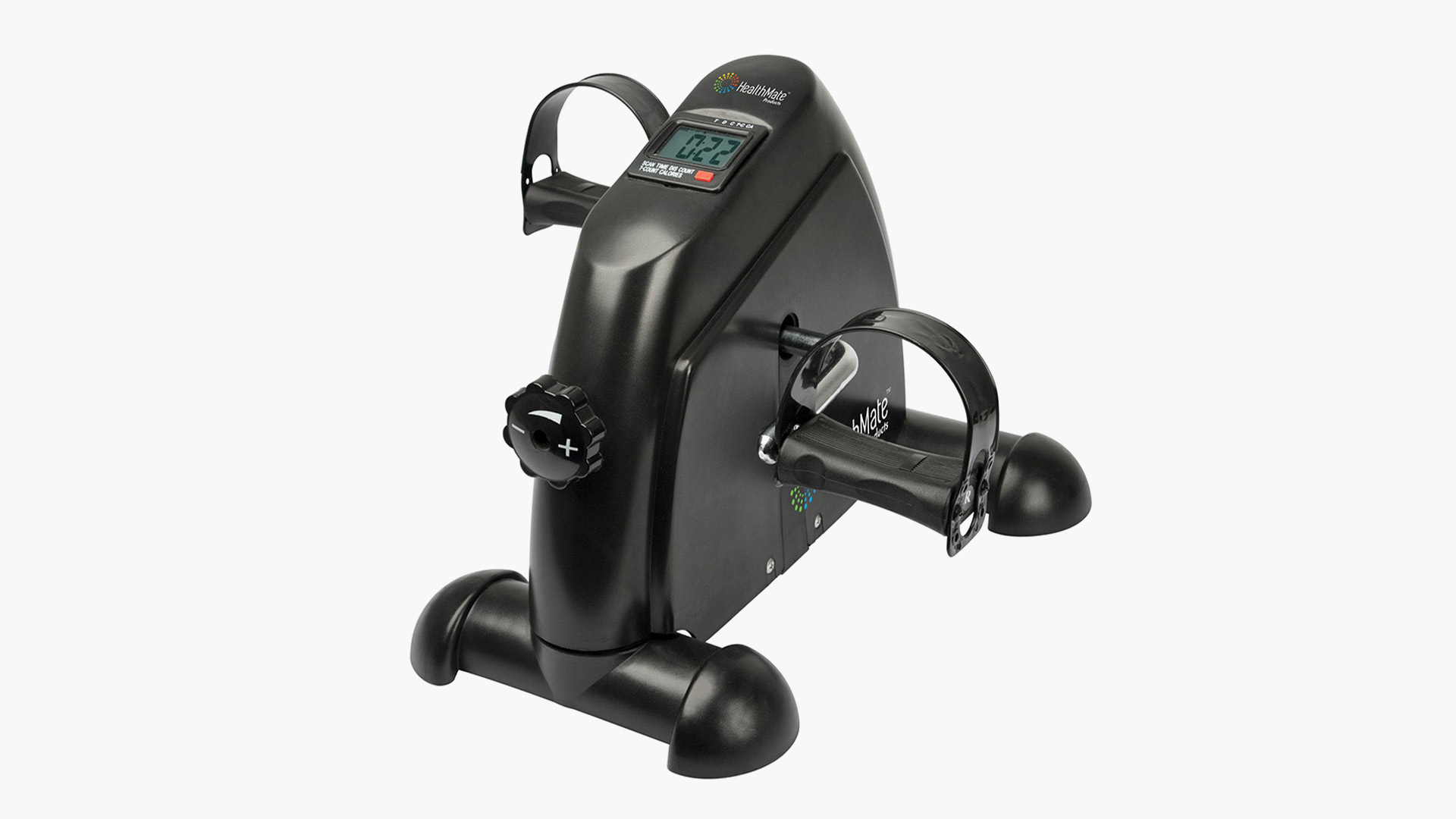 Wagan HealthMate EL2773 Mini Cycle
| | |
| --- | --- |
| Dimensions | 16" W x 13.5" L x 12.8" H |
| Digital display | Scan, time, distance, count, steps/min, calories |
| Tension | Adjustable |
| Item weight | 15 lbs |
| Warranty | 1 year |
Pros

Cons

Supports sitting workouts
Only has a one-year warranty
Improves circulation
10. LifeSpan Fitness Aero Balance Board
The last product on this list is the LifeSpan Fitness Aero Balance Board. Buying and using this product will help you improve your balance and stability. It can also reduce your back and joint pain.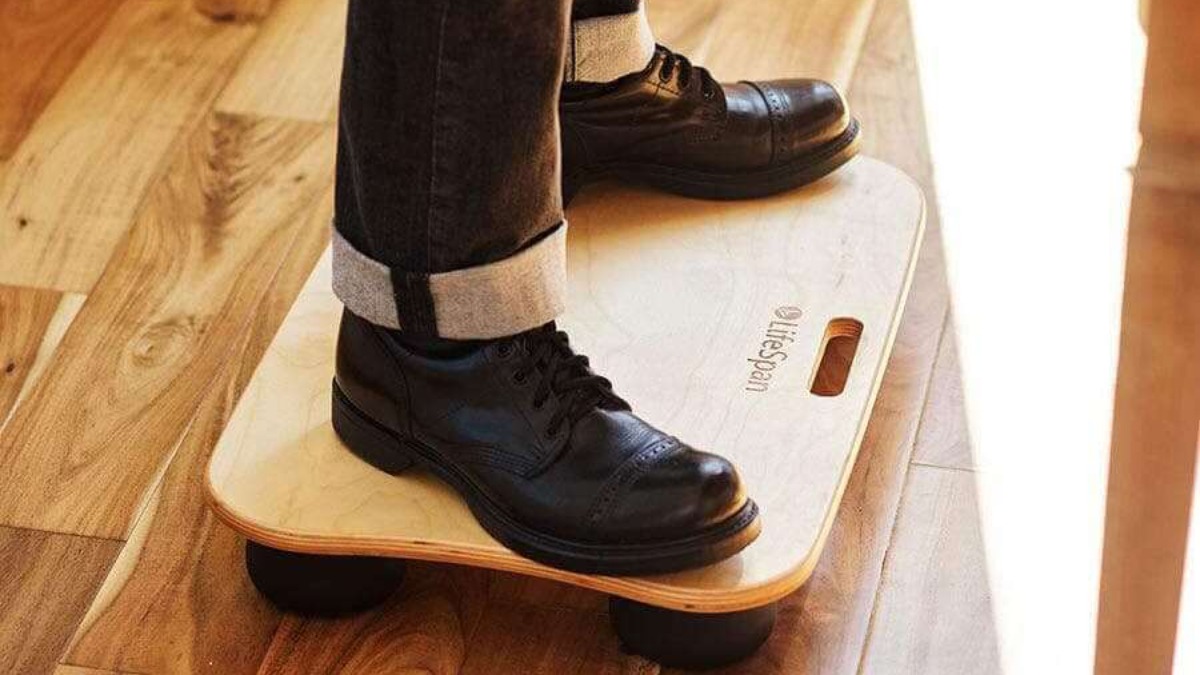 LifeSpan Fitness Aero Balance Board
| | |
| --- | --- |
| Dimensions | 23""L x 16""W x 4.5""H x 7.7 lbs |
| Color | Birch |
| Materials | Wood/rubber |
| Max. User Weight | 350 lbs |
| Warranty | 1 year |
Pros

Cons

Back and joint pain reduction
Expensive
Stability and balance improvement
Wrapping Up
Making a home gym is not that difficult once you know all the products you need to get for it. Make sure to only get high-tech workout equipment for your home if you want to enjoy all the benefits we talked about on this list.
You will find many other blog posts like this one on the Autonomous website, so don't hesitate to check it out. It also offers excellent deals and promotions on the products we mentioned here.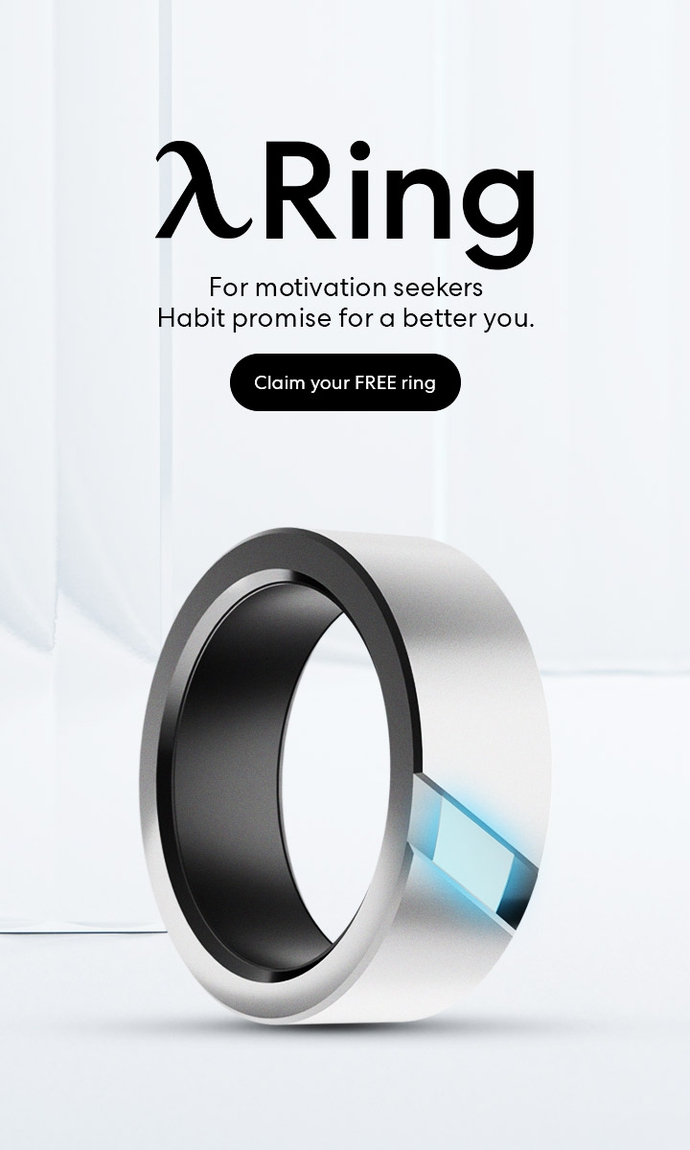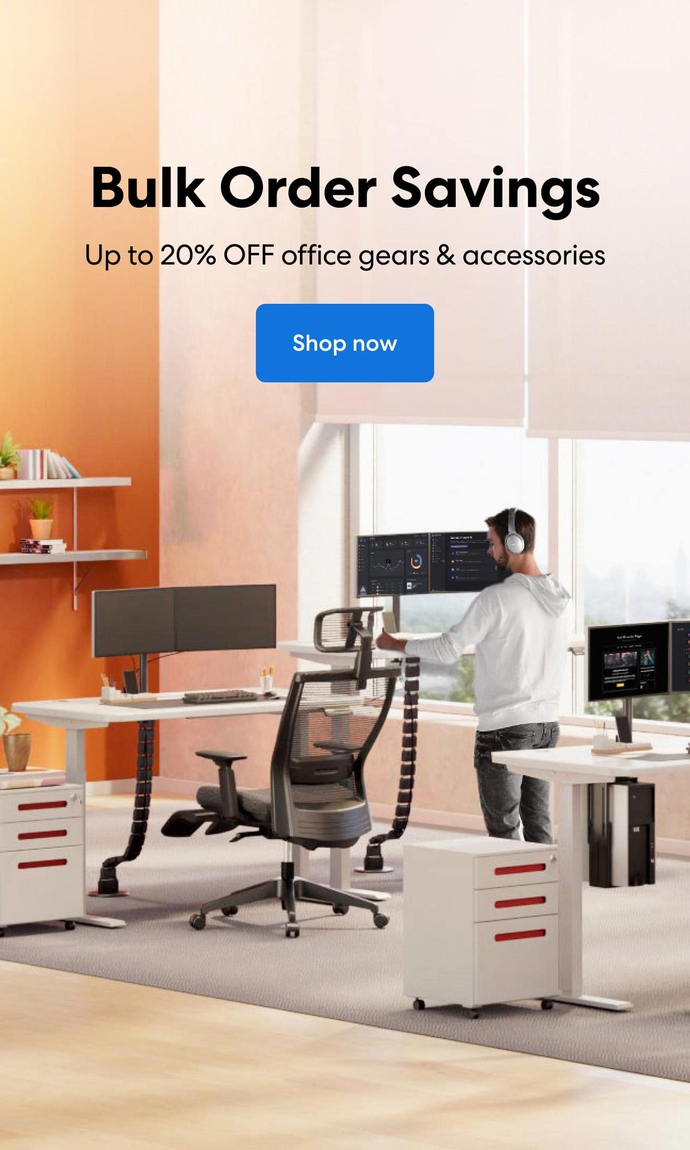 Subcribe newsletter and get $100 OFF.
Receive product updates, special offers, ergo tips, and inspiration form our team.