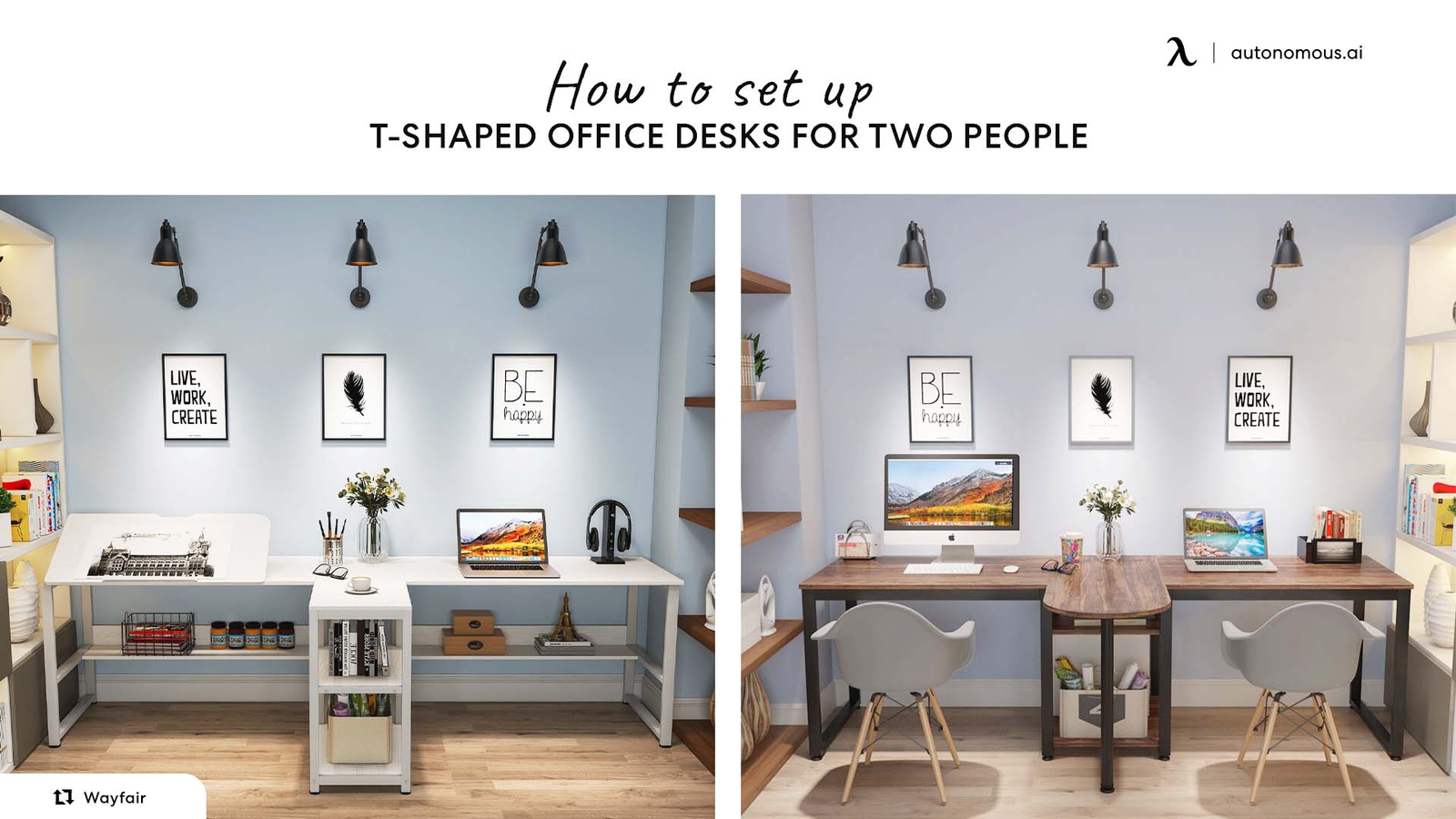 Workplace Inspiration
How to Set Up T-shaped Office Desk for Two People

Autonomous
|
Mar 27, 2022
5,294 Views
People who are now restricted to work from home, how long before the isolation hits you? Working from home has been challenging in many ways, but a major issue is the lack of social interaction and loss of a professional work environment which we all missed at some point, especially if you had great co-workers who would chat out all the workplace stress with you.
But since remote work is now the new normal, most of us still yearn for a professional work setting to feel productive and 'like at work.' The good news is just because you are working from home doesn't mean you cannot have a proper home office setup. Modern researchers suggest that for maximum productivity, an employee should have a work from home setup and hence be able to work in peace. This means that you should invest in a home office setup with all the right accessories.
And if you have two people working from home, then a T-shaped office desk for two is the most classic solution for all.  A T-shaped desk for 2 is a space-efficient and productive alternative that gives you the experience closest to a workplace. A T-shaped 2 person office desk is not only suitable for home offices, but it is also a great way to manage teams in offices and small businesses.
This article will cover all you need to know about a T-shaped office table and ways to set up a T-shaped office desk for you.
What is A T-shaped Home Office Desk?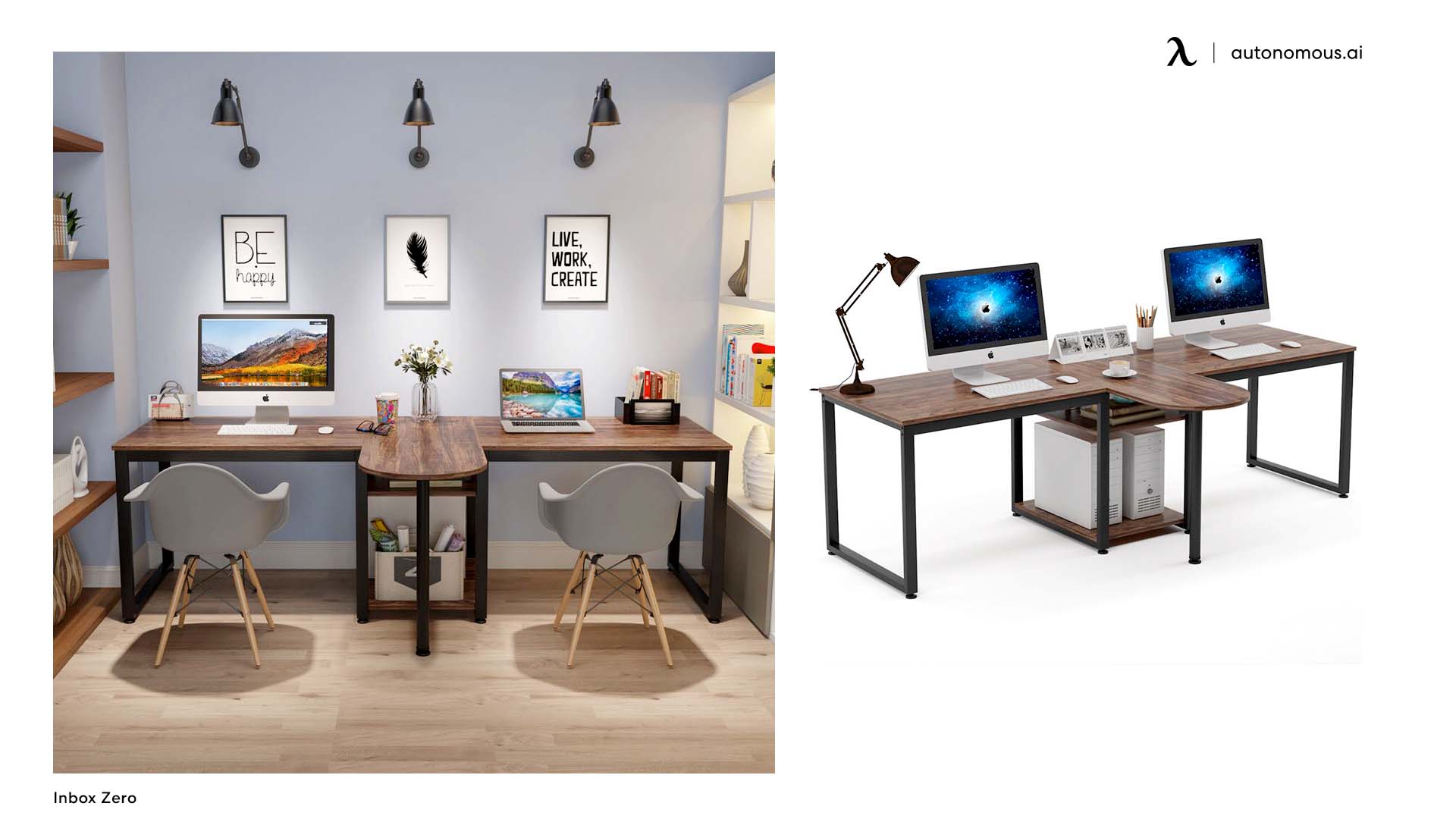 Just as an L-shaped desk resembles the shape of the letter L, a T-shaped office desk furniture depicts the shape of letter T. T-shaped desk might not be very popular for workplaces, but when we talk about office desks that are ideal for multiple seating as well as 2 person desks to tiny teams, a T-shaped desk is simply the most space-efficient solution. They are also great for team collaborators who need to work together and require their own space. However, there are various things you should take care of when opting for a T-shaped desk setup.
Best T-shaped Office Desk for Two Arrangement Ideas
A T-shaped computer desk can be set up in most office situations, especially those with open floor layouts, and can be used to generate many workstation desk pods throughout an office area.
You may make a plus form with four L shape desks or two T shape desks, allowing groups of four people to work together in an open office workplace. T-shaped desks come in many shapes and sizes and various constructions, and you can also combine two L-shaped desks to make one large T-shaped desk. Here are some ways to create a t-shape office desk in your office space.
T-shaped Desk with V-Legs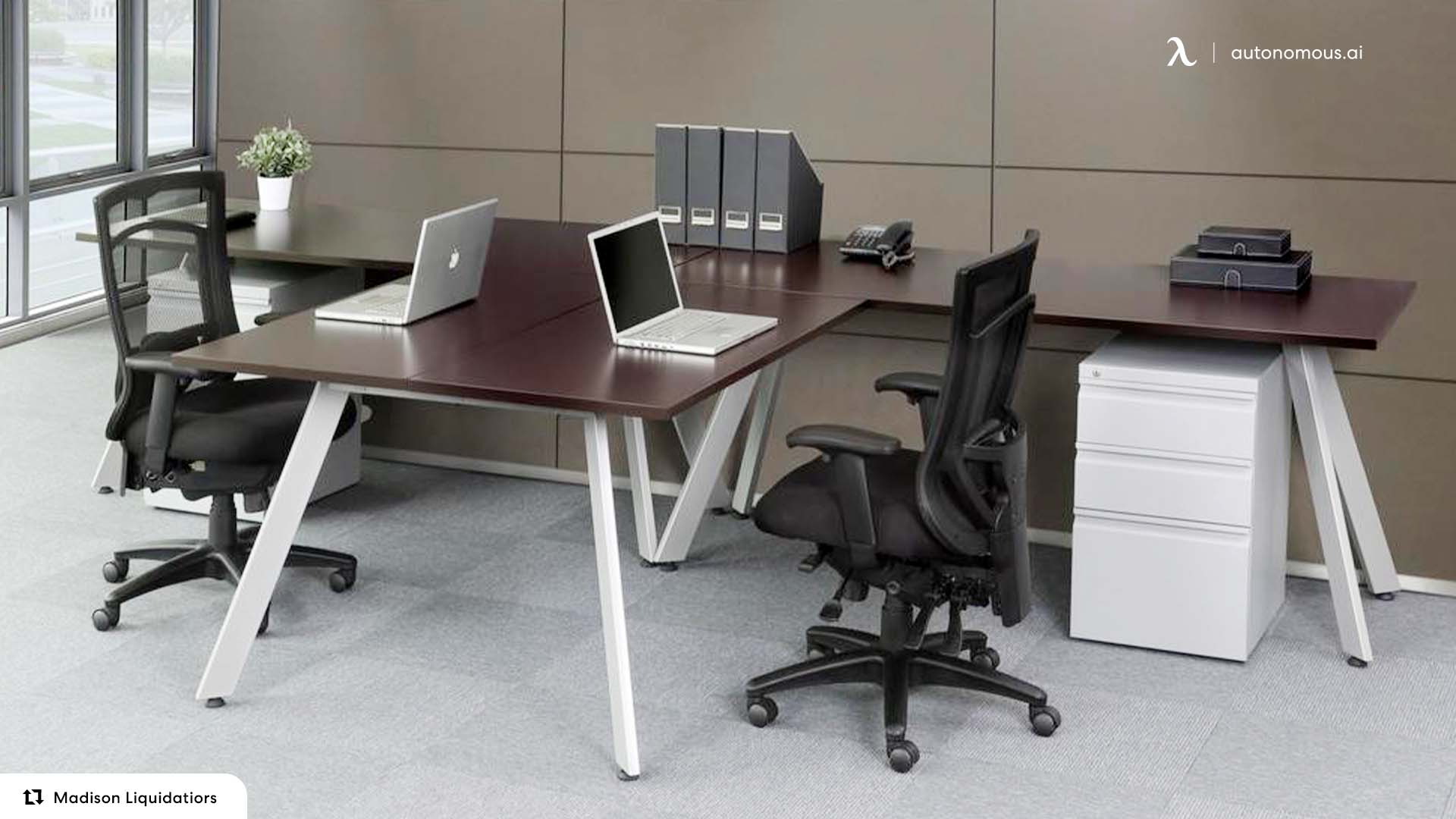 This desk arrangement does negate the whole concept of large desks being boring. The modern desk combines two l shaped desks joined to form a large T shape. This helps the users face each other while working and discuss important ideas together. Moreover, the other edge of the L-shaped desk provides a private corner when employees feel they need their personal space.
The V-shaped legs make a modern first impression and also boast simplicity. The desk is made in an espresso coat with simple drawers on either side to provide storage options.
White Corner Desks
Two L-shaped desks making a T-shaped workstation offer the advantage of versatility. You can combine the desks when teamwork pops up and separate them when done. For various reasons, a modern L-shaped desk is a perfect solution for an at-shape workstation. This L-shaped white desk from autonomous has several reasons for being part of your office plan.
It has a spacious work surface ideal for a dual computer setup; the desk is height adjustable, making ergonomics in the workplace a priority. The desk comes with tall legs so a filing cabinet can slide right under it. 
T-shaped Desk Arrangement with Privacy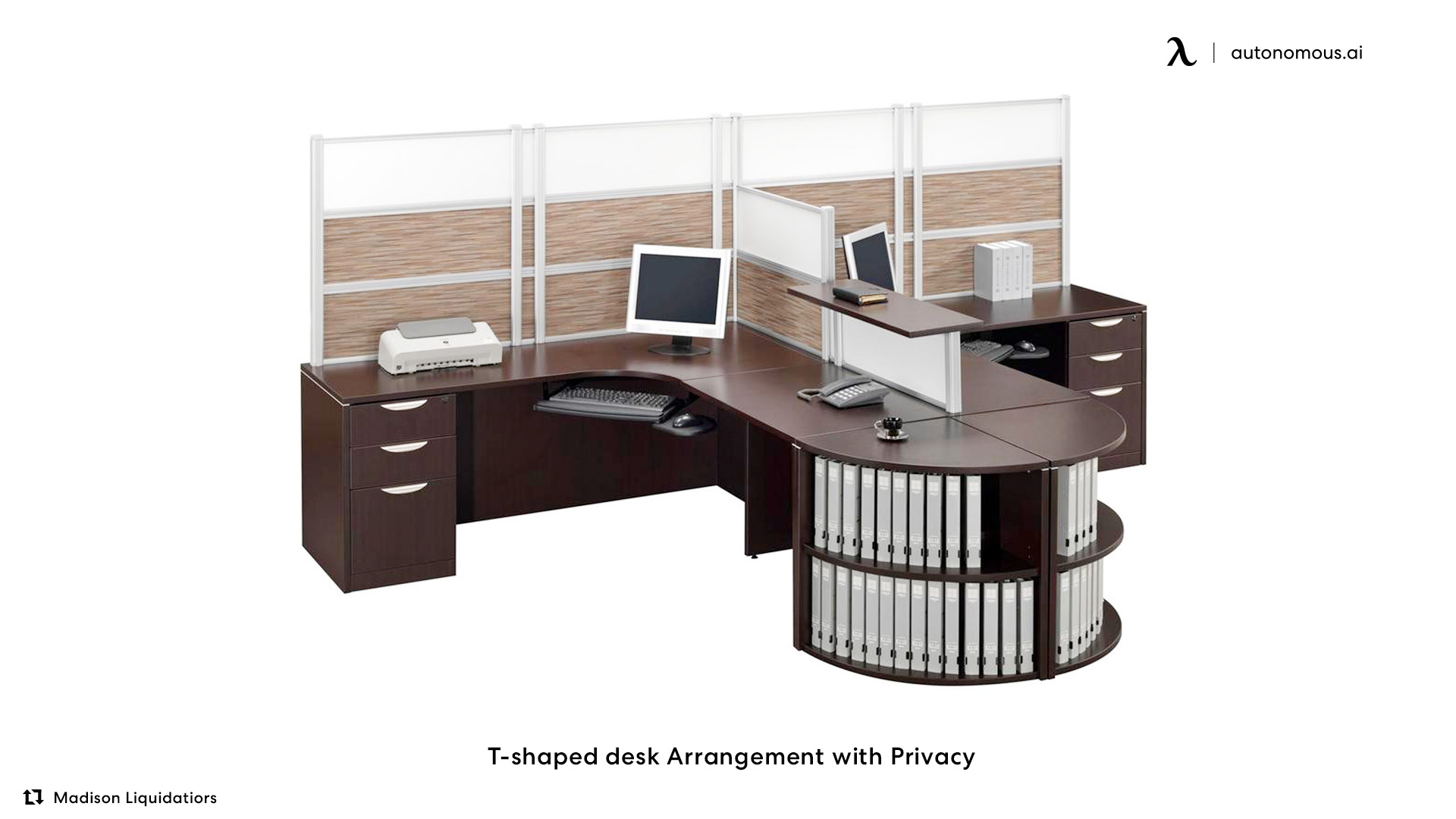 Even though a t shaped work setup provides the advantage of proximity to another employee, which is both times saving and productive when on work projects but sometimes needing personal space when working is also essential. Especially if an employee has an important work meeting or needs to work on a project that demands their utter focus and quiet.
In such cases, using privacy panels is the best solution. Privacy panels are portable and detachable divisions in a work desk that divide a workstation into two parts. Privacy panel from autonomous is also great at blocking noise due to its absorbing capacity, so you can sense being in an entirely separate cabin and having your privacy for work.
T-shaped Executive Desk
This executive T-shaped desk design features all the exquisite storage options you need in a busy work setting along with a regal design. The T-shaped executive desk has cabinets on either side, keyboard trays, cabinets or tiny shelves. The desk also comes with built in lights to keep the areas individually lit. You also get a privacy panel between the workstations. Ideal for a home office, this piece is shown in Espresso but is also available in other finishes.
How to Choose the Best T-Shape Desk for Two Persons?
Choosing a T-shaped desk has to be a wise decision because it involves two persons working side by side. Here are some factors that can help you choose the best T-shaped desk for two people.
Size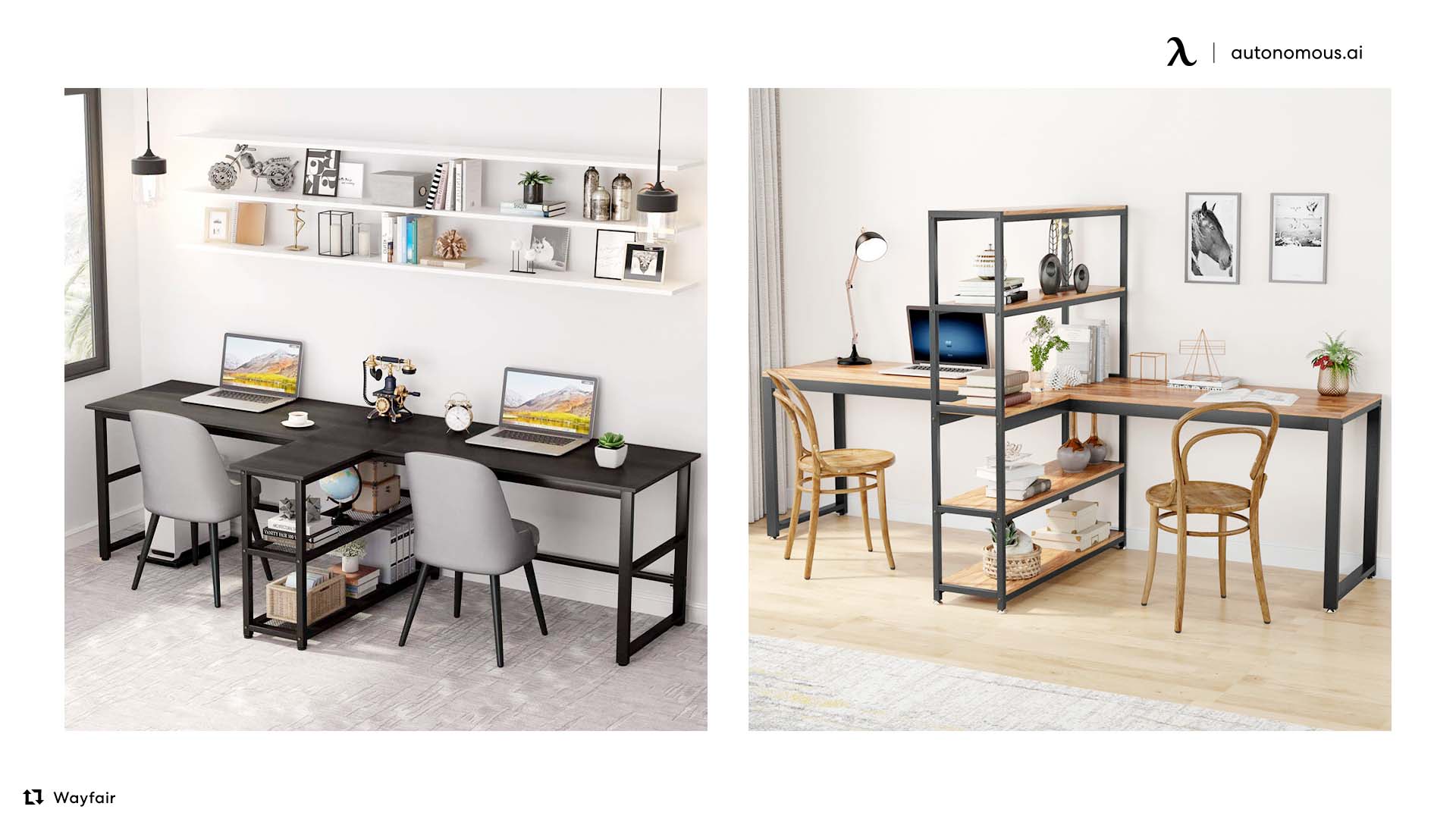 The first step is to figure out what size desk you want to buy. A variety of circumstances determines it. To begin, the size of your workplace space is critical. The desk you choose should provide you with plenty of room in the room. Second, the number of items you need to fit on your desk. Determine the best size for you based on these considerations.
Material
It's an important consideration when purchasing a home office desk. T-shaped desks are available in various materials, including wood, metal, and tempered glass.
However, the majority of wooden desks are composed of laminated particleboard or MDF (Medium Density Fiberboard). The strength and cost of your work desk are determined by the material you choose.
Design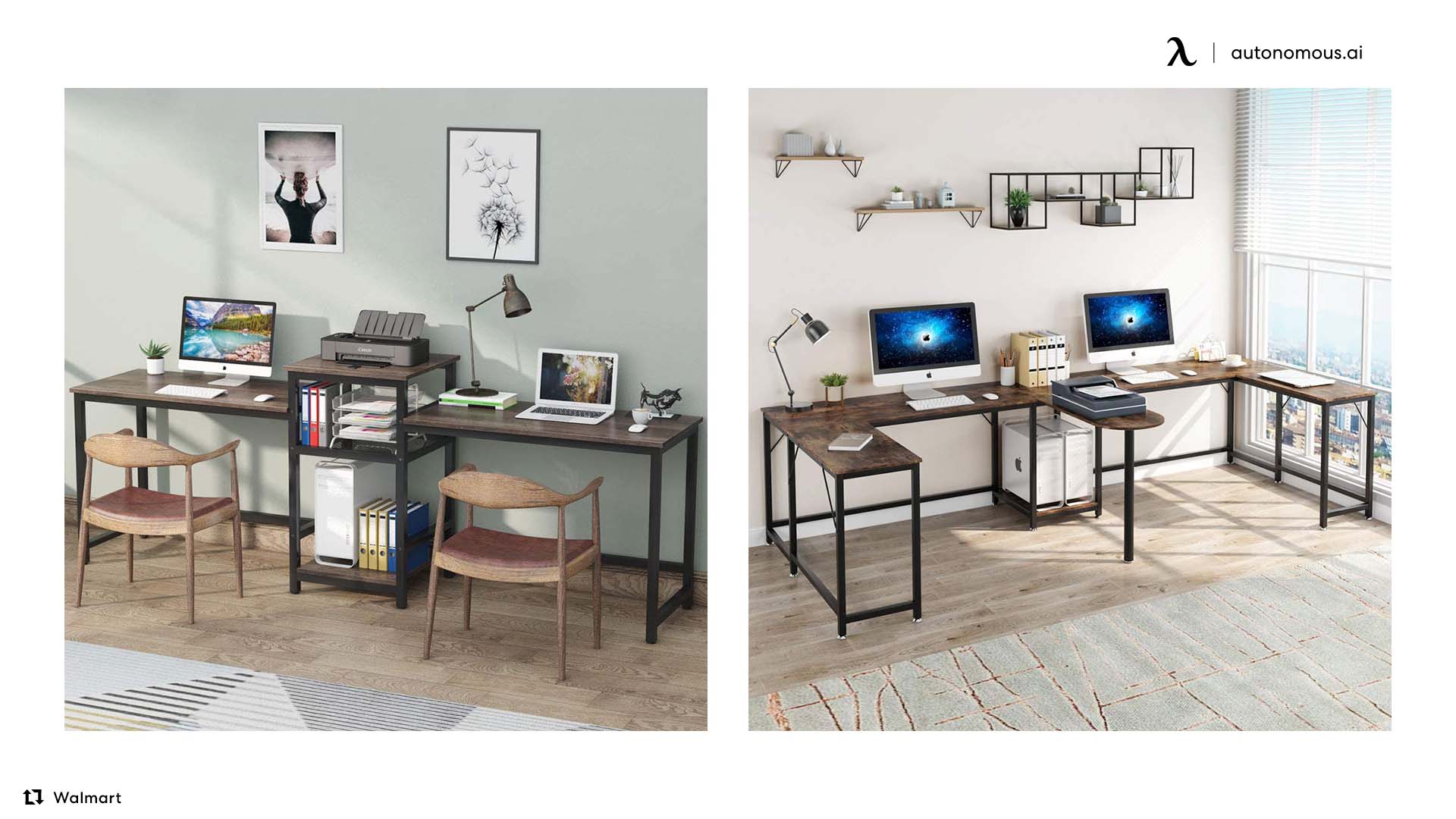 When it comes to T-shaped desks, there are different designs and the choice of design impact the aesthetics of your work desk. Make sure you opt for a desk that doesn't look too large for its size. Modern desks come in compact designs while offering enough space.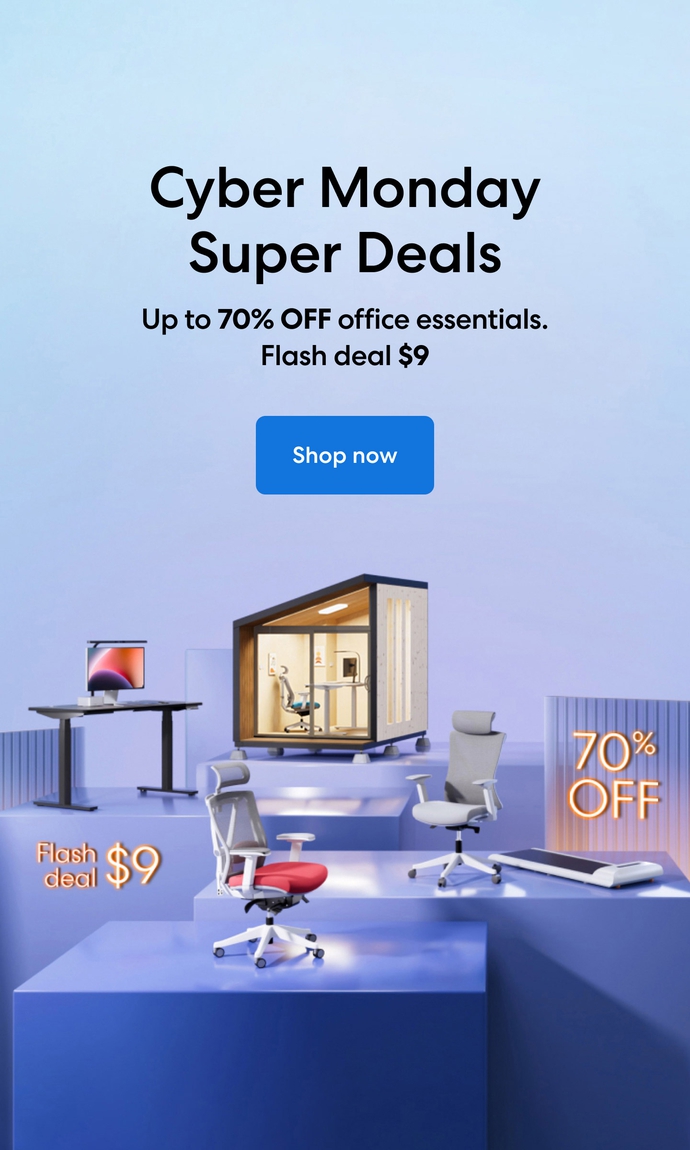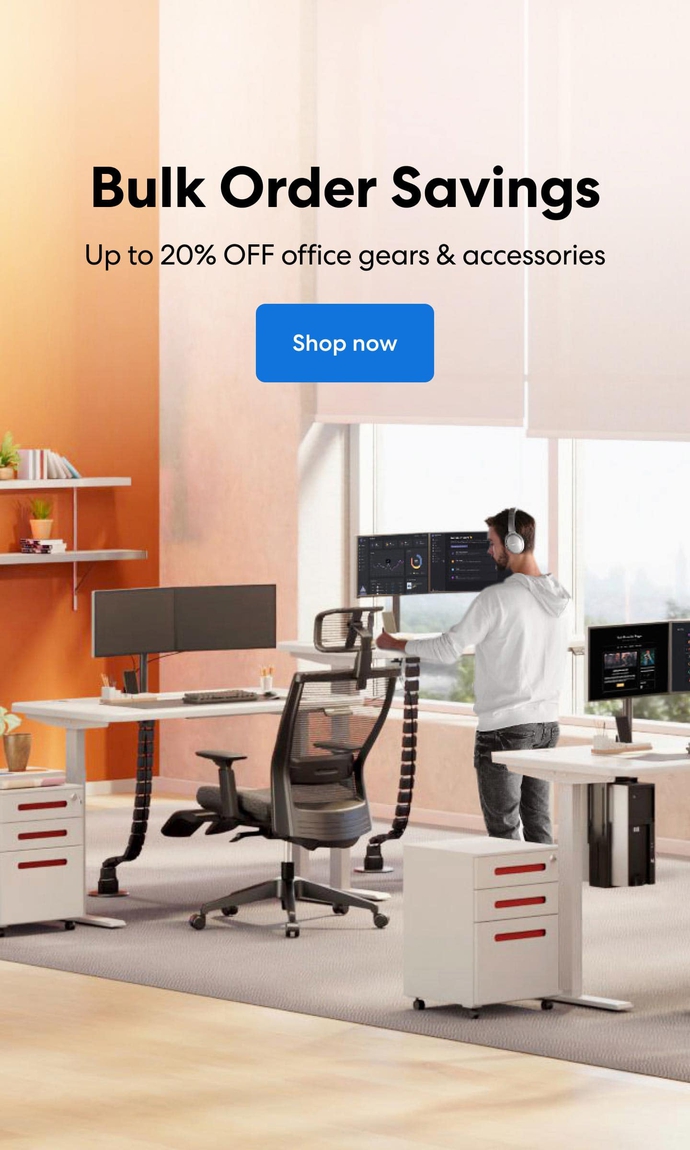 Subcribe newsletter and get $100 OFF.
Receive product updates, special offers, ergo tips, and inspiration form our team.