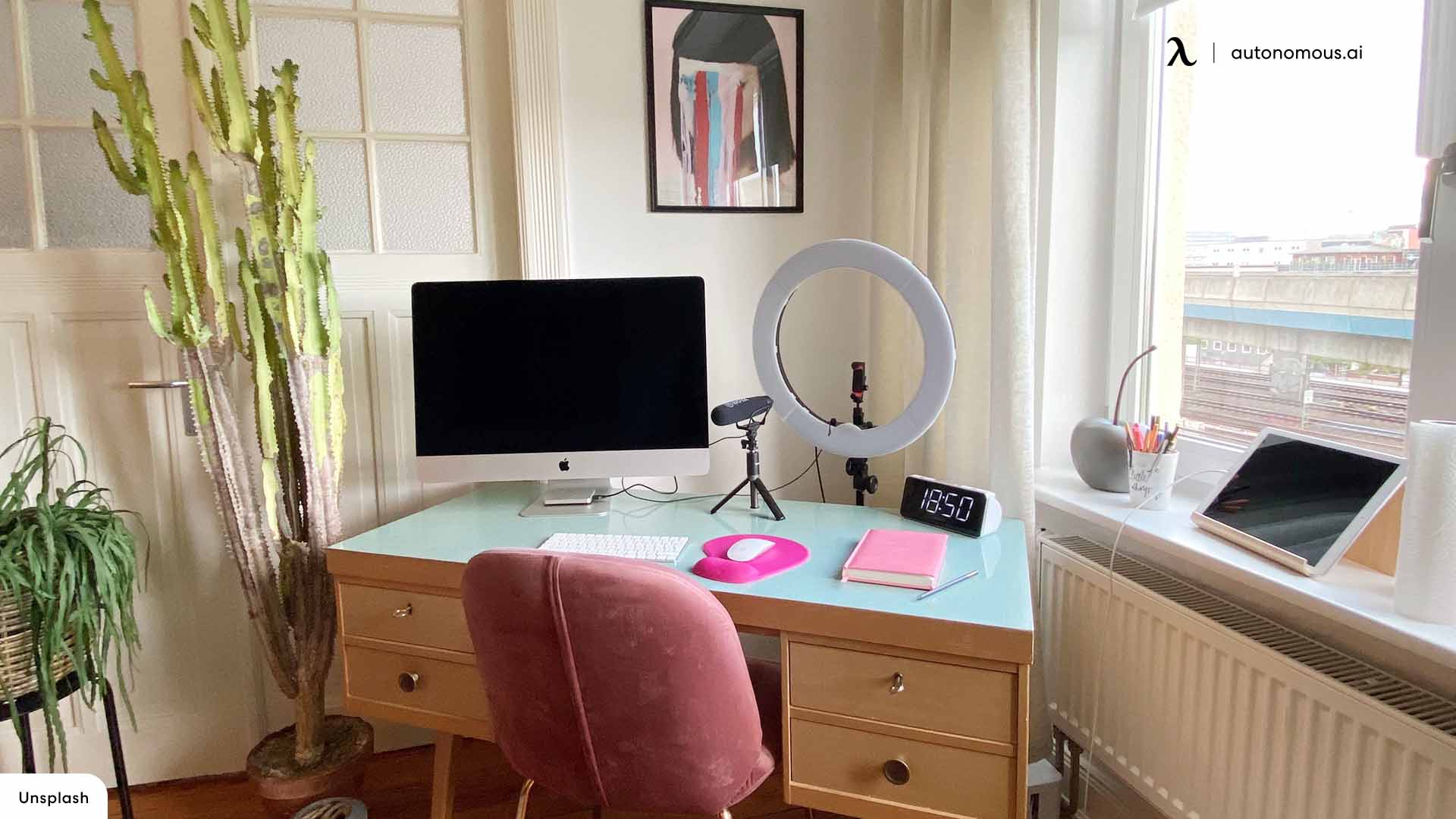 Smart Products
The 17 Best Small Corner Desks (2022 List)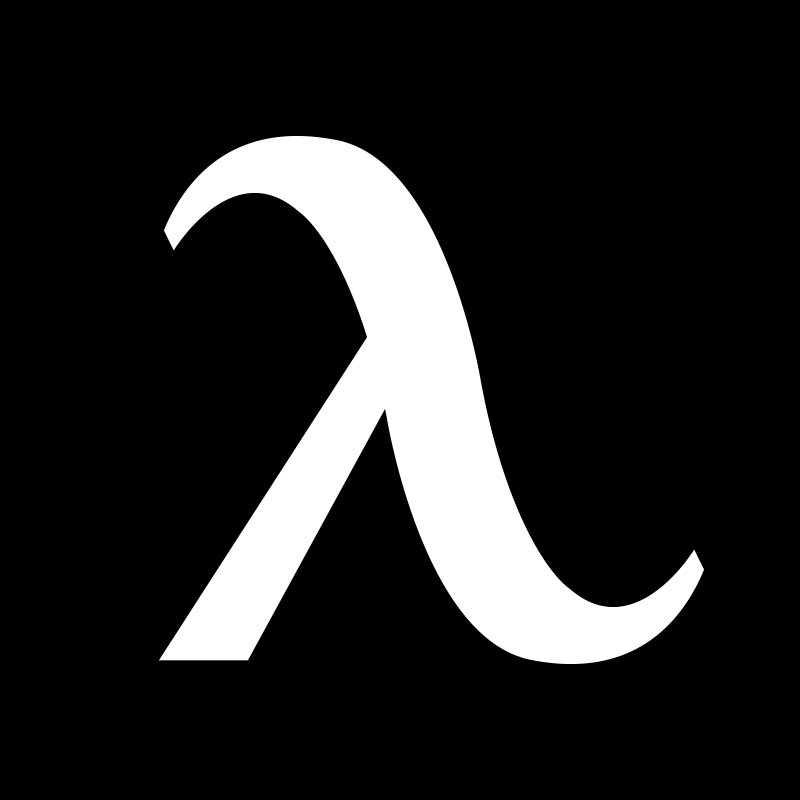 Autonomous
 | 
Apr 26, 2022
Small corner desks are the ideal solution to decorate rooms without occupying too much space. Additionally, they allow you to work and improve your productivity by giving you a functional workspace in a compact area.
The multifunctionality of these ergonomic standing desks gives them the vital role they play in any house. Whether you need them for storage, decor, or even work and studying purposes, they remain an excellent investment for you and your home.
Regardless, finding the best price versus quality balance for this kind of furniture isn't always easy. You might end up spending thousands of dollars on something that isn't going to last more than a year. We want to make sure this doesn't happen, so we've created this easy guide that's meant to help you choose the adequate corner desk for your home.
Keep an eye out for all the different features you might get from these corner desks for small spaces including how they impact your comfort and productivity, and even how well they fit in their designated space.
You are going to find yourself with the best options in our catalog for you to choose your favorite one. Start this with an open mind, and get excited about your new acquisition. Let's get started!
What's so Great About Small Corner Desks?
Its main benefits fall under being an excellent option for small spaces and allowing you to have a much more comfortable working experience by being ergonomic.
Corner desks offer a minimalist and organized style that helps you maximize the space of any room, and they provide a refreshing change by adding a pop of style to your empty corners. Most of them even offer extra space under the desk that you can turn to good use with things like a printer, an additional CPU tower, a printer, or even a cushion for your feet.
These small corner computer desks also come in an incredibly wide range of materials, shapes, designs, and features. It might be a little overwhelming at first, but it is a perk to be able to choose one that feeds into your personal needs.
You might want a standing desk or a wall-mounted one, maybe even one with a detachable hutch or one made entirely out of glass. These small home office corner desks offer a huge variety for you to pick from.
Where Can You Place Your Corner Desks?
The simple answer is: in corners.
Still, we're going to provide you with a much deeper insight on this topic. Corner desks have little tricks that are worth following if you want to create the most harmonious and productive space for your work. These are office layout feng-shui based principles that are pretty easy to follow once you get to know them.
Don't face the wall. It's common to see these kinds of desks facing the wall, but this only makes you feel caged in. You can fix this by simply putting a mirror in front of you or making your desk not face the wall.

Don't have your back to the door. This position is less welcoming for visitors and can cause something called "cubicle paranoia," this inexplicable feeling that someone might be watching you from behind.

Place your desk perpendicular to your door. This way, you can avoid what we discussed before, but you keep yourself from facing directly towards the door and being distracted by anything that passes by.

Use windows. This is the principal exception to the rule of not facing the wall. If a window is available for you, it is totally recommended to place your desk facing it since studies show that nature enhances productivity.

Create a V shape with your small corner desk for bedroom or home office. This recommendation is entirely optional but possible thanks to the natural shape of corner desks. Creating a V in your room gives you a feeling of privacy that doesn't compare to any other position.

Keep your area clean and add plants if you have the possibility. This gives you that final boost of productivity that you need to have a fantastic

home office setup.
Top 17 Best Small Corner Desk of 2022
1. Autonomous SmartDesk Corner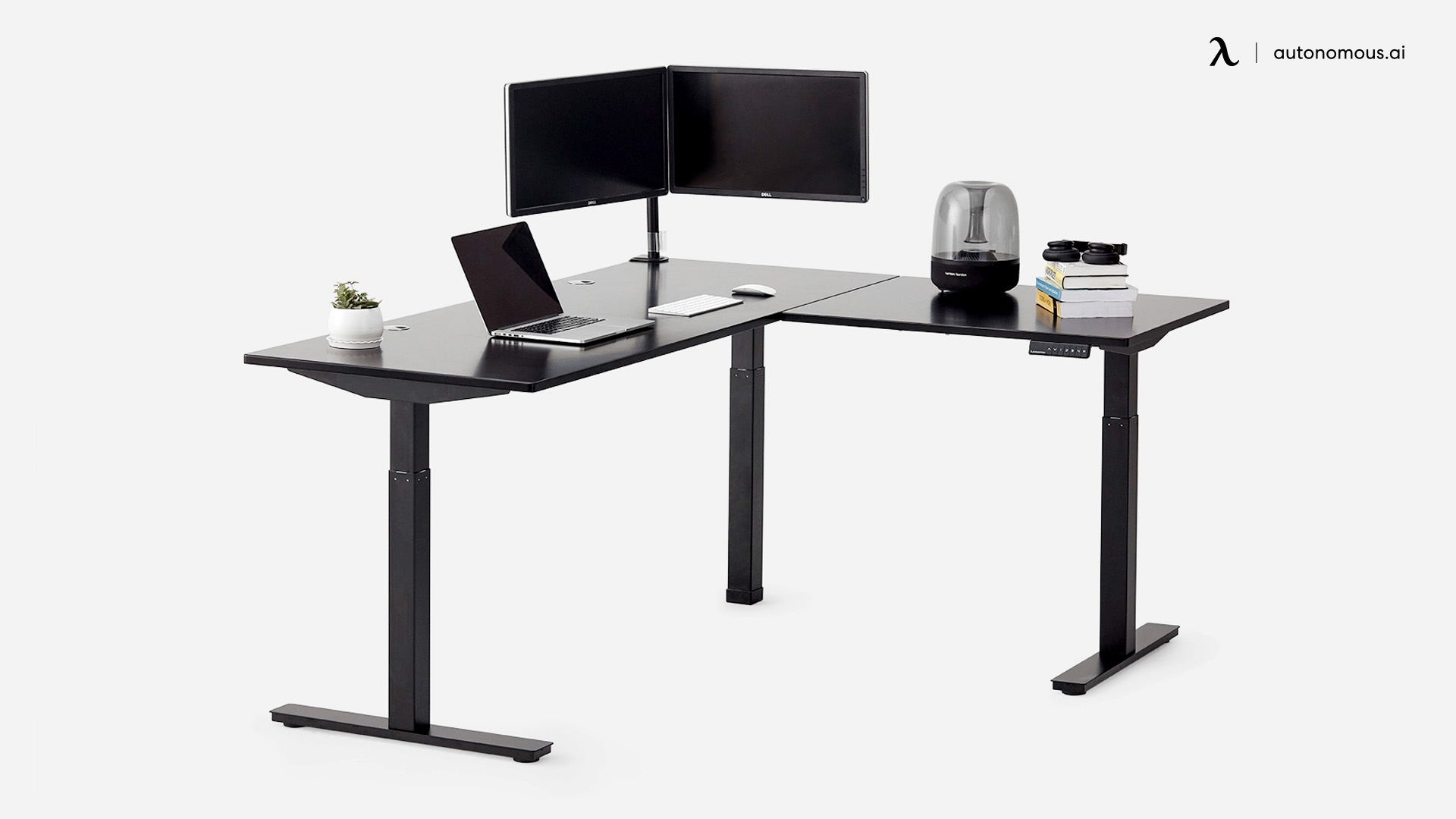 The Autonomous SmartDesk Corner offers you a wide space to let your creativity flow freely. This small home office corner desk comes with adjustable height, four programmable settings, whisper-quiet triple motor, weight capacity of 400lbs, a solid steel frame, and modular segments for the perfect fit.
In matters of assembly, this L-shaped standing desk may only take you between 15 and 30 minutes. One of the best things about this desk is that it is made to last at least 10 years of heavy use and give you twice the space you would get with our regular smart desks.
You can get it now with five years of warranty. Prepare yourself to enjoy all the power we offer you once your workstation is up.
2. Tangkula Corner Desk
Keep it classy with this black and elegant corner desk. It is formed by sturdy and durable wood that serves many purposes since it's suitable for both a computer and a bookshelf.
The Tangkula Corner Desk can maximize the space of any compact room, whether that's an apartment, study room, or office. It offers a timeless design that fits perfectly with most aesthetics out there.
There are plenty of options available if you want to switch up styles, materials, or colors.
3. Cubiker L-Shaped Computer Desk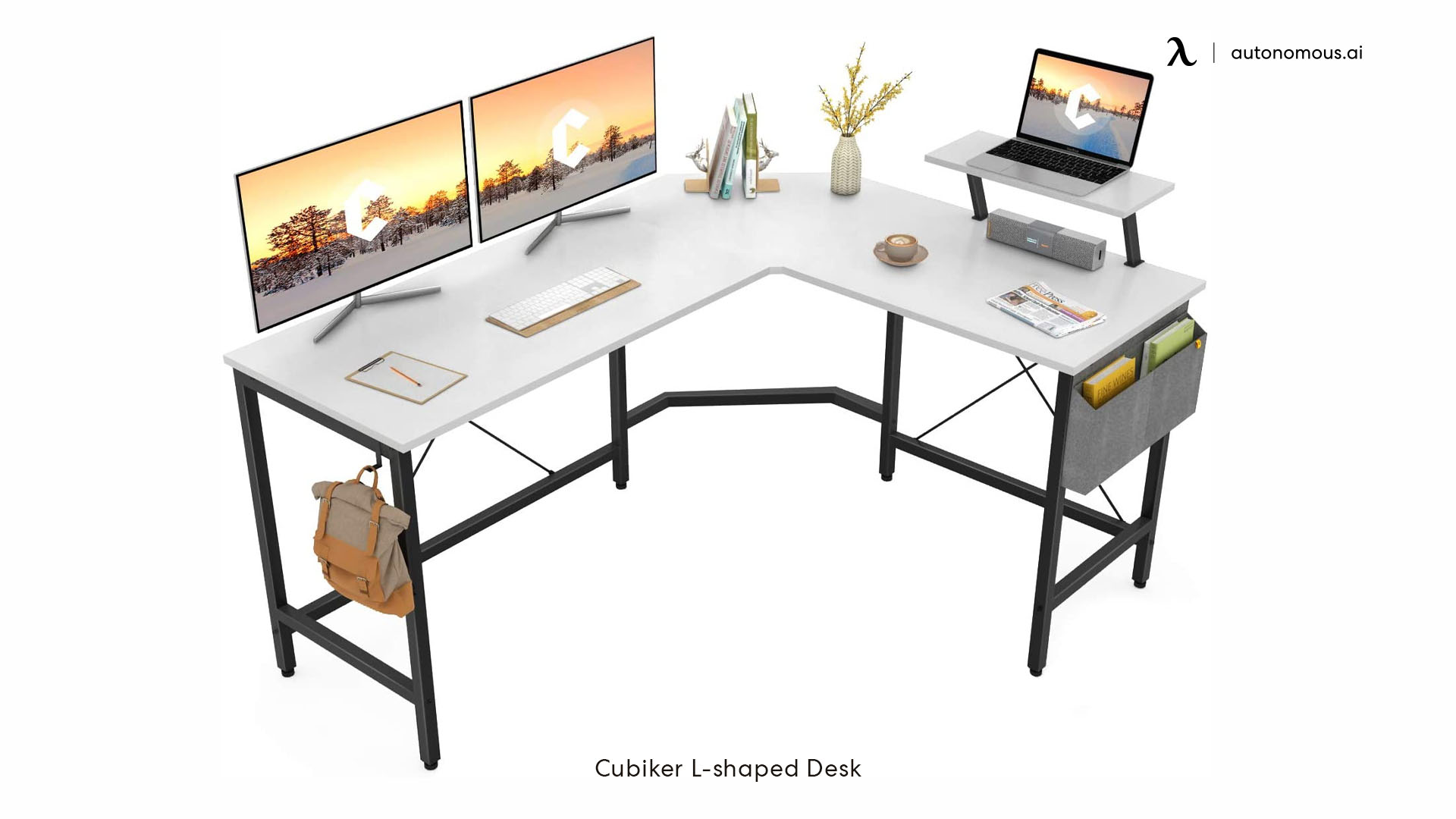 In case you're looking for a modern design that may last you for years, this is the right desk for you. The Cubiker L-Shaped Computer Desk has one of the highest ratings on Amazon for its ample space, high durability, and sturdiness.
Two removable drawers are the cherry on top. They provide you with enough storage space for anything you can think of, making this home office corner desk the perfect addition to your workspace.
4. Haotian Wall-Mounted Corner Desk
You probably didn't expect to see a wall-mounted desk in this list, but this is only proof that you can turn any space into a perfectly functional workspace.
With this Haotian Wall-Mounted Corner Desk, you don't have to worry anymore about space and being all crowded up in your bedroom. It allows you to leave space on the floor for anything you would like to place, and it offers storage shelves. This white wood small home office corner desk is ideal for the tiniest of rooms that want to maintain a classy look.
5. Bestar Hampton Corner Desk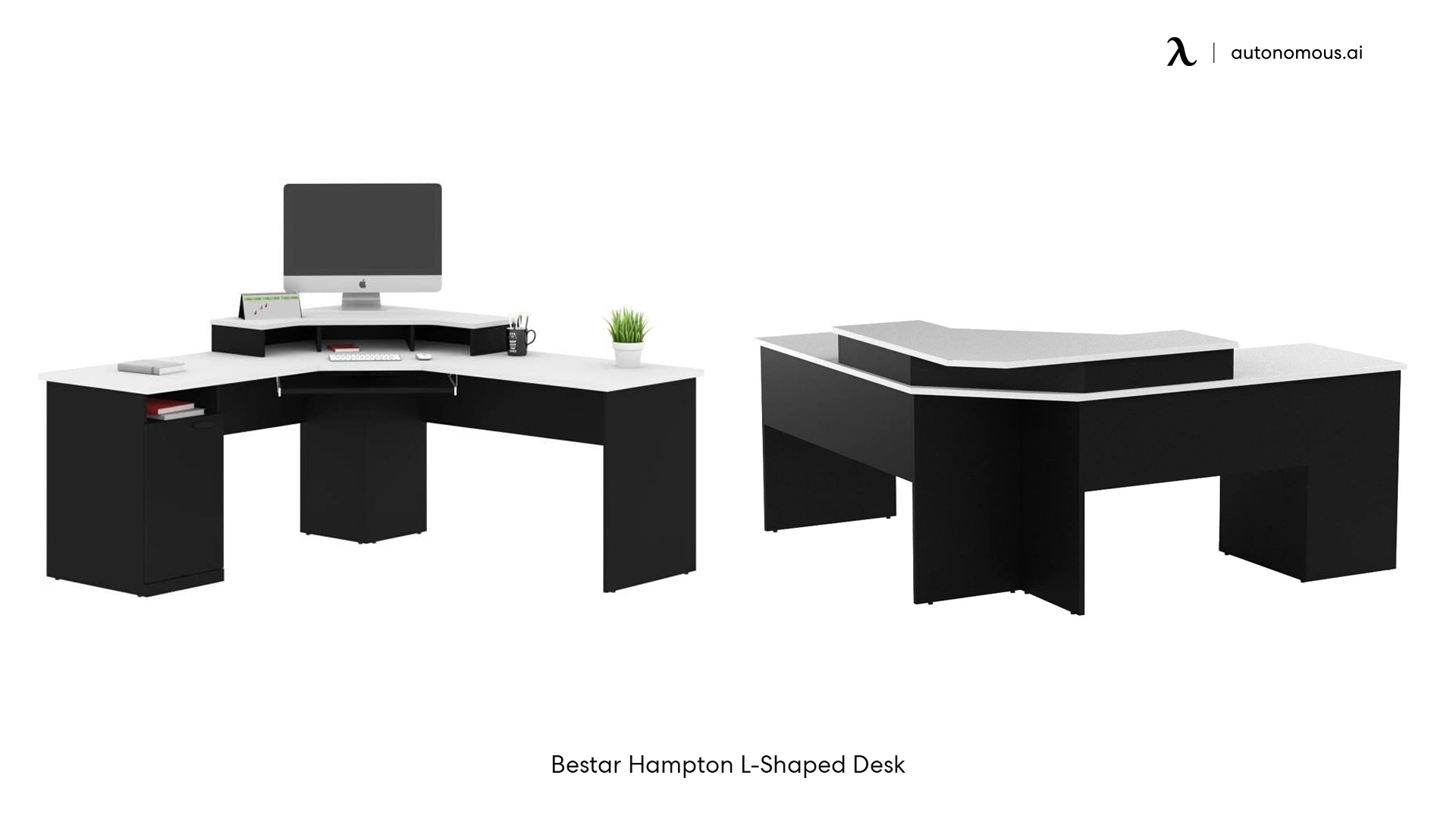 When looking for a good corner desk for your home office, this alternative is one that immediately pops into mind. Giving a feeling of luxury to any space, the Bestar Hampton Corner Desk gives you enough space and comfort for remote workers to perform at their highest rates.
Engineered wood functions as an excellent material to mimic sand granite, which is the reason that this small corner computer desk gives off an almost royalty and luxurious style.
6. Mission Oak Corner Desk
While this small desk setup might look like no big deal, it's the safest bet
you can ensure you get a piece of beautiful wood furniture ideally suited for petit spaces.
It includes a keyboard tray that slides in and out for your convenience and a circular cord keeper to ensure all your cables are where they're supposed to be.
7. Bryne Corner Desk
We take a step aside from natural wood with this small corner computer desk that gives you a close alternative. In essence, it features gray, red, and mint colors, as well as a drawer instead of a keyboard tray.
The Bryne Corner Desk turns any living room into a practical study room or workspace.
8. Freda Wall-Mounted Corner Desk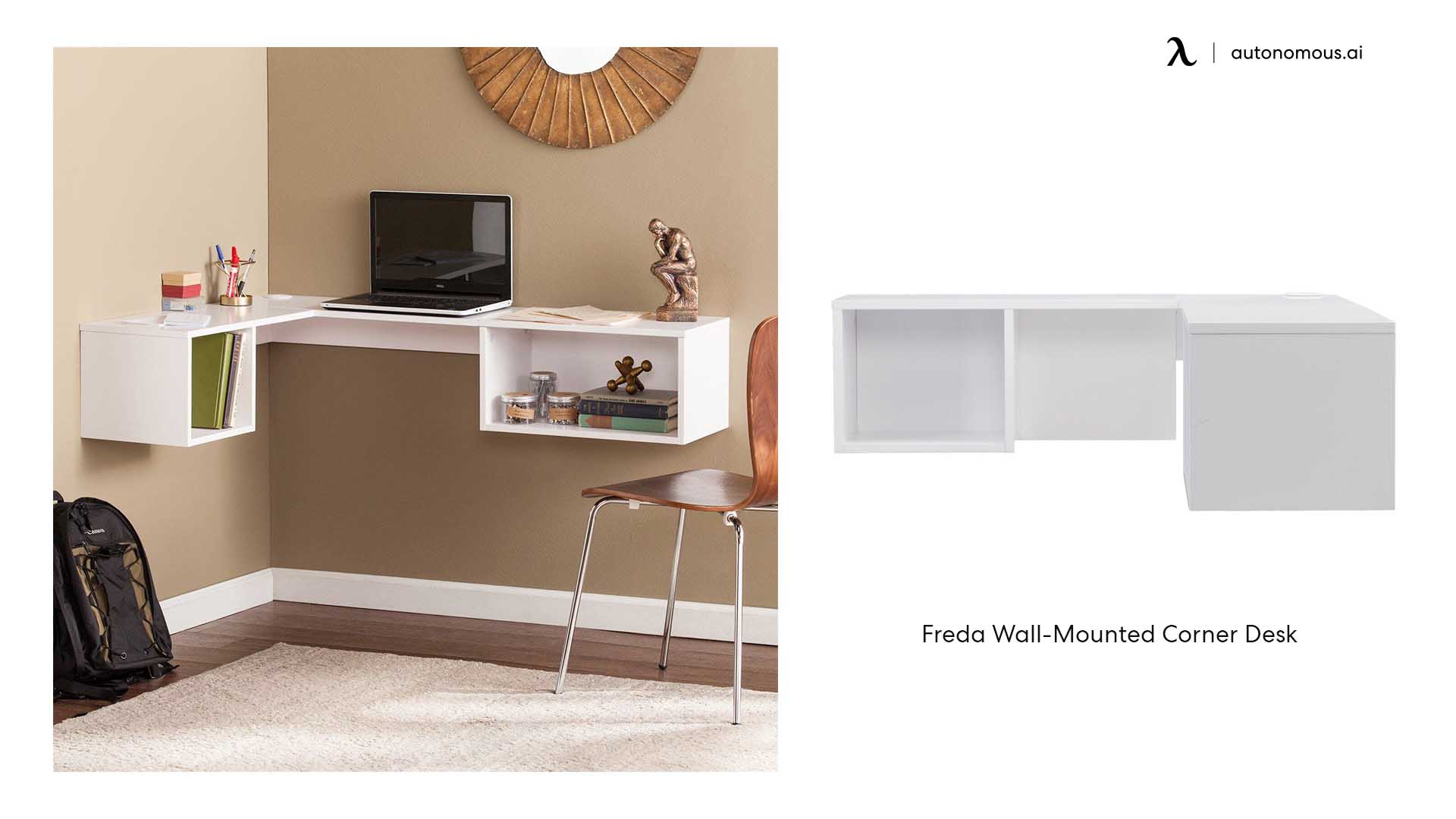 If you're looking for an L-shaped adjustable desk, this option may blow your mind. Wall-mounted desks excel at being extremely space-efficient while still being useful in a practical sense.
The Freda Wall-Mounted Corner Desk comes with tiny squares for storage that give off a minimalist and modern look to any room you may place it in. Enjoy displaying your favorite things and keep an eye on them at all times!
9. Millie L-Shaped Writing Desk
This desk is as decorative as it is functional. It comes with cubes that display anything you decide to put inside from books to vases to even pictures. While it also allows you to use a desktop from any of its corners, all you need is to choose the side you like best and place a chair in front of it.
10. Corner Writing Desk with Hutch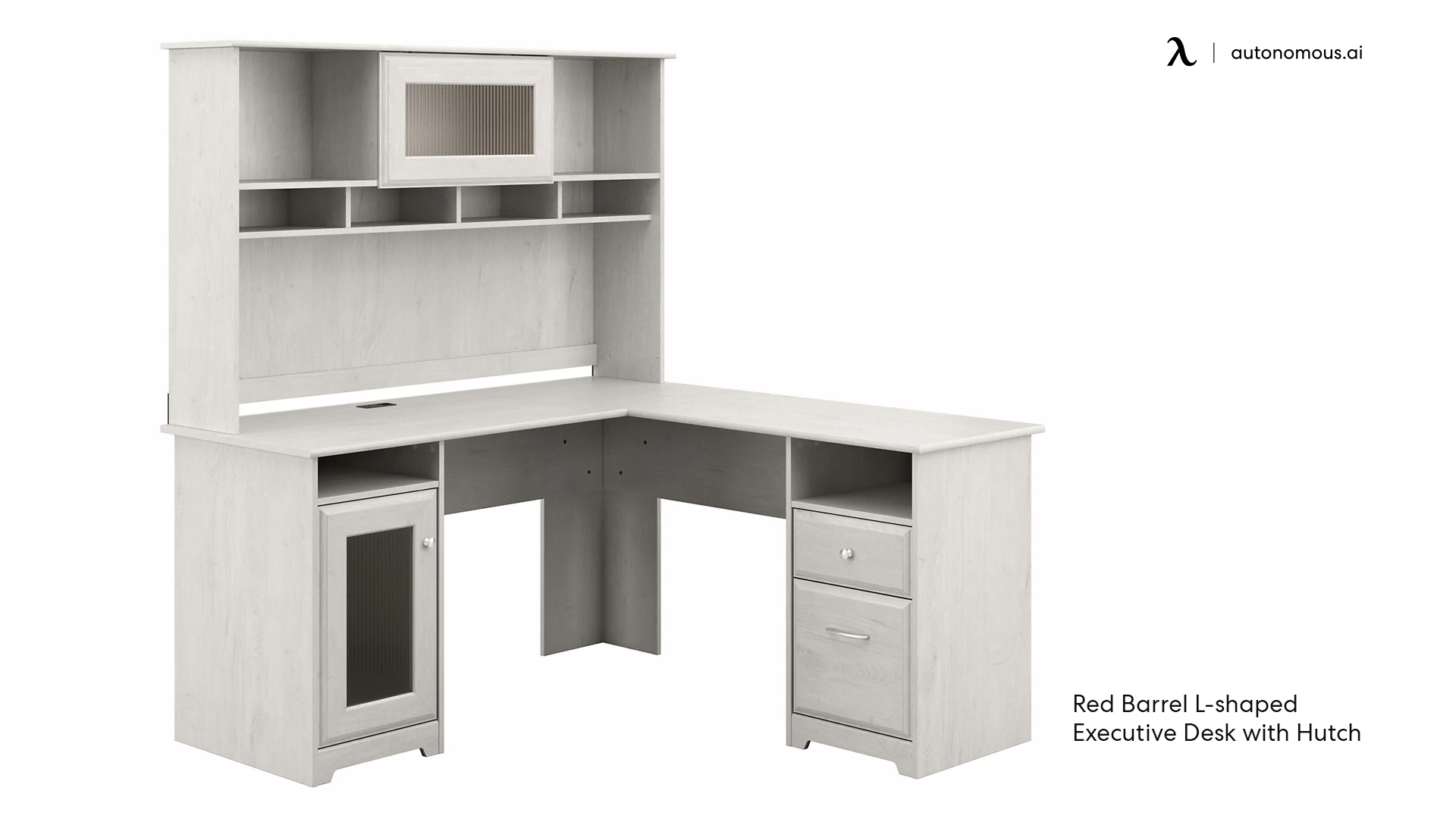 In this option, you don't only get a small corner desk with storage, but you also get a removable cabinet for storing your favorite office supplies. It comes in cool and trendy black wood for your monochromatic spaces.
The Corner Writing Desk with Hutch comes with a lockable keyboard tray to maintain the whole black aesthetic when you're not using your computer.
11. Grishtam Metal and Glass Corner Desk
Do you prefer to keep things extra simple? The Grishtam Metal and Glass Corner Desk suits you the best. This option is an ideal small corner desk for people who need just what's necessary without bothering with any extra complications.
Give your house a delicate detail with this gorgeous desk, suitable for any aesthetic.
12. Bekant Left Sit-Stand Corner Desk
This clean and contemporary corner desk fits neatly into any corner, allowing you to save space and adjust its size to your specific needs. Its height starts at 22'' and makes fitting into spaces a lot easier.
You don't need to worry about your small corner desk having the proper ergonomics for you since you can change its height by just pressing a button.
13. Kings Brand Corner Desk and White Drawer
White is the most elegant color out there. It represents purity and cleanliness, and this desk is ideal for portraying this aesthetic. The Kings Brand Corner Desk and White Drawer have tiny dimensions that fit perfectly to the smallest corners of your room.
It's one of your most fantastic options available if all you need is a drawer and a place to set up your laptop.
14. Sauder Beginnings Cherry Corner Desk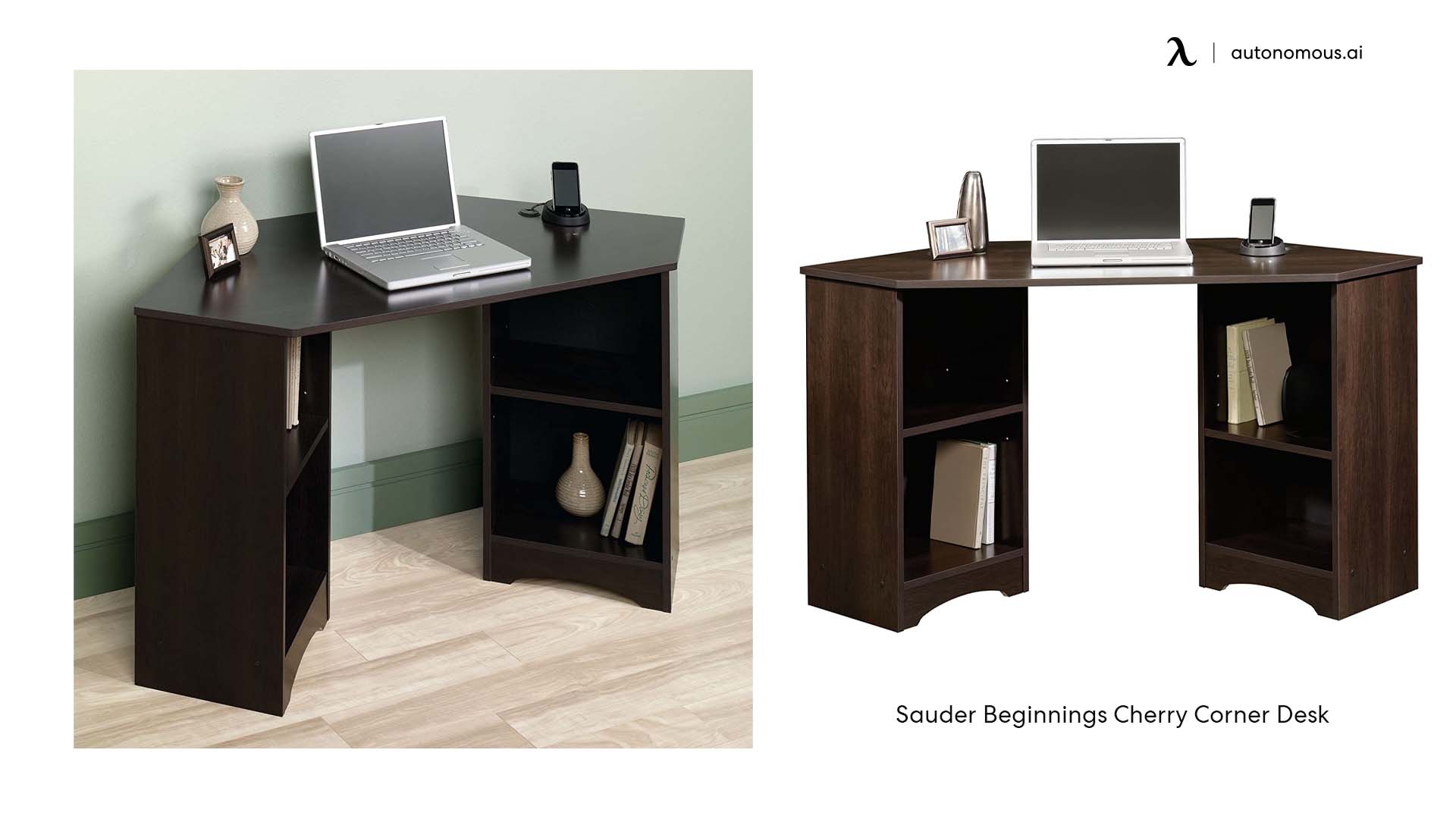 Now, we're entering the field of unique designs. This fashionable small corner desk consists of two ample shelves on each side, which are stuck together with the top of the table.
Overall, this corner desk for small spaces is a one-time investment for you and your household.
15. Wheaton Collection Reversible Corner Desk
This small corner desk has a detachable pedestal that you can place at either end of it. It's extremely easy to put together and mobilize, and it fits into any compact corner of your room.
The Wheaton Collection Reversible Corner Desk comes in a fantastic black finish, with dark brown details at the top, which upgrades your house's whole look.
16. Z-Line Belaire Glass L-Shaped Computer Desk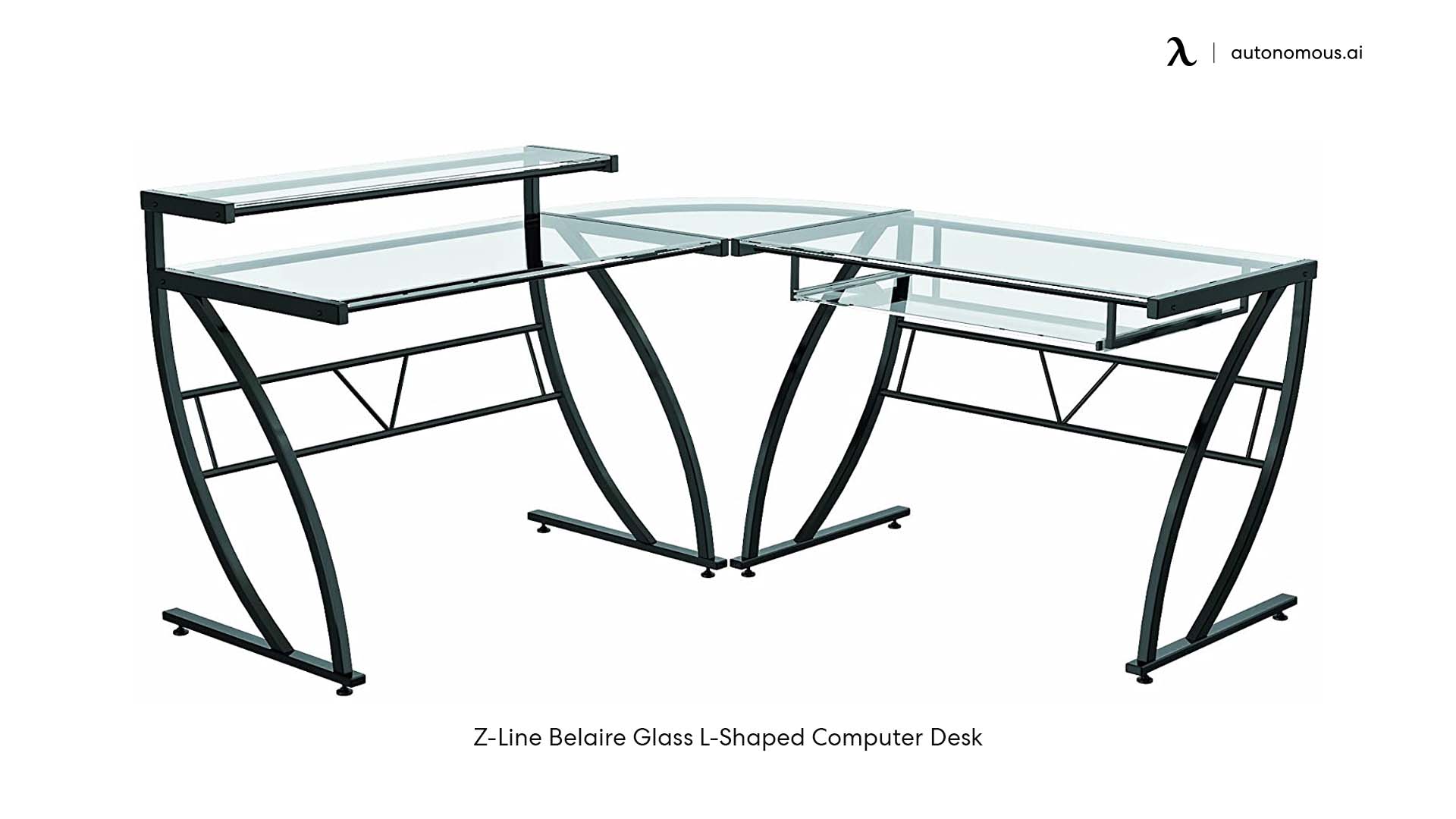 Glass small corner desks are always something out of the usual but an immediate eye-catcher. This mixture of steel and glass gives it the necessary resistance for enduring any weight you might place on top of it.
It offers a slide-out tray and a layered shelf, all made of glass. This particular desk is perfect for those looking for an ultra-modern alternative for their homes.
17. SHW L-Shaped Home Office Wood Corner Desk
Excellent reviews on Amazon confirm this small corner desk's durability and functionality. It is made out of espresso wood, which makes it a sturdy option for your home office.
The SHW L-Shaped Home Office Wood Corner Desk features open shelves where you can store books, materials, and even plants to lighten up your workspace.
Understanding L-Shaped Desk Dimensions
Even if you're at home or in the workplace, the finest small corner desks of 2022 will enable you to work efficiently and comfortably. Hence, there are a lot of alternatives out there, including some that are the cheap side that you might be enticed to acquire to save cash. You'd be better off spending all that money on a work desk created with your concerns in mind.
To establish an at-home corner desk for a small space, you shouldn't have to give up a lot of space. All you require would be to use the odd spot in your space that is not being used. A corner workstation, either square or L-shaped, may allow you to make the most of that space and provide you with all the space you require to complete your tasks.
An L-shaped workstation is 30% larger in general than a conventional desk. Evaluate your desk area before buying an L-shaped workstation to ensure that it fits; you must leave around 3 feet among your desk and other office equipment. These small corner desks with storage are built with a greater surface area, so you may stretch out if you ever need additional space to work. A portable office desk is another alternative if you don't require much space.
Most individuals find that a standard desk elevation of up to 30 inches above the ground is adequate. An L-shaped table with uneven sides is usually 64 to 74 inches in length on the large side, 49 to 59 inches on the smaller side, and at least 20 inches thick. The average size of every side of a desk with two equal sides is Fifty inches.
Some small corner computer desk layouts are adaptable, and you may arrange a right comeback or a left comeback during assembly—this is the end on which you should position the long half of the desktop. Other layouts aren't customizable, and therefore when you purchase, you'll have to specify the arrangement you want.
Your L-shaped workstation should be able to meet your requirements, particularly the computer area. Customers using desktop computers need adequate room on the work surface to properly store the computer, display, and other devices if needed. Tower PC units have their compartment in certain workstations.
These unique enclosures, sometimes known as CPU stands, elevate the machine. Users of desktop computers must also consider their keyboards and whether they will fit immediately on the tabletop or purchase a keyboards sliding tray, which must preferably be large enough to handle both the controller and the keypad.
Small Corner Desk Buying Guide
Workplaces come in a variation of dimensions and forms. The significant thing to establishing an efficient and pleasant work atmosphere is to choose the right furnishings. There seems to be a huge portion of things to follow when building a good working environment that matches your job and work hassles, from meeting room workspaces and modules to chair options and shelving.
A robust, effective, and ergonomic desk, on the other hand, is essential for any workplace or private office. You are looking at the right place if you seek the ideal corner desk guide. It will help you in picking the best small home office corner desk.
White corner desks are a pleasing substitute if you're undersized on space or trying to make the most out of everything that you have. They're significantly less invasive than consistent shaped tables. Corner tables are excellent for work and personal office situations since they can house odd zones.
Only because corner workstations have a reduced surface area than unvarying desks does not mean that you have to detriment storage. The large majority of diy L-shaped desks come with ample built-in storing options for stationery, important papers, and other office fundamentals that you'll require throughout the day. You'll discover a broad choice of styles to fit your needs, even if you're searching for a decent, middle, or big l shaped desk.
If you have ample space to complete your tasks on, a large black L-shaped desk is perfect since it will provide you with a lot of surface area. If you have an inadequate area, though, there remain many other small and middle corner desks. Of course, you must always get precise dimensions of the place you'll be occupied in, guaranteeing there is enough space for your desk chair.
Today's minimalist small office designs come with a diversity of storage space, extending from built-in cabinets and storing cabinets to lift laptop stands, allowing you to keep the small corner desk workspace as neat as possible. And besides, it's critical to maintain your working area clean, structured, and approachable in any workplace setting. Getting an l shaped desk with enough storage ought to be a top priority with all that in mind.
FAQs
Question: Does an L-shaped desk have to go in the corner?
Answer: L-shaped workstations are specifically intended to fit any office design layout or the correct position in the nook. They should not be put in the center of the space, against a wall, or in front of a glass window. That's why L-shaped tables do not allow you to set them everywhere you want to.
Question: What is the purpose of an L-shaped desk?
Answer: An L-shaped desk is perfect for maximizing a workspace, especially if you have a lot of equipment to put on your work tables.
Question: How should you sit at a corner desk?
Answer: An L-shaped desk provides you with numerous positions where you can sit. Left, right, or corner, each side is perfect. Furthermore, your seating position depends on your preferences.
Question: What happens if your desk is too high?
Answer: You may feel arm, elbow, wrists, or palm ache if your workstation is too elevated. If your workstation is too low, you may have to bend forward before work or stretch your hands to utilize the keypad.
Question: How do you ergonomically set up a corner desk?
Answer: When it comes to ergonomically designing a small corner desk workstation, you must appropriately place the keyboard. The best posture for the keypad is in your lap, comparable to how it would hold a PC. Straighten your shoulders, keep your forearms straight, and elevate your hands. Moving your keyboard or mouse nearer to your torso will enable you to dump your body mass onto your seat's back, resulting in an instantaneous increase in overall convenience. Consider utilizing an oscillating keyboard brace to position the keypad away from your body for a more normal position.
Bottom Line
Now that we've been through all of these small corner desks, you are free to check them out and dedicate your time to finding the right one for you. If you still can't decide, don't hesitate to visit these DIY corner desk ideas that might let your creativity loose.
We also encourage you to look up the rest of our catalog and let us know if you find anything of interest!
Hey, you have special pricing through your company.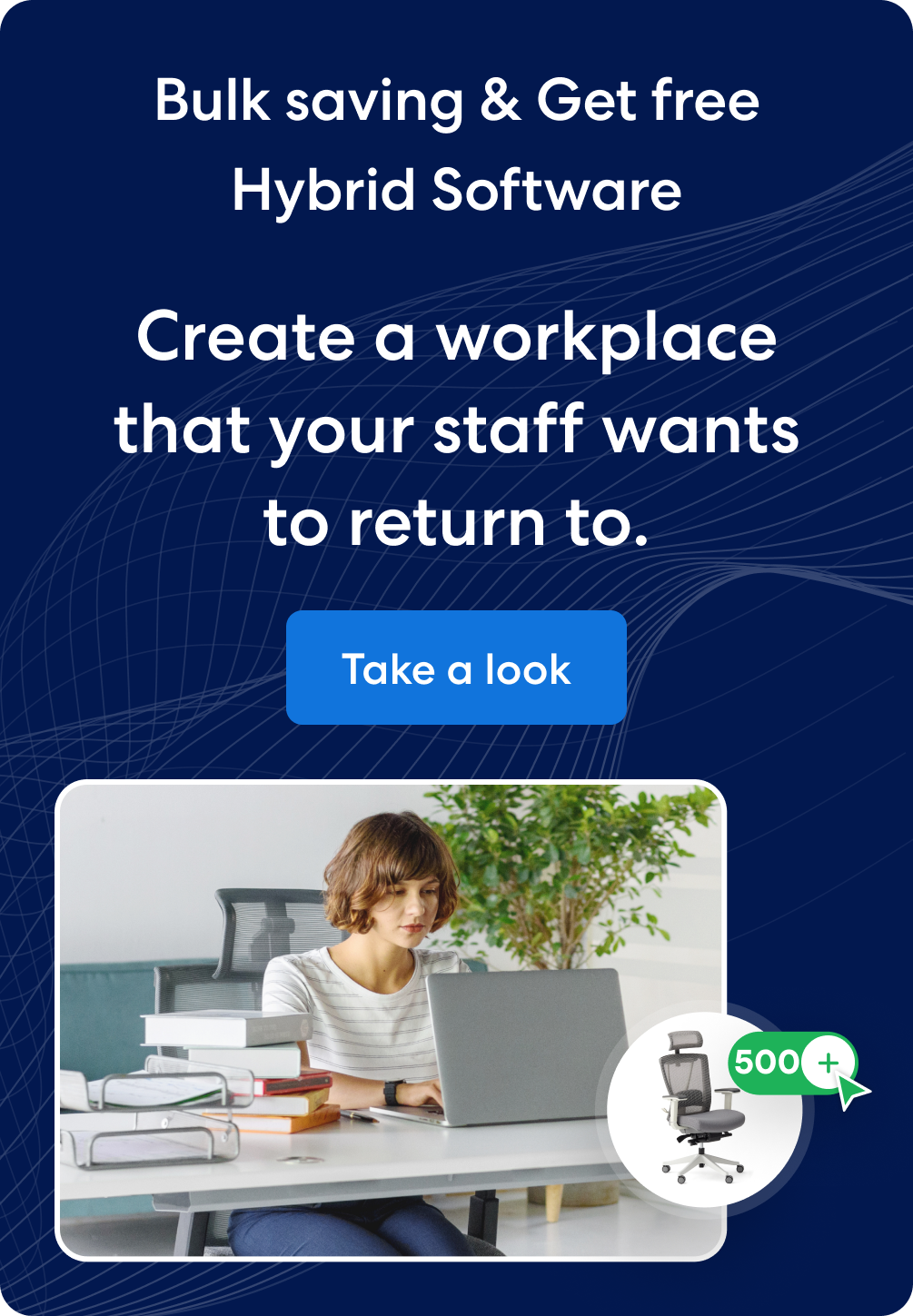 Get exclusive rewards
for your first Autonomous blog subscription.
WRITTEN BYAutonomous
We build office products to help you work smarter.
Coming at You Live from Autonomous' Social Media!